Looking for awesome stay at home date night ideas? We have you covered with 50+ of our finest things for couples to do at home – perfect for a weekend in or a cozy valentine date.
50 Date Night Ideas your spouse will LOVE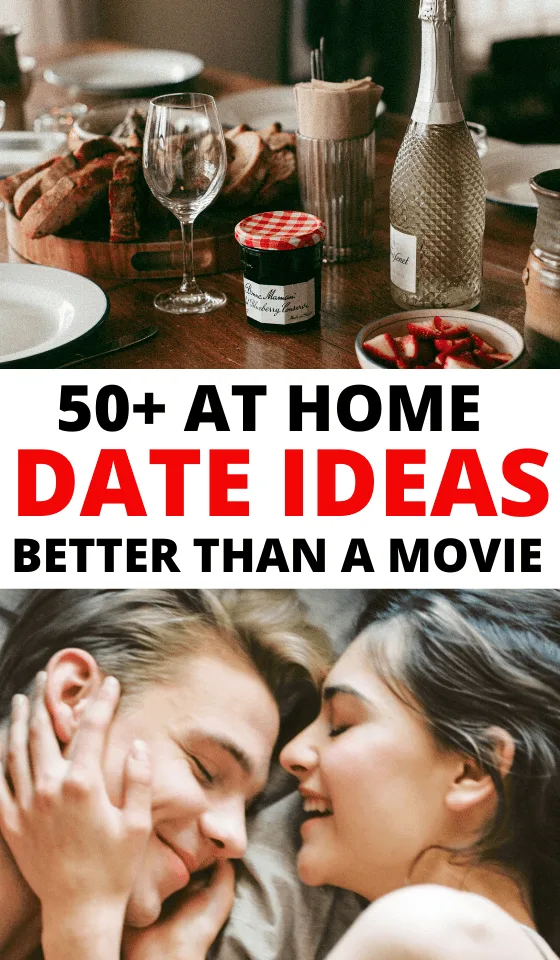 So you have exhausted your second date and third date ideas and have reached the comfortable stage of your relationship where you just want to sit home and chill!
We feel you!
Sometimes, we feel so exhausted that we just want to date night to be a lazy home alone experience.
But a movie date night!? Sooooo boring!
So we have wracked our brains and thought of 50 at-home date night ideas for couples (that aren't a movie!) And if it is raining out, here are some additional rainy day date ideas to keep you occupied.
And after all this if you are eager for even MORE dates we have hundreds more date ideas for all seasons including summer dates, fall dates and winter dates to keep you occupied for days.
But before we resort to that I'm sure we can find you an awesome and original date night idea for home with 50 of our absolute favourite at-home date nights.
Tip: To really spice things up, you might like to check out our fun games for couples at home and if you HAVE to watch a movie check out our fav romantic movies here.
Date Night Box
If you find yourself indoors, a date night box is the perfect way to keep yourselves entertained!
Basically, a date night box is an interesting box of goodies delivered to your door including various fun games for couples, challenges and activities for you and your partner to enjoy around the table in the comfort of your own house!
It may sound a little boring but some date night boxes are super creative and fun (some sexy date night games for married couples and some PG rated games for new couples). Plus it takes all the hard work out for you (which I love!!).
Some of the best date night boxes include:
Pizza and Wine
Don't feel like cooking but want a fun, romantic date night in?
Order a pizza from a pizzeria or pick one up at the store that you just pop in the oven.
Another romantic idea might be to make a pizza together. Now how fun would that be!
After all, homemade pizza is the MOST delicious. Here is a great homemade pizza recipe if you choose that option.
Break out some wine. Turn the lights down low, and put on some smooth music.
Pizza and wine is one of the can't fail recipes for a special night. One of the best late night date ideas when you are starving!
HOW TO PREPARE FOR YOUR PIZZA AND WINE DATE NIGHT:
A great recipe + ingredients, frozen pizza or pizza delivery number 😉
Wine
Our favourite pizza making utensils for couples
Fun Date Night Games
Poker, slap jack, black jack, go fish, speed, or double speed…whatever "suits" your fancy. Choose one or play all these games for date night!
Our personal favorite card games are Hearts or UNO. One of our first dates together was playing cards so it feels a bit nostalgic.
It is always good to keep it fresh and interesting with a new card game. The old family favourites can get boring after a while.
We love this new Fun & Romantic Card Game for Couples for example.
Throw in some cold drinks and snacks and you got a fun home date night on your hands (great for a unique valentine gift which you can use year-round).
HOW TO PREPARE:
Read aloud together
Pick a couple of your favourite books to read together. I mean how romantic is that on a night around home?
My favorites are Jules Verne, Edgar Rice Burroughs, Jane Austen, Francine Rivers, and Cliff Graham for a romantic date night.
If you don't know which books are just right, ask your librarian to help you. Reading is one of the best date night at home ideas!
Choose a genre you're both interested in and chances are she/he can probably help you find some really great options. They always know just the right books to pick.
A romantic genre is always a good option for a date!
Have you ever heard of the idea of Love Languages? Neither had we until just recently.
Basically, there are 5 Love Languages (ways that people express love). It is cool to find out what is you and your partner's love language.
The 5 Love Languages book would make fun reading together on a date!
One of our favourite romantic date night ideas in your own home for her for sure. And hey, he might just enjoy it too!
HOW TO PREPARE: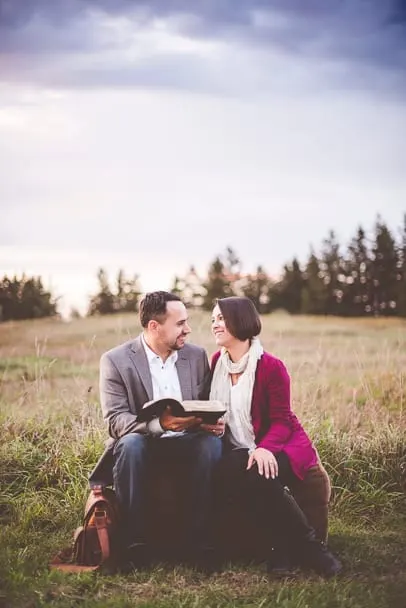 Board games (with or without the family)
Family favs like Catan, Monopoly, Candyland, Chutes and Ladders, Life, Twister, Chess, Checkers, Would you Rather…, Brainiac, or other board games are also fun for two. One of the best nerdy date ideas if you ask me!
As with the card games, it is always good to keep it fresh and interesting. We love mixing up our date nights with new and interesting board games. If you have heard of a new one recently let us know in the comments below!
Not exactly a board game but we recently came across these cool thought provoking conversation starters.
If you have been in a couple for a long time like us you need some new conversation starters to keep the topics fresh and interesting.
HOW TO PREPARE:
Spring cleaning
It might not be the most romantic date ever, but spring cleaning is a big part of life so making a date out of it can make it more fun and exciting.
Put on some tunes, get out the equipment and sing and dance like no one but your one and only is watching while you clean.
Now I'll bet you didn't think this one would be on the list?
If you want to spice the date up, you can always go all out with this outfit. Ha ha, a great night around home he'll love.
HOW TO PREPARE:
Cook a fancy meal (+ ideas for recipes)
Cooking a fancy meal together can be fun and special (not to mention scrumptious). In my opinion, it is also one of the very best stay at home dates for couples.
Pick a few recipes from a cook book or online, sip an adult beverage and watch the chemistry grow.
Pick something each of you likes. Some yummy dish ideas include a roast, a risotto or a beef wellington!
For some fabulous ideas we love the date night cookbook!
HOW TO PREPARE:
Ingredients for the meal of your choice
Wine, beer or other beverage of your choosing!
A great cookbook like date night cookbook
Romantic home date ideas for her
Take out by candlelight
Order some take out and make it special by playing some smooth beats and lowering the lighting to a romantic candlelit level.
Have fun practicing using chopsticks (if its asian food), or laugh together as you try tossing bites of food in each others mouths. Talk about yum!
Candles definitely make everything that little bit more romantic. One of the best things to do for couples when bored at home.
HOW TO PREPARE:
Take out of your choosing
Wine, beer or other beverage tasting of your choosing!
'Have you ever'…over tacos and burritos
OK this is one of our new favourite dates when we're staying in.
Play the game 'have you ever' with some tequila shots along with some tasty tacos and burritos.
You'd be surprised how fun this game can be and how long it can last.
I don't know about you but I think tacos and burritos are the perfect addition to the 'have you ever' game.
HOW TO PREPARE:
Ingredients for Tacos and burritos
Beverage of your choosing!
Stargaze
If you live in a city without too much light pollution this is the perfect plan (when the weather is clear).
Take a big, comfy blanket out to the yard on a night that is perfectly clear and lay out under the stars and enjoy stargazing with your one and only.
Tell each other your dreams, goals. Retell memories that you both love.
You'll need a fabulous outdoor blanket for this date! One of my all time favourite things to do at home with hubz.
HOW TO PREPARE:
Show night! Movie theater
Hang up the sheet, cue the projector and stick in the redbox movie… it's show night baby.
Buy the popcorn, drinks, and candies before hand at the store so you are all set and ready to go.
Dress up nice like you both are really going out for a hot date.
Meet each other in the living room at the set time and get cozy in some cushy chairs that are front and center for your movie.
Note: This is not JUST a movie, this is a extra special, romantic experience!!
HOW TO PREPARE:
Set the living room up
Snacks
Beverage of your choosing!
Dog training together
If you guys have a new dog or one you want to work with to teach new tricks, make a date of it! Trust me, it can be super fun date night in.
Grab plenty of treats for the pooch, and some sandwiches for the humans.
If you don't want to make this date a chore, you'll need some seriously good doggie treats on hand so your pooch cooperates during the date!
HOW TO PREPARE:
A dog (preferably cute and well behaved!)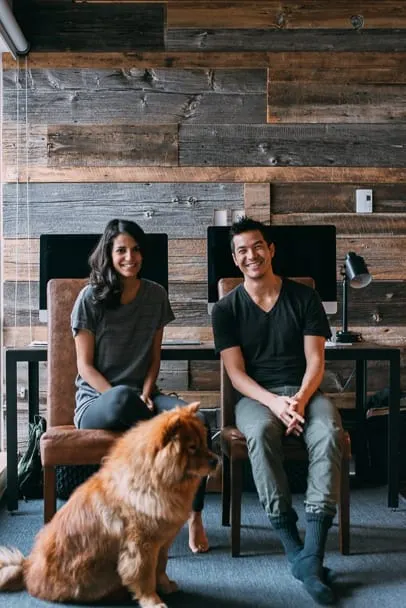 Camping in the backyard
Yes, camping in the backyard. It can be so much fun if you love the outdoors but just don't want to go anywhere.
Gather wood and build a cozy fire (if city regulations allow).
Set up the tent. Grab the hotdogs, s'mores and guitar and go crazy.
Step it up a notch with a giant tent and take your mattress outside for a memorable glamping experience.
Next date you can try camping somewhere extra memorable like ocean-side camping at Bahia Honda in Florida Keys.
Camping in the backyard will give you camping experience for more hardcore situations where you can't run inside for the loo.
HOW TO PREPARE: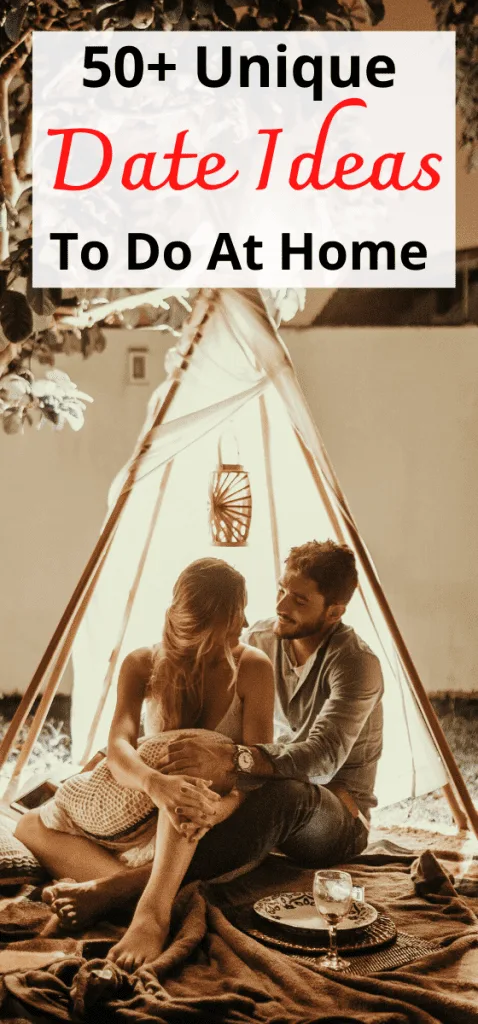 Picnic in the living room ideas
This is one of our go to dates if we don't plan on leaving home one weekend.
Make a meal and lay down a nice thick blanket on the living room floor.
Grab a fan if you want to feel the breeze in your hair. And turn on some soft background music.
Inside dates can be just as fun as outside dates (especially because of AC and heat!)
Have a picnic for two without ever leaving the house (perfect for a chilly January).
A peaceful, special time for just the two of you without the kids.
HOW TO PREPARE: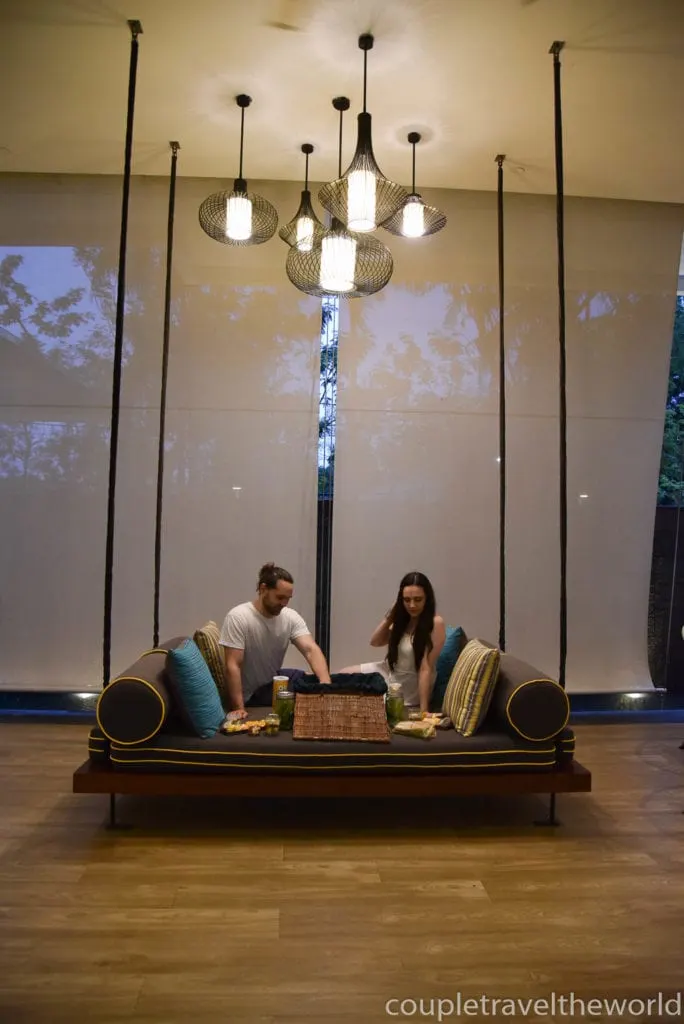 Shish kabob and margaritas
Make some kabobs and one of you grill them over the fire while the other blends up some margaritas.
Talk about a tasty stay meal. Dinner for two can't get much better than this!
HOW TO PREPARE:
Shish kabob ingredients
Margaritas
Couples Collage or scrapbook
Put together a collage or make a scrapbook to keep up with the wonderful memories you and your significant other are making.
It might just be me but I feel this is a seriously fun thing for couples to do without leaving our cozy home.
We recently stumbled upon this very cool adventure scrapbook which would be fun to put together on a date.
Don't forget to dust 'em off and look at em every now and again, like on birthdays, holidays, and your anniversary of course!
You could even organise a couples scrapbook for an awesome anniversary idea!
Grab some snacks and cold drinks and let the scrapbooking fun begin!
HOW TO PREPARE:
Memories to go in it
Snacks
MYO Ice cream Sundaes
What's better than a date night making your very own sensational ice-cream sundaes??
Buy all the ingredients and have a party for two!
With this stay stay-home date you don't have to pay extra for extra cherries, nuts, or whipped cream! Wohoo!
It would be super fun to set up an ice-cream bar in your living room so it feels extra special!
HOW TO PREPARE:
Everything necessary for delicious home made ice-cream sundaes!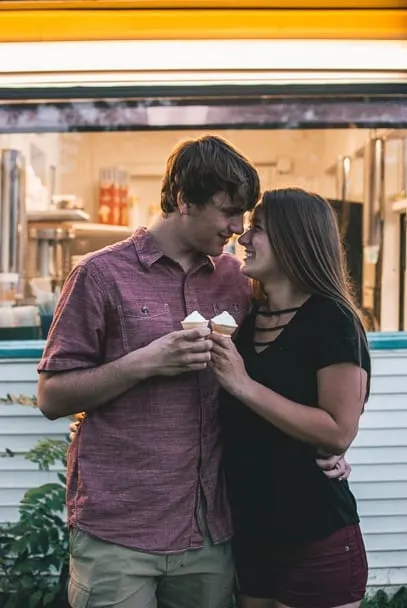 Karaoke
Have a 'sing off' as you guys sing and dance to karaoke.
If your singstar prowess is anything like mine, the you'll be sure to have a lot of laughs while you sing your hearts out together.
Make sure you pick some embarrassing numbers for each other to sing to maximise the LOLs. I suggest Miley Cyrus 'Wrecking Ball' which I once got Mike to sing on a Norwegian Cruise. Let's just say it was hilarious!
If you're going to share your talent with the world, make sure you have the perfect caption with our list of romantic captions for Instagram.
By the way, you don't need a fancy set up. It can be as simple as using your phone as a faux microphone while you use youtube for the lyrics.
HOW TO PREPARE:
Your favourite tunes
Snacks & drinks of your choice!
Dollar menu date
Yep. You read me.
Dollar menu dates can be a great idea. Especially if ya'll are tight for money that week but you want to have a day of relaxing and spending time together.
No cooking, just get it to go–on the cheap!
You can buy a bunch of food for a few bucks. It fills you up and makes for a great date together.
HOW TO PREPARE:
Low cost supermarket food of your choice!
Wash the car
If you are trying to save money or just thinking about what you can do together, why not wash the car together? A super fun car date idea!
Get buckets of sudsy water, some sponges, put on some clothes to get wet in.
Chances are the cars not the only thing getting soaked on this date!
HOW TO PREPARE:
Bucket
Detergent
Old sponge for car washing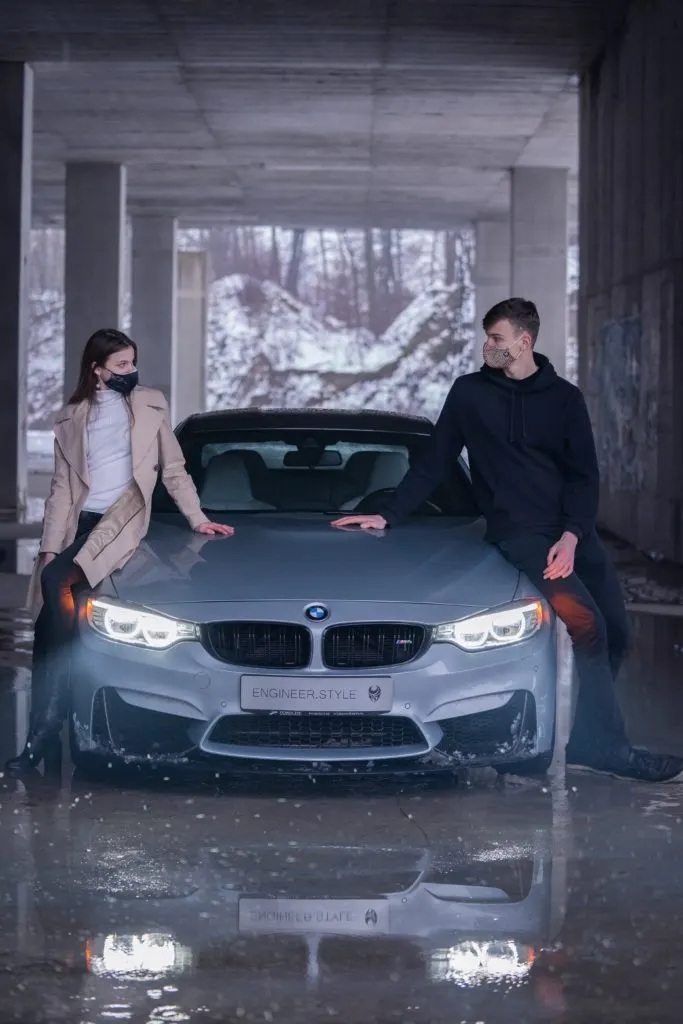 House project
If you guys have been meaning to get around to fixing things up around the house but haven't found the time, why not make a date of it?
Turn on some rock, get out the tool belts, and go to town. Take turns being the helper and being the fixer.
That way you're both having fun. You'll love how much nicer your house looks after this handy stay at home date.
HOW TO PREPARE:
Tools (Differing tools depending on the job!)
Paint the house
Maybe your house needs a new coat of paint, or a different color all together?
If you've been dying to change the wall color in a room or the outside of the house, this date could be a fun thing you can both do together to get it done.
One of the best indoor date night ideas if you ask me.
HOW TO PREPARE:
Snacks for when you need a break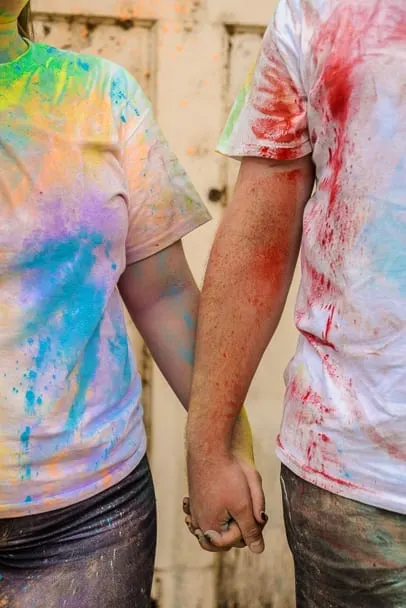 Reorganize
If you've been meaning to reorganize the rooms in your home, then why don't you two work together to get it done. Make a cute date of it and make it fun.
Pick a room and get to work.
Clean as you go so that when you're done the room looks amazing.
Keep going until you're done with all the rooms you want to do.
Make sure to order food to refuel!
HOW TO PREPARE:
Any food you might need
Snacks for when you need a break
YouTube Yoga Date!
Get on YouTube and learn something new together.
Learn to juggle, or dance, or to whistle loudly, or to do couples yoga. Start in April to get ready for summer!
The list is endless of what you can learn. Pick something together and make a fun date out of it.
HOW TO PREPARE:
Find a youtube channel you like, we love the channel Blogalites
Water or a drink to keep you hydrated!
Study date
If you have a lot of studying to do for classes but you want to spend time with your sweet heart, then make a date out of studying together. One of the cutest couples activities to do in the comfort of your home.
Just remember to study as well as have fun together.
HOW TO PREPARE:
Anything you need to study with
Some snacks!
Gardening
Making a garden together can be a lot of fun. If you live in a city that's not a problem. You can have a garden in containers on your front or back porch.
Get some planter pots, some paint, and some stencils and be creative with your potted Garden. The colors on the pots will lighten up your porch.
April is the perfect time to plant your first crops, but any season is a good time to start.
If you're looking after kids, this is a great activity to get them involved in too.
HOW TO PREPARE:
Some cute pots
Plants
Potting Mix
And your green thumb!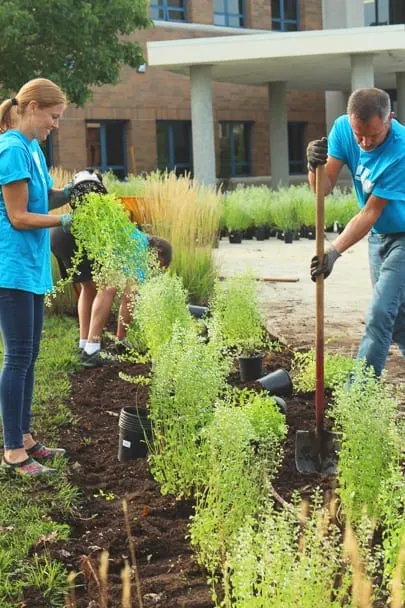 Canning
Canning is a fun and pioneering way to feel independent and well rounded.
Canning your own veggies to store for later can be a great story for a later date.
Won't your friends be impressed to know how you made your own homemade spaghetti sauce out of tomatoes you canned yourself?
We love these reusable jam jars which are also very environmentally friendly
HOW TO PREPARE:
Jams and jellies
After a day of berry picking spend a day making your own jellies and jams!
Such a cute date. You and him in the kitchen with cute aprons on hovering over a bubbling pot of swirling berry goodness!
Enjoy some toast smeared with butter and your own berry jam. Yum!
HOW TO PREPARE:
Dinner kit (with yummy recipes)
If you want a great dinner but don't want to shop for all the ingredients, why not purchase a dinner kit?
It will have a step by step guide to make an incredible dinner for two in the pm.
This is a great dinner kit!
A perfectly delicious date you can enjoy without having to leave home.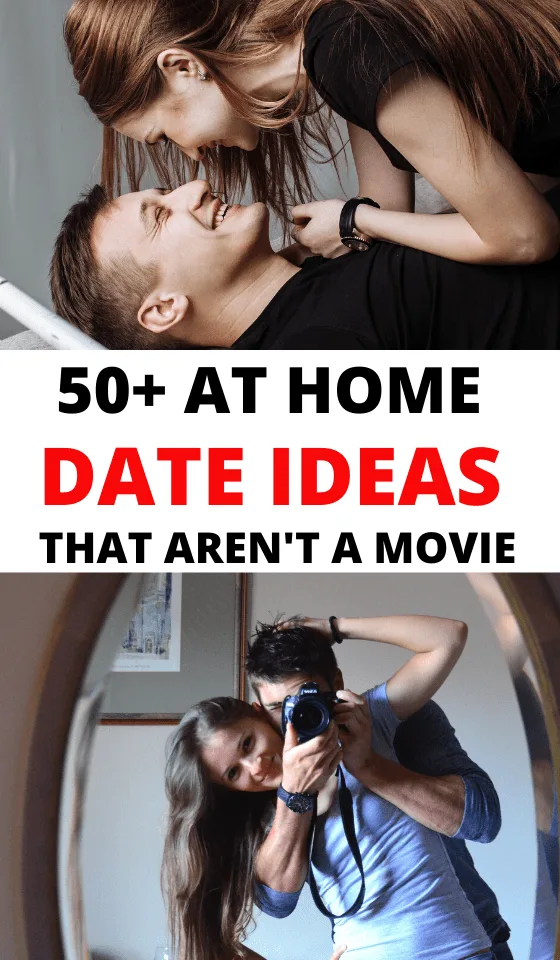 HOW TO PREPARE:
A great dinner kit
Beverage of your choice to go with your meal.
Store "Pick-up" date
How bout a web surfing date? Pick a store (ie walmart) that has a pick-up feature on their website and go cruising!
Check out the clearance items and find some good sales (like clothes and shoes), and pick out some snacks or dinner items to eat once you pick your groceries up.
Try on the clothes and shoes and snack and have a good time.
If you have a little more money to spend, we suggest online searching for your next holiday! This is definitely the most fun and exciting.
HOW TO PREPARE:
A great website to surf
Snacks or a beverage for added fun!
Make a scrumptious dessert (our favourite ideas for recipes)
Find a dessert online that you both like and work together to make it. If you don't have the ingredients, go get them real quick and then get to cooking.
Be proud of yourself afterward as you take a picture, then dig in!
HOW TO PREPARE:
All you need to make a yummy desert – here's our favourite list of recipes
Coffee or tea
Improve your cooking skills
Watch videos together on youtube of how to improve your cooking skills. Work on your slicing, dicing, and julienning. The perfect idea for stay at home date nights!
Then you can show off your skills in front of your friends when they come over for dinner.
HOW TO PREPARE:
A great youtube cooking channel
ingredients to try it out!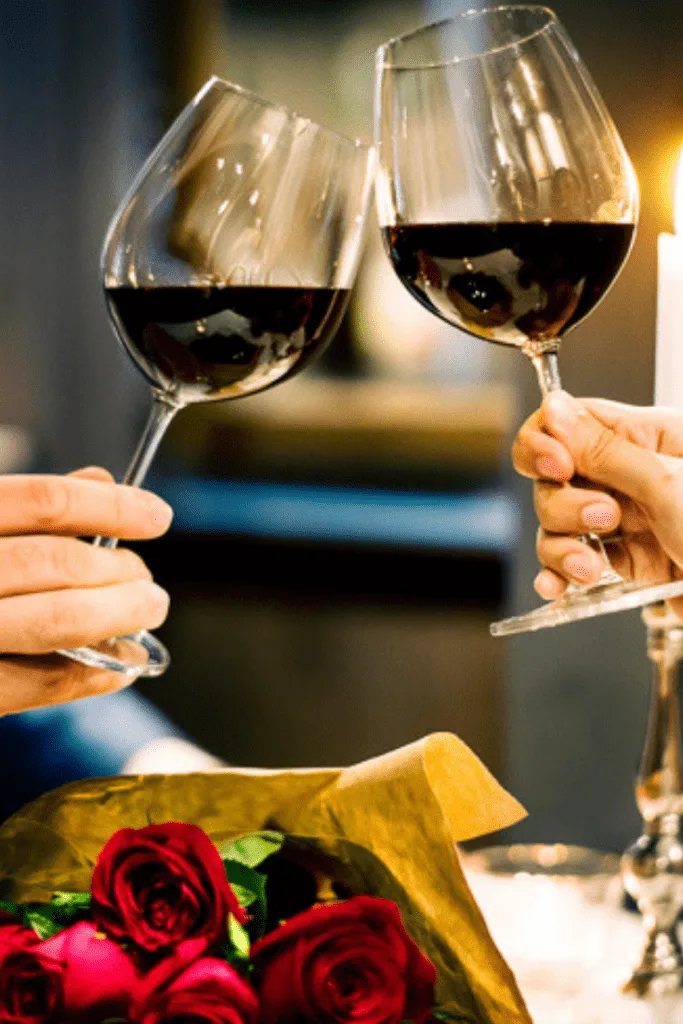 Chill ideas for him
Play video games
Play some video games together. You can spend hours of fun eating snacks and drinks and racing or fighting each other or working as a team to defeat an enemy.
Just be sure to play whichever way is going to make you both have fun and not turn against each other.
HOW TO PREPARE:
Binge watch a TV series (Not a Movie)
Find a show you both like, pull up the sofa, and get cozy as you binge watch a show you both love.
Tell each other your favorite parts, the worst part for you, and the parts you thought brought the whole thing altogether.
Our favourite TV series are Vikings, Stacey and Gavin oh and Love Island lol.
HOW TO PREPARE:
A great television series
Snacks
Take time to Meditate together
Sometimes cheap at home date nights are just the tonic.
Meditation is a great addition to your day or night. It relaxes you, improves sleep, alleviates stress and anger.
Try doing a guided meditation together if you're new to meditating, or meditate without the extra guidance.
At the end of the session you will feel happier and more at peace.
This is the perfect date night idea for married couples to enjoy each other's company in peace at home.
HOW TO PREPARE:
Do couples fitness together
Practice couples fitness together!
This really is a fun at home date night idea because it doesn't matter how bad you are.
Look up videos on how to do couples fitness or yoga together and give it a try.
Even if you're the worst yogi in the world – your spouse will love you for being a top sport.
Practice it on a regular basis to keep a strong relationship and improve teamwork.
HOW TO PREPARE:
Learn Origami
The art of paper-folding can be such a fun learning date for the two of you.
Learn to make a lotus flower, a swan, or anything else your imagination can think up.
Whip up some snacks from the cupboard and you've got a perfect cheap date night.
HOW TO PREPARE:
Practice self defense home date
It's ALWAYS a good idea to learn to protect yourself. It may not be one of the most romantic dates at home but it sure is important!
You can find online classes so you can do it from the comfort of your own home!
Do it together to make a useful kinda date.
HOW TO PREPARE:
One-on-one
Play some one-on-one together as a fun fitness date.
A pickup basketball game can be a great bonding experience.
Even if you aren't an even match, you can learn to listen to your spouse.
Teaching someone new skills is a rewarding experience and you'll feel better for putting yourself out there.
So don't rule out playing sports together as a perfect cheap, fun and healthy date idea you can do from home.
Learn a new song
Get the guitar and keyboard out and learn some new songs to play. One of the cutest dates IMO!
Duets are always a great option. Here are some fun alternative love songs that you might like to check out.
Or if she's the singer and you enjoy playing the guitar learn a song to play and perform somewhere.
Watch Lady Gaga and Bradley Cooper for some romantic musical inspiration for your romantic and complete free night.
HOW TO PREPARE:
A musical instrument
Snacks/drinks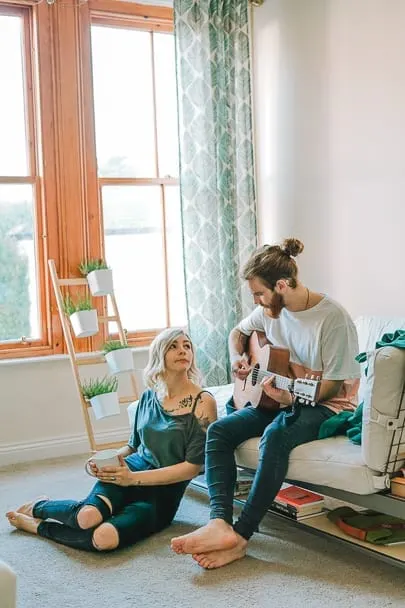 Get creative and go artsy!
Try to do something new for you in the arts.
Try painting a portrait or some images, or draw a landscape, or sculpt with clay.
Or if none of those are for you an adult coloring book is always a fun option too.
You can have your very own couples wine and paint night!
If you don't already have equipment, here is a full painting kit to prepare for your date!
HOW TO PREPARE:
Take time to do a puzzle
Work on a complex puzzle together. Some of the best couples date night games include a good puzzle!
Trust me, this can actually take awhile if you get the right one.
And you'll feel so accomplished when you get done putting that final piece in.
A fun puzzle idea is to find a puzzle of a part of the world you world like to travel to together!
HOW TO PREPARE:
Snacks
Drinks like wine or liquor tasting samples!
Cloud watch
Lay out on some nice green grass on a blanket and do some cloud watching together on a beautiful day.
You could even take a nap! (Just make sure you're in the shade).
The best part – it's cute and completely free if you're on a budget.
This is perfect for any time of day: AM or PM.
HOW TO PREPARE:
Ask questions
Take time to continue getting to know each other. Your likes, dislikes, dreams, goals, and passions.
Never quit trying to get to know each other.
People change over time. Keep in touch with who your loved one is now (they might surprise you).
If you don't know what questions to ask, this is a great question game.
HOW TO PREPARE:
Bubble bath
Take a nice long bubble bath together!
Break out the wine, light some scented candles, drop in some bath bombs, with a splash of romantic music in the background. Oh yeah.
This is one of our favourite ideas for parents because you can do it when the kids go to bed.
We just love this home spa kit!
HOW TO PREPARE:
Write out a bucket list that you both can do together. Dream big and start saving!
We recently visited Prague a few months ago which is a place on many people's bucket lists!
You may want to include two columns – 1 Where you would like to visit and 2. How much it will cost to turn your dreams into reality.
But you don't need to leave the country to satisfy your travel cravings. We've scoured the country to compile a list of the best romantic getaways in the USA.
Audiobook or Podcast
Take a day to listen to a podcast or audiobook together. Grab the snacks and drinks and dive in.
You'd be surprised how hooked you can get!
HOW TO PREPARE:
A great audio book or podcast
Wine
Communicate on your indoor date night!
Work on your communication skills as a couple. Communication is the most important thing in any good relationship.
Talk about things you can work on together to improve your relationships.
Write out goals that you want to achieve, goals to work on as a couple, learn each other's love languages and practice them often.
Continue studying your spouse until you have your masters degree on them.
HOW TO PREPARE:
A delicious meal
Snacks
Wine or a beverage of your choice (this could get deep!)
Would you rather…?
Play the game "would you rather" together. You will be busting up laughing and having a good time before you know it.
Massages
Take turns giving each other a massage to help you both relax and strengthen your relationships.
This is a great option after a long day of work.
Do it in a nice hot bath, laying down on the bed, or just sitting in front of the tv. Whichever works for you. Your spouse will appreciate you!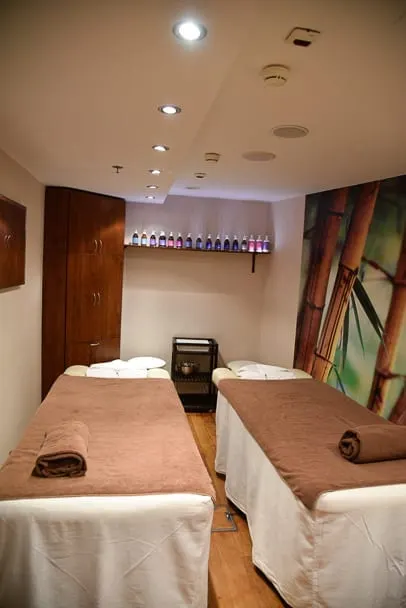 Make an indoor cubby house!
Whoever said adults were too old for cubby houses was clearly sorely mistaken!
A indoor cubby house is the perfect plan when you don't want to head out for the evening.
Spa & Robe Date
There is nothing better than kicking back on the lounge, each wearing robes with a nice red wine in one hand.
Get a few face masks and some nice scented oils for a relaxing massage and you have a simple night in your own home made in heaven!
There is nothing more snuggly and romantic than a couple in robes right – and it's perfect for valentine's day.
Blind Taste Testing
Each make a few mini meals for the other to try. One of the best and most fun ideas for home.
A cool idea is to have a rating card where you can both rate the food out of 10. Be nice or this night not turn out to the quite the date you hoped for.
Pick some hard flavours and get each other to pick the food or dish! Super fun and well a little frustrating!
Find something unusual to buy together online
Do you want to adopt a new pet or perhaps buy something new and nice for your house.
Prepare some nibbles, your favourite drink and have fun searching the web for new products to buy!
Movie night (WHAT WE SAID ANYTHING BUT?)
Does that of the 50 + above dates sound rubbish to you?
Okay we can go back to a movie, I guess…
Who doesn't love gettin' cozy on the couch with some popcorn, drinks, and candy and having a movie night in your living room? Turn the volume up, and put your chairs front and center.
No fighting for good seats, no missing any parts of the movie because you have to pee, and you can even subtitle it if you want!
Cheap Dates @ Home
We know from experience that it is hard when you are low on money planning a fun date night.
Staying home on your date night may be a necessity when times are tough.
Although it may feel like it at the time, we have learnt over the years money does not buy a good date – it definitely comes down to the attitude of both parties and whether you are open and willing to have a fun, low cost date night at home!
Trust me, it still will be AWESOME if you go into the date with a positive mindset.
Our favourite low cost date night ideas in are definitely an indoor picnic, a spa date or a movie marathon with all the extras.
If you are feeling like getting a bit more creative, a blanket fort is a really fun cheap plan. Remember this as a kid? It was SO fun!
Create the best fort/cubby house together with sheets, blankets and pillows, set some mood lighting and snuggle up together for a movie and snacks.
If you are more into romance than cutesy fun, we would suggest having a candle lit bubble bath together. Put a cheap scented bath bomb in to make it smell delicious and inviting!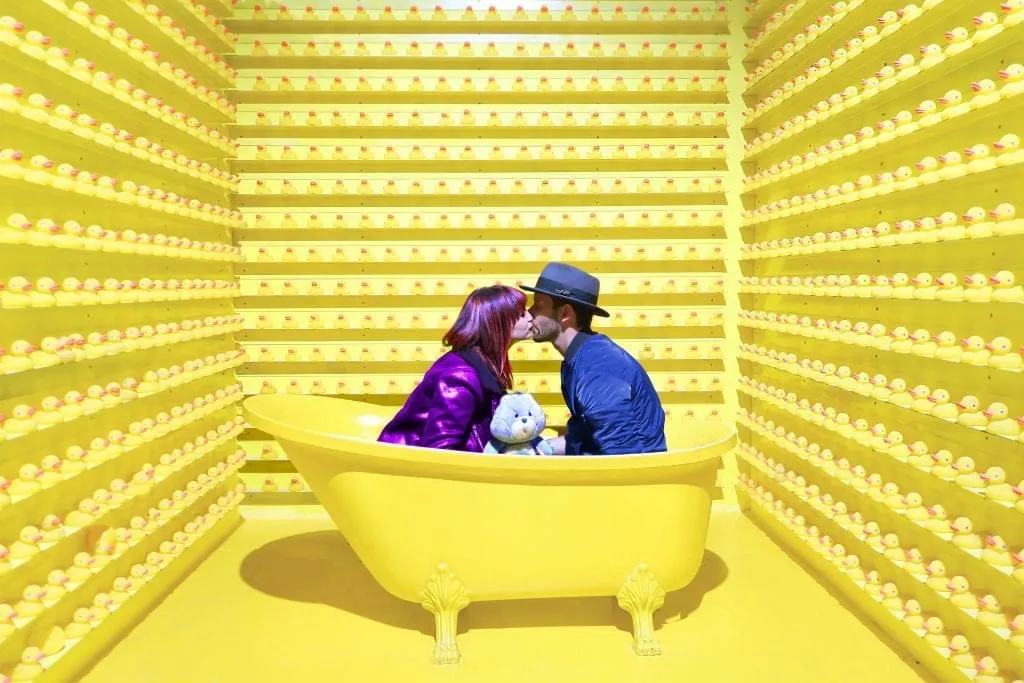 Want MORE date ideas?
Stop wondering what couples can do for fun at night and get pumped with these date ideas for all occasions.
If you are looking for some more ideas you might like to check out:
If you know someone going on a first date (exciting!!) here are some ideas you can recommend them including:
Go bowling (this is certifiably a great way to spend a rainy day date. This was part of our first date together)
Make a home cooked meal for two together
Wine & Paint
Visit a hipster cafe
Go rollerblading or indoor ice-skating
When thing are heating up and really getting exciting! Here are our favourite ideas:
Go on a double date;
Visit a theme park;
Go somewhere your date would enjoy – demonstrate how attentive you were on the first date;
visit a farmer's market;
go rock climbing.
If you have made it to your third date, you need to start looking at ideas out of the box including:
write a song together;
invite your friends to meet & bond playing cards against humanity;
watch a Game of Thrones marathon (probably not Season 8 though…)
visit a new restaurant;
go diving.
If it's raining outside, we have you covered! Here are some of our favourites:
take a dancing lesson. Take shelter from the rain in your partner's arms;
visit friends. Make the most of the rainy day but hanging out with your friends;
go to an aquarium;
volunteer at a dog shelter;
have a pillow fight.
Fall is possibly our favourite season for dates! Here are our favourite fall ideas:
See a movie at a Drive-In theatre;
take a horese-drawn hayride (super cute – no more to say);
go sweater shopping together;
go horseback riding and watch an orange sunset among the fall leaves;
hot cocoa and rockers (You and your date head to the front porch and get comfy in some rocking chairs)
You might not think winter is a good time for dates but we beg otherwise! Here are our favourite winter ideas:
build an igloo;
go ice skating;
indoor picnic – when the January weather is too cold;
get outside! Build a snowman, make snow angels and make the most of your winter day;
take an ice sculpture class.
Ahh Summer! Everyone's favourite season! Summer should be a easy one for dating ideas! If you find yourself low on money this summer, here's the dates we would recommend:
make a date for a pool party;
have a picnic on the beach;
try out water skiing;
have a go at surfing;
BBQ at a lake or in a park.
If you want to take it back to your teenage years (perhaps you are high school sweethearts like us?) you might enjoy one of our 50 recommended ideas fo teenagers:
Go to an animal cafe;
Go bowling;
Have a movie marathon;
Get some quirky photos at a photo booth;
Mini golfing
If it is late at night, you might prefer one of our late night ideas including:
Finger Foods
A year in review
Newlywed Games
Personality Test and more!
We hope you loved all our ideas and found something super special for your at home date night! We also prepared some cute couple things to do that are mostly low effort so you might like to combine a few of these into your date night!
Note: This post contains affiliate links. If you purchase something through this post, we will get a small commission at no extra cost to you.
Save our stay-home date inspiration to Pinterest (so you can find it again later!)