Looking for third date ideas as you successfully made it past the first date and second date?
Congratulations is in order! It looks like this relationship is really headed in the right direction.
By the third date, fresh ideas can be running thin.
But don't worry, we have you covered with super cute Third Date Ideas!
We know a thing or two about creative date ideas because we've written about over 350 of them (seriously, check out the link).
Note: If you are going to meet his parents soon and are stumped as to what to bring them, you might like to check out our ultimate guide to gifts for his parents!
Cute Third Date Ideas
So here we are – the third date. Are you guys married yet or what?!
In all seriousness, it can be difficult to think of new and creative ideas by the time it gets to the third date. But luckily, we have wracked our brains and come up with 50 Super Cute Third Date Ideas.
These 3rd date ideas are so cute you will be hanging for a 4th date after this!
Create a song together
This one we love love love because seriously how cute is it!? Ideal for a cute third date idea!
First, come up with a poem together that rhymes and second marry it up to your favourite tune or better yet (if you are musical) create a special new tune just for the two of you!
Get some friends and play cards against humanity
How much fun is cards against humanity?! Am I right or am I right?!
It is even more fun when you have some cheeky friends to play with.
Grab a few of your besties and play the game with a drink or two!
Watch Game of Thrones Marathon
Now who doesn't like Game of Thrones? It is a seriously great show!
And you know what's better? It has multiple seasons so the date can go on forever OR you can pause and reschedule for a fourth date to continue!
Visit a New Restaurant
Visiting a restaurant is fun but visiting a new restaurant is even FUN-er.
Pick a restaurant in your city that neither of you have been to but it reviewed really well.
After your meal hit Tripadvisor and write your first couple review together of your experience!
Feasting on delicious food is one great way to enjoy a rainy day. If you're looking for more inspiration, check out our post about things to do on a rainy day for adults.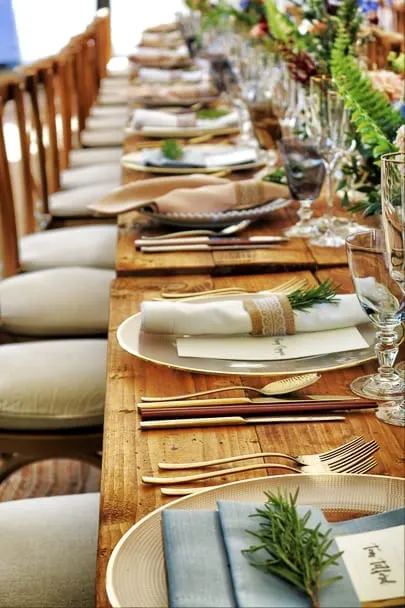 Go Diving
Diving can have multiple meanings if you have a dive license by all means go diving.
If not, find a local pool with a small diving plank. It can be so much fun diving into a pool from a platform. Almost feels like you are kids again!
Share your the best dives on Instagram. If you're going to share fails, make sure to add one of our romantic love quotes to soften the embarrassment.
Go Snorkeling
Snorkeling is seriously one of our favourite pastimes. What is more fun than seeing a myriad of colourful fish under the water!
Research an awesome boat trip or a beach you can snorkel right from the shore. Be sure to mark this fun activity off your summer bucket list for couples.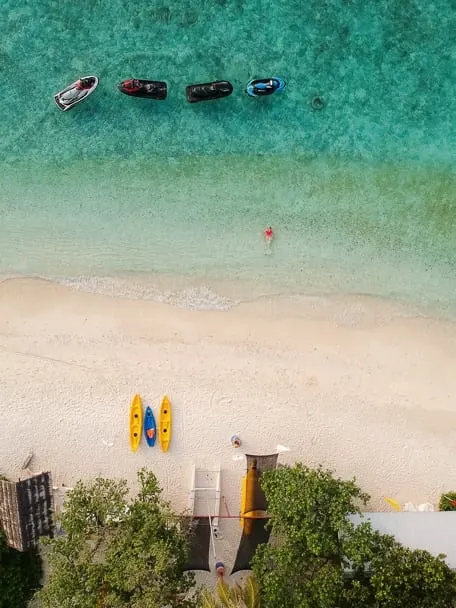 Go Free Diving
Have you heard of free diving? This is something we have heard about recently and is becoming a very popular activity.
Don't have a scuba license? No problem! With free diving you can go deep into the sea without a scuba with super large fins!
A very different third date idea.
Hire a Boat
If diving deep into the ocean isn't what you are about you may prefer to float on the top.
Hire a boat for a day or a half of a day and enjoy the sunshine or even go fishing. Alternatively, go for a night boat ride!
If this isn't a super cute third date idea, I don't know what is!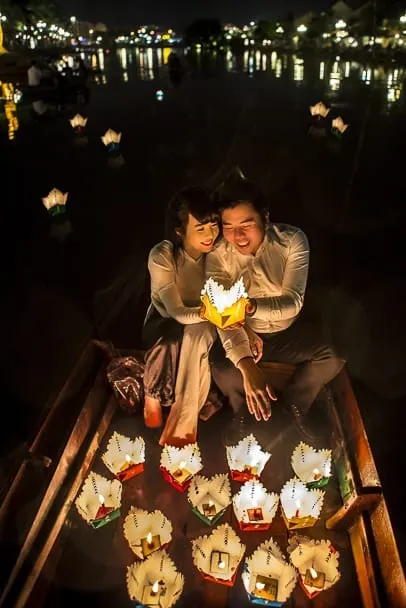 Learn a new language
Learning a new language can be so rewarding and so useful in any future travel.
Pick a language and country you would like to visit together and plan to visit once you both have a grip of teh language.
Learn how to make origami
It would definitely be a super interesting and fun third date if you learnt to make origami together.
And just think you can teach your new skills to your kids in years to come. How cute!
One of the best 3rd date ideas.
Have a staycation
Staycations are so hip these days!
Pick a cool hotel and have a rest and relaxation staycation in your own city.
To make the staycation more interesting, you might like to prepare some fun couple questions to ask each other!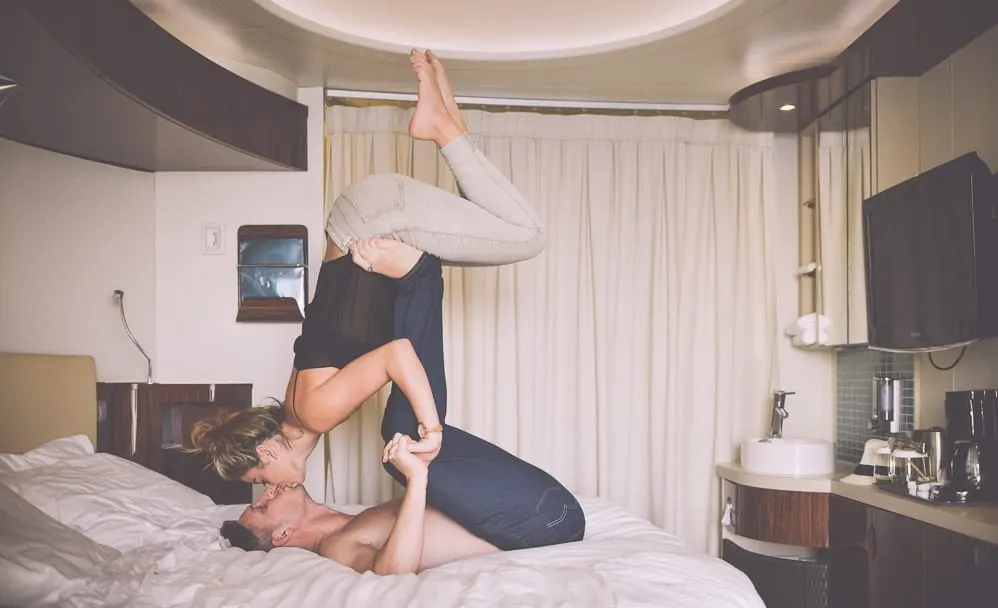 Go window shopping
Even if you are not wanting to go shopping, window shopping is always a good idea.
Check out some fun shops. It may even be super fun to try some clothes on.
Hire a scooter for the day
We had so much fun hiring a scooter for the day in Paris.
It is a super fun adventure to enjoy together as a couple. If you hire a vintage or a brand new scooter it can also double as a good #couplegoals photo prop.
Hiring a scooter is a great date idea to keep cool in summer. Read this post for 50 more fun summer date ideas.
Go for a lunch with a view
There is one thing better than lunch and that is lunch with a view.
We enjoyed an amazing date in Paris recently. What made it so great? Well, the view of course!
The lunch was great but the view of the eiffel tower made it extra special.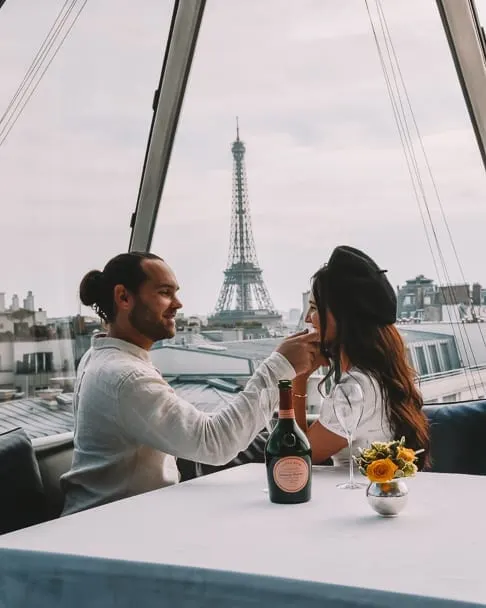 Dress each other in something crazy
Playing dress up is so much fun! Revert back to a child and dress up in something hilarious.
It is sure to get a few laughs and deepen the relationship even further. Plus it is a really cute third date idea!
This idea works year-round, but we particularly love picking out cheesy sweaters when it's Christmas time.
Read this post for 50 more cute winter dates.
Play hockey
Get out and play a game of hockey. Why hockey? Well, I bet you didnt think of hockey right!?
Hockey is a very unique third date and something you will be sure to continue to discuss for years to come.
Play basket ball
Hockey not your jam? What about basket ball?
The beauty of basket ball is that the opportunities to play the sport are plentiful and just about everyone owns a basket ball so there is really no excuse!
Go to a soccer game
Sometimes playing sport is just too hot and sticky, going to a sport game can be a much better idea!
Soccer is one of the best games to visit as the fans are so loyal which can make for great entertainment!
Go to a football game
Many people do not enjoy soccer as it can be quite a slow game.
Football as a lot of different varieties such as American Football, Rugby Union, Rugby League and more..
One of my favourite third date ideas ever!
Go to a dessert bar
Going for dinner can be fun but going to a desert bar can be fun-er!
What can be more satisfying than a big plate of warm chocolate brownie to warm the heart and the tummy.
Go to a kareoke bar
Singer or not there is nothing more fun than visiting a kareoke bar and belting out some of your favourite tunes.
This is sure to make for a very memorable third date!
Hike a mountain
Hiking a mountain is a super rewarding idea for a third date.
Doing a activity like a hike will certainly bring you closer together as a couple as you have accomplished something as a team.
Marvel at a view
Who doesn't love a view! So hunt the best view in your city to impress your date with.
A view is sure to win loads of brownie points as it is a really cute third date idea.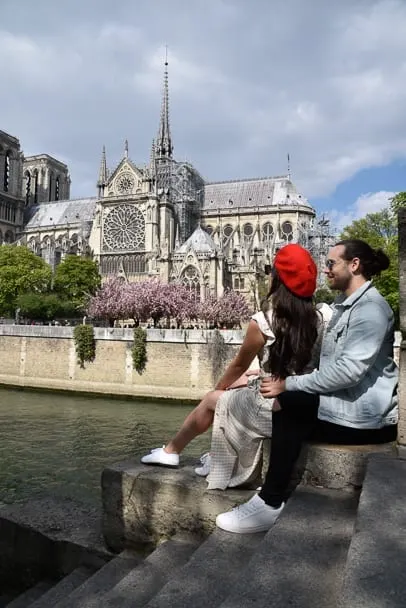 Clean up a beach
Is there an eco warrior hiding inside of you?
Plan your third day around a beach clean up. Bring a plastic bag and decide to clean up the beach together.
And of course, a good deed should always be rewarded with a nice cold drink after!
Go white water rafting
White water rafting is a perfect third date for the adventurous amongst us.
We have been white water rafting twice. The first time was a rather chilled experience in Slovenia and the second time was in New Zealand where we had a near death experience (something to talk about for many dates to come!)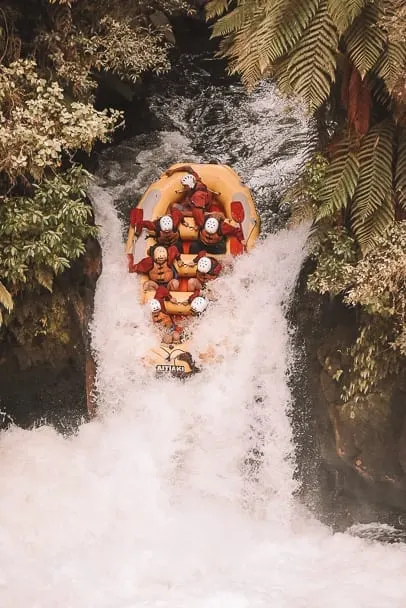 Play hide and seek
Bring out the inner child in you and play hide and seek. Make it fun game and time how fast you can find each other.
Play play-doh
Another throw back to the good old days would be a third date making no other than play-doh!
Have a challenge and see who can create the best animal using play doh.
Be a yes man for a day
Everyone loves a yes man or a yes woman!
Have a super fun day and agree to say yes to everything suggested even if you usually wouldn't!
Catch em all on the pokemon app
Does this app even still exist because we think it would be a super fun third date idea!
It would be so fun going around the city catching all the pokemon on a date.
If this app isnt too your liking there are plenty of others that you can try instead!
Communicate only by letters
Remember the days when we were all pen pals?
How romantic would a date be if you cannot talk but only communicate via letters?
These letters will provide a fabulous keepsake for many dates in the future to come!
Get some walkie talkies
Walkie talkies are so much fun and so old school!
Buy some walkie talkies and go to a park or a department store where you can have some good fun using them!
Renovate someones house
Renovating a house is a great activity as achieving a project is a great way to bring a couple together and get some good insight into your future together.
Plus, you might win some big brownie points with your new beau if you do a good job renovating their house!
Sell something on ebay
Both bring a few items of clothing, photograph them and see how much money you can make on ebay.
After use your 'winnings' (however much your items sell for) to go out either for a nice meal or McDonalds.
Have a garage sale
On the same line of thinking as ebay, another third date idea would be to have a garage sale together.
As above, however much you earn from the garage sale use on your date.
Make a cupcake stand
We really like the idea of the cupcake stand as it involves making super cute cupcakes together and then going and selling them at a market.
A super super cute third date idea!
Go to the opera
Going to the opera is such a cultured third date experience.
Get dressed up, have a few fancy cocktails in intermission – a perfect third date idea if we do say so ourself.
Go see a musical
The issue with operas is you cannot always understand what the people are saying!
Musicals on the other hand, may be a better third date idea as you can understand exactly what is going on.
Our favourite musicals and ones we would highly recommend include Phantom of the Opera and My Fair Lady.
Play hide and seek in Ikea
Aside from finding good furniture, Ikea is good for something else, that is playing hide and seek.
Ikea makes THE PERFECT hide and seek grounds as they purposely design the store in a way that you will get lost and there is plenty of places to hide.
Make a couples instagram account
We are a fan of the couples Instagram account, hey, we even made one @coupletraveltheworld and wrote about some of the best Instagram couples.
It is never too soon to make a couples Instagram account together and lets just say, couples who Instagram together, stay together!
Get started today with our guides to help you pick a couple instagram name and which are the best couple hashtags + how to use them!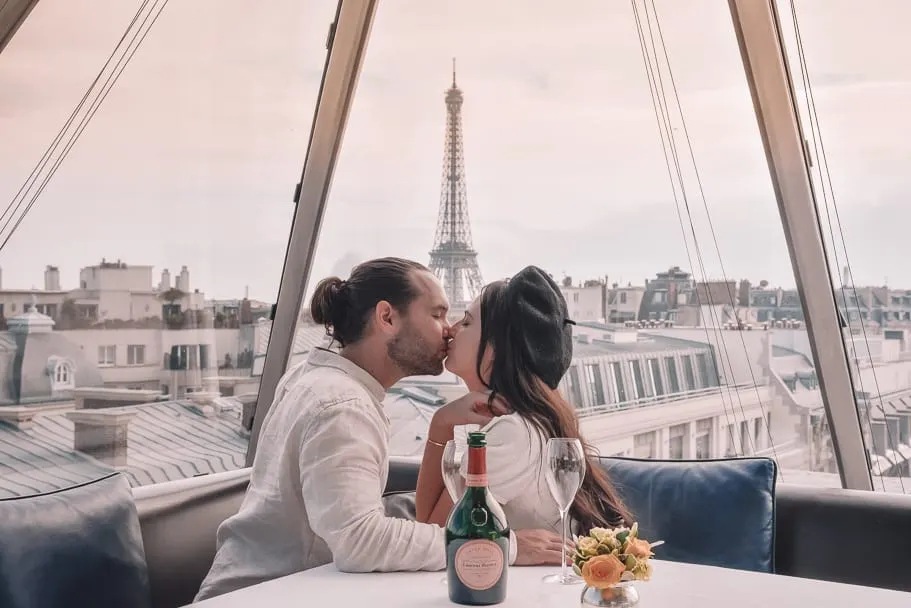 Take a photography course
Taking a course together is a super fun and productive way to spend your third date as a couple.
We love photography so a perfect third date for us would be taking a photography course to improve our skills.
Take an art class
If photography is not your thing, take an art class together.
Even better still, take a nude live art class together where the subject that you are painting is totally nude.
This is sure to be a pretty awkward moment but will certainly bring you closer together as a couple in the long run!
Go on a walking tour of your city
This is something that you would probably never do normally so it is just perfect for a great third date idea.
Discover something new about your city and find a new place to be "your place" for just the two of you.
Prank call people
The good old prank call. Immature but oh so fun!
Take turns doing a prank call of each others choosing.
Go surfing
Surfing probably found itself also on date list 1 & 2 but for good reason surfing never gets old.
Do a good deed
There is nothing that fills your heart more full of joy that doing a good deed.
Spend a day giving out little home made boxes of joy to the homeless together. It will fill your heart with love and create memories with your new beau that will last a lifetime.
Visit a bird sanctuary
A zoo is so date 2 but a bird sanctuary – now there is good third date material.
Plant a tree
Be a good green citizen and plant a tree.
Getting your hands dirty is super fun & doing something good for the environment is sure to bring a lot of good energy to the relationship.
Plus, we love trees because in fall they create stunning backdrops for cute fall dates.
Babysit
Offer to babysit together for a relative.
You will have so much fun together playing with that little someone and will give you a lot of insight into your future life together asa couple.
Go sailing
Sailing is a great date idea as you get to go out on the open sea and relax for the day with a loved one.
Restore a piece of furniture
If neither of you have a house yet to renovate, the next best thing (and super fun too) is to restore an old piece of furniture together. Here's some furniture renovation tips you might like to check out!
If you do a good job you can even sell it for a profit after! A great fourth date idea.
Want MORE date ideas?
We have you covered with date ideas for all occasions.
If you didn't find exactly the perfect teen date idea in this list, you might like to check out:
If this is your very first date (exciting!!) here are some of our favourite first date ideas:
Go bowling (this is certifiably a great way to spend a rainy day date. This was part of our first date together)
Make a home cooked meal for two together
Wine & Paint
Visit a hipster cafe
Go rollerblading or indoor ice-skating
When thing are heating up and really getting exciting! Here are our favourite second date ideas:
Go on a double date;
Visit a theme park;
Go somewhere your date would love – demonstrate how attentive you were on the first date;
visit a farmer's market;
go rock climbing.
If it's raining outside, we have you covered! Here are some of our favourites:
Take a dancing lesson. Take shelter from the rain in your partner's arms;
Visit friends. Make the most of the rainy day but hanging out with your friends;
Go to an aquarium;
Volunteer at a dog shelter;
Have a pillow fight.
Fall is possibly our favourite season for dates! Here are our favourite fall date ideas:
See a movie at a Drive-In theatre;
Take a horse-drawn hayride (super cute – no more to say);
Go sweater shopping together;
Go horseback riding and watch an orange sunset among the fall leaves;
Hot cocoa and rockers (You and your date head to the front porch and get comfy in some rocking chairs)
You might not think winter is a good time for dates but we beg otherwise! Here are our favourite winter date ideas:
Build an igloo;
Go ice skating;
Indoor picnic;
Get outside! Build a snowman, make snow angels and make the most of your winter day;
Take an ice sculpture class.
Ahh Summer! Everyone's favourite season! Summer should be a easy one for date ideas! If you find yourself low on money this summer, here's the dates we would recommend:
Make a date for a pool party;
Have a picnic on the beach;
Try out water skiing;
Have a go at surfing;
BBQ at a lake or in a park.
List of Cute Couple Things to do
If you are looking for something simple and easy, check out out list of cute couple things to do.
Our favourites include:
Boat Pose
Ride a tandum bike
Dirty Dancing Lift
Eskimo Kiss
***
So, which of these third date ideas is your favourite and which did you select? Im dying to know!
Save this 50 Cute Dates to Pinterest (so you can find it again later!)