Looking for the most romantic things to do in London for couples?
Look no further as we have you covered with 11 of the best couple activities in London perfect for a romantic getaway.
Note: most of these spots are also perfect for couples photography in London. If you enjoy photography, you are in luck as we will give you are top tips for photos in London along the way.
11 Romantic Things to do in London for Couples
Sure, it's not Paris, but there are plenty fun activities for couples in London if you know the right places to look!
Whether you want to visit an iconic shop or would rather visit a hidden gem in London, there are no shortage of romantic places to visit in London.
To save you some time, here are 11 of the best:
1. The London Eye
The London eye is definitely one of the best things to do in London for couples.
There is just something so romantic about a big ferris wheel. Go for a ride or enjoy it by land with a romantic stroll along the river thames.
We love this spot as it is not a location that you need to visit at the crack of dawn to get a good photo.
You can easily photograph the London eye without anyone in it virtually at any time of day. Here is a photo we took at sunset at the eye.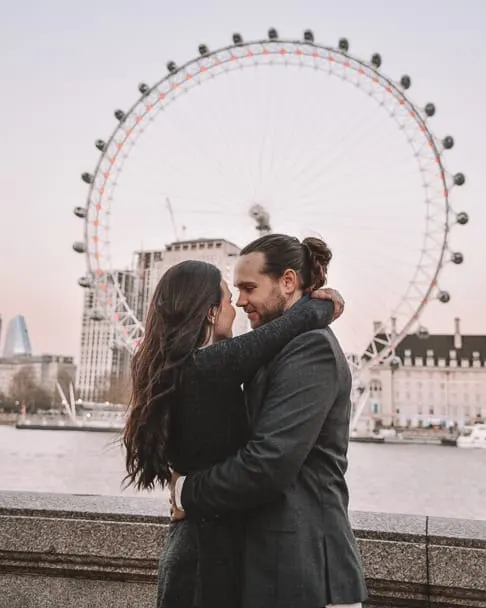 2. Notting Hill
Notting Hill is one of the most romantic things to do in London during the day.
Stroll around the white houses and pretend you are Julia Roberts for a day. If you are looking in particular for the colourful houses, those are found at Portobello Road, around the corner from the white houses of Notting Hill.
If you are thinking to take a cute couple photo at Notting Hill please be respectful and quiet. We have heard the residents of Notting Hill have become a little irritated that their houses have become the subject of Instagram photo.
3. Find a red phone booth
It won't be too hard but a fun thing to do for couples in London is see how many red phone booths you can find.
There is nothing that says London more than a red phone booth. The cool thing is you can find phone booths literally all over London so you wont have to look hard to find one of these.
There are some nice red phone booths near the London eye if you are looking for one in a good location.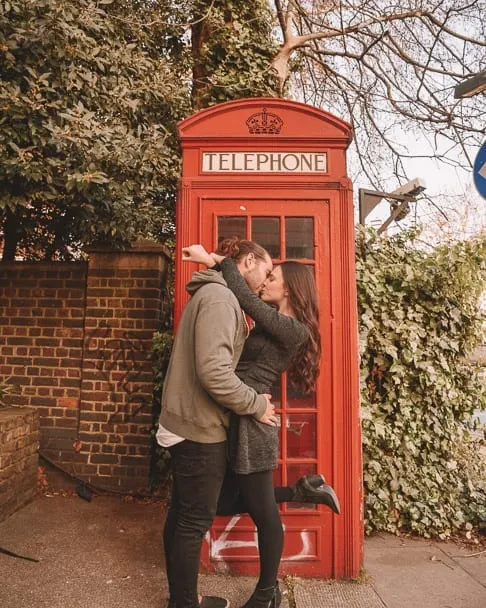 4.
Oxford Street
One of the top romantic things to do in london is to visit Oxford Street.
Oxford Street is a gorgeous street in London where the iconic double decker buses regularly run though.
A cool area of town makes the perfect place for a date in london.
If you would like a tourist snap to make the date, there is a slim walkway in the middle of the road you can take some great photos of the hustle and bustle of London without fear of getting run over.
5. Hillgate Place
If you aren't sick of colourful houses yet, make sure you make a stop at Hillgate Place.
This street is definitely too cute to be true. Take your girlfriend here and she is sure to be impressed – I can assure you.
6. Tower Bridge
This is possibly our favourite thing to do in London as a couple. It is also one of the most romantic things to do in london at night as the bridge lights up.
If you would like to take some photographs as we did, the South side of the bridge is the best angle for great photos.
You will see many Instagrammers sit or stand on the ledge. We were told you are not allowed to do this. You are also not allowed to film in the area, still photos only.
The great thing about the bridge is unlike many locations in London you won't feel overcrowded, losing the romance!
7.
Kynance Mews
In you are in London in autumn, Kynance Mews is possible the MOST romantic place to go for couples.
This archway comes to life in fall with stunning fall foliage colours. It would be a fabulous place to propose in London if you are looking for ideas!
If you are looking for where this spot is, you will find the stunning fall foliage at the entrance to South Kensington.
8. Ravens Court Park
If you are in London at the start of Spring, lucky you, it's cherry blossom time!
The best place to see cherry blossoms in London is Ravens Court Park.
While it is a bit of a slog on the tube to get out here, it is well worth it as the cherry blossoms are absolutely magic in spring. The spot makes for a really fun activity in London for couples in spring.
The cherry blossoms are particularly beautiful BUT note there is only one small row of cherry blossoms so you are fighting every man and his dog in London to see them. If you are looking for quiet places in London to make out – this is NOT it.
Even still, the rest of the park is beautiful and perfect for a date.
Our advice? This is one place you should visit early in the morning to avoid crowds.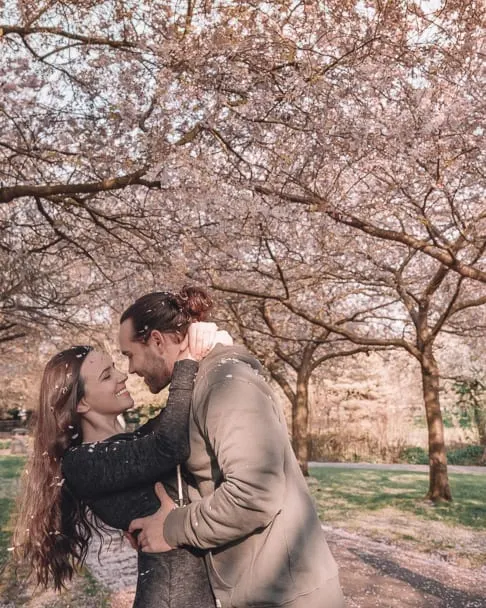 9.
Leadenhall Market
Leadenhall Market is located on Gracechurch Street in London.
It is a drawcard of tourists from around the world due to its beauty.
Leadenhall Market boasts stalls, restaurants,shops with a stunning Victorian roof on top making it the perfect place for a romantic night out in London.
10.
Sky Garden
Do you and your date love hidden gems? One of the best hidden gems in London is undoubtedly the London Sky Garden.
At the Sky Garden in London you can find stunning gardens, delicious cocktails and wonderful views!
The Sky Garden is free to access. It is best if you book in advance to avoid queues. An alternative option to this with a great view is Searcys at The Gherkin which has a stunning view and also food to die for at the glasshouse restaurant.
11. Hunt for the best scones in London
One of the best dates we ever had in London was going for a hunt for the best scones in London.
London, and England is well known for making amazing scones so you won't have to go far to find a good one. One of the best scones we tried and a bit of a hidden gem in London was at Gods only Junkyard
If you aren't big on scones you might like to alternatively try out Peggy Porschen, the most instagrammable cafe in London.
This cafe is pink and definitely is one of the best places to take your girlfriend in London.
***
That rounds up our list of couples things to do in London.
More London Blog Posts
Love London? So do we! If you are traveling to London, you might also like to check out:
Save (so you can find it again later!)