If you are looking for a treat while in Paris, you cannot go past the Penisula Hotel. It is the absolute essence of luxury dining in Paris and in our opinion, the Best Paris Lunch with an Eiffel Tower View! It is definitely one of the most romantic things to do in Paris for Couples.
Best Paris Lunch with an Eiffel Tower View
If you are looking for a restaurant with an eiffel tower view, then you simply cannot go past the Peninsula Hotel.
We dined in the stunning Le Lobby Restaurant for Lunch and headed upstairs afterwards to get some photos at L'oiseau Blanc Restaurant.
Best Restaurant Paris – Le Lobby Restaurant
Le Lobby Resturant is a stunning dining area at the Penninsula Hotel.
You will really feel like you have gone back in time dining here – a place fit for a princess!
The dining room has been decorated Belle Epoque era.
Le Lobby restaurant is famous in Paris for its absolutely delicious afternoon tea. As this is booked out many days in advance, we decided to dine at Le Lobby restaurant for lunch.
This proved to be a very wise decision as while the afternoon tea was fully booked, we had the beautiful restaurant virtually all to ourselves for Lunch.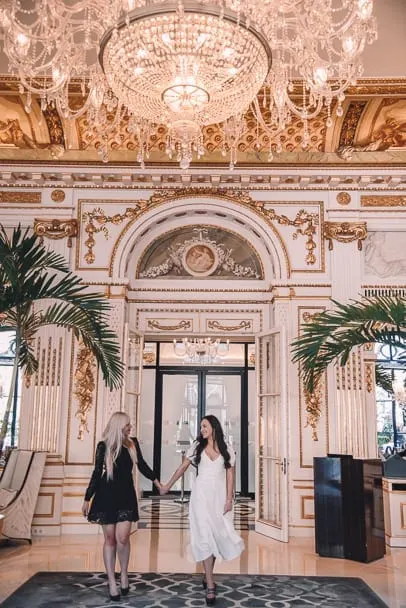 The Lunch menu at Le Lobby restaurant includes the following selection: