Are you looking to explore the stunning mountain town of Sapa without a tour guide?
From local markets to breathtaking hikes, Sapa is a destination full of adventure and beauty.
However, navigating this remote location without a tour guide can be daunting.
In this post, we'll provide helpful tips and tricks for exploring Sapa without a tour guide. So, let's get started!
How to visit Sapa without a tour guide
Sapa is one of the 'must visit' destinations in Vietnam. Sapa's rolling rice fields and refreshingly cool climate are a world away from the bustling metropolises of Hanoi or Ho Chi Minh City. This article describes how you can visit Sapa without a tour guide.
Five years ago, we visited Sapa on an organised tour. This time, we decided to try a different approach, visiting Sapa without a tour guide & spending more of our allocated budget on a more glamorous hotel.
We ended up spending less on our 4 night DIY tour to Sapa than what we spent five years ago on a tour to Sapa!
Night 1 – Travel on the night train from Hanoi to Lao Cai & get a transfer to Sapa
You can book your train tickets to Lao Cai from the website Baolau. On this website, there is a variety of different night train options available with varying prices.
We booked the cheapest available option, Vietnam Railways for around $25 USD per person one way and were happy with our selection.
On our return journey, we received a complimentary upgrade to King Express, which was no better in terms of quality.
Remember to bring snacks to enjoy with you along the journey. However, if you forget, there are vendors available at the station.
The train leaves Hanoi at around 9.00pm and arrives at Lao Cai at around 6.00am the next morning.
When you arrive in Lao Cai, hawkers will approach you to try to sell you a transfer shuttle to your hotel in Sapa. We read online that you could negotiate the shuttle rate down to 30,000 dong per person ($1.3 USD).
However, they seemed pretty firm on their price of 50,000 dong per person ($2.2 USD).
If you are travelling on a really tight budget, we later learnt that there is a public bus which only costs 26,000 dong per person ($1.1 USD).
After arriving at our luxury Sapa hotel, totally exhausted from the night train, we spend the first day checking out the Sapa town, getting a fantastic hot stone massage & admiring the gorgeous view of Fansipan Mountain from our balcony.
You can get a room in Aira Hotel on a good deal from $70 USD per night. Read our full review of our stay.
Day 1, Night 2 – Complete the trek to Cat Cat village
From Sapa town, it is about a half day trek to see Cat Cat village, home of traditional Black Hmong ethnic hill tribe.
If you wish, you can hire a local guide in town for a rate of around 70,000 Dong per person ($3 USD) not including the entrance fee, lunch or transfer back into to town.
However, unless you fancy having a long chat to a local woman (which is actually quite an interesting experience!) it is not necessary as it is very easy to do by yourself.
There is also a good chance a local Hmong woman will follow you as you walk the trek and tell you all about herself and her life. While they are nice women, this is also a strategy so that you will purchase from her at the end of the journey.
"What your name?, "Where you from?" is followed at the end of the trek with "You buy from me"
While this is certainly a little irritating when the last thing that you need is hand switched colourful purse to squeeze into your already oversized, pregnant suitcase, you think to yourself, what the hell, they really need the money and this is all part of the experience right?
When you reach the entry of the village, there is a 50,000 Dong entrance fee ($2.2 USD) to complete the waterfall trek & to see the traditional homes of the Hmong people.
While there are modern developments from 5 years ago, you can still see the Hmong hill tribe living a traditional life with little boys tending to farm animals, men working in the rice fields and women making traditional clothing, handbags and purses.
The path through the Cat Cat village is very quaint and follows a cobblestone path through Hmong houses and stores selling hand stitched bags, purses and buffalo horn bracelets.
As you walk along, you are able to take a look inside a traditional home and see demonstrations of how they make their traditional clothing.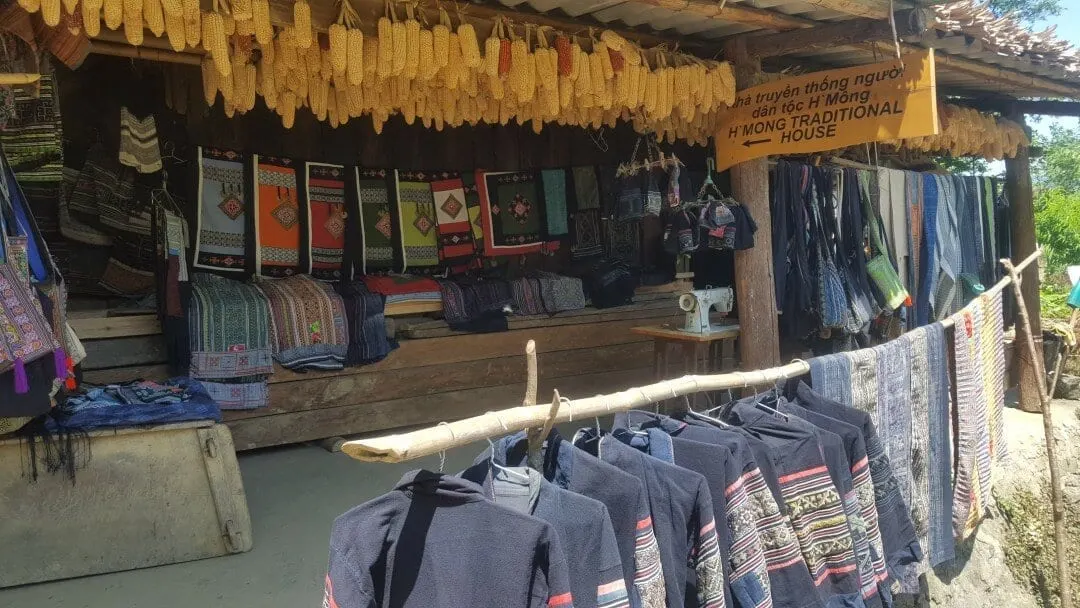 The Cat Cat village walk concludes with a cute little waterfall, a French hydro electric power station & a suspension bridge.
The walk back to Sapa is straight uphill so it is advisable in the very hot summer sun to take a motorbike. If you negotiate, the price of the motorbike back to Sapa town is 30,000 Dong per person ($1.3 USD).
Day 2, Night 3 – Complete the trek from Lao Chai to Ta Van (not to be confused with the train station Lao Cai)
The next day we completed the trek from Lao Chai to Ta Van. If you enjoy a long hike, you can walk all the way from Sapa to the start of the walk in Lao Chai (7km).
However, in the hot summer sun, the best option is to get a taxi to the start of the walk.
We expected to pay 200,000 Dong for a taxi, as this is the amount we read online, but our taxi driver only quoted and charged us 100,000 Dong ($4.40 USD) for the taxi.
The trek between Lao Chai to Ta Van is a particularly picturesque walk and less commercialised than the trek to Cat Cat.
It is about a 3km trek between Lao Chai & Ta Van. On our way to Ta Van we met a traditional Hmong woman, her daughter and grandson in tow who wanted to trek along with us.
We were clued up as to what we wanted at this stage (that she wasn't just a really friendly woman) but we didn't object to her walking along with us as we found her quite endearing.
As we walked along with them through the gorgeous rice fields, the grandmother told us a bit about their lives in broken English. She had been widowed 5 years ago and her daughter was 16 years old with a newborn son.
When we reached Ta Van she told us she was going home the other way and unsurprisingly asked "You buy from me?".
She was a sweet lady so we bought a purse from her but oh no, one is just never enough! "Two purse for you" she said hopefully. We told her no thank you and walked quickly on our way.
The trouble was, we really had no idea of where to catch transport back to Sapa. As we walked away, despite her saying she was walking in the opposite direction, her and her daughter were still walking on the road behind us.
As we walked faster, they walked faster until eventually they were more or less chasing us down the road. As we really didn't know where to catch transport back to Sapa, we eventually gave in, slowed down and they caught up.
They told us that they would take us to a place where we could get transport back to town. "We take you here" they said pointing down a deserted alleyway into mass rice fields.
Apprehensively, we followed & sure enough after a brief walk off the beaten track (which was actually a lot more authentic than the path we were originally walking on) we found minivans charging 50,000 Dong per person ($2.2 USD) for a lift back to Sapa.
As we we looked out the window as the car drove off, there was our little Grandma was smiling and happily waving us goodbye.
Extra things to do & see in the Sapa region:
If you are in Sapa on a Saturday
Check out the love market in the centre of Sapa town. Traditionally, the love market was designed so that the traditional people were able to find their mates.
This was done by wooing the opposite sex through song, dance and playing various instruments. A lady working at our hotel told us that in the Hmong culture, if a boy likes a girl, he steals her away and locks her in a room for 3 days.
He will provide her with food & water during this time. If after the 3 days she agrees to the boys marriage proposal, he will provide her family with a dowry of chicken and rice.
If she refuses his proposal after 3 days then she is free to return to her family.
If you are in Sapa on a Tuesday
Check out the Cocly Market & take a boat trip afterwards on the Chay River.
We went here 5 years ago and booked a tour to visit this market as it is a long way away from Sapa. At the Cocly market, different minority groups (namely the Flower H'mong, Black Dzao, Tay, Dzay) come together to sell & trade goods with each other.
The most interesting thing we saw at the Cocly market was a group trading cattle. Be also prepared to see strange things at the market such as the sale of live dogs by the pound.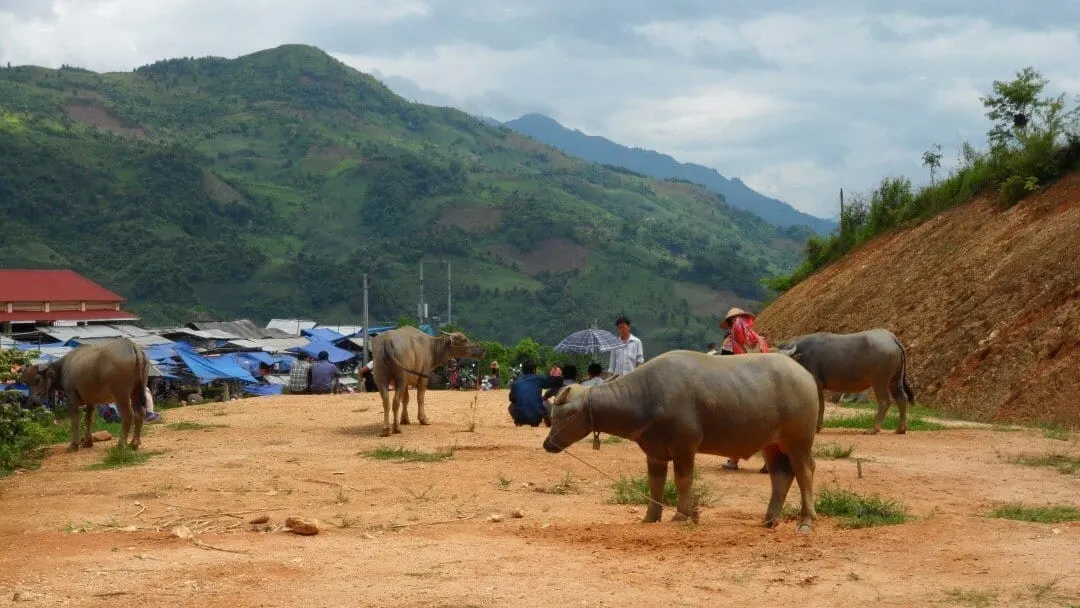 If you are in Sapa on a Sunday
A similar market runs known as the Bac Ha market.
This is known to be the largest and most vibrant of the markets operating nearby Sapa. It is probably best to book a tour if you want to visit the Bac Ha market as it is over a 3 hour drive from Sapa.
Cost comparison: Tour vs Visiting Sapa without a Tour Guide (2 persons)
Cost of Visiting Sapa Wihout a Tour Guide (luxury accomodation) – 368.26 USD for two people
Accommodation – $140 USD (Double occupancy, 2 nights, Luxury Accommodation)
Train & transfers to Sapa – $108 USD (Return, 2 people)
Taxi to walks – $11.46 USD (2 people, where stated in blog)
Entrance fees – $8.80 USD (2 persons)
Food – $100 USD (Eating like kings, mostly at Aira Hotel)
Cost of Basic Tour – 442 USD for two people
Accomodation – 1 night accommodation (Double occupancy, 2 star) and 1 night homestay in a local house
Train & transfers to Sapa – Return train tickets & pick up & drop off at Hanoi Train Station
Entrance fees
Food – Basic. Breakfast, Picnic lunches & dinner.
Additional perk – The services of English-speaking guides
Grand Total Savings of $73.74!
Therefore, when you break the expenses down, you are paying around $73.74 USD more for a tour, staying in basic accommodation. That's enough to buy a night in one of the best Hanoi hotels or an overnight cruising Ha Long Bay (see our La Vela cruise review).
You have to weigh up if that is a worthwhile expense to you. On the tour, they hire traditional tribal women which, if you desire, can be hired easily and directly from Sapa town.
You can also book a homestay direct in the Ta Van Village if you want to experience how the traditional Hmong people live first hand.
If you do however, enjoy the convenience of a tour, we booked our tour of Sapa through BestPrice Travel.
We hope you found this how to 'how to visit Sapa without a tour' guide useful in helping you decide whether to book a tour to visit Sapa. If you have done DIY travel in Sapa and have any extra tips, please leave a comment below!
Save this 'How to visit Sapa without a Tour' Guide to Pinterest!
Disclaimer – This post contains affiliate links. This means that if you make a booking through our links we will receive a small commission at no extra cost to you. If you found this post helpful, we would appreciate you using our links to help keep our site running!