Sapa is one of the 'must visit' destinations in Vietnam. Sapa's rolling rice fields and refreshingly cool climate are a world away from the bustling metropolises of Hanoi or Ho Chi Minh City.
Two couples stayed in the luxurious Aira Boutique Sapa Hotel & Spa in Sapa to see how it measures up from the perspective of a millennial and baby boomer.
Wondering where to stay in Hanoi? Check out the Best Hanoi Hotels
Aira Boutique Sapa Hotel & Spa Review
Aira Boutique Sapa arguably has the best views in Sapa. Perched high on the hilltop, it overlooks the breathtaking Fanispan Mountain.
This luxury hotel is just far enough away from Sapa's busy town center to feel as though you are getting away from it all while close enough (a 5 minute walk) to be able to have a full immersive Sapa experience.
A world away from the alternative accommodations in Sapa, which traditionally include a homestay with one of the struggling minority groups in the area, the Aira Hotel caters to a different market of people who want to visit the Sapa region in style.
We arrived after a long overnight train from Hanoi and were warmly greeted by staff with a delicious complimentary fruit drink.
Following this, the hotel immediately checked us into our rooms. A perk we greatly appreciated at 6am in the morning!
Interior
The interior at Aira Hotel is beyond amazing.The hotel is tastefully decorated with a gorgeous iron staircase, modern furniture and images of the Hmong people who live in the surrounding rice fields on the walls.
Interestingly, management informed us that all materials found in the hotel are sourced directly from Vietnam.
The hotel was only recently opened and has a gorgeous pool area to relax, a bar area, a gym and a spa with trained masseuses.
We felt as though the hotel went the extra mile with bottled water provided complimentary in the pool and gym area and towels ready for anyone who wishes to go for a dip in the pool.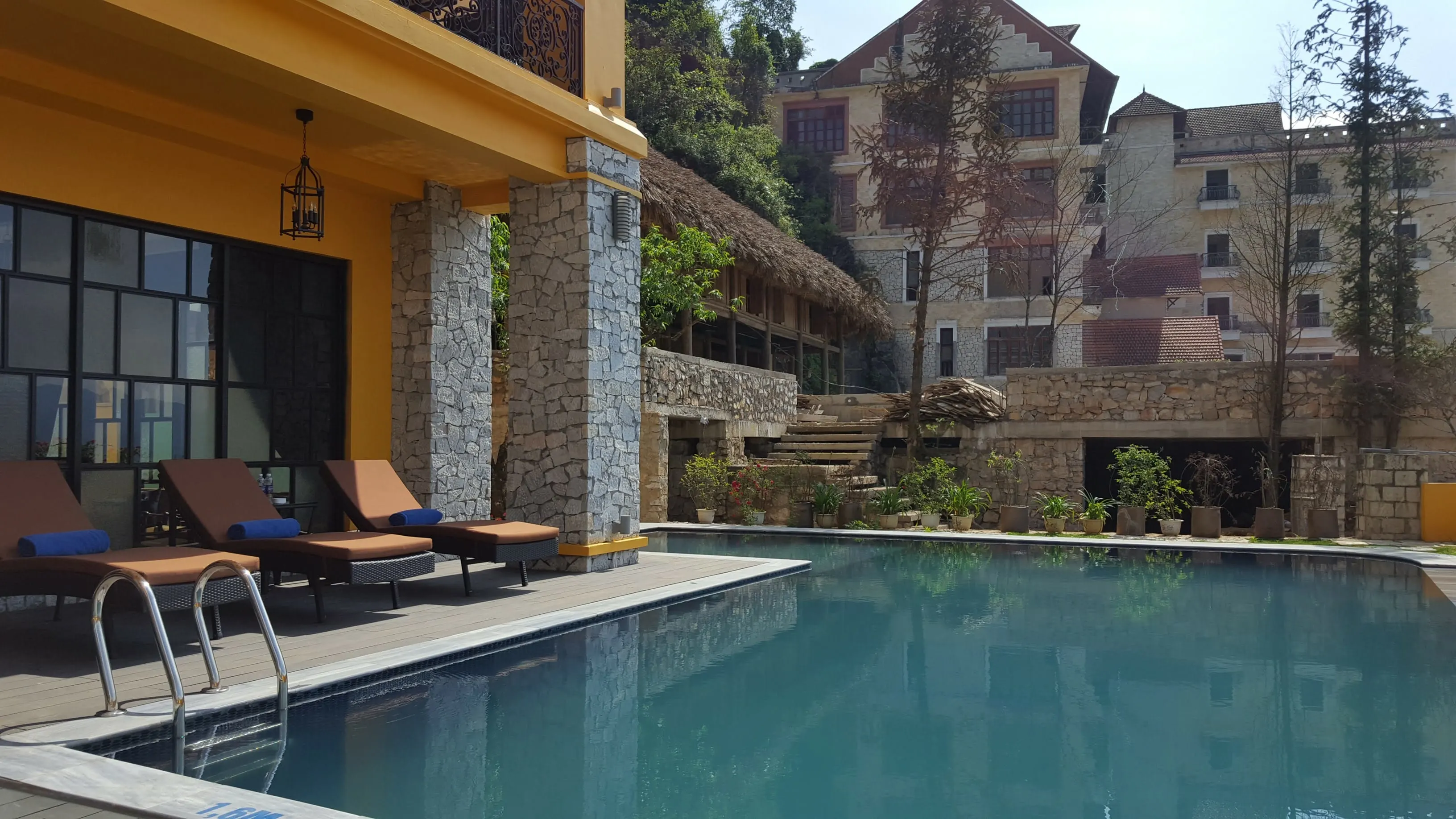 Room Reviews
We stayed in two of the suite rooms (a junior suite and a suite room) which were extremely spacious & very stylish with brand new contemporary furnishings.
These rooms are a fantastic choice for couples travelling to Sapa and both couples were highly impressed with these rooms.
The major difference between the junior suite and the suite rooms was the suite room had a bathtub and a slightly bigger balcony.
Otherwise, the rooms were nearly identical. The rooms also had complimentary traditional Vietnamese snacks which we thought was a nice touch.
There was a note informing us additional tea, coffee and milk was available complimentary anytime upon request. There is also an informational book in room about the surrounding area and the different tribes.
Family Rooms
Hotel management also showed us through many of their other rooms in the hotel which were equally elegant.
Even the less expensive rooms (Deluxe Window & Deluxe Balcony) – also designed for couples – were gorgeous and very spacious.
To our surprise, the hotel also caters extremely well for families with children with some fantastic family rooms available to suit a variety of different budgets. The Aira Duplex Suite Terrace is a fantastic option for families or two couples travelling together as it is an upstairs/downstairs 92sqm self contained duplex with a small dining area and kitchenette available for families who want to travel in style.
A little more affordable option is the Family Balcony room which is great for young families who want to stay in the same room. As with all rooms in the hotel, a complimentary buffet breakfast is provided.
We felt that the buffet breakfast is on the same level as many 5 star hotels we have stayed in.
A la carte eggs, pancakes and french toast are available at breakfast cooked fresh to order and very delicious.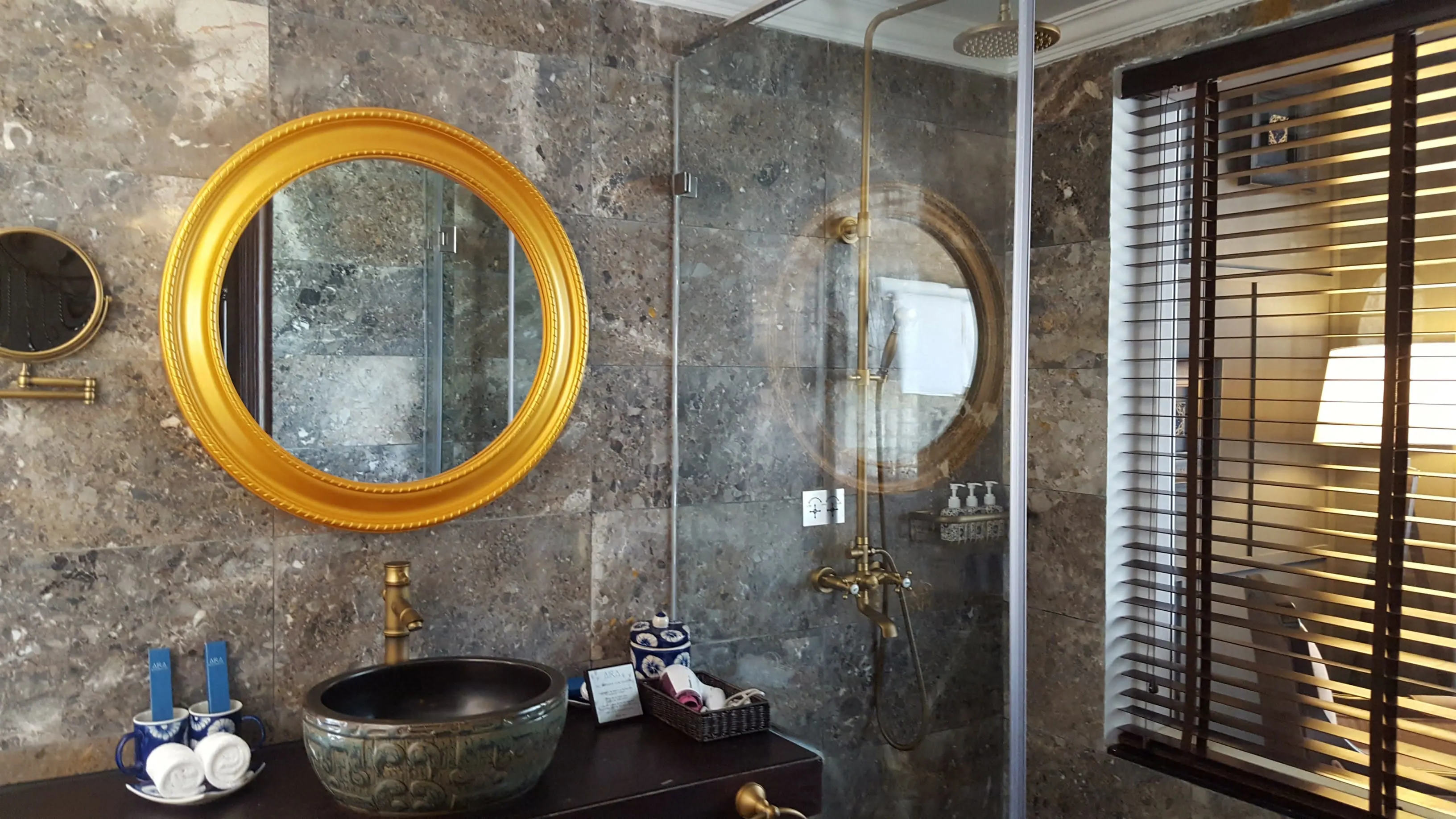 Aira Boutique Spa Experience
The Aira Hotel's spa area is also an absolute treat and definitely a worthwhile experience if you want some extra pampering during your stay in Sapa.
While the spa services are slightly more expensive than in Sapa town, the facilities are clean & comfortable and the staff do an incredible job.
When leaving the spa area, you feel as though you are floating on air. Nadia & Lisa tried the 'street package' which included a facial and a 70 minute hot stone massage.
This package costs 880,000 Vietnamese dong ($38 USD). A full list of all the treatments and prices is provided in room. At certain hours of the day, the hotel also provides promotional spa discounts.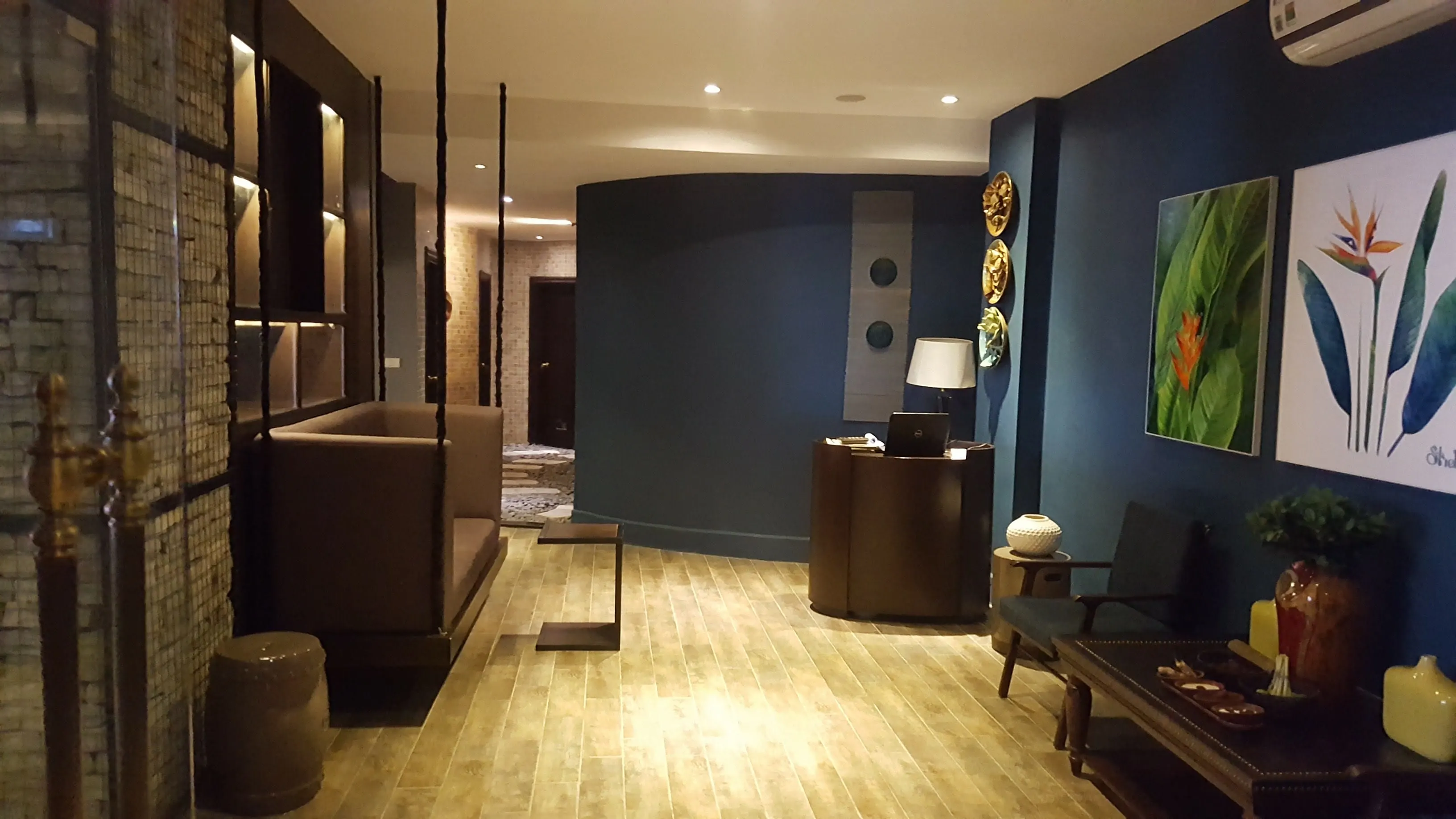 Aira Hotel Restaurant Review
The Aira Hotel also has a nice restaurant on premises, as part of the Essence group. The restaurant had a selection of Western & Vietnamese cuisines.
However, the menu was slightly more limited than the Essence restaurants in Hanoi as some of the produce is hard to source in the Sapa region.
What made up for this slight shortcoming was the fact that every dish that on offer (around 10 main dishes) was equally as delicious as the one before.
As the hotel had only recently opened, the staff informed us that more dishes would be added to the menu in the months to come. Our favourite dishes at the restaurant were the pork bun cha and the chicken club sandwich.
When we visited, the restaurant also had a 2.30pm – 5.00pm summer happy hour buy one drink and get one free drink promotion!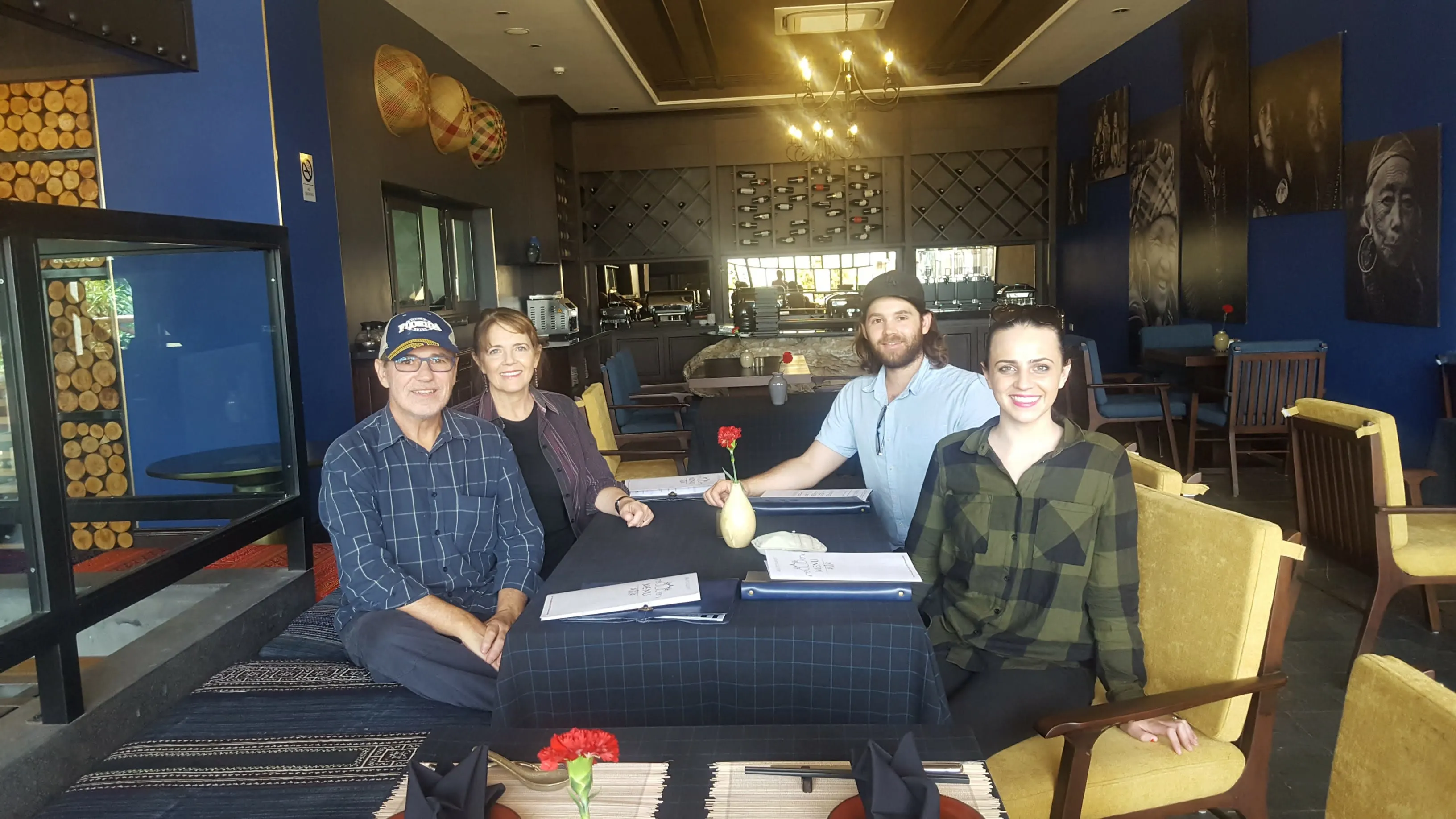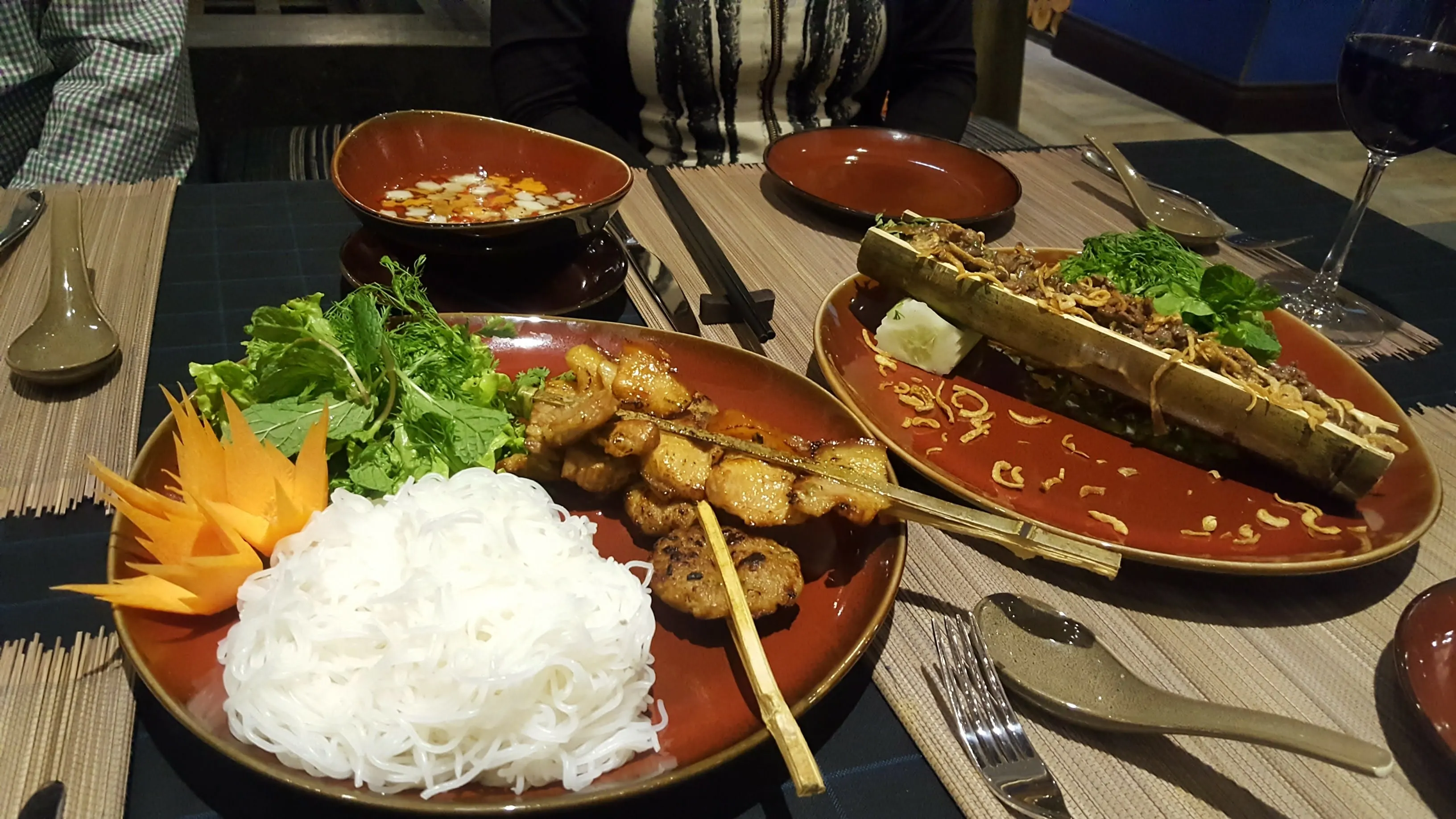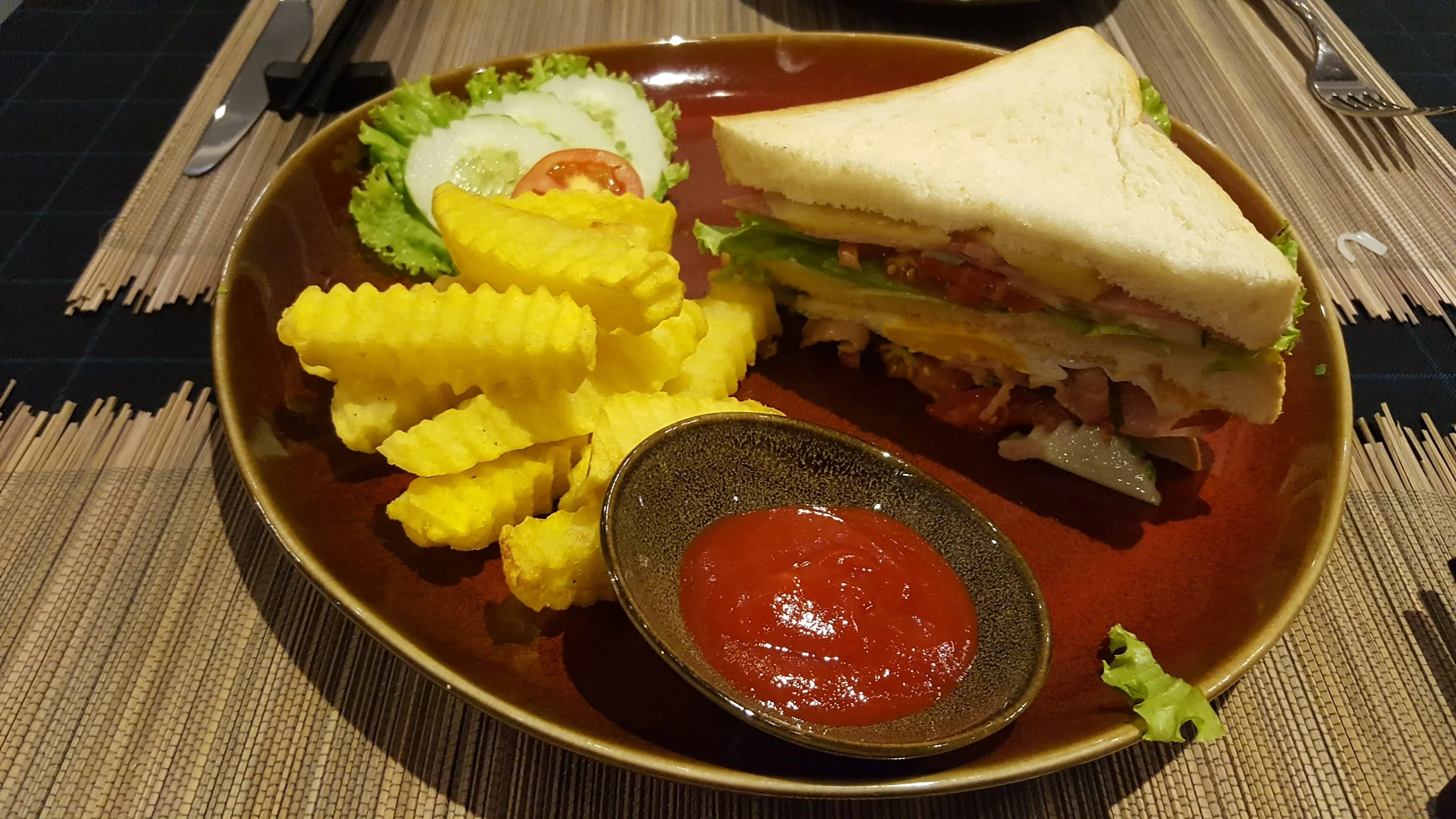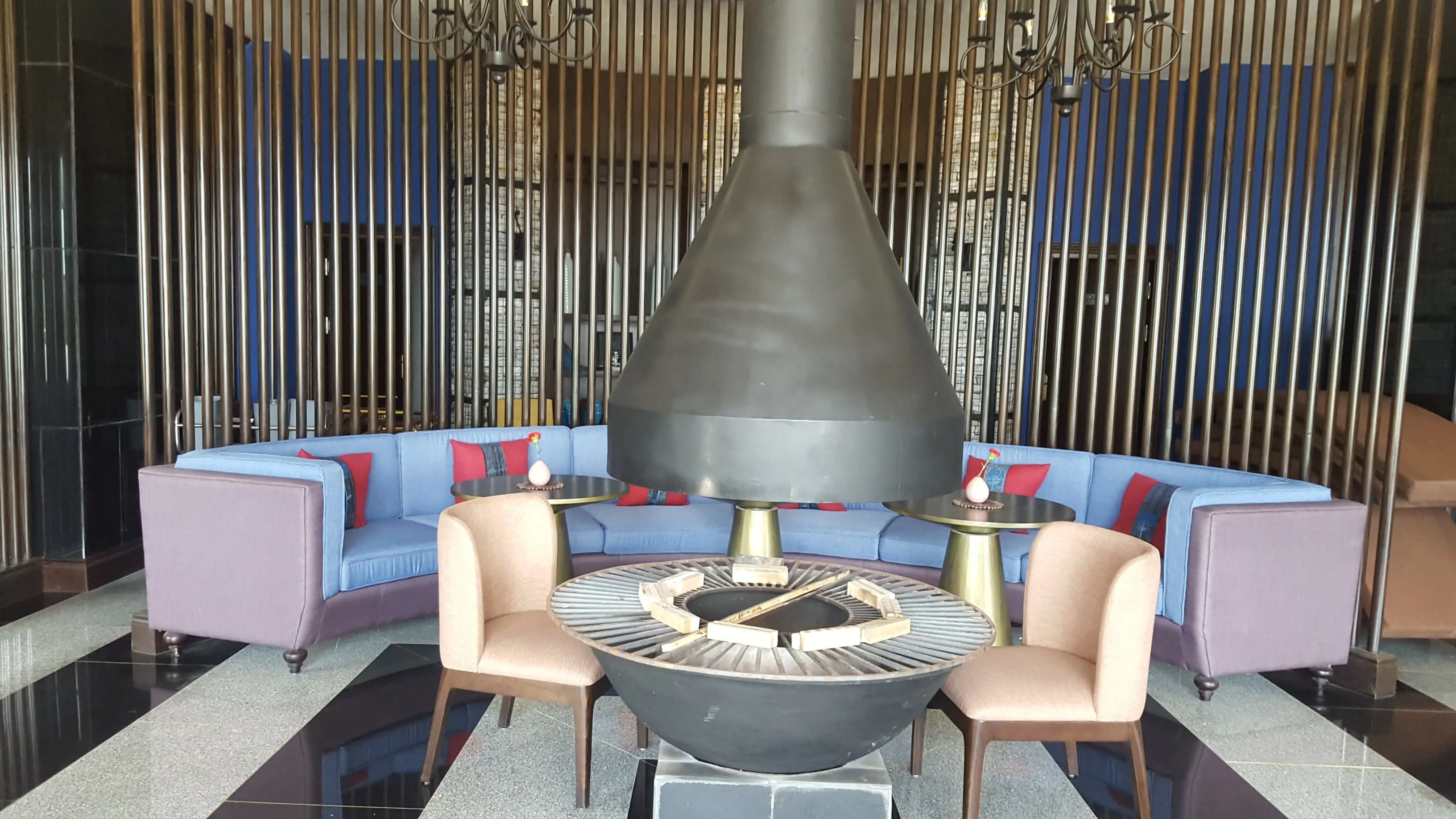 Service & Staff
What particularly stood Aira Boutique Sapa head and shoulders above other hotels we stayed in Vietnam was the fact that the Aira staff & management provided outstanding service.
They were extremely friendly, eager to please & very accommodating to any requests we had during our stay.
They greeted us with a warm hello and goodbye every time we arrived and left the hotel. They even regularly checked in on us at dinner to make sure that we were enjoying our meals & to see if there was any more that they could do.
After leaving we provided some feedback to the hotel at their request.
While we have them a 5/5 review score, the only minor things we could think of in terms of improvement was the quality of the toilet paper & the fact the internet was a little spotty in the room.
After we left the hotel, management wrote to us informing us that based on our feedback they had changed toilet paper providers & organised a technician to check the speed of the internet in all the rooms.
We appreciated the hotel's ability to listen and their desire to continually provide the best service & experience possible to guests.
At the end of our stay, the staff were even kind enough to offer us a complimentary motor bike ride down to the bus station.
How to Book
Overall, both couples were beyond impressed with the Aira Hotel and would highly recommend staying there in Sapa.
Click to Book: Show latest deals & reviews for Aira Boutique Sapa Hotel Spa
If our review helped you, please come back and let us know in the comments below.
Contact details for Aira Hotel:
Tel: +84 214 377 2268
Fax: +84 214 377 2277
Hotline: +84 932 220 407
Email: [email protected]
More Vietnam Travel Blog Posts
Planning a trip to Sapa? Consider skipping the tour in favour of a DIY option. Even on a modest budget if you have visit Sapa without a guide you can put your savings towards a nicer hotel – like Aira!
If you didn't notice, we're kinda foodies. So of course we couldn't visit Hanoi without writing about the 10 Best Things to do in Hanoi + Food to Die For
If you're looking for accommodation – we cover the BEST Hanoi Accommodation options for budget, mid-range & luxury travellers
You can't visit Hanoi without visiting Sapa and Ha Long Bay. We took a luxury cruise with La Vela Cruises – and wrote another detailed review about it.
Visiting Hoi An? Don't miss our Hoi An travel guide which covers things like a recommend tailor in Hoi An (because getting clothes tailored in Hoi An is half the fun)!
This blog is co-written by two couples. An older travelling couple, Lisa & Paul and a younger travelling couple, Nadia & Michael. This trip was in part sponsored and made possible by Aira Hotel. However, it does not in any way influence our views or opinions of the experience.