Ometepe Island in Nicaragua (Ometepe means two islands) is a truly a unique travel destination.
Isla de Ometepe was formed by two volcanoes (the distinctive Volcano Concepcion and Volcano Maderas) rising from Lake Nicaragua.
Ometepe is the largest island on Lake Nicaragua but that's not why it's a must visit destination on any Nicaragua itinerary.
No, what makes Ometepe an unmissable destination is the number of awesome activities on the island.
In this Ometepe travel guide we'll show you way more than just the best things to do on Ometepe.
We'll also show you were to stay, where to find the most delicious breakfast in Central America and how to get to Ometepe Island.
Top 5 Things to do in Ometepe Island
Wondering what to do in Ometepe Island?
There is so much to do on Ometepe we've filtered it down to a top 5 so you can fit it all in a few days.
Hike Volcano Concepcion or Volcano Maderas
See those epic volcanos in the photo above. You can hike them.
Even better – show your friends your photos of Volcano Concepion from Punta Jesus Maria.
Then show them you rocking it at the top of Volcano Concepion after your hike.
Not everyone can say they've hiked a volcano, right?
How to Hike Maderas Volcano (Vulcan Maderas)
Both these hikes are not for the faint-hearted and take a full day to complete.
Volcano Maderas is a 6 – 8 hour (muddy) trek through dense cloud forest to reach a Laguna at the top of the volcano.
Most people begin their trek at Finca Magdalena. Here, there are also paths to coffee plantations and petroglyphs.
How to Hike Concepcion Volcano (Vulcan Concepcion)
Alternatively, Volcano Concepcion is a very challenging hike that takes around 8 – 10 hours in duration.
As it is a challenging hike, a guide & good hiking boots are highly recommended.
You are able to hike all the way to the crater of the volcano at 1000 metres above sea level.
Unless you are a die-hard adventurer, we recommend booking a tour from one of the operators in Moyogalpa.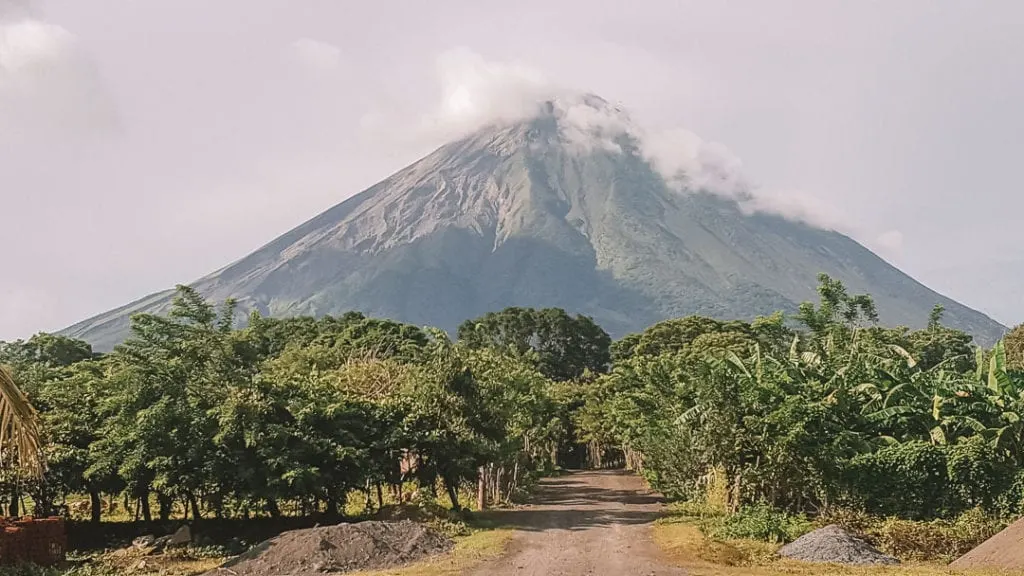 Swim in the Crystal Waters of Ojo de Agua (Ometepe Waterhole)
Ometepe's volcanoes may be the most distinctive photograph of Ometepe but it's the turquoise waters of Ojo de Agua Isla de Ometepe which have people going gaga.
The natural spring water of Ojo de Aqua Ometepe provides a refreshing escape from the heat in a beautiful jungle setting.
We spent an incredibly relaxing afternoon at the Ometepe Waterhole wallowing in the fresh water, sipping fresh coconuts 'spiked' with white rum and jumping from rope swings.
How to get to Ojo de Agua Nicaragua
Ojo de Agua is located on Isla de Ometepe about 35 minutes drive from the town of Moyogalpa: Google Maps.
A chicken bus runs nears the waterhole but it takes much longer than 35 minutes as it stops constantly to collect and drop off passengers.
If you plan to stay long into the afternoon at Ojo de Agua there's a risk you could miss the last chicken bus home.
If you're staying in Moyogalpa we recommend hiring a scooter.
A scooter costs $20 – $25 USD a day in high season or $15 a day in low season.
If you plan to combine your visit with another attraction (Punta Jesus Maria would be a good one to do) then a day rate may be worthwhile.
Otherwise, you may only need to pay the half day scooter rate of $10.
Hike Charco Verde with Howler Monkeys
Another great way to spend your day is by visiting the Charco Verde National Park.
Entry to the park is 142 codobas entrance (for foreigners) and includes entry to a beautiful Butterfly Garden.
There are numerous hikes around the Charco Verde to complete depending on what you would like to see.
It is about a 45 minute walk to reach Mirador del Diablo, a lookout point above the Charco Verde Resort.
If you have a bit of extra time up your sleeve, kayaks are available to rent from the resort.
If you are interested in seeing monkeys you are in luck as the National Park is home to many howler monkeys.
Be warned though the area is also home to many mosquitoes so don't forget your mosquito bracelets or spray!
How to get to Charco Verde
You can easily catch the chicken bus to Charco Verde. If you are staying in Moyogalpa, the bus passes through the centre of the town.
You need to do a bit of a dance to hail it down though as they have driven past us before. I got the feeling they prefer the tourists to pay for scooters or expensive transfers.
If you do catch the bus, the price of the ticket is 12 cordobas to Charco Verde bus stop. The journey takes about 30 minutes.
From there, it is about a 10 minute walk down a picturesque dirt road past farmlands to reach the National Park.
Be warned though, the last bus returning from Charco Verde comes at 5pm on the dot.
You don't want to be stuck catching a cab from Charco Verde as cabs are very expensive on Ometepe.
Buses run back from Charco Verde at the following times: 6:15, 7:40, 8:40, 9:30, 10:40, 11:30, 12:30, 1:20, 2:10, 2.45, 3.40 & 5.00pm.
Pinpoint link to Charco Verde: Google Maps
Explore San Ramon Waterfall
Another worthwhile thing to do on Omatepe is a 3 hour trek to San Ramon Waterfall.
This trek is a combination of roads and jungle trails with a refreshing waterfall as the final destination.
If you are short on time & have hired a scooter you can drive the first 2 km to a parking lot and just hike the remaining 1.5 km to the waterfall (shortening your journey to 1 hour roundtrip).
Start your hike to San Ramon Waterfall from here: Google Maps.
As a nice alternative, Hari's Horses located in Merida offers horseback rides up the trail.
Snap an Iconic Photo of Ometepe Island from Punta Jesus Maria
You can't visit Ometepe without stopping at Punta Jesus Maria sandbar to behold the panoramic views of Ometepe's two famous volcanoes.
Make it more than a photo stop by relaxing for a drink or a snack while you enjoy the views. Beers are super cheap at 30 Cordobas.
Rumour is from time to time washed up pieces of pottery and stone carvings dating back to the Pre-Colombian era wash up on the shores.
Entry is 28 cordobas or $1 USD.
How to get to Punta Jesus Maria
Punta Jesus Maria is approximately 4km away from the main town of Moyogalpa: Google Maps.
It's simple to reach by chicken bus, bike or scooter. If you're feeling energetic you can take a 1 hour walk each way to town.
If you want to take the chicken bus, it will cost you 7 cordobas for the ride.
Get off at the stop El Manatial & walk 15 minutes down a path to the beach area.
Get to Know Moyogalpa Ometepe
Moyogalpa is the largest village on Isla de Ometepe and is where you will land if you catch the ferry from Rivas.
The town is packed full of interesting restaurants, cafes, tour operators and everything you need during your stay.
You will also find the majority of Ometepe's hotels, hostels and B&Bs here.
There aren't a lot of things to do in Moyogalpa but one thing you shouldn't miss it the pretty yellow church Iglesia Católica Santa Ana: Google Maps.
Where to Stay in Ometepe?
Like most Ometepe visitors we stayed in Moyogalpa.
Moyogalpa is a good place to stay because it's where the Ometepe ferry arrives, most restaurants and supermarkets are here and it's easy to book tours or rent scooters in town.
It also has the best selection of quality Ometepe hotels.
Ometepe Hotels
Accommodation is quite affordable in Ometepe Island. The prices of various accommodation is as follows:
Backpacker – $5 – $10 USD for a dorm bed
Budget – $30 – $50 USD per night
Luxury – $60 -$100 USD + per night
Cornerhouse Ometepe
We stayed at the Cornerhouse B&B Ometepe and really enjoyed it.
It cost $35 for a double room with a top notch breakfast featuring a delicious thick fruit smoothie.
The price of the breakfast if you were to just go and pay for it at the cafe is $15 USD so the b&b option provides great value for money.
The only downfalls to this accommodation is that you aren't able to book it in advance & there are a few mosquitoes flying around.
Therefore, if you want a night bite-free remember to BYO your own mosquito net, mosquito bracelets or spray!
If you don't feel comfortable trying your luck regarding availability and feel like a bit of luxury, we recommend Totoco ecodge for something a bit more fancy on Ometepe.
How to Get to Ometepe
Omepete is an island, so you will need to catch a ferry from San Jorge the port near Rivas.
Rivas bus terminal is the heart of most bus trips in Nicaragua. We hate it, but you'll through it several times on your trip.
To reach Rivas (from where you can get a taxi to San Jorge, then ferry to Ometepe) follow these directions:
From San Juan del Sur > read our post about San Juan to Ometepe
From Granada (or Managua or Leon) > read our post about Granada to Omepete
Those posts contain all the information you'll need to work out how to get to ometepe including ferry times and tricks to avoid getting ripped off.
Read More Nicaragua Travel Blog Posts
Most people reach Nicaragua from Costa Rica. Find out how to get to San Juan del Sur from San Jose Costa Rica.
San Juan del Sur to Granada: One of the most popular routes in Nicaragua, for good reason. Get ready for chicken bus time!
Where to Stay in Leon Nicaragua: we share the best places to stay in this foodie town famous for its baroque and neoclassical architecture.
Granada to Leon: we won't tantalise you with the wonders of Leon without telling you how to get there (did we mention the delicious street food)?
Make sure you're ready for your trip with our Essential Central America Packing List.
Share the Love on Pinterest