The drive from Miami to Key Largo along the Oceanic Highway is under 70 miles and takes just over an hour.
This drive is part of a longer drive we did – the Miami to Key West drive – as part of our epic Miami to Key West road trip!
The fastest route is along the paid toll road (Ronald Reagan turnpike) but it is possible to drive from Miami to Key Largo without paying any tolls.
Although the journey is not long, there's plenty of interesting places to stop along the way including Gator spotting in the Everglades. On the route there is also an important pit stop you must take: to enjoy a slice of Key Lime Pie in Key Largo.
Driving the Florida Keys is an awesome way to spend anywhere from 1 day to a couple of weeks in South Florida. For a taste of the Keys, Key Largo is the perfect day trip from Miami.
We'll share our tips about driving from Miami to Key Largo, how to avoid the tolls roads and where to stop along the way.
Bring with you: Lonely Planet Miami and the Keys Guide
Driving from Miami to Key Largo
Driving the Florida Keys along the Oceanic Highway (most iconically in a Mustang convertible) is one of those bucket list road trips.
Fly into Fort Lauderdale or Miami International Airports to score brownie points for completing the full Florida Keys drive.
From Fort Lauderdale to Key Largo is 90 miles, taking 1.5 hours along the turnpike if the traffic is clear. Avoiding the toll road only ads about 10 – 20 minutes to your drive time and no more miles.
Likewise, avoiding the turnpike when driving from Miami to Key Largo will only add 10 minutes to your drive time, taking it from 1 hour 10 minutes to 1 hour 20 minutes total.
If you want to avoid the toll road just take US-1 from Miami all the way to Key Largo. One road – very simple.
Where to Stop
Driving straight from Miami to Key West is nice, but we recommend you make the most of your trip by taking one or two brief detours.
Everglades National Park (Spotting Alligators)
About 30 minutes from Key Largo is the town of Homestead which is not only the gateway to the Florida Keys but also the Everglades National Park.
If you've never visited the Everglades before, we recommend you set aside a few hours to get a nice introduction into the reserve.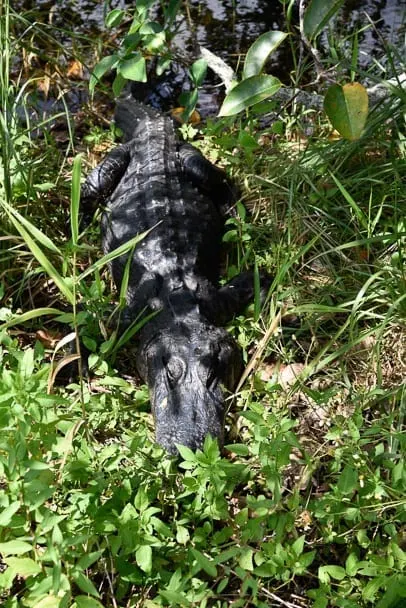 Add the Ernest F Coe Visitor Centre into your GPS which is the main Visitor Centre for the park. Here you can see some neat exhibitions about the Everglades. There's also some tours.
If you're not sure about whether it's worth your while to stop, read our post about Ernest F Coe Visitor Centre: Worth a stop?.
Enter the park – there's a $30 entrance fee (valid for 7 days) if you don't already hold a America the Beautiful Pass which we thoroughly recommend purchasing. The pass costs $80 and covers entry to every US National Park for 1 year.
At the Royal Palms Visitor Centre, 10 minutes from the park entrance, you can take two walks: the Gumbo Limbo trail (shaded and perfect for scorching hot days) and the Anhinga trail (perfect for 'Gator spotting).
Both trails can be completed in about 1 hour total. We spent longer because we had to stop for photo opportunities including 2 full-size gators and at least 7 incredibly cute baby gators.
If you're unlucky enough to not spot a gator on your walks, stop in at the Everglades Alligator Farm where you can also do a hoverboat ride.
No trip to the Everglades would be complete without trying some 'gator too. Stop by the Gator Grill on your way back to Florida City to jump back on US-1.
Detour Time: 2 – 4 hours
Snack Stop: Key Lime Pie
This rest stop is actually in Key Largo, so think of it as a well-earned reward for driving from Miami.
Key Largo is famous for Key Lime Pie made from Key limes grown on the keys.
The desert is a tangy lime tart on a biscuit base. We personally enjoy when it's served half-frozen as it makes it even more refreshing for the hot, sunny days in Key Largo.
Key Lime Pie is actually so great we're sure you'll make a stop on your back back from Key Largo to Miami along the Oceanic Highway for another slice.
Read our post about Key Lime Pie in Key Largo for ideas about where to get the best pie.
Detour time: 10 minutes
Cannon Beach
This is one of the most popular beaches in Key Largo. Located in the John Pennenkamp Coral Reef State Park there is a $8 entry fee per car to access it.
For your money you get free parking, free showers and a popular yet not-at-all crowded beach. Plus, it has cannons!
Cannon Beach is a pretty cool detour from the Oceanic Highway.
Read our post about the best beaches in Key Largo for more awesome beaches to visit.
Detour time: 1 – 2 hours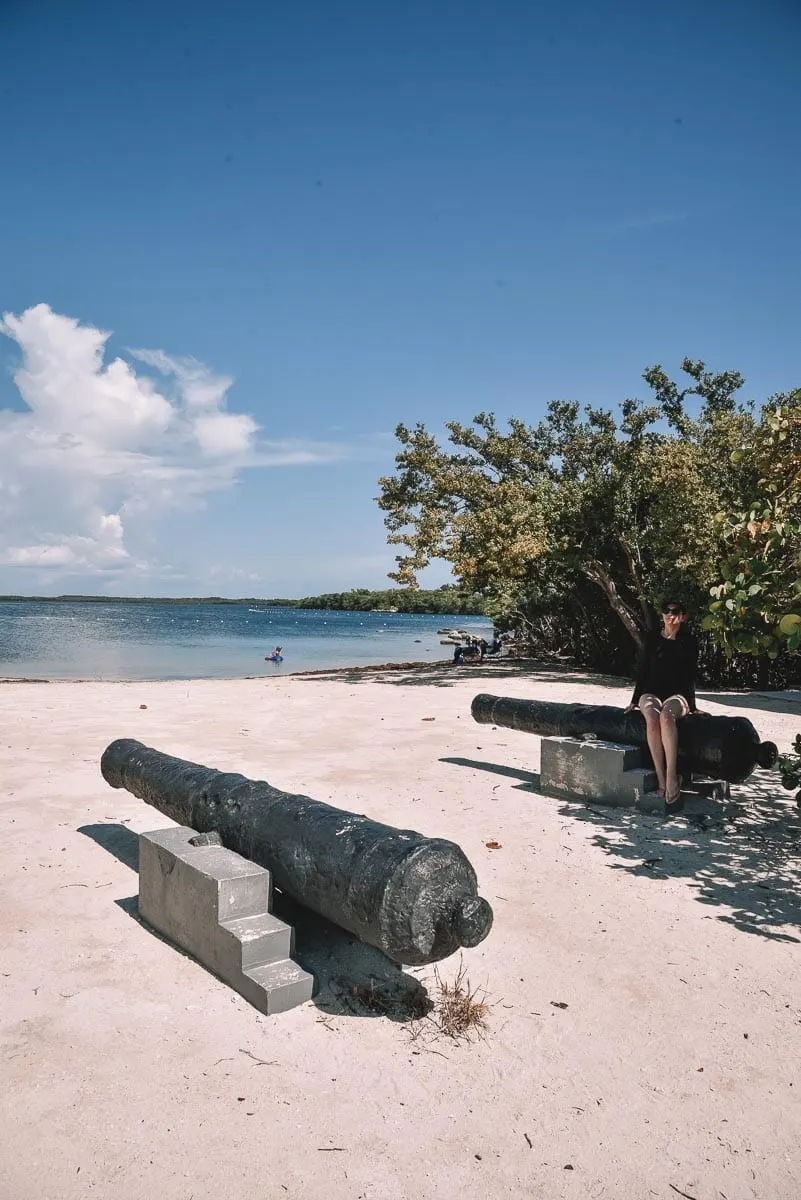 Miami to Key Largo Flights
Unless you're flying private, there are no direct flights from Fort Lauderdale or Miami to Key Largo.
Not that it's an issue, you'll probably spend more time on the tarmac than it would take to drive anyway.
We recommend renting a car (Mustang's are super popular) for the journey. Compare car rental prices for the best deal here.
Where to Stay
If you really want to make the most of the Everglades, consider spending the night in Homestead which is only 30 minutes drive from Key Largo.
If you are looking for a good quality, mid-budget option, check out the place we stayed here.
In Key Largo, if you love nature and the outdoors, there is no better place to stay than camping at John Pennenkamp Coral Reef State Park.
The rate is $43 (inc. taxes) for a camping spot. Check out availability here.
If you're looking for a hotel, we've narrowed the search down to this list of 11 exceptional Key Largo hotels.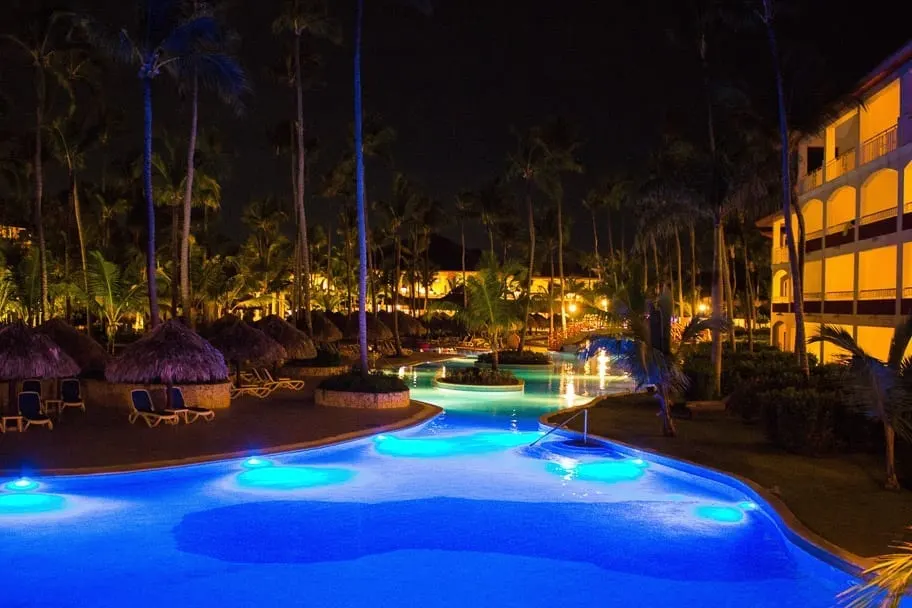 Where to after Key Largo?
Don't leave Key Largo without reading our guide to the 19 best things to do in Key Largo.
Once you're satisfied you haven't missed any of the great Key Largo attractions (like swimming with wild dolphins) drive to Islamorada where you can find some nice beaches to hang out including a secret beach we haven't read about elsewhere.
If you are driving from Miami to Key West then don't skip Bahia Honda State Park which has the best beaches in the Florida Keys (and maybe even a claim to having the nicest beach in the world)!
Bahia Honda does have a stunning sunset of the Old Bahia Bridge and the new 7 mile bridge.
We recommend camping at Bahia Honda State Park to enjoy it everyone else has gone for the night. There's stunning star gazing too!
Do you have any questions about driving from MIami to Key Largo? Any tips about where to stop along the way? Let us know in the comments below
Like it? Pin it to Pinterest