If you are looking for fabulous mid range accommodation in El Nido, you can't go past the Sea Cocoon Hotel.
As El Nido is a small island, it can be difficult to find adequate clean & comfortable accommodation near the centre of town. We wanted to stay at accommodation that was close to the town & beach and Sea Cocoon Hotel was the perfect choice.
Best Mid-Range Hotel El Nido – Sea Cocoon
Sea Cocoon Hotel is definitely one of the best hotels in El Nido. It is no suprise that the hotel constantly has stellar reviews on Tripadvisor.
Being so close to the El Nido town (where you access day tours to the highlights of El Nido) was definitely a great benefit of this hotel.
The hotel is located just steps away from the hustle and bustle of town where you will find restaurants, juice bars, diving shops and convenience stores.
Sea Cocoon Rooms
When were arrived we were greeted by friendly staff who informed us about all the facilities & assisted us with our bags to the room.
We were stayed in one of Sea Cocoon's double rooms on the 4th floor.
The room included a large double bed, a desk for a laptop, a good size fast screen tv, a place to store your bags & a large floor to ceiling window with a balcony (love a room with good natural light!).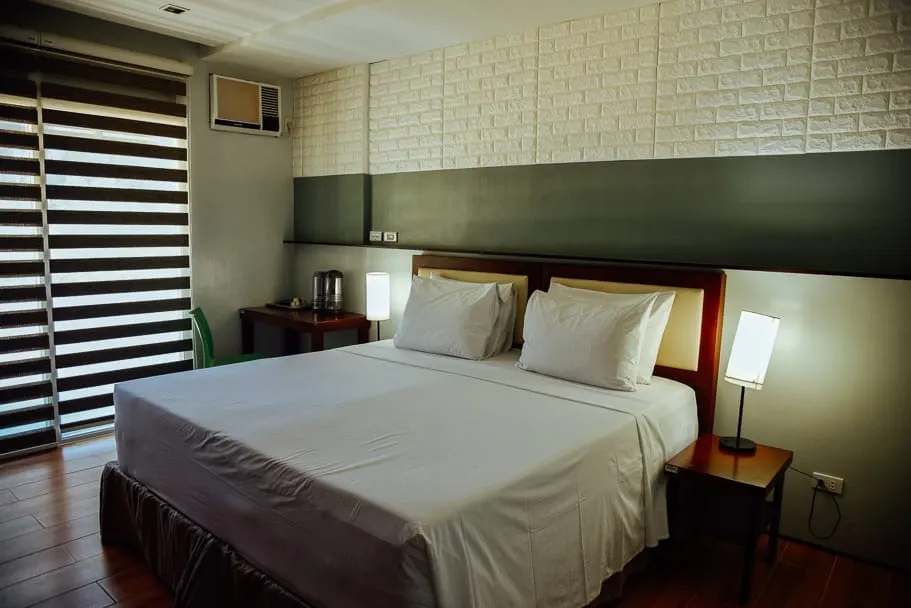 The rooms were very comfortable & extremely modern with everything you need for a pleasant stay. The bed mattress was actually one of the most comfortable we have experienced during our travels.
We were also pleased to find very cold air-conditioning units – a must in the hot El Nido weather.
The rooms also included ample electricity plugs (perfect for people like us with multiple devices), a big full body mirror, a cable box with good channels & decent wifi.
El Nido is actually notorious for having bad wifi so we were pleased to discover that Sea Cocoon's wifi was usable throughout our stay.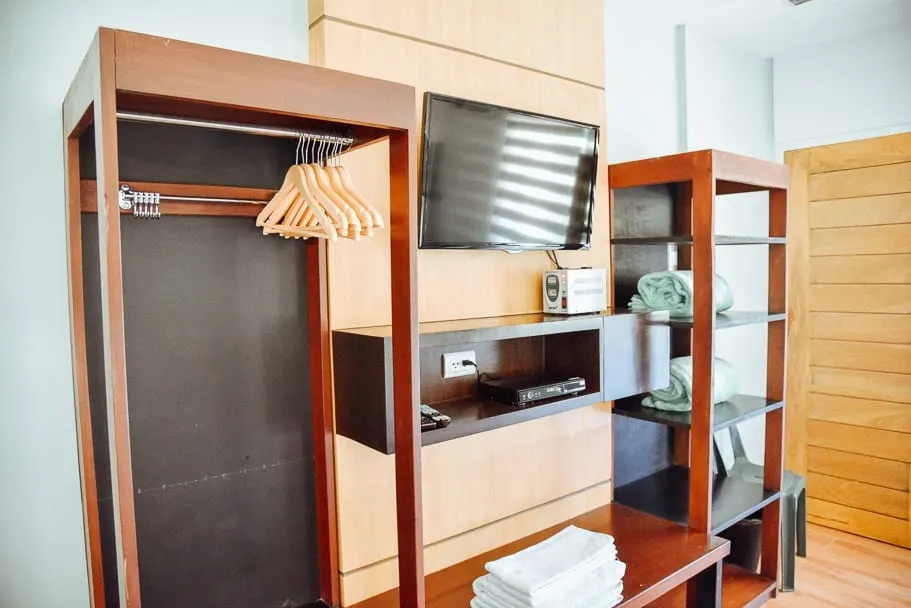 The hotel also features a large & comfortable bathroom with a rainfall & handheld shower (with strong hot water).
The hotel also included basic amenties such as shampoo, conditioner & soap.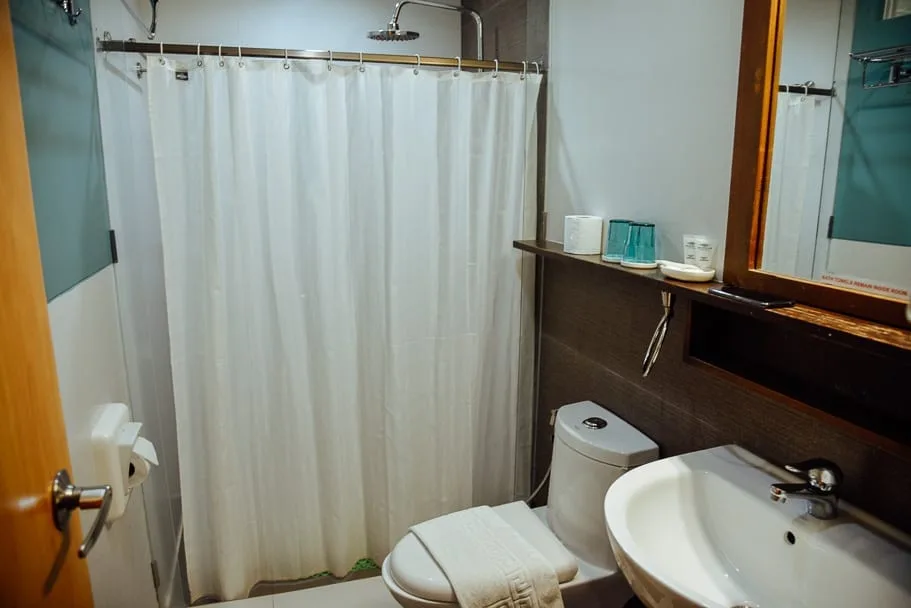 Included Breakfast
Included in the room rate is complimentary breakfast which included an al la carte option we well as fruit, juice, tea, coffee, cereal served buffet style.
There is a good range of options to choose from al la carte including Filipino dishes as well as America breakfast and pancakes.
We would recommend the pancakes & the American Breakfast as both were absolutely delicious.
The pancakes came complete with very tasty jam, cream, maple syrup & a fried egg.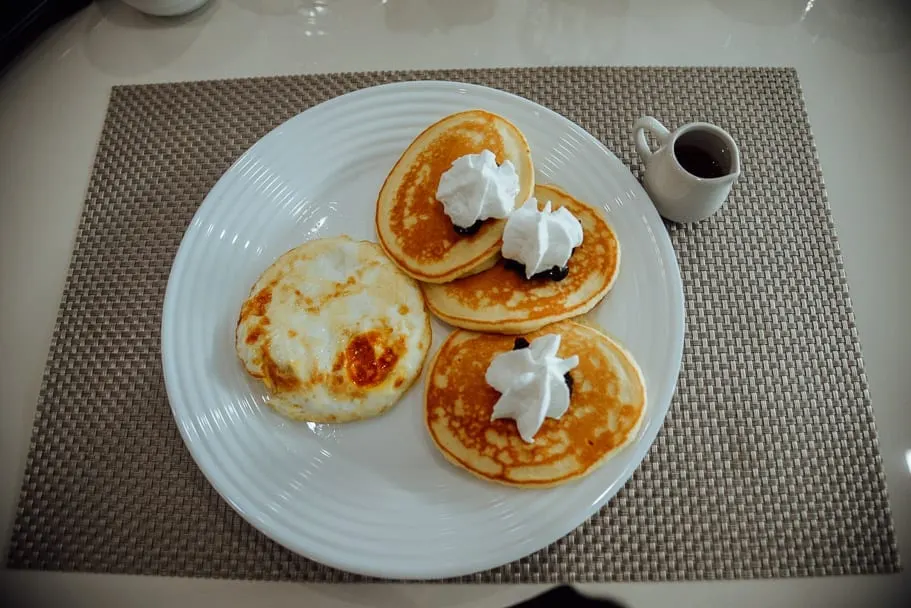 The American breakfast was equally as scrumptious and included ample toast, bacon & scambled eggs.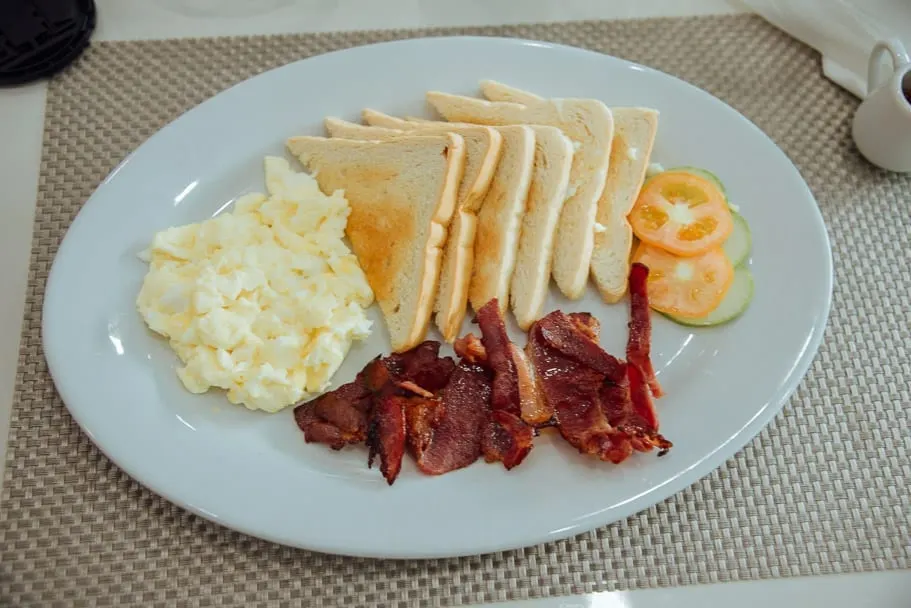 All food in Sea Cocoon is served in their quaint little restaurant (you can also order affordable dishes here during the day).
The 3 super cute resident Chow Chow dogs (2 friendly, one old and grumpy) who live at the hotel can often be found lodging around the hotel lobby or restaurant area.
Breakfast is required to be ordered the night before.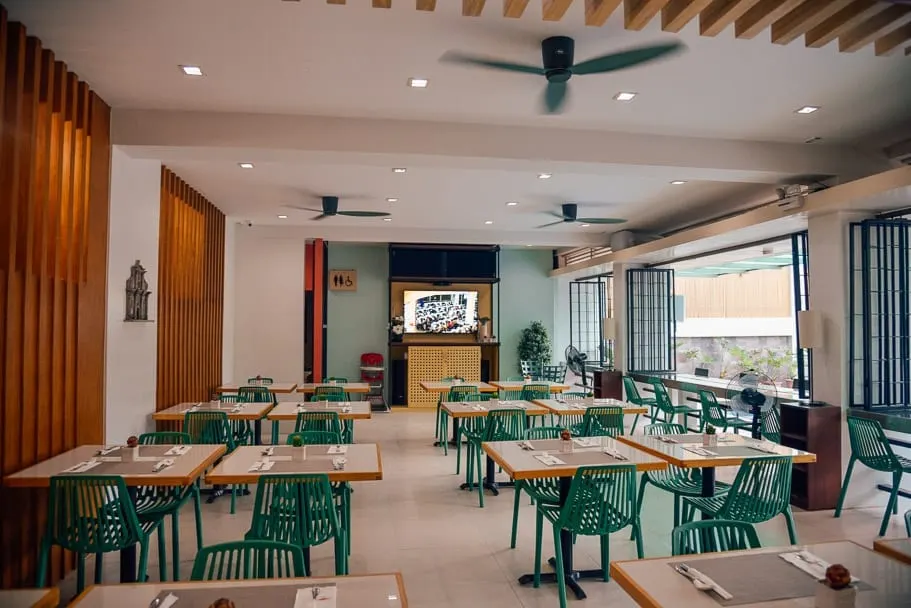 Recreation area & Amenities
The hotel includes a very decent sized pool with a decent amount of sun loungers (including some that sit in the pool – always a plus).
There is also a changing room next to the pool.
If you swim during the day you will likely have the pool to yourself as as this time many people are out on tours.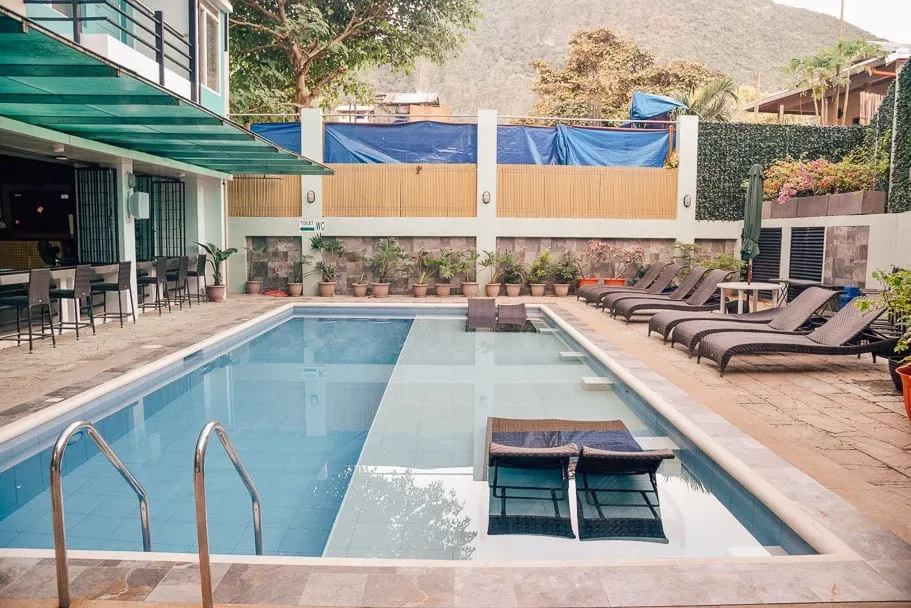 If you need assistance booking a tour, the hotel also offers a booking service where you can book any of the tours that El Nido has to offer.
How to get to Sea Cocoon Hotel?
You can get easy flights into El Nido.
We reached the hotel by bus from Puerto Princessa and (the famous Underground River), an easy 6 hour comfortable bus ride away.
From the bus station (1 km down the road) we rented a tricycle for 50 PHP. This is also the main form of transportation around El Nido and you can even use this to transport you to the airport.
Sea Cocoon Hotel
We absolutely loved our stay at Sea Cocoon and would highly recommend it for a very modern, comfortable and convenient stay in El Nido!
Save Sea Cocoon Hotel to Pinterest (so you can find it again later)
We were guests at Sea Cocoon Hotel. However, this does not impact our opinions.