Twin Lagoon Coron Palawan is one of the most beautiful pieces of nature we have ever had the pleasure to experience.
Twin Lagoon Coron Palawan – The Ultimate Guide
If you are a nature lover, you simply have to visit the Philippines, the nature is mind blowing.
Twin Lagoon Coron Palawan was one of most stunning pieces of nature we ever had the pleasure to experience.
Jagged limestone cliffs which meet the most amazing crystal clear water is pretty hard to beat.
The Twin Lagoon is one of a few places you will visit on a Coron Boat trip tour.
We went on 4 tours in the Coron area.
The twin lagoon stood out as one of the most spectacular attractions in Coron so its definitely not one to miss.
Why visit the Twin Lagoon in Coron
As we have previously mentioned the area is spectacular. It is called Twin Lagoons as there are two lakes which are separated with a rugged piece of limestone rock.
Interestingly, the twin lagoon is made up of both fresh and sea water.
Coron is very similar to its neighbour El Nido however, if you prefer more untouched paradise choose Coron.
Coron is less crowded with tourists than its more popular neighbour El Nido. In saying this, as the years go on, the area grows more and more in popularity. Go now or forever hold your peace!
If you would like to experience the area to yourself you will need to go on a private tour (starting as early as possible).
Tip: The group tour boats stop for lunch at midday so if you can handle being out in the midday sun, visit the Twin Lagoon then.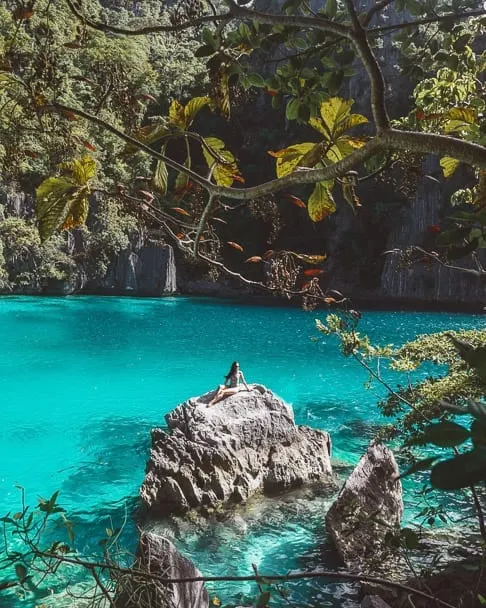 The magic of the Twin Lagoon Coron Palawan
What makes the Twin Lagoon in Coron Palawan particularly exciting is how you access it.
Your boat will park in one of the lagoons and you can swim or canoe under a tight natural archway to access the second lagoon.
If you are claustrophobic, there is an alternative way to access the Twin Lagoons, by climbing over a staircase from one side of the rock face to another.
From a safety point of view this is not much better as the stairs are very slippery.
This staircase is quite Instagrammable and the focus point of many instagram shots. We choose not to shoot it as there were many people around and it was very slippery at the time.
A second popular Instagram spot is a rock nearby where the boats dock. The issue is there is so many people and boats so it is near impossible to shoot it.
How to visit Twin Lagoon Coron Palawan?
There are two options on how to visit Twin Lagoon:
By group tour (around 1200 -1700 pesos pp); or
By private tour (around 3000 pesos pp)
We only traveled by group tour in Coron. We used the company JY Travel & Tours and would highly recommend them.
Despite the fact we weren't able to have solo access to any of the locations, we managed to find some isolated spots just for us.
If you organise a private day tour or transfer, it takes around 45 minutes to travel from Coron to the Twin Lagoon. Take this in consideration when planning your day.
We would suggest pairing Twin Lagoon with Kayangan Lake and Barracuda Lake. These are the closest attractions near Coron.
If you enjoy free diving Barracuda Lake takes amazing photography!
To get the best price on a private tour, we would suggest going directly to the boat docks and haggling with the boat owners.
Note: If you visit Twin Lagoon outside of a group tour, you will need to pay a small entrance fee.
Where to stay to visit Twin Lagoon?
We would recommend staying in Coron Town (especially if you choose to take a private tour)
There is accommodation available outside of town however, being in town gives you the best opportunity to beat the crowd if you stay within town.
Staying in town also tends to be better access to internet and free transfers to and from your hotel on group tours.
There are so many great places to stay in Coron to suit all budgets. Click here to search all accommodation in Coron during your dates.
We stayed in a very clean & comfortable place in town with a great view. To see where we stayed in Coron click here!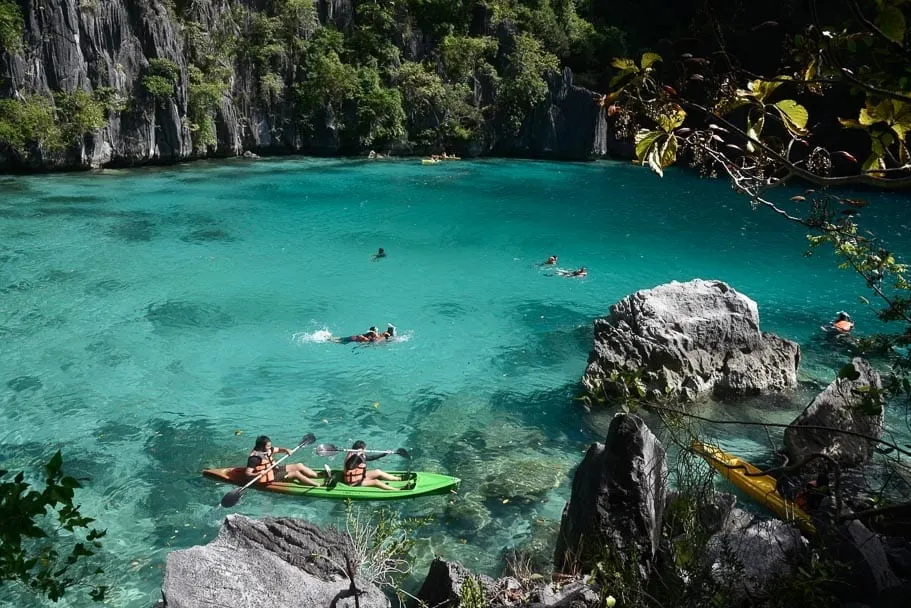 What time of year is best to visit Twin Lagoon?
If possible, it is best to avoid Coron in rainy season.
Due to strong winds often tours are cancelled so you might travel half way around the world just to miss this iconic location. Not cool.
Dry season is between December to May. Travel within those dates if possible.
Helpful Information
It is necessary to wear a life jacket in Twin Lgoon (and most of the attractions in Coron). This can become annoying if you are a strong swimmer;
The tours will convince you that a kayak is absolutely necessary in the Twin Lagoon. This is not strictly the case. Kayaks cost 1000 PHP per kayak, they were fun but not absolutely necessary in the Twin Lagoon.
Onward travel from Coron
From Coron, you might like to visit El Nido.
The best way to access El Nido is by ferry. The journey takes around 4 hours by ferry.
There are currently two ferry operators who run this route:
Montenegro Shipping Lines – Coron to El Nido ferry departs 12 noon daily.
Phimal Fast Ferry departs from Coron to El Nido at 1pm daily.
Save this Twin Lagoon Coron Palawan Guide to Pinterest (so you can find it again later)