Looking for the Best Places to Propose in Florida? You have come to the right place. Florida is thought of by many as the best place to propose in the USA because it is just so pretty.
Florida is known for its gorgeous sunsets and warm tropical breezes. The white sandy beaches, historical hotels, upscale dining, and nature preserves make Florida the perfect place for a romantic proposal.
Come with us as we explore different spots in Florida that will make for a unique and memorable proposal. We have a list of a variety of unique venues that will fit everyone's budget and tastes.
Whether you're a history buff, a beach lover, an art connoisseur, or a lover of classical romance, we've got a detailed list of the perfect spots to create an exceptional marriage proposal.
Florida proposal ideas that guarantee he/she will say YES! Just make sure you have your engagement rings handy before you get down on one knee!
14 Best Places to Propose in Florida
1. The Miami Beach Botanical Garden (Rooftop Proposal Miami)
Wondering where to propose in Miami?
For nature lovers, a tranquil spot in nature could be the perfect setting for a romantic proposal. The Miami Beach Botanical Garden is a peaceful tropical oasis that will make for a very memorable experience.
It has nearly 3 acres of gorgeous landscaping filled with secluded spots that are nestled in amongst lush gardens. The Japanese garden would be a unique and romantic spot for a proposal with its red bridge situated over a river rock pond that offers the peaceful sound of running water.
The Miami Beach Botanical Gardens also has over 1,200 species of orchids. Orchids are thought to be a symbol of love and partnership.
Complete the romantic getaway with a luxurious place to stay. The Betsy Hotel is less than a mile from the Miami Beach Botanical Garden. The rooms at The Betsy Hotel are decorated with shimmering chandeliers, fresh orchids, and marble bathrooms. They have a rooftop pool with a breathtaking 360 degree view.
After your romantic proposal, you can enjoy the expansive ocean view while relaxing on a sun lounger. Top it off with cocktails from the rooftop bar. The Betsy Hotel is located on Ocean Drive which is the perfect spot if you want to explore the area on foot.
Ocean Drive has beautiful Art Deco Buildings, 5-star restaurants, and a variety of nightclubs so you can continue to celebrate by dancing the night away. A top place for a Florida proposal for sure. If you are wondering if Miami is a good place to propose it is a hell yes from us.
2. Sanibel Island Lighthouse
The white sandy beach and turquoise water on Sanibel island, along with the historic Sanibel Lighthouse, make the perfect backdrop for a romantic proposal. Lighthouses are a symbol of navigation.
When you propose in this peaceful and secluded location, the symbol of light from this historic lighthouse will help to light your path as you navigate the next glorious chapter in your lives.
The historic Sanibel Lighthouse is also a symbol of strength as it's been standing for 139 years, withstanding the 15 foot storm surges and 150-mph force winds from Hurricane Ian.
Along the beach is an abundance of seashells and driftwood. Sanibel Lighthouse will be the perfect intimate location for a memorable proposal.
For a romantic and relaxing place to stay, try Island Inn. It's just 15 minutes away from the Sanibel Lighthouse and it's right on the beach. They have luxury suites and cozy cottages to choose from.
Right outside your door is access to their 550 feet of private beach. They also have activities to do onsite like bicycle, kayak, and paddleboard rentals. If you ask the front desk staff, they'll happily help to organize a romantic sailing expedition or a guided tour via kayak or paddleboard.
While in Sanibel, you can also enjoy nearby golfing, fishing, scuba diving, and dining at the many waterfront restaurants. We love Sanibel Island and think it is certainly one of the best beaches to propose. It has also some great wedding venues to keep in mind for the future.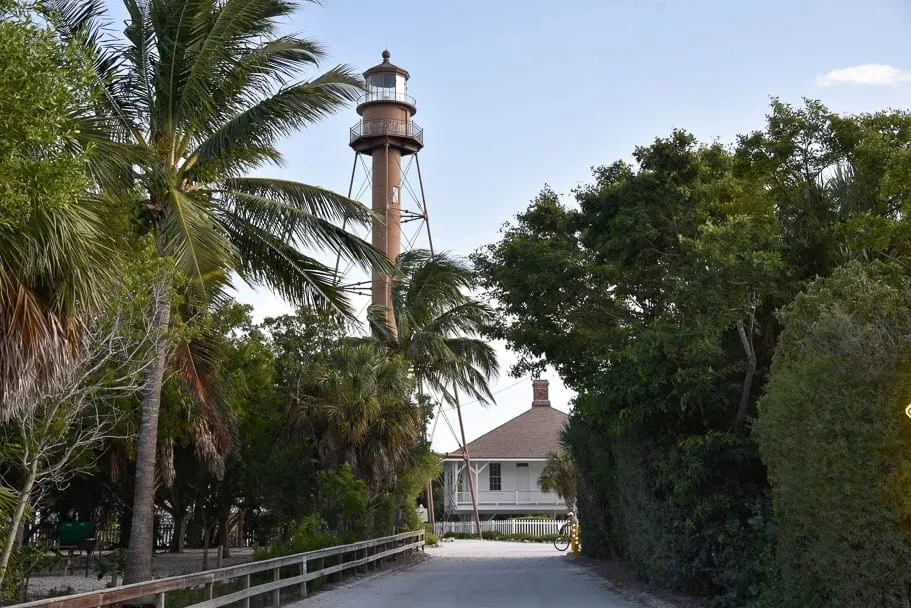 3. The Biltmore Hotel
If you're searching for an elegant proposal ideas in florida, The Biltmore Hotel is the perfect choice. This historic hotel offers a wide variety of luxurious amenities including a full-service spa, gourmet dining options, and over 150 acres of tropical landscape. It is considered by many as one of the best places to propose in the world!
Just imagine proposing to your soulmate amongst their beautiful gardens and overhead twinkling lights. The Biltmore Hotel also has a 23,000 square foot pool with private cabanas. You could propose on one of their private balconies or at a romantic dinner for two.
The Mediterranean architecture and overall grandeur of the Biltmore Hotel make it a truly special place. At the Biltmore Hotel, you can also enjoy a romantic dinner in a courtyard while seated at a private table by a flowing fountain. The romantic and luxurious elegance of The Biltmore Hotel in Coral Gables, Florida offers a truly unique and unforgettable experience for a romantic proposal.
Coral Gables is known as "The City Beautiful" and is a fun place to explore while you're on your romantic getaway. You can spend the day relaxing and rejuvenating at the historic Venetian Pool.
This crystal clear pool has two waterfalls and is filled with fresh water daily from an underground aquifer. If you want to spend the day dining and shopping, visit Merrick Park or the Miracle Mile.
4. The Florida Keys
Whether you want to propose along a secluded beach, on a guided sunset cruise, or at an upscale waterfront restaurant, the Florida Keys has something for everyone and every budget. It is rated by many as the single best place to propose in Florida.
The Key West Lighthouse is also a scenic and romantic spot for an unforgettable marriage proposal. The Florida Keys have secluded areas along the many palm-shaded beaches that would make an excellent spot for a romantic picnic and proposal.
People come to the Keys to enjoy the warm sunshine, cool ocean breezes, the beauty of nature, and good food. If that sounds to you like the perfect spot for a marriage proposal, then come to the Florida Keys to create a memorable experience.
There are numerous romantic hotels to stay at in Key West, including the Islander Resort. Staying at the Islander Resort is a great choice for a romantic tropical getaway.
They even offer a romance package that includes a bottle of champagne. They have a private beach area, snorkeling, two pools, bicycle rental, private porches, and a pool bar. To celebrate your proposal, they have on-site waterfront dining at the Beachside Bar & Grill.
They can also help you reserve a sunset cruise where you can pop the question or celebrate your engagement. There is an abundance of things to do while in the Florida Keys.
If you are a nature lover, be sure to visit Dry Tortugas National Park or the Key West Butterfly and Nature Center.
For foodies, visit popular restaurants like the Key Largo Conch House, Sundowners, and Pilot House Restaurant & Marina. The Florida Keys won't disappoint when it comes to good food, gorgeous beaches, and a memorable romantic getaway.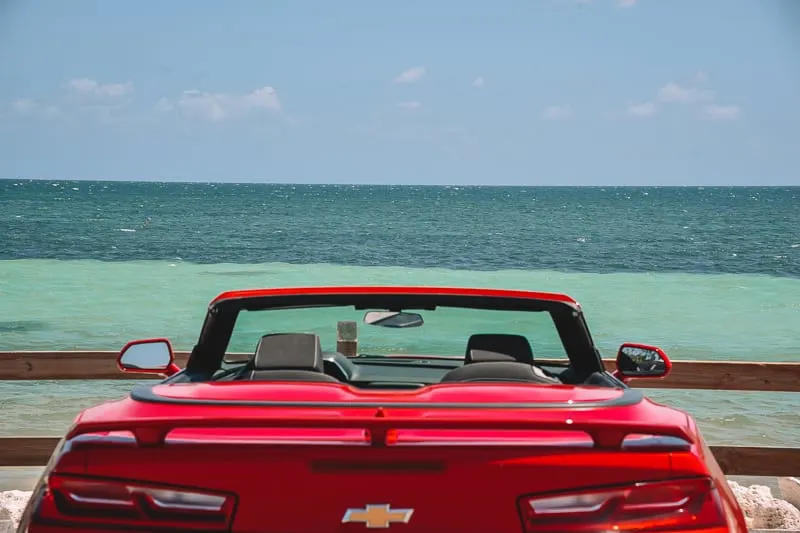 5. St. Augustine
St. Augustine is known as America's oldest city with its cobblestone streets and historic charm. Its Spanish colonial architecture, century-old buildings, horse-drawn carriage rides, and pristine beaches make it a great choice for a romantic getaway in America.
On the endless miles of white sandy beaches in St. Augustine, you can choose from a variety of activities including horseback riding, snorkeling, paddle boarding, or a private picnic on the beach for two.
There are lots of awesome things to do in St Augustine. Imagine going on a guided horseback ride along the Atlantic Ocean and ending the day with the perfect beach proposal as the sunset sparkles in the sky.
The St. Augustine area has an endless supply of gorgeous places to stay and there are many places to propose in St Augustine.
One very romantic choice would be Bliss By The Sea. The name truly says it all, Bliss By The Sea is a luxurious Bed & Breakfast. It has a lush garden, a beautiful terrace, and an outdoor swimming pool.
Bliss By The Sea is a great place to relax after the perfect romantic proposal. You'll enjoy their large jetted jacuzzi tubs, waterfront sunsets, and their rejuvenating saltwater pools. For a relaxing and memorable proposal, consider exploring all that St. Augustine has to offer.
6. Walt Disney World
Walt Disney World is a magical place and could be an amazing backdrop for an enchanted marriage proposal. To compliment your fairy tale proposal, there are lots of great places to propose in Disney World including speculator firework displays, private dinners, and all-around Disney magic.
Walt Disney World also offers engagement packages to enhance your experience, including a photography package, a special dining experience, private poolside cabanas, a custom cake, and more.
To start your happily ever after, consider creating your own unique proposal with a magical Disney flare. For a full magical Disney experience, book a suite at the Four Seasons Resort Orlando at Walt Disney World Resort.
This resort will make you feel like you're in an enhanced romantic wonderland with its gardens, pools, fountains, and luxurious spa. Perfect for a romantic retreat, they also offer an adult-only pool in a secluded area surrounded by large palm trees, private cabanas, and underwater audio.
If you want to explore outside of the magical world of Disney, Orlando is a lively city with numerous things to do outside of theme parks. Another good place for a proposal in downtown Orlando is Lake Eola Park.
For your proposal or afterward to celebrate, consider a sunset sailing tour or private horseback riding. Popular romantic restaurants in Orlando include The Boheme, Soco Restaurant, and Kres Chophouse.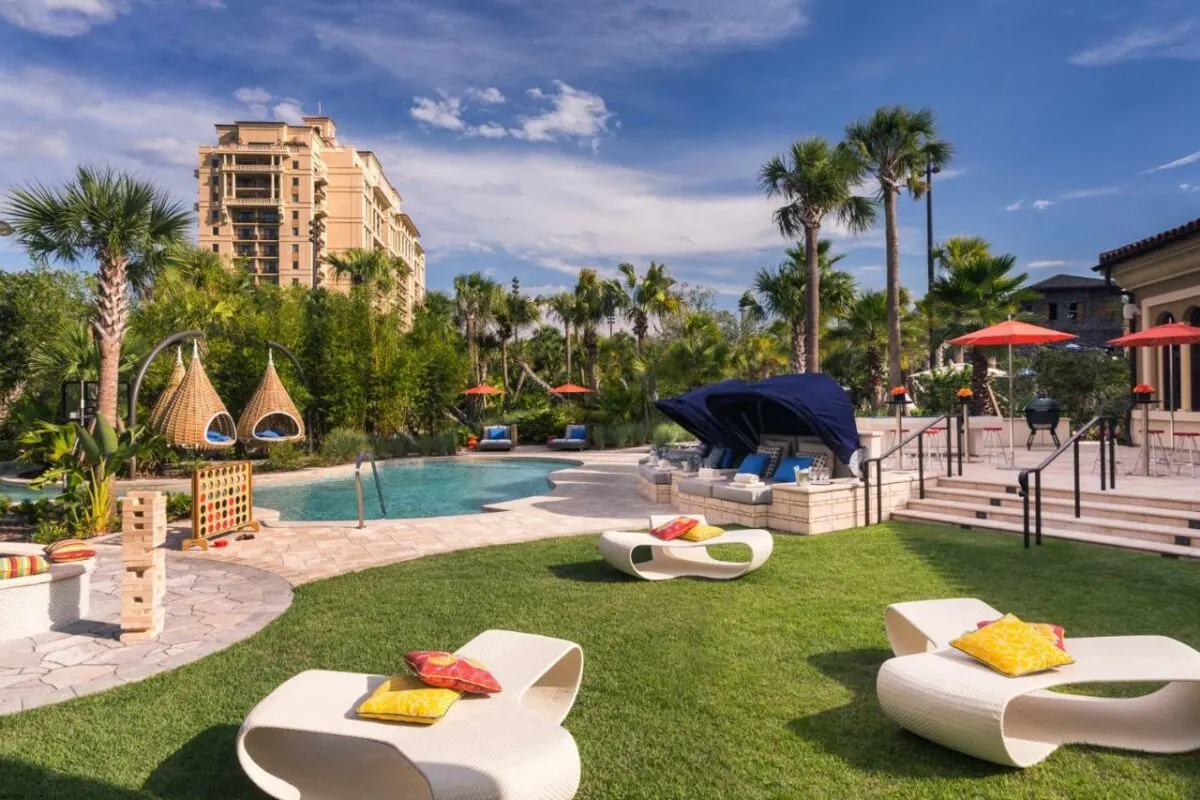 7. Lovers Key Florida State Park
Lovers Key State Park in Fort Myers, Florida is a popular spot for proposals and weddings. It is one of the most beautiful places to propose for sure.
Not only does the name allude to a romantic sentiment, but the white sandy beach filled with seashells will make the perfect place to pop the question.
You could pack a picnic and start the day searching for seashells, kayaking through the canals, and admiring the dolphins, manatees, and coastal birds.
Lovers Key also has trails where you can enjoy a leisurely stroll or hike. End the day watching the sunset over the Gulf of Mexico and pop the question to your one true love. Lovers Key also has guided tours through its mangrove forests via paddleboard or kayak.
To make your proposal even more perfect, book a stay at the Lovers Key Resort which is located less than 5 minutes from Lovers Key State Park. The resort has its own waterfront restaurant, an outdoor pool, and romantic suites with private balconies.
While in Fort Myers, be sure to check out the downtown area which is filled with shopping boutiques, live music, a farmers market, and art walks. Fort Myers Beach is a great place to relax and enjoy the sunshine. If you love exploring the outdoors, you could reserve a spot on a guided dolphin and manatee tour.
With all they have to offer, both Lovers Key State Park and Fort Myers can be your perfect place for a romantic proposal and to celebrate your engagement.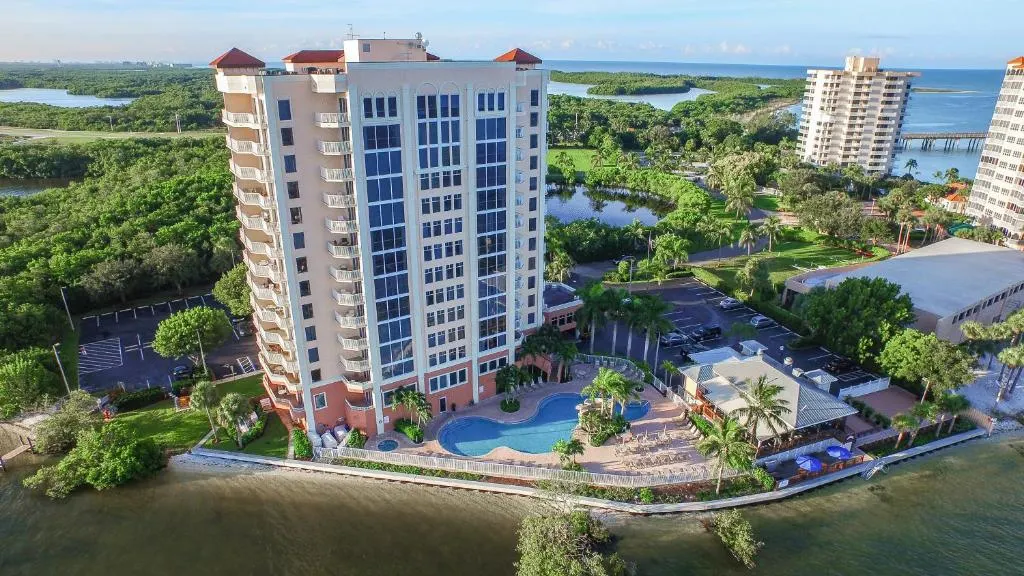 8. The Vizcaya Museum and Gardens – One of the best places to propose in Miami
Still looking for good places to propose? The majestic architecture and magical gardens at The Vizcaya Museum and Gardens in Miami make it a truly remarkable place for a marriage proposal.
The Italian Renaissance gardens offer a unique and romantic elegance. The waterfront views add to the serene beauty of the Vizcaya. The beautiful estate and enchanting gardens will transport you to your own magical intimate place, which makes the perfect setting to pop the question to your significant other. The gardens at the Vizcaya are among the most elegant in the country.
The landscape design is European-inspired and similar to the gardens created in seventeenth- and eighteenth-century Italy and France. There are so many different secluded and special spots to prose, including the Secret Garden, the Fountain Garden, the Vizcaya's indoor garden, and the playful Maze Garden.
While visiting Miami for your dream come true proposal, you can stay at the Mayfair House Hotel & Garden for more romance and relaxation. For convenience, Mayfair House is just a couple of miles from the Vizcaya. The architecture at Mayfair is eclectic with vintage accents.
You'll enjoy the romanticism of their decor with the clawfoot tubs, outdoor showers, vintage typewriters, and pianos.
They have two onsite dining options, choose from a romantic dinner in a lush garden or on the rooftop near the pool with a view of the Miami skyline. Right outside of the Mayfair House is the Cocowalk, where you can stroll along and visit the many boutiques, parks, restaurants, cafes, and more.
If you're looking for an impressive place to propose, a romantic place to stay, and a fun area to explore, Vizcaya and Mayfair House in Miami will be the perfect combination for an unforgettable experience. Rated by many romantics as the best place to propose in Miami.
9. Morikami Museum and Japanese Gardens
In Delray Beach, the Morikami Museum and Japanese Gardens transport you to a different place entirely with its serene koi ponds, tranquil sand gardens, flowing paths, and mystical bridges. This is a perfect place for a magical proposal nestled amongst the waterfalls and lush Japanese Gardens.
You could propose on one of the many Japanese bridges, by a koi pond, or in the bonsai garden. Whichever you choose, you'll love the romanticism of the intimate and peaceful setting.
Crane's Beach House Boutique Hotel & Luxury Villas is nearby and is a romantic place to stay for your romantic proposal getaway.
It has 2 salt-water pools and is just a couple minutes' walk to the beach. Whether you choose their luxury villa or one of their luxury suites, you'll enjoy their plush bathrobes, luxury linens, in-suite massage services, and personal concierge to make your visit truly remarkable.
After your romantic proposal, consider stopping by their poolside Tiki bar that's nestled amongst the tropical landscape.
Crane's Beach House is right next to Atlantic Avenue in downtown Delray Beach. This area has an assortment of shopping boutiques, fine dining, outdoor cafes, eclectic bars, and more.
The romantic setting of Morikami Museum and Japanese Gardens along with the luxury suites at Crane's Beach House can help make your proposal a memorable experience.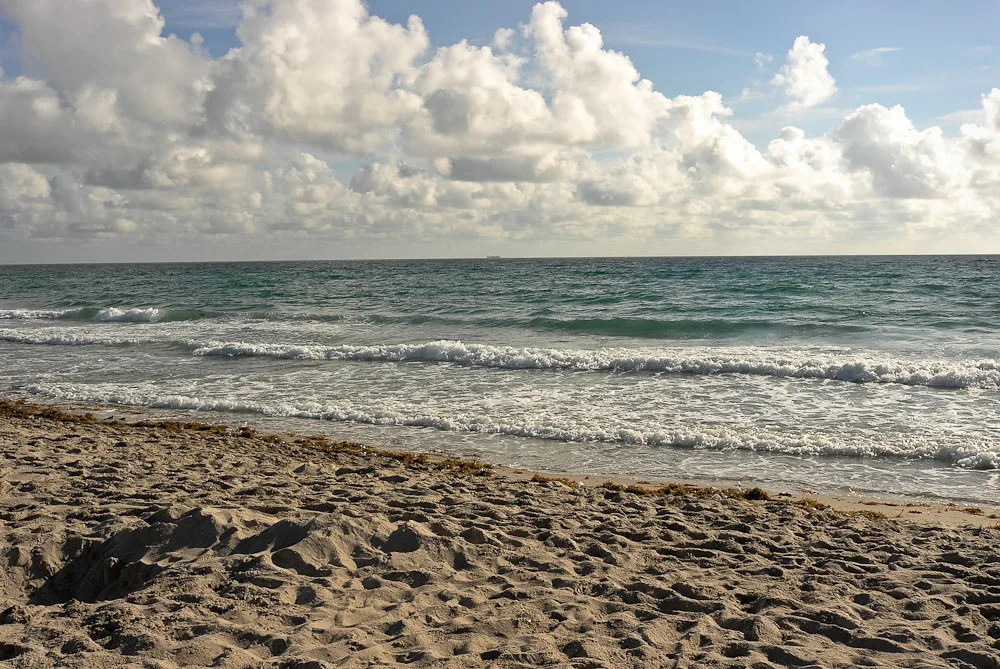 10. Hyatt Regency Grand Cypress Resort
The Hyatt Regency Grand Cypress in Orlando is a 21-acre upscale resort nestled amongst palm trees and a lake. Each suite has its own balcony and access to the private lake, tennis courts, outdoor lagoon pool, and hammocks.
The Hyatt Regency Grand Cypress is a peaceful sanctuary that encourages relaxation. As a prelude to your romantic proposal, you can schedule a couples massage and other rejuvenating spa services.
The outdoor pool is surrounded by lush greenery and peaceful waterfalls and would make a special spot for a romantic proposal. For a romantic meal, try their Lakehouse Restaurant & Bar.
The waterfront view at Lakehouse Restaurant provides a romantic setting for a dinner for two but room delivery is also available. Hyatt Regency offers its guests a variety of onsite activities, like rock climbing, swimming, pickleball, and golfing.
Outside of the Hyatt, there's plenty to do in Orlando. Walt Disney World is only a 3-minute drive from the resort and Orlando has a lively nightlife. Be sure to consider Hyatt Regency Grand Cypress for your romantic proposal getaway.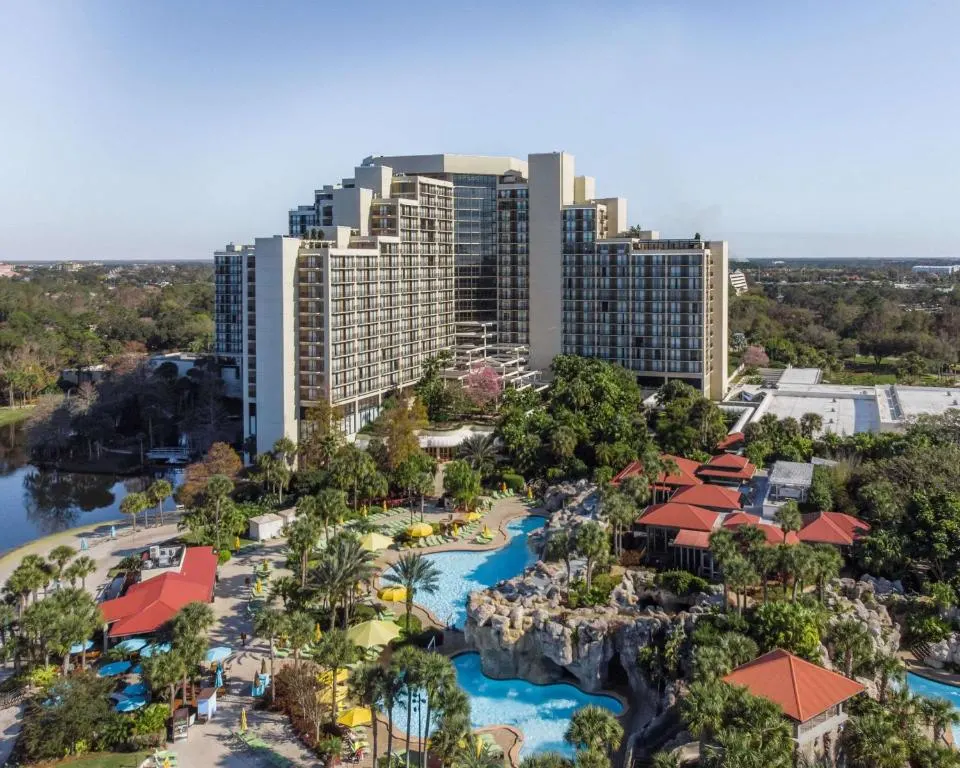 11. The John & Mable Ringling Museum of Art
The John & Mable Ringling Museum of Art in Sarasota, Florida offers a unique proposal experience for lovers of art, architecture, and classical romance.
The outside area alone is impressive with its expansive gardens and historical fountains. The 66-acre compound includes the 1920s Ca' d'Zan mansion, Bayfront Gardens, the Museum of Art, and more. You could propose under one of the many stone archways, or in the rose garden that was first planted in 1913.
The romantic vibes and historical grandeur of the Ringling Museum make it an idyllic setting for a dream come true marriage proposal.
There are numerous places to stay in Sarasota near the Ringling Museum, but to continue the romantic theme, try the Golden Host Resort. It's only 2 miles away from the Ringling Museum and a 15 minute walk to the beach. The Golden Host Resort has 5 acres of tropical landscaping, an outdoor pool with chaise lounges, and a cocktail lounge.
Some of their suites have a balcony or patio. Sarasota is a lively city with a fun nightlife, waterfront fine dining restaurants, and beautiful beaches. The Golden Host Resort is also near the Mote Marine Aquarium, which is another popular place for romantic marriage proposals.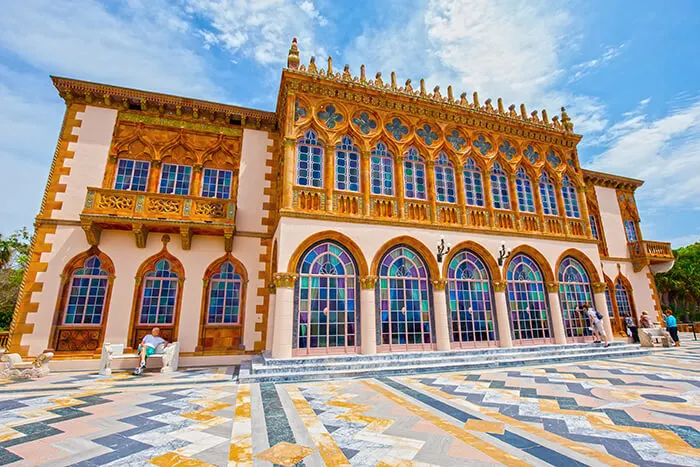 12. The Esidon and Ford Winter Estates
For history lovers, the Edison and Ford Winter Estates is the ultimate place for a memorable marriage proposal. The estate is right beside the Caloosahatchee River and contains a historical museum, and a 21-acre botanical garden, along with the winter homes of Thomas Edison and Henry Ford.
The 1928 Edison Botanical Research Laboratory is also on the property. The botanical garden has more than 1,700 plants that represent over 400 species from six different continents.
The Moonlight garden is the largest formal garden on the property and would make a magical place to celebrate your love story.
It has a reflection pool that captures the moonlight, along with night-blooming flowers, fragrant plants, and trees draped with sparkling lights and lanterns.
The Luminary Hotel & Co. is just minutes away from the Edison and Ford Winter Estates. The Luminary is a 4-star hotel with upscale suites that overlook the Caloosahatchee River. The outdoor heated pool is on the 4th floor and has an expansive waterfront view.
Some of the suites have floor-to-ceiling windows for an even better view of the river below. They also have an onsite restaurant with dining options on the outdoor terrace This gorgeous hotel is the perfect place to further enhance your romantic getaway.
The Luminary is right on the River District, where you can go on a romantic stroll of the palm-tree lined streets and discover charming boutiques and cafes.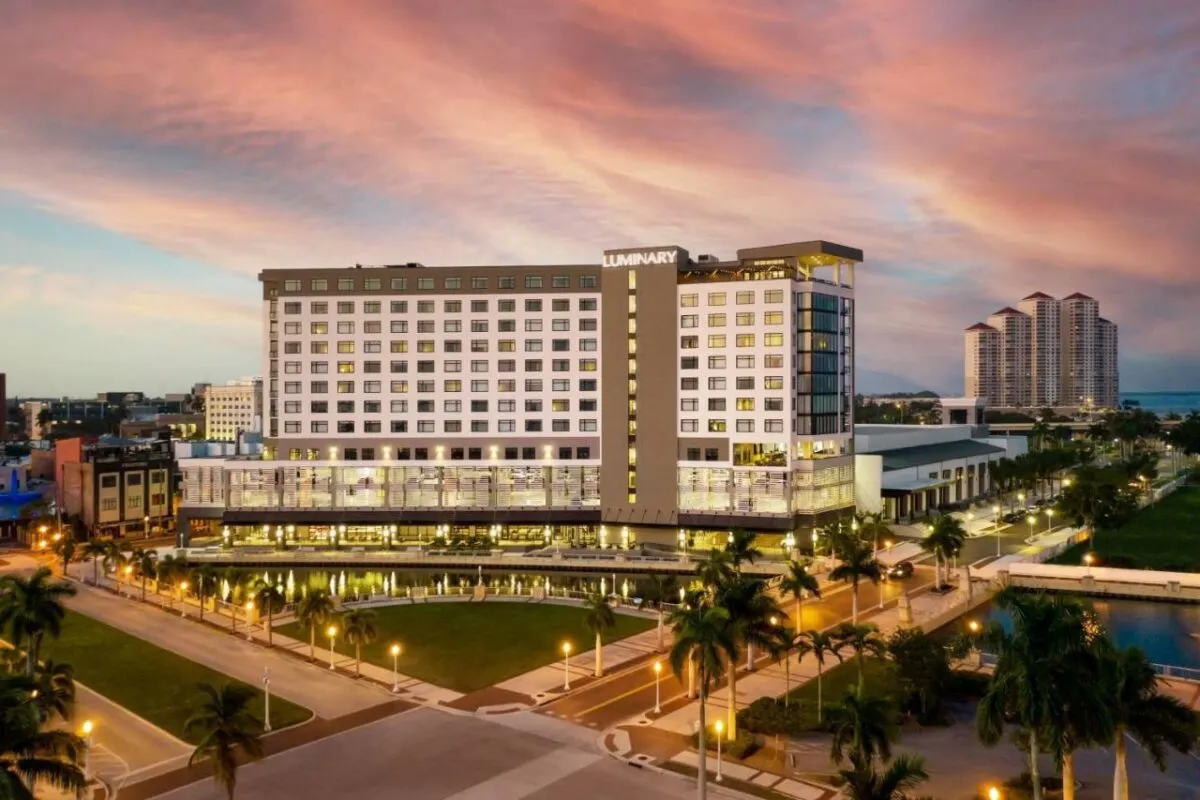 13. Epcot World Showcase
For Disney lovers, we have another fun place to pop the question to your sweetheart. The Epcot World Showcase will transport you to just about anywhere that you desire.
The World Showcase exhibit is over 1 mile long and is situated right next to a lake. It has 11 country-themed pavilions, along with restaurants serving native cuisine. Some of the magical places you can choose to visit include France, Morocco, Italy, Norway, Japan, and Mexico.
Each exhibit offers its own unique romantic charm. The France exhibit has beautiful fountains, gardens, and cobblestone streets, which would make the perfect fairytale setting for a memorable marriage proposal.
Disney has several resorts nearby to stay at, including the Walt Disney World Swan. This gorgeous swan-themed hotel is the perfect romantic spot to celebrate your engagement.
Swans are a symbol of love and elegance. The hotel has a boat dock and complimentary water taxi that will take you right to the Epcot World Showcase. For a once in a lifetime experience, pop the question to your true love at Epcot and celebrate happily ever after at the Walt Disney World Swan.
14. Sandpearl Private Beach Resort for a Clearwater Beach Proposal
The Sandpearl in Clearwater, Florida is a romantic place to stay and is located right on the beach. They offer an engagement package where you can have the ring delivered in a seashell along with two glasses of champagne.
The room service and onsite spa services add to the romantic flair of this beachside resort. It's minutes away from the Clearwater Beach Marine and the Clearwater Marine Aquarium. The resort offers its guests recreation options like parasailing and complimentary bicycle rentals
You can also arrange a dolphin swim encounter, which would be another romantic way to pop the question to your one true love. Clearwater, Florida is a charming beach town to visit. The Sandpearl is a 9-minute walk from Pier 60, a popular attraction in Clearwater.
The 1,080 foot pier has telescopes and covered pavilions. Taking a romantic evening stroll to the pier and enjoying the sunset would be a lovely way to spend time with your significant other. The Sandpearl also has organic food & wine tasting, guided kayak tours, and sea life eco-boat cruises.
Proposing at Sandpearl in Clearwater, Florida would be a memorable experience and a magical way to start your future together.