The Sunshine State is one of the best places in the world to swim with dolphins!
From Florida's crystal clear waters that are filled with abundant marine life, to the state of the art facilities that provide educational, enriching experiences, there is an ideal place for everyone to go swimming with dolphins in Florida.
These gentle beings are graceful, inquisitive and most of all playful! You should not leave Florida unless you have interacted with these amazing mammals first hand. The most renowned facilities in the country can be found here, from places as big as Sea World, to the charming coastal aquariums, you will enjoy hands on interactions that focus both on conservation and entertainment.
Some of the best marine scientists and conservationists in the world are also located in Florida, and they spearhead operations in dolphin education and promote their importance in our delicate ecosystem.
You will certainly walk away knowing so much more about these beautiful animals. While there are many to chose from, here are the 15 best places to swim with Dolphins in Florida. The ones we hav picked out are great for couples as well as families and groups of friends.
Check these out or see all Dolphin swimming tours in Florida here.
Where to Swim with Dolphins: Florida Keys
1. Fury water adventures (Key West)
Is there anything better than swimming with wild dolphins in their natural habitat? Dive in and observe some of Key West's 200 resident bottlenose dolphins as they eat, swim, flip and play in the sparkling turquoise waters off the Gulf of Mexico.
Fury water adventures is one of the absolute top places to swim with dolphins in Florida.
It has a high powered catamaran that comfortably jets you offshore to swim with these intelligent, majestic creatures. All snorkeling gear is provided including a mask, fins and snorkel, as well as a float if need be.
The experienced captain and crew will guide you seamlessly on one of the most unforgettable adventures of your life, just off the coast of Key West. Afterwards, explore the shallow, coral filled waters that are abundant in a variety of marine life.
Sponges, sea turtles, fish and rays are some of the many creatures you may encounter while swimming in the idyllic tropical waters of the Keys. Fury Water Adventures is also part of the Dolphin Smart program, created by many conservations agencies, including NOAA, which promotes the responsible observance of dolphins.
This ensures guests can safely interact with these incredible mammals, without disturbing their natural way of life.
Rating: 4.6★
Entry tickets: $82
Book your tour here.
See more: Best hotels in Key West for couples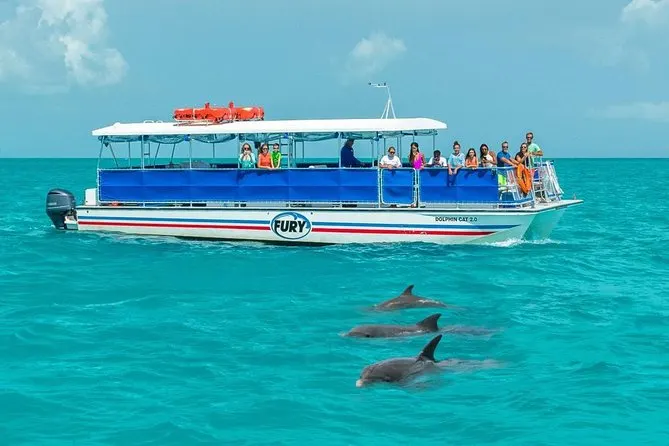 2. Dolphin Research Center (Marathon)
The Dolphin Research Center is a beacon of conservation and education, spanning 90,000 square feet, a true haven for dolphins and sea lions.
Deeply rooted welfare for these animals can be found here from the most profound staff, their cutting edge research and passion for wildlife. This ensures quality, educational public entertainment is available for everyone to experience! Nestled on the beautiful waters of Grassy Key, this facility provides immersive dolphin interactions where you can learn about these intelligent marine mammals up close and personal. Take a look into their behaviors, social structures and their role in our ecosystem.
The Dolphin Research Center plays a vital role in the rescue and rehabilitation of dolphins and sea lions as well, providing a happy home for those that are deemed non releasable. Groundbreaking studies have come out of this facility, which further promotes conservation efforts worldwide.
You can visit this center knowing you contributed to our delicate marine life. There are a number of interactive programs you can chose from here, including the Dolphin Encounter swim program, Family Dolphin Splash, Ultimate Trainer for a Day, VIP Experience half day program and Paint with a Dolphin.
The Dolphin Research Center is located at 58901 Overseas Highway, Grassy Key, FL.
Rating: 4.9★
Entry tickets: $35 for adults (13+) – $25 for children (4-12). The Family Dolphin Splash is $140 per person, ages 4 years and up
Hours: Open 7 days per week 9.00am to 4:30 p.m.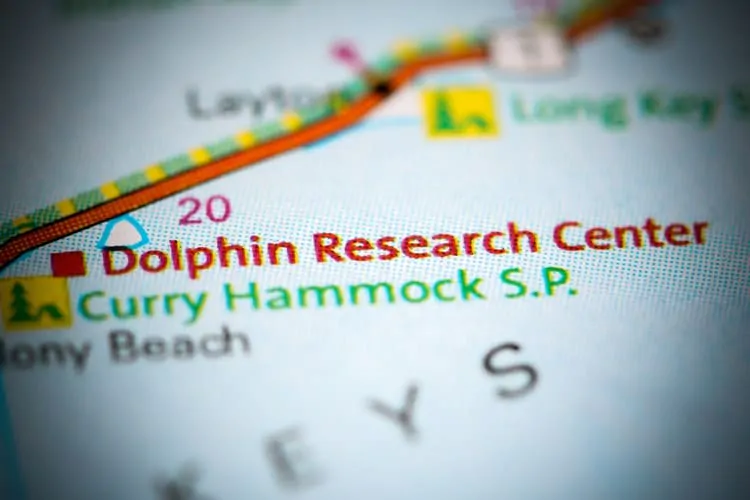 3. Theater of the Sea (Islamorada)
Established in 1946 by The McKenney family, Theater of the sea is one of the oldest marine facilities in the world, and it is still owned and operated by the McKenney family today.
You can find this incredible park halfway between Miami and Key west in beautiful Islamorada. Visiting here will give you a unique opportunity to swim with stingrays, nurse sharks and bottlenose dolphins. You can also spot alligators, crocodiles, birds, turtles and fish here.
After taking in some of the many shows available throughout your stay, dine at the onsite restaurant: Papa's grill, visit the private lagoon and go for a swim, or just relax in the bright Florida sun.
The unique charm of the Theater of the Sea lies in its captivating presentations of all their intelligent wildlife housed here.
Each enclosure is built to mirror the animals natural habitat, that provides a safe and enriching environment. With it's expansive, lush tropical grounds, we recommend you spend at least a few hours here to be able to take in everything this park has to offer!
Theater of the Sea is at 84721 Overseas Highway, Islamorada, FL.
Rating: 4.5★
Entry tickets: $47.95 for general admission for ages 3 up.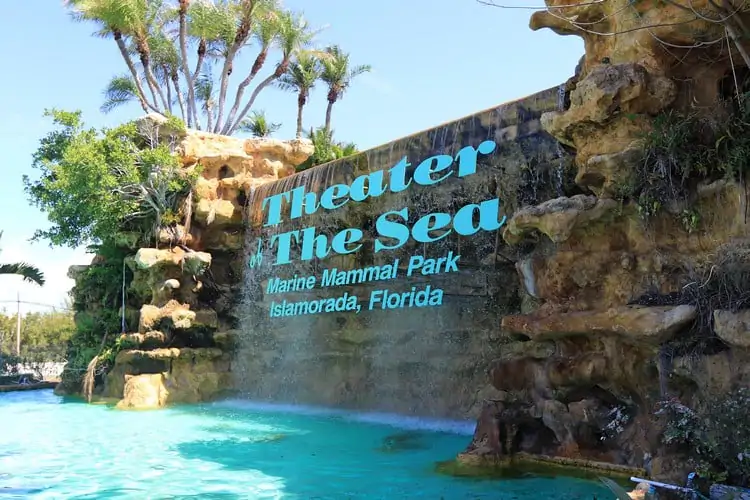 4. Island Dolphin Care (Key Largo)
If you have a special needs child or know a special needs adult with a passion for dolphins, Island Dolphin Care is the place for you! It is a non profit organization that believes in therapeutic, inclusive experiences for those with extra needs. There are no large entertainment venues found here, or huge promotional experiences.
Their programs can be individualized to the person's needs and abilities, to provide a calming, positive experience without judgement or feeling rushed. It is truly a safe, joyful way for individuals with varying physical, emotional and cognitive abilities to experience something they otherwise would not get to.
The facility focuses on promoting the well-being of both individuals and dolphins. Through structured sessions, participants engage in activities that utilize the dolphins' natural behaviors to encourage physical movement, social interaction, and emotional growth. These interactions can have a positive impact on participants' self-esteem, confidence, and overall quality of life.
Visitors are educated about the importance of preserving marine ecosystems and protecting the animals' natural habitats. Don't miss this experience if you have a loved one who meets this criteria and are located in or near Key Largo, Florida!
Rating: 4.9 ★
Entry tickets: 5-Day Therapy Program is $3000 or $259 for a one off assisted swim.
It is located at 150 Lorelane Place, Key Largo, FL 33037.
Opening hours: Mon– Thurs: 11:30am & 2:30pm; Fri – Sun: Call for times
5. Dolphins Plus Marine Mammal Responder
The Dolphins Plus Marine Mammal Responder facility is educational, conservation focused and very interactive! With a variety of programs to chose from, there is something for everyone, children of all ages will remain engaged and excited to participate, all while learning about dolphins and their behaviors and patterns.
It is also one of the places where you can swim with dolphins in Florida.
Programs range from behind the scenes – which gives guests an inside look into dolphin nutrition, feeding, vitamins and more, to dockside meet and greets, shallow and deep water encounters and more. Beyond these interactions, Dolphins Plus Marine Mammal Responder is actively involved in responding to distressed marine mammals in their natural habitat.
This dual focus underscores their dedication to the well being of marine ecosystems and the creatures that inhabit them. By participating in their programs, visitors indirectly contribute to these vital rescue and conservation efforts.
his approach creates a unique opportunity for guests to not only enjoy memorable encounters with dolphins but also to actively support marine mammal welfare and environmental preservation. The organization's commitment to education, conservation, and responsible interaction makes Dolphins Plus Marine Mammal Responder a standout destination for those seeking a meaningful and impactful marine experience.
It is located at 31 Corrine Place Key Largo, FL 33037.
Rating: 4.5 ★
Entry tickets: $245 and upwards for a dolphin swim experience.
Opening hours: 8:30 AM – 5:00 PM Daily. Closed Christmas Day.
See more: Romantic Places to Propose in Florida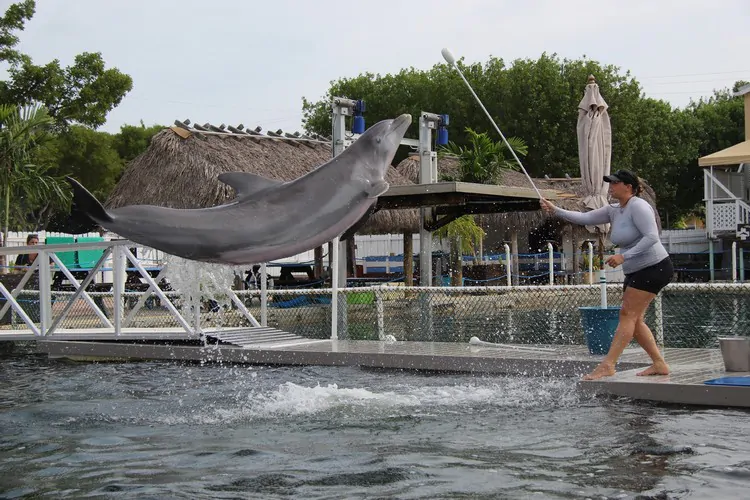 Have a dolphin encounter near Orlando
6. Discovery Cove
If you not only want to swim with dolphins, but want a deeper connection with them, learning the intricacies of their personality and behaviors, then Discovery Cove is the place for you!
Located in Orlando, the incredible staff here will make you feel right at home when you get up close and personal with these animals. They limit the number of entries in this park, so it never feels overcrowded or rushed. This is to ensure a great customer experience, and the safety and well being of all their animals.
Chose from a 30 minute interaction or become a trainer for a day! With the latter option, you can deeply connect with these bottlenose dolphins, feed them and get to know them on a personal level. Have a relaxing float down the lazy river, or enjoy some of the great food available as well.
Everything is all inclusive, so enjoy and indulge as much as your heart desires! Shower facilities, free parking, sunscreen towels and snorkel gear are also included. Discovery Cove was voted #1 best theme park in Orlando, and it is no mystery as to why!
One of the best all inclusive resorts in Florida.
Location: 6000 Discovery Cove Way, Orlando, Florida.
Rating: 4.9★
Entry tickets: Around $200 depending on the experience you book.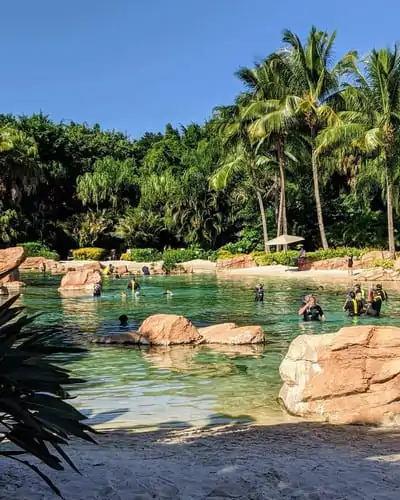 7. Epcot
Epcot center dolphin swimming is just like every experience with Disney – magical! Enjoy one of the longest dolphin encounters available, at two hours!
This includes education, a 30 minute in water interaction and observation. While there is plenty to do for the entire family at Epcot, this dolphin interaction is geared towards older children, teens and adults, as it is on the longer side. It is one of the best places to swim with dolphins in Florida.
You will remain waist deep in water throughout your experience. Guests are able to view the backstage areas and learn about the details of Epcot's bottlenose dolphin care.
You will also learn about the training involved and the research that comes from interacting with these wonderful marine mammals. The trainers here are highly respectful of all their animals and ensure guests that the they are never forced to participate. They are highly intelligent and friendly, so it is likely that they will participate with you – though not guaranteed.
It is recommended that you book in advance for this experience, as availability is limited, due to the high number of guests at Epcot. Walk in availability is not too often found.
Epcot, Walt Disney World Resort is located at 200 Epcot Center Drive, Lake Buena Vista, FL.
Rating: 4.6★
Entry tickets: $199 per person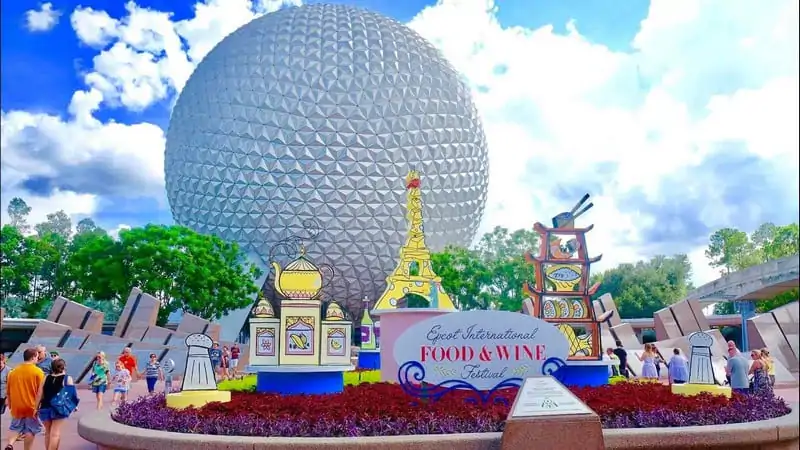 8. Sea World Orlando
Sea World is an iconic destination where wildlife meets entertainment! Located in the theme park hub of Orlando, you can explore everything this park has to offer, including a dolphin meet and greet, without breaking the bank! Sea World offers one of the more affordable options for getting up close and personal with a dolphin.
Animal encounters don't end there, other animal encounters that are offered at Sea World include: flamingos, sharks, manatees, penguins, pelicans, orcas, stingrays and beluga whales! Ignite your sense of wonder and explore the unknown at this legendary park.
No swimming is required as you will only be in chest deep water throughout this encounter. Learn about their care and conservation efforts in the marine animal world while you take pictures and get to know these great animals. Sea World has the largest dolphin exhibit in the country. This park is sure to give you lifelong memories to cherish.
Rating: 4.5 ★
Entry tickets: Starting at $99
Opening hours: Generally 9:00 am – 8:00 pm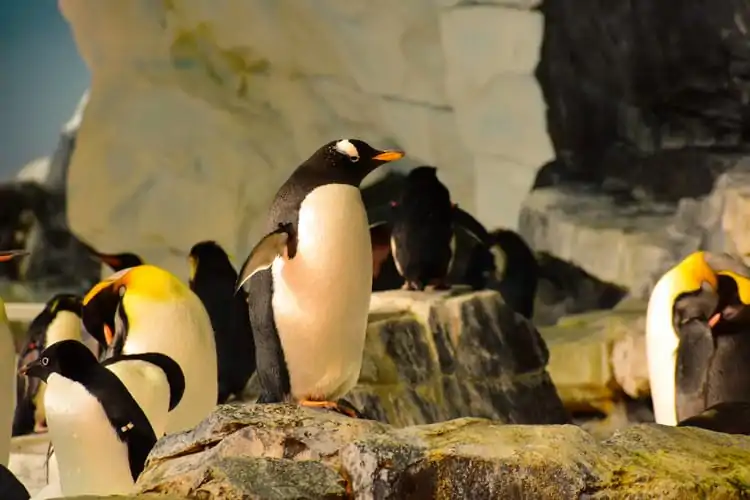 9. The Dolphin Plunge at Aquatica Orlando
Want to see dolphins without swimming with them? Stop by Aquatica Orlando for a one of a kind experience and jump down a slide for a fun, fast paced viewing of their resident Commersons dolphins. This iconic attraction stands out for its unique design – riders speed through clear tubes that pass through a captivating Commerson's dolphin habitat.
As visitors zoom down the slide, they get a thrilling close-up view of these playful dolphins swimming alongside them. If you want to learn more about this friendly species, an up close tour is also available for reservation. Check out their incredible habitat, that is also shared with fish and leopard sharks!
On the way over, you will tour through their top tier fish kitchen and hear about their extensive care by the park's expert zoological staff. This park is open year round, be sure to book reservations in advance so you don't miss out on this spectacular experience!
Aquatica Orlando is at 5800 Water Play Way, Orlando, FL.
Rating: 4.2 ★
Entry tickets: Tickets As Low As $47.99
Opening hours: It opens daily from 10.30 am to 5 pm.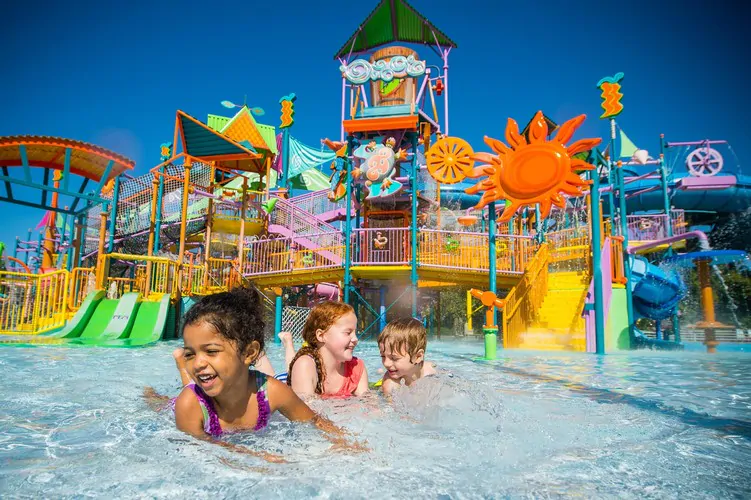 10. Miami Seaquarium
Miami Seaquarium really is a world class marine facility! It spans 38 acres of tropical landscape that was established in 1955.
Here you will find dolphins, orcas, rays, penguins and more! The Miami Sequarium is iconic, and another facility that participates wholeheartedly in rescue and rehabilitation efforts of many marine animals. Their enclosures are created with the utmost care, using filtered water directly from Biscayne Bay, they are expansive and intricate, ensuring the animals will thrive in their safe, beautiful home.
Swimming with dolphins here is unforgettable! There are programs available for all age groups, even the young ones! From the meet and greet, all the way to the double dolphin ride, this facility is one of a kind, and one of the best in the entire country.
The dolphin encounter allows you to shake hands and work with dolphin training, where the dolphin odyssey adventure has you diving right in to the deep end to swim alongside and with these intelligent mammals. There are a number of dining and shopping options available as well! Don't wait to book a once in a lifetime experience at this Seaquarium!
Miami Seaquarium is located at 4400 Rickenbacker Causeway, Miami.
Rating: 4★
Online General Admission (10 yrs. & over): $43.99
Park Hours: 10:00 am – 5:00 pm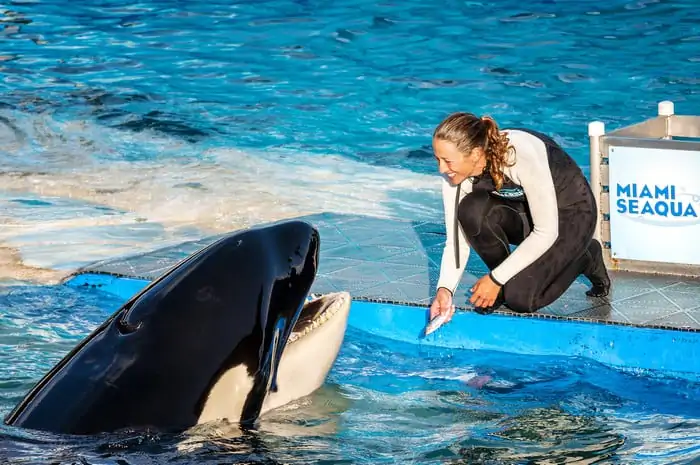 11. Marineland Dolphin Adventure
If you are looking for something more intimate, outside of a theme park in a natural setting, then Marineland is the place for you.
Located in St. Augustine, Marineland provides entertainment with environmental awareness. The Dolphin adventure encounter offers a unique and educational opportunity to interact with dolphins in a natural coastal setting. Participants can experience up-close interactions with dolphins, including touching, feeding, and even swimming alongside them in a lagoon.
Marineland places a strong emphasis on conservation and research. Through their Dolphin Conservation Center, they contribute to the understanding of marine life and the ocean ecosystem. Their programs not only provide an intimate encounter with dolphins but also educate visitors about the importance of marine conservation and responsible interactions with these intelligent creatures.
Unlike traditional amusement parks, Marineland aims to create a more natural environment for the animals, allowing them space to exhibit more natural behaviors. This approach fosters a deeper appreciation for marine life while addressing ethical concerns surrounding captivity.
It is located at 9600 North Oceanshore Boulevard, St. Augustine.
Rating: 4.9 ★
Entry tickets: Starting at $20
Opening hours: Daily from 9 a.m. to 4:30 p.m.

12. Clearwater Marine Aquarium
Clearwater Marine Aquarium, located in Clearwater, Florida is renowned for its dedication to the rescue, rehabilitation, and release of marine animals, particularly dolphins. Home to Winter and Hope, two inspirational dolphins who overcame significant challenges, the aquarium offers an intimate and educational experience.
Winter, a dolphin who lost her tail to a tragic accident, was fitted with a groundbreaking prosthetic tail, showcasing the resilience of marine life. Hope, another rescued dolphin, provides a remarkable story of recovery.
Visitors can witness their progress firsthand and learn about the importance of conservation and environmental stewardship. The facility prioritizes animal welfare and promotes understanding through interactive experiences. Guests can observe the dolphins' daily care routines, attend educational presentations, and even partake in behind-the-scenes tours to comprehend the efforts required for their rehabilitation.
Clearwater Marine Aquarium's mission extends beyond entertainment, as it actively contributes to research, rescue operations, and educational outreach. While offering an engaging encounter with these incredible dolphins, the aquarium sparks discussions about the broader issues of marine conservation and responsible human interaction with marine life.
It is located at 249 Windward Passage Clearwater, FL 33767.
Note: There is no opportunity to get in the water with the dolphins but it is still very educational.
Rating: 4.0 ★
Entry tickets: $35.95 for adults, discounts for children on an age basis.
Opening hours: 10am – 6pm
13. Encounters with Dolphins (Clearwater)
Encounters with Dolphins stands out from traditional dolphin interactions. Here you are able to witness firsthand these magnificent creatures completely undisturbed in their natural habitat.
Located in the gorgeous waters of Clearwater, climb aboard this tour bout and see these great creatures do what they do best – swimming, diving and playing in their tropical home!
Tours depart several times a day from Clearwater Harbor for your convenience. This boat ride is also pet friendly, so your pup is more than welcome to join on the family outing. Included in this dolphin boat ride is a 30 minute stop on Compass Island, for you to go shelling, snorkeling and taking in all the beautiful wildlife and sparkling waters around you.
The highly professional staff of naturalists on board narrate the trip as well, making sure you won't miss a thing. There is nothing quite like seeing dolphins wild and free in their natural habitat. They are highly social, and often times ride the bow of the boat, so don't forget to bring your cameras!
Note: There is no getting in the water element of this tour but it is still really worthwhile
Book your tickets here.
Rating: 4.9 ★
Entry tickets: Around $35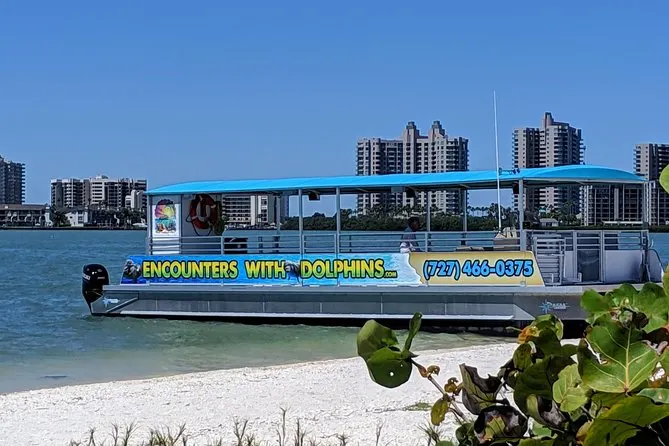 14. Dolphin Eco Tour – South West Florida Cruises
If you would like a place to swim with dolphins in Florida in their natural habitat, from your own private boat and don't want to break the bank, then book a Dolphin Eco Tour with South West Florida Cruises!
Captain Dave will keep you and up to five of your friends safe and entertained while cruising for dolphins! Navigate the waters of Fort Meyers, Florida on a private boat and tailor a trip just for you and your group! This three hour tour also includes a quick beach stop for cooling swim in the water during your dolphin seeking adventure.
Each trip also includes a downloadable Go Pro video for you to keep! Don't fuss with camera equipment and leave your attention on the marine life you may spot on your tour! Dolphins are known to frequently swim the waters of Fort Meyers, Lovers Key state park and Estero Bay Aquatic Preserve, and what a better way to spot them than a day on the water.
Grab your closest friends and family and book a charter on this fun vessel, knowing you let wild animals be wild. Who knows, you may spot sharks, manatees, fish, sea birds and more! Three tours are available to book, the Dolphin Tour, Half day, and Full day charters. Note: there is no in water experience or swim
Rating: 4.5 ★
Entry tickets: Book your tour here.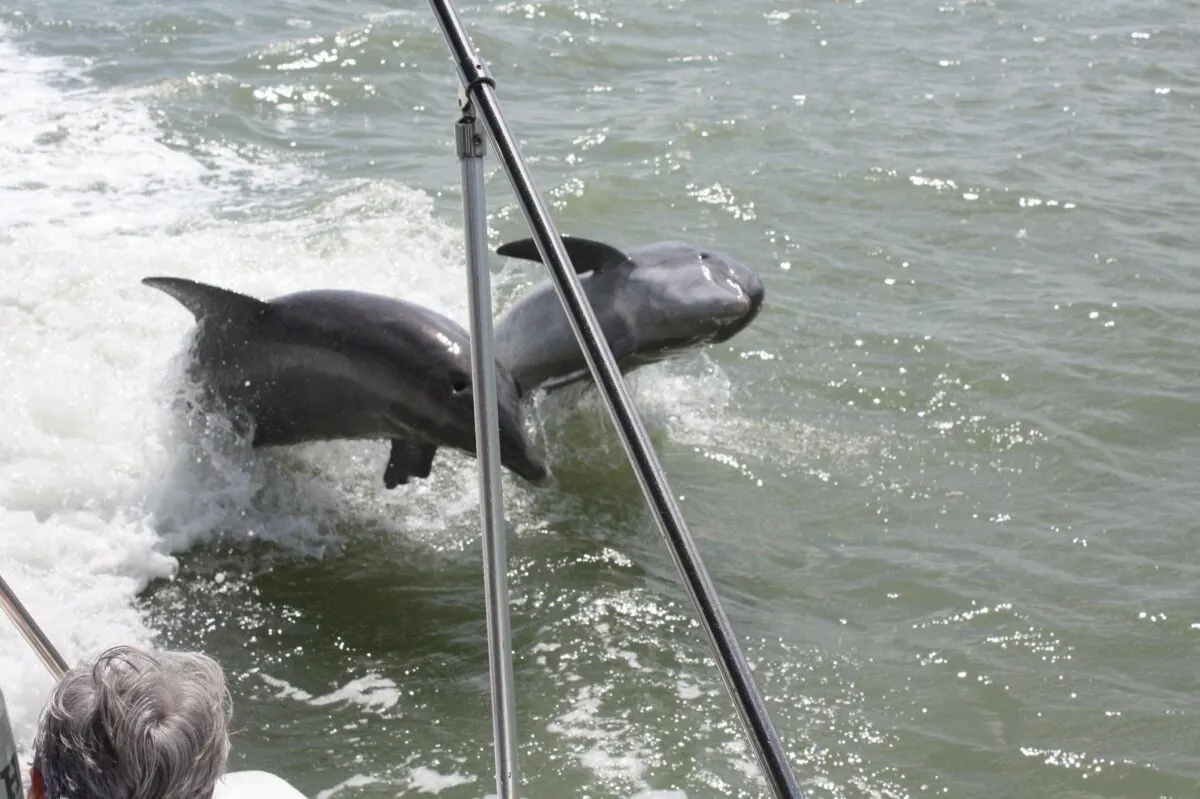 15. Sunset and Daytime Dolphin Tours – Sunshine Water sports, Destin
Looking for some fun in the sun in the ultimate vacation town of Destin, Florida? Be sure to book one or both tours from Sunshine Water sports. Each tour is highly rated by thousands of patrons over the years.
Hop on their boat and cruise the beautiful, sparkling waters of Destin, Florida to spot the locals in action. Each boat ride is an hour and a half long, perfect even for small children looking to catch some fun in the sun while seeing their favorite animal jump and splash in the boat wake.
Note: This is not a swim with dolphins experience but it is still really fun!
There is no better way to watch the vibrant colors of the sunset than on the water, and the sunset dolphin tour is affordable and full of wonder. Destin is a magical destination for the incredible display of sunset colors, crystal clear water and rich wildlife, so it is no wonder why so many people chose to vacation here.
Cruise comfortably on their catamaran which departs from Destin Harbor. Of course dolphin sightings can't be guaranteed as they are wild animals, though they are seen much more often than not, often riding the boat wake and coming to say hello. Don't miss this opportunity if you are in the Destin area, one of the most romantic things to do in Destin for sure.
Book your tour here.
Rating: 4.5 ★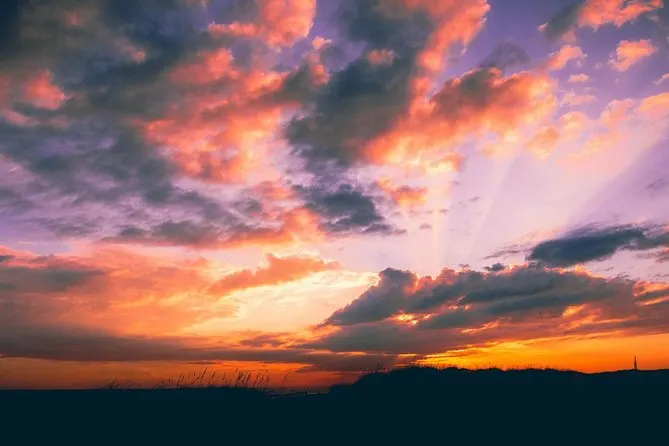 Bonus: Dolphin Connection (Duck Key)
At Hawks Cay, you'll find a friendly pod of bottlenose dolphins in their ocean-fed saltwater lagoon, thanks to the Dolphin Connection program.
They offer unique experiences that let you view, interact with, and learn about the dolphins and Florida's marine ecosystem.
If swimming with dolphins is on your bucket list, and you've made it this far down the post, then Dolphin Connection might be the one for you.
Hawks Cay is the only resort in the mainland United States where you can not only view dolphins on site but also engage in various interactive programs for all ages.
Click here to check out the Dolphin Connection @ Hawks Cay Resort
FAQ About Swimming with Dolphins in Florida
Where in Florida do you swim with dolphins? You can swim with dolphins many places in Florida including Key West, Islamorada, Miami and Orlando.
Where is the best place to swim with the dolphins? Island Dolphin Care is in our opinion the best place as it offers a therapeutic dolphin swim experience.
How much does it cost to swim with dolphins in Miami? If you want to have an in water encounter with the dolphins, it is not cheap and will cost upwards of $200 per person. Visiting and observing only is a lot more affordable and can cost as little as $30.
***