If you are on a couples getaway, one of the best romantic hotels in Key West is definitely the way to go to get the most out of your vacation!
Being a couple ourself and knowing what couples want to see in a hotel, here are our picks for the best place to stay in Key West for couples. We have only selected hotels 1. we would stay in ourself 2. are very romantic and 3. have amazing reviews.
Disclaimer: This post contains affiliate links. That means, if you find something useful on our site, we may make a commission at no extra cost to you. If you do find a hotel helpful, we would appreciate you making a booking through us.
Romantic Hotels in Key West Florida, USA
Quick Answer: Key West Florida Romantic Getaways
Marriott Beachside Hotel is one of the best hotels in Key West for couples as it features beautiful waterfront pools with epic views of the Gulf of Mexico.
All the rooms and suites provide up to date features like iPod docks and flat-screen TVs. Some rooms feature a full kitchen, a spa bath or a balcony.
Don't want to dine out? No problem. Dining options at Marriott Beachside Hotel include Tavern N Town and the Blue Bar.
Tavern N Town is a continental restaurant nestled near the hotel's lobby. You can enjoy anything from incredible steak to seafood at this restaurant. With the restaurant's Tapas Theatre Kitchen, you can watch how the chefs infuse the flavours of Key West into continental dishes.
Blue Bar is a nice low key alternative featuring American cuisine like sandwiches and snacks that you can eat at the poolside bar.
If you are a fitness conscious couple, one of the best nearby attractions for couples is the Key West Golf Club. You can also go scuba diving, sailing, snorkelling, kayaking and jet skiing on Key West's amazing beaches.
One of the best features of this hotel is the free shuttle to Key West downtown area. There is seriously tonnes to do in Key West. It can be a bit of an expensive place. If you would like to keep activity costs down, here are some of the best free things to do in Key West.
Book you stay here.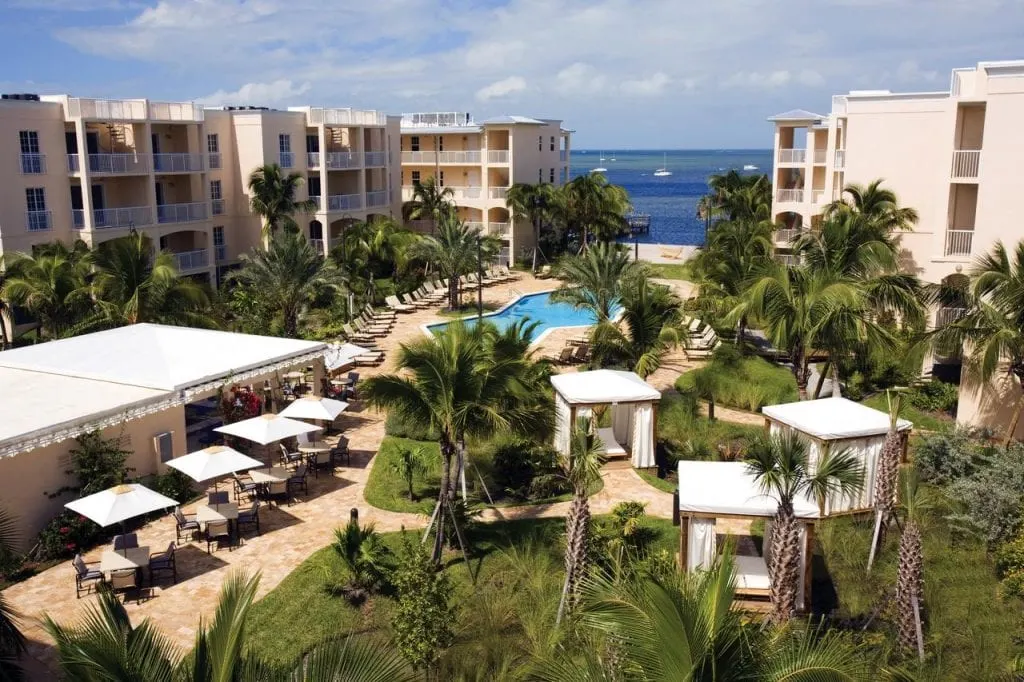 Definitely one of the best Key West Vacations for Couples, H20 Suites has it all!
H20 Suites is a hotel designed for adults only which can be great if you want a couples vacation without kids jumping in the pools! It also won the TripAdvisor's No. 1 Travellers' Choice award in 2019.
Soak into the refined luxury that this chic adult only hotel in Old Town Key West provides with residential suites with balconies, private spa bathrooms and even private patios with pools!
If you are a fit and healthy couple who can't help but to a bit of cardio on vacation, you will be very happy with the state-of-the-art cardio equipment. You might just need the exercise if you're thinking of trying the amazing food there ;).
Experience original Japanese style at Ambrosia Restaurant where you can find anything from sushi to Japanese sake. Want something else? Drop by anyone of the restaurants near the hotel like Carolina's to enjoy the best of Key West's seafood.
For couples, the hotel has a special romantic package. The package includes a stay in one of the best suites, extravagantly decorated Italian marble bathroom complete with champagne upon arrival and chocolate coated strawberries in the evening. Book it if you want to make some wonderful, romantic and everlasting memories!
The hotel has a rooftop area with amazing views of the entire Key West. Alternatively, we would recommend a stroll to see the activity at Duval Street or during the Mallory Square sunset.
Book your stay here.
See more: Best luxury hotels in Key West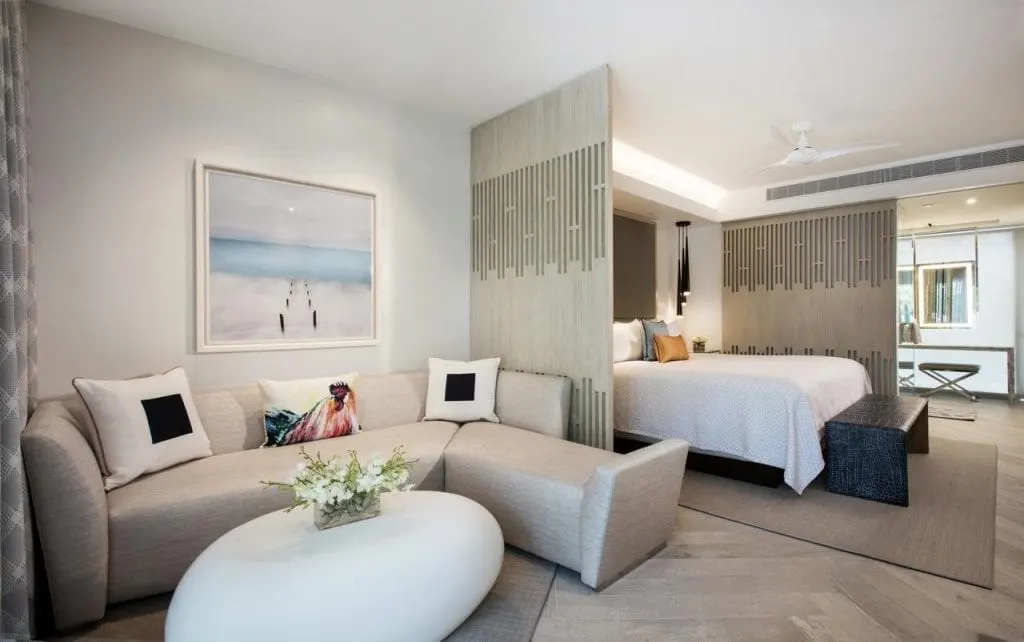 Nestled in the historic Old Town district, this Inn provides B&B with an Island theme. It's one of the best hotels to start your Key West adventure with its homey feel far away from home.
Rooms at the Inn are equipped with flat-screen LCD TVs, mini refrigerators, in-room coffee maker, free wireless Wi-Fi, ceiling fans, private bathrooms and air conditioning to counter the heat.
This hotel features incredible amenities perfect for a couples retreat in Key West including a heated pool, spa and complimentary breakfast. Relax in the tropical garden or the sun terrace.
If you are looking for a delicious hotel breakfast in Key West you can beat this one! Each morning you will find champagne mimosas, bagels, croissants from Frenchie's Café, flavoured cream cheeses, French toast and waffles.
One of the cool perks of the Inn include free bikes which you can use to explore the Old Town. Seascape is located mere miles from the Ernest Hemingway House and Historic Harbour.
Book your stay here.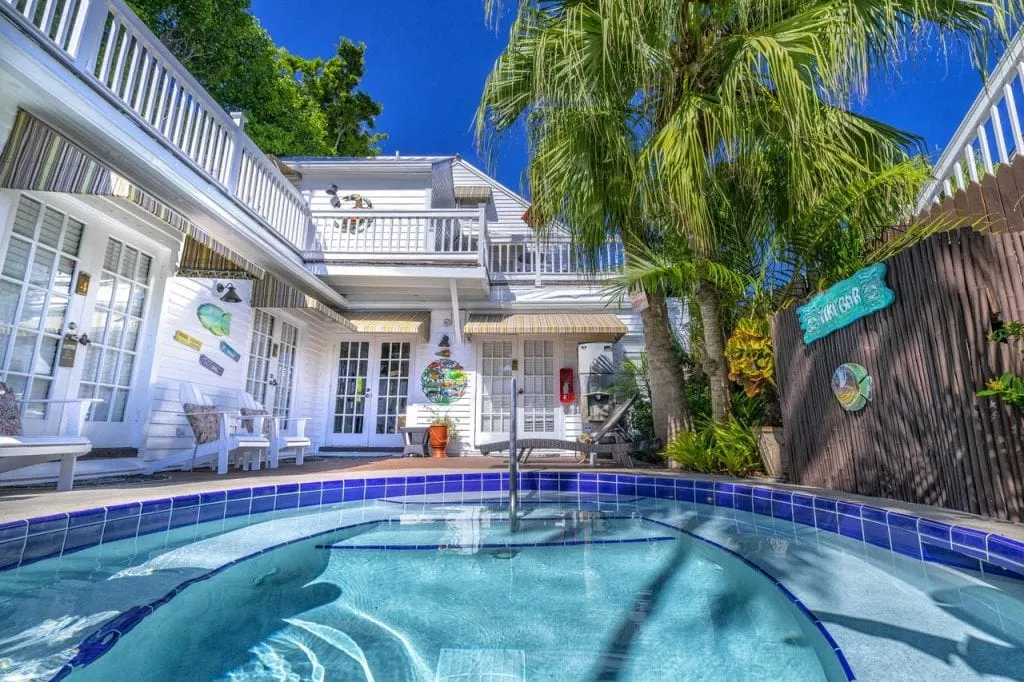 Celebrate your Key West romantic getaway at Condé Nast Traveller 2020 Readers' Choice Awarded resort located on the waterfront in Old Town Key West. One of the most romantic places to stay in Key West.
Erected within a working cruise ship port, this resort is the essence of rest and relaxation in the middle of bustling Key West's Old Town.
There is numerous rooms at the resort to suit any budget including traditional rooms, deluxe rooms and one bed room suites.
All rooms feature cable TV, ironing facilities, work desk, bathrooms with premium bath supplies, single cup coffee-maker, ceiling fan, wireless internet, make-up/shaving mirror, and room service. There are some select rooms that also offer a refrigerator, balcony and pull-out sofa bed should you require it.
As for the hotel food, there are a few options available for romantic dining. Bistro 245 is the place to be if you want a causal dining with exceptional service and delicious food like Key West Shrimp and Black Angus Beef.
Want to visit a bar? Then, drop by Castaways and enjoy a cocktail amidst beautifully green tropical scenery.
Book your stay here.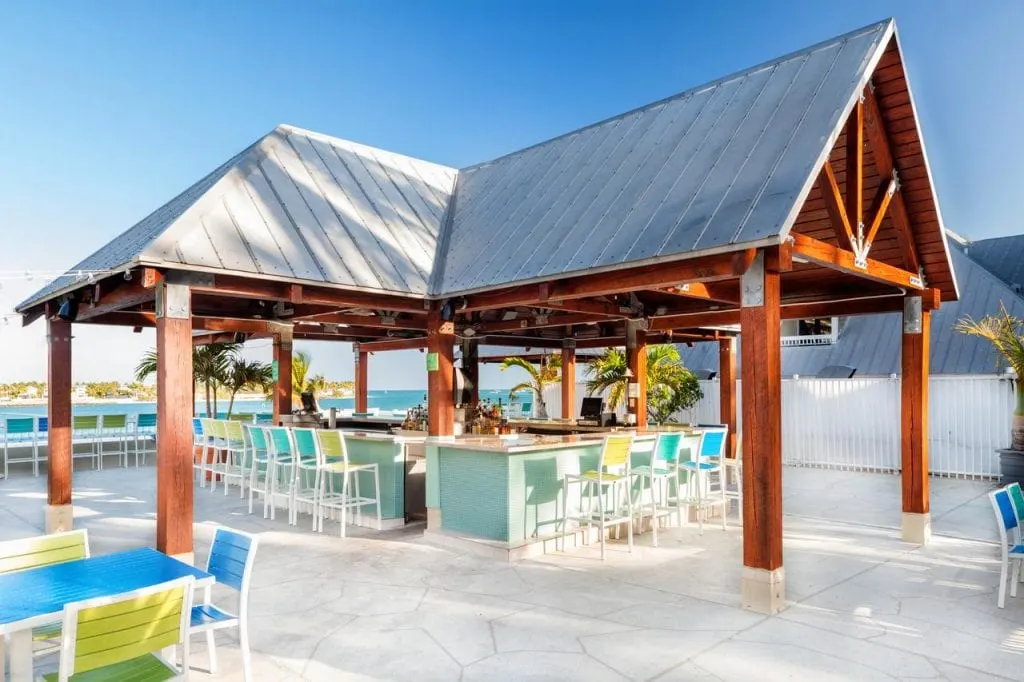 At this lush, tropical retreat from the real world, you will find generous accommodation with high-speed internet. Select rooms have balconies with killer views of the Gulf of Mexico – perfect for a honeymoon in Key West.
The stunning pool (one of the main reasons to stay here) is situated at the heart of the hotel in a calm, tropical oasis.
To experience the distinct spirit of Cuba, the Floridita And Mojitos Pool Bar at the hotel awaits your visit.
Book your stay here.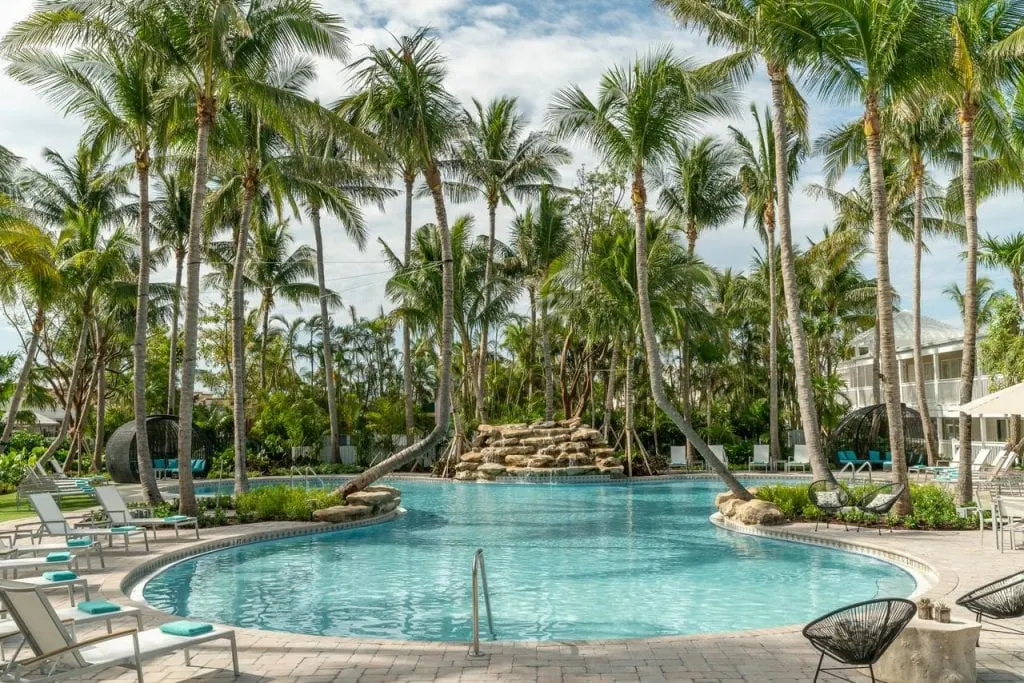 Situated on only walking distance from some of the best attractions in Key West including the Fort Zachary Taylor beach and Mallory Square, you really can't go wrong booking this hotel.
Other than these attractions it is also minutes away from the Mel Fisher Maritime Museum, Key West Museum, Mel Fisher's Treasures and Key West Shipwreck Museum.
L'Habitation is a hotel that oozes the true charm of a Key West Conch House (a style of architecture native to Key West, Florida).
Comfort is taken quite seriously in L 'Habitation – all the eleven guest rooms are delightfully furnished. You will find private bathrooms, free Wi-Fi, remote cable TV, refrigerator and air-conditioner in all the rooms.
For relaxation, you can use the tropical terrace for your morning coffee and breakfast complete with fresh fruits, cereal, yogurt, oatmeal and locally baked pastries.
Rated 9.9/10, there is no doubt it is one of the best hotels in Key West for couples.
Click here to book your stay.
The Laureate hotel is designed to relax and bring out creativity in people. It's an ideal place for artists looking for leisure or couples looking for something a little different!
The One Bedroom Suites are perfect for a couples' escape to the most Southern point of the USA. The suites have vast spacious bathrooms, balconies, a seperate living room and kitchen.
The suites' kitchens are equipped with a toaster, two-burner cooktop, dishwasher, refrigerator or freezer, microwave, coffee-maker. Usually, the kitchens come with either a breakfast bar or a gallery kitchen with table for two.
Don't feel like shopping? No problem! Laureate has partnered with Fausto's to provides its guest with a grocery delivery service. You just have to fill the grocery list at least 48 hours before your arrival to find your food at your suite when you arrive at the hotel.
The hotel's little pool right at the ocean's edge is perfect for cooling off after a long day exploring Key West. Don't miss a Key West sunset – they are the best!
Click here to book your stay.
Dubbed as the prettiest hotel in Key West by the New York Times, this hotel is perfect for those who love the outdoors. Certainly one of the best Key West honeymoon resorts.
All rooms have private balconies and patios and guests can take full advantage of the on-site bicycles for rent at the hotel.
Aside from its beautiful surrounds, one of its perks of this hotel is the live jazz is performed in the hotel gardens every Sunday.
Note: this is a great choice for eco-friendly couples as they have implemented a lot of eco friendly practices at the hotel.
Click here to book your stay.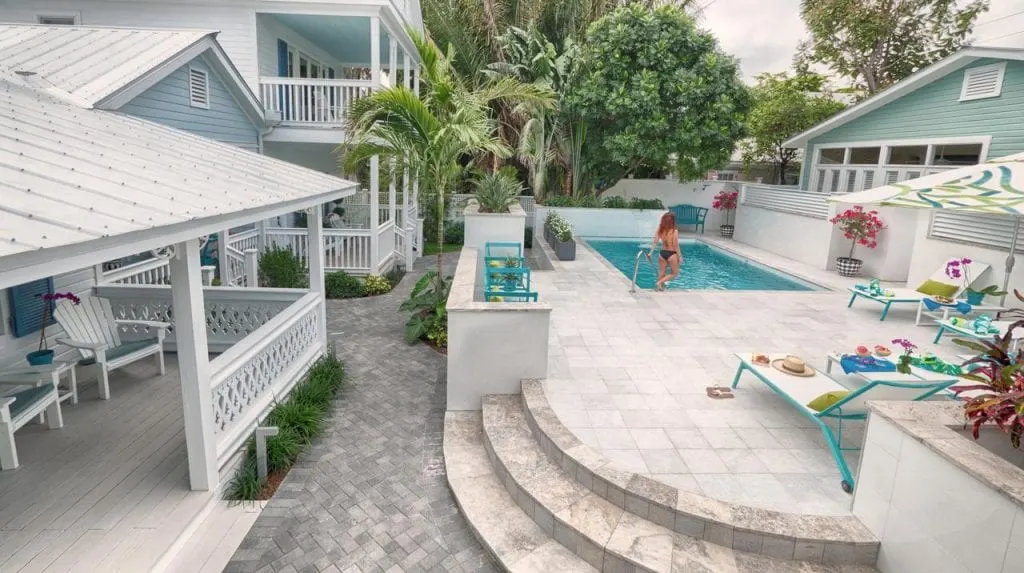 Huddled on a private beach with the hotel extending over the water via wooden piles, this resort not only provides stunning accommodation but gives you direct access to a beautiful private beach on Key West.
All rooms offer free Wi-Fi, private bathrooms with rain style showers, coffee and tea making equipment and a small refrigerator.
During your stay, you can swim in the hotel's outdoor swimming pool, soak in the whirlpool hot tub or go swimming in the sea.
When you get tired of swimming, why not head over to the spa and get a couples massage? The spa at Pier House is the best place to go to unwind and forget all your troubles.
Pier House Resort & Spa also offers fine dining options for couples including One Duval, Beach Bar and Chart Room Bar.
Enjoy a romantic dinner for two at One Duval with awe-inspiring sunset views. If you prefer to remain on the beach, the Beach Bar is the best place to be for a light snack.
One of our top picks for a Key West romantic vacation.
Click here to book your stay.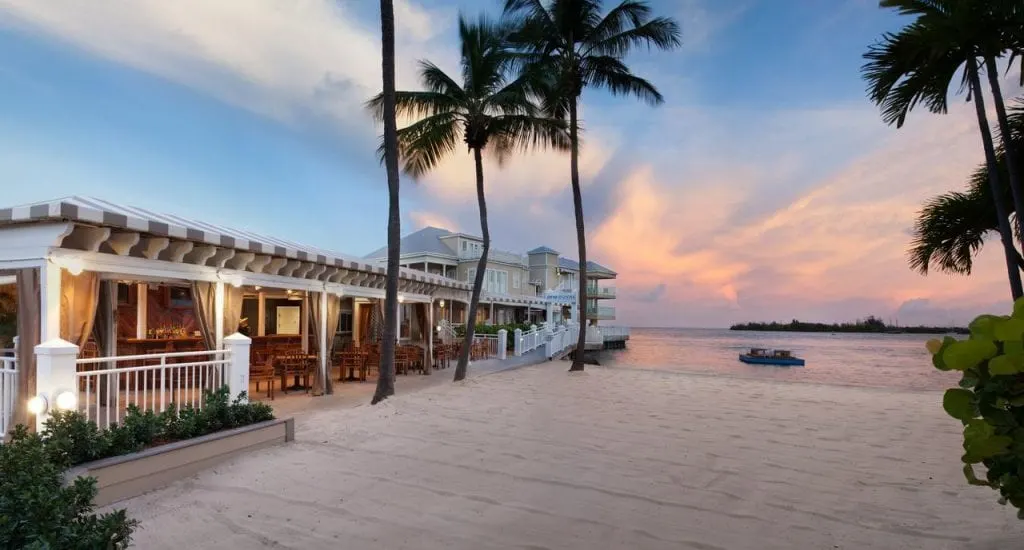 This 4-star hotel is an oceanfront island escape from the real world.
All the suites come complete with a full kitchenette (microwave, refrigerator and coffee maker included) and a full dining area. Only some suits boast flat-screen TVs and balconies with amazing ocean views.
If the two of you are fans of water sports, there is amazing water sport activities on offer, a minutes' walk from the hotel at Smathers Beach, one of the very best beache and most romantic places in Key West.
Couples who prefer a slower paced holiday may prefer to relax by the hotel's elaborate lagoon-style pool.
If you don't feel like going out, there are numerous restaurants at the hotel to enjoy. Drifter's Cove is one of the more popular spots with Caribbean style meals as well as a few more traditional dishes. Shipwreck Restaurant is another popular option for seafood.
Foodies will be happy to know that there is also great restaurants nearby the hotel including The Flaming Buoy Filet Co., an American restaurant in a groovy tropical setting or the Salute!
To stay fit after dining at these wonderful restaurants, you can drop by the hotels' fitness centre that prides itself on having top notch weight lifting and cardio equipment.
Want to explore Duval Street too? Take the hotel's complimentary shuttle to go on an adventure downtown. You might even like to get some shopping in.
Click here to book your stay.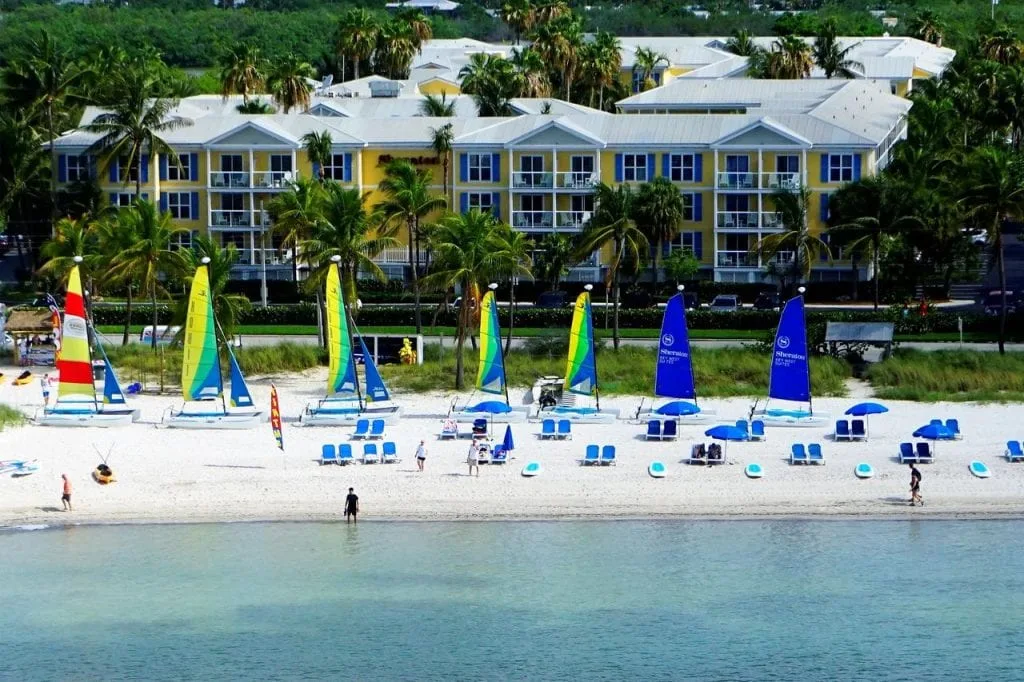 This hotel is one of a kind with amazing pools, beautiful rooms and a stunning restaurant, garden and bar. A very romantic Key West retreat!
Made up of three different and unique buildings, this hotel offers you polished rooms and suites, marbled bathrooms, free Wi-Fi and even complimentary breakfast (depending on your package).
Swim in the pool enclosed by lush vegetation or go for a bite to eat at the hotel restaurant which offers traditional American dishes – the choices are endless!
Rated a 9.8/10 and being on the doorstep of all that Key West has to offer, this definitely one of the best key west romantic resorts!
Book your stay here.
Located right next to the Key West Butterfly & Nature Conservatory, this B&B guesthouse is situated in the perfect position to explore all that Key West has to offer!
Southernmost Point Guesthouse combines Southern hospitality with the tropical charm that Key West is famous for to give its guest an experience they won't forget.
The hotel provides its guest with a complimentary American breakfast, a happy drink hour for adults, access to the spa pool without any additional fees, barbecue facilities and free parking.
Rooms include a private bathroom with toiletries and a flat-screen TV. Some select rooms have balconies or patios.
Nearby, you can find lots of options to increase the adventure in your relationship with water sports like diving or deep sea fishing.
Are the two of you foodies? If so, some of the best restaurants in Key West serving delicious seafood are right on your doorstep!
Book your stay here.
One of the top booked Key West Honeymoon hotels!
Nestled less than a block from amazing shopping and dining on Duval Street, this Inn is a relatively small motel with a tropical setting. Don't underestimate this cozy inn though – it's rated 9.8 on booking.com!
You can visit the Historic Lighthouse and the Ernest Hemingway House (both are a 4 minutes' walk from the Inn) or the Key West Butterfly and Nature Conservatory which is a 6 minutes' walk from the Inn.
All the rooms have amenities like a microwave, coffee maker, a mini refrigerator, patio, daily housekeeping, luxury beddings and bathrobes, free Wi-Fi, and satellite television.
There are many room options to chose from at the inn depending on your budget including Deluxe King Rooms, Queen or King Suites. The rooms are designed to maximise comfort for the guests during their stay in Key West.
Some of the best aspects of the hotel include a heated pool and whirlpool spa. There is also a delicious continental breakfast served at the hotel daily.
Nearby the hotel you can enjoy some of Key West's best attractions including water sports, beaches and bike rentals.
Book your stay here!
Located on Duval Street, this Key West Inn is situated at the crossroads of the Historic Old Town.
If you are interested in a romantic hotel in a beautiful setting then this is a fabulous choice. Tropical landscapes surround the Inn including its picturesque pool and spa area.
Rooms are equipped with all the amenities you would expect to find in a luxury resort.
Rooms include either a king-size or a queen-size bed with plush, comfortable sheets, HD Plasma TVs, private bathroom with a shower, air conditioning, telephone with voicemail, hairdryer, mini-fridge and coffee machines.
For food, you can drop by any of the world class restaurants on Duval Street or visit Inn's Orchid Bar. Here, you can just sit back with a cocktail in hand while your meal is prepared with fresh, high quality ingredients.
Book your stay here.
Built on beautiful lush grounds, this resort offers guests rooms with traditional décor, flat-screen TV with cable channels, mini-fridge, coffee-maker, custom-designed beds and complimentary Wi-Fi.
Some rooms even include balconies and whirlpool tubs, perfect for a key west romantic getaway!
There are numerous restaurants in and nearby the hotel for you to enjoy. For a drink with light snacks, Gumbo Limbo is the go-to place at the hotel.
If you want something a little more substantial, head over to the Palm Haven, which serves a variety of delicious seafood dishes, local to the area.
From the hotel you can easily go for a romantic stroll at Smathers Beach (only 2 miles away) or partake in the nightlife of Duval Street (4 miles away)
Hilton is a nice place for couples to pend some quality time together in style. Certainly one of the best Ket West honeymoon resorts out there!
Book your stay here.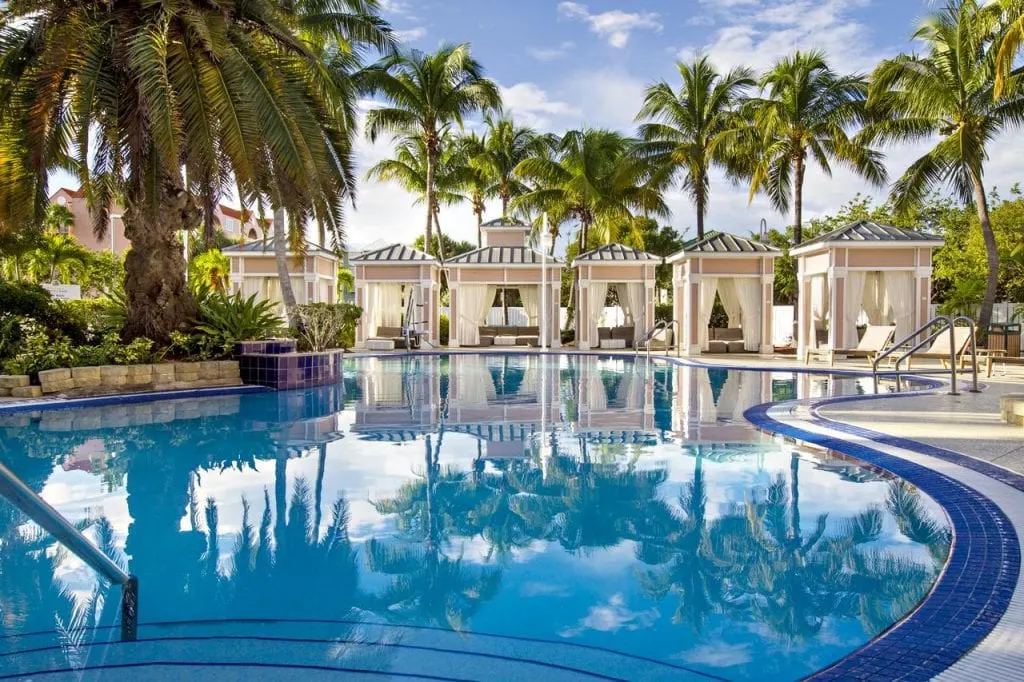 At this elegant hotel, you can relax and unwind in the quiet setting of the magnificently restored Victorian house and its equally beautiful surroundings.
Highly rated as #7 out of the 51 hotels in Key West, this hotel is offers large rooms and suites filled with hotel room essentials like A.C and flat-screen televisions.
What we like about this hotel is that it has a pretty full list of amenities including free wifi, self-parking, microwaves, poolside bar, a dry cleaning service, and complimentary breakfast.
Looking for great food? The Seaside Café at the hotel has amazing food including pizza and local seafood!
Book this hotel here.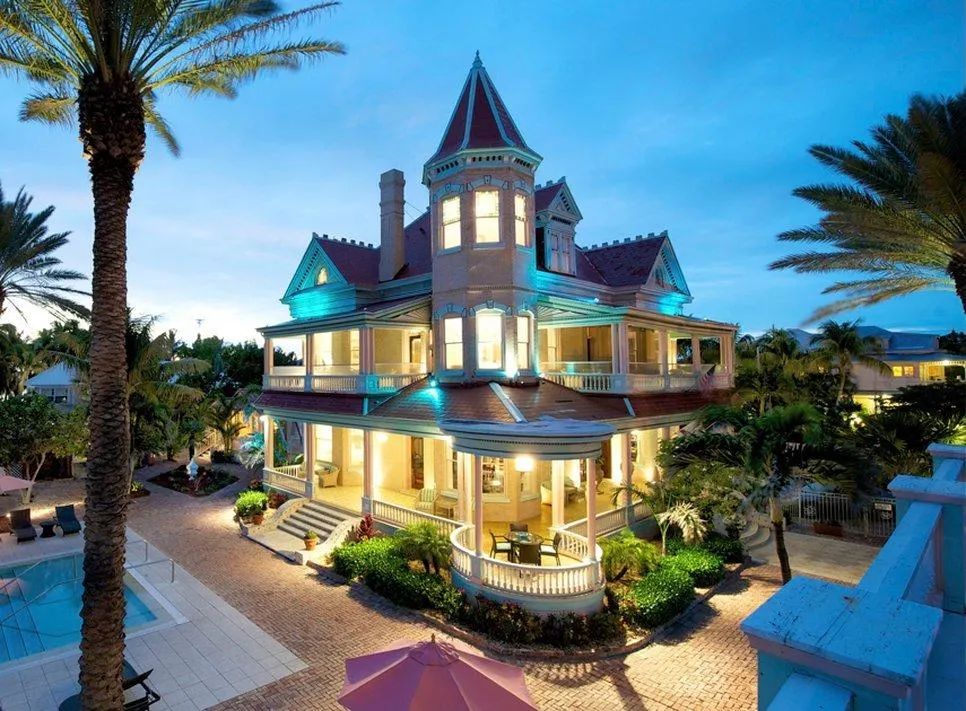 Considered one of the true hidden gems of Old Town Key West, this Inn is THE hotel to book if you and your SO are looking for a tranquil and peaceful place to lodge during your stay in Key West.
One of the best features of the hotel is the complimentary wine and cheese hour! If you guys love your wine and cheese definitely book this hotel!
All the rooms have essential amenities like a refrigerator, microwave and coffee-maker.
For leisure, you can swim in the beautiful outdoor pool with an amazing fountain feature or soak in the outdoor hot tub. Some of the best nearby activities include Sunset Sails, Snorkelling Excursions or a Combo Water Adventure (snorkelling, kayaking and skiing). There are also some cool places to swim with dolphins in Key West which is a really fun experience.
Book your stay here for one of the best romantic getaways in Key West.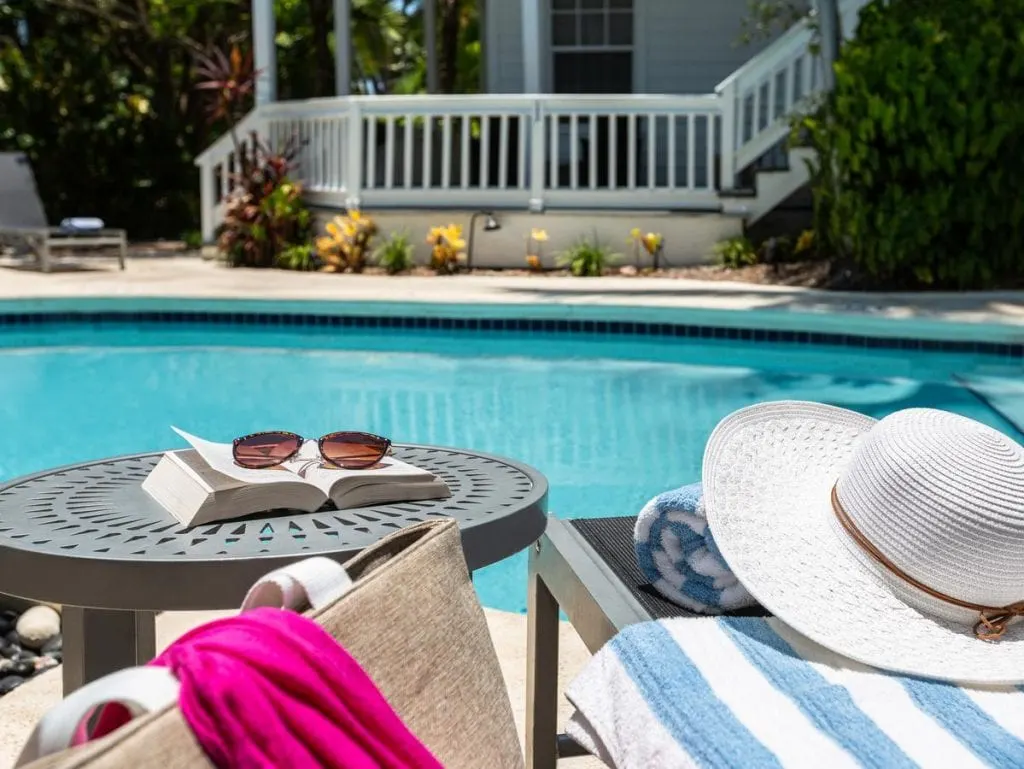 Already Looking for Your Next Romantic Getaway? We have you covered:
Save Key West Romantic Hotels to Pinterest!