Looking for amazing Colorado hotels with private hot tubs for a romantic getaway in Colorado?
Look no further! We have you covered with the very best Hotels with Jacuzzi in Room in Colorado!
If you are on that important romantic getaway in Colorado with that special someone in your life, there is seriously nothing better than getting cozy together in a warm hot tub under the Colorado sky!
What makes us the people to find you the perfect romantic play to stay? Well as a couple, we constantly look for the most romantic places to stay including vacation rentals, honeymoon cabins and romantic B&B's with special features that couples love like hot tubs, whirlpools and spas!
Many of the hotels we recommend we have personally stayed in and if not, we do a lot of research to ensure that they are up to standard!
This guide includes the best private hot tubs in Colorado in the best possible locations including near major cities and ski resorts!
Best Colorado Hotels with Private Hot Tubs
Hotels in Colorado Springs with Private Hot Tubs
Let's first start with the beautiful area of Colorado Springs!
It is a perfect spot for a romantic vacation as a couple as the area is surrounded by picturesque mountains perfect for hiking in summer and skiing in winter.
We stayed here recently and it was one of the best vacations we have ever had – so we are boosting it up to the #1 position on the list.
We were a little hesitant as the cabin is a little expensive, especially if you are coming just as a couple, but the splurge was completely worth it. It was a very romantic and luxurious experience to say the least!
The cabin, located in Estes Park, the gateway to the amazing Rocky Mountains was nothing short of wonderful. All the cabins on this lake, as far as I'm aware have 2 bedrooms, 2 bathrooms and an extra toilet so they are perfect to share with friends.
Now, I do always get a little concerned when booking a hot tub hotel on how often they are cleaned and I can personally tell you, your private hot tub gets cleaned every day (I saw the hot tub cleaner come!)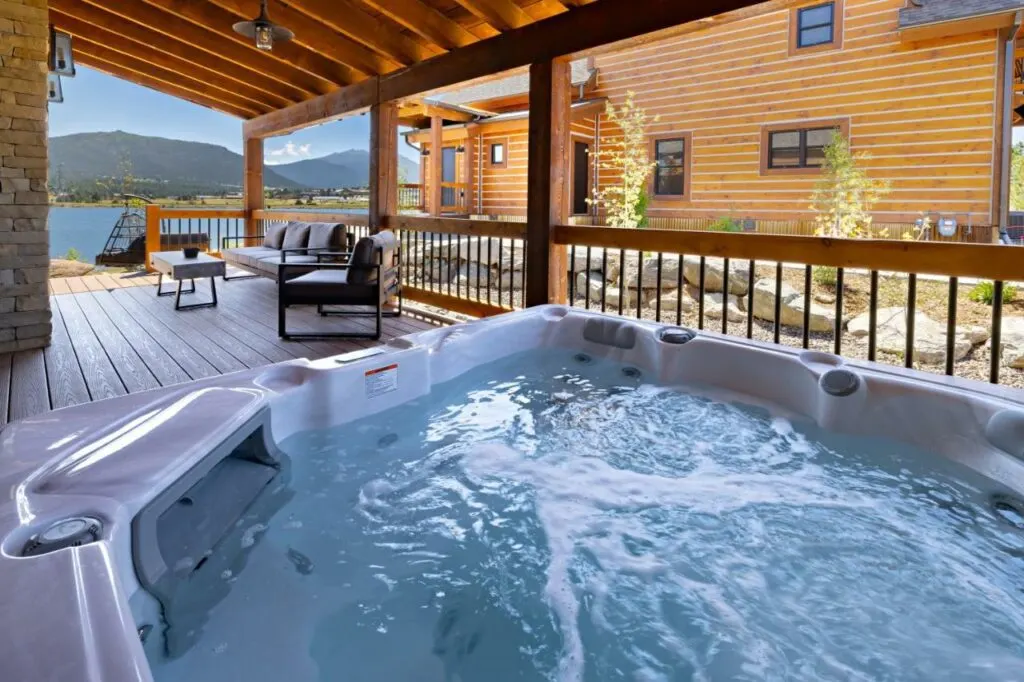 If you are looking for the perfect place to explore the Rockies including the Garden of the Gods (15 minutes drive away) and the Cheyenne Mountain Zoo, this is the perfect spot!
One of the best places for a romantic getaway in Colorado with a private hot tub.
As you would expect with a Marriott hotel, the internet was fast, the rooms are large and cleaned to perfection and the large hot tub was a PERFECT addition after a long day out exploring!
While there is a lot around (so you can eat out or in here with plenty of great restaurants around) if you are like us, you will appreciate that the hotel has a lovely cafe which serves breakfast and various other snacks during the day.
Highly recommended for a romantic couples getaway to Colorado Springs. Book your stay here. Definitely one of the best hotels with private hot tubs in room.
If you are looking for a place that is seriously going to impress your significant other – look no further than the Broadmoar, the premier couples hotel in Colorado. One of the best hotels with a private jacuzzi!
This 5 star resort is the absolute peak of country luxury with not only hot tubs but picturesque mountain views in seriously stunning accommodation.
At the Broadmoar, there is a wide range of different accommodation to chose depending on comfort needed from including rooms, suites, cottages including their exclusive Cloud Camp experience.
For outdoorsy couples, the Broadmoar offers a unique Wilderness Experience called Cloud Camp. Located 3,000 feet above the Resort, Cloud Camp has an insane view of Pikes Peak.
Aside from basking in the INSANE hot tub at Cloud Camp, couples can spend time exploring the many hiking trails around the camp, going horseback riding or just roasting smores by the fire.
The cottages are another a great choice for couples with beautiful high-beamed ceilings, wood floors, and natural stone fireplaces. The balcony also provides an incredible view of the East Golf Course and Cheyenne Mountain which you can enjoy on wicker chairs and rockers (a bit of Southern charm in Colorado!)
Book your stay here.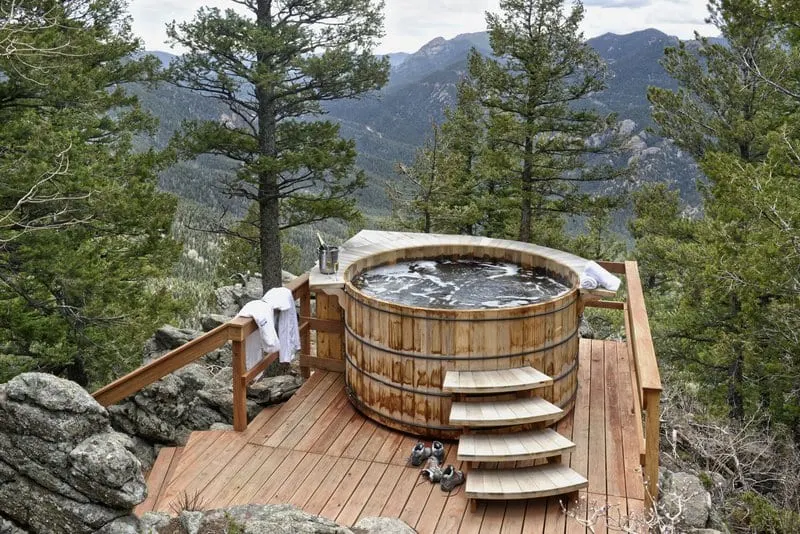 If you are looking for hotels with jacuzzi in room in Denver, here are some of our top picks for Honeymoon Suites in Denver:
If you are in Denver and are looking for a great hotel with a private hot tub before you jet off home, the Quality Inn and Suites at Denver Airport offers hot tubs in their King 1 Bedroom Suite.
Out of all Denver hotels with private hot tubs, this is definitely one of our favorites.
This is not a fancy hotel but it is great for travelers heading back home to soak up the last moments of vacation while sipping a nice glass of wine! Oh, and it's pretty reasonably priced too which is always nice!
Book your stay here. One of the top rated hotels with private hot tubs in the State!
The King room with spa bath at the Hilltop Inn Broomsfield Denver is one of the best rated hotels with a hot tub in Colorado.
Unlike some of the other properties mentioned, this is a great option for budget conscious travelers as you can rent the King Room and spa from between $150 – $200 a night depending on the season including breakfast.
Not only does this Inn have spa baths but you will find a great onsite restaurant and pub. If you want to save a little more money you can BYO your own food as the accommodation has a kitchenette with a microwave, a small refrigerator and coffee-making facilities.
The hotel is also in a great location for a last bit of romance before leaving being right near the airport.
Book your stay here.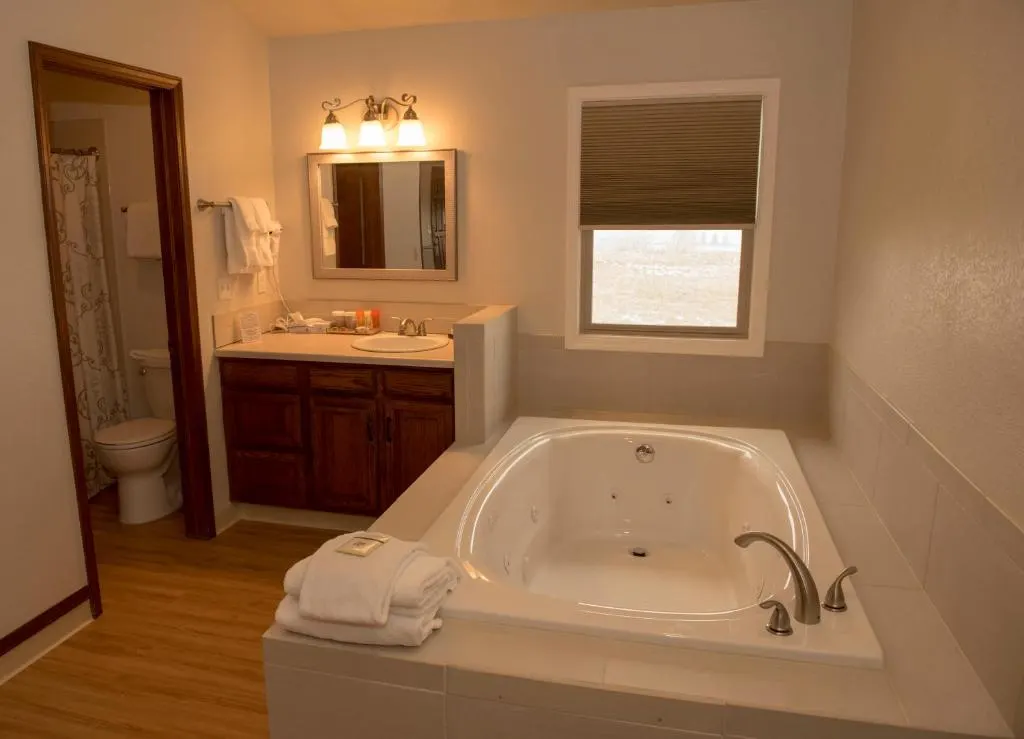 One of the best hotels with a private hot tub in Colorado!
We are big fans of bed and breakfast because we find them to be very quaint, quiet and romantic!
The Capitol Hill Mansion Bed and Breakfast Inn describes exactly what I mean by this as each room is uniquely themed to give its own unique and distinct personality. If you are not a fan of a stark, run of the mill hotel room – you will LOVE this B&B.
Aside from beautiful rooms, the Capitol Hill Mansion Bed and Breakfast is located in a great spot to explore all that Denver has to offer in a quiet spot of Denver's Capitol Hill neighborhood, near a metro station.
If you would like a room with a whirlpool spa, make sure you book either the The Pasque Flower Room, the Gold Banner Suite or the Shooting Star Balcony Room.
Although it does not have a jetted spa, The Elk Thistle Suite is also a fan favorite of couples in winter as it features a stunning wooden fireplace.
While you are there you might like to check out Molly Brown House Museum and Denver Art Museum as well as 16th Street Mall for some great shopping opportunities!
Book your stay here. One of the top rated Denver hotels with hot tubs in room.
Vail Hotels with Private Hot Tubs
Can you seriously beat The Four Seasons for a romantic getaway? I think not. Now add hot tubs.
It is actually the only 5 star hotel in Vail valley so eat your heart out of exclusiveness here!
This property is definitely one of the best places for couples to stay in Vail as each room includes cozy features like a fireplace and an espresso machine for those cozy mornings in. You can select to have a full kitchen and mountain view of Vail Mountain too if you wish!
For a private hot tub in room you will have to splurge on one of their larger suites including the Six-Bedroom Designer Residence but it is well worth it for the level of comfort and luxury you receive.
The Four Seasons itself has a lot to offer including a year round outdoor pool, spa, a fabulous American-style steakhouse with both indoor and outdoor settings and an amazing pool bar which has signature hot coca with homemade chocolate marshmallows.
In your spare time you can chose to do one of the many adventure activities in Vail like skiing or hiking or go to the 5-star spa and wellness centre at the hotel where you can get various massage, body treatments and facials. Don't miss the amazing Betty Ford Alpine Gardens, only 1 km from the hotel.
Book your stay here.
The Minturn Inn is definitely one of the cutest places you can find to stay near Vail in Colorado.
This adorable chalet-style style property, only 10 minutes from Vail has everything you need for a comfortable stay including the essentials like free wifi and parking.
One of the most romantic things about Minturn, aside from the private hot tubs, is the stunning mountain views everywhere you look from outside the historic 1800s chalet.
If you like Southern-style service you will love this place! What you get at Minturn is nothing but the very best 5* service including a buffet or à la carte breakfast.
When you are not relaxing in your hot tub, there are plenty of fun activities to enjoy in the nearby area including hiking and skiing, the Minturn Farmer's markets and Vail village.
Book your stay here. You won't be disappointed with the fabulous jacuzzi hot tub in the hotel room!
Aspen Hotels with Private Hot Tubs
The Little Nell is definitely one of the of the most beautiful and glam hotels in Aspen. What's more than this? You can get private hot tubs in room!
Rooms either offer a city or mountain view but we would advise booking a mountain view for extra romance.
Aside from all the perks of the hotel (getting more to that) it is the only hotel in Aspen that has ski-to-door access. Now that is pretty convenient for making the most of your romantic getaway to Aspen and hot tub!
The Little Nell also has an amazing onsite restaurant with an award-wining wine list and a cool tavern, great for hipsters.
Being a full service hotel, you can plan your whole Aspen get away right from the comfort of your hotel including fly fishing, cycling, and other outdoor adventure experiences.
Book your stay here.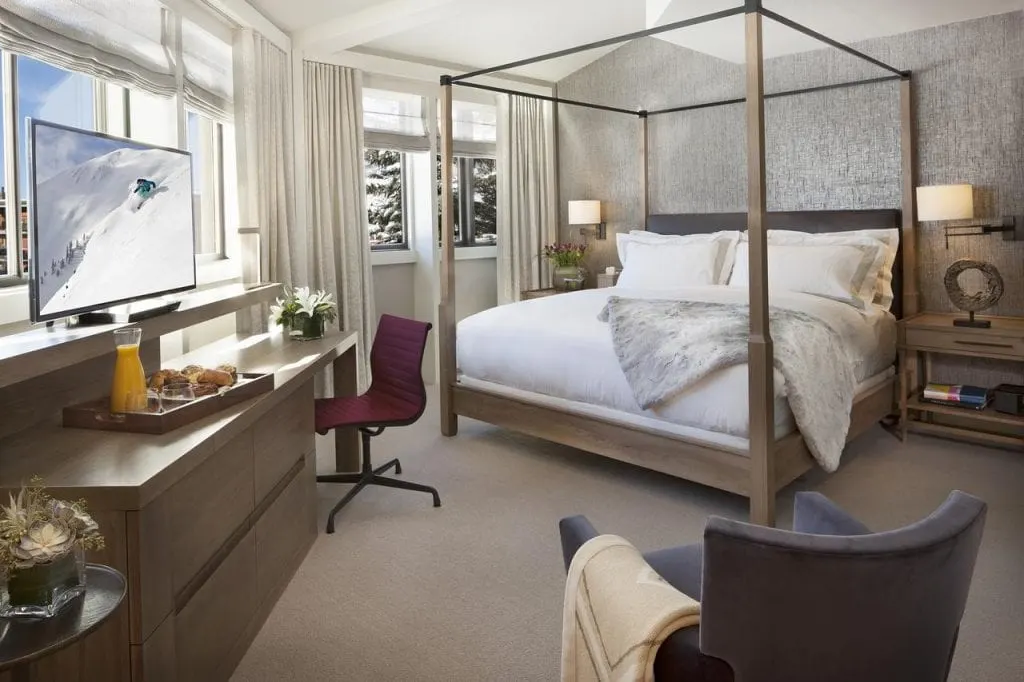 Estes Park Hotels with Private Hot Tubs
Dubbed as one of the most romantic places to stay in Colorado for couples, you really can't go wrong with the Stonebrook Resort in Estes Park for a romantic getaway. Plus it is a hotel with a private hot tub!
If you want somewhere cute to stay with your significant other – don't miss this resort with tranquil, adult only riverside cottages with private hot tubs, fireplaces and kitchens. A great place to have your honeymoon in Colorado!
Not only is the accommodation perfect but the location itself is pretty perfect too as the cottages are situated in a beautiful mountain setting in the middle of the Colorado Rocky Mountains.
Book your stay here.
Other Colorado Hotels with Hot Tubs
Located in Telluride Colorado, this is one of the coolest places you can go if you are looking for a romantic ski holiday in Colorado.
One thing we particularly love about this property is their incredible ski-in/ski-out location being right on the edge of the ski fields. This also means of course that you get an amazing mountain view from the property.
The best part about this inn is that all the larger suite rooms have a private hot tub. There is also an incredible communal hot tub and pool located outside with a mountain view.
Everyone gets pampered at this hotel including your furry friends so you can bring them along with you. The Inn includes a delicious breakfast for you and even some doggy treats for your fur baby.
Book your stay here.
Despite this hotel only offering a shared hot tub outside, we thought we would add it to our list anyway, as the setting is just so nice and the hotel gets stellar reviews from couples!
Located in the National Historic District of Georgetown, it is the perfect place for a romantic getaway for couples who love to ski as it is just 10 minutes' drive from Loveland Ski Area.
The hotel also goes above and beyond with their offerings with guests receiving a complimentary glass of wine upon arrival and a delicious continental breakfast daily consisting of juice, fruit and pastries, delivering to your room so you can enjoy breakfast in bed!
Oh not to mention, each room has a stunning mountain view. What's not to love?!
Book your stay here.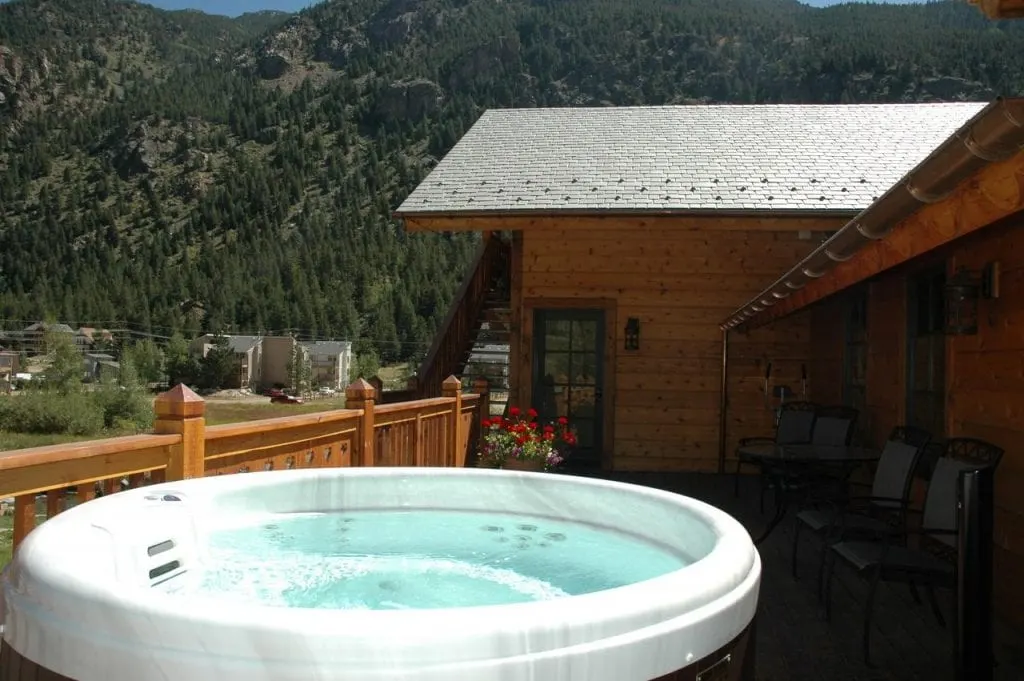 Another one of the most romantic places to stay in Colorado goes to the Cliff House at Pikes Peak.
It is completely decked out for couples getaways with cool themes rooms with cozy fireplaces and 2 person spa tubs not to mention the heated toilet seats for extra comfort haha.
It is no doubt that many couples come here to celebrate their wedding, anniversary or honeymoon.
Holidays with private hot tub are just THE best! Am I right?
Book your stay here.
***
Hope you find the perfect spa hotel in Colorado! After you get some great snaps soaking in a hot tub you might like to caption your pictures with some Colorado Quotes!
Already Hunting for Your Next Romantic Getaway?
Here are some of our favorite romantic places and hotels to add to your couples bucket list:
Save this to Pinterest: Romantic getaways in Colorado with private hot tubs (so you can find it again later!)