Looking for romantic things to do in Destin Florida for couples? Great, you have come to the right place!
Being one of the best places in the USA for a romantic getaway, it is the perfect place to go for an adventurous couple who loves activity and the beach, especially if you love the water.
Whether you are a local looking for epic date ideas in Destin or are a tourist coming to explore the city some more – this list has it all. From tours to restaurants to visit in Destin FL at night to zoos with cute animals, we have done the hard work for you and found the absolute best Destin attractions for couples.
Romantic things to do in Destin Florida for Couples
Go to the Theater. Whether you like movies, plays, live concerts, or musicals the theater is a great place to go on a date.
Movie Theater: Head to the movie theater to catch a movie or two. Grab a meal before or after your movie at one of Destin's great restaurants.
Performing Arts Theater: If live theater, musicals, opera, Broadway shows, or other live performances are more your thing, take your date to a show at one of the following theaters.
Go to a Mattie Kelly Arts Foundation Event. The Mattie Kelly Arts Foundation in Destin has many events from an art walk and fine dining experience to live concerts.
Enjoy some laughs at the Harbor Walk Theater. If you enjoy comedy the Harbor Walk Theater is the most popular destination for fun.
Enjoy a Sip and Paint Night at Painting with a Twist or Sip N Stroke. Get creative and spend an evening sipping wine and painting with your date.
The Destin Magic Dinner Theater. Enjoy an evening of live entertainment and fantastical magic as well as good food and good company.
Spend the night at the Henderson Park Inn. This stunning beachside hotel in Destin offers beautiful sunset views and romantic accommodations and amenities.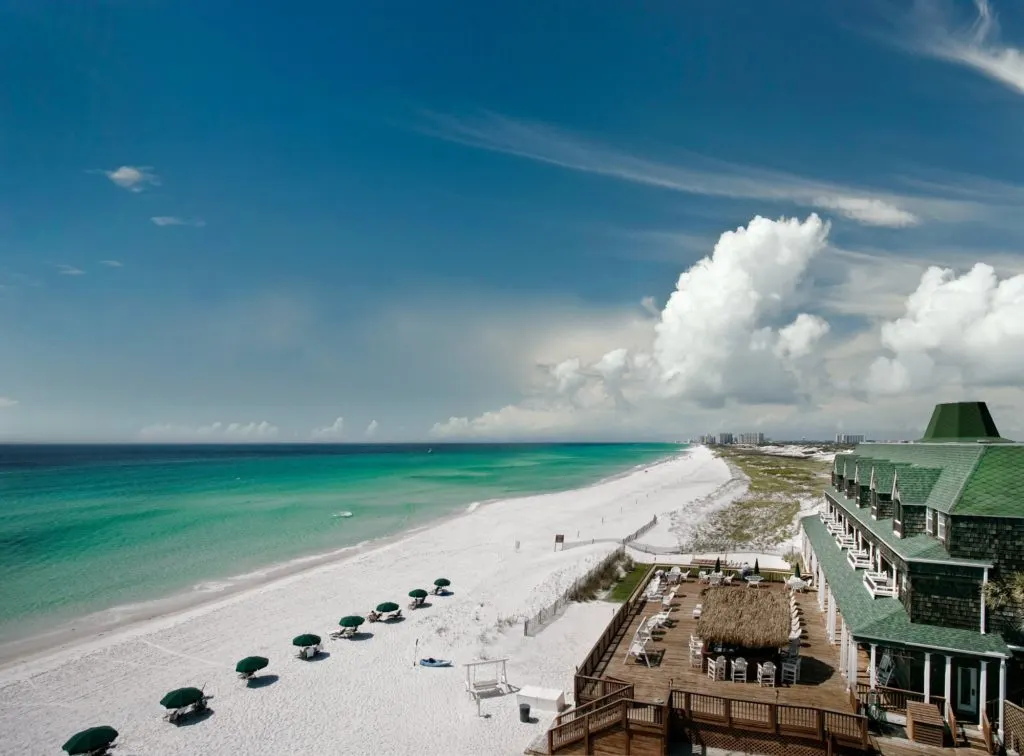 Fun Date Ideas in Destin: Best attractions for Couples
Visit the Gulf Breeze Zoo. The zoo is a great place to go if you have at least a few hours. The Gulf Breeze Zoo is in Gulf Breeze, about 45 minutes away from Destin.
Visit the Emerald Coast Zoo. Zoos are full of fun animals to see, and you can spend as much time as you want seeing each one. The Emerald Coast Zoo is in Crestview, about 45 minutes away from Destin.
Visit Zoo World Zoological Park. This zoo offers over 250 animals and live shows as well as education about conservation efforts. Zoo World Zoological Park is located in Panama City Beach about an hour from Destin.
Visit Gulf World Marine Park. If you are looking for fun with marine animals, head to the Gulf World Marine Park in Panama City Beach.
Visit the Gulfarium Marine Adventure Park. If you are looking for something a little closer to Destin, the Gulfarium Marine Adventure Park is located on nearby Okaloosa Island. One of the best activities for couples in Destin.
Grab some Ice Cream. Ice cream is the perfect quick date idea, especially when the weather is warm. Grab some ice cream at one of these great shops. You can sit down, relax, eat your ice cream, and talk or you can talk while you walk.
Visit a Brewery. If beer and brews are your thing then you must visit at least a few of these great Breweries. Each has something delicious and unique to offer the brew connoisseur.
Visit a Winery or two (or more). While there aren't as many wineries as there are breweries, if you prefer wine here are some great places to visit.
Fun Romantic Restaurants in Destin
Bric a Brac. This restaurant offers a variety of dishes in an upbeat atmosphere. They also have live music and a dance floor.
Beach Walk Cafe. This Fine dining establishment offers great food and one of the most popular views of the sunset.
Louisiana Lagniappe. Enjoy classic and elevated southern and creole favorites in this elegant restaurant.
McGuire's Irish Pub. This restaurant serves traditional Irish fare. They are typically open until 2 am.
Talay Thai Cuisine. This restaurant offers traditional Thai food in an elegant modern room.
The Bavarian's Wirtshaus in Fort Walton Beach. Enjoy classic German dishes in this fun and welcoming atmosphere. Some nights you might even catch some live music.
Don Cha Peruvian Food in Fort Walton Beach. Enjoy authentic Peruvian dishes in this laidback and cozy atmosphere.
Bamboo Sushi Bar & Hibachi in Fort Walton Beach. If you have never tried Hibachi before this is a must. Enjoy a delicious meal cooked at your table or order a couple of sushi rolls to share.
Twisted Grape Wine Bar and Cafe in Shalimar. This restaurant offers good food, good wines, and good music. They often have live musical performances.
Lesser Known Gems and activities for Couples in Destin
Mary's Kitchen. This restaurant offers delicious southern staples for breakfast and lunch in a retro style atmosphere.
Merlin's Pizza. Merlin's is the place for Pizza lovers. They have been voted best in Destin. They offer salads as well.
The Local Market. This fun restaurant offers good food in a rustic atmosphere. They specialize in breakfast and lunch.
Crackings. This cozy restaurant offers some unique takes on classic southern favorites such as Lobster Gouda Grits or Croisseignets (a croissant and beignet crossover).
Thai Delights Restaurant. This comfortable and low-key restaurant offers good food and good service.
Red Onion Organic. This restaurant offers organic Mediterranean dishes in a cozy space that meld elegant with rustic chic.
Brian's Boardwalk Grill. This low-key restaurant gives the feel of a seaside fish shack and offers delicious food at a great price.
Burrito del Sol. If you like Mexican American food and are on a budget this is the place to go. The food is good, and the prices are even better.
Best Cocktail Bars for Date Night in Destin
Bitterroot. This cocktail bar and restaurant offers brunch, lunch, dinner, and drinks in an upscale and cozy space.
The Harbor Tavern. This restaurant offers a mix of Mediterranean and American dishes as well as some great drinks.
790 on the Gulf. This restaurant offers fun and flavorful drinks and elevated Southern dishes.
Fish Heads Bar. This boardwalk restaurant offers fun and inventive cocktails and drinks.
Jester Mardi Gras Daiquiris. This restaurant is famous for their variety of Daiquiris. They also serve pizza.
McGuire's Sushi. Don't let the strangely Irish name deter you, this restaurant offers delicious sushi and creative cocktails.
The Gulf on Okaloosa Island. Enjoy a variety of different dishes including Key lime pie at this oceanside restaurant.
Taste Tapas & Wine Bar in Fort Walton Beach. This restaurant offers a variety of dishes inspired by foods worldwide. They have everything from classic Italian tapas to Pad Thai Shrimp tacos.
Coffee Shops in Destin
The Palms Coffee House. This coffee shop is located in the Palms of Destin Resort and offers a great atmosphere and delicious signature and traditional coffee drinks.
Destin Coffee. This coffee shop and coffee roaster offers a variety of great beans and drinks, including cold brew.
East Pass Coffee Co. This coffee shop and roaster offers traditional and signature coffee drinks, acai bowls, smoothies, and sandwiches in an open airy feeling cafe.
Roast'd Cafe. This coffee shop and cafe is also a yoga studio. They focus on plant based foods and drinks.
Capriccio Cafe. This stylish cafe offers imported Italian coffees, egg frittatas, crepes, salads, and sandwiches.
Destination Little Donuts & Cups and Cones. Destination Little Donuts is inside Cups and Cones. They offer delicious coffee and homemade donuts in traditional and signature flavors.
SweetTea. While not a coffee shop, this bubble tea business has a lot to offer. They have unique drinks, including coffee options, as well as acai bowls.
Sugarland Destin. This shop is part ice cream shop, part candy chop, and part coffee shop. They have 44 flavors of ice cream plus delicious locally roasted coffee.
Oasis on the Boardwalk. Head over to Okaloosa Island and grab a cup of coffee from Oasis. This store and coffee shop offers both delicious coffee and pastries and a beach side shopping experience.
The Sound Cafe in Fort Walton Beach. This coffee shop and live performance venue is a great place for music lovers to grab a cup of coffee, a small snack and see what's happening.
Maas Coffee Roasters in Fort Walton Beach. This coffee roaster and coffee shop offers delicious coffee drinks, both hot and cold, as well as bagels and baked goods.
Head to the Beach for a day of fun in the sun. Bring a picnic lunch or grab some food at a nearby restaurant. You can walk along the beach, go swimming, or simply rest beneath the warmth of the sun.
Crystal Sands Beach
Destin Beach
Jetty East Beach
Take a stroll and have a picnic in the park. There are plenty of great parks to visit in and around Destin. A picnic in the park followed by a stroll is a great way to get to know someone on a beautiful day.
Eglin Beach Park
Captain Leonard Destin Park
Jolee Island Nature Park
Watch the Sunset from Topsail Hill Preserve State Park. Grab dinner before or after you watch the sunset at one of the many restaurants at the Grand Boulevard at Sandestin.
Head to Harry T's Lighthouse for Karaoke Night.
Unique Romantic Dates in Destin
Go on a Cruise with Cruisin Tikis Destin. This cruise operator has a number of fun and romantic cruises including a sunset cruise and Thursday night fireworks cruise.
Go to the Spa and get a couples massage or couples spa day. A few popular places to visit are Beverly Hills Day Spa, Eleos, and Avona's Massages.
Visit an Amusement Park. Destin has plenty of amusement, theme, and adventure parks.
Big Kahuna's Water & Adventure Park
Go Parasailing with Just Chute Me Parasail. This company offers single and double Parasailing adventures, so you and your date can fly high together.
Get "Cultured" Things to do for Couples in Destin
Visit the Destin History & Fishing Museum.
Visit the HH ARTS Gallery to view art by local artists.
Visit the Emerald Coast Science Center for a day of interactive exhibits.
Visit the Camp Walton Schoolhouse Museum in Fort Walton Beach.
Spend the day exploring Heritage Park and Cultural Center.
Visit the Indian Temple Mound Museum in Fort Walton Beach.
Head to Club LA for live music, drinks, and even pool and ping pong. If you are looking for a night of entertainment Club LA will deliver every time.
Spend the day in Eglin AFB and visit the Air Force Armament Museum.
Take a drive to visit the Heritage Museum of Northwest Florida in Valparaiso, FL.
Outdoor Romantic Date Ideas In and Around Destin
Visit Crab Island. You can take the Crab Island Water Taxi or a private boat tour with Crab Island Cruises. It is one of the best places to propose in Florida if you are looking for somewhere special.
Go on a Dolphin Tour with Southern Star Dolphin Cruises. They offer a variety of Dolphin cruises including special cruises on holidays like New Years and Valentine's Day.
Take a Bike Ride along the Timpoochee Trail. Ride along this scenic trail along the shoreline or through Point Washington State Forest.
Go Golfing. There are a lot of different places in town to go golfing. If you are looking for mini golf head over to the Rainforest Black Light Golf & Arcade. If you are looking for a full golf course head to the Kelly Plantation Golf Club.
See the Sunset from the Boardwalk on Okaloosa Island. This boardwalk has tons of fun things to do from window shopping to great food. They even have movies on the beach from Spring into Fall.
Go Skiing on Jet Skis rented from Boogies Watersports. If you love speed, then Jet skis are the best thing on a hot day.
Rent a Kayak or a Pontoon Boat or Paddle boards from Blue Crab Water Sports. Whether you are looking to fish, ride the waves, or just explore the coast, a kayak, pontoon boat or paddle board can make it happen.
Go Snorkelling with Destin Snorkel. Head below waters to take in the beauty of the Gulf of Mexico through its various ocean wildlife.
Day Trips and Romantic Weekend Getaways from Destin
Visit Mobile, Alabama.
This destination is about 2 hours away from Destin. Mobile is full of charming historic buildings.
This destination is about 2.5 hours away from Destin.
Visit Montgomery, Alabama.
This destination is about 3 hours away from Destin.
Visit Gulfport, Mississippi.
This destination is about 3 hours away from Destin.
Visit Hattiesburg, Mississippi.
This destination is about 3.5 hours away from Destin.
All American Rose Garden. What could be more romantic than a stroll through this beautiful garden. All in all they have about 800 varieties of roses!
Mississippi Blues Trail. Learn about the history of Blues on this self-guided tour.
Sarah Gillespie Museum of Art. This museum has over 600 pieces of art and is one of the biggest collections in Mississippi. The museum is part of William Carey university.
Visit New Orleans Louisiana.
This destination is about 4 hours away from Destin. Here are some fun things to do for couples in New Orleans. We also have a larger list of fun date idea for couples in New Orleans if you want more ideas.
Grab dinner and a drink at the Carousel Bar and Lounge in the Hotel Monteleone. This is one of the most unique dining experiences. You revolve in a circle like a carousel while you eat and drink.
Visit Mardi Gras. If you don't mind crowds, head to New Orleans for Mardis Gras. Enjoy the festive atmosphere, vibrant food, and jazzy music.
Go on a Food Tour. If you love food, then you must try a food tour. New Orleans has so much food full of flavor and pride.
Visit a Nearby National or State Forest or Park. If you are into camping or outdoor activities, there are plenty of great state and national parks to visit for a weekend.
Blackwater River State Forest. This destination is about 1 hour away from Destin.
Conecuh National Forest. This destination is about 1.5 hours away from Destin.
Apalachicola National Forest. This destination is about 3 hours away from Destin.
De Soto National Forest. This destination is about 3.5 hours away from Destin.
*****
See more: