Notice: This "Best Things to do in Atlantic City Besides Gamble" post is sponsored by Hotels.com
Wondering where you should travel to next with your significant other? Atlantic City is an amazing spot to satisfy your wanderlust cravings and need to get out and about again! And despite the city being known for it's night life and casinos there are plenty of cool things to do in the city besides gamble – making it the perfect place to travel for any type of traveler!
Fan of Monopoly? You will LOVE Atlantic City as it is the US city that inspired the iconic board game.
Pre plan your trip to Atlantic City by checking out fun places to stay in Atlantic City for all types of travelers prior to your trip!
13 Best Things to do in Atlantic City Besides Gamble
There is no doubt Atlantic City is a cool place to travel as there is an abundance of fun attractions in the area.
Many tourists flock in from New York due it's close proximity to New Jersey. It is often thought of as the 'Vegas of the East' as there are many casinos to enjoy in the area. However, if that isn't really your jam, don't write off this destination just yet as there are tonnes of other fun activities to enjoy.
This post will detail what else there is to do in Atlanta City but if you do want to spend a bit of time in a casino, I will briefly note that the best ones in the area include Tropicana Atlantic City, Caesars Palace Atlantic City, and Bally's Atlantic City Hotel & Casino.
Like Vegas, drinks are free if you are gambling but it is customary to tip at least $1 per drink.
Visit the Aquarium
Atlantic City is home to a very cool aquarium with over 100 varieties of fish and marine animals including several species of shark. You can find the aquarium in Historic Gardner's Basin of Atlantic City. Admission is very reasonable at only $10 for adults and $6 for kids making it a great low cost fun activity for budget conscious travelers.
Not just for kids, the aquarium is rated one of the best New Jersey date ideas.
Atlantic City Beach
If you want a quieter more relaxed vacation you may want to spend some time on Atlantic City Beach. Here, you can kick back and relax or alternatively if you are up for a bit more action, you can learn to surf or stand up paddle board with the Atlantic City Surf School from the beach.
You can often spot dolphins off the Jersey shore including from Atlantic City Beach however, it requires a bit of luck being on your side! For a more guaranteed viewing, we would suggest going on a dolphin spotting boat tour like Atlantic City Cruises.
Atlantic City Boardwalk
One of the most iconic spots in Atlantic City is the 4 mile long boardwalk known as the Atlantic City Boardwalk – you simply cannot visit this region without going for a boardwalk stroll during your stay.
The boardwalk is where you will find many of the casinos and hotels in the area but even if you aren't interested to gamble there are plenty of other fun activities to do on the boardwalk including visiting one of the many quirky restaurants, shops or bars along the mall. There is even a miniature golf in the dark course along the boardwalk and an escape room that are both particularly popular with families.
Another fun activity is to hire one of the iconic Atlantic City Rolling chairs. The chairs were initially brought in to assist the handicapped in the summer of 1887 but can now be enjoyed by all travelers visiting the area.
Absecon Lighthouse
If you are a fan of pretty lighthouses you will absolutely love Atlantic City as it has a gorgeous lighthouse known as the Absecon Lighthouse, built in 1857. The lighthouse stands 171 feet tall and is currently the tallest lighthouse in New Jersey. It is free to enter the lighthouse, however, if you would like to climb the 228 steps to the top, there is a small fee to pay.
The Steel Pier
Kids and big kids alike will rejoice at the 1,000-foot-long amusement park known as "The Steel Pier" which can be found along the Boardwalk in Atlantic City. There are a variety of games to enjoy at The Steel Pier including some old school arcade games.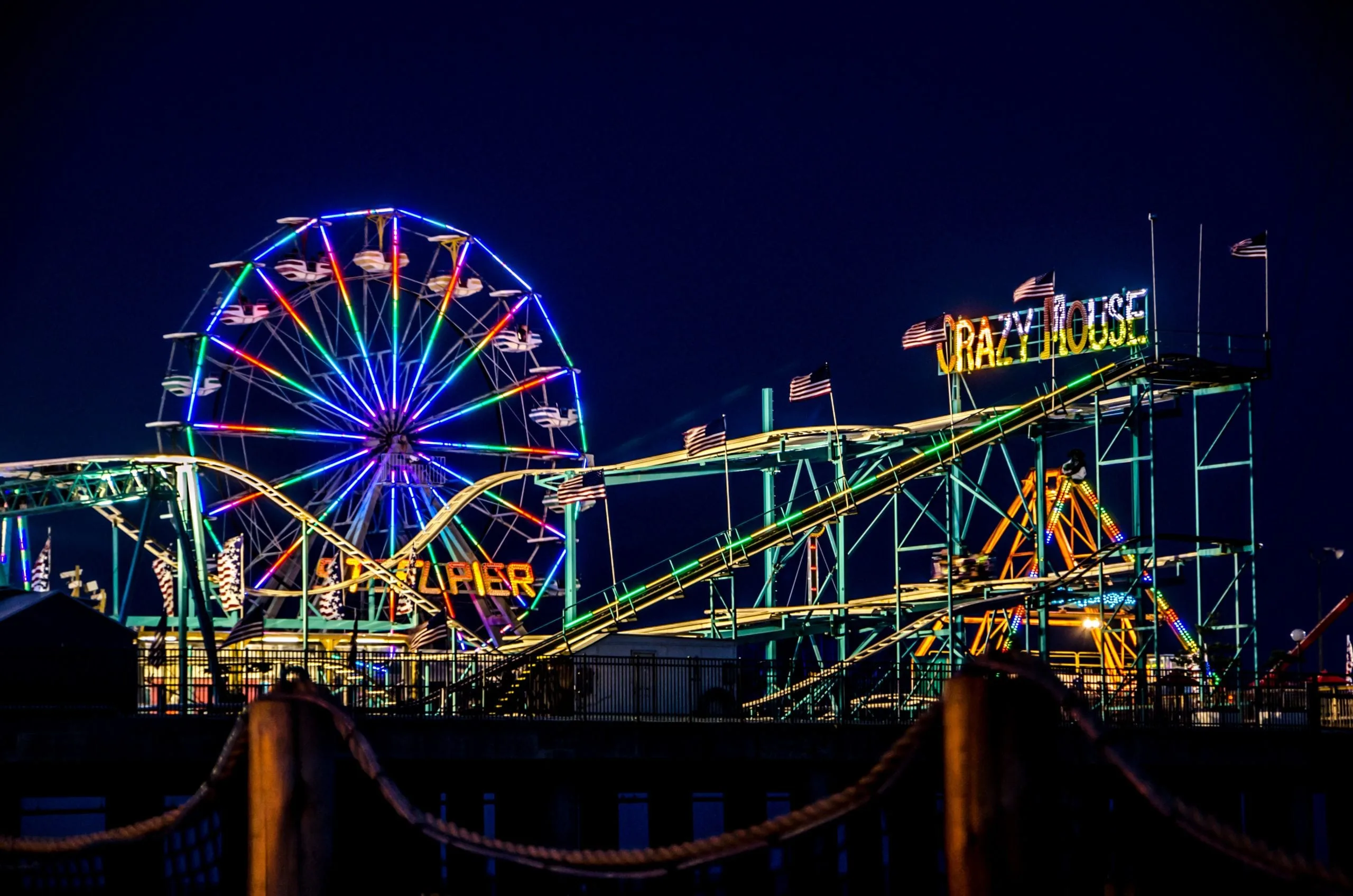 Visit a Museum
Atlantic City is also home to many fun museums, one of the most popular in the area being the Ripley's Believe It or Not displaying over 400 weird and wacky exhibits including rare animal bones.
If you prefer a mainstream museum, there are also other good ones to visit in the area including the African American Heritage Museum of Southern New Jersey.
Have a drink at one of the many beach bars
One of the best parts of Atlantic City is the many beach bars which are brimming with people in the summer time. Some of the most popular ones in the area include 2641 Boardwalk and Bally's Atlantic City.
Say Hi to Lucy the Margate Elephant
One of the most unique things to do in Atlantic City is a visit to Lucy the Margate Elephant, one of the oldest roadside tourist attractions in America, built in 1881 by James V. Lafferty.
If you would like to see Lucy in all her glory, she can be found along the beach in Josephine Herron Park. There is no fee to see the six stories tall attraction from the outside. However, if you would like a guided tour of the inside including a full history of the exhibit, this can be purchased from the gift shop.
Go on a Scavenger Hunt
One of the activities in Atlantic City becoming increasingly popular with tourists is going on a Scavenger Hunt. There are many different companies offering these hunts which include looking for over 100 different objects in the area.
The hunts take around 2 hours to complete and are definitely one of the best cheap things to do in the area as they only cost around $10-$15 pp.
Enjoy one of the opulent Casinos without gambling
Even if you don't wish to gamble, like Vegas, Atlantic City offers some pretty impressive casinos that are worth checking out.
One of the best in the area is Caesars Atlantic City Casino, recommended for its impressive Roman Empire and Greek themed architecture. There is also great dining options inside including Gordan Ramsay Pub & Grill, KWI Restaurant and Noodle Bar, and Nero's Italian Steakhouse.
Another good option is the Borgata Hotel Casino , a 161,000-square-foot Tuscany-style casino. Aside from gambling, one of the best activities to enjoy at this casino is a visit to the 54,000-square-foot spa. A great option if you are on a romantic getaway!
Shop 'Till You Drop
It may come as no surprise that Atlantic City has some pretty great shopping opportunities to enjoy.
If you would like to do some shopping on your vacation, we would recommend a trip to The Quarter at Tropicana, an Old-Havana themed shopping mall in the Tropicana Casino Resort. If you get sick of shopping you can enjoy one of the latin themed dining options inside including the Cuba Libre Restaurant & Rum Bar.
If you haven't got in your shopping fix yet, we would recommend a trip to Tanger Outlets, an open-air outlet mall with over 100 stores including Nike, Hilfiger, and H&M. If a bargain is what you seek – you'll be sure to find it here!
Boardwalk Hall
Boardwalk Hall is another of the totally unmissable activities in Atlantic City. Best known for hosting the Miss America Pageant, it also hosts a range of other events throughout the year including concerts and sports games.
If your stay falls on a Monday, there is a free half-hour concert and tour of the hall which is home to the largest musical instrument in the world, a pipe organ with more than 33,000 pipes!
Visit some of the best restaurants in the area
Due to the location on the beach, one of the best things to eat in the area is fresh seafood. There are many popular seafood shacks along or near the Boardwalk to enjoy including the very popular Dock's Ouster House.
Aside from cheap boardwalk eats which are perfect for the budget conscious traveler, due to being a casino city, there are also lots of fine dining restaurants to enjoy in the area. Some of the best include those located within the Caesar's resort including the consistently high rated Nero's Italian Steakhouse.
Future Travel to Atlantic City
As the world remains in an uncertain state, the safety of future travel to this area remains unclear.
We are not medical professionals and any travel to this area should be made at your own risk. A more prudent approach would be to book for 2021 and beyond.
If you do decide to travel at this time, here are some general tips we would make:
Wear a face mask;
Bring hand sanitizer and wash your hands regularly; and
Book a hotel with free cancellation in the event you need to change your plans at the last minute.
We hope you enjoy your visit to Atlantic City and remember to stay safe!
Finish off your trip with some amazing New Jersey Quotes for IG!
****