Looking for a Hilton Budapest Review? Move over TripAdvisor, Oyster & Agoda. Time for a proper review.
Readers of our blog will know we love romantic hotels. You will not be disappointed staying at this one.
The Hilton Budapest was one of the most incredible places we have ever had the pleasure to stay at.
Not only was it a gorgeous hotel, as you would expect from a Hilton, but the rooms backed onto one of the most famous attractions in Budapest, The Fisherman's Bastion.
Hilton Budapest Review
If you are looking for a centrally located, luxury hotel in Budapest that has in our opinion the best hotel views in the whole of Budapest, look no further than the Hilton Budapest, a stunning hotel in an enviable location perched on Buda Castle Hill.
Combining the Hilton's amazing culinary experience with visiting the historic attractions in Budapest, this hotel should be at the top of your list of places to stay in Budapest.
Many of the rooms in Hilton Budapest provide a view of two of the best attractions Budapest has to offer – the Parliament House and the Fisherman's Bastion.
Not only does the hotel have amazing views, it is located in the Castle District within walking distance to some of the best attractions in Budapest including the Danube River, Hospital in the Rock, the Labyrinth that once held Count Dracula and the Chain Bridge.
We are massive fans of hotels with a view. If you are looking for a hotel with a sensational view in Budapest, this hotel should be top of your radar. It would be ideal for a romantic getaway or even an engagement.
A more detailed report of each feature of Hilton Budapest below!
Hilton Budapest Rooms
The Hilton has many rooms to suit different budgets and family arrangements.
We stayed in an Executive Danube Room and would highly recommend it.
If you are interested in receiving value, the executive rooms at the Hilton Budapest provide exceptional value (see below!)
The executive room at Hilton Budapest certainly had the WOW factor. As we walked in, we were shocked to see an up close and personal view of the Fisherman's Bastion.
While the room was not as large as the other Hilton in town (see our Hilton Budapest City review and decide which Hilton you would prefer to stay at) it had something that I would trade a lot of floor space for – a close up view of the Fisherman's Bastion.
From the executive room at Hilton Budapest Castle you don't need to even visit the Fisherman's Bastion if you don't wish (although we would recommend a walk around, it is just outside after all) as you get a fabulous bird's eye view of the attraction from the comfort of your own room – how cool is that!?
Aside from the view, the rooms were extremely plush and modern and had all the comforts you would expect of a luxury hotel including a comfortable bed and a very modern shower.
We were also pleasantly surprised to discover The Hilton had left a lovely welcome treat for us to enjoy – a beautiful chocolate & fruit platter.
We really appreciate it when a hotel goes an extra mile to make you feel comfortable during your stay and the Hilton certainly checked this box.
The room also included tea and coffee making facilities as well as a large complimentary water.
Hilton Budapest Executive Lounge
If you book a an Executive room or a suite you will receive access to the amazing executive lounge at the Hilton.
The executive rooms were not the only parts of the Hilton with view – the executive lounge at the Hilton Budapest Castle has an amazing view of the Budapest Parliament which glistens at night.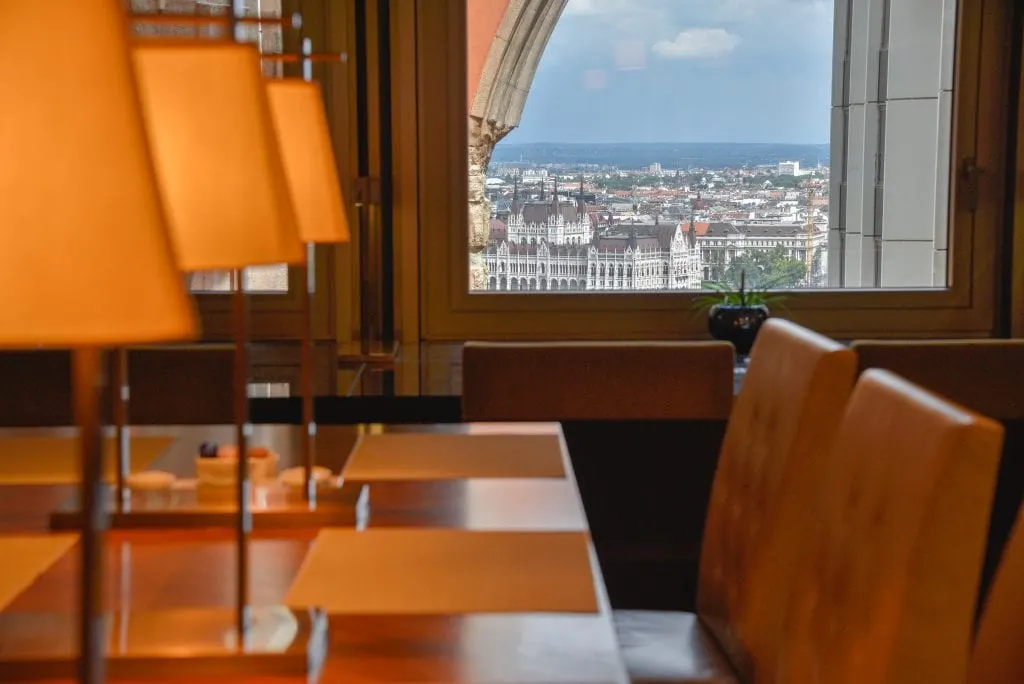 The lounge is open from breakfast to 10.00pm at night.
You can either enjoy a quiet, VIP breakfast in the lounge in the morning or visit the main buffet breakfast on the ground floor.
During the middle of the day, the hotel serves light refreshments including coke, fanta, spite, tonic water, ginger ale, apple juice as well as a wide variety of nuts, olives, and fruit. There is also a great coffee machine that we made the most of!
If you are looking for alcoholic beverages they are served daily from 6:00pm to 8:00pm.
This time is very popular as the hotel serves a light evening meal including pasta, chicken and rice, salads and yogurt. The light meal changes nightly and usually they feature at least 1 vegetarian option.
We noticed that many guests took advantage of this awesome perk. The lounge gets busy at around 6.00pm so arrive early to secure a prime seat with a view!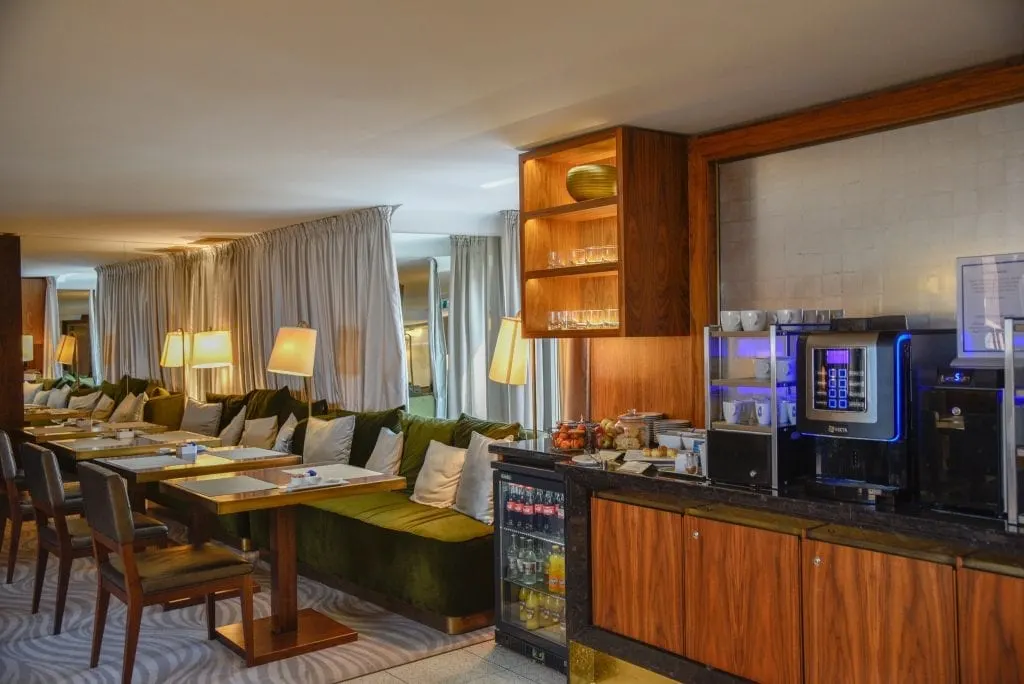 Hilton Budapest Dining
If you are staying at the Hilton Budapest, or even if you are just visiting the Fisherman's bastion, we would highly recommend popping in to the Lobby Cafe & Bar for their divine coffee and cakes.
If you are interested in trying some traditional Hungarian cakes this is also a great place to do so.
The staff recommended trying the Dobos Torta cake and it was very delicious – highly recommended if you would like to try some traditional Hungarian sweets while in Budapest.
The Staff
The staff at Hilton Budapest and especially the manager deserve a mention as they went above and beyond to make sure our stay was comfortable.
The Breakfast
A buffet breakfast is served each morning at the Hilton Budapest.
It has a wide and plentiful selection of breakfast items including an al a carte menu with eggs any way, a pancake machine, fruit, nutella, danishes, bread, cheese and ham.
There was a lot of healthy choices on the breakfast bar as well as a few old favourites.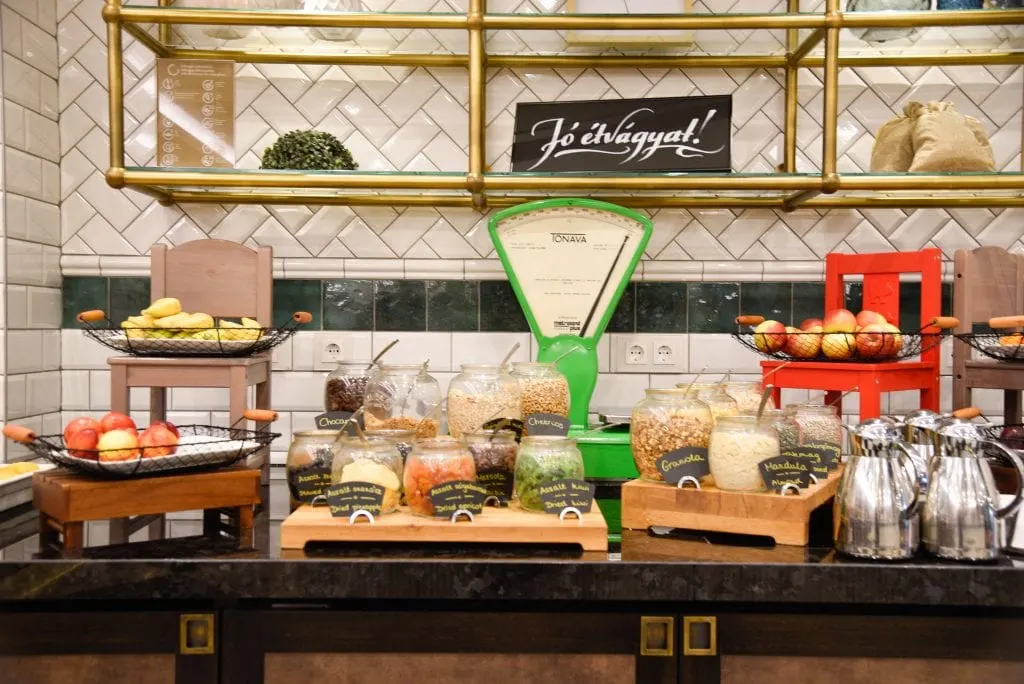 You can also order a hand crafted coffee such as a latte or cappuccino to go with your breakfast.
However, the best part of the breakfast was not the delicious food surprisingly, but the incredible view of Fisherman's Bastion that we had to enjoy breakfast with.
I wouldn't mind eating breakfast to this view every morning.
How to reach the Hilton in Budapest?
You can reach the Hilton by flight into Budapest however, if you are traveling around Europe, we would highly recommend traveling using the Eurail train.
We traveled from England to Budapest in Hungary and it was a very easy and stress free journey.
This particular journey involves 4 legs:
London to Brussels
Brussels to Frankfurt
Frankfurt to Munich
Munich to Budapest (overnight train).
From Budapest, our next stop was the cobblestoned Capital of Slovakia. Read about the first class experience on the Budapest to Bratislava train. The train is a romantic way to travel around Eastern Europe with little hassle.
***
Disclaimer: We were invited as guests to Hilton Budapest & on Eurail. However, this does not affect our views and opinions. As always, opinions in this Hilton Budapest review are our own.