Looking for hotels with jacuzzi in room in Dallas TX?
Dallas is a pretty romantic place to visit (just check out our Dallas Date Ideas if you don't believe me ;)) and what is better when on a romantic getaway than coming home after a long day sightseeing to soak in a jacuzzi suite with your SO!?
If we are on the same page with this thought, you are going to need a Dallas hotel with a private jacuzzi in room. With so much information out there, we have done the hard work for you and narrowed it down to the 8 best hotels with hot tub, whirlpool or jacuzzi spa in room in Dallas!
Hotels with Jacuzzi In room Dallas
If you're looking for a romantic getaway in Dallas, Texas – look no further than the Romantic Inn and Suites. Take in the elegant garden right when you arrive with its Greek statues and flowers, enjoy a private evening dinner at one of the nearby restaurants, and uniquely decorated suites – complete with Jacuzzi tubs for added privacy.
Add an extra romance package to your stay and have champagne, chocolates, rose petals, candles and more added to your room during your stay. This is the perfect location for a unique, romantic stay whether you are on a honeymoon, anniversary or just normal couples getaway.
See more: Romantic hotels in Dallas
Best Western Plus Addison/Dallas Hotel
Stay at the Best Western Plus Addison/Dallas hotel and experience true southern hospitality. Visit local attractions such as the Addison Kaboom Town! Annual Fireworks Show – a 30-minute fireworks show synchronized to music with live radio simulcast.
Enjoy spacious rooms with luxury bedding, and if you're lucky enough to book one of their suites you can enjoy an in-room whirlpool tub on top of the rest of the luxury amenities. Take a dip in the outdoor pool, swing by the fitness center for a quick workout, and grab a free breakfast.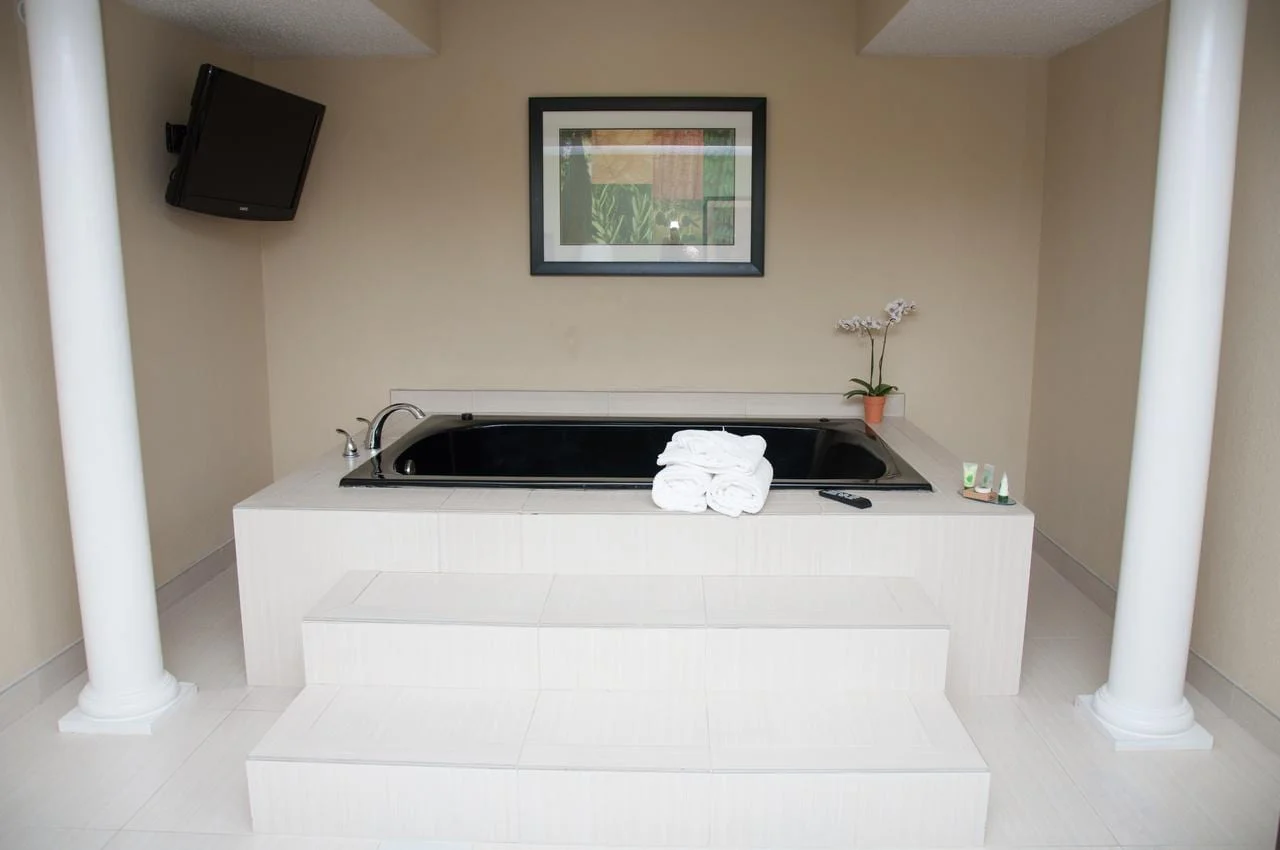 The MCM Elegante Hotel and Suites is a full-service hotel that will provide you with anything and everything you need during your stay. Located only minutes from Dallas Love Field, Ranger Stadium, and anything else you'd like to see in downtown Dallas, you will be able to explore as much as you want.
Or, stay cozied up in your very own whirlpool suite and soak all of your troubles away. Grab free breakfast each morning in the Windsor Restaurant, where you can also grab lunch and dinner for a price.
Holiday Inn Express & Suites Dallas Central Market Center
Book your stay at the Holiday Inn Express and Suites Dallas Central Market Center, which is located nearby the Dallas World Aquarium, Historic West End District, the Sixth Floor Museum, and all the fun shopping, dining, and exploration you want to do in downtown Dallas.
Enjoy their on-site fitness center, indoor pool, whirlpool, and be sure to grab free breakfast each morning. Also, when you call to book your stay, ask for a suite so you can enjoy the added comfort of a private Jacuzzi tub in your room's bathroom.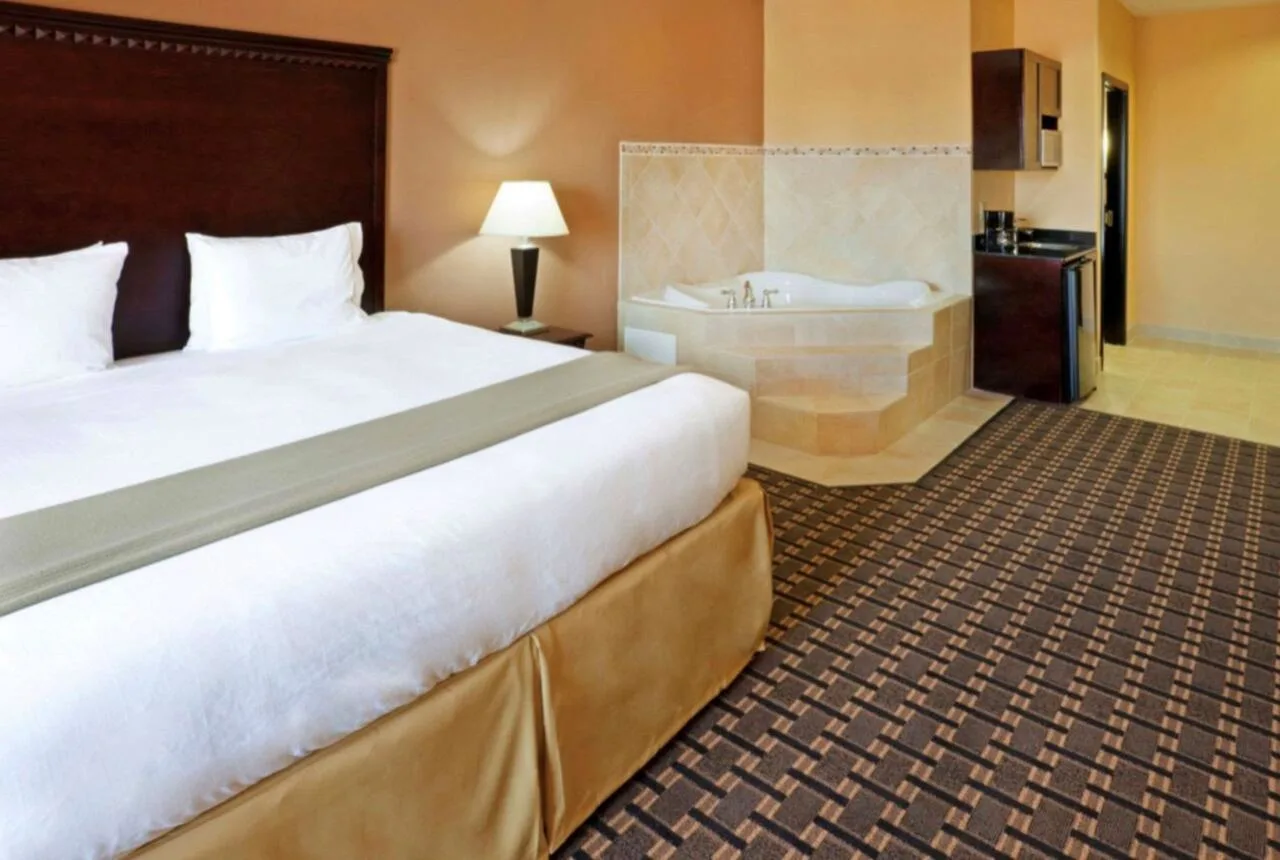 Quality Inn & Suites I-35 E/Walnut Hill
Another great Dallas hotel location is the Quality Inn and Suites I-35 E/Walnut Hill location! From here you can visit the Dallas World Aquarium, Galleria Dallas Mall, AT&T Stadium (home of the Dallas Cowboys), and American Airlines Center – where you can watch professional basketball and hockey games.
Grab free breakfast at the hotel each morning, take a dip in the indoor pool, soak in the hot tub, or go for a run in the fitness center. Ask about their whirlpool suites and soak in the privacy of your own room.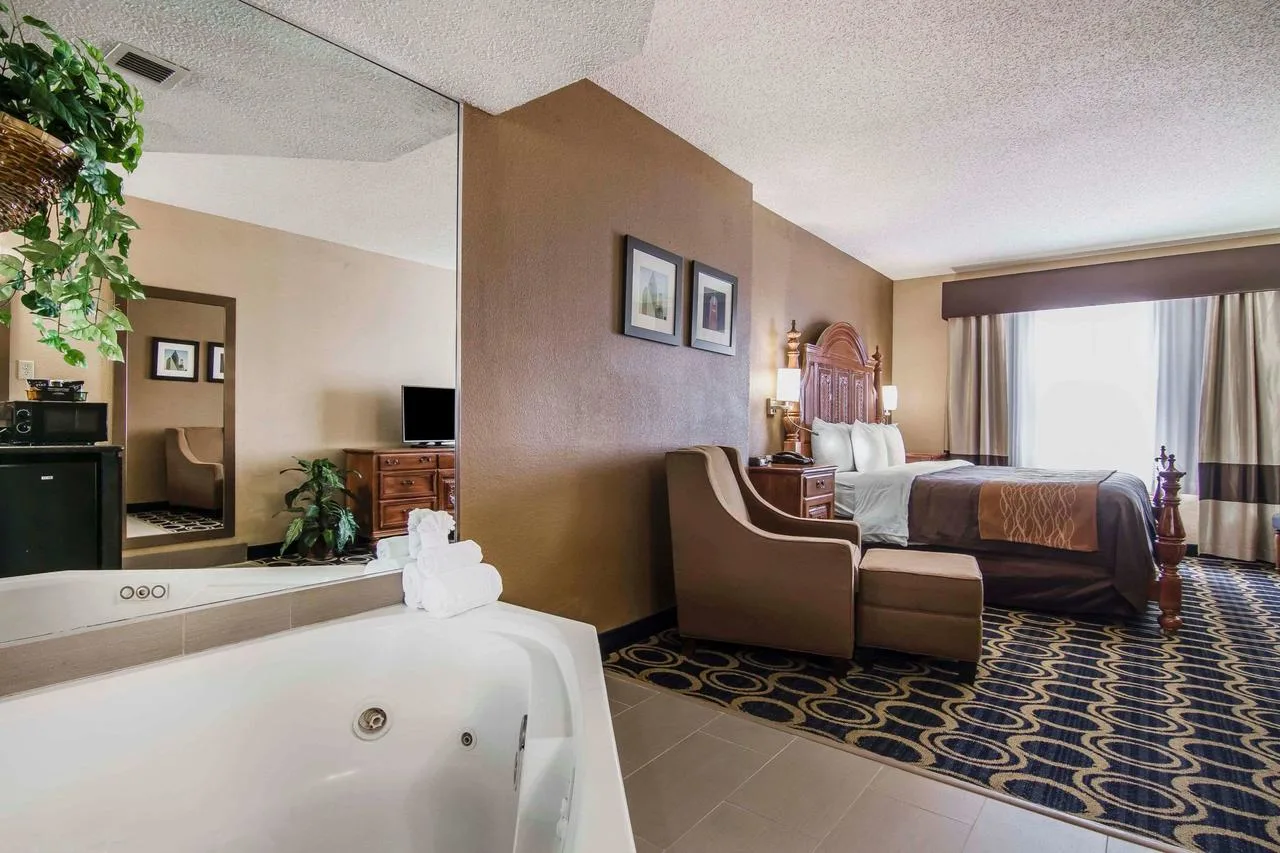 If you're looking for a more unique getaway, check yourself into a suite at the Hotel ZaZa Dallas and enjoy having an in-room Jacuzzi tub for added comfort and privacy. Grab dinner at the award-winning on-site Dragonfly restaurant, take advantage of the relaxing day spa, and check out the thrilling nightlife scene within easy walking distance from the hotel.
Each room is uniquely decorated with themes from faraway lands and lifestyles, so you can stay multiple times and enjoy a different themed room each time for an amazingly unforgettable experience.
Stay at the Comfort Suites North Dallas and enjoy convenient location to Dallas, Addison, Farmers Branch, and Plano – your possibilities for exploration are endless! Visit the George W. Bush Presidential Library and Museum, Market Hall, or the Dallas World Aquarium.
Or, stay on-site and enjoy free breakfast each morning, swim in the indoor heated pool, go for a workout at the fitness center, or hang out in your room (hopefully you were able to book a suite with an in-room jetted tub!) and just relax and forget all your worries.
The Sanford House Inn and Spa has 12 unique accommodations and is sure to be an unforgettable experience. Try out the fine dining restaurant, pamper yourself at the full-service spa, visit the AT&T Stadium, or take a day trip to Six Flags Over Texas.
Breakfast each morning is free, and you will check in to find homemade cookies in your room! Restaurant506 features mouthwatering American cuisine so be sure to try them out for lunch and/or dinner. When you're done exploring the grounds, head to your room with its Jacuzzi.
***
More Romantic Getaways?