The saying certainly rings true – Paris is always a good idea! And for those like us who love Instagram, Paris is one of the most instagrammable cities in the world.
Instagram truly is an art. We feel that we have improved greatly over the years. Check out our instagram and let us know if you agree!
Most instagrammable places in Paris for couples
Here we count down our top 10 most instagrammable places in Paris for couples.
1. The Eiffel Tower
Coming in at number 1 is none other than the Eiffel tower. This is perhaps the most iconic spot in Paris and certainly is also very instagrammable.
A top tip for photographing the eiffel tower is to go early morning at sunrise. The best place for stunning shots is Trocadero.
Whether you take a picture of the view at the top or a selfie at the bottom, you really cannot go past this iconic location.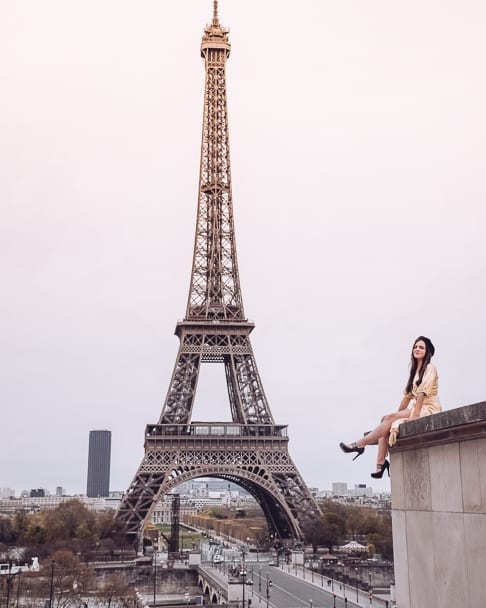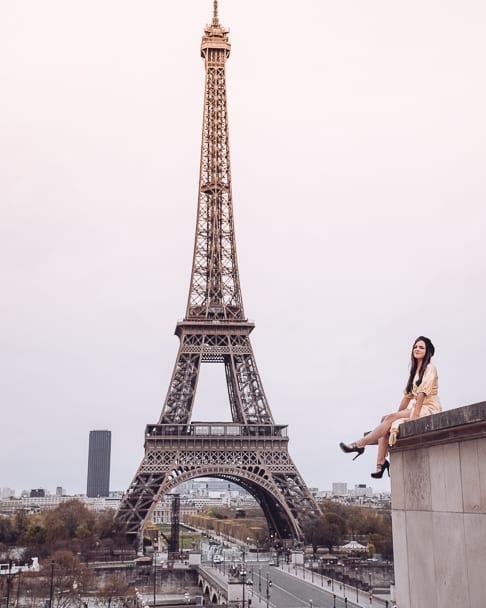 If you aren't one for crowds or getting up early, another cool idea is to photograph the eiffel tower from the comfort of a restaurant. We would highly recommend the Penninsula Paris for the best lunch with a view in Paris.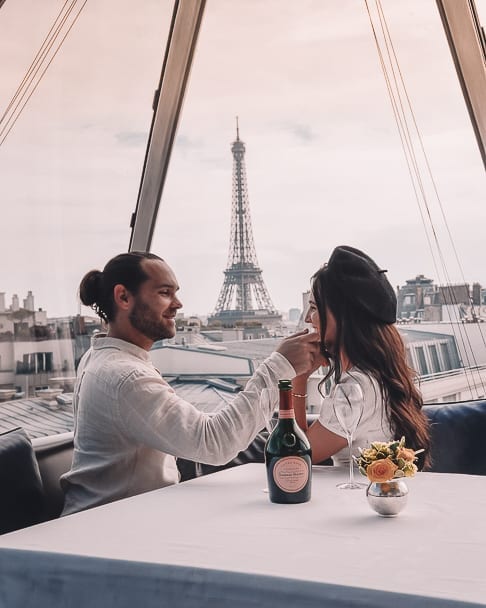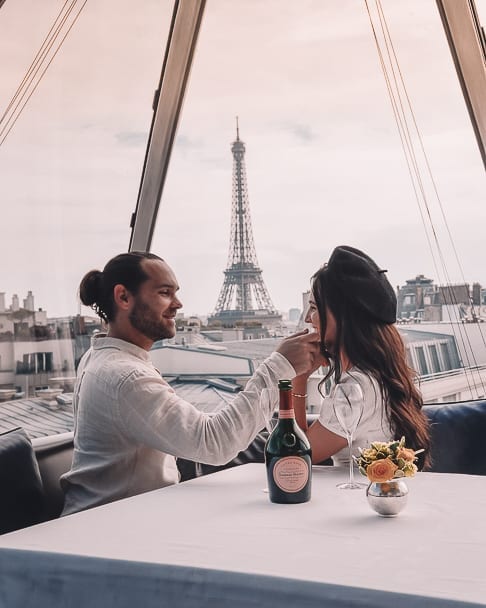 2. The Lourve
Outside the Lourve is a very photogenic location. The issue with this spot is the amount of people in close proximity.
If you are serious about Instgagram, you may want to consider visiting the Lourve in early morning or late evening to avoid the crowds.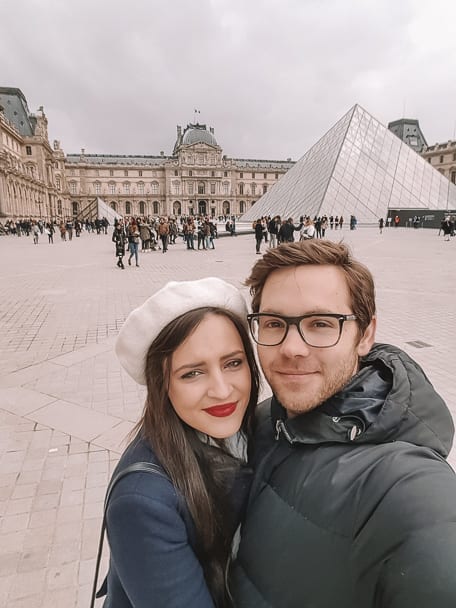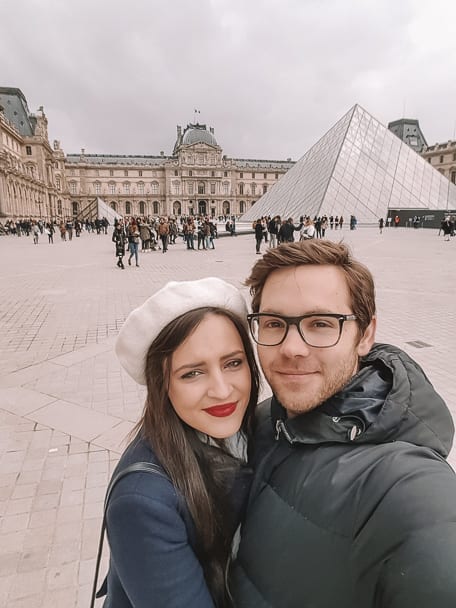 At the lourve you will see people taking quite cheesy photos and why not after all YOLO. A corny photo we saw recently on Instagram by @harrison.
3. Inside Angelina's Chocolate Restaurant
One of our favourite places to go in Paris is Angelina's chocolate restaurant. It is seriously oh soooo good!
Inside too is absolutely magnificent and provides the perfect backdrop to any Instagram snap.
We would recommend ordering the hot chocolate! The thick thick chocolate signature mixture of Angelinas is seriously to die for.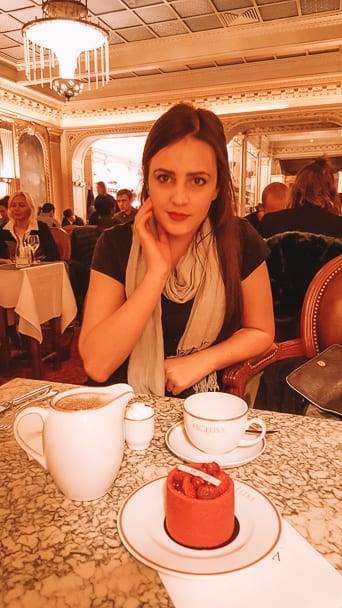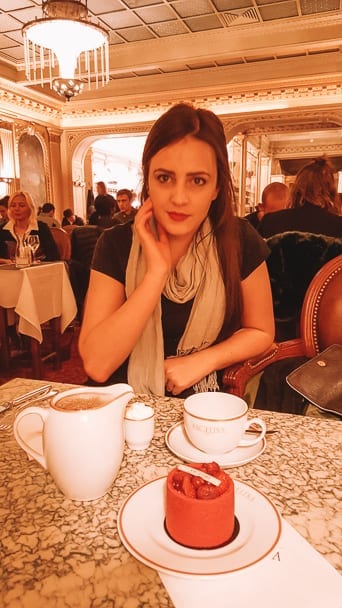 4. Along the Seine River
The Seine is a very beautiful river. We rate it as one of the most beautiful rivers in the world.
Photo opportunities are everywhere you look along the Seine. We have seen some gorgeous Instagram snaps taken inside a boat travelling along the river itself.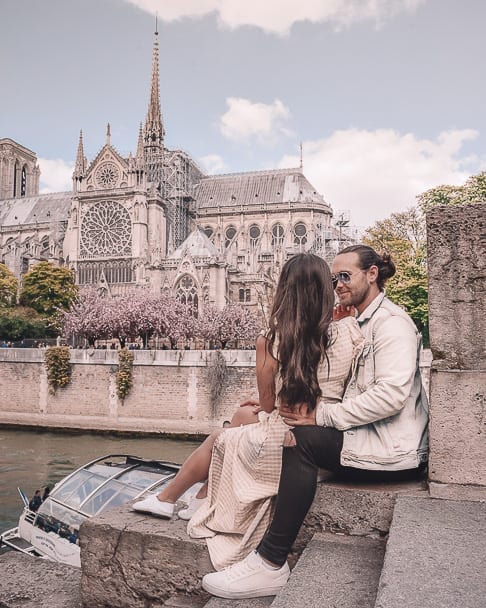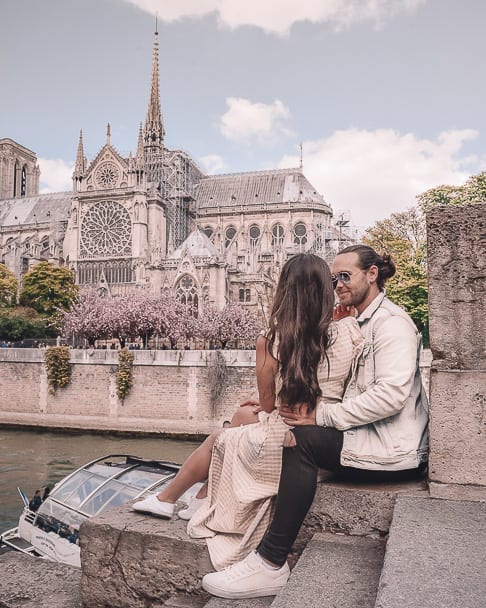 If you are feeling creative, why not make a beautiful Instagram picnic along the Seine River. You can take some inspiration from the account @bakemetoparis.
5. At a Paris Carousel
There are many beautiful carousels around Paris which provide a perfect spot for an Instagram snap.
One of the most photographed carousels in Paris is found nearby the Eiffel tower.
One of our friends @awelltraveledpair has one of our favourite shots of a carousel at Montmartre.
6. Chartier French Restaurant
Everyone knows Paris is brimming with delicious food and some pretty strange food too (snails!!)
Instagram isn't just about a pretty picture but sometimes it is about making it interesting for your followers by showcasing the weird and wonderful cuisines different countries have to offer.
How did the snail go down? I think my face says it all.
By the way, the restaurant where I am eating this snail is pretty fantastic. It is called Chartier and we highly recommend it!
There is communal dining at the restaurant which we were a little apprehensive about at first. But we met a lovely couple from the US and had an amazing night.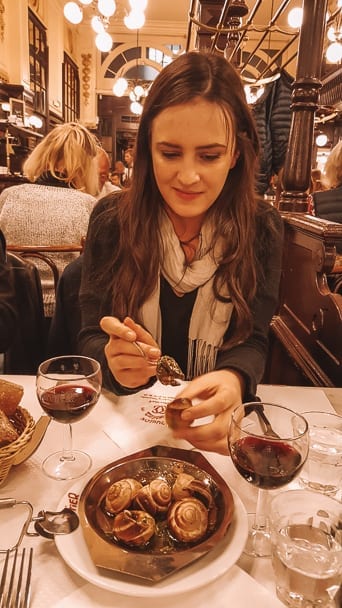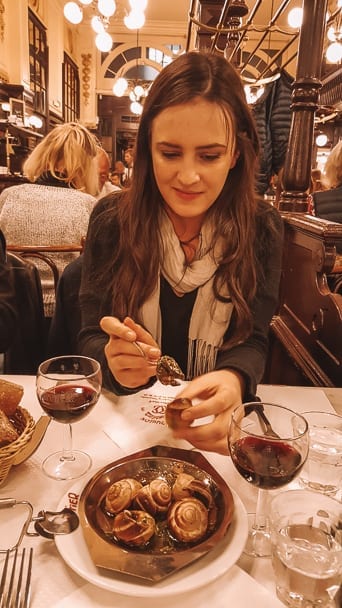 7. Montmartre
Montmartre is one of the most beautiful buildings in the world. Therefore, little explanation is needed as to why this is a top instagrammable location.
We have seen some beautiful shots taken here. Some of the best are taken in the stairs leading up to Montmartre.
It should be noted that it is a tourist hot spot in Paris so it should be visited in late evening or early morning to avoid crowds.
Here is a stunning instagram shot by @wonguy974 to get your creative juices flowing!
Tip! It is the ideal place to go to watch the sunset. Bring some beer or wine with you for a DIY picnic.
8. Notre Dame
Another beautiful building in Paris is the Notre Dame. This building always reminds me of the disney classic, the hunchback of Notre Dame.
As you can see by the photo, this too is a very popular location so early morning or late afternoon are the perfect times for Instagram shots.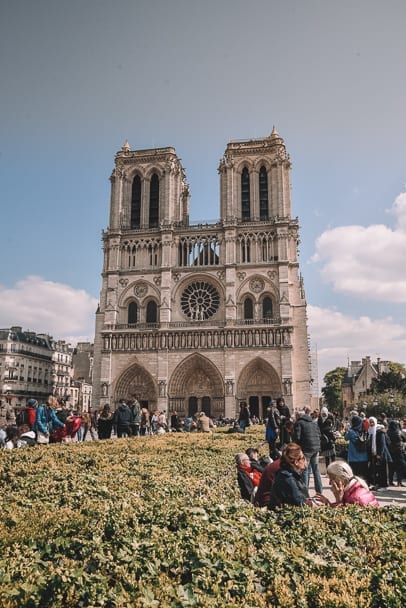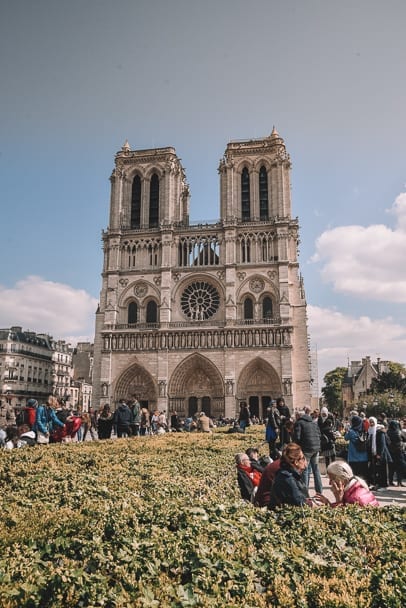 9. Moulin Rouge
Going to the Moulin Rouge was seriously one of the best things we did in Paris. It is a little pricey but the show is 100% worthwhile. We would highly recommend it to anyone visiting Paris.
It is also the perfect spot to take Instagram photos, especially if you are a couple in Paris. Putting aside the tacky sex appeal, we think the place is pretty romantic.
10. La Maison Rose
If you love all things pink, you cant go past the super cute La Maison Rose in Paris.
This super cute green & pink cafe is surrounded by gorgeous cobble stone streets. A perfect background for even the pickiest of instagrammers.
This pink paradise has been captured beautifully by the instagrammer @saaggo
11. With some eclairs at a French Bakery
French bakeries are THE BEST type of bakery.
French bakeries also provide the perfect background for those super cute Instagram shots.
Grab an eclair and pose your heart away!
We hope this article helped you! If you need any more tips about Paris, we are happy to help, let us know in the comments below!
Save this to Pinterest (so you can find it again later!)