Looking for the best romantic dinner cruises in NYC? Look no further! We have you covered.
I must admit, going for a romantic meal with your significant other as you cruise along the Hudson River seeing the statue of liberty pass by and the skyline lights DOES sound like a pretty cool NYC date idea.
A romantic cruise would also be the perfect night proposal in New York City if you are looking for something to go above and beyond with. Or even if you are looking for a fun anniversary idea – this would be great too!
There's quite a few cruises to choose from but we have done the hard work for you and narrowed it down to the 9 BEST romantic dinner cruises for 2 in NYC.
Take a break from the hustle and bustle of the busy New York City streets and enjoy a romantic, peaceful view of the gorgeous sunset along the Hudson River on the Bateaux Dinner Cruise. This luxury cruise provides an unforgettable romantic get-away experience.
Enjoy the elegant ambiance along with the spectacular views. With a glass enclosed deck, the cruise offers breathtaking panoramic views of the Manhattan and Brooklyn skyline. Get your camera ready for when you pass by notable landmarks, including the Statue of Liberty, Whitney Museum of American Art, Battery Park, Freedom Tower and more.
After soaking in the spectacular scenery, get ready to dine in elegance with a delicious 3-course meal exquisitely prepared by the on-board executive chef. The live music provided by the pianist playing jazz and the blues is the perfect compliment to the luxury experience. Simply enjoy the music or get ready to dance the night away.
Book your cruise here.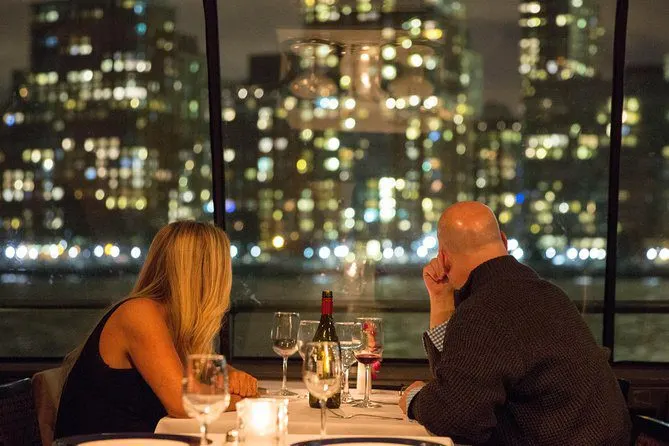 Head on over to Chelsea Piers to board the unforgettable Spirit of New York Dinner Cruise. Enjoy an exciting evening as you sail across the Hudson and East rivers. With a total of 4 decks (two of which are outdoor), be camera-ready to take pictures of New York's spectacular Skyline.
Enjoy the evening breeze as you pass by notable landmarks like the Empire State Building, One World Trade Center, Governors Island, the Statue of Liberty and the Brooklyn Bridge. The spacious rooftop is perfect to sip your favorite cocktail and soak in the views.
The lavish buffet provides an array of options for all preferences. With a variety of salads, entrees and desserts, there is always something for everyone. Enjoy the wine and dancing to the live DJ on-board. This Cruise is sure to leave you with an evening of fun and excitement.
Book your cruise here.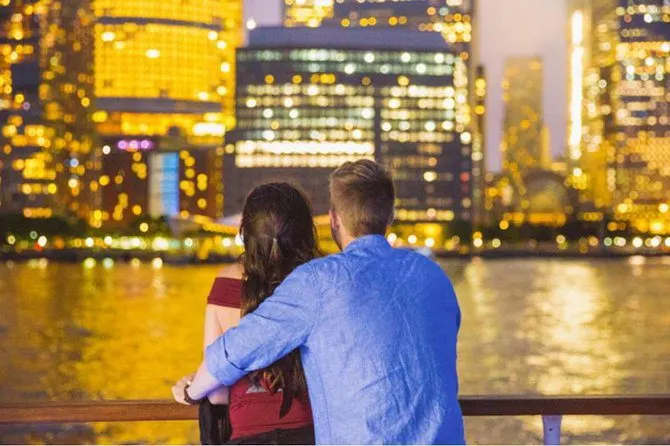 Whether it's a holiday party, a corporate event or a wedding, a private sailing charter is the perfect venue for the ultimate party experience. With several options to choose from, renting a private sailing charter can accommodate any number of guests.
Delight your guests with panoramic views of the gorgeous New York City skyline and pose with them in front of iconic New York City landmarks for memorable pictures. See the Lady Liberty up close and soak in views that can't be taken in on land. There are several boats with different themes including the 1920's theme to choose from.
These cruises are also perfect for wedding receptions as they are equipped with sales teams for planning convenience and captains that can perform wedding ceremonies. Plan your next event to give your guests an unforgettable experience on a private sailing charter.
Finish the night off with an amazing jacuzzi hotel in New York or maybe a NYC hotel with an epic balcony and you are sure to impress even the most pickiest of dates!
Book your private sailing charter here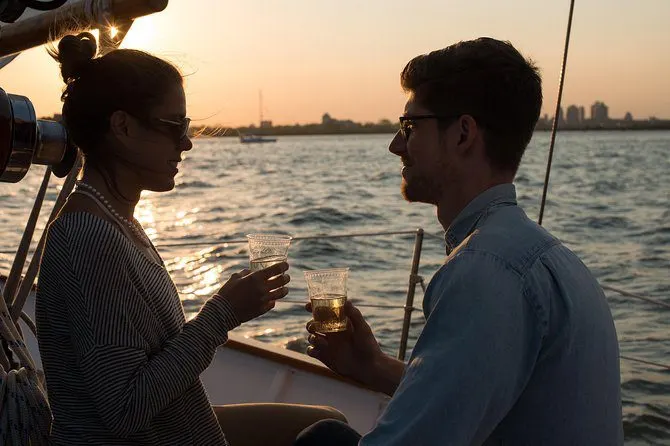 Prepare yourself for an unforgettable cruise experience as you sail around the Hudson River, the East River and New York Harbor aboard the New York City Lights Dinner Cruise.
The three-tiered yacht has a climate controlled sun deck that provides gorgeous views of the Statue of Liberty, Ellis Island, the Brooklyn Bridge and New York's skyline. Aboard the ship, indulge in a delicious three-course meal prepared by gourmet chefs. The à la carte cuisine includes pan-seared salmon, roast chicken, filet mignon and decadent desserts.
Bring along your dance moves with you, as the award-winning live on-board entertainment provides the perfect setting for after dinner dancing. Whether you are celebrating in a group or out for a romantic dinner, the Hornblower New York City Lights Dinner Cruise will leave you with an evening full of excitement and unforgettable moments.
Book your cruise here.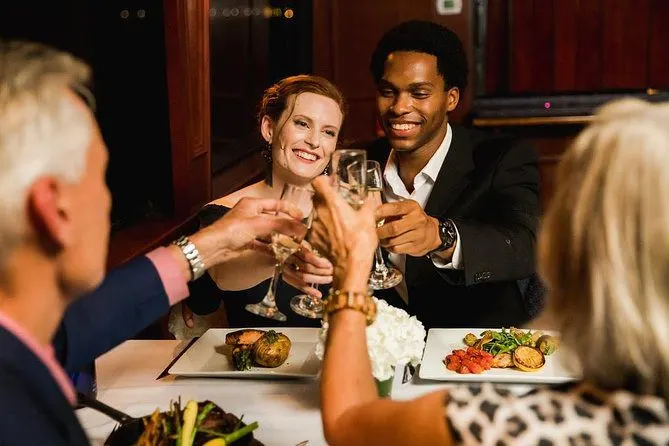 It is pretty romantic to see the statue of liberty by the water. There are several other cruise options that allow you to sail by which is very romantic.
Here are some of the best options for a romantic cruise boat (Note most of these do not include dinner but it is a nice option if you are just looking for a romantic activity and you are low on funds!)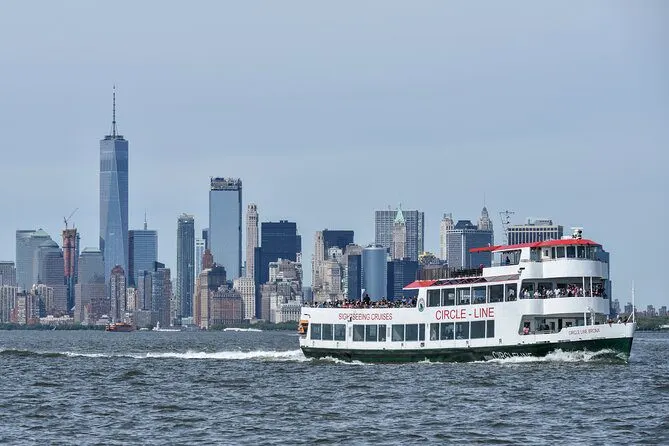 City Experiencess New York City Party Cruise
Go green aboard the eco-friendly HornBlower Hybrid New York City Party Cruise. This state-of-the-art cruise ship has three alternative fuel sources along with energy efficient windows and gorgeous countertops made from recycled glass and vibrant colored vodka bottles.
The perfect party atmosphere is created by the customizable array of LED lighting making it ideal for all types of celebrations. With an incredible sound system and flat panel LED screens, the spacious vessel is the perfect venue for hosting corporate presentations , birthday parties, school reunions and wedding events. Outdoor observation decks and climate-controlled indoor decks provide gorgeous views of the New York skyline along the Hudson River.
The yacht is 168 feet long and can accommodate 600 guests for a cocktail party and over 350 guests for a lavish buffet meal. Being amongst the 'greenest' vessels in New York, this luxury cruise ship provides the perfect opportunity to have fun while being environment-friendly.
Hudson's by World Yacht New York Dinner Cruise
Take an evening off from your busy day-to-day routine and head on over to Pier 81 to enjoy a New York dinner cruise on Hudsons brought to you by the World Yacht.
This three-level vessel provides spectacular views of New York's skyline at dark. The experience of soaking in the views of New York's iconic landmarks including the Statue of liberty and the Empire State Building from the water is unparalleled.
The cruise includes a champagne and hor dóevres reception along with a decadent four-course meal with an option to upgrade to a VIP package option which includes an open bar and guaranteed window seating. The menu is prepared with locally sourced fresh ingredients and by on board culinary experts. Enjoy the music and dancing as part of the lovely cruise experience.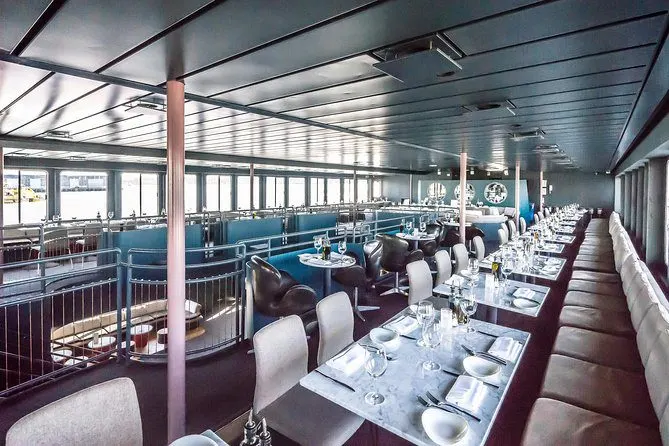 Which of the Romantic Dinner Cruises in NYC is the best?
With the variety of cruises available for the everyday New Yorker or tourist, there is an option for everyone. All cruises bring the luxury experience with fantastic views of the breathtaking New York skyline.
A private sailing charter would be ideal for a wedding or intimate party whereas the HornBlower Hybrid New York City Party Cruise would be perfect for the party atmosphere.
If your preference is a buffet, the Spirit of New York Dinner Cruise with Buffet would be perfect, whereas if you prefer an elegant dining experience, the Bateaux New York Dinner Cruise would be the one to choose.
****
See more NYC fun: