Looking for the most romantic places in NYC?
If you are a couple in New York city it is nice to discover all of the secret romantic spots as well as the most romantic places to eat in NYC. We have done the hard work for you and located 40+ of the best places, restaurants and things to do for couples in NYC.
No more boring weekends with this epic guide which includes places you haven't thought to visit in New York. The best of romance in NYC here. See more: Romantic things to do in NYC
New York CityPass. Are you a visitor to New York? If so, we highly recommend getting a New York CityPass as it provides very good value giving you access to multiple attractions including the Empire State Building, the American Museum of Natural History, Ferry Access to Statue of Liberty and Ellis Island and 9/11 Memorial & Museum among other things.
40+ Most Romantic Places in NYC
Domdomo. Located on West Houston Street, this sushi house is the first handroll sushi and sashimi bar in NYC for those who want a change from takeout Japanese food. Each dish is Instagram #nofilter worthy, the colors and tastes of each plate popping out at you. This explosive eatery is a high-end change from your local sushi restaurant.
The Museum of Ice Cream. The Museum of Ice Cream is a spectacular idea any time of the year, but just in time for Valentine's Day, they're rolling out a special experience named "Date Nights." In collaboration with the card game We're Not Really Strangers, the museum will be adding special attractions during these nights to make the shortest month of the year extra sweet. Expect dance classes, sundae making, and even a special installation making visitors stars in a game show.
Flatiron. Jean-Georges Vongerichten's trio of abc restaurants—Kitchen, Cucina, and V—are some of the city's most beloved destinations for good reason: the food is fantastic and the ambience even better. The group's latest venture, bakery by abc restaurants, focuses on the sweet side of things and launched in January.
NoMad. Quarantine life has brought out the chef in (most of) us, but wintertime cooking can be tricky. Impress your significant other by mastering the uses of one of the season's star ingredients: citrus. In this two-hour class held at Il Fiorista, a NoMad destination for flowers that also features a restaurant, guests will not only learn the differences between a pomelo and a blood orange, but how to coax the best flavors out of many different types of the fruit. And, to make it extra romantic, there will also be oysters and champagne on hand.
Syndicated Bar Theater Kitchen. Enjoy a one-of-a-kind movie date with your partner at Syndicated Bar Theater Kitchen. It is a contemporary dine-in establishment with an outdoor and indoor movie theatre, a bar, and a restaurant. It serves delicious snacks, such as pulled pork sliders and fried mozzarella, that you can partner with various drinks. It also has a great selection of films – combining art house and indie releases with mainstream movies and 80s and 90s classics.
Union Hall. Union Hall offers entertainment in a cozy and spacious setting. Here, you can try your hand at playing bocce at two ball courts for a friendly competition with your date, or you can enjoy live performances together. The place has shelves full of books and a couple of fireplaces where you can sit close to while reading. The bar has a great selection of drinks prepared by some of the best bartenders in the town.
The Slipper Room. The Slipper Room is an entertainment venue and theatre in New York known for burlesque performances and hilarious comedy acts. It's the perfect place to go if you want to keep your date amused and entertained. Here, the fabulous art of burlesque is brought to the audience in a classy and sophisticated manner.
You can watch the show from the main floor or from the mezzanine for a nice view. The place has great drinks, and the bartenders are amazing at what they do. Top-notch customer service, tasty drinks, and vibrant performances make this a lovely place for a date night without burning a hole into your pocket.
Romantic places to eat in NYC
Excuse My French. At Excuse My French, you will experience an old-school Parisian-inspired bistro that offers specialty cocktails and European small entrees that are plated to perfection. The menu is small, but the flavors are impeccable. At the bar, you will find a great lineup of drinks. It is recommended to try some of their unique flower campaigns. It is also recommended that you try the Croque Monsieur, which has become known as the best in town.
The Aviary NYC. If you are looking for one of the best restaurants in New York, The Aviary NYC has what you are looking for. The team has an intensifying and creative approach to developing flavorful combinations in unpredicted ways.
At The Aviary, NYC, you will have views of Central Park and the Manhattan skyline. Many people who visit the Aviary are pleased with their superb performance. This restaurant was number one on the New York Eater's NYC Restaurants with Stunning views, but be sure to make your reservations.
Celestine. At Celestine, you will experience a stunning view of the Manhattan skyline through floor-to-ceiling windows. This Mediterranean style restaurant is located just under the Manhattan Bridge and has some of the best services around. This is one place that you may want to reserve a seat at, and you will not be disappointed. If you are needing a romantic setting, this is also another recommended romantic place to eat in New York City.
Carmine's Italian Restuarant. Carmine's Italian restaurant is located on Times Square and is a family-style restaurant of traditional Italian dishes. This restaurant is located near Ripley's Believe It or Not! and New York's Madame Tussauds.
The portions are generous and are enough to feed two people. It is recommended that you make reservations first. This is one of the best Italian restaurants in NYC that is located in Times Square.
Kochi. What is it? Per se alum chef Sungchul Shim's seven-course tasting of skewers inspired by Korean royal court cuisine. Kochi first opened in 2019 and was recently awarded a Michelin star. A ten-course menu, as well as supplements like caviar and sea urchin, are also available.
Ordering everything on the menu is usually relegated to daydreams, but at Kochi, it's possible. Here, every course is a joy, without an afterthought in the bunch. And Kochi's $85 prix-fixe price tag is more attainable than that of many of its contemporaries.
Thai Diner. A take on the classic diner, from the brains behind the megahits Uncle Boons and Uncle Boons Sister, Ann Redding and Matt Danzer. Not only do some UB favorites, like the crab fried rice, live on at this Nolita dinette, they're joined by dishes that successfully and sumptuously bridge the all-American comfort foods and Thai flavors of Redding's upbringing.
Van Da. A Vietnamese restaurant that lit up the neighborhood when it first opened in 2019 and earned accolades like a star in the New York Times and a Michelin Bib Gourmand nod in short order. Van Da still has some items from its opening menu—a good thing since it was never easy to nab a table. Early hits like the short rib grilled cheese with a shot of pho, shaking beef and shrimp and pork tapioca dumplings are as wonderful to return to as they are to taste for the first time.
Secret Romantic Locations in New York
Dreamland Roller Disco. Dreamland Roller Disco provides a modern twist on a retro date. Besides, isn't there something cute about falling on your butts together? What makes Dreamland special are its themed nights. February is chock-full of romantic rendezvous, such as the upcoming disco party.
Gallow Green. Many of the city's various rooftop bars rely heavily on their views as the main selling point for their overpriced drinks. But atop Chelsea's McKittrick Hotel (the home of the famed Sleep No More) is this highly conceptualized romantic garden party meets cocktail lounge.
Brooklyn Botanic Garden. You and your special someone don't have to travel far to feel like you're in an idyllic pastoral paradise with this century-old Kings County NYC park. Nestled away by Prospect Park, you'll find over 50 acres of cherry blossoms, rose gardens and the bright flora of the tropics in the balmy conservatory. No matter the season, you'll be sure to see beautiful plant life. See more: Brooklyn Date Ideas
Fields Garden. Well, it sounds like you're craving a space so bucolic, you love birds will forget it's free of charge! Everyone appreciates a hidden urban oasis, and the St. Luke in the Fields Gardens—just off Hudson Street, between Barrow and Christopher Streets in the West Village—are up there with the best of them. Definitely one of the most romantic places in NYC.
Pilot. One way to show someone that you care is to plan a date on a boat. It sends the message that you might be willing to jump in the water to save this person, and also boats are sort of romantic. So go to Pilot. It's a restaurant/bar on a boat anchored off Pier 6 in Brooklyn Bridge Park, and it's a great spot for some wine and oysters. If you're familiar with Grand Banks, it's pretty much the same thing (in a different river), and it has a very nice view of Manhattan.
Entwine. If you've lived in this city for a significant amount of time, you probably have a go-to date spot in the West Village. Chances are, it isn't Entwine – because a lot of people don't know about this place. It's a little wine bar in the quiet part of the West Village near the Hudson River, and it happens to have a great back patio. The dinner menu isn't too extensive, but you can snack on various meats and cheeses while you drink your wine.
Mister Dips. Mr. Dips isn't fancy. It's just a vintage Airstream trailer in Williamsburg where you can pick up a burger, some waffle fries, and soft serve. But you can get that soft serve with a salted peanut butter candy shell, and the trailer is hidden in a grassy park that's up a flight of stairs beneath the William Vale Hotel. Bring a blanket, and you and your date can share some cheese-covered fries on the grass while you stare at the Manhattan skyline and say cliché things about New York.
The Bonnie. Unless you've been seeing someone for several years, a date at a pub generally isn't the best idea. But when the pub has tiled floors, exposed brick walls, potted plants, and a big backyard with picnic tables and umbrellas, it just might work. That's what The Bonnie is like, and it also has a big dinner menu with everything from burrata and steak to tacos and cheese fries.
Sel Rose. Sel Rrose is a bar where you can actually sit down. That might not sound very remarkable, but when you're on a date, this is important. You can also eat a full dinner here, or can just have a couple of drinks (or stop by for oyster Happy Hour). The space looks like a semi-industrial art gallery, there are a bunch of tables on the sidewalk when it's warm out, and it's the perfect spot for when you're going out with someone who's slightly cooler than you are (but you don't want to look like you're trying too hard).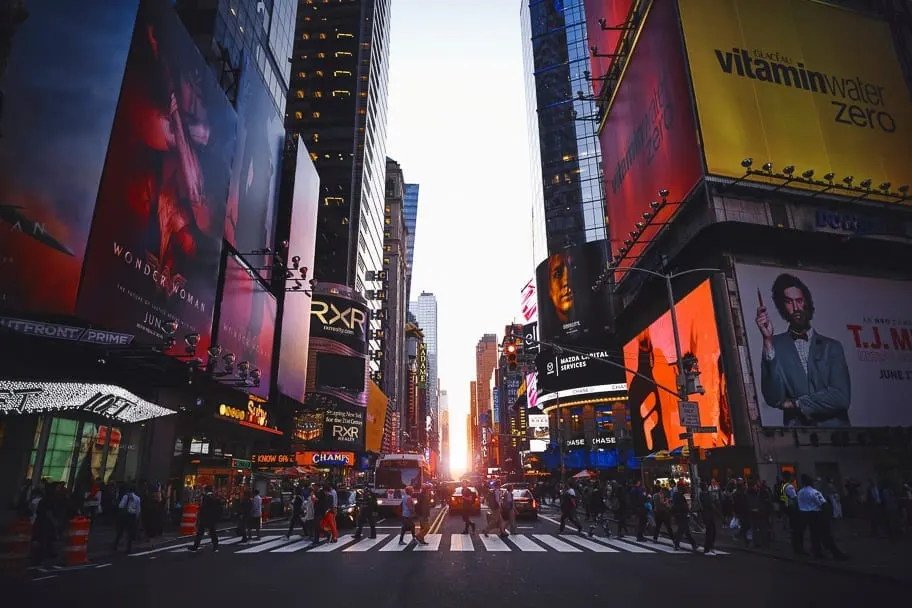 Romantic Places in New York: Cocktail Spots
Holiday Cocktail Lounge. The six-decade-old East Village mainstay—whose barstools have hosted the likes of Frank Sinatra, Allen Ginsberg and Joey Ramone—is a head-scratching anomaly in a city with so much turnover. And though the place has been spruced up some—duct-taped booths traded for green banquettes, neon beer signs for gold sconces—the joint hasn't been scrubbed clean of its charm.
Ghost Donkey. Accessible via a secret door in the American restaurant Saxon + Parole, this Mexico-inspired cocktail haunt straddles the line between speakeasy and dive. For this sliver of a saloon—festooned with red lights that cast a glow over everything (an IRL Instagram filter, really)—head barman Nacho Jimenez has built a menu that emphasizes mezcal, the smokey spirit of the moment.
The Polynesian. The Polynesian performs two daunting feats: Though the bar is mere steps from Times Square, you can still recommend it to native New Yorkers; plus, it pours tiki tipples that we can't resist. Bartender Brian Miller's drinks are as visually stunning as they are thirst-quenching, whether you order the Vaya Kon Tiki, which sports a flaming lemon, or the large-format punch that's served on a seashell.
Attaboy. Not all spin-offs are created equal. Luckily for Gotham's cocktail-swigging masses, this Milk and Honey redux falls into the former school—but with a livelier, lighter air. From the up-tempo retro tunes to the brightly lit, lived-in digs (whitewashed brick, tarnished sign hanging on the wall), Attaboy proves a breezy evolution of the form. At the brushed-steel bar, suspender-clad drinks slingers stir off-the-cuff riffs to suit each customer's boozy preference.
Pouring Ribbons. It's no wonder that a booze-powered Fantastic Four opened this capacious, teal-daubed barroom. Each tipple is measured on two scales: refreshing to spirituous (how boozy do you take your drink?), and comforting to adventurous (do traditional or quirky flavors appeal?). Situated above a scruffy liquor store on Avenue B, the airy second-floor drinkery is appointed with milky Art Deco lights and wood paneling.
Death & Company. The nattily attired bartenders are deadly serious about drinks at this Gothic saloon, a pioneer in New York's now relentless mania for craft cocktails. Behind the imposing wooden door, jet black walls, cushy booths and chandeliers set a luxuriously somber mood. Tipples here are consistently among the city's best, many of which have propelled mixology trends across the country.
Pegu Club. Pay a visit to the urbane barroom, a second floor sanctum on bustling Houston Street, and explore the eminent opus, which includes new classics such as the Gin-Gin Mule. Equally renowned is the Earl Grey MarTEAni, a frothy and fragrant nod to English teatime traditions made with loose-leaf–infused Tanqueray gin, lemon juice and an egg white.
Clover Club. This standard-bearing cocktail parlor from mixology matriarch Julie Reiner (Leyenda, Flatiron Lounge) expresses its Victorian bent in intricate tile work, curved leather booths, marble tables, vintage sofas and a functioning fireplace. The centerpiece is the 19th-century mahogany bar, where vest-clad barkeeps stir and shake throwback potions, handily defined in the novel-like menu. Choose among regal crystal bowls of punch or finely wrought drinks, both classic and new.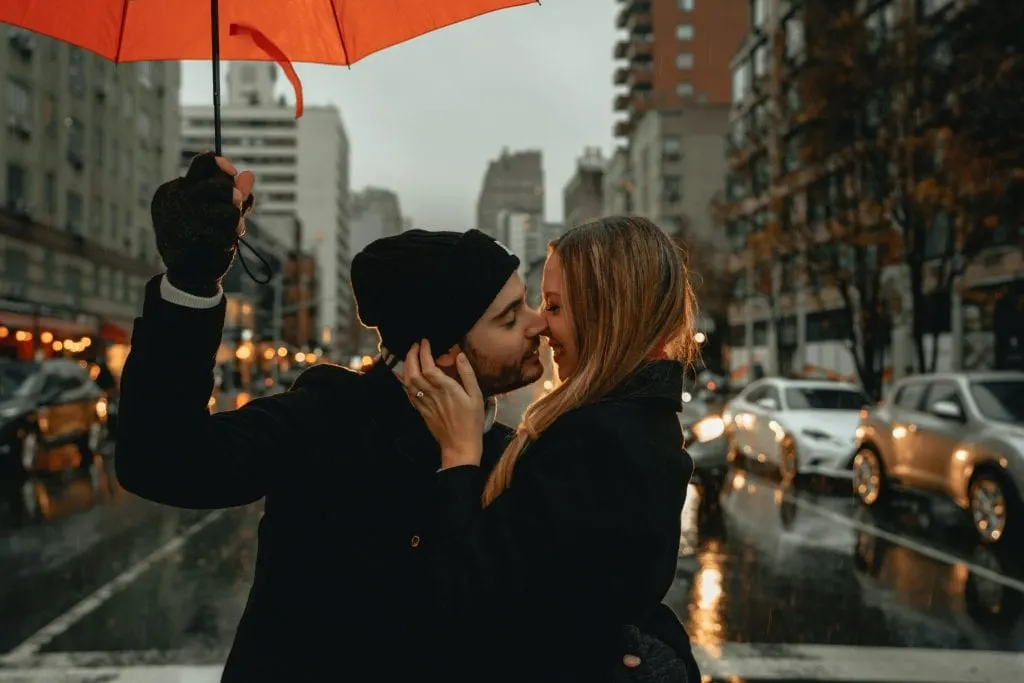 Central Park. More than 8.6 million people live in New York City, but it doesn't feel that way in this four-season—and free-to-enter—oasis in the middle of Manhattan. Measuring in at 840 acres, there's plenty of room to go around here, whether your idea of the perfect date is a picnic lunch on the Great Lawn, a paddle across Central Park Lake in a rowboat, or a visit to the Central Park Zoo.
Housing Works BookStore. In the heart of Soho, close to the Prince Street subway station. The book collection here is breath-taking and you can find almost any genre you prefer. The Cafe inside the bookstore is a great place to take a break from your downtown shopping and kick back with your date to discuss the books you have found. One of the best date ideas in New York City.
Central Park Reservoir. This is a perfect spot for those who like to exercise and be out and about in nature. Named after First Lady Jackie Kennedy Onassis, the Reservoir is around 1.5 miles long so you can get your cardio in while enjoying the scenic area. It is also close to the Guggenheim museum and the Met on the upper East Side.
Belvedere Castle. Near the Great Lawn is a picturesque location set on Vista Rock, the highest point in the park. This Gothic Castle from 1869 is a dramatic change from the hustle and bustle of the city and the greenery of the park. There are audio guides available for those who want to immerse themselves in the history of the site.
New York Water Taxi. This nifty transportation is a great way to get around the city while taking in the rivers and views of Manhattan. Tickets are available for purchase online or along the East River. Instead of hustling through the subway to get downtown, the Water Taxi lets you relax on the water while tour guides tell you about the historical sites that pass you by.
VR World NYC. One of the largest virtual-reality entertainment destinations, offering more than 50 unique art, gaming, and entertainment mixed-reality experiences. The complex, which is located adjacent to Manhattan's famed Empire State Building, offers a plethora of unique virtual reality experiences for adults to enjoy, including multiplayer gaming experiences. Players use Oculus and HTC Vibe virtual reality headsets to immerse themselves in limitless interactive virtual worlds, including games using hands-free experiences.
David Benrimon Fine Art. David Benrimon Fine Art is one of Manhattan's premiere art galleries, founded in 2002 by David Benrimon to showcase the works of Impressionist, modern, and contemporary artists from around the world. Top names from the art world on display include Impressionist legends such as Edgar Degas, Claude Monet, and Pierre-Auguste Renoir, while modern and contemporary luminaries showcased include Pablo Picasso, Henri Matisse, and Andy Warhol.
Amelie Wine Bar. Amelie Wine Bar is a charming Upper West Side wine bar and restaurant originally opened to the public in December of 2017, showcasing elegant French cuisine and an extensive European wine list. The romantic restaurant serves up an extensive customizable cheese and charcuterie program alongside excellent French entrees such as escargots gratinés, baked camembert de Normandie, coq au vin, and steak à l'échalote. A constantly-changing list of specials is offers.
Elsie Rooftop. Elsie Rooftop is a stylish restaurant near Manhattan's Bryant Park, opened in 2018 and helmed by executive chef David Burke. The restaurant is housed within a 25th-floor penthouse, designed in honor of American actress and interior decorator Elsie de Wolfe, the creator of New York's first penthouse suite. The restaurant's rooftop villa vibe is meant to evoke the splendor of New York City's 1920s-era socialite society, recreating the vibe of elaborate parties of de Wolfe's that hosted guests such as Coco Chanel.
Les Enfants de Boheme. Les Enfants de Bohème is a unique collaboration restaurant in Manhattan's Lower East Side district, opened in 2015 by restaurateur Stefan Jonot, with the collaboration of curator Cathy Lang Ho of Architect magazine, restaurateur Daniel Rivera, photographer Simon Harsent, and actor Joshua Lucas, best known for his work in feature films such as Sweet Home Alabama and A Beautiful Mind. The delicious Parisian-style bistro serves up classic French fare with a modern twist, emphasizing ingredients sourced from local organic farms.
See more Romantic Activities in NYC + the USA