Looking for date ideas in NYC?
We have you covered! No more boring pizza night with these epic date night ideas in New York City.
If you are looking for the most romantic places and spots in NYC, we have hunted down 50+ of the best, whether you are looking for things to do at night or romantic things to do for couples in NY during the day – we got you!
The best date spots in NYC right here!
New York CityPass. Are you a visitor to New York? If so, we highly recommend getting a New York CityPass as it provides very good value giving you access to multiple attractions including the Empire State Building, the American Museum of Natural History, Ferry Access to Statue of Liberty and Ellis Island and 9/11 Memorial & Museum among other things.
Date Ideas NYC: Best Places for Date Night in New York City
Coffee Shops For a Romantic Date
If you are a fan of high teatime in a relaxed atmosphere, Alice's Teacup is the perfect spot for a first date. Located on West 73rd Street, the tea shop is whimsical, quaint, and a nice change from the every-day coffee shop. It is a great spot for brunch and offers a variety of different teas and sandwiches. You feel like you have stepped into Lewis Carroll's famous Wonderland; from the decor to the teacups, this spot is a new take on high tea.
The Housing Works Book Store is in the heart of Soho, close to the Prince Street subway station. For bibliophiles, the collection here is breath-taking and you can find almost any genre you prefer. The Café inside the bookstore is a great place to take a break from your downtown shopping and kick back with your date to discuss the books you have found. One of the best nyc date ideas.
Frisson Espresso is a must for first date coffee lovers. This Hell's Kitchen locale has beautifully crafted signature drinks worthy of Instagram. It is a low-key spot to break the ice and get to know your date while admiring intricate espressos and lattes that will wake you up after a long day.
For tea drinks who want to explore new flavors, Bao Tea House is the place to go. With delicate teas, cakes and creations based on Chinese cuisine and culture, this Greenwich village shop is a cozy and modern take on teatime. Their specialty Starry Starry Night tea is brightly colored, fruity, and sweet, and the staff can always offer help if you cannot decide which delicacy you want to try.
Central Park Sites: day dates nyc
If you are traveling through Central Park, stop by the Lake to go on a romantic boat ride. Located in the center of the park near the Loeb Boathouse, you can rent a rowboat and sail around the lake, taking in the natural sites of the park. On a nice day, you can see the different wildlife in Central Park, the iconic bridge and even stop for lunch at the Loeb Boathouse.
Another great spot in Central Park is the Bethesda Fountain and Terrace. The fountain itself is a beautiful place to stop for a bite to eat, and you can sit next to the lake while watching people row by. The Bethesda Angel is an awe-inspiring site and a great place to take pictures of the surrounding area, with the lake as a backdrop.
The Central Park Reservoir is the perfect spot for those who like to exercise and be out and about in nature. Named after First Lady Jackie Kennedy Onassis, the Reservoir is around 1.5 miles long so you can get your cardio in while enjoying the scenic area. It is also close to the Guggenheim museum and the Met on the upper East side.
If you are a history buff, the Belvedere Castle near the Great Lawn is a picturesque location set on Vista Rock, the highest point in the park. This Gothic Castle from 1869 is a dramatic change from the hustle and bustle of the city and the greenery of the park. There are audio guides available for those who want to immerse themselves in the history of the site.
The Central Park Zoo, located on East 64th street, is nice for animal lovers who do not want to make the trek to the Bronx Zoo. It is relatively small but packed with exciting animals. You can watch the sea lion feeding, wave to the iconic polar bears and even visit the petting zoo to unleash your inner child. If you happen to exit the zoo exactly on the hour, you can watch the dancing animal clock spin as you make your way deeper into Central Park.
For Shakespeare buffs, Shakespeare in the Park takes you out of stuffy black box theaters or the busy Broadway scene to enjoy a Victorian play amongst the trees and foliage of the park. Tickets are notorious tricky to snag, so you can either reserve your seat for a price or wait for free ticket distribution at the Delacorte Theater. Shows last throughout the summer, and these shows are well worth the wait, often featuring your favorite actors.
The Central Park Boat Pond is close to the Loeb Boathouse and offers remote controlled sailboats to rent. This fun excursion is close to numerous sites and hosts the iconic Alice in Wonderland and Hans Christian Anderson statues. You can watch children climb the statues and sail boats along the quaint pond.
Bike riding in Central Park has never been hipper, with City Bike NYC as an inexpensive way to get around the park and catch all your favorite attractions quickly. There are numerous City Bike locations around the city and are set up near almost every entrance of the park. Pack a picnic, lock on your helmet, and explore the park at your leisure.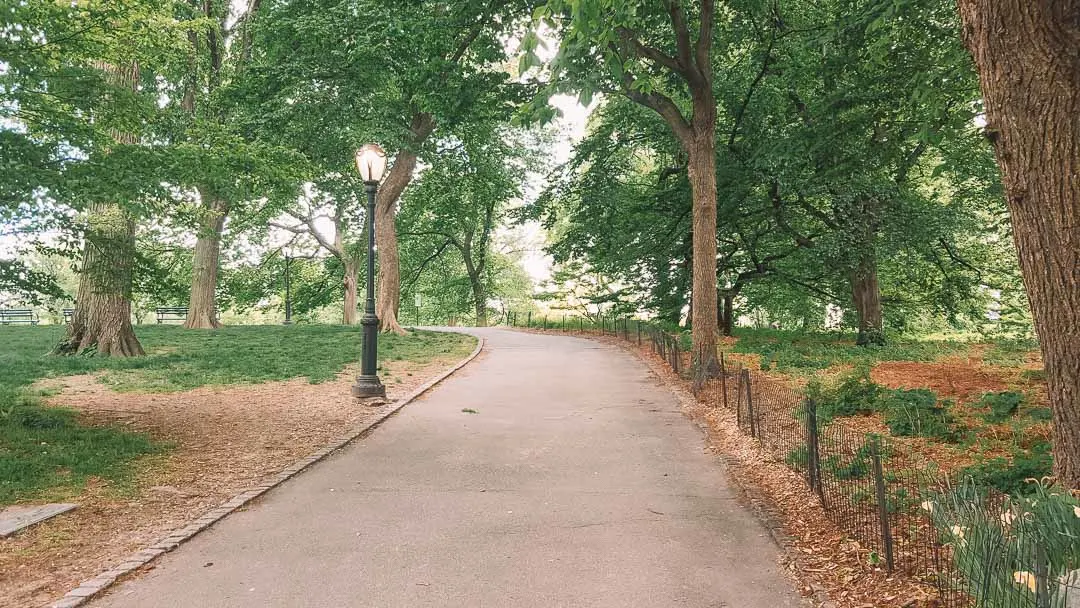 On the Water
Go on a romantic dinner cruise of NYC – Going on a dinner cruise in NYC screams romance. If you have a little extra cash to splash or if you are looking for a great proposal idea, this is a perfect choice!
The New York Water Taxi is a great way to get around the city while taking in the rivers and views of Manhattan. You can book tickets online or at the numerous stops along the East River. Instead of hustling through the subway to get downtown, the Water Taxi lets you relax on the water while tour guides tell you about the historical sites that pass you by.
The Staten Island Ferry is a staple in New York City. Catch the ferry downtown and sail by the Statue of Liberty. If you have plans to visit the Staten Island Ball Park, this is a great way to get to the island without taking an expensive Uber or taxi. You can pass the Battery Maritime Building and witness Ellis Island on the way. The Ferry runs 24 hours a day, 7 days a week, with service every 30 minutes. One of the best ways to see the statue of liberty.
The New York City Ferry is also a great alternative to the subway and has routes around the five boroughs. Hop onto the ferry at any of its locations along the East River and get to your destination at record time. An adult ticket is only $2.75, and you can enjoy the breeze and sites of the city with your date without the hassle of subway traffic.
For exercise junkies and those who want a more personal view of the rivers, take a Kayak tour on the Hudson River. You can book a private tour or go with a group to explore the West side of the city and New Jersey. Tours can take you up the Hudson to Rye, Sleepy Hallow, Terry Town and more, for those who want to get away from the hustle and bustle of the city to the gentle suburbs of Yonkers and Westchester.
It may be hard to believe, but there are beaches in New York City for those hot and muggy August days. Jones Beach and Long Beach on Long Island are great for day trips out of the city, but if you prefer to stay close to home, Rockaway Beach is the perfect middle ground. Located 50 minutes from the city by car, Rockaway is a gorgeous stretch of sand and sun, and is home to many different bars to grab a bite to eat or a cocktail after a day at the beach.
NYC Parks
Central Park is not the only place in the city where you can escape the rush of the city for scenic walks and bike rides. Forest Park is located between Forest Hills and Richmond Hill and features hiking trails, bridle paths, golf, and other sports areas. Just a quick train ride from the city, Forest Park lets you travel through the woodsy areas and is close to numerous bars and restaurants in the heart of Queens.
The Socrates Sculpture Park in Astoria is close to the Noguchi Museum and right on the East River. They house esoteric and interactive sculptures all year round and there are always exciting event taking place there. Particularly, screenings of old movies and buffets let you watch the sun set over the East River while enjoying new cuisine and artwork from up-and-coming visionaries.
Astoria Park is another great location that house a pool, tennis court and running track. The near 60-acre park gives up a close-up view of the Triboro Bridge and Hell Gate Bridge, with plenty of places to sit for lunch. It is also close to Ditmars Boulevard, a primarily Greek area with restaurants like Taverna Kyclades, which is reasonably prices and offers a delicious taste of Grecian cuisine.
Prospect Park in Brooklyn is situated between numerous Brooklyn neighborhoods like Park Slope and Flatbush, the epicenter of urban life in New York City. They have roller skating, biking, and boating at the LeFrak Center, and a carousel to unleash your inner child. It is a great place to view the nature of New York City and offer tours of the park and public art. There is even a zoo with nearly 400 animals to check out.
The Museum Mile: Creative dates NYC
The MET is the most iconic museum in New York City and a perfect place for a date. The Metropolitan Museum of Art is huge and filled with amazing classic artists, from Van Gogh to Monet. There are always new exhibits, and you can visit your old favorites like the English knights and Egyptian wing. Stop at their café for a bite to eat after touring the museum.
MoMa PS1 combines a museum experience with an outdoor garden-like venue. They feature contemporary and innovative art, so the atmosphere is quite different from other museums in New York. They are always putting on different activities and a café inside the museum features Mediterranean drinks and dishes. With two locations, one in Manhattan and one in Queens, this is a great spot for art lovers who crave a modern feel.
Another underrated New York museum is the Museum of Moving Images near Kaufman Studios in Astoria. The museum is the perfect place for movies lovers who crave a touch of old Hollywood glamour. They have exhibitions featuring filmmakers like Jim Henson and are always screening films in their big screen theatre. The museum is also minutes away from Steinway Street bars and subway stations.
For the more risqué couple, the Museum of Sex is a fun place to explore sexuality and exhibits on sexual freedom. Located on 5th Avenue and 27th Street, the museum is close to numerous restaurants and bars and the exhibits themselves are provocative and informative. They even have a retail store to purchase naughty toys and necessary products for after your successful date.
The Museum of Natural History is another great museum to stroll with a date and take in the beauty of the world's natural history. Located next to Central Park on the Upper West Side, the museum's planetarium and nature exhibits let you absorb the wonders of the world without even leaving Manhattan. You can stop for a bite to eat at the café, grab a hot dog from neighboring street vendors or reserve a table at one of the many posh restaurants on Columbus Avenue.
If you take a quick trip up to the Bronx, The Cloisters feels like you are away from the city and have stepped into a different time. In the fall, you can see the beautiful leaves changing colors, and it is just a short ride from Manhattan. It is not very crowded, so you can get away from the chaos of the city and take in a view of the Hudson River. This medieval structure is a great change from the skyscrapers of Manhattan and the hustle and bustle of the city.
Bars and Restaurants
Sac's Place in Astoria is great for a sit-down dinner or a slice on the go. Their pizza is some of the best in the city, and they have been in business for over 25 years. An authentic Italian eatery, Sac has brick oven pizza, delicious pastas, and an extensive wine collection. Once located on Broadway, they recently moved to 35th Avenue and have revamped their premises and menu.
For bar crawlers, Astoria's Broadway Street is a great area to bounce around in your search for a great drink. Close to two major subways that take you to the city in minutes, Broadway has boomed and there are numerous bars to visit. Sek'end Sun and the Bohemian Hall and Beer Garden have a gorgeous outdoor area to watch the sunset while sipping on a brew. The Highwater offers intricate and unique drink options, and The Let Love Inn bar plays some amazing live music to jam to while you enjoy your night.
The Brooklyn Ice Cream Factory is a must for anyone with a sweet tooth. Located right off the Brooklyn Bridge, there is indoor and outdoor seating, and the shop has classic flavors and new favorites. This is the perfect spot to visit after a long walk around Brooklyn during the summer.
Another amazing ice cream spot is Oddfellows; they have many different locations, but my favorite is in Dumbo. They always release new creations, like miso or olive oil ice cream. I always get the corn bread ice cream sundae with bacon bits and blueberries. It is delicious, and always a fun place to stop by to try a new invention.
Talking about sweet tooths, Eddie's Sweet Shop on Metropolitan Avenue in Forest Hills is a dip into the 50s. It is the oldest ice cream shop in New York, with homemade ice creams and shakes. It is a very low-key spot, with old fashion booths and stools. The décor has not changed in years, so you really feel as if you just stepped into a Rockwell painting.
For lovers of painting and creation, Paint and Sip Studio on the Upper West Side helps you paint like a professional while sipping on your favorite brews. You do have to bring your own drinks (hard liquor is not permitted), but you can enjoy a unique experience with your date as you are guided through a painting by a professional artist.
The 5 Bar Karaoke Lounge is a fun place to let your hair down and share your favorite songs with your date. You can watch others sing in the main area or reserve a private Karaoke room if you are prone to stage fright. They have almost every song you can think of, and tasty drinks to help you let loose.
If you are venturing to Saint Marks, be sure to stop at Udon St Marks. This quaint, authentic restaurant serves unbelievable ramen, soups, and curries. It is a nice place to stop by and escape the craziness of the lower East side. For winter dates, it is a great spot to warm up with a bowl of hot noodles.
For lovers of Indian food, there is no better place than Panna II Garden. This colorful restaurant is easy to spot, with Christmas lights shining from the ceilings all year round. Located in the East Village, this staple of the neighborhood does not offer alcohol, but you can bring your own beer and cheers your date, illuminated under the shimmering lights.
Date Night Ideas NYC: friday night date ideas
New York City has great dim sum restaurants in Manhattan and Flushing for those who want a change from their usual morning bagel. Dim Sum Palace has numerous locations in the city and a huge menu of tasty dumplings, spring rolls and teas. Joe's Steam Rice Roll in the Bowery is another great spot for a kick of Asian cuisines.
DOMODOMO on West Houston Street is the first handroll sushi and sashimi bar in NYC for those who want a change from takeout Japanese food. Each dish is Instagram #nofilter worthy, the colors and tastes of each plate popping out at you. This explosive eatery is a high-end change from your local sushi restaurant.
Baracade is great for arcade and video game lovers. With locations in Brooklyn, Chelsea and Saint Mark's Place, this arcade bar always has new drink options and plenty of machine games to challenge your date to. For those with a competitive streak, Baracade is a blast to the past and gives you the opportunity to try out games you have not played since childhood.
Ferrara Bakery and Café in Little Italy is a must for those who want a real slice of Europe. The bakery has been a staple of the area since 1892 and the pastries are authentically Italian. Try out your favorites or sample something new while enjoying an espresso or coffee, Italian style.
Pizza lovers, be sure to stop by Artichoke Basille's Pizza, which has locations around Manhattan and Brooklyn. Their famous artichoke pizza is a delicious mixture of cheese, cream sauce, and artichoke, making a nice change from your everyday NYC pizza pie. Enjoy a fresh slice with your date that gives you a taste of Italy and NYC life.
Chloe's is a must for vegans and health food junkies who are craving a tasty treat. Stop by East 17th Street for delicious fruit and ice cream desserts. You can indulge in your sweet tooth without feeling guilty, scarfing down a frozen snack that is jammed pack with fresh and healthy ingredients. A perfect stop after a long walk during the city's humid summer afternoons.
Stay in a jacuzzi hotel in NYC: Always a super romantic idea. We recommend Kimpton Hotel Eventi. Another different idea is a NYC hotel with a balcony – so nice to stay somewhere with a killer view.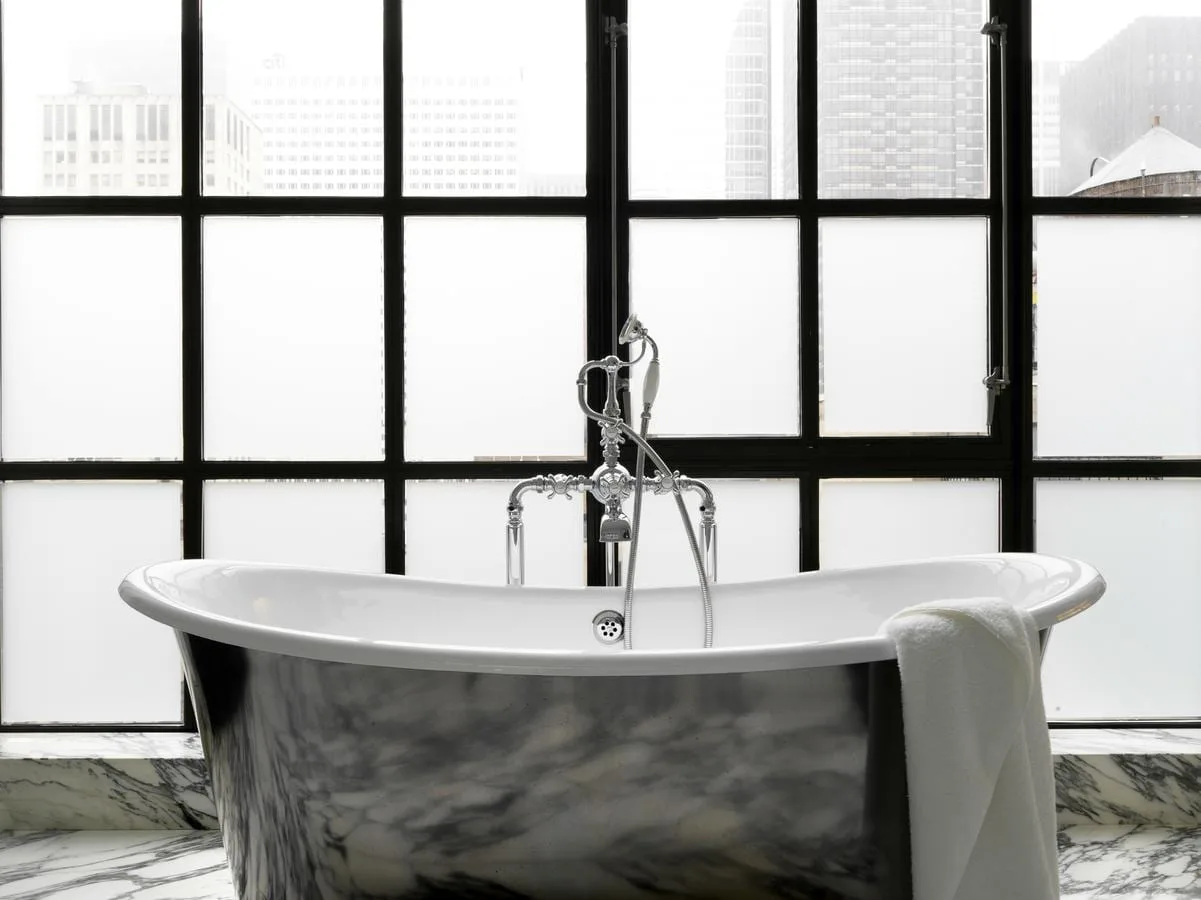 Outdoor Date Ideas
Union Square Farmers Market is a staple of downtown life and introduces you to different food choices, art pieces and floral arrangements. Every Monday, Wednesday, Friday and Saturday, Union Square explodes into a place of produce, with fresh foods from farmers and fishers taking over the busy area. It is a great place to shop seasonal fruits and vegetables and hard to find products. You can even stop at Union Square Park for a bite of some of your tasty purchases.
The Botanical Gardens is a must for those who want to get away from the looming skyscrapers and concrete of the city. Travel up to the Bronx by subway or the Metro North to visit this living museum of flowers, plants, and foliage. They even feature ongoing exhibitions of sculpture artists, strategically placed amongst the dense colors of the garden.
The High Line in the Meat Packing District is great for summer days and those who enjoy walking along the water. This elevated park gives you a new view of the downtown area, and as a former railroad it is a taste of old New York mixed with the present. The mixture of history and ecology is a fun take on New York City culture. There are places to sit and eat while people watching and enjoying a beautiful day.
As winter storms into the city, stop by Bryant Park Skating Rink for a swing on the ice and a hot chocolate. Surrounded by the famous New York Public Library and the buildings of midtown Manhattan, the skating rink is in the heart of the city and you can watch the lights of the giant Christmas tree as you take to the ice.
Governors Island offers a myriad of different activities and events that can introduce you to fresh and exciting date ideas. During the summer, concerts are abundant, and you can see many of your favorite bands or expand your music taste with new artists. From poetry events to exciting learning programs, Governors Island is easily accessible and a chance to do something different.
If you do not mind lengthy subway rides, Coney Island's Luna Park is a great place for adrenaline junkies. Take a ride on old classics like the Cyclone or the Ferris Wheel, join in the Mermaid Parade or stop by the neighboring Aquarium. Nothing beats a day near the beach with carnival treats or game prizes with your date.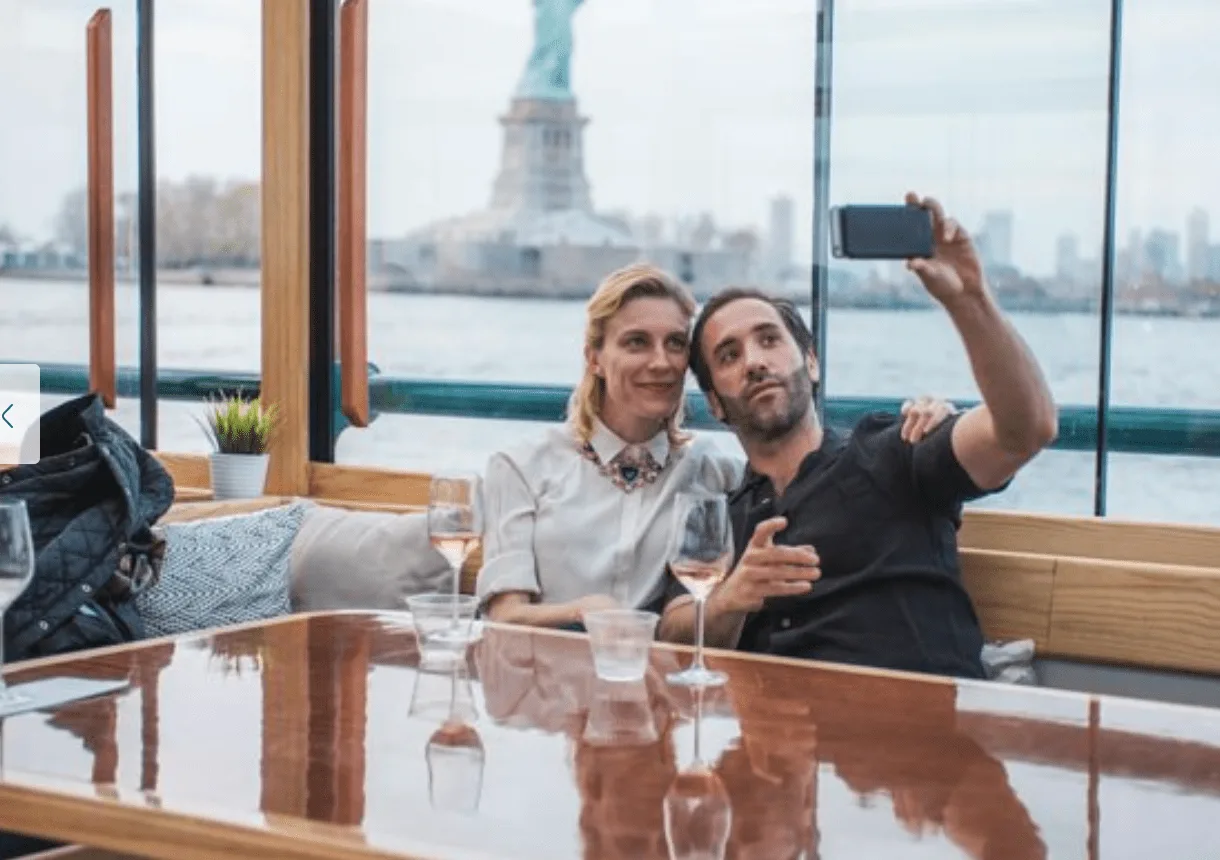 Food Markets
Food gourmands must try the Chelsea Market, a staple of New York City that combines great food, ambiance, shopping, and art. Most anything you are craving can be found at the market; there is a music shop, wine bar, fruit and meat market, and enough restaurants and eateries to spend a lifetime in. Test out cuisine from around the world, and window shop to your heart's delight.
Brooklynites rave about DeKalb Market Hall which hosts over 30 local vendors who cater to the pickiest of eaters. With cuisines hailing from Poland, China, Thailand, France and New York classics, this trendy and modern food market will satisfy all your food cravings without ever leaving the city. There is even an underground Cabaret show that will take you back to the Golden age of Hollywood and cinema, with edgy performances that will blow you away.
***
More NY Activities