New York City is probably our favourite city in America (we got an engage in New York so we might have a slight bias). Here are 90+ New York city quotes to (hopefully) inspire you to visit New York or if you have already been use as awesome Instagram captions!
If you want to go on a road trip after your visit to New York we would recommend this trip!
90+ New York City Quotes for inspiring instagram captions
Our favourite 90+ New York quotes to use as amazing instagram captions!
Famous People New York City Quotes
"New York now leads the world's great cities in the number of people around whom you shouldn't make a sudden move." – Davit Letterman
"In terms of theatre, there's not a more supportive theatre community than in New York. It's really kind of a real thrill to go there. I mean, don't forget, I'm a boy from the suburbs of Sydney, so getting to New York is a huge, huge thrill." – Hugh Jackman
"I can't with any conscience argue for New York with anyone. It's like Calcutta. But I love the city in an emotional, irrational way, like loving your mother or your father even though they are drunk or a thief. I've loved the city my whole life – to me, it's like a great woman." – Woody Allen
"A middle finger is more New York than a corporate ambush. I bleed for my hometown, and I'd die for my fans." – Lady Gaga
"New York has a thousand universes in it that don't always connect but we do all walk the same streets, hear the same sirens, ride the same subways, see the same headlines in the Post, read the same writings on the walls. That shared landscape gets inside of all of us and, in some small way, unites us, makes us think we know each other even when we don't." – Jay Z
"Traffic signals in New York are just rough guidelines." – David Letterman
See more: Romantic Things to do in NYC for Couples
New York City People Quotes
"It is often said that New York is a city for only the very rich and the very poor. It is less often said that New York is also, at least for those of us who came there from somewhere else, a city for only the very young." – Joan Didion
"New York is a great monument to the power of money and greed… a race for rent." – Frank Lloyd Wright
"My favorite thing about New York is the people, because I think they're misunderstood. I don't think people realize how kind New York people are." – Bill Murray
"People go to LA to "find themselves", they come to New York to become someone new." – Lindsey Kelk, I Heart New York
"New York ladies all look immaculate." – Zac Posen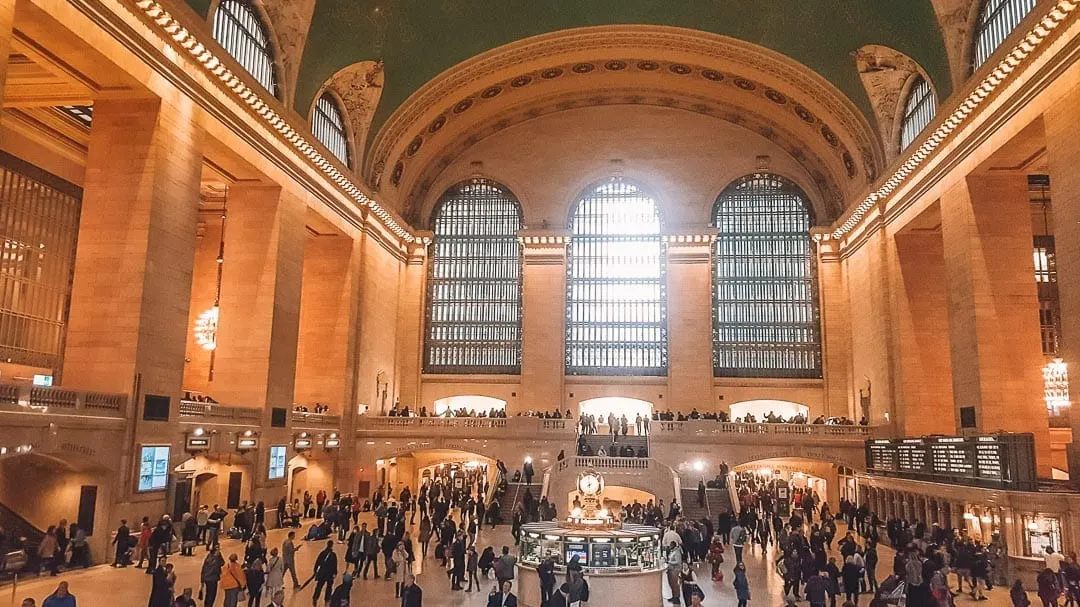 Famous New York City Quotes for Instagram captions
"I love New York, even though it isn't mine, the way something has to be, a tree or a street or a house, something anyway, that belongs to me because I belong to it." – Truman Capote
"There is no place like it, no place with an atom of its glory, pride, and exultancy. It lays its hand upon a man's bowels; he grows drunk with ecstasy; he grows young and full of glory, he feels that he can never die." – Walt Whitman
"I didn't know the city at all, but I was so happy to be in New York I cried. I was so excited." – Greta Gerwig
"Yet, as only New Yorkers know, if you can get through the twilight, you'll live through the night." – Dorothy Parker
"The true New Yorker secretly believes that people living anywhere else have to be, in some sense, kidding." – John Updike
"When I'm in New York, I just want to walk down the street and feel this thing, like I'm in a movie." – Ryan Adams
"I go to Paris, I go to London, I go to Rome, and I always say, "There is no place like New York. It is the most exciting city in the world now. That's the way it is. That's it." – Robert De Niro
"One belongs to New York instantly, one belongs to it as much in five minutes as in five years." – Tom Wolfe
"London is satisfied, Paris is resigned, but New York is always hopeful. Always it believes that something is good is about to come off, and it must hurry to meet it." – Dorothy Parker
"One can't paint New York as it is, but rather as it is felt." – Georgia O'Keefe
"New York is strange in the summer. Life goes on as usual but it's not, it's like everyone is just pretending, as if everyone has been cast as the star in a movie about their life, so they're one step removed from it. And then in September it all gets normal again." – Peter Cameron, Someday This Pain Will Be Useful to You
"In New York you've got to have all the luck." – Charles Bukowski
"Whoever is born in New York is ill-equipped to deal with any other city: all other cities seem, at best, a mistake, and, at worst, a fraud. No other city is so spitefully incoherent." – James Baldwin
"For me, New York is comfortable, not strange." – Karl Lagerfeld
"A hundred times have I thought New York is a catastrophe, and fifty times: It is a beautiful catastrophe." – Le Corbusier
"I love New York. You can pop out of the Underworld in Central Park, hail a taxi, head down Fifth Avenue with a giant hellhound loping behind you, and nobody even looks at you funny." – Rick Riordan
"You haven't lived until you died in New York." – Alexander Woollcott
"I would give the greatest sunset in the world for one sight of New York's skyline. Particularly when one can't see the details. Just the shapes. The shapes and the thought that made them. The sky over New York and the will of man made visible." – Ayn Rand
MORE NYC Quotes
"People in New York love having roof parties." – Todd Barry
"So I went to New York City to be born again. It was and remains easy for most Americans to go somewhere else and start anew. I wasn't like my parents. I didn't have any supposedly sacred piece of land or shoals of friends to leave behind. Nowhere has the number zero been of more philosophical value than in the United States… and when the [train] plunged into a tunnel under New York City, with its lining of pipes and wires, I was out of the womb and into the birth canal." – Kurt Vonnegut
"New York has a trip-hammer vitality which drives you insane with restlessness, if you have no inner stabilizer…. In New York I have always felt lonely, the loneliness of the caged animal, which brings on crime, sex, alcohol and other madnesses." – Henry Miller
"You can do what you like, sir, but I'll tell you this. New York is the true capital of America. Every New Yorker knows it, and by God, we always shall." – Edward Rutherfurd, New York
"And New York is the most beautiful city in the world? It is not far from it. No urban nights is like the night there…. Squares after squares of flame, set up and cut into the aether. Here is our poetry, for we have pulled down the stars to our will." – Ezra Pound
"Everybody ought to have a lower East Side in their life." – Irving Berlin
"In New York the sky is bluer, and the grass is greener, and the girls are prettier, and the steaks are thicker, and the buildings are higher, and the streets are wider, and the air is finer, than the sky, or the grass, or the girls, or the steaks, or the air of any place else in the world." – Edna Ferber
"New York is really the place to be; to go to New York, you're going to the center of the world, the lion's den." – Zubin Mehta
"One's life and passion may be elsewhere, but New York is where you prove if what you think in theory makes sense in life." – Miuccia Prada
"I once started out to walk around the world but ended up in Brooklyn, that Bridge was too much for me." – Lawrence Ferlinghetti
"There's something so romantic about being broke in New York. You gotta do it. You have to live there once without any money, and then you have to live there when you have money. Let me tell you, of the two, the latter is far better." – Amy Poehler
"When you leave New York, you are astonished at how clean the rest of the world is. Clean in not enough." – Fran Lebowitz
"New York City is the most fatally fascinating thing in America. She sits like a great witch at the gate of the country, showing her alluring white face and hiding her crooked hands and feet under the folds of her wide garments – constantly enticing thousands from far within, and tempting those who come from across the seas to go no farther. And all these become the victims of her caprice. Some she at once crushes beneath her cruel feet; others she condemns to a fate like that of galley slaves; a few she flavors and fondles, riding them high on the bubbles of fortune; then with a sudden breath she blows the bubbles out and laughs mockingly as she watches them fall." – James Weldon Johnson, The Autobiography of an Ex-Colored Man
"New York is made up of millions of different people, and they all come here looking for something." – Lindsey Kelk
"Most of my friends in New York are single women or gay men." – Sarah Jessica Parker
"But if I had to choose a single destination where I'd be held captive for the rest of my time in New York, I'd choose the Metropolitan Museum of Art." – Tim Gunn
"Practically everybody in New York has half a mind to write a book – and does." – Groucho Marx
"I came to New York to be a fine artist – that was my ambition." – David Byrne
"In order to love New York you have to hate it too. It's like a love affair – you don't hunger for it till it's out of reach, and when you've had your fill, you need to separate. When you return, some of it is unfamiliar, but, oh my god, the beauty of it." – Connie Eisenstat, New York Magazine
"If London is a watercolor, New York is an oil painting." – Peter Shaffer
"Everything in New York is a photograph. All the things that are supposed to be dirty or rough or unrefined are the most beautiful things. Garbage cans at the ends of alleyways look like they've been up all night talking with each other. " – Ann-Marie MacDonald
"New York provides a continuing excitation but also a spectacle that is continuing." – E. B. White
"The city seen from the Queensboro Bridge is always the city seen for the first time, in the first wild promise of all the mystery and beauty in the world." – F. Scott Fitzgerald
"Skyscraper National Park." – Kurt Vonnegut
"This is the city of dreamers and time and again it's the place where the greatest dream of all, the American dream, has been tasted and has triumphed." – Michael Bloomberg
"There is something in the New York air that makes sleep useless." – Simone de Beauvoir
"I believe in New Yorkers. Whether they've ever questioned the dream in which they live, I wouldn't know, because I won't ever dare ask that question." – Dylan Thomas
"I'm bound to say that New York's a topping place to be exiled in. Everybody was awfully good to me, and there seemed to be plenty of things going on, and I'm a wealthy bird, so everything was fine." – P. G. Wodehouse, My Man Jeeves
"When you leave New York you ain't going anywhere." – Jimmy Breslin
"There is more sophistication and less sense in New York than anywhere else on the globe." – Elbert Hubbard
"It is ridiculous to set a detective story in New York City. New York City is itself a detective story." – Agatha Christie
"Give me such shows – give me the streets of Manhattan!" – Walt Whitman
"My advice for aspiring writers is go to New York. And if you can't go to New York, go to the place that represents New York to you, where the standards for writing are high, there are other people who share your dreams, and where you can talk, talk, talk about your interests. Writing books begins in talking about it, like most human projects, and in being close to those who have already done what you propose to do." – Walter Kirn
"Pull up the shades so I can see New York. I don't want to go home in the dark." – O. Henry
"New York City is where specks of dust aspire randomly with all their cunning to become grains of sand." – David B. Lentz, The Fine Art of Grace
"It couldn't have happened anywhere but in little old New York." – O Henry
"New York is the capital, the national headquarters of homelessness…. No one feels he belongs here." – Gerald Stanley Lee
"New York is the meeting place of the peoples, the only city where you can hardly find a typical American." – Djuna Barnes
"I love New York City. The reason I live in New York City is because it's the loudest city on the planet Earth. It's so loud I never have to listen to any of the shit that's going on my own head. It's really loud. They literally have guys come with jackhammers and they drill the streets and just leave cones in front of your apartment; you don't even know why. Garbage men come; they don't pick up the garbage, they just bang the cans together." – Lewis Black
"New York is the only city in the world where you can get run down on the sidewalk by a pedestrian." – Russell Baker
"New York is a diamond iceberg floating in river water." – Truman Capote
"You can try to change New York, but it's like Jay-Z says: 'Concrete bunghole where dreams are made up. There's nothing you can do.'" – Liz Lemon, 30 Rock
"As for New York City, it is a place apart. There is not its match in any other country in the world." – Pearls S. Buck
"Make your mark in New York and you are a made man." – Mark Twain
"Cities have sexes: London is a man, Paris a woman, and New York a well-adjusted transsexual." – Angela Carter
"It's a city where everybody mutinies but no one deserts." – Harry Hershfield
"New York, you are an Egypt! But an Egypt turned inside out. For she erected pyramids of slavery to death, and you erect pyramids of democracy with the vertical organ-pipes of your skyscrapers all meeting at the point of infinity of liberty!" – Salvador Dali
"Anytime four New Yorkers get into a cab together without arguing, a bank robbery has just taken place." – Johnny Carson
"The thing that impressed me then as now about New York… was the sharp, and at the same time immense, contrast it showed between the dull and the shrewd, the strong and the weak, the rich and the poor, the wise and the ignorant… the strong, or those who ultimately dominated, were so very strong, and the weak so very, very weak – and so very, very many." – Theodore Dreiser
"I get out of the taxi and it's probably the only city which in reality looks better than on the postcards, New York." – Milos Forman
"New York is appalling, fantastically charmless and elaborately dire." – Henry James
"I was a girly-girl until I moved to New York. Then I got really into the androgynous look of the early-'90s club scene. I had really short hair and started blurring the line a bit. But for me, grade school was about Benetton, Esprit, and Guess jeans." – Chloe Sevigny
"Sometimes to walk in shaded parts of Manhattan is to be inserted into a Magritte: the street is night while the sky is day." – Joseph O'Neill, Netherland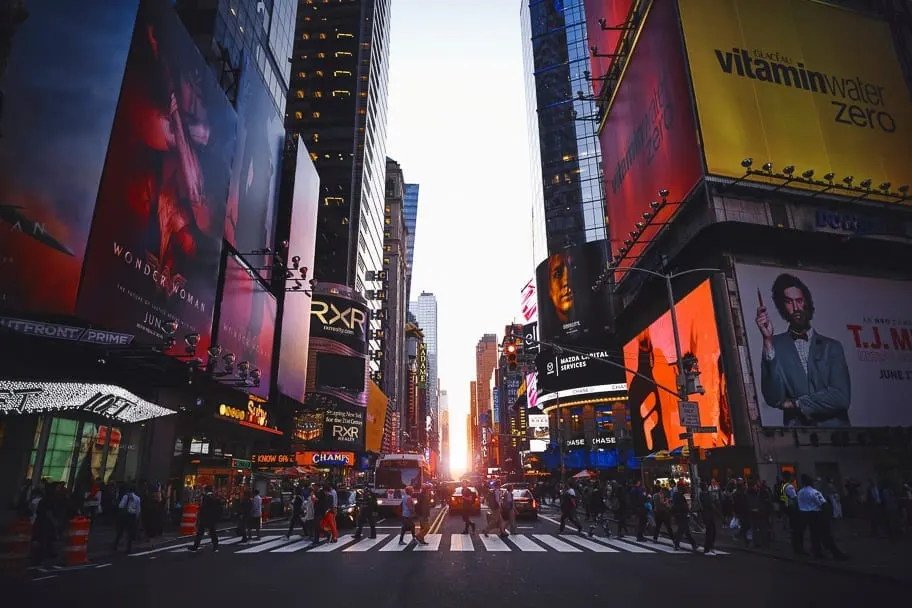 "If you want to become a real New Yorker there's only one rule: You have to believe New York is, has been, and always will be the greatest city on earth. The center of the universe." – Ellen R. Shapiro
"New York is an ugly city, a dirty city. Its climate is a scandal, its politics are used to frighten children, its traffic is madness, its competition is murderous. But there is one thing about it: Once you have lived in New York and it has become your home, no place else is good enough." – John Steinbeck
"More than anything else New York is a city of superlatives, a place where the best, the brightest, the biggest is the norm." – Marilyn J. Appleberg
"It was never built for the comfort and happiness of its citizens, but to astonish the world." – Susan Ertz
"People never forget 2 things: their first love and their first day in New York City." – Kirk, Long Island City
"I love that about New York: You just dress the way you want to dress and feel really comfortable because nobody is judging. You can just be yourself, and it's perfectly normal." – Henrik Lundquist
"New York to me, means the world." – Donna Karan
"I look out the window and I see the lights and the skyline and the people on the street rushing around looking for action, love, and the world's greatest chocolate chip cookie, and my heart does a little dance." – Nora Ephon
"The flag of New York City should be someone with four bags opening a door with their shoulder." – Alex Baze
"New York may be the city that never sleeps, but it sure does sleep around." – Brian Bendis
"New York is a six-reel movie, with the film running backwards, sideways, cross-ways, but never in sequence. Nobody seems to be going anywhere, but is it an awful hurry to get there." – William Henry McMasters, On New York – A City In Process
"Quite simply, I was in love with New York. I do not mean 'love' in any colloquial way, I mean that I was in love with the city, the way you love the first person who ever touches you and you never love anyone quite that way again." – Joan Didion
See more: Date Ideas in Long Island
Funny New York City Quotes
"In New York, most people don't have cars, so if you want to kill a person, you have to take the subway to their house. And sometimes on the way, the train is delayed and you get impatient, so you have to kill someone on the subway. That's why there are so many subway murders; no one has a car." –George Carlin
"Every happy ending is just a new beginning. Because on the Upper East Side, the good times never lasts forever." – Gossip Girl
"There is more sophistication and less sense in New York than anywhere else on the globe." – Elbert Hubbard
"Anytime four New Yorkers get into a cab together without arguing, a bank robbery has just taken place." – Johnny Carson
Gossip Girl New York Quotes
We absolutely love gossip girl quotes. Here are 5 of the best:
"Three Words. Eight Letters. Say it and Im yours"
"One thing about being on the top of the world: It gives you a long, long way to fall."
"Every happy ending is just a new beginning. Because on the Upper East Side, the good times never lasts forever."
"Spotted—Lonely Boy's rude awakening. Upper East Side Queens aren't born at the top. They climb their way up in heels, no matter who they have to tread on to do it."
"Every happy ending is just a new beginning. Because on the Upper East Side, the good times never lasts forever."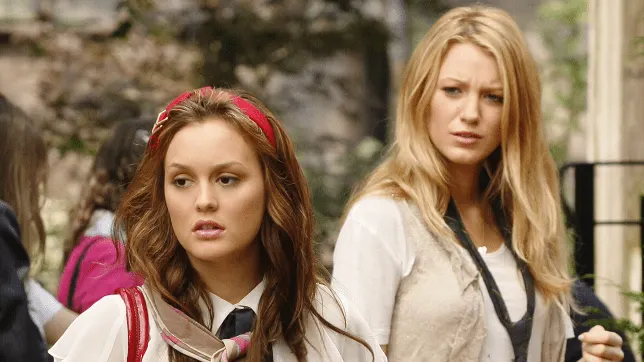 Statue of Liberty Quotes:
The statue of liberty is one of the most iconic attractions in New York. Here are some of the best statue of liberty quotes:
"The Statue of Liberty is no longer saying, 'Give me your poor, your tired, your huddled masses.' She's got a baseball bat and yelling, 'You want a piece of me?'" – Robin William
"I have a wonderful make-up crew. They're the same people restoring the Statue of Liberty." – Bob Hope
"The most powerful visual in America today is actually the Statue of Liberty." – Frank Luntz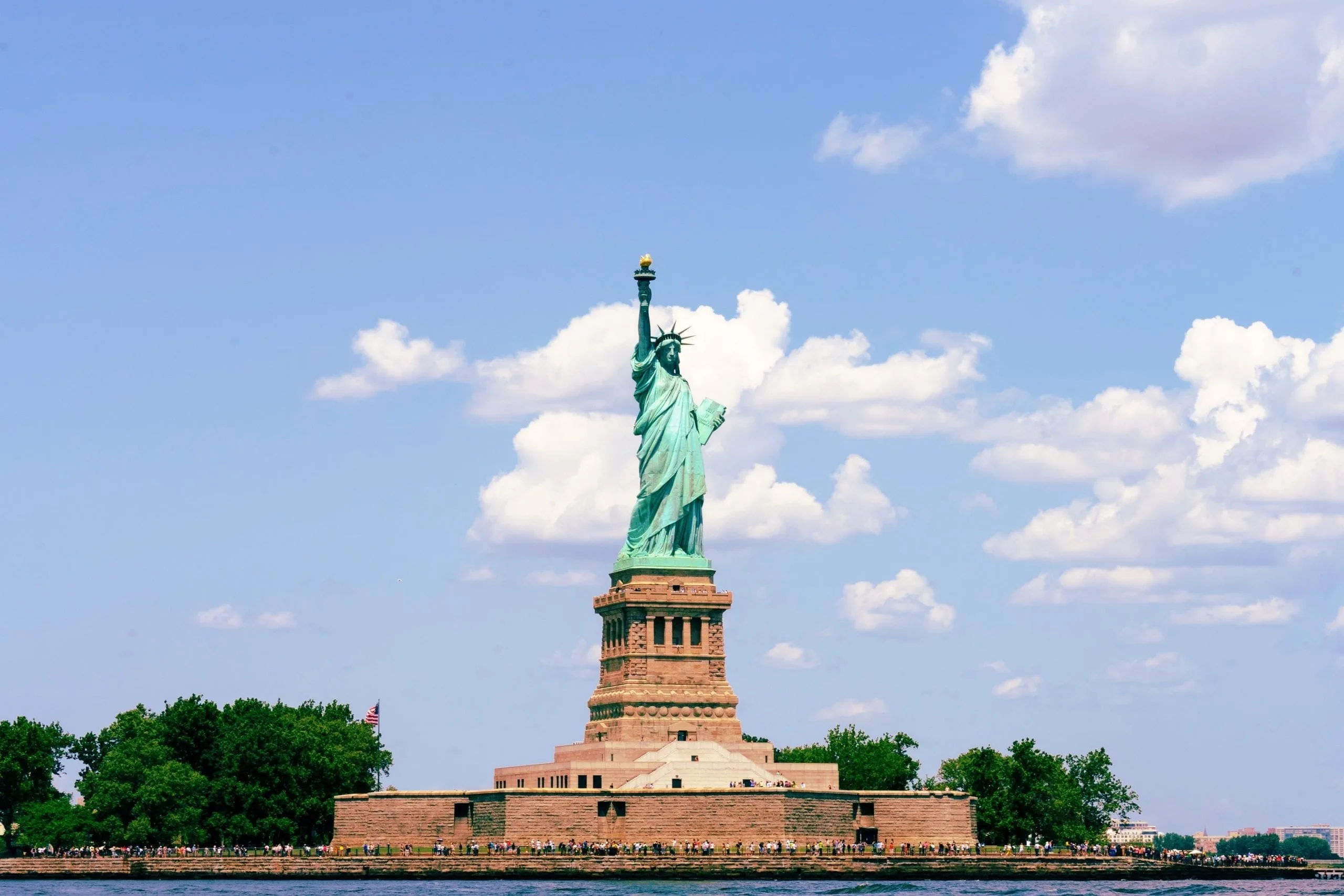 Save New York City Quotes for Inspiring Instagram Captions to Pinterest so you can find it again later!