If you are looking for the best coffee shops in Long Island City you have come to the right place.
Everywhere we go we just love to hunt out the very best coffee and there is certainly no shortage of great coffee shops to try in Long Island City – whether you want somewhere to work for a few hours or a hip new hangout to chill with friends.
The best part of NYC is that there are so many neighborhoods to explore and Long Island City is no exception. Around each corner of NYC is something new and interesting to explore and of course a new and exciting coffee shop to try.
If you are looking for a new range of coffee shops or breakfast bars to try, don't discount this area. While it may not exactly be Manhattan, it is super easy to reach on the subway (1 stop) and also a little cheaper to visit a cafe there, which is always a plus!
So with no further adieu here are the 7 must try best coffee shop in Long Island City that are most certainly worth the metro $.
See more NYC posts:
7 Best Coffee Shops in Long Island City
Indie
One of the best options for coffee in lic is for sure Indie Coffee located in short walking distance from Court Square Subway.
If you like new, interesting and hip – indie as the name suggests – this coffee shop is the place for you with chic bright and airy design. This is also a great place to work for a few hours as a digital nomad as there is ample seating both indoors and outdoors as well as great lighting.
As well as serving up some tasty coffee, it is also a great place to stop by for lunch or dinner as Indie also doubles up as a lunch and dinner venue serving a range of alcoholic beverages after noon. If you are looking for a cheap coffee shop in Long Island with good food options this is also a good choice as the menu does not cost an arm and a leg – a bit different if you choose to dine in Manhattan. A BLT or AVO sandwich here which is large and delish will cost you $12. Indie prides themself on sourcing the freshest ingredients from local vendors.
If you love their food and service, you can even hire the crew for your own private event as the cafe offers catering.
Joe's Coffee Company
Joe's Coffee, practically a New York icon, has a great little shop at 23rd St in Long Island City which is worth checking out if you need a good cup of Joe to pick you up for the day ahead.
The store is open till 5pm daily and is known for it's consistency in providing delicious coffee to New Yorkers. Joes also specialize in some really tasty seasonal drinks such as Hot Apple Cider which is particularly delish.
As a chain store (similar to Starbucks) you can expect the prices to be similar to that aka not all that cheap. For example a Mocha at Joe's will set you back approximately $6.
Partners Coffee
This cafe is undoubtedly one of the best places to go in LIC if you enjoy a seriously good brew. If you are on foot it is also quite easy to reach from the subway station (Court Square Subway).
One of the best parts about this cafe is its totally hipster vibe with exposed wood panelling from the ceiling – giving it the feel of a renovated warehouse.
If you want a spot to sit for a while and go unnoticed while you tap out some work for the day this is a good spot as there is quite a lot of tables available including an indoor seating area, a coffee bar and an outdoors area (great for the summer months). The cafe also offers free wifi if needed. As this is a pretty popular cafe with locals, it is advisable to arrive after the early morning rush or in the afternoon if you want to sit for a while as it is very popular and it can be difficult to secure a spot in peak times.
The prices at the cafe are reasonable (expect to pay around the same as Starbucks). If you are feeling peckish you can also order a range of different low-key meal options. One of the most popular meal options is the egg, prosciutto & blue cheese breakfast sammie – totally delicious and recommended if you are wondering what to order.
A nice spot in Long Island City with a cool atmosphere – worth checking out!
Sweetleaf Coffee Roasters
You can technically visit this store in other locations around New York City but the shop in Long Island City is a particularly nice store. Come here if you love good coffee in a laidback environment.
If you are a digital nomad who is looking for a place to open your laptop for a good work sesh, this is a top spot to do it as it as a lot of room and seating which means you will hardly be noticed even after a few hours. And when you get a little peckish the store has a wide range of sweet and savory snacks to enjoy. It has consistently been rated as one of the best places for coffee in NYC and for good reason!
Clever Blend
If you don't appreciate walking much, this coffee shop is a good option for you as it is located right next to Queensboro station.
Personally, we think this is one of the very best coffee shops in Long Island City as it is a traditional coffee shop which specializes in great coffee and they sure do deliver the best! On top of coffee and tea you can also order a variety of delicious snacks at the cafe including New York bagels, sandwiches and sweet treats.
While this cafe sure is great, its not the best place to work with a laptop as it is rather small and most locals use it as a place to get coffee and bagels to go. There is actually a no laptop policy from 8am-2pm but due to the limited seating I would advise against it altogether. Many of the locals are attracted here for the cheap coffee in Long Island City. They offer great deals throughout the day to be mindful of such as a coffee and bagel combo meal deal (which will only set back the price of a Starbucks latte!).
The Mill
Another great option for fabulous coffee in Long Island City includes The Mill, a contemporary coffee shop with artisanal coffee, sandwiches and pastries.
If you are a vegan, you will also love this place, as it is a great coffee shop for vegans in Long Island City with the owners catering well for vegan needs. Inside the Mill you will find a beautiful coffee shop with a new-age rustic vibe. The cafe is rather small (although it would still be possible to work on a laptop at a pinch). Locals are fans of this coffee shop to catch up with gossip with friends. If you want to hear the latest gossip of NYC (Gossip Girl style) you should probably make a stop here.
I should also mention that the coffee is exceptionally good and will cost you about half the price of a Starbucks venti latte. In fall, they serve a mean Pumpkin Spice Latte, arguably much better than the one you will find at Starbucks.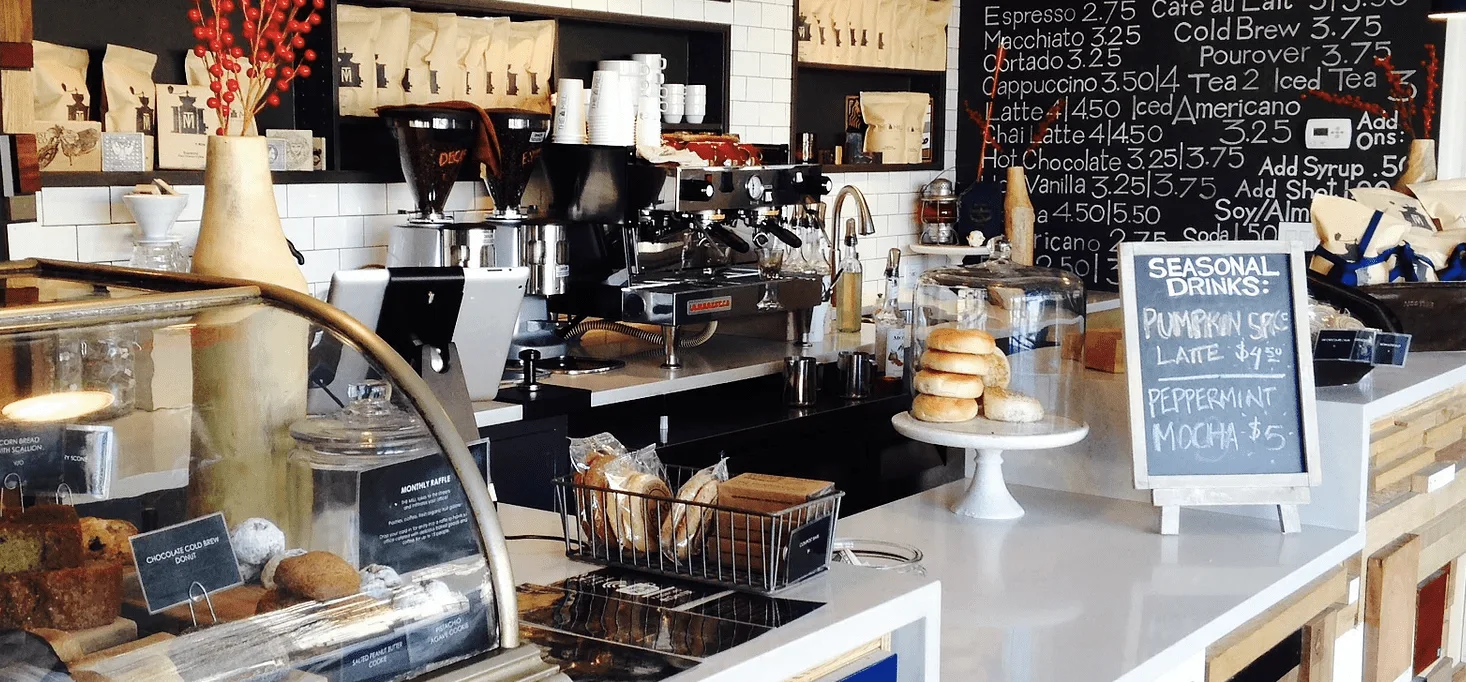 Bonus: Moge Tee
Okay, I might be diverting from the "coffee" list with this little pick but I feel like it should be included as it is seriously a Long Island City resident fav to get their tea or sweet tea fix.
They offer some seriously delicious tea flavors that are worth checking out. A little tip is if you follow their instagram page, they often offer discounts like 50% off sales at late notice.
***
So there you have it folks, they very best Coffee Shops in Long Island City for you to enjoy. Did we miss your favorite? We are always looking to include the best so don't hesitate to write us a comment and we will add your pick to the list!