Looking for the most romantic hotels in Chicago for a romantic getaway?
While you would not normally think of Chicago for a couple's break, the windy city is surprisingly romantic! Whether you want to walk hand-in-hand along Chicago's lakefront, dine in some of the most romantic restaurants in the city or take in the view from one of Chicago's many rooftop bars – it is the ideal place for a romantic vacation!
If you are going to go on a romantic weekend trip to Chicago (or maybe even stay longer) you'll want to stay in a romantic hotel. Whether you are looking for a luxury honeymoon suite or a cheap romantic hotel, we have you covered with best hotels in Chicago for couples – 30 of Chicago's absolute finest!
See more:
30 Most Romantic Hotels in Chicago Illinois
Villa D'Citta is a luxury bed and breakfast in the trendy Lincoln Park neighborhood of Chicago. The opulent hotel features Italian architecture, a garden with a grotto, a sundeck with a jacuzzi hot tub, a theatre, and a gourmet kitchen.
Located near some of Chicago's best dining experiences, Villa D'Citta has on-site bicycles to borrow, or you can walk a short distance to the Lincoln Park Zoo or the Magnificent Mile shopping district just half a mile away. Enjoy a continental breakfast with Intelligentsia coffee roasted only for the hotel, and take some home to remember your trip.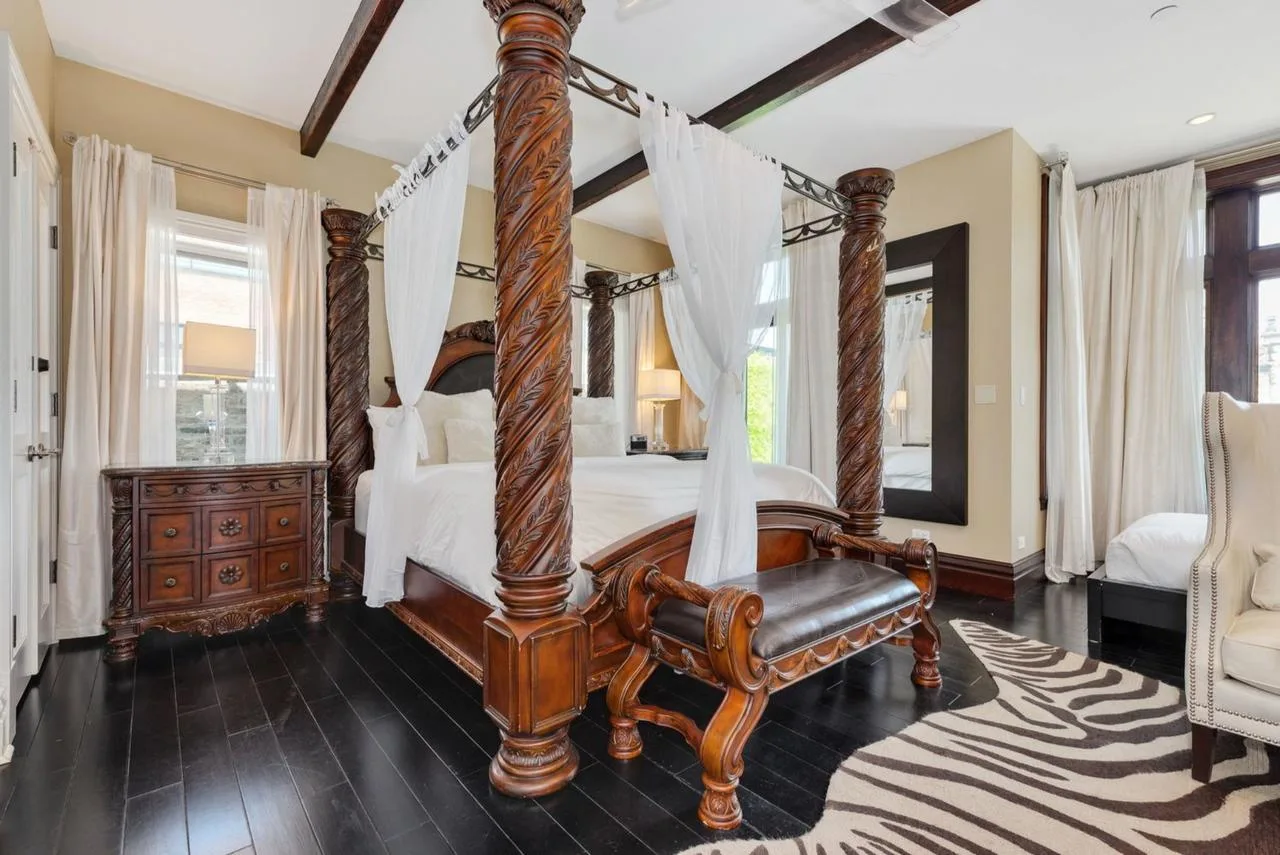 Enjoy a timeless old-world vibe at the Thompson Chicago in the historic Gold Coast neighborhood on the Magnificent Mile's edge. This sophisticated hotel has every luxury expected for a romantic getaway, including king-sized beds, 400 thread count Sferra linens, full baths with state-of-the-art rain shower, and oversized Frette terrycloth robes.
The British design and loft-like, urban industrial style of the lobby and Reserve Bar include sensuous dark wood and velvet furniture amid a world-class book collection living botanical wall.
Marvel at the Nico Osteria restaurant preparations featuring Italian seafood and housemade pasta with a viewing counter for a front-row seat to the action.
Explore nearby iconic landmarks like the Magnificent Mile and Water Tower Place while staying in a historic Chicago jazz hotel. The Gold Coast neighborhood boutique hotspot, built in 1926, has hosted many well-known names and is famous even to locals.
The grand lobby includes a vaulted ceiling with elaborate décor and artwork while lavish rooms overlooking the city and Lake Michigan. Stay for a weekend, or plan a classic wedding in the Astor room featuring a 645-square-foot terrace with matchless views. Imported 300-thread-count linens, mosaic marble floors, and refined, on-site dining a just a few of the perks you'll enjoy.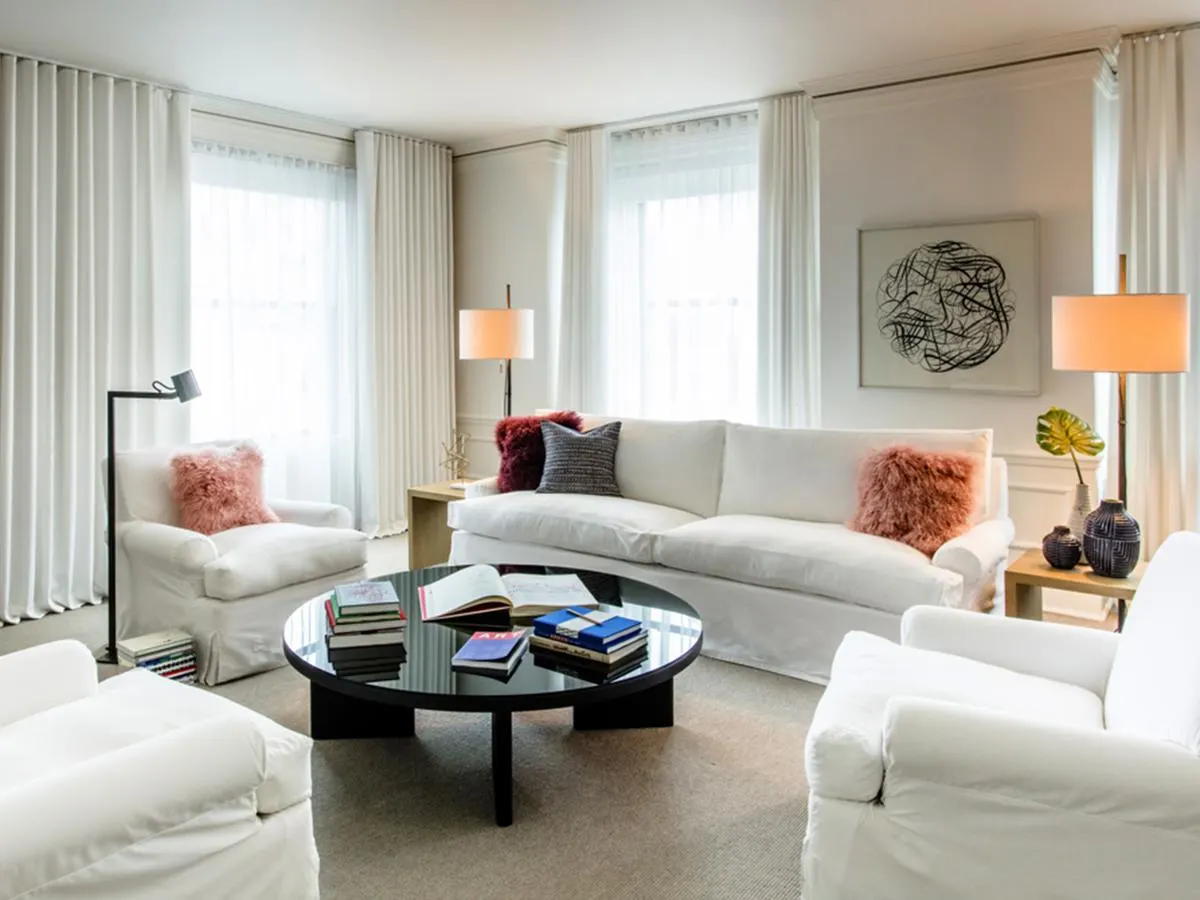 Waldorf Astoria Chicago is the premier luxury hotel in downtown Chicago where you can receive spa and beauty services in your luxurious suite or the plush spa. The health club features Pilates and Gyrotonics classes and everyday fitness with the latest equipment.
Suites feature fireplaces and large terraces, while a partnership with Bedside Reading provides guests complimentary e-books and audiobooks. No detail is overlooked from the daily complimentary shoe shine or spa water in the lobby. Dine at Petit Margeaux the classic French patisserie or Margeaux Brasserie, a Parisian café with elevated French cuisine made with locally sourced ingredients.
One of the most romantic hotels in downtown Chicago.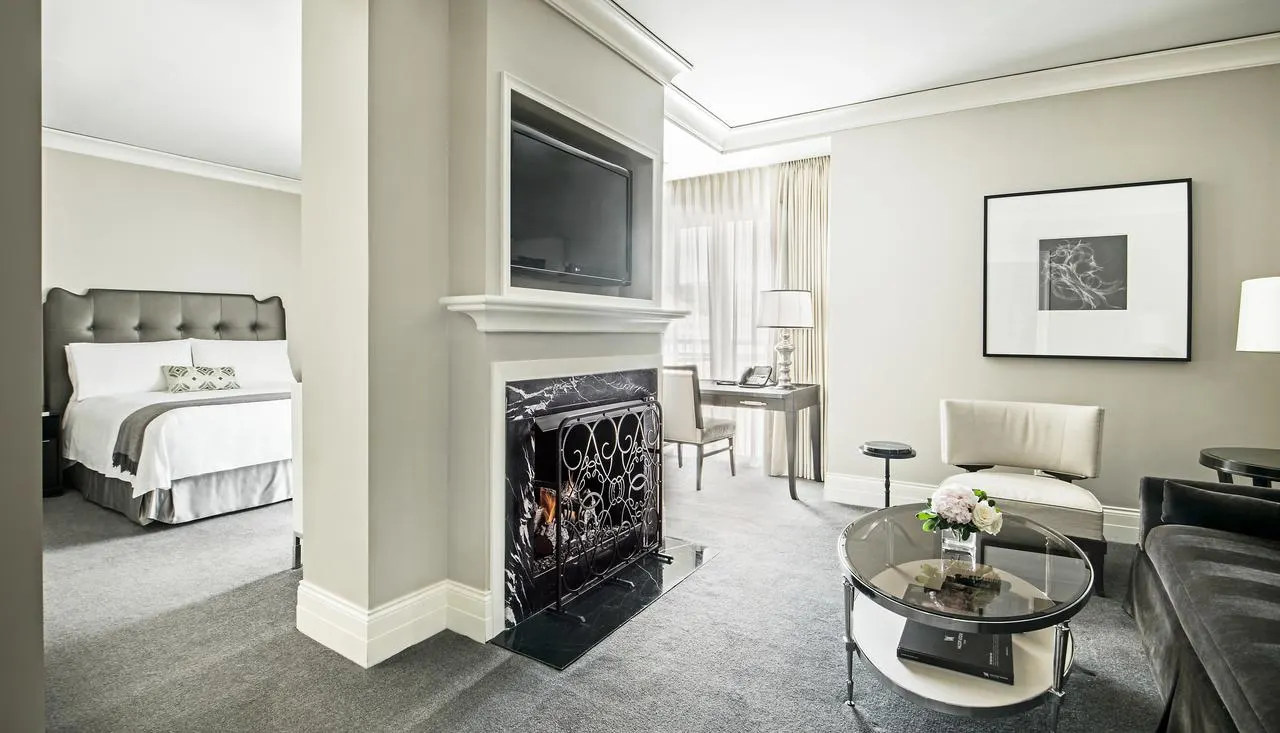 This five-star hotel on Magnificent Mile brought traditional Asian service to a city already renowned for the warmth of its hospitality. One Block from Water Tower Place, the Peninsula features award-winning restaurants with Magnificent Mile views at the Z Bar, The Lobby, and Shanghai Terrace restaurants.
The elegant spa includes an indoor half-Olympic length swimming pool surrounded by floor-to-ceiling windows offering stunning views of the city, a relaxation lounge with a fireplace, a state-of-the-art fitness center, and a yoga room. Modern spa treatments are based on Ayurvedic and Asian philosophies, ranging from a gentle hot stone to intensive deep tissue massage.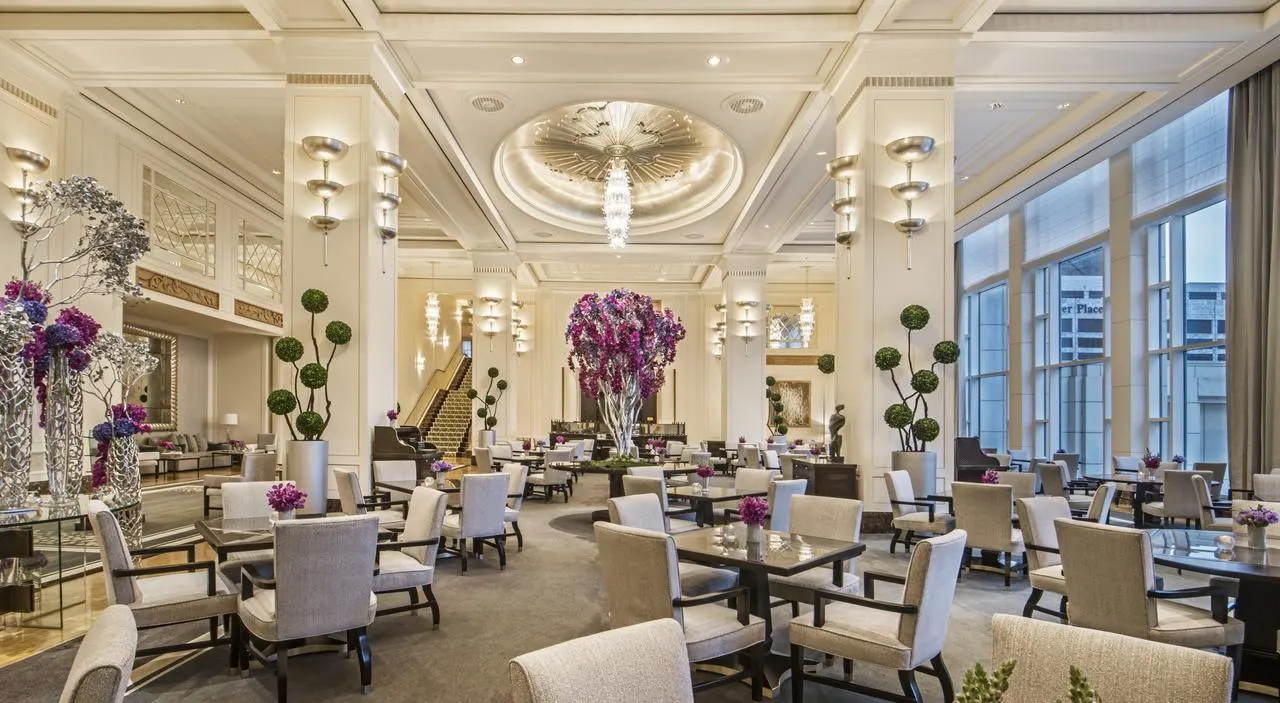 Downtown Chicago's Palmer House Hilton is a place of undeniable old-world charm shared by pictures throughout the hotel.
Enjoy relaxing at the indoor pool and hot tub, workout at the on-site fitness center, or visit the beauty salon or spa, where treatments are guided by traditional healing arts and Chinese medicine and blended with the best of modern wellness and beauty technologies.
Enjoy in-room dining or explore the Lockwood Restaurant with its rooftop garden and American cuisine. Amid the historic lobby, guests can enjoy a crafted cocktail at the Lobby Bar or visit the elegant Potter's Chicago Burger Bar and Lounge.
One of the most romantic hotels in Chicago with a hot tub.
The historic Publishing House Bed & Breakfast is an urban loft in the heart of Chicago's hottest neighborhood, the West Loop. The former publishing house was built in 1909 and features clawfoot tubs, walk-in showers, and cozy bathrobes.
The 110-year-old building combines the warmth and hospitality of a bed and breakfast within a boutique hotel's luxurious interiors. Enjoy luxury rooms, highly personalized service, and one of Chicago's best breakfasts.
Whether your heart desires a cozy corner for a quiet getaway or a suite for a romantic weekend, each room is quiet, private, and beautifully appointed. Around the hotel, there's always something to read and history to explore in unexpected places.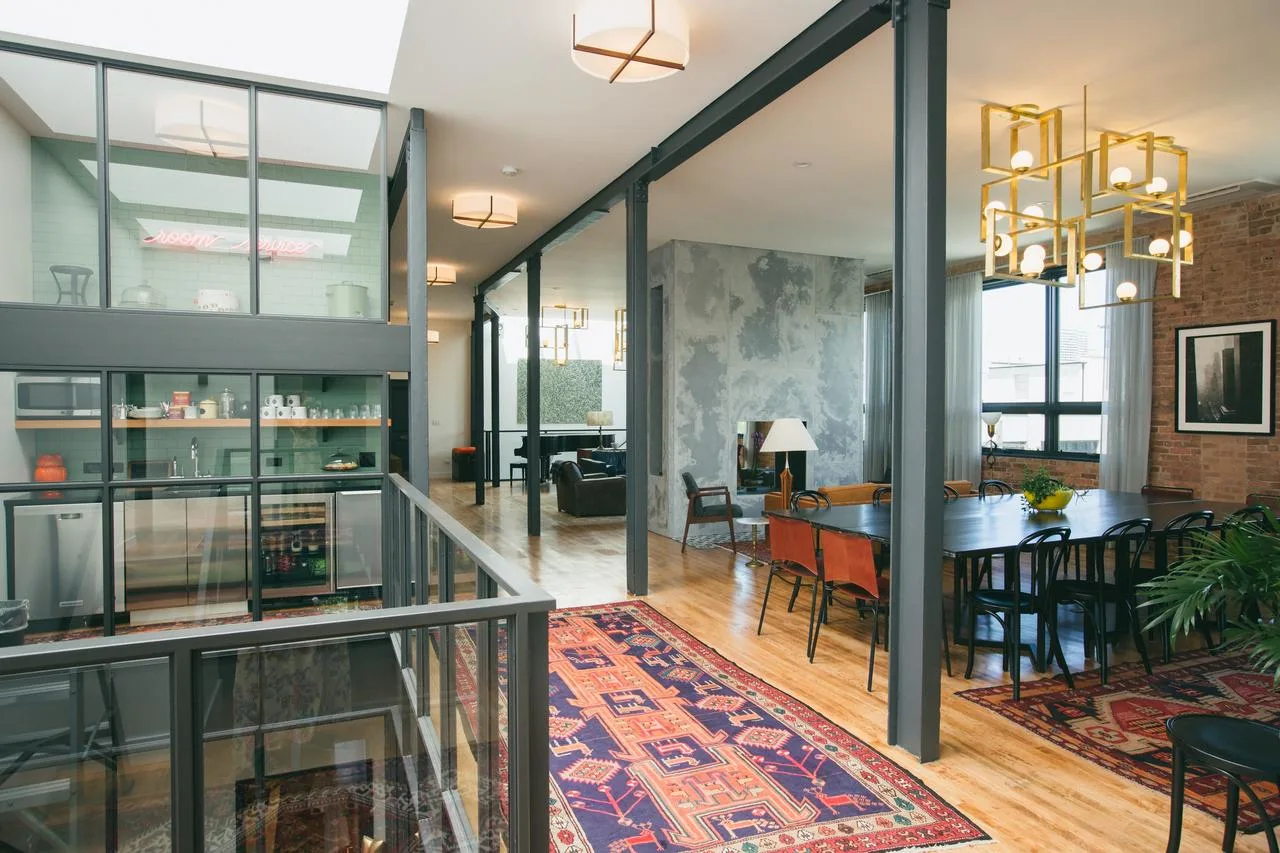 The Blackstone Hotel is a storied architectural icon rooted in Chicago's legendary past with modern amenities and features near the Cultural Mile's heart with views of Lake Michigan and Grant Park.
Enjoy a Chicago-inspired fitness center, spacious marble bath facilities, and modern décor in grand luxury. Take in acclaimed dining and craft cocktails at Mercat a la Planxa and go on a Barcelona culinary tour, with their inspired menu of market-fresh seafood, distinctive meats, and vibrant sauces.
At the Timothy's Hutch bar, enjoy live entertainment and journey through the past of The Blackstone, paying homage to hotel namesake, Timothy Blackstone.
One of the best romantic getaways in Chicago!
The Gwen reflects the energy and glamour of 1930s Chicago while offering all the modern features and refinement you desire. Pampering amenities include ultra-lux elegant Frette linens and exclusive luxury collection bedding.
Be adventuresome with a unique urban glamping experience on the private terrace amid Michigan Avenue's iconic architecture. Lavish furnishings include drum side tables, hand-knotted macramé seat cushions, and a braided Indian jute rug.
The Gwen's casually elegant dining venues feature Kostali, inspired by the countries along the Mediterranean Sea, offering a transportive cuisine of Spain, Italy, France, Greece, Tunisia, Lebanon, Israel, and Morocco.
Revel in the cityscape's majestic views, the Chicago River, and Lake Michigan from this skyscraper designed by renowned architect Mies van der Rohe.
Rooms at The Langham feature marble Alaskan white granite, soaking tubs, rainfall showerheads, and luxurious bath amenities. There's also a state-of-the-art fitness studio, indoor pool, and private theater with seating for up to twelve people.
Unwind at Chuan Spa with a range of treatments inspired by Traditional Chinese Medicine. Discover contemporary Seasonal American cuisine at Travelle. For a taste of classic heritage, enjoy the Langham Afternoon Tea alongside Chicago's views in the stunning lounge, Pavilion.
If you are looking for a romantic getaway near Chicago, don't pass up a vacation at the Ritz Carlton! This hotel definetely has some of the most romantic rooms in Chicago.
Art, architecture, and industrial innovation are the story told through an experience at The Ritz-Carlton at the Water Tower Place. The hotel showcases an expansive art collection, modern design, and architectural heritage; amid luxury accommodations.
Take advantage of the expanded fitness center with an incredible view overlooking the Chicago skyline, a luxury spa offering treatments designed by ESPA, and a distinct event space including a rooftop and grand ballroom.
Chicago history is experienced through craft cocktails in the Club Lounge, or while you enjoy an upscale dining experience merging an Italian steakhouse, café, bar on the exclusive rooftop.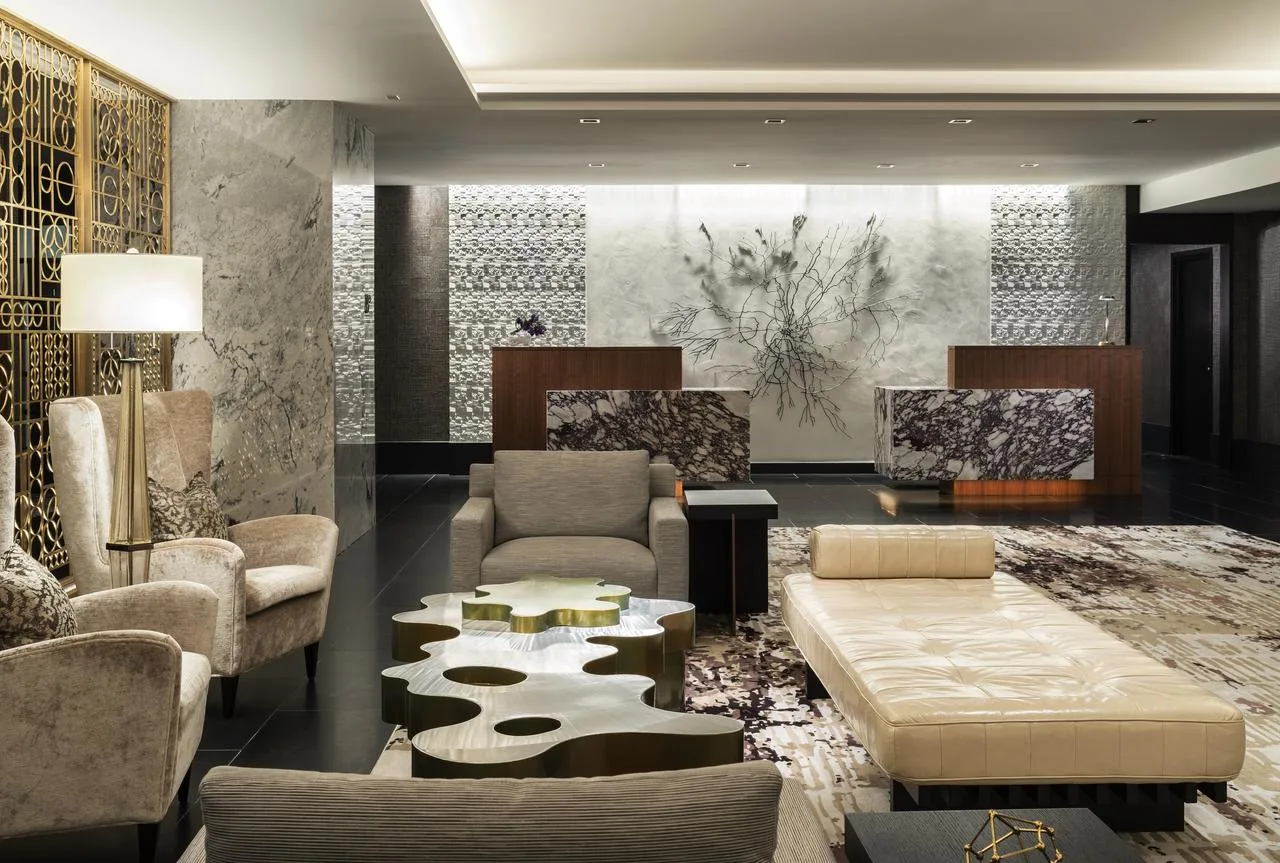 Looking for honeymoon suites in Chicago, you can't miss the Viceroy!
Like the historic mansions surrounding the hotel in the Gold Coast, guestrooms open up to views of Lake Michigan, just a short walk to Michigan Avenue, and the shops and restaurants that make Chicago legendary. Inside, rooms redefine mid-century modern glamour and include luxury bath amenities by ROIL and Natura Bisse.
Enjoy the 24-hour fitness center or plush seating throughout the hotel. The striking gold and black accents look retro-chic against the city's backdrop, viewed through floor-to-ceiling windows or at Devereaux, the hotel's bar and lounge alongside the rooftop pool with panoramic views.
Somerset restaurant offers Midwest flavors for breakfast, lunch, and dinner.
Savvy hoteliers designed this Cubist-influenced façade with chic accommodations and an array of amenities and special extras. Make the most of complimentary wi-fi, a wet bar, comfortable sitting chairs, large workstations, ergonomic chairs, and plush linens. Definitely one of the most romantic suites in Chicago.
The I|O Godfrey rooftop lounge encompasses approximately 15,000 square feet of indoor and outdoor space on the roofscape. Among the panoramic skyline views include a fire pit, shimmering water elements, a video wall, and a retractable roof making it available all year long. Dolce Italian on the ground floor serves traditional Italian cuisine for breakfast, lunch, and dinner.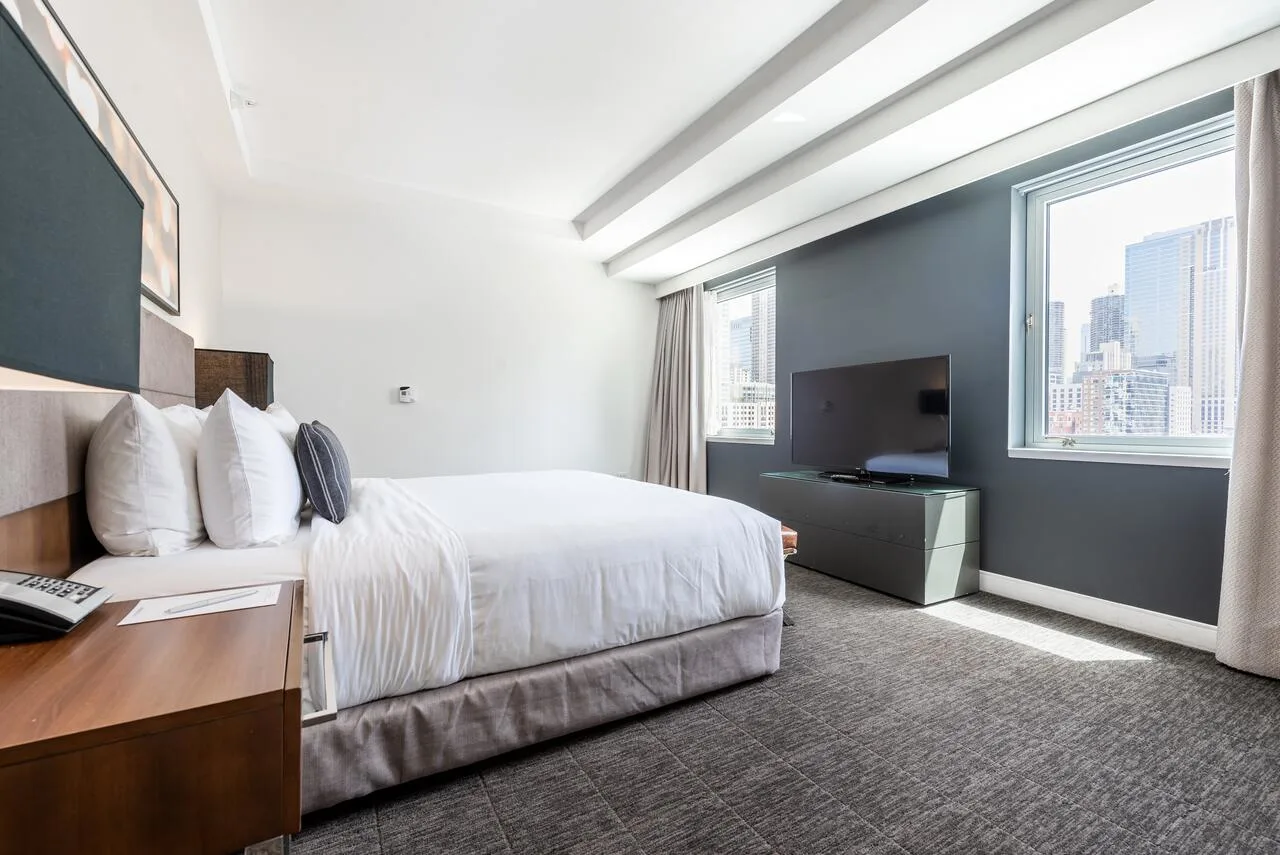 Inspired by Zachary Taylor Davis — legendary Chicagoan and the world-renowned 1914 architect of Wrigley Field. The modern aesthetic and rich, classic elements blend with this unique Wrigleyville neighborhood formed around the park.
Discover spacious, light-filled living and dining areas, private bedrooms and balconies, and custom furnishings designed with a nod to Chicago's baseball cathedral.
Rooms feature original art from local artists, bar setups, and panoramic views of Wrigley Field. Relax in the marble bathrooms with rainfall showerheads, bath amenities by LATHER, plush microfiber bathrobes, and feather and foam pillows that rest on every bed. Explore dozens of bars, restaurants, and shops nearby.
Inspired by the intersection of art and science, this Streeterville hotel seamlessly combines luxury and technology. Custom snacks are delivered by the hotel's robot attendants, Cleo and Leo, while guests enjoy 24-hour virtual support with an in-room Amazon Alexa.
Korres bath products and glass-enclosed showers add to the futuristic feel. The Archive Lounge offers intimacy, art, and inspiration, as well as an astounding round of crafted cocktails.
Boasting local, seasonal ingredients and paying homage to the eclectic mind of the great scientist, sage, and intellectual thinker, Albert Einstein, The Albert offers a cocktail bar, private dining, and scenic views of Chicago.
Once the iconic London Guarantee & Accident headquarters, this 1923 building was renowned as one of the "Big Four" skyscrapers around the former Michigan Avenue Bridge.
Today, the hotel span an adjacent 22-story glass structure. Rooms include large desks, free wi-fi, a 24-hour fitness center with a ballet bar, and large screen TVs. Land & Lake Kitchen, a classic "Mom and Pop" restaurant, is an upscale take on Midwestern comfort food.
Tri-Level Rooftop, crowned by an iconic cupola, is Chicago's only tri-level rooftop bar offering cuisine, cocktails, and city views at the indoor 21st-floor bar, 22nd floor Rooftop Bar, and 23rd-floor exclusive Cupola.
From its sleek contemporary design and a classical feel, the rooms come together with the beauty of the prestigious River North neighborhood's natural elements.
The hotel is inspired by the city's lifestyle and reflects its spirit, with large floor-to-ceiling windows that look out over the cityscape and immerse you in the local bustle.
With views of historical landmark buildings and modern skyscrapers at your fingertips, step out onto your balcony and take it all in. Portsmith restaurant offers a menu made up of innovative seafood and meat dishes and surprising desserts. In your downtime, enjoy an award-winning spa, where avant-garde art and designer furniture help you relax in beauty.
Indulge in some of the largest guest rooms in Chicago when you're not browsing the upscale shops of the Magnificent Mile. Step outside directly onto the Riverwalk for a jog or enjoy our state-of-the-art fitness facilities.
And when it's time to unwind, catch a workout in the fitness center. With lofty 12-foot ceilings and a glass wall overlooking Chicago's bustling streetscapes, Hoyt's American Tavern offers an inviting setting, upscale décor, patio dining and riverfront views.
Indulge over locally sourced Midwestern tavern cuisine infused with cosmopolitan flair. You cannot be closer to the heart of downtown Chicago where nearly everything is within walking distance.
Designed by famed architect Jeanne Gang of Studio Gang Architects, Blu Aqua is already a Chicago architectural icon. This hotel focuses on wellness, an 8,000-square-foot fitness center, indoor and outdoor pools, outdoor running track, full-size indoor basketball court, steam and sauna room, and game room.
Featuring eco-friendly practices and awash in calming blue hues, rooms feature a sleek, minimalist design, dynamic city views, free wi-fi, and a selection of premium teas and Lavazza coffee.
Enjoy a tranquil lifestyle garden provides a welcome respite from the hustle and bustle of the day. Dine on-site at FireLake Grill House for Midwestern cuisine in an inviting atmosphere.
Experience the privacy of a luxury residence with the services of an upscale hotel complete with in-room spa service. Just one short mile walk to Navy Pier and Millennium Park, the Ivy puts you in the center of Chicago's cultural attractions. Rooms are furnished in dark woods with modern technology, full minibars, and separate living areas with automated touches.
Enjoy a night in with signature cocktails and appetizers at the Divine Lounge or join the eager staff during breakfast, lunch, or dinner. When the weather is fair, take advantage of Sky Terrace's outdoor rooftop lounge with breathtaking city views like no other.
Celebrating the French art de vivre and offering a one-of-a-kind, luxurious experience.
Centrally located in the Gold Coast Historic District's heart, this Mag Mile hotel provides a dynamic vantage point for exploring attractions, restaurants, and prestigious cultural institutions. Each room includes a feather bed buried under multiple layers of crisp Frette linens.
Simultaneously, the all-marble master bathroom features a Hoesch tub tucked against a wall of windows, providing the illusion that one is floating above the city. Plush Frette towels and Hermès luxury bath amenities add a final finishing touch to the opulent surroundings. Relax with a drink from the minibar and enjoy a night of respite.
You can't miss this glass triangle hotel inspired by the city's cutting-edge innovation with an Alpine touch infusing the décor. Enjoy the views in the penthouse fitness center or stay in with in-room fitness equipment and with spa services. Luxuriate in the deep beds and grand bathrooms where everything has been designed to help you maintain mental and physical well being.
The Palm restaurant serves prime beef, traditional Italian fare, and Nova Scotia lobsters. Meals will also be served in the privacy and comfort of your room, if preferred. For small plates and cocktails, try Amuse in the lobby lounge.
The new Cambria Hotel in the Chicago Loop Theatre District is in the same building as the James M Nederlander Theatre and within walking distance to many others. Just steps away from Chicago's famed State Street shopping and Millennium Park, this location is perfect for a theatre and shopping weekend.
Luxuriate in spa-quality bath products and fine linens, fitness center, and plush seating. Intermission Restaurant has stylish décor with lively happy hours and flavorful food. Enjoy a menu of modern American classics and craft beers from Midwestern breweries, including Pipeworks, Revolution, and Half Acre Beer Co. breweries perfect for lunch or dinner.
Revel in locally inspired food, drinks, art, and music, delivering the quintessential Chicago experience. Stylish accommodations, a 50-foot indoor pool, and whirlpool, and Natura bisse amenities in full marble bathrooms are yours to enjoy.
Adorn Bar & Restaurant is Chicago's first restaurant in partnership with James Beard Award-winning chef Jonathon Sawyer, celebrating international creativity starring local ingredients and a decidedly Midwestern perspective with a taste of Chicago's unique vibrancy. Take it all in while enjoying giant windows looking out onto unrivaled lake and skyline views in the heart of the Magnificent Mile and North Michigan Avenue's best shopping and attractions.
Experience smart luxury in every room with Bluetooth technology that lets you personalize your entertainment experience. Simultaneously, a concierge app allows you to access hotel services in the palm of your hand. Immerse yourself in the stand-alone soaking tub facing floor-to-ceiling windows ideal for relaxation and enjoy the city view. A fantastically designed bathrobe awaits you, as does customized beverages from your Nespresso coffeemaker. When you feel like going out, head to the 20th floor for drinks & dining at Baptiste & Bottle for an elevated American menu paired with a one of a kind bourbon and cocktail program.
Mid-century furnishings, warehouse-style floor-to-ceiling windows, and a rooftop await you when you're ready to soak up the rays in the heart of the Fulton Market District. All rooms have bedding by Chicago-based artist Cody Hudson. Modern bathrooms with large walk-in showers are stocked with their specially developed Blank toiletries.
Whether you want a leisurely lunch in the lobby, cocktails with friends, or a quick coffee, Cabra Cevicheria has you covered. This Peruvian-inspired rooftop restaurant also has live music from jazz to rock to soul in the cocktail bar. Explore the neighborhood with free bike rentals and see nearby famous architecture like Willis Tower.
Anchored in Chicago's West Loop, near United Center, the Crowne has an unassuming elegance and modern technology in an inspirational, art-filled neighborhood near to the Chicago Bulls home. Each room comes with a walk-out balcony with views of West Loop, luxurious bedding with plenty of plump, soft pillows, and a Beekman 1802 aromatherapy sleep kit and shower amenities.
There are spacious workstations, a 24-hour fitness center, and multiple co-working and relaxing spaces for gathering outside of your rooms in opulent splendor throughout the hotel. When your hungry, feast on American-inspired cuisine at Dine, a fine dining, on-site Kosher restaurant serving breakfast, lunch, and dinner.
In downtown Chicago, on the Riverwalk near Union Station, this hotel is also close to popular attractions, including the nearby Museum of Contemporary Art. Maintain your health goals with a modern fitness studio or workout-ready hotel rooms with state-of-the-art stationary bikes positioned by large windows overlooking the city that allow you to access group classes streamed from Peloton's NYC studio.
Indulge with in-room Starbucks coffee and 24-hour room service or enjoy cocktails and handcrafted plates set against the cityscape and gorgeous views of the Chicago River at 320 RiverBar on the outdoor patio along the scenic Riverwalk.
Enjoy breakfast in bed, an in-room massage, an ice cream sampler, or a private dinner cooked by a personal chef in a gourmet kitchen at this modern and elegant boutique bed & breakfast. Situated in a historic home, each room is designed with elegant decor, modern amenities, and unique details such as exposed brick walls, wallpaper accents, decorative fireplace, skylights, and hardwood floors.
Rooms include a private bathroom, individual heating and cooling systems, high-quality linens, and complimentary gym access to Wicker Park Fitness. Freshly prepared breakfast is served each morning in the sun-filled, gourmet kitchen.
This newly built boutique bed and breakfast located in the historic Old Town District's heart has intimate, charming, and cozy rooms for your weekend getaway. Take in the Chicago skyline's breathtaking views on the rooftop deck, complete with a fire pit perfect for summer and fall visits.
On the main level, a top of the line kitchen is the basecamp for an exquisite continental breakfast. If you're looking to explore, various restaurants are within walking distance, as is North Avenue beach, where you can soak up the sun, swim, play beach volleyball or participate in other water activities on Lake Michigan.
Don't forget to take a photo for the 'gram while you are staying at one of the most romantic hotels in Chicago and caption it with some fun Chicago quotes!