Looking for romantic things to do in Krakow?
I'm not entirely sure why but we weren't expecting a whole lot before we visited the city of Krakow. It was not a city that was hugely on our radar of places to visit but I'm really glad we did – we ended up really falling in love with the city, it really is one of the top destinations in poland!
It isn't a stereotypically romantic city like Paris or London, but we did find our time romantic and find some really fun things to do for couples in Krakow, even if some were a bit sad and depressing – we still really enjoyed ourselves on a couples trip. If you are a couple who appreciates history, you will really like this city.
Krakow is also a very affordable student city that has stunning architecture, totally preserved in its original state so it is a place you can travel without spending a pretty penny which is always nice!
Here are our favourite 9 Romantic Things to Do in Krakow as well as Where to Stay & What to Eat in the city for couples (and anyone really!)
9 Romantic Things to Do in Krakow For Couples
1. Visit the Jewish Quarter
Probably our favourite part of Krakow is the Jewish Quarter of the city (otherwise known as Kazimierz). This area of the city was founded by King Casimir the Great in 1335 as a way for Jewish & Christian people of Krakow to live harmoniously side by side.
Despite the fact that there was once 65,000 Jews once living in Krakow, sadly there are only around 2-3000 Jews still living in Krakow today.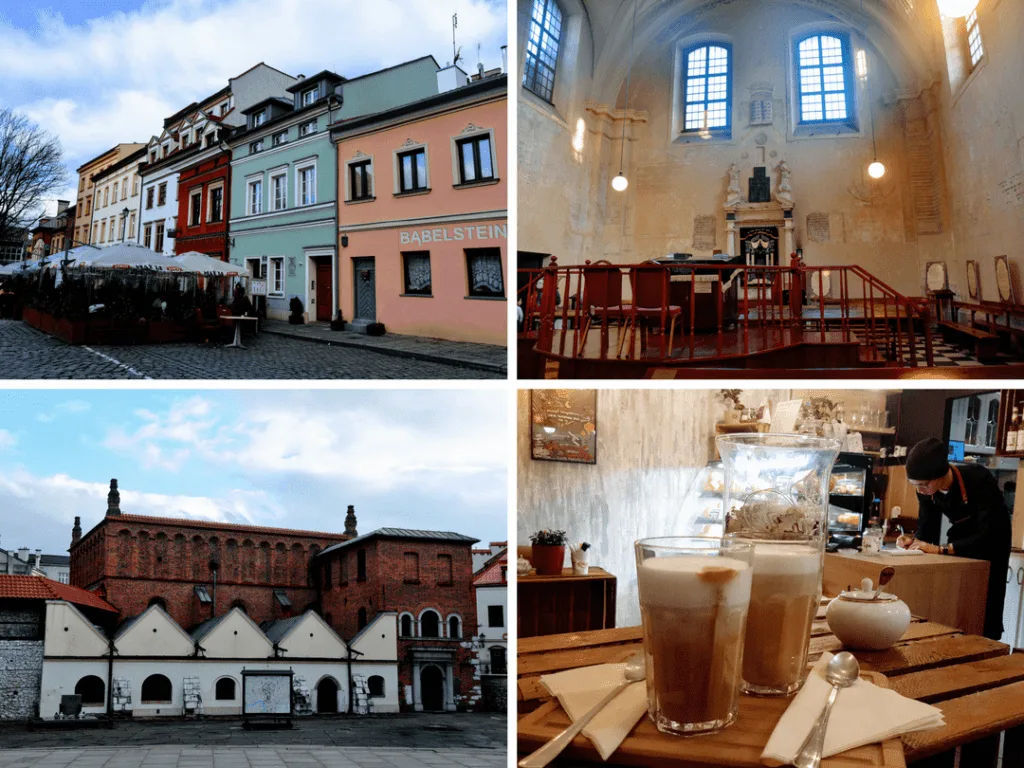 We took a free walking tour of the Jewish Quarter of the city which was a fantastic way to explore this incredible area of the city. Aside from learning a lot about the city, one of the main benefits of doing a free walking tour is to discover Schindler's List Movie Filming Locations which would be very easy to miss if exploring the city on your own.
Here are the best Things to See in the Jewish Quarter of Krakow:
The Corpus Christi Church;
The Old Synagogue which is nowadays a museum providing lots of information of the history, traditions & beliefs of Krakow's Jews (10 PLN entry or free on Mondays);
The Tempel Synagogue;
Isaac's Synagogue (10 PLN entry or free entrance with Krakow Free Walking Tour);
The Jewish cemetery (donation of 10 PLN).
In Winter, there is also a gorgeous ice skating rink right in the centre of Kazimierz which costs only 10 PLN for 45 minutes skating including shoe hire. Super romantic and totally a fun date idea for couples in Krakow!
If you are a Jewish person traveling to Krakow, Hotel Eden is an amazing choice of hotel that most Jews choose to stay as it has access to a traditional Jewish bath. I also think it could be a really fun place for couples to stay in Krakow.
Across the road from Hotel Eden is an amazing street market with the incredible Eastern European donuts (Trdelník). And the best price in the city at only 7 PLN ($2 USD) each. They were so delicious and I highly highly recommend them!
The Jewish Quarter not only has great history & culture to enjoy but many great restaurants and coffee shops to explore.
Our personal favourite cafe/restaurant in the area is Mleczarnia. Sitting in this dimly lit coffee shop with old photographs on the walls feels like you have been transported back in time as everything has been kept in its original condition. One of the most romantic spots for couples in Krakow for sure.
The Kazimierz area also has some yummy polish cuisine to try at bargain basement prices. For one of the best local secrets in the city, try Polakowski Self Service Restaurant. Interestingly, to keep costs low, many restaurants in Krakow are self service style restaurants. This means, you order at the counter & go back to collect your meal when your ticket is called. We would recommend ordering the pork knuckle. Yummo!
After all this, if you can squeeze in another bite of food, try some Polish Pizza in the Jewish Quarter (credited as some of the best in the whole of Poland). Polish Pizza is Poland's version of fast food. It costs as little as 4.5 PLN and is HUGE! Mike loved it but it was a little too sauce-intense for my liking.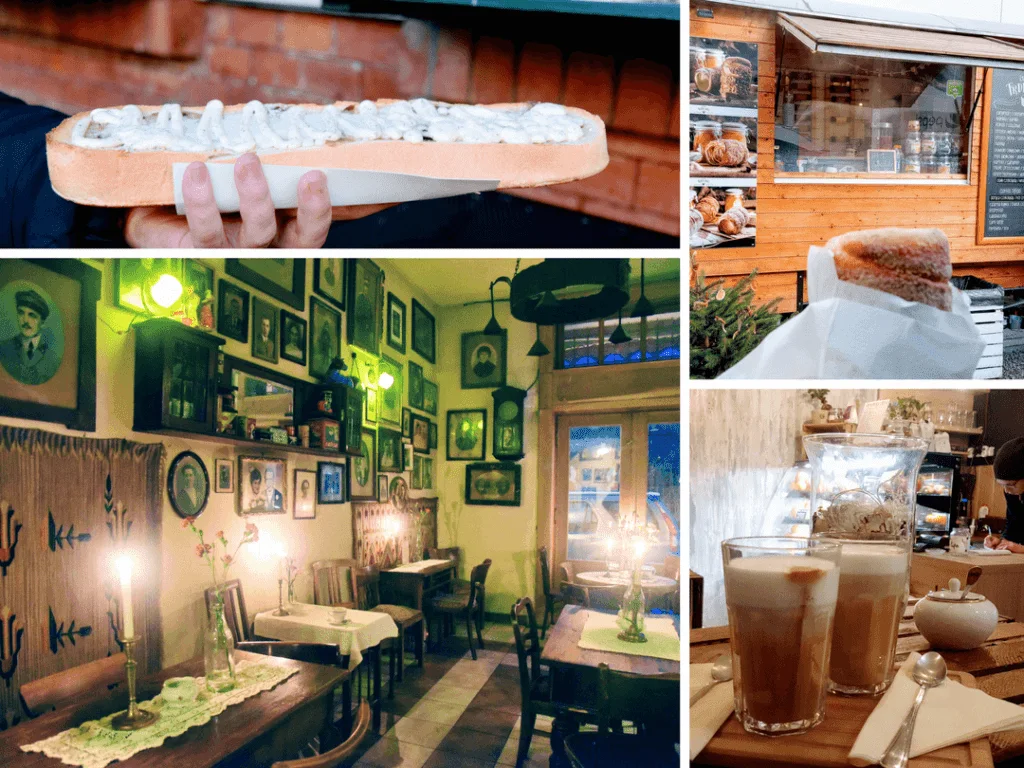 2. Visit the Old Town of Krakow
The Old Town of Krakow is one of the most beautiful & well preserved city centres in Europe as the city was not bombed in WW2. Since 1978, the historic centre of Krakow has been made a UNESCO world heritage site.
Interestingly, the historic centre is also Europe's largest market square. You will know you are in the right place when you see the large statue of the famous polish poet, Adam Mickiewicz Monument.
The monument is a common meeting spot in the city for locals and also where Old Town Walking Tours depart from. If you aren't interested in a walking tour, due to the abundance of gorgeous buildings around, it is particularly romantic to hire one of Krakow's Cinderella style horse & carts for a mini tour of the historic centre. I would put this activity down as one of the most romantic things to do in Krakow without doubt.
If you are lucky enough to be visiting at Christmas, the market square is home to some of the best Christmas Markets in the whole of Europe.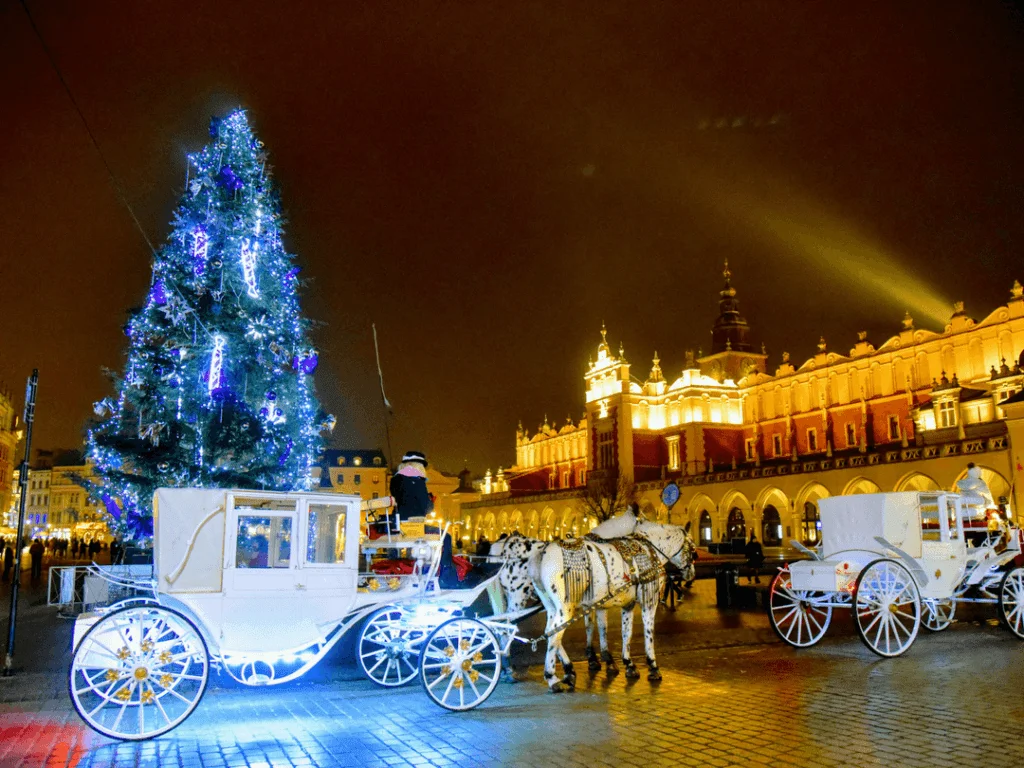 Here are the most beautiful historic attractions in the Old Town of Krakow to plug into your phone:
Florian's Gate – A gothic gateway tower erected in 1307. This gate is special as it is one of the few remaining strictures of the city's medieval city walls that were once used to defend the city;
St. Peter and Paul Church;
Floriańska Street or St. Florian's Street – Arguably the most famous street in the city that leads to Florian's Gate. St. Florian's Street is one of the most aesthetically appealing streets in the city filled with clothing shops, cafes & souvenirs.
St Andrew's Church;
Krakow Cloth Hall – Krakow's Cloth Hall was once the centre of international trade in the city where merchants would go to barter goods. Nowadays, it is a place to buy souvenirs of your time in Krakow. The upper floors are part of the National Museum of Krakow;
Town Hall Tower – The Town Hall Tower is an impressive gothic tower in the main market square which stands at 70 metres tall. From the top floor, visitors can get a great view of Krakow from the observation deck;
St. Mary's Basilica – St Mary's, one of the most iconic images of Krakow, is a Gothic Brick Church adjacent to the Main Market Square. It is the home parish of Pope John Paul II. Interestingly, the noon service is broadcast live by the Polish national Radio 1 Station.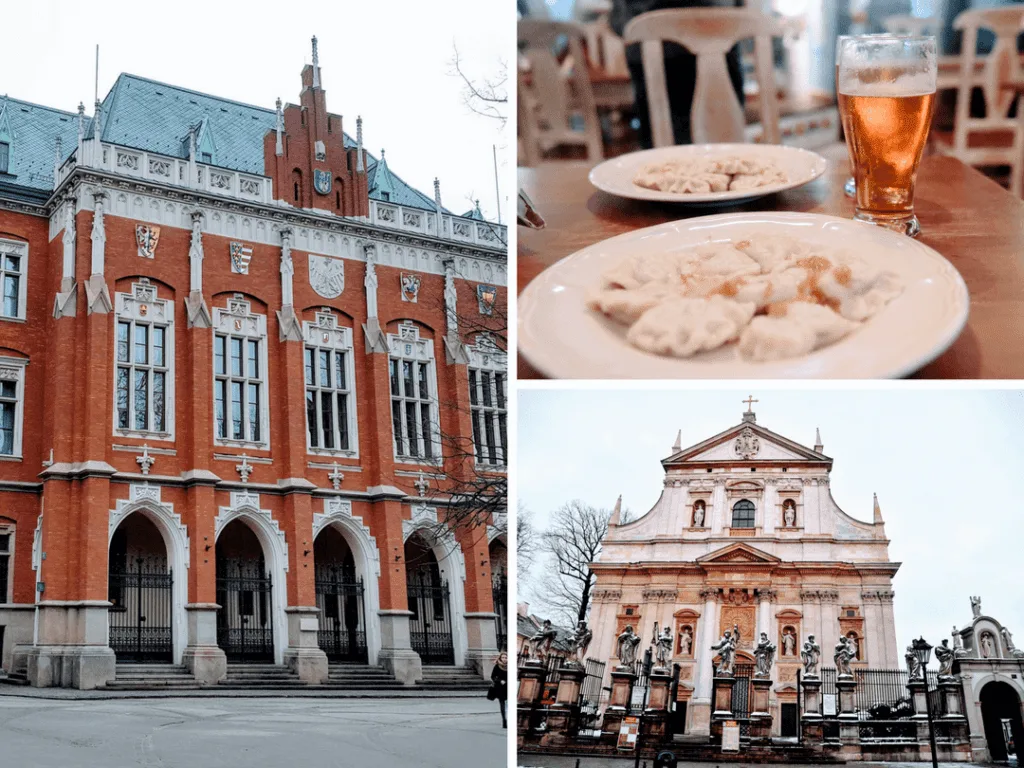 When you are finished exploring the Old Town of Krakow, we would recommend enjoying a Butterbeer at The Leaky Cauldron, Krakow's very own Harry Potter inspired cafe and trying some traditional Polish Dumplings (Pierogi) at Pierogarnia Krakowiacy, one of the best restaurants to get Pierogi in the Old Town!
TIP! Visit the Ministry of Music for an amazing (and 100% free) panoramic view of the city!! Another great place to go for a free date idea in Krakow.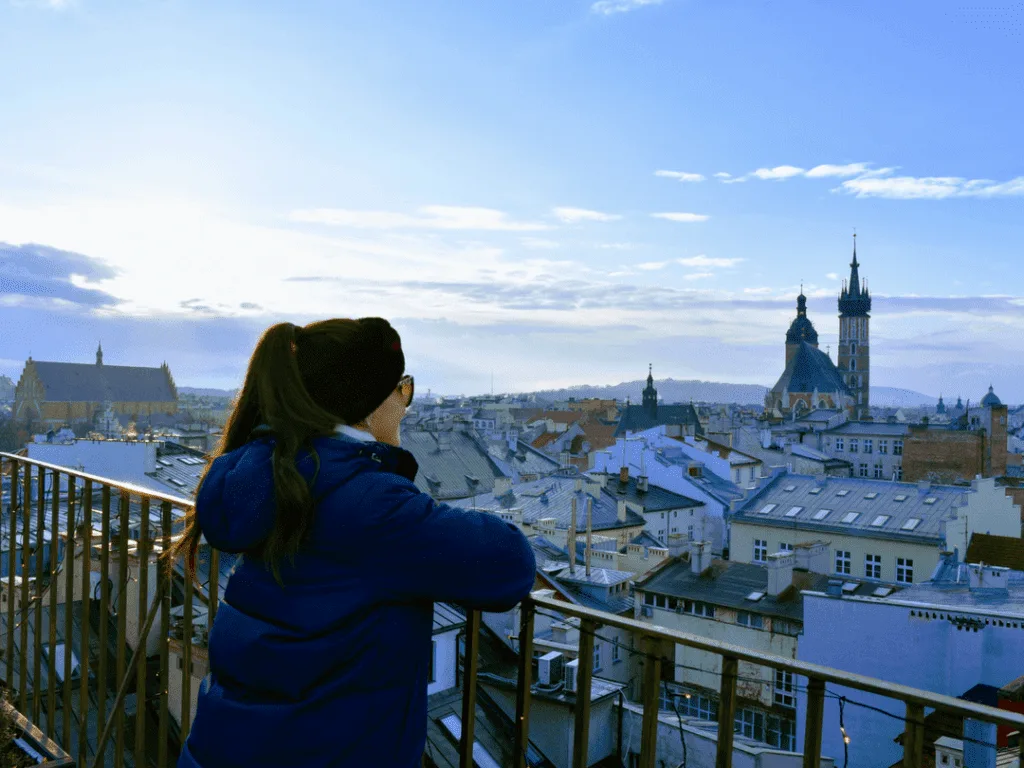 3. Explore Wawel Hill
Wawel Hill is one of the most picturesque areas of Krakow. We walked along the Vistula River to reach Wawel Hill. In this area, make sure you don't miss the Wawel Castle, Wawel Cathedral & Wawel Dragon.
Wawel Castle – Constructed under the reign of Casimir III the Great, was home to the Polish Monarch until it was abolished in 1795. It is now a museum of regal art & furniture which is open to the public. It is interesting how dark many of the rooms in the castle were which gave us a true indication of castle life back in the day. The castle offers free admission on Mondays (April 1 – October 31) & Sundays (December 1 – March 31). For a full price list to different parts of the castle click here.
Wawel Cathedral – Located in the same vicinity as the castle, Wawel Cathedral traditionally served as coronation site and is the final resting place for many Polish monarchs. Both the inside & outside of the Cathedral is absolutely beautiful. The Cathedral is free to enter.
Wawel Dragon – At the base of Wawel Castle you will find Wawel's Fire Breathing Dragon, a legendary Dragon of Wawel Hill. In summer, for a small fee you can enter the dragon's cave.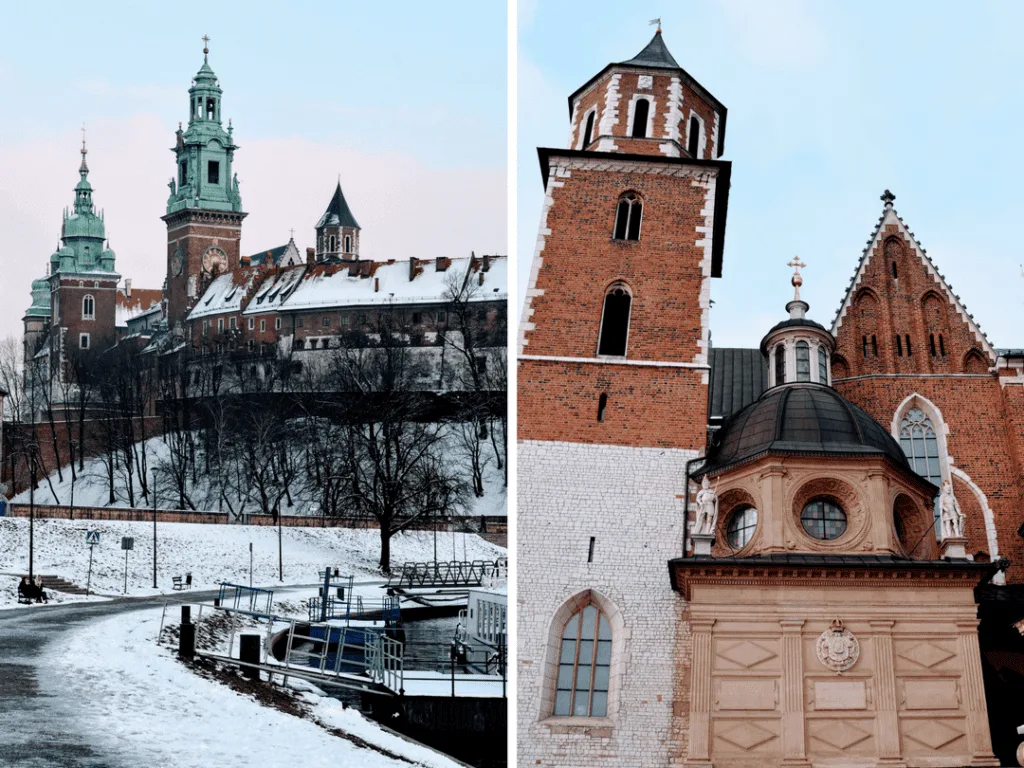 4. Explore the Communist area of Nowa Huta
After WW2, Soviet forces occupied Poland and started building the area of Nowa Huta, designed to be a utopian city with a perfect Communist future in its sights.
This area is interesting as you can experience what it might be like to live in Soviet Poland. As you walk around you can still today see remnants of the Soviet era remaining in Nowa Huta. If you venture to the area don't miss the Museum of Communist Poland & the Soviet style eatery, Stylowa.
Nowa Huta is only a 20-30 minute tram ride away from the city. However, to truly appreciate this area & the history behind it, it is advisable to hire a guide. The Krakow Walking Tour provides a paid tour of the area or for a more funky experience, Crazy Guides give you a tour of the area in an old-school car!
Image Credit: Piotr Tomaszewski, fly4pix.pl
4. Go for a Romantic Stroll over the Father Bernatek Footbridge
Lovers from around the world flock Krakow's' love bridge' (otherwise known as the Father Bernatek Footbridge) to place a padlock on the bridge to symbolise their undying love.
Usually, you throw away the key however, Poles believe in keeping the key, just in case in relationship doesn't work out.
The bridge also has amazing acrobatic sculptures hanging, created by the famous Polish sculptor Jerzy Kędziora. The acrobatic exhibit was meant to only be featured for a short while but the people of Krakow loved it so much it became a permanent part of the bridge.
If you feel like a night stroll, it is also really pretty at night as the bridge is illuminated in purple.
From a historical point of view, the footbridge connects the Jewish quarter of Kazimierz with Podgorze, the former Jewish Ghetto where the Jewish people of Krakow lived for a few years before being transported to concentration camps.
TIP – If you want to place a lock on the bridge, purchase a lock in the city before you come to the bridge as there aren't any vendors around selling locks near the bridge!
5. Stroll around Krakow's Parks
There are some gorgeous parks in Krakow to enjoy (for all seasons!)
The most well known park in the area is Planty Park, a park that encircles the entire Old Town. Interesting, it was once where a moat surrounded the Old Town. If you are a fitness junkie, this is a great place for a morning jog while in Krakow.
One of our favourite parks was in Krakow was Bednarski Park. It was absolutely gorgeous in winter & a great place for cute photographs after a dumping of snow. The locals brought sleds to the park and really made the most of the little hills in the area.
Nearby this park, is a gorgeous Church, the Church of St. Joseph which is worthwhile checking out if you are in the area.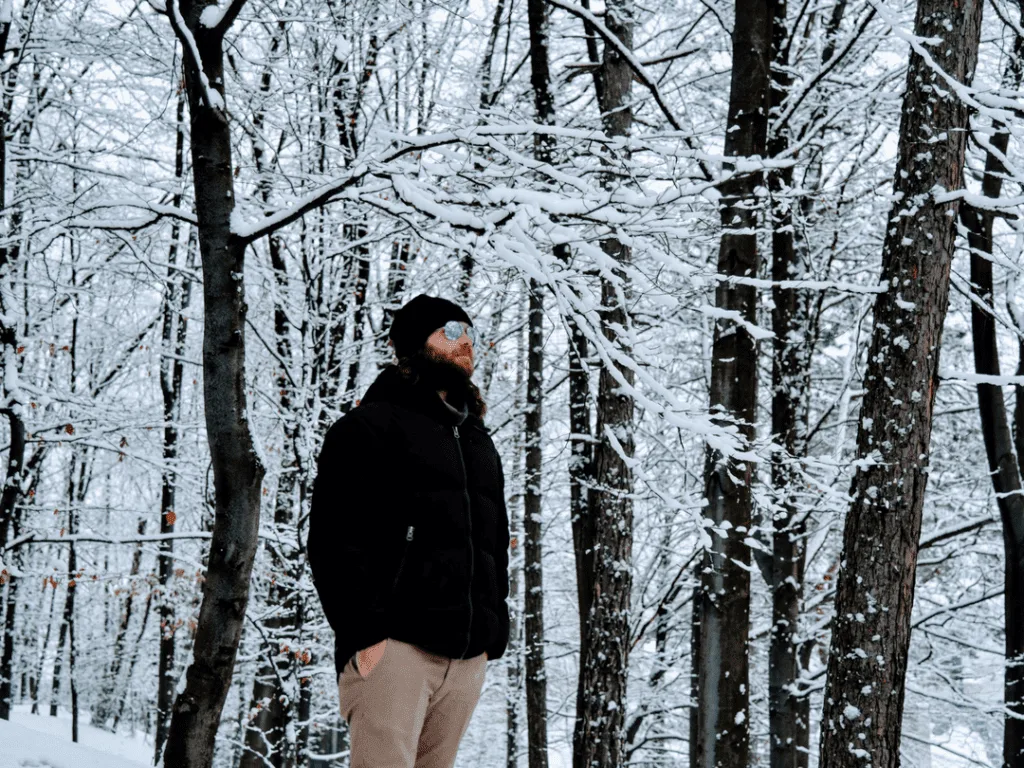 TIP – Both Bednarski Park & the Church of St. Joseph are located in the area of Podgorze. These attractions are in close proximity & are best combined with the Father Bernatek Footbridge (as seen in #4), Schindler's Factory (as seen in #6) & the Grotto (as seen in #7).
6. Enjoy Krakow's Museums including Schindler's Factory
There are some pretty cool museums in Krakow to explore. Our favourite was Schindler's Factory
Krakow has free entrance days to many of the Museums in the city. We have compiled a list of free entrance days of Museums in Krakow:
Schindler's Factory – Mondays free (last entrance 12.30pm);
Archaeology Museum Main Market Square – Mondays free (until 4.00pm);
Pharmacy in the Krakow Ghetto – Mondays free (until 2.00pm);
Rynek Underground- History Museum – Mondays free (until 8.00pm);
Old Synagogue – History Museum – Mondays free (until 2.00pm);
MOCAK Museum of Contemporary Art – Tuesdays free (until 6.00pm);
Street Pomeranian – Historical Museum – Tuesdays free (until 4.00pm);
Polish Aviation Museum – Tuesdays free (until 7.00pm);
Celestat – Historical Museum – Wednesday free (until 4.00pm);
History of Nowa Huta – Historical Museum – Wednesday free (until 5.00pm);
The Hipolit House – Historical Museum – Wednesday free (until 4.00pm); and
The National Museum – Sunday free (until 4.00pm)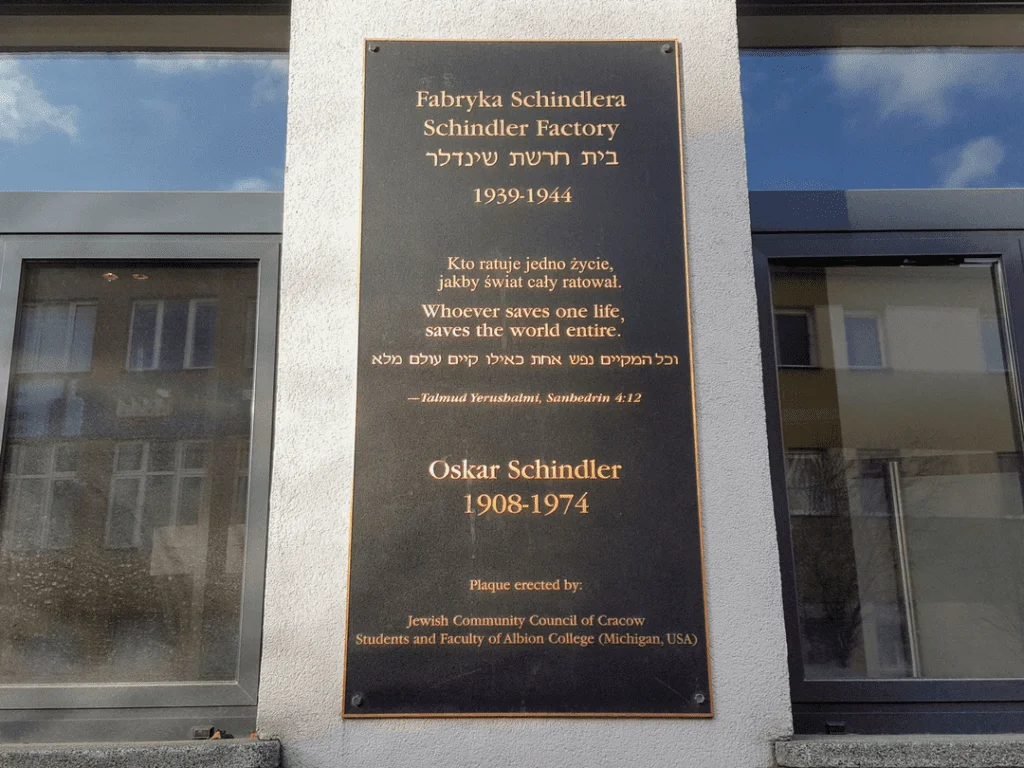 TIP – If you only have time to visit one museum while in Krakow we would recommend Schindler's Factory. Not only was it made famous by the movie Schindler's List, it is also extremely interesting. It provides a lot of very interesting (and sad) information about WW2 and Auschwitz-Birkenau Concentration Camp.
7. Visit Krakow's Ghetto
The Ghetto is a very interesting and sad place of Krakow.
The first step of Nazi occupation in Krakow was to move the Jewish community out of Kazimierz and into the 'Ghetto of Krakow' across the Vistula River. Here, the Jewish Community lived in horrible conditions, with many families having to share a small apartment. At first, families were given factory jobs (at factories such as Schindler's Factory) at very little pay and then subsequently for no pay at all.
Mr Schindler was considered 'The Angel' of the Ghetto as he provided better working conditions for the Jews and subsequently helped Jews escape Auschwitz-Birkenau Concentration Camp by creating a list of workers he wished to transfer to another of his factories. His status as a holocaust hero has subsequently been questioned as many of his actions were motivated by financial gain.
One of the most heart wrenching places in Krakow's Ghetto is Heroes Square. This is where Jews waited to board trains bound for the Auschwitz Concentration Camp.
As it was a long wait to board the train, Jews brought chairs to sit on. The chairs in Heroes Square represent the lives lost in the holocaust. One chair faces Schindler's Factory representing the few lives that managed to be saved in the holocaust.
There is also a pharmacy located in the ghetto which is famous for helping the Jewish community. This is now a museum open to the public.
8. Walk Along the Vistula River
The Vistula River is a really nice place for an afternoon stroll. We walked along the Vistula River to Wawel Castle.
A fun activity is to feed the swans in the river. Bring some bread and hundreds will flock to you for a feed! Great opportunity for a sneaky instagram snap too!
There are also some great photograph opportunities as you approach the castle.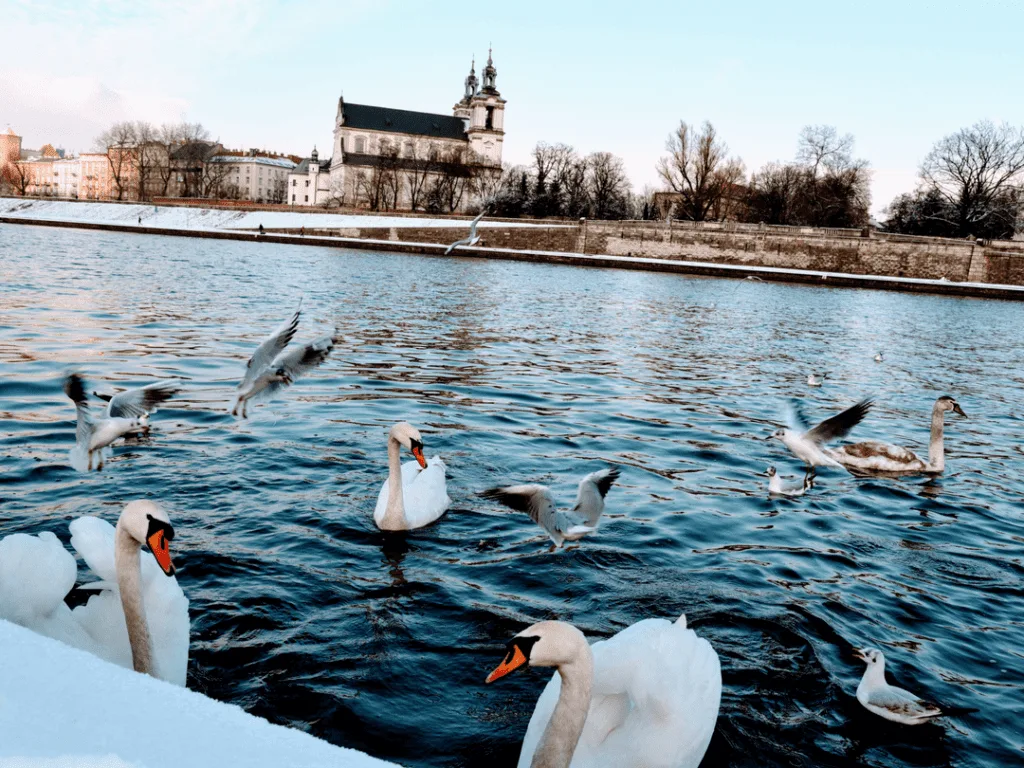 9. Visit Auschwitz-Birkenau Concentration Camp
Auschwitz-Birkenau Concentration Camp is located about a 1.5 bus ride outside Krakow.
It is perhaps the most famous Concentration Camp used in WW2 as the Nazi's Final Solution and eradication of the Jewish Community.
There are two parts of the concentration camp open to tourists – Auschwitz I & Auschwitz II (Otherwise known as Birkenau). To see all parts of the Concentration Camps, we would recommend dedicating a whole day.
Auschwitz is a extremely sad but informative experience. It was heart wrenching to see the gas chambers and read about the selection process, where Jews were selected straight off the train to enter the gas chambers. However, we appreciate that the camps are open to the public so that this part of history is never forgotten or repeated.
Auschwitz is free to enter in off season & free and before 10 AM and after 3PM between April to October.
It is easy to visit Auschwitz-Birkenau via public bus from the main bus station. It costs 12 PLN one way. There is also the option of a train however, the bus is preferable as the train drops you a few kilometres away from the entrance while the bus takes you directly there. Between Auschwitz I & Auschwitz II, there are free shuttle buses.
TIP – You need to book a ticket before you go on the website!
Where to Stay in Krakow?
Krakow Accommodation ranges from $20 USD a night (for basic accommodation) to $200 USD a night for luxury accommodation. Click here to find all accommodation in Krakow during your dates.
Here are our recommendations according to budget:
What to Eat in Krakow?
The price of food & drink is very low in Poland, compared to the rest of Europe. Many people chose to take advantage of cheap flights into the city to enjoy a weekend of wining & dining with friends.
The price of a meal ranges from 15 PLN ($4.50 USD) to around 40 PLN ($12 USD) for an expensive restaurant in the city. Prices of beer in a bar in the city range from 6 ($1.80 USD) to 12 PLN ($3.60 USD).
The 'Must Try' Food & Drink in Krakow include Pierogi (Polish Dumplings), Polish Pizza (Polish Fast Food),Hot Beer (Only Found in Poland!) & Pork Knuckle.
How to get around Krakow?
We loved that a lot of the main tourist attractions in the city are in walking distance. All attractions listed here, aside from Auschwitz-Birkenau Concentration Camp can be reached on foot.
Krakow has a great tram system that runs all over the city centre. A ticket on the tram costs less than 1 USD (3 PLN).
When we got sick of walking, we opted to take Ubers around. Most destinations in the city can be reached for 10 PLN (3 USD). If you haven't signed up to uber before, you can get $20 off if you sign up using the code mikes48767ue.
How to get to Krakow?
With the abundance of super cheap flights, the best way to reach Krakow in our opinion is by air. We visited Krakow from Venice on a $20 Flight! Click here to search flights during your dates.
Otherwise, Krakow is well connected by train & bus from other cities in Europe.
We hope you have an incredible trip to Krakow & enjoy the city as much we we did!
If you have any questions about visiting Krakow, we would be happy to help. Leave us a comment below!
Save this Travel Guide to Pinterest (To find it again later!)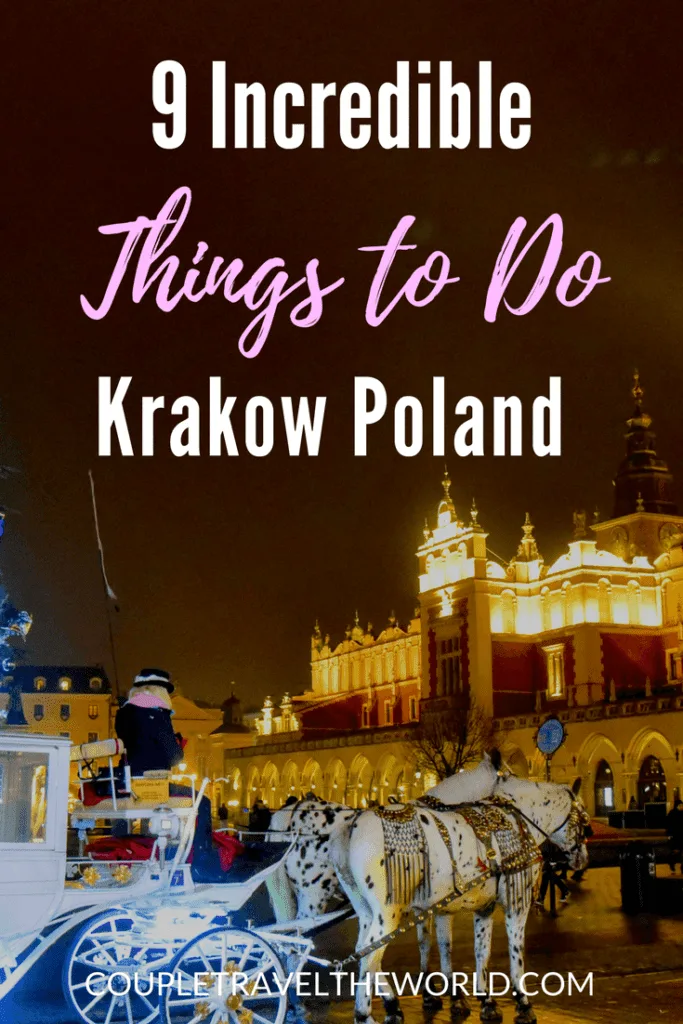 Disclaimer – This post contains affiliate links. This means that if you make a booking through our links we will receive a small commission at no extra cost to you. If you found this post helpful, we would appreciate you using our links to help keep our site running!