This city may not be considered the city of love, but here are a few reasons why it can be! If you are looking for a fun date idea in Raleigh, here are 31 Romantic Things to do in Raleigh North Carolina this weekend.
30+ Fun & Romantic Things to do in Raleigh For Couples
Top off your couples getaway with a hotel with a jacuzzi in room in Raleigh.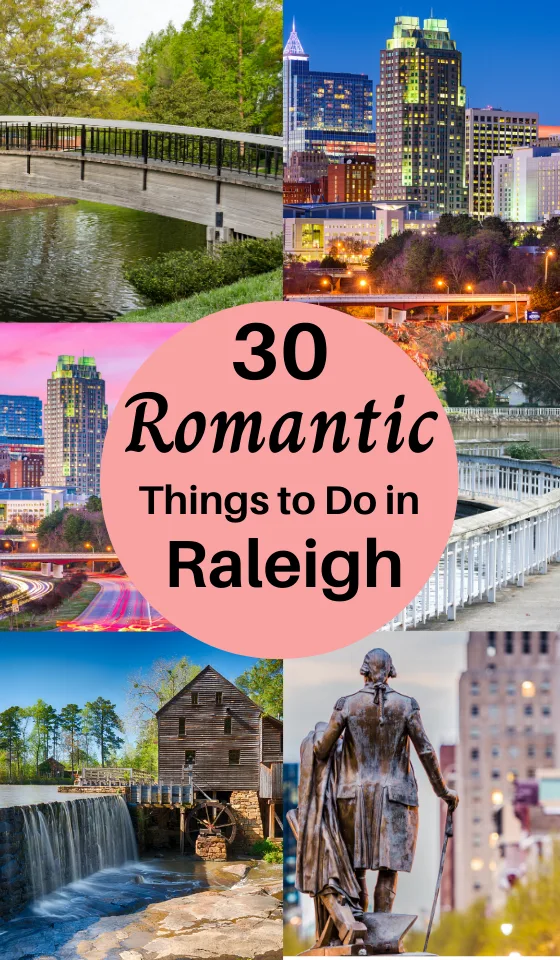 1. Lucky Tree
If you're looking for a nice artistic coffee shop, Lucky Tree is the place to go. This place is not only a coffee shop, it is a local art exhibit with art to purchase as well as locally made goods. The coffee shop and furniture itself was renovated by the owners themselves.
There is also a small selection of alcoholic beverages to drink while you relax in this eclectic environment.
Some days, there are live performances by local artists, and the coffee is all roasted in Durham, North Carolina.
All the baked goods are made of whole ingredients and are completely wheat free with vegan selections. Lucky Tree is a great place to have a nice coffee and a baked good with your partner. This coffee shop is conveniently located on Hillsborough Street, close to the campus of Meredith College.
2. Jubala Coffee
This modern shop provides coffee from all over the world, liege waffles, baked goods, breakfast, and sandwiches. If you want your coffee made with something other than a machine, they've got your back. The preparation methods range from drip coffee and French press to an espresso machine.
The drip coffee reduces waste, keeps the coffee fresh, and allows the barista to control the brewing variables to create a cup of coffee you and your lover can enjoy.
If the artistry of coffee is important to you, this coffee shop is a good pick. The environment is very minimalistic and located on Hillsborough street near North Carolina State University.
3. Sir Walter Coffee
If alcohol and coffee are up your alley, this place is the perfect find for the best of both worlds. Sir Walter Coffee provides the classic coffee varieties, coffee and tea cocktails, as well as bubble tea.
If alcohol is not your or your significant other's preference, there is the option to enjoy the same cocktails without the alcohol. This is a good location for a nice meal and some coffee (maybe even an early morning cocktail).
The coffee house is decorated with orange accents and provides indoor and outdoor seating for any weather occasion.
If sitting around gets boring, there are grab and go food options, and you can take a nice walk with your coffee around downtown Raleigh, or to CAM Raleigh. Raleigh has a good bit of unique coffee shops, making it perfect for the couples who love drinking coffee.
4. CAM Raleigh
CAM Raleigh is a contemporary art museum in the growing Warehouse District in downtown Raleigh that exhibits multimedia art, film, fashion, and much more.
This is not your typical art museum, the exhibitions are of so many paths of life, styles of art, and creative concepts.
If you and your partner want something different and interesting, this museum is the place to be caught off guard in the best of ways. Raleigh has two amazing art locations, and this is just one of the two.
5. North Carolina Museum of Art
North Carolina Museum of Art is not your typical museum. Although they exhibit art ranging from historical international art to contemporary art, they also have a 164 acre museum park with trails, woodlands, fields, creeks, and works of art, making it the largest museum art park in North America.
This is a perfect place to go during times of good weather and times of not so good weather because of the option to indulge in art indoors and outdoors.
A perfect date here during a sunny day would be to enjoy the art while walking or jogging in the museum park. You may even set up a picnic while you're at it, maybe even a bit of wine or champagne for good measures.
Located on Blue Ridge Road, this museum is somewhere perfect for those who love to take pleasure in art and the outdoors.
The North Carolina Museum of Art is guaranteed to be one of the most romantic dates in Raleigh NC!
6. Shelley Lake Park
Located in the northern side of Raleigh, this park includes around two miles of trails along a lake with open fields and work-out stations, perfect for the couples who love exercising, walking, or just sitting next to beautiful scenery and enjoying the view (another good place to lay out a nice picnic and enjoy the presence of each other, or even just suntan and have some fun being outdoors).
If a short run is what you are looking for, Shelley Lake Park is a good idea to visit.
7. Lake Johnson Park
If you're looking for another outdoor romantic spot in Raleigh, this park is perfect for picnics as well. The park has many picnic benches scattered throughout five miles of trails, making it a good place to enjoy scenery and just relax.
If relaxing isn't your preference, taking a nice stroll or run around the lake, renting a boat, or fishing with your lover is also a nice activity for a sunny day.
The park is located around southwest Raleigh, and has some great places for some photos.
8. Lake Crabtree
Yet another good spot for a picnic, Lake Crabtree is located within Lake Crabtree Country Park, and has boat rentals, a trail around the lake, and a good view of the sunset.
If you're looking to see some unique birds, this is the place to find some nice wildlife. This is one of the many outdoor places to go to for a nice date in the sunshine.
9. William B. Umstead State Park
This park is good for a wide variety of activities including horseback riding, biking, hiking, picnicking, boating, and camping. As you can already tell, this park is perfect for the outdoor loving partners.
No need to bring your own boat because boat rentals are available (but you can bring your own boat if you so please).
There are not bike rentals, however, but if biking is not an option, there are still many more activities to do in this park. This park connects to the North Carolina Museum of Art, which means this date could end up being twice as romantic.
10. Neuse River Trail
This 33-mile long trail is for the couples that love walking or running because it is completely paved. There are also bridges that span the river, making a perfect opportunity for some exercise and good scenery.
There are suspension bridges on this long trail, which means the trail is not only beautiful, but also fun. Obviously, Raleigh has a wide variety of scenic outdoor locations for romantic dates.
11. Pullen Park
Located near North Carolina State University, Pullen Park is a great area to walk around before heading downtown. It is located near the historic area of Hillsborough Street, making it in a convenient location to picnic and walk before going to a nice restaurant or downtown.
Because it is so close to many things, this is a good stop to make before or after a good cup of coffee, a nice meal, or a drink with your partner. These daytime activities are for those who wake up before the afternoon and love the outdoors.
12. Biking On Hillsborough Street with Citrix Rental Bikes
These bikes are located up and down Hillsborough Street near North Carolina State University, a perfect way to get around the area and explore the many hip places located around the university.
Cruising around the city on these bikes is perfect for a nice summer day and great to do after that nice cup of coffee in the morning.
This activity is more on the relaxing side, perfect for a fun and casual date. The bikes are two dollars a ride making it affordable for those on a tight budget.
13. The Warehouse District
This district is six blocks of formal industrial buildings, red brick, galleries, studios, restaurants, and nightlife, making it a good place to go anytime of day.
Located in downtown Raleigh, this area is for those who love a unique experience in a small area with much to do. The restaurants in this area range from casual to formal dining, and within these six blocks, there is CAM Raleigh and a good amount of artistic activities for those who love the art scene.
Because this area is filled with art, it is the perfect place for some photos and wandering around the unique area of Raleigh.
14. Wine and Design
It doesn't matter if you're an artist, Wine and Design offers painting classes and a glass of wine to go with it.
If you and your significant other enjoy art and wine, this is the perfect place to go for a good time while avoiding the awkward silences that typically occur on dates.
Don't worry if you do not know how to paint, there are people to guide you as you enjoy your glass of wine and create your own personal artwork to take home and maybe even hang it up for a personal touch at your place.
The two of you could even exchange your artworks to express your love for each other. The wine may even get the conversation flowing with your brush strokes.
15. Pinto's Palette
This is yet another place to paint and drink some wine, with two locations in Raleigh, Pinto's Palette provides you with someone to guide you through your masterpiece while having a good time with a nice glass of wine.
Of these two painting locations, it is a perfect opportunity to explore hidden talents or just enjoy the peaceful experience of engaging in some creative activities.
If painting and art aren't what you're looking for, here are some ideas for food, drinks, and used treasures for a good and romantic date.
16. The Shiny Diner
If retro vibes and diner food is something you and your lover enjoy, The Shiny Diner is a good place to have breakfast for dinner or share a nice milkshake together in a booth.
This diner is perfect for the cute, retro date and you could maybe even take some photos for some good photos. Located on Buck Jones Road, this diner is perfect for a classing American experience.
17. The Remedy Diner
Located off Hillsborough street to the west of downtown, The Remedy Diner is not your typical American diner.
Although the food served is still comfort food, this diner took it into their own hands to make it a good place for a beer, some food, a coffee, and dessert.
This diner is also vegetarian and vegan friendly, meaning that this is a good place to be for anyone.
18. Raleigh Beer Garden
If beer is what you're looking for, Raleigh Beer Garden has a great environment and the world's largest selections of draft beers available in one restaurant.
This is the perfect place to unwind with your significant other, try some new beer, and have a snack while you're at it.
Not only do they serve beer, they also have a beautiful interior with a bar that serves any drink if beer isn't your thing, and a nice outdoor patio with a fireplace. There are lounge chairs and bar chairs, making this a place for any occasion.
19. The Raleigh Times
Located in a 100 year old building in downtown Raleigh, this bar has been restored to create a beautiful location.
The Raleigh Times has a second floor as well as a rooftop patio to create a more spacious experience. A nice night at this bar could include a late dinner as well as a wide variety of Belgian beers.
The view of downtown from the rooftop patio makes the experience that much more romantic.
20. Brewery Bhavana
In this elegant establishment, you can find home-brewed beer, cocktails, Dim Sum, flowers, books, and gifts.
For those who do not know what Dim Sum is, it is a Hong Kong style meal consisting of small servings of a variety of foods to make up a meal. Dim Sum is great if you cannot choose which dish to get because the servings are so small that you can get everything you want.
The surroundings are minimalistic and clean, perfect for those who love the minimalistic look. If you're a foodie, this would be the perfect place to take some beautiful pictures of the food and the environment.
Brewery Bhavana is located downtown, and is a great place to go for a nice dinner with drinks.
21. Boxcar Bar + Arcade
Do you and your partner love alcohol and retro arcade games? If so, the Boxcar Bar is the place to be for a nice, enjoyable, and romantic date.
With the vibrant surroundings and retro vibes, this is the perfect place to be in downtown Raleigh for a fun night. A little bit of competition won't hurt, maybe even team up with your parter and compete with another couple.
22. The Melting Pot
If you are into trying some good fondu, The Melting Pot is a good place to have some fun while eating with your significant other. From sweet to savory, this restaurant is good for any meal (dessert is a meal too).
Located in Northeast Raleigh, this is a good spot to go for a fun, delicious date.
23. Seoul Garden
Seoul Garden is a Korean restaurant is located around North Raleigh, and gives you and your partner a chance to try some Korean Barbecue.
Korean Barbecue is a delicacy in Korea where you order a selection of thinly sliced beef or pork, and cook it on a grill in the middle of the table. This is an experience that is going to be different from the typical restaurant dates.
24. Reader's Corner
Nothing wrong with being a book worm, this bookshop located near North Carolina State University off Hillsborough road is the perfect place to dig around old records and cheap books.
There is a large selection of comic books ranging all the way to poetry books. If you love cheap things and good reads, this is the perfect place to dig around with your lover. A perfect cheap date idea in Raleigh!
25. Nice Price Books and Records
Looking for even more books? The name Nice Price Books and Records itself explains the beauty of this store.
It is located right across the street from Reader's Corner, and is the perfect place to dig around some more for good reads and records because music with books might just be the thing you were looking for.
26. Thrift2Gift
Thrift2Gift is a thrift shop located in West Raleigh, right next to Cary. Thrift shopping may not seem so romantic to begin with, but here are a couple reasons why it is a great idea for something fun and romantic.
Trying on something, whether it be crazy or beautiful, really makes one realize how amazing their significant other looks no matter what. You may even find some little treasures for a good price.
27. Alamo Draft House Cinema Raleigh
This unique experience is perfect for a relaxing night out with your partner. Ranging from new films to classic films, there is also a selection of cocktails and food served seat-side.
Whether you like classic films or newer films, this is a good location to go to for a romantic movie night. The plus is that alcohol and food are available with a good movie. This movie theater is located in East Raleigh, and is a great place for a good night.
28. The Rialto Theatre
Located North of downtown Raleigh, The Rialto Theatre is a vintage cinema with foreign and indie films. Of course, there has to be wine and beer at the concession to make the night that much better.
This is the place to go for some old school films to enjoy with your significant other. If you're looking for a different experience with vintage vibes, this is a good place to be with your significant other.
29. Pure Karaoke NC
In Northeast Raleigh, there is a hidden gem called Pure Karaoke NC, where singing, drinking, and a private room is happening all at once.
In Asia, Karaoke bars are the perfect spot to go to if you're looking for a good time and some alcohol. This is the perfect place to sing your heart out to each other and have some fun in the privacy of your own room.
The song list is extensive, which means you can sing your favorite songs to each other or with each other. Pure Karaoke is definitely one of the best date night ideas in Raleigh NC for sure!
30. Chilling at Your House
Chilling at your home may seem lame, but here's a couple of things you can do at home that is simple yet enjoyable. You can find more detailed at home date ideas here.
Building a pillow fort and listen to music: Bring back some nostalgia with a pillow fort and some blankets to make a relaxing night with your favorite person.
Dancing and singing to your favorite songs (with or without a little bit of wine) Who needs a night out when you can have a night in? Sing in the privacy of your own home and enjoy the fun night with your partner.
Setting up the classic romantic homemade meal with the whole candle set up (make sure not to set off the smoke detector).The classic date night idea with your partner may be cliche, but is always an enjoyable experience.
Video games with your significant other: If you and your lover are into games, this is the perfect night for some beers and your favorite games. A little bit of competition doesn't hurt.
Cuddling with each other under some cozy blankets – Sometimes the simplest things make you happy, if both of you are tired, this is the perfect activity for a peaceful night in.
Watching a movie you two know by heart and see who knows more lines (obviously beverages are optional) Netflix and chill might be too mainstream, but what if you and your partner compete and see who knows more lines to a movie?
Baking and dancing to music together – Dancing always makes things more fun, the plus side to this is that you get a treat after all that body movement.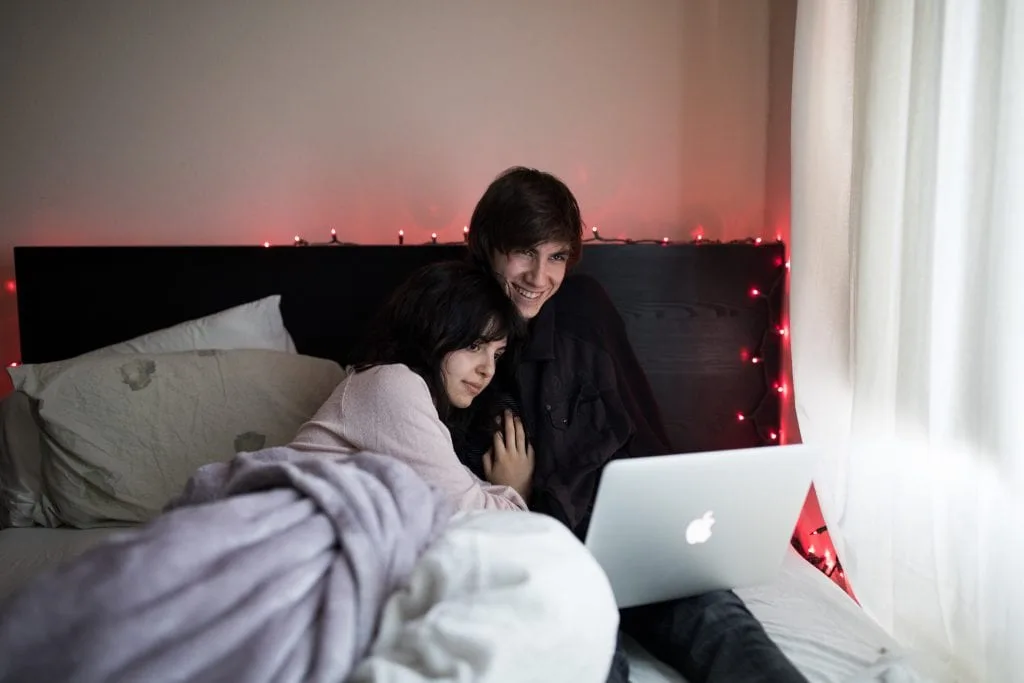 Taking a Drive Around the City
The classic driving around and blasting music is something that can be made more interesting, especially in a nice city like Raleigh. You are sure to find some super romantic places in Raleigh just by driving around!
This activity does not include alcohol of course, but the two of you can have rap battles, sing at the top of your lungs, or sing your favorite songs while cruising around the city.
This could be a good activity on the commute to any of the suggestions above.
Date Ideas in Raleigh: Romantic Things to do in Raleigh
All in all, Raleigh has a wide variety of romantic things to do for couples with any interests. Whether it be outdoors or indoors, these date ideas are perfect for any weather occasion, any special occasion, or any time of year.
These dates range from formal to casual, cheap or expensive, and exciting or relaxing. Sometimes, the simplest things bring the most joy to a person.
If you are looking for more romantic things to do in NC, you might also like to check out romantic things to do in Asheville and romantic things to do in Wilmington! As well as Date Ideas in Charlotte of course.
***
Save Romantic Raleigh Date Ideas to Pinterest (so you can find it again later)