You may already know that Asheville is historic, but did you know that it is also one of the many cities of love? If you are looking for romantic things to do in Asheville, here are 34 of the best for your couples getaway.
Tip: If you are on vacation in Asheville and not just looking for a great date idea we would recommend getting to know the city a little better with a city tour.
34 Things to do in Asheville for Couples
See Hot Tub Suites in Asheville to top off your couples vacation!

Walk around and explore the city
We loved walking around and exploring the city of Asheville on foot. It is a small city and very walkable. As we will detail below it is a very interesting and artsy city full of quirky coffee shops and art galleries to explore!
It is amazing what cool things you can discover in the city. We were pretty chuffed seeing this cool vintage car driving around!

See more: Romantic Mountain Getaways in the USA and beyond!
Go on a Ghost Tour
One of our favorite romantic things to do is go on a ghost tour.
It doesn't sound that romantic but it is a great excuse to snuggle up to your SO. Asheville has a great ghost tour that we would recommend.
The tour is run by a local expert and runs through the towns dark history including the woman who haunts the Omni Grove Park Inn and the body entombed in the wall of the Basilica of St. Lawrence.
Chevron Trading Post & Bead Co.
Jewelry is the classic gift for your lover, but what if you had the opportunity to make yourself or your significant other a piece of jewelry?
Chevron Trading Post & Bead Co. gives you the opportunity to create your own jewelry with the help of others. Invite some friends too because a double date is not a bad idea. Your partner will definitely never forget this romantic experience (unless they lose the jewelry).
Located conveniently in downtown Asheville, you can walk around to show off your new jewelry with the company of your significant other.
North Carolina Glass Center
North Carolina Glass Center gives you the opportunity for glassblowing and framework to create your own glass artwork with your partner.
This is the perfect place to let out your creativity and take something home together that reminds you of this unforgettable experience.
If glassblowing or framework isn't your thing, they also offer a gallery of finished works for you to take home. Located off Roberts St, this is a chance for you to create something to brighten up your home or create a personal gift for your lover.
The Village Potters
Indulge in this calming experience making pottery at The Village Potters with hands-on guides to help you.
Not only do they offer classes for pottery, they also offer jewelry making workshops.
The two of you can create jewelry and pottery to exchange after this experience. Even if you are experienced in this field, this is a great opportunity to indulge in some relaxing art.
The facility is located Lyman St, and is a great chance to let your inner artist free.
Mountain Nest Gallery
This gallery of art and handcrafted pieces is located in the heart of Black Mountain, making it a perfect stop if you two were already planning on visiting the mountains.
The gallery includes Art in Prints, Giclees and Originals, Jewelry in Silver, Copper, and Precious Stones, intricate pottery, Hand Crafts in metal, stone, wood, leather, and other natural materials. Visit this gallery for some local and regional art in this humble gallery.
Angelique Tassistro Ceramics
This Angelique's gallery located in the River Arts District is truly a unique studio with handmade pottery for everyday use.
These beautiful pieces are perfect for just looking or buying something to add a creative touch to your everyday life at home.
Her approach on pottery is something special; creating pottery with a sculptural approach. If you two are looking for some playful artwork, this is the place to go and maybe even purchase a nice gift for yourself or someone else (you know who that someone else might be).
310 Art LLC
Also located in the River Arts District, this fine art and contemporary gallery features the original work from local artists.
If you two are interested in a private lesson with experts, this gallery offers classes ranging from beginner to advanced artists.
This gallery is the perfect romantic stop for a relaxing browse in the beautiful Historic River Arts District. 310 Art LLC is just one of the many unique galleries within Asheville's River Arts District.
Jonas Gerard Fine Art – Clingman Ave
Also located in the River Arts District, Jonas Gerard, a self-taught sculptor and painter, displays his beautiful pieces for people to enjoy his talent and his dedication.
His unique approach in creating his pieces is truly something that you and your partner cannot miss.
His works includes abstract, landscapes, mixed media, florals, sculptures, and nudes. This is the place for those who are well versed in art, or those who just enjoy the beauty of artistic expression.
Momentum Gallery
Located in the heart of Downtown Asheville, Momentum Gallery exhibits art of all sorts, ranging from sculptures and mixed media to paintings and more.
This is a great place for a peaceful and romantic experience while exploring Downtown Asheville after a nice cup of coffee and a pleasant stroll through the city.
Indulge in the many pieces of art Momentum Gallery offers while with that special person in your life. In this modern space, you are able to enjoy the beauty of the art from people of all paths of life.
The River Arts District
The River Arts District is home to many art galleries and studios located in former industrial buildings located near the French Broad River, east of Interstate 240.
Not only does this district display works by artists, there are opportunities to take classes and explore your inner artist.
This district is filled with places to explore food and take some eclectic photos in this industrial vibe area. The River Arts District is the perfect area to browse around, try some local food, grab a coffee or a beverage (alcoholic or not), and explore some art.
Asheville Pinball Museum
If old school games are up your alley, Asheville Pinball Museum is a good place to have a fun time with your significant other.
They do not only have pinball machines, there are also classic video games onto of the pinball machines. You two can enjoy all you can play arcade games with a nice cup of beer (or soda).
Games and a little bit of friendly competition never hurts (and the beer is a big plus). Located conveniently in downtown Asheville, this museum is a great place to visit with your partner for a fun and retro night.
Asheville Urban Trail
This is the perfect trail to follow with your significant other and get to know more about the city and its history. If you two are not quite interested in the learning aspect of this walk, it is still a beautiful two hour walk around Asheville with sculptures and landmarks to see.
A good place to start your walk is in front of Pack Place on Asheville's Pack Square, where you can find the first plaque describing the history of Asheville.
It is also fine if you start at any point of the trail. Feel free to wander off into a tavern, restaurant, or store to indulge in the full beauty of Asheville with your partner.
Basilica of St. Lawrence
This minor basilica of the Roman Catholic Church in downtown Asheville is somewhere to visit whether you and your partner are religious or not.
Designed by a Spanish architect, this basilica has stunning and unique architecture to see. Most famous for their stained glass windows, Basilica of St. Lawrence offers free tours of the basilica, but the tours are not required if you and your significant other just want to simply take in this breathtaking architecture from the 20th century.
This is the perfect stop while taking a stroll in downtown Asheville to take a break from the noise and enjoy some artistic architecture.
Biltmore Estate
One of the best attractions for couples in Asheville is undoubtedly Biltmore Estate.
Biltmore Estate is the largest privately owned house in the United States, which means there is more to it than a tour of the mansion. Located within the estate, there is a 8,000 acre backyard, which means that there are more than enough activities to do indoors as well as outdoors.
For some outdoor activities, you and your partner can bike around the estate (bike rentals are available), enjoy a carriage ride, go fly fishing, go horseback riding, take a nice hike, go rafting, learn to shoot a shotgun, or go bird watching. This is just to name a few of the many romantic activities available in Biltmore Estate.
There is also complimentary wine tasting, a beautiful garden, as well as red wine and chocolate tasting. You and your significant other may also take a tour of the winery and taste some of the wine.
Not only that, there are complimentary yoga classes, the opportunity to have afternoon tea, kayaking, Land Rover rentals, and the Antler Hill Village, where you and your partner can shop, dine, and hike. Located not too far from downtown Asheville, Biltmore Estate offers an extensive list of romantic activities to do with your significant other.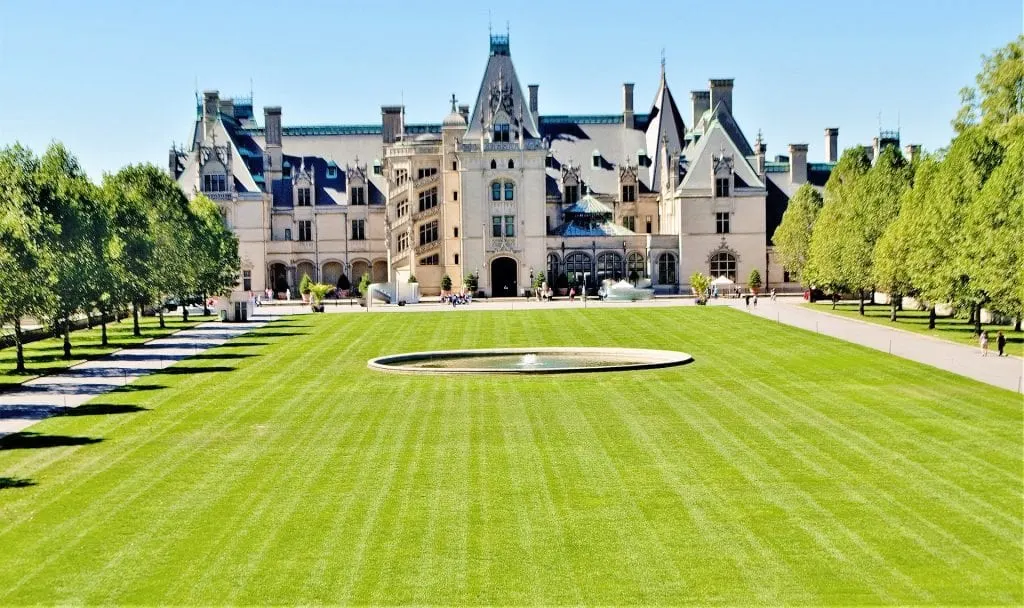 Grandfather Mountain
Famously recognized for the Mile-High Swinging Bridge, Grandfather Mountain has beautiful vistas to explore while taking a romantic hike with your partner.
These alpine hiking trails encompass beautiful scenery ranging from forests to rock walls and pinnacles, open spaces to view the landscape, and beautiful spots to set up a picnic while on your hike. Do not forget your camera because the stunning views are something else.
Hiking shoes are preferable for those who like a challenge, but if you are not up for that, there are less difficult trails that are just as beautiful. This mountain is truly a place for adventure and to take in nature's beauty.
You will need a water bottle and maybe even a meal to enjoy on the scenic hike on the mountain. This is truly a hike not to be missed if you and your significant other enjoy a nice adventure. Maybe even enjoy the sunset on a nice day for some photos and simply just enjoying the presence of each other.
Blue Ridge Parkway
Do not worry if you and your partner are not too interested in hiking, because Blue Ridge Parkway is the perfect drive to enjoy some rare biodiversity as well as some stunning scenery.
Blast some happy music to sing along to while you and your significant other take in the landscape and scenery.
Do not hesitate to pullover and take some photos because there are more than enough stops to enjoy some stunning nature. Maybe even set up a picnic and take in the beauty of nature with your partner.
Recommended: Hiking Tour of Blue Ridge.
Botanical Gardens at Asheville
The Botanical Gardens at Asheville is the place to go to enjoy some unique plants and take a relaxing stroll with your significant other.
The gardens emphasize plants native to the southern Appalachian Mountains, with approximately 700 species of native and exotic trees, shrubs, vines, wildflowers, herbs, grasses, sedges, aquatic plants, ferns, mosses, and lichens.
Do not hesitate to take a seat and observe some interesting botanicals. The peak bloom times are mid-April and mid-August, but no matter what time of year you visit these gardens, the plants will still be naturally beautiful.
Do not forget your camera because there are countless opportunities to take some close up photos of beautiful plants. Located in University of North Carolina Asheville, this is a perfect place for a romantic stroll with your significant other.
The North Carolina Arboretum
This 434 acre arboretum and botanical garden, located near the Blue Ridge Parkway, is a great place to visit while driving down the parkway.
There are biking and hiking trails, a bonsai collection, a holly garden, a tree collection that is considered the tallest in the south, and a stream garden.
For those who do not know what a bonsai garden is, it is a Japanese art form to produce small trees that mimic the shape and scale of full sized trees in containers. This unique location is perfect for plant-lovers or those who just enjoy some beautiful plants.
Asheville Glamping
If camping is not to you and your partner's preference, Asheville Glamping is the perfect experience for a bougie night (or couple nights) with your significant other.
If you do not want to stay the night here, there is the option of having a couples photoshoot in this glam environment.
This is not your normal camping experience, there is not just tents, but there is also a treehouse glamping option. This boho experience is perfect for a relaxing night for you and you significant other to live out in beautiful scenery.
Romantic Coffee Dates in Asheville
Green Sage
If you're looking for a healthy start to your day with a nice cup of coffee, Green Sage is the place to go. You don't have to go in the morning, this cafe has food for any meal of the day, with vegan and gluten-free options.
Health nuts and non-health nuts would all enjoy this casual cafe. With three locations in Asheville, this is the place to go for a light meal and a nice (alcohol free) drink.
Vortex
This funky shop is the perfect place to hit up if you're feeling the urge to indulge in some amazing doughnuts. Even if you're vegan, they got you covered.
Of course, you can't have doughnuts without coffee. Vortex has gourmet coffee and doughnuts of flavors you may not even heard of. Located on Baks Ave, this is the place to go for a treat with your significant other.
Ultra Coffee Bar
In the quaint coffee bar, you can find a patio where you can watch trains, art, breakfast, lunch, and most importantly, coffee.
There are gluten free and vegan options, making this the place to go for any couple who like a good coffee and meal in the daytime.
Ultra Coffee Bar is located off Clingman Ave Extension, and has a unique location surrounded by art galleries.
Trade and Lore
If you and your partner are looking for a chill place to go, Trade and Lore is a coffee shop located in the heart of Asheville off Wall St.
The locally roasted coffee and light bites are a great way to support the local community and enjoy a nice brunch with your partner.
Summit Coffee Co.
This beautiful and adventurous coffee shop located in the heart of the River Arts District, and has outdoor seating for sunny days.
If you and your significant other like a good outdoors-style vibe, this is a great location to enjoy each other's presence as well as a good cup of joe.
French Broad Chocolate Lounge
Chocolate is the famous romantic treat, and there is no problem with that. Take your partner to this chocolate lounge for a nice cup of coffee and a delicate chocolate treat.
The lounge is located in a vintage building with a simple interior; a perfect balance between luxurious chocolate and coffee.
This heaven for chocolate lovers is perfect for a sweet treat and an intimate experience.
Old Europe Pastries
This vintage-styled pastry shop is located off Broadway St in the eclectic downtown area of Asheville and is the place to go to indulge in locally roasted brews and European pastries.
Open from early morning to late night, this is the perfect spot to have an early morning coffee or a late night dessert with your significant other.
Don't miss the opportunity to try some worldly and delicious pastries with your partner.
Malaprop's Bookstore and Cafe
If books and coffee get you two going, visit Malaprop's Bookstore and Cafe for a cozy coffee with a good read. Located in Downtown Asheville, this is the place for you two to cozy up with each other and enjoy the calming presence of books and coffee (maybe even a pastry too).
Izzy's Coffee
With two locations in Asheville, Izzy's coffee has coffee (obviously), pastries, beer, and wine. Who said you couldn't have wine in the morning?
The location off Lexington Ave has a retro interior and is decorated with art, making it perfect for art-loving couples.
The location off Haywood Rd has a nice patio and and couches, which means the two of you can cozy up with your coffee or beverage.
Romantic Restaurants in Asheville
Cúrate
Cúrate, a restaurant family-owned restaurant, serves authentic Spanish cuisine, including tapas, jamón Ibérico, and vermuterías.
The restaurant's all Spanish wine list is something that should not be overlooked by you and your significant other. Enjoy some delightful tapas in a rustic environment with a drink and talk the night away.
5 Walnut Wine Bar
This brick-walled wine bar with handcrafted decor is a homey establishment with local beer, wine, cheese, and small snacks to accompany you and your partner.
Not only do they provide a wide variety of drinks and nibbles, there is also live music every night performed by local bands.
This lively and romantic experience is perfect for those who enjoy a good time and some music.
Wicked Weed Brewing Pub
This hip brewery and restaurant located in downtown Asheville is the place to go to taste some locally sourced eats as well as some local beer.
The lower floor includes a beer bar and a cocktail area, and the upper floor is where the restaurant and second cocktail area is.
There is also an outdoor patio area for a warm summer's night. If you want to save some beer for later, there is a bottle shop as well. Ranging from ales to ciders, this establishment is the perfect place for the two of you to satisfy your beer cravings.
Chestnut
Chestnut, located in downtown Asheville, has a ever-changing dinner menu according to the month of the year, as well as craft food, cocktails, lunch, and brunch.
This is the perfect place to go anytime of day to enjoy some creative food and a refreshing beverage.
Chestnut is located close to many Asheville attractions downtown, making it a good stop to make while cruising around the downtown area.
Chai Pani Asheville
Chai Pani Asheville has laid-back dining experience with some luxurious Indian chaat (Indian street snacks) and thalis (homestyle Indian platters).
Located in downtown Asheville, it is a good decision to stop by for some tasty bites, snacks, or just a little something to get you through the day.
Although the prices may seem cheap, the quality of food is certainly rich and authentic. If you and your significant other want to relax and chat with some chaat, Chai Pani Asheville is for you.
Jack of the Wood
This cozy Irish pub located in downtown Asheville is a hotspot to relax, listen to some live music, and indulge in some fresh, locally sourced pub fare.
The old world atmosphere plus a pint of ale with your partner is the perfect experience for a laidback night out.
Pillar Rooftop Bar
Last but not least, a deluxe bar to visit is the Pillar Rooftop Bar. Serving cocktails, local beers, and local wines, this rooftop bar has more to offer than just drinks.
They also provide local eats and seasonally inspired food, making this a perfect place to relax, enjoy the stunning view of the mountains surrounding Asheville, and listen to some local musicians while in the presence of your significant other.
***
More Romantic Cities?
If you are already thinking of your next romantic vacay you might like to check out some of our favs:
Save to Pinterest!