Thean Hou Temple in Kuala Lumpur is a picture perfect Buddhist temple in Malaysia.
Occasionally misspelled Tian Hou temple – if you are looking Instagram worthy places in KL then add this to your list.
This guide to Thean Hou temple covers everything you need to know including where to visit afterwards.
Thean Hou Temple Malaysia
The temple is a stunning multicoloured Buddhist temple, dedicated to Thean Hou (Temple of the Goddess of Heaven).
Historically, Thean Hou is said to protect the fisherman.
Kuala Lumpur is a very multicultural city. Thean Hou Buddhist temple represents the Malaysian Chinese cultural identity within Malaysia.
Currently, the temple is used as a place of worship and also to facilitate weddings. Tourists also regularly frequent the temple to admire its beauty.
As it is set on a hill in Robson Heights, the temple overlooks Jalan Syed Putra and offers lovely views of Kuala Lumpur.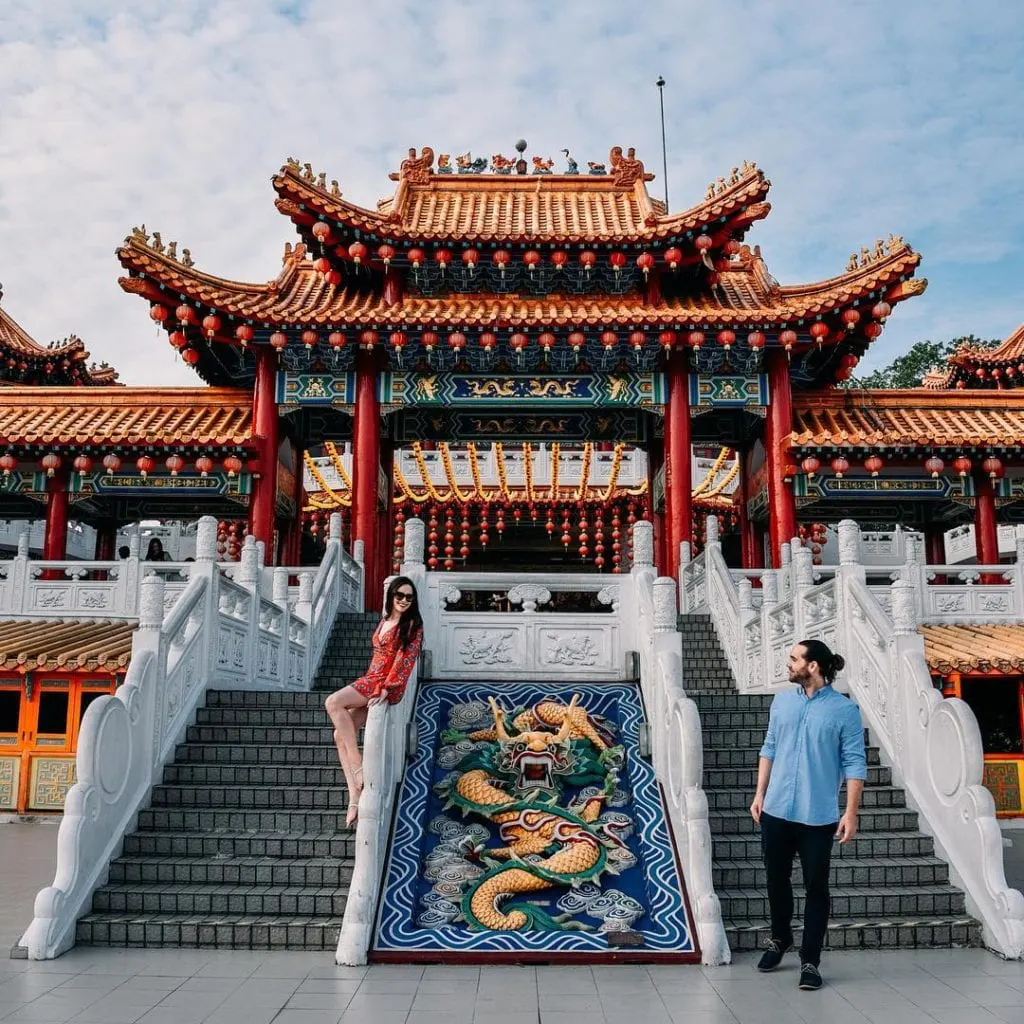 Fun Facts about the Chinese Temple in KL
Architecture: The temple is a fusion of traditional architecture and modern building techniques. Inspiration for the temple comes from Buddhism and Taoism. You will find striking pillars, ornate carvings, domed roofs, intricate ceiling art, multi-arches, colourful lanterns and a spectacular 6-tiered roof.
How old is it?: The temple was built in 1981, so it's despite the traditional architecture resembling a bygone era it's not that old. The temple is also well maintained so you could it's not hard to imagine that it was built more recently.
Ticket Price: There is no admission fee to enter Thean Hou temple.
Contact Number: Call Thean Hou Temple ROM on 03 2274 7088
2019 Events: Thean Hou hosts events including Chinese New Year. and the Lantern Festival 2019 Check out the official website below for more event information.
Website: Official Website
Opening Hours
The most famous Chinese Temple in KL is open 8am – 10pm daily.
The best time to visit to have the place to yourself is before 9am in the morning. The temple starts to get busy after 9am.
From around 8.00am in the morning you can hear prayers calls – the temple is a very calm and tranquil place as it is still used as a place of worship.
Dress Code
Unlike Batu Caves, where there is a requirement to cover up, there is no Thean Hou temple dress code.
However, as it is a place of worship you are expected to dress respectfully.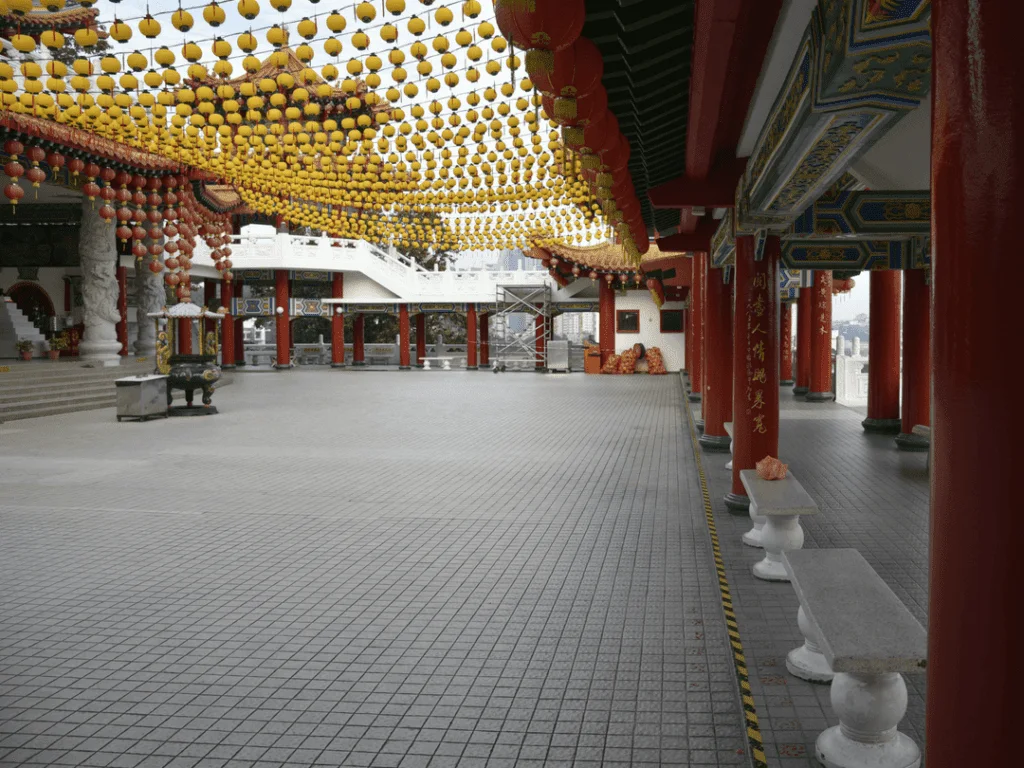 How to get there
The temple is an easy 5-10 minute drive from KL city centre.
Wondering how to get to Thean Hou temple by public transportation? We cover all the options – bus, train and LRT below.
Thean Hou by Car
Thean Hou temple from KL Sentral is an easy 5 – 10 minute drive.
For GPS directions here is the pinpoint Google Maps Address: https://goo.gl/maps/LQd27PfcLjq
There is plenty of parking near Thean Hou temple.
Pubic Transportation
Public transport to Thean Hou temple is good but not ideal. We can tell you how to get there but be warned it will involve some walking.
LRT / Train
The nearest LRT station to Thean Hou temple is Bangsar station, which is not really that close
Alternatively, you can catch the KTM to Mid Valley station.
From either station you can walk for about 2 – 3 kilometres (about 20 – 30 minutes) or catch a taxi up the hill.
Personally, the rigmarole of catching a taxi from a train station is enough to make us want to catch a Grab the whole way instead.
Bus
When travelling we personally prefer to use the metro or train to get around by public transport.
We find buses tend to run late, it's easy to jump on the wrong bus and more difficult to correct your mistake if you miss a stop.
If you do intend to catch the bus to Thean Hou temple then we recommend using Google Maps to find the best route from wherever you are in KL.
Here is Google Maps directions from KL Sentral to Thean Hou temple by bus. You can change the "from" destination as necessary.
Taxi / Grab
We recommend using Grab to visit the temple. It costs around 5 MYR ($1-2USD) from KL Central / Brickfields.
This was one of our favourite things to see in Kuala Lumpur.
Weddings (ROM)
Thean Hou temple is a popular place to get married. If you look at photos of Thean Hou temple at night, with hundreds Chinese lanterns illuminating the darkness, it's easy to see why.
To find out more information about having your wedding at Thean Hou temple contact the registry of marriages.
Thean Hou Temple ROM: Official Website
Office Hours: 9am – 17:00pm every day. Not closing time for Thean Hou temple ROM is earlier than the temple opening hours.
Telephone: Call Thean Hou Temple ROM on 03 2273 7682
Attractions Nearby – More Activities & Temples in KL
Thean Hou is a great place to spend 30 minutes to a few hours but there is no need for your visit to take all day.
Here are a few things to do after your visit to Thean Hou temple but before you venture out to explore the rest of this country to the former Portuguese colonial town of Melaka and to the lush green tea fields of the Cameron Highlands.
Things to do Near Thean Hou
Unfortunately, Thean Hou isn't really within walking distance of any notable attractions.
However, there are several places to visit near Thean Hou which are worth paying a Grab fare to visit.
Batu Caves: Malaysia's most iconic attraction, particularly after the stairs have recently been repainted like a rainbow. Driving from Thean Hou temple to Batu Caves takes around 30 minutes but as you will see in our guide to Batu Caves it's well worth the trip.
KL Forest Eco Park: This forest in the heart of KL is worth a trip. If you are on the trail for Instagram worthy places in KL then make sure you visit to get a photo of the hanging bridges like the one we took in our KL Forest Eco Park guide.
Brickfields: This funky area in downtown KL is known as Little India. If you haven't had enough vibrant, colourful, intricate arches, then make your way here.
Sri Mahamariamman Temple: Can't get enough temples? Why not visit the most popular Hindu temple in KL which dates back to the 1800s. It's also incredibly colourful and intricate (you might have noticed Malaysian's LOVE colourful buildings and so do we)! Google Maps Link: https://goo.gl/maps/f7pD9eDpjsp
Shopping Malls nearby
NU Sentral is the closest shopping centre near the temple. It's large by Asian standards and includes large brands like H&M, a movie cinema and plenty of restaurants including a well-stocked food court.
However, if you really want to do some serious shopping you'll want to visit the Pavilion Kuala Lumpur. This upmarket shopping centre has over 550 retail outlets and restaurants. It's the biggest and most popular shopping mall in KL.
Restaurants nearby
If you are feeling hungry visiting the temple, check out these awesome restaurants:
Seafood: The closest seafood restaurant to Thean Hou is Robson Heights Seafood Restaurant which is 8 minutes walk or a mere 2 minutes driving. Google Maps location: https://goo.gl/maps/LyxToefN9sG2
Dim Sum: If you have a hunger for Dim Sum then head to Dolly Dim Sum at NU Sentral. Another option is Restaurant Yan Yan A One. Both popular Dim Sum restaurants are about 10 minutes drive by car from the temple.
Chinese: The nearest Chinese restaurant to Thean Hou temple is Restauron Siu Siu which is one street away. Unfortunately, this is one very large street which will take you 15 minutes if you're walking or 3 minutes by car. Google Maps Location: https://goo.gl/maps/KEBexGcquuq
Indian: Make your way to Brickfields aka Little India where you will find delicious, authentic Indian cuisine. We haven't had the chance to visit India yet, but we imagine the Indian food in KL is much more traditional than we are used in western countries. Let's just say after eating in Brickfields we even are more inclined to visit India.
Where to Stay Nearby
If you are looking for a nice hotel near Thean Hou temple then check out the glamorous Majestic Hotel.
The temple is located near KL Sentral so we recommend anywhere in that area if you plan to visit early.
Need any other advice about visiting Thean Hou temple? We would be happy to help! Leave us a comment below!
Pin these guides to Pinterest (so you can find it again later)