Looking for the best things to do in Sirmione? We have you covered.
One of the best towns in Italy for summer vacations, Sirmione is a "must see" if you are visiting the stunning Lake Garda. Many people consider the town of Sirmione, a small village on the southeastern shoreline of Lake Garda, to be the highlight and most beautiful place to visit in the area.
Family members who had recently returned from Sirmione recommended we visit, and I must say it did not disappoint. It is definitely one of Italy's hidden gems and best kept secrets.
While we were there we scoped out the best things to do in Sirmione to occupy your time. Keep reading for the unmissable activities and attractions in one of Italy's best lake spots.
Where to stay? We stayed at Casa Scaligeri and would highly recommend it. It was clean, comfortable and located right in the heart of Sirmione. The breakfast was some of the best we have ever had in all our travels.
11 Best things to do in Sirmione Lake Garda
The tour is only 10€ and highly worthwhile doing. Our hotel recommended we do this activity first, as it gives you a great overview of the highlights of Lake Garda.
It is also a great activity to do if you are short on time or if you are visiting Lake Garda as a day trip from somewhere else in Italy as the cruise of the scenic Sirmione peninsula only lasts around 25 minutes. It is a truly magical way to experience Sirmione.
We would recommend a morning or evening cruise as the peninsula is particularly stunning at this time of day. The boat trip takes you past some of the peninsula's most impressive luxury villas, the Aquaria Thermal SPA, and Roman ruins at the Grotte di Catullo – a ruined Roman villa.
Book your tour here.
2. Eat Gelato
Sirmione has some of the best gelato we have tried in Italy (and we have been to quite a few places in Italy).
You can't visit Sirmione without eating an extremely high quality gelato.
Our favorite place to ho down a gelato is Scaligeri. We found the gelato to be very reasonably priced (around €5 for a double scoop). They also do decent serving sizes which is a big plus.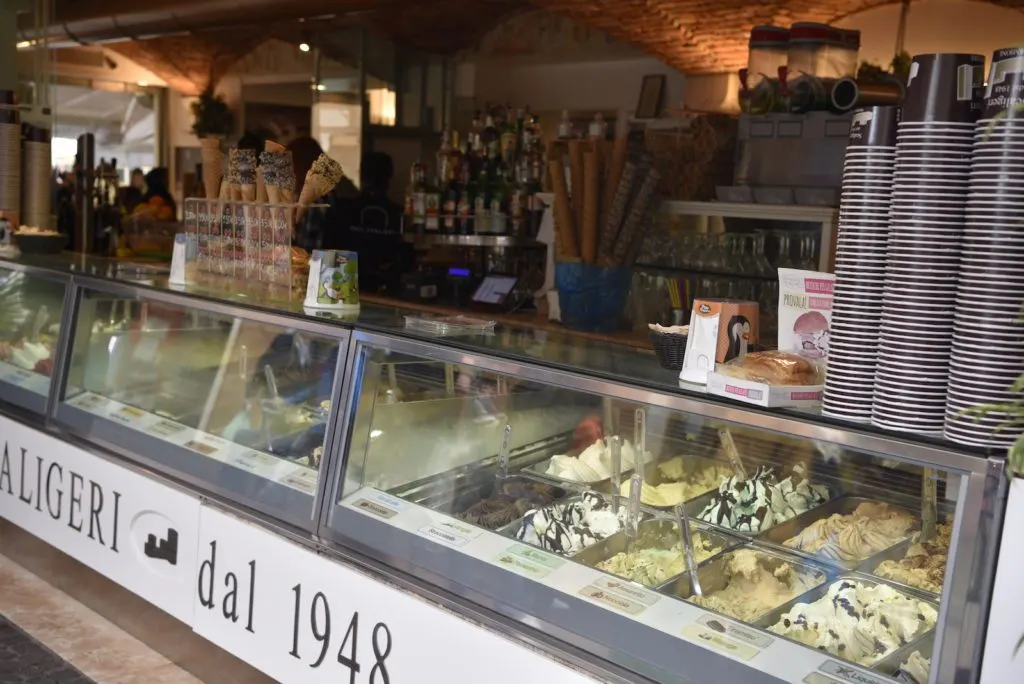 3. Visit Castle Scaligero (aka Sirmione Castle)
The town of Sirmione centres around Castello Scaligero. You can't visit Sirmione without seeing this medieval castle – it is virtually impossible as it is located in the very heart of the city. Before passing the bridge to enter the old town, you will see the castle on your right hand side, surrounding by a small canal.
In my opinion, this castle is one of the things that makes the town of Sirmione so special. It is a fortress of the Scaliger era and is one of the most restored and impressive castles in Italy.

You can walk around the outside for free but I would highly recommend going inside the castle if you want an incredible vantage point of Lake Garda.
We were not sure if we wanted to pay the €6 entry fee (as many castles we have entered in the past are quite boring inside) however, we were very pleased we did as we were rewarded with fantastic views stretching across the whole town of Sirmione. There are discounts for children and European students under 25, so bring your ID if you fall within this category.
Be aware that it requires climbing quite a few stairs to reach the very top of the castle and there is no wheelchair access so only enter if you are able bodied and ready for a bit of exercise.
I read online there are guided tours of the castle but I did not see any guided tours available. The lady at the entrance provided us with a written guide where we were able to learn more about the history of the castle including its use as a medieval fort including the very cool moat and drawbridge.

4. Take a dip at Jamaica Beach
One of our highlights of Sirmione was visiting Jamaica Beach, just below the ruins of Grotto de Cattulo, it is definitely one of the best things to do in Sirmione. We thought it was quite funny that the name of the beach was "Jamaica Beach" being in Italy, if you know the origins or why it is called this, let us know in the comments below as we would love to know.
It is not really a beach as such but more of a lake beach which I think I actually prefer because I am not really big into sand and of course, being on a lake there is no sand but only big rocks. Take extra care if you are planning to go for a swim as the rocks are very slippery, it takes quite some skill to enter the lake.
From the town of Sirmione, it is around a 20 minute walk to reach Jamaica Beach or alternatively you can catch a little tram to the beach for around €1.50. If you choose to walk, when the road parts, walk towards the left (not the right into the park) to reach Jamaica Beach directly; the right takes you to a public beach. If you only want to swim, the public beach would be fine but if you want a reasonably priced cold beverage or to rent a sun lounger, we would recommend Jamaica Beach.
Tip – Sun loungers at Jamaica Beach usually cost around €8 per lounge however, some hotels in Sirmione include use of the Sun loungers for free. Ours was one of those (Casa Scaligeri) and we would highly recommend a stay there as the rooms were lovely and the service and breakfast was outstanding.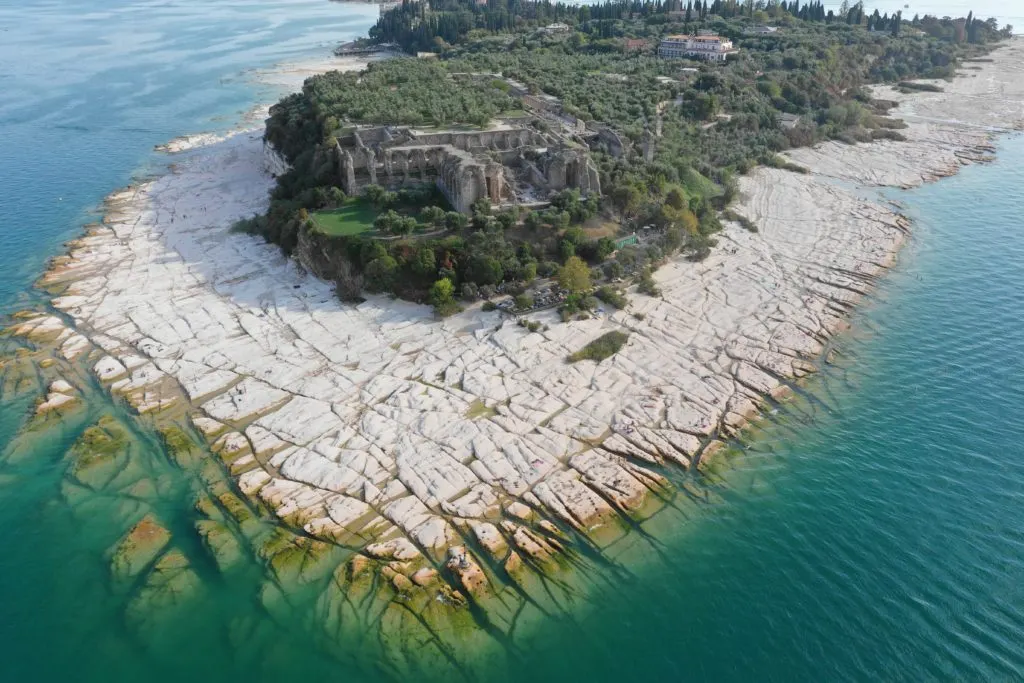 5. Admire the ruins of Grotto De Cattulo
After (or before) visiting Jamaica Beach, we recommend checking out the ruins of Grotto De Cattulo. It is the largest and most well preserved Roman villa in Northern Italy.
It is called a "grotto" as in the late 15th century ancient structures used to be called grottoes to indicate underground places.
After taking a dip, we walked up the path to reach the ruins on the top of the hill, overlooking the beach. It is a bit exhausting and you'll get a bit parched so remember to bring some water with you before making the hike or buy some at the Jamaica Beach bar.
If you are a history buff who loves ancient ruins, you'll love these. I've seen a fair few ruins in my time and while we enjoyed the ruins, it was worth visiting for the panoramic views alone.
You could spend as little as around 30 minutes to as much as a few hours exploring the ruins, originally a Roman villa, built between 1st century BC and 1st century AD.
Entrance to the ruins costs €8 per person. Again, there are discounts for children and European students under 25 so remember to bring your ID if you fall within this category. Entrance includes a small covered museum with artefacts and interesting information.
6. Wander (And eat your way) around the quaint streets of Sirmione
I think what made Sirmione so special (and a stand out town in Italy) was the town was so cute and there were tonnes of quaint laneways with cute cobblestone streets and traditional Italian architecture to explore.
Sirmione is also a foodies paradise so if you like seriously good Italian food you will be in heaven here as there is an amazing restaurant on every corner. You can't go wrong with any of the restaurants in the city but if you are looking for a really good pizza (we always crave this when we head to Italy) we would recommend L'Accanto. If you want a restaurant with a great view of the lake, try Ristorante l'Arcimboldo especially if you are in the mood for some good lasagne as it serves some of the best in the region.
Even if you chose not to visit Grotto De Cattulo, Jamaica Beach or Castle Scaligero, you would be more than happy wandering around the town of Sirmione all day as there are tonnes of unique shops for souvenirs as well a traditional Italian cuisine to enjoy.
7. Take a dip in a Thermal spa
This region of Italy is known for its thermal spa waters. If you go on a boat tour they will even point out an area of the lake where the water is hot and bubbling from underneath.
As you can't simply jump out in the middle of the lake and enjoy the hot spring there, there is a thermal spa in town that visitors can enjoy called Aquaria Thermal Spa. It is the perfect place to go if you are looking for a really relaxing holiday in Italy as there are numerous hot outdoor baths, jacuzzis, an indoor spa, sauna and steam rooms to enjoy. You can even treat yourself to a massage if you are feeling generous.
If you are thinking that you might like to visit the spa, we would recommend booking well in advance as all but the most expensive tickets were sold out during our stay. They are also commonly booked out completely on weekends during the summer tourist months.

8. Make a trip to Gardaland
If you are traveling to the area with kids (or if you are a big kid yourself) and you have some extra time in the Sirmione area you could make a trip to Gardaland, one of the most popular attractions and theme parks in Italy.
Even though it is not located in Sirmione, a trip to Gardaland is advertised in almost every hotel in the area. Inside the theme park you will find some of the best roller coasters and rides in Europe including the ever popular log fume ride.
Gardaland is quite reasonably priced, if you have your own transport, at only 44€ per adult.
9. Church of San Pietro
If you love beautiful Italian churches, make sure you schedule a visit to the Church of San Pietro while staying in Sirmione, it is one of the best places to visit in Sirmione for sure.
The church is a very peaceful and tranquil place to visit, surrounded by olive groves, away from the hustle and bustle of the busy streets of Sirmione.
While the church is simple, you will find beautiful stained glass windows and 15th-century frescoes inside. The church itself dates back to the 8th century with the bell tower dating back to the 11th/12th century.
10. Visit Other Lake Towns
The beauty of having a car in the area is the ability to easily visit some of the other best lake towns in Lake Garda.
We visited 2 other lake towns from Sirmione – Garda (which is a 50 minute drive from Sirmione) and Torri Del Benaco (which is a 1 hour drive from Sirmione) and just 10 minutes down the road from Garda.
Garda was a cool town with the majority of restaurants being positioned directly on the lake. It is a nice place to dine and soak up the lake view. It is also a nice place to go for walk along the lake, especially in the summertime.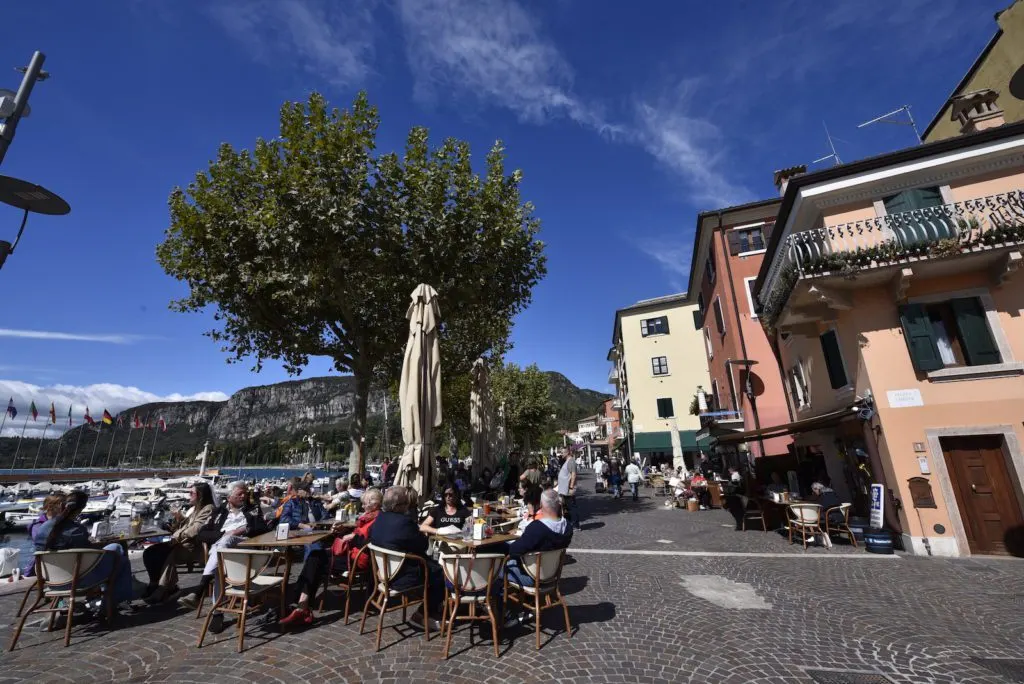 Torri Del Benaco is also worth visiting. Like Sirmione, there is a cool castle called Il Castello Scaligero di Torri del Benaco which is highly rated as well as a gorgeous lakeside promenade lined with Italian restaurants.
We would recommend a visit to Alla Grotto restaurant for seriously good and well priced pizza. Plus the view is pretty good too!

11. Or a trip to Verona
Many people choose to stay in Verona and make a day trip to Sirmione but if you are staying a few days in Sirmione you could make the trip the other way and visit Verona for a day. Verona is easy to reach by train from Lake Garda or if you have your own rental car you could alternatively drive there.
Don't miss seeing the famous Juliet balcony and making a visit to the Roman Amphitheatre. If you decide to stay overnight, the opera is always a good experience in Verona.
How to get to Sirmione Lake Garda?
One of the easiest ways to reach Sirmione is by flying into Milan. There are cheap flights to Milan from all over Europe as it is a major flight hub.
If you are traveling by car (which we would recommend), it is approximately a 2 hour drive from Milan if you use toll roads which cost around €13. If you choose to avoid the toll roads, it adds an hour to the journey. If you wish to go by public transport you can get a train from Milan central and go directly to Desenzano del Garda. It also takes around 2 hours by public transport and costs less than €10.
You could also visit Sirmione from Verona which is only 1 hour drive away. Alternatively, if you don't wish to bring your car with you, you can get a train from Verona to Desenzano del Garda and then a short ferry to Sirmione. It is super cheap and only will set you back around €5 from Verona.
We booked our rental car through RentalCars.com as they had the best prices (and we could add comprehensive insurance for a much better price than purchasing it through the rental agencies directly.
How many days to spend in Sirmione?
Sirmione is a small town and you could visit on a day trip and have enough time to do everything. We would personally recommend staying 2-3 nights to really enjoy and soak in this beautiful Italian town.
It is particularly magical here after nightfall, and there are great restaurants in the area to enjoy so if possible, we would recommend staying a few nights here.
Where to stay in Sirmione?
There are some great places to stay in Sirmione. One tip we would make is to stay within the city walls, even if you are traveling to the area by car.
Sirmione is a walking city so driving and parking around the city is not really very possible. However, many of the hotels have a park and ride option, where they transport you from the car park to your hotel on golf buggys, which is pretty fun. Depending on the hotel, if you didn't have many bags, you could also walk from the park and ride as it usually only around 500 metres away from the historic centre.
We stayed at Casa Scaligeri , a modern style hotel completely renovated in a 15th century building, and would highly recommend it. It was clean, comfortable and located right in the heart of Sirmione, a few steps from the Scaligeri Castle, overlooking the stone alleys that characterize the peninsula. The breakfast was some of the best we have ever had in all our travels. If you are feeling up to it, the hotel also offers free bikes to guests.
This was so much better than our accommodation in the Dolomites. If you want to read a hotel horror story in the Dolomites, feel free to do so here.
Alternatively, if you want to check out everything Sirmione has to offer, you can search your dates in Sirmione here.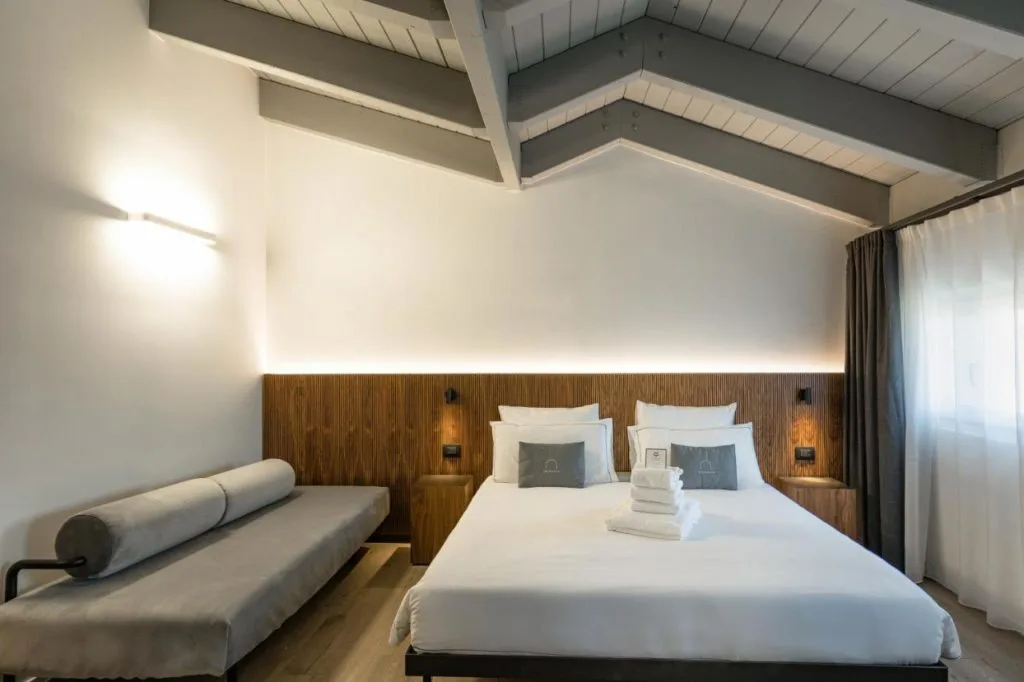 ***
See more: