Looking for a 2 Week New Zealand Itinerary? You have come to the right place. What can you see in New Zealand in 2 weeks? Well, quite a lot actually.
If you have two weeks in New Zealand you have enough time to explore the North and South Island.
Touring New Zealand in a camper van or car is one of the most iconic, bucket list-worthy road trips of all time.
This 2 week New Zealand itinerary includes everything you need to know about spending 2 weeks in New Zealand including the best places to see, where to eat and where to stay!
2 Week New Zealand Itinerary (Ultimate Guide – South Island + North Island)
There is so much to do in New Zealand – this 2 week itinerary of New Zealand is a highlight reel of the best of the South Island and North Island – on steroids.
Buckle up for a detailed read of what not to miss, where to find sumptuous New Zealand food and drinks, and where to stay each night.
Conveniently, we split our time fairly evenly between the North Island and South Island, so we'll address each in turn.
Where to start a New Zealand roadtrip? Auckland or Christchurch are the most popular starting points for a New Zealand road trip.
We used Mad Campers as our vehicle of choice during our time in New Zealand. The exception being the first two days of our trip where we hired a regular car.
You have two options when visiting New Zealand: you can camp (with a campervan being ideal) or you can rent a car and stay in hotels. We have done both in NZ and are both brilliant!
South Island New Zealand Itinerary 8 Days
There is so much to see in the South Island of New Zealand.
Eight days is enough to see the highlights however, you could easily spend a month in the South Island of New Zealand and not get bored.
Day 1: Christchurch
Christchurch is a great place to fly into. We got a great deal on flights to New Zealand. Check here to search the best deal on flights during your dates.
Christchurch is a beautiful city however, sadly it has still not completely recovered from the devastation of the earthquake.
You can still see the effects of the earthquake in the main church in Christchurch.
What to do in Christchurch?
One of the most popular activities to do in the area is punting on the Avon River, a stunning river that runs through the city.
While Christchurch wouldn't be considered a 'must do' in New Zealand, it is a nice start to a New Zealand road trip as the town has an English vibe, having been modeled around English cities such as Cambridge.
While in Christchurch be sure to check out the beautiful parks including the Botanic Gardens, one of the best rated sites in the city.
We choose to spend the afternoon eating and drinking along one of Christchurch's most popular streets New Regent Street. New Regent Street has very cute instagrammable houses.
A nice place to end the day is Sumner Beach, a trendy beach side suburb of Christchurch with lots of bars and food.
We kicked off our unofficial New Zealand food road trip in style here.
What to eat in Christchurch?
Don't miss one of the best places for ice cream in Christchurch at Rollickin Gelato – a local hotspot for delicious New Zealand ice cream.
In the Sumner area, the Village Inn Sumner cannot be missed. They offer $5 handles of beer and our outstanding Farmer's platter – seriously order this – it will blow your mind.
Another dining option in the city is the Monday Room which is famous for tapas and cocktails.
Where to stay in Christchurch?
We decided to fly into Christchurch a few days before collecting our Mad Camper.
We stayed at the Christchurch Novotel, a great mid range option for travelers right in the centre of the city.
There are a great range of accommodation in Christchurch in accordance with your budget. Here is our recommendations:
Budget – A great option for a budget traveler is Breakfree on Cashel
Mid Range – Aside from the Novotel, another good option is Ramada Suites
Luxury – For a stunning luxury stay in the city, you can't go past The George.
Day 2: Akaroa – a perfect day trip from Christchurch
One of the most popular day trips from Christchurch is the seaside town of Akaroa.
Akaroa is definitely a 'must do' town. It is one of the most picturesque towns in the whole of New Zealand.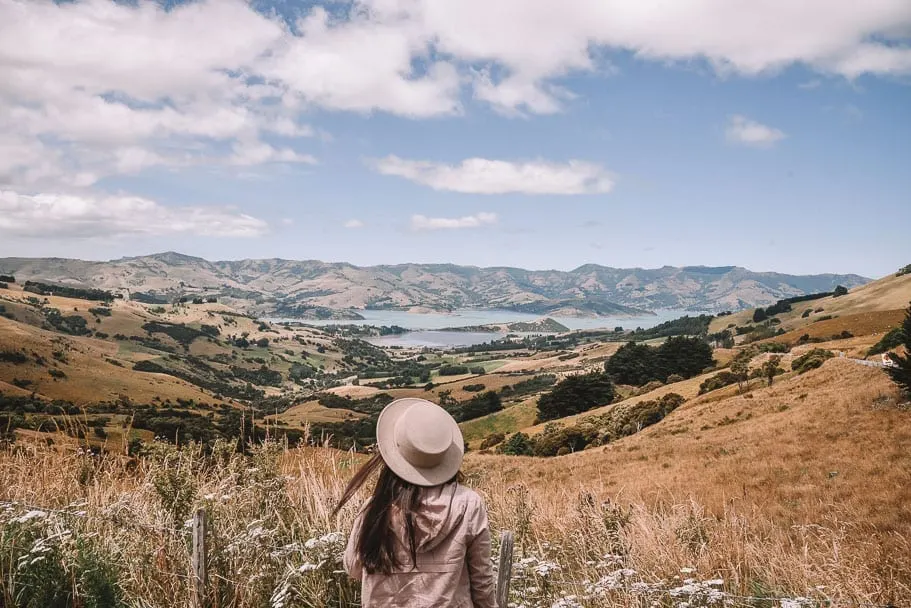 What to do in Akaroa?
There is no shortage of fun things to do in Akaroa. Many people visit to swim with dolphins in the wild.
As you approach Akaroa from Christchurch, there is an amazing look out of the town. Here you can get some pretty amazing photos.
If you are a cheese fan you will also love Akaroa as you can taste some of the best cheese of your life at Barry's Cheese Factory.
Another fun activity in Akaroa is to visit a winery.
We love visiting and tasting wine, having toured some of the best wine growing regions of the world including Mendoza Argentina, Napa Valley and Tuscany.
In Akaroa we visited Meniscus winery. The winery itself was beautiful and the wines delicious however, the owner was rather gruff and unfortunately hurried our tasting experience along. He also wasn't a big fan of people using his winery as a backdrop for beautiful photos – oopsy!
If you would like to visit the winery it is $10 a person for tasting or free if you buy a bottle.
To end a pretty perfect day in Akaroa we took a walk in Akaroa Heritage Park.
Akaroa Heritage Park has some enjoyable short walks and absolutely stunning views to enjoy. It is the ideal background for that perfect instagram shot!
What to eat in Akaroa?
On the way from Christchurch to Akaroa, we stopped at Little River Cafe & Store and experienced some of the best date scones of our life. Seriously, they were great, you have to stop and try them!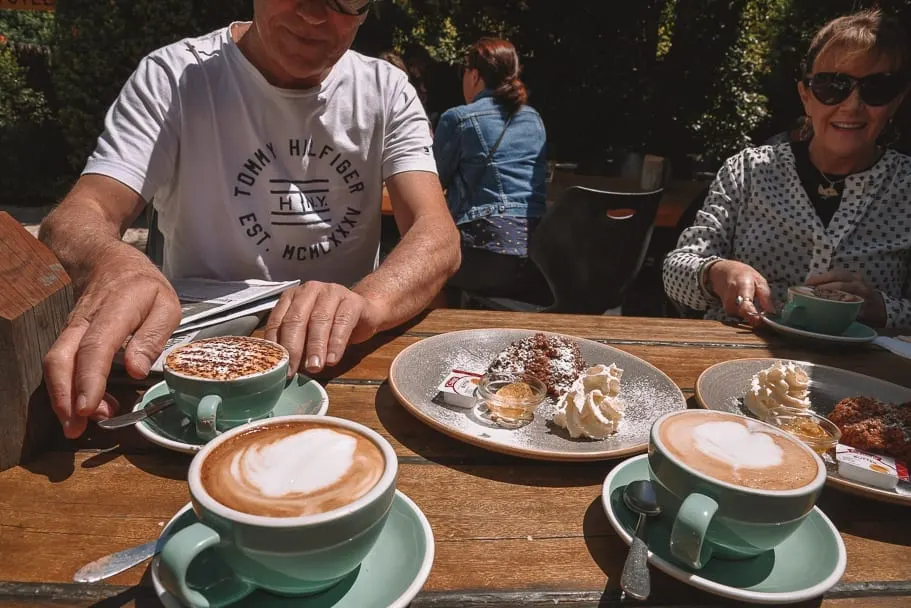 In Akaroa town, we dined at The Wharf, a popular restaurant right on the waterfront of Akaroa.
The restaurant was very crowded and we even managed to send our drone up from the outside as we ate and drank.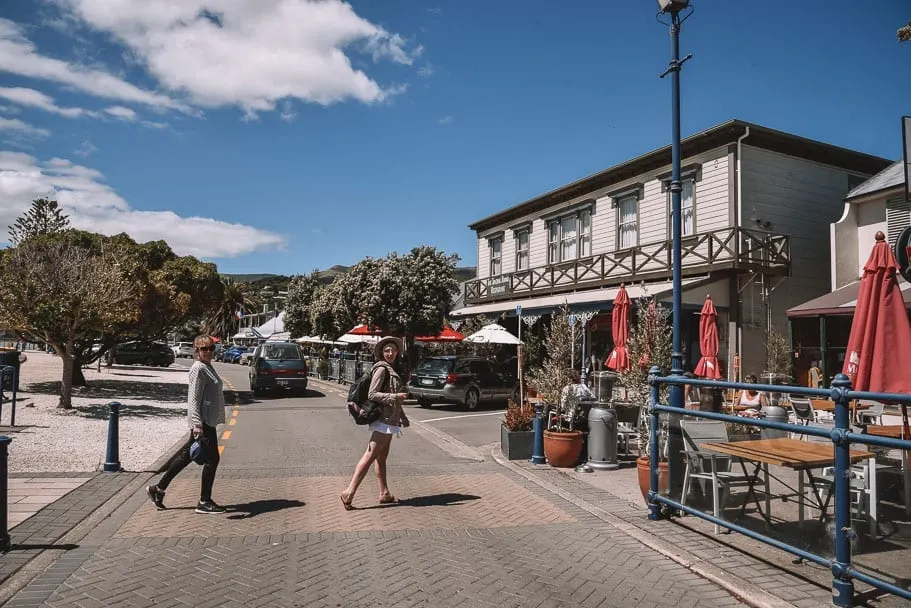 Where to stay in Akaroa?
We traveled to Akaroa as a day trip from Christchurch. However, if you prefer there are a range of options to stay in town. This is what we would recommend:
Day 3: Franz Josef Glacier
The journey between Christchurch and Franz Josef Glacier is 4.5 hours. While it is a long drive, it is very scenic so the time passes very quickly between the two destinations.
Franz Josef Glacier is so beautiful it will likely be one of your highlights of your 2 week New Zealand itinerary.
The drive is particularly picturesque as it passes through Arthur's Pass.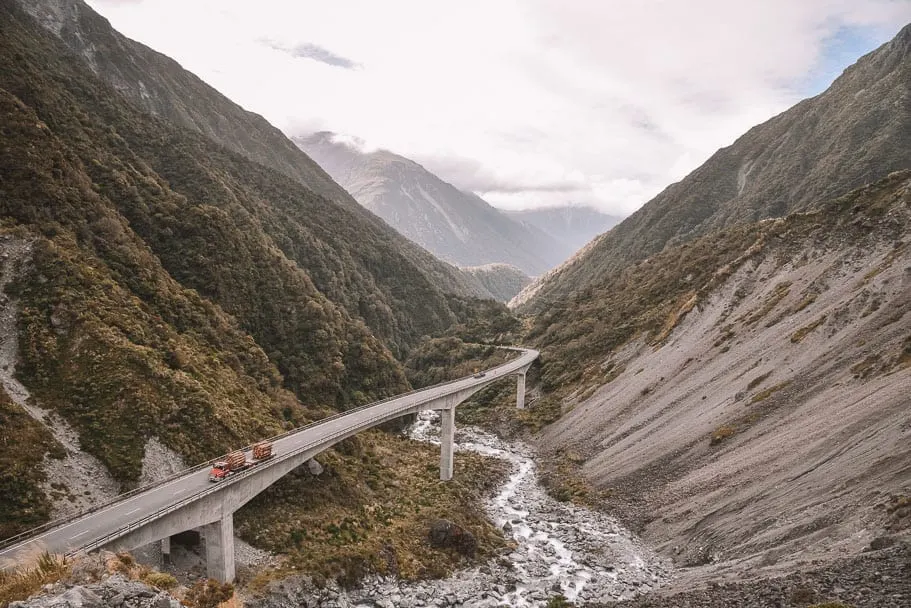 During the picturesque drive, make a stop at Otira Viaduct Lookout. Here you will not only see beautiful views of the valley but have the chance to meet New Zealand Kea birds.
The birds are very interesting to look at and also very friendly having become quite accustomed to their celebrity profile at the look out.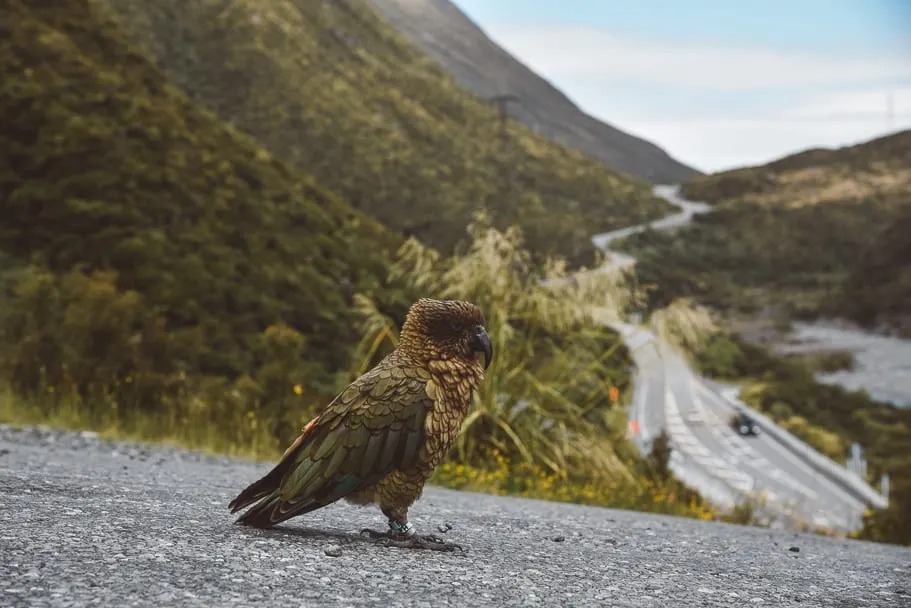 We decided to make a pitstop for food before arriving at Franz Josef Glacier at Hokitika, a super cute little seaside town with fabulous fish & chips.
It's about 3.5 hours direct from Christchurch to Hokitika so it's a great place for a stop. Check out that post for more details about what to see along the way.
Porky's Takeways is a popular spot for fish and chips in the area. You can tell by the super size locals inside, this is some seriously good fish and chips.
On the downside, the fish is actually local New Zealand shark which initially we were a little apprehensive about. On the plus side, it turns out unlike Australian shark, New Zealand flake is actually quite tasty!
From Hokitika it's a little under two hours to Franz Josef. There's a few places to check out along the way which we cover in this post about the drive from Hokitika to Franz Josef Glacier.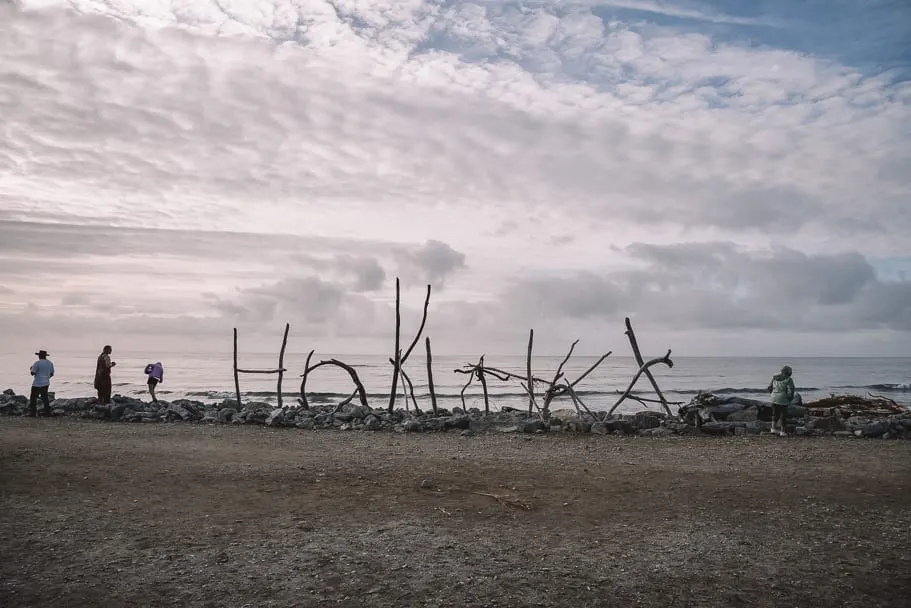 What to do in Franz Josef?
Aside from the picturesque, quaint little town, the main reason people visit Franz Josef is to take a helicopter flight to visit a glacier.
We used the company heliservices.nz and took the 30 minute twin glacier tour.
This was an amazing experience as the flight takes you to both the Fox and Franz Josef Glaciers in one flight.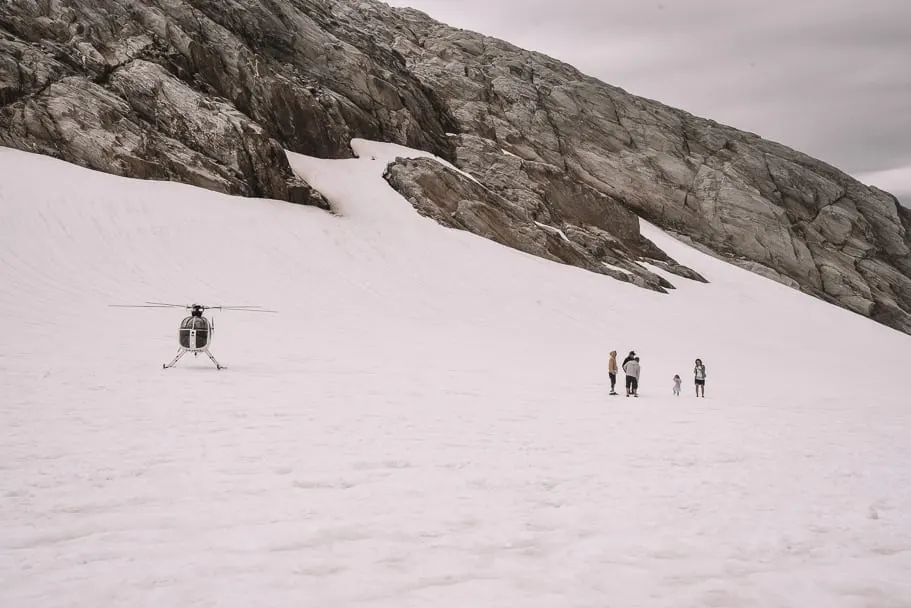 Seeing the deep blue glacier from the sky was one of the most scenic experiences of our life.
Getting to land on a snow topped mountain in the middle of summer was also a pretty cool experience in itself.
For the best views, a morning flight is recommended.
If you are staying a little longer in the area, you can take a hike to Alex Knob, see glow worms in the tartare tunnel.
Where to stay in Franz Josef Glacier?
We had our Mad Camper in Franz Josef, however decided to stay the first night of our camping adventure in luxury (we stayed the remainder of the time in our camper).
We stayed in the Rainforest Retreat in Franz Josef in the 2 bedroom deluxe treehouse. If this is not available, you can click here for other great accommodation alternatives in Franz Josef Glacier.
If you would like to remain in your campervan, the retreat also has camping facilities for you to do so.
Tip – If your budget can handle a 1 night spurge in a luxury tree house, it is highly worthwhile.
Our deluxe rain forest tree house included 2 amazing modern bedrooms with 2 private bathrooms, a very large plush lounge room.
The best part of the tree house however, is the private veranda overlooking the rain forest with your own private hot tub.
The deluxe accommodation options at the Rain forest Retreat include a healthy continental breakfast in room and a complimentary mini bar with wine, beer and soft drinks!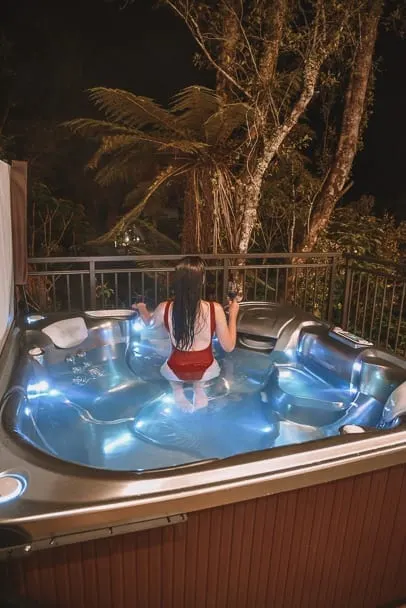 What to eat in Franz Josef Glacier?
The Rain Forest Retreat is home to the most popular bar in Franz Josef, Monsoon Restaurant. Every night Monsoon is rocking with holiday makers making it the best atmosphere in town.
For the atmosphere alone we would recommend having a drink at Monsoon Bar.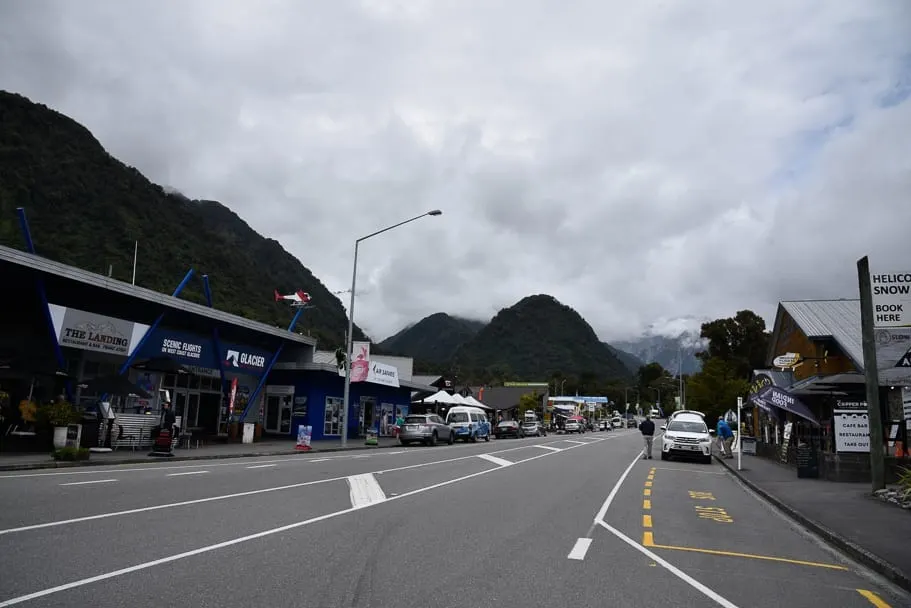 Our next destination was Lake Wanaka.
In between Franz Josef Glacier and Lake Wanaka is Lake Matheson, a mirrored lake which is dubbed one of the most photographed lakes in New Zealand due to its mirror reflection of Mt Cook and Mt Tasman.
Sadly, we did not see a mirror reflection on the day we visited as it was too windy, however, it was still beautiful nonetheless.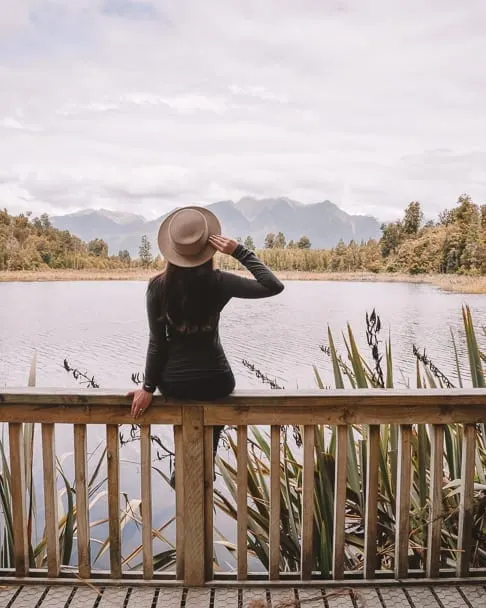 Day 4: Lake Wanaka
Lake Wanaka is an absolutely beautiful town and lake and definitely a place not to be missed in any South Island itinerary.
Wanaka is about 4 hours drive from Franz Josef. Keep yourself occupied along the way with some road trip games like iSpy.
We chose to pass the time by doing some embarrassing carpool karaoke which we uploaded to our Instagram stories. If you chose to share your trip to Instagram make sure to use on of our road trip captions.
What to do in Lake Wanaka?
The town of Wanaka itself was the most popular town we experienced in the South Island of New Zealand.
It is a quaint town filled with cafes, bars, restaurant and boutique shops.
If you are able to stay in Wanaka a few days, we would highly recommend taking a hike to Roy's Peak, a 6 hour hike to one of the best views in New Zealand. It is truly an Instagrammer's delight!
Another great (short) hike in the area is to the Blue Pools, picturesque blue pools about an hour's drive outside Wanaka.
Perhaps the most popular thing to do in the area however is One Tree Lake in Wanaka, a sole lone tree in the middle of Lake Wanaka. And isn't she just lovely?
Where to stay in Lake Wanaka?
We found a fabulous camper ground to park our Mad Camper for the night in Lake Wanaka. Lake Outlet Holiday Park in Lake Wanaka is definitely the best holiday park in the area.
There is also some really nice accommodation in Lake Wanaka if you don't feel like camping.
The showers are clean, there is a little shop on premises to buy something for dinner or snacks and in the morning you open your campervan to the most marvellous view of Lake Wanaka.
What to eat in Lake Wanaka?
Some of the best restaurants and cafes can be found in Lake Wanaka.
Relishes Cafe is known in the area for fantastic coffee and breakfast. We ate one of the best breakfasts of our life at this cafe.
If you are looking for delicious food in a bar scene, Speights is another popular bar with delicious food.
If you are traveling onwards to Queenstown, make a stop at the Cardrona Hotel, a cool themed pub and bar. I mean, seriously, how cool is this place?!
Day 5 & 6 of 2 week New Zealand itinerary: Queenstown and Glenorchy
From Lake Wanaka we headed onwards to Queenstown & Glenorchy.
A short drive on this leg, it is only around an hour's drive to Queenstown and an hour drive onwards to Glenorchy.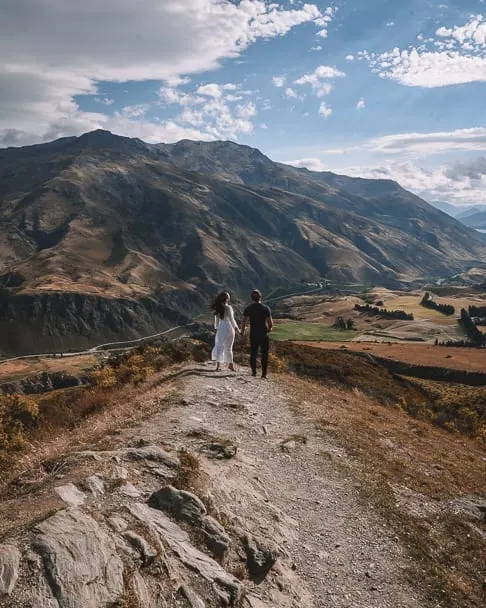 What to do in Queenstown & Glenorchy?
There are so many fun activities to enjoy in Queenstown including buggy jumping and sky diving.
One of the activities we were most interested to try was the K Jet Queenstown, a company that does the famous New Zealand shotover, a speed adrenaline pumped boat ride full of twists and turns.
Queenstown, being the adventure capital of New Zealand, could have taken up our entire time in itself.
However, the drive from Queenstown to Glenorchy (around an hour long) has been dubbed one of the most picturesque drives in the world – a statement which proved very true.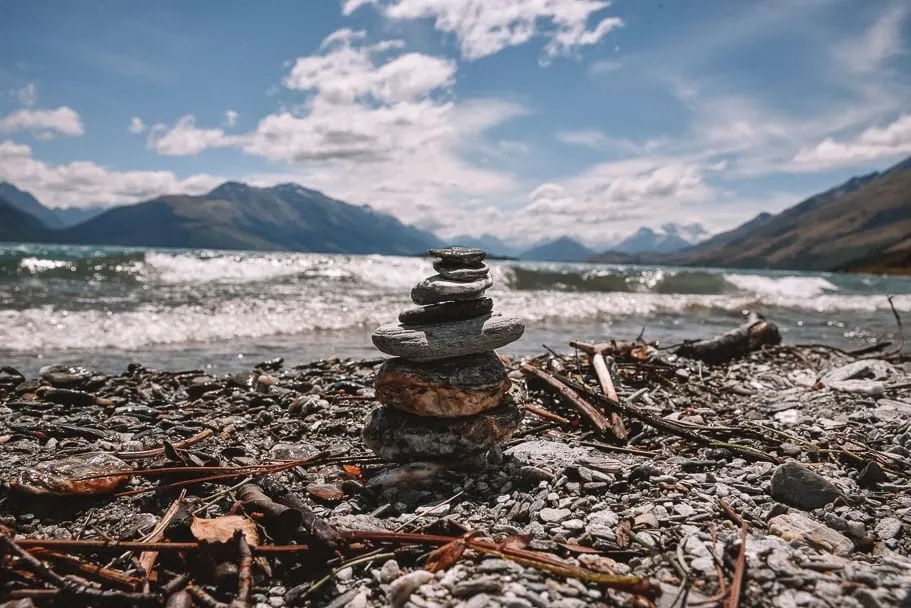 Glenorchy is also famous for being one of the filming locations for the Lord of the Rings.
In order to find these areas, we took directions from our camping site, The Headwaters Glenorchy.
Where to stay in Queenstown & Glenorchy?
As mentioned above we stayed at the The Headwaters Glenorchy, a campsite which absolutely blew our mind.
This campsite was definitely the most lush camp site we experienced in our entire New Zealand road trip, it truly felt more like glamping than camping.
If you don't want to camp, there are plenty of other nice accommodation options in Queenstown.
The toilets at the campsite are modern and pristine. The barn area was amazing with a phenomenal kitchen area.
What was particularly special about this place was the effort the owners placed on providing comfortable sustainability.
Even the compost toilets – usually unbearably smelly – were industrial standard and there was no smell at all.
All electricity on site is generated through solar panels.
Another cool thing about the Camp is the owners don't profit from the venture. Seattleites who call NZ home for half the year, these philanthropists put any profit back into the local community – pretty cool!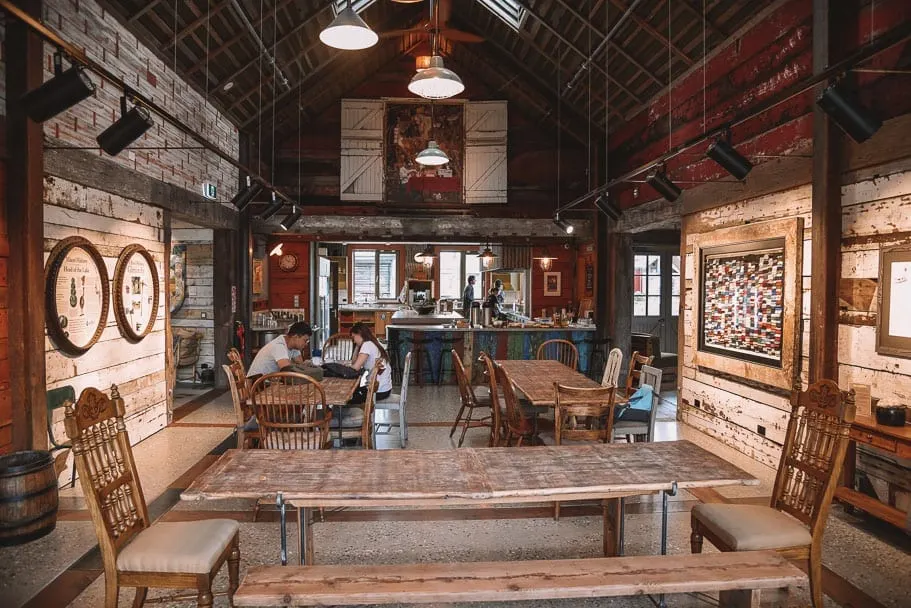 What to eat in Queenstown & Glenorchy?
There are so many delicious places to dine in Queenstown.
If you are a fan of pizza, you cannot pass up an opportunity to dine at Miss Lucys, a yummy wood fire pizza restaurant.
The pizza is seriously delicious and the restaurant also boasts an amazing view of Queenstown.
Try the feta and truffle pizza!
Day 7: Lake Ruataniwha, Lake Pukaki, Mt Cook & Lake Tekapo
From Queentown we moved onto Lake Ruataniwha, Lake Pukaki, Mt Cook & Lake Tekapo.
This was possibly the favourite area of our road trip as the views were breathtaking.
What to do in Lake Ruataniwha, Lake Pukaki, Mt Cook & Lake Tekapo
Simply driving around this beautiful area is enough to satisfy the pickiest of nature lovers.
Lake Pukaki is the lake on the drive towards Mt Cook. The scenery in the area is breathtaking and there are many look out points to stop along the way.
Near Lake Pukaki we randomly came across a lavender farm called NZ Alpine Lavender. It costs $5 to enter per person.
If you are into photography, we would highly recommend a visit. There are also many lavender products available for sale.
Driving onwards to Mt Cook, you will be in awe of the many look outs and scenic locations.
Don't forget to get the iconic instagram pose on the road leading up to Mount Cook.
Be careful not to get hit by oncoming traffic as you strike your pose. Fair warning, you might need a spotter!
On your way heading back to Queenstown you will pass Lake Tekapo.
This is a beautiful lake which is famous for lupins flowers. Unfortunately they were out of season at the time we visited in early February.
Despite the absence of the lupins, the area was still very picturesque!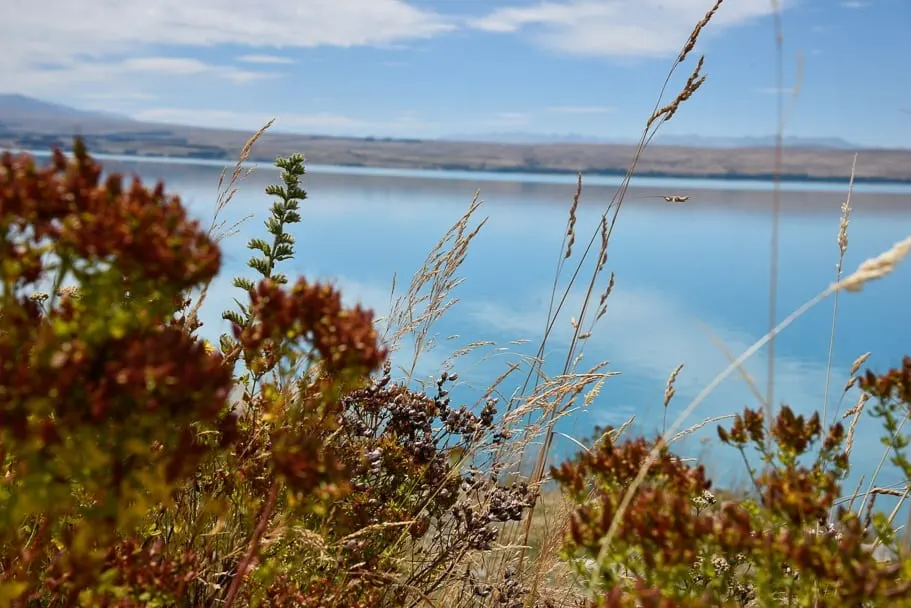 Where to stay?
We stayed at Lake Ruataniwha Holiday Park. The area was very tranquil and the facilities were fabulous including clean bathrooms & a great kitchen facility.
The campsite proved the perfect place to park our campervan for the night.
We loved the retro aspects of the caravan park too such as the cool cars at the entrance of the park.
Day 8: Kaikoura
If you are planning on taking the ferry across to the North Island, Kaikoura is a perfect final stop in any South Island itinerary.
This beautiful beachside town is simply picturesque.
What to do in Kaikoura?
You are able to spot whales & dolphins off the coast of Kaikoura. We even spotted dolphins jumping in the ocean as we drove along the coast of Kaikoura.
Kaikoura is also a popular fishing spot so if you are interested in fishing this might be the perfect place to get your fish on.
There are many spots for beautiful walks in Kaikoura and also a seal colony that lives in the area.
Where to stay in Kaikoura?
We found an amazing little campground right in the heart of Kaikoura. If you are camping, have a campervan, Kaikoura Coastal Camp Grounds is definitely the place to stay in the area.
The campsite had clean showers and an alfresco outside kitchen area – perfect for romantic nights under the stars.
If you don't want to camp there are other really nice accommodation options in Kaikoura.
North Island New Zealand Itinerary 6 Days
We decided to spend slightly more time on the South Island due to the picturesque landscapes.
However, the North Island should not be discounted in any New Zealand road trip, after all, it is home to Hobbiton!
Day 9: Ferry to Wellington/ Waitarere beach
When traveling by campervan, the best way to get across to the North Island is by ferry.
Interislander Ferry was a fabulous service. We were expecting a very ordinary ferry ride however, were very pleasantly surprised to discover a mini cruise ship complete with multiple bars and restaurants to boot!
While on the ferry if they call out for fleshly baked date scones, we highly recommend purchasing a few – these scones were seriously finger licking good.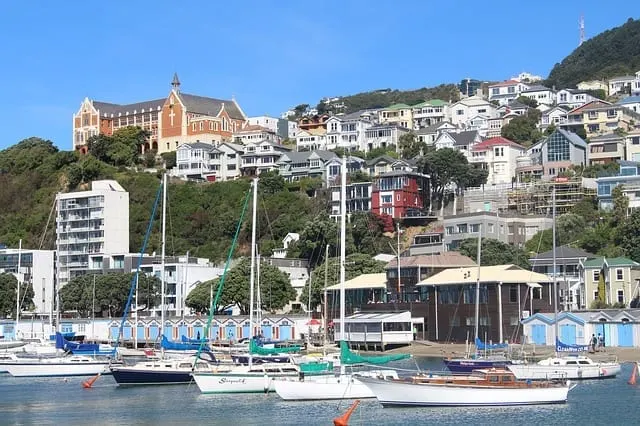 What to do in Wellington / Waitarere beach?
We did not spend a long time in Wellington as we are on a tight schedule. We did spend a small amount of time driving around the hilly streets. Wellington has a very San Fransisco-y vibe to it.
If you are able to dedicate a little more time to the area, there are many things to do including the Wellington Cable Car, Zealandia Sanctuary and Pinnacles Track nature walk.
As we were on a tight schedule we decided to keep moving onwards towards Rotorua and stayed in Waitarere Beach.
Where to stay in Waitarere beach?
For this leg of the journey, you could either choose to stay in Wellington or Waitarere Beach.
Click here for accommodation in Wellington during your dates
Click here for accommodation in Waitarere Beach during your dates
From Waitarere Beach we headed onwards to Rotorua, a place we intended to stay a few days due to the abundance of activities in the area.
On the way from Waitarere Beach to Rotorua we would highly recommend a stop for lunch/breakfast at Viv's kitchen a fifties style dinner with 'food the way it used to be'.
If you are nostalgic about food, definitely plan a stop here. We enjoyed delicious cream cones at the dinner, a pastry we had not seen anywhere for years.
Day 10 – 11: Rotorua
Rotorua is the Queenstown of the North. It is a place full of things to do and adrenaline pumped activities.
It is particularly famous for the geysers and the hot springs in the area much like Yellowstone National Park in the United States.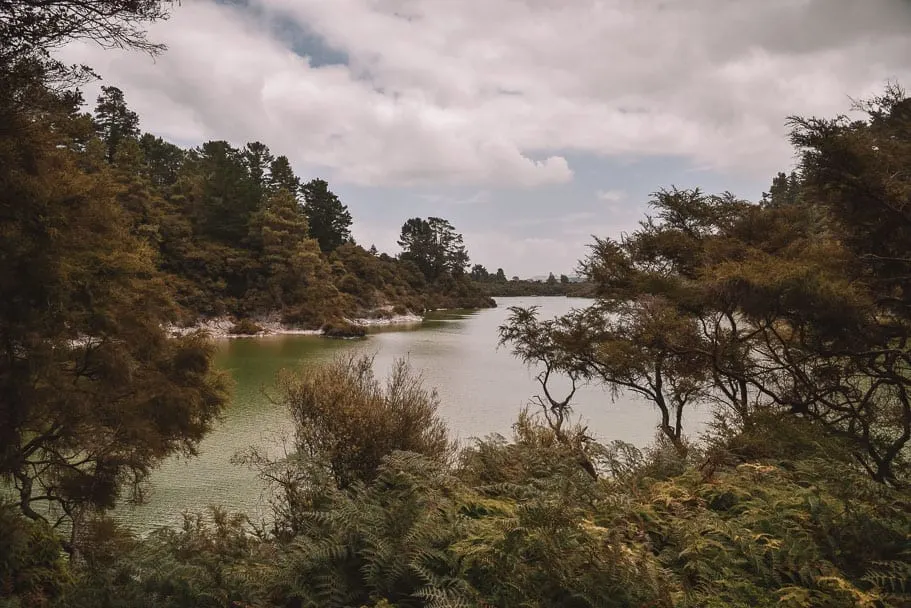 What to do in Rotorua?
There are many many things to do in Rotorua.
As a priority, we recommend visiting Wai-O-Tapu Thermal Wonderland a park of many different colourful hot pools/geysers.
If you have been to Yellowstone National Park in the United States, it is a very similar experience.
Rotorua has also got a lot of activities available for adventure junkies.
If you love action packed adventures, we recommend OGO Zorb balling & White Water Rafting in the area.
Rotorua is also home to the stunning Redwood Forest – a perfect way to relax after an adrenaline pumped day of activities.
OGO Zorb
We were excited to do some Zorb balling in Rotorua as Rotorua is actually the home of zorbing. It was the place where zorbing was first invented so if you are going to try zorbing for the first time anywhere, it should be in Rotorua.
The zorbing was a lot scarier than we anticipated. We tried two of the runs at OGO Zorb – one massive steep hill and one winding hill.
The large hill is meant to be scarier but for those who do not like 'washing machine' experience, the large straight down hill is more fun and exhilarating.
After your zorb balling, you can relax in the hot tubs at OGO.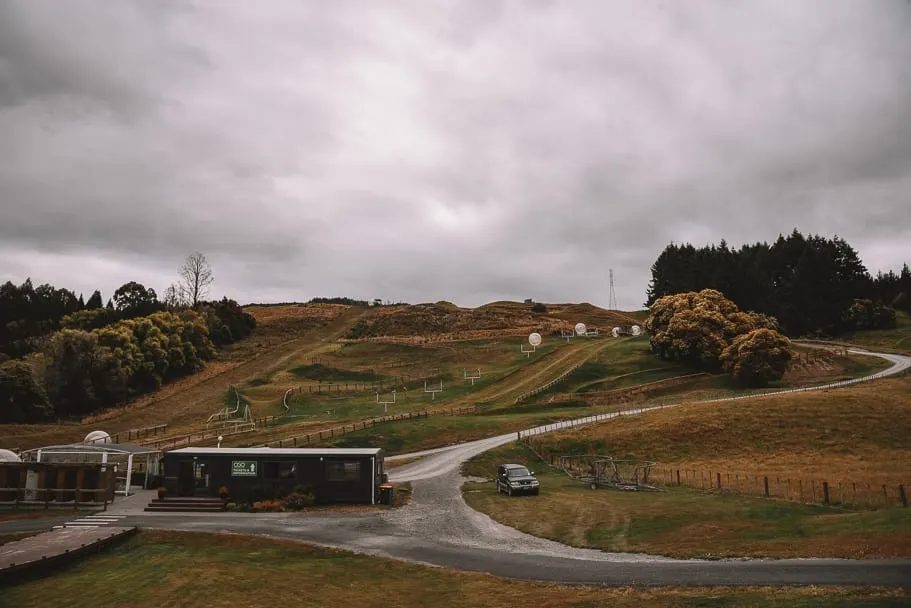 Kaitiaki White Water Rafting
We have previously been white water rafting in Slovenia however, nothing will compare to our experience white water rafting with Kaitiaki.
If you are an adventure junkie, this experience will totally blow your mind!
White water rafting in Rotorua was far from calm experience we had in Slovenia years ago.
The rafting is a grade 5 level with the largest waterfall that boats are commercially allowed to raft (a 7 metre drop).
The guides at Kaitiaki take your safety navigating the highest commercial waterfall very seriously – something we were very pleased about.
Flying over the highest commercial waterfall, we had a few causalities including the guide and one of the rafters falling out of the boat.
We also did not paddle hard enough before going over the waterfall and ended up getting sucked back in at the bottom.
Top tip – paddle HARD before the drop!
Where to stay in Rotorua?
We stayed in a really lovely campsite in the heart of Rotorua, Rotorua Family Holiday Park, with our Mad Camper. It had fabulous cooking facilities, toilets and showers.
We had a great time at this holiday park as it is located right next to the bay.
If you feel like a little bit of luxury, you can even upgrade to beautifully decked out cabins at the park.
There are plenty of nice accommodation options in Rotorua if you don't feel like camping!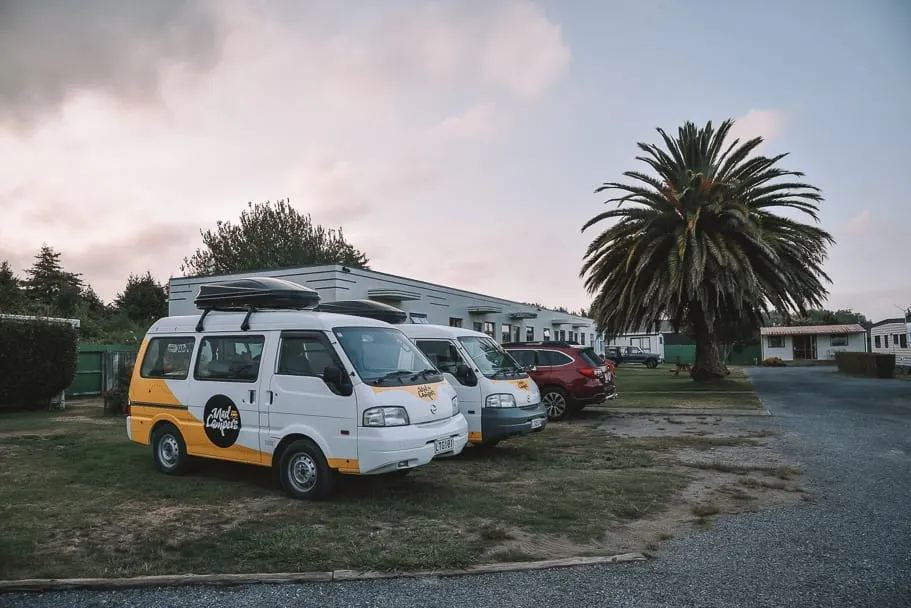 What to eat in Rotorua?
We found a great local find in Rotorua called Lava Bar.
We were exhausted after our rafting experience and wanted a place to kick back and relax. Lava Bar was brimming with locals and we can understand why.
For just $10 you can get a whole pizza and a beer – what a deal. In fact, it was the best food deals price wise we found in the whole of New Zealand.
Day 12: Matamata/Hobbiton
When visiting the North Island, Hobbiton is definitely a place that should be on your radar.
It was probably the place we were most excited to visit in the whole of the North Island.
We booked our Hobbiton tour with HobbitonTours.com. It is advisable to book the tour you would like in advance as the most popular times throughout the day book out quickly.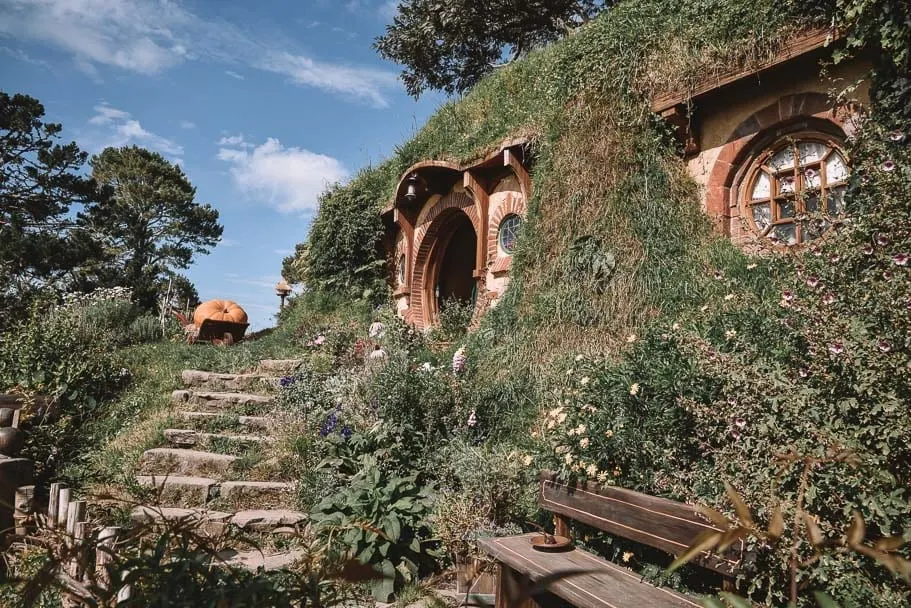 Aside from being an extremely popular tour (Hobbiton is as expected) literally packed with tours, it is an absolutely magical place which we would highly recommend visiting in any North Island itinerary.
The set of Hobbiton was much larger than we expected. There were many different hobbit holes.
The set was actually dismantled after filming for the Lord of the Rings wrapped up.
When producers came back to ask to use the property again to film The Hobbit, the entrepreneurial farm owner agreed only on condition it was reconstructed in permanent form.
At the end of the tour, we were treated to a cup of beer or cider in the Green Dragon bar.
Where to stay in Matamata?
If you are traveling between Rotorua & Matamata to visit Hobbiton the best place to stay is Kea Motel & Holiday Park.
If you don't feel like camping, there are other nice accommodation options in Matamata.
This holiday park is very clean, has a lovely family who runs it and even has cute little rabbits.
It is a great place to stay to visit Hobbiton as it is located just a short 20 minute drive from the entrance.
It is also in great proximity to the Putaruru Blue Spring, a beautiful area perfect for photographs.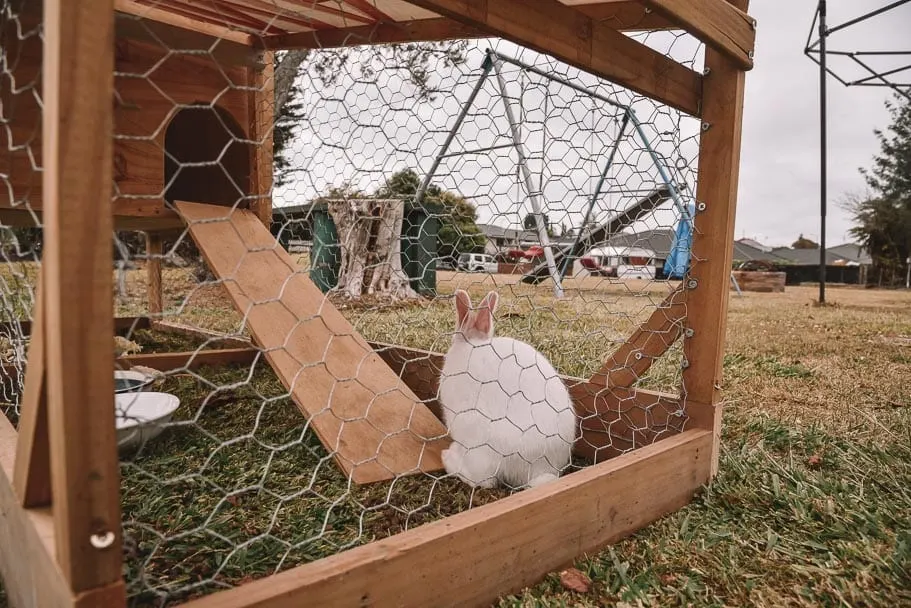 Where to eat in Matamata?
Next door to Kea Holiday Park is a great cafe called The Wooden Farmer. It was very convenient to wake up and head over for breakfast.
If you have a sweet tooth, the Wooden Farmer also has fantastic muffins and chocolate brownies to enjoy.
In the town of Matamata itself, we recommend Redoubt Bar and Eatery. The Lord of the Rings themed restaurant is a great place for a beer and a light snack or meal. The dim sims in this restaurant are to die for.
Day 13-14: Auckland
From Matamata we made the 2 hour drive back to Auckland, where we would fly out.
What to do in Auckland?
Like any big city, there are many things to do in Auckland to occupy your time. If you are into wildlife, you can see the famous kiwi bird at the Auckland zoo if you haven't seen one before.
We chose to have a special experience in Auckland and take a helicopter flight over Waiheke Island to stop at a local winery Tantalus with Heletranz. It is possible to do a wine tasting or eat lunch there. The perfect place to go on a New Zealand honeymoon.
Seeing Auckland from the sky was a very special experience and we highly recommend taking a helicopter flight with them if you are in Auckland.
We returned to Auckland with Fullers Ferry – a quick and easy option to return from Waiheke Island. You can get a taxi or a local bus around the island of Waiheke.
Where to stay in Auckland?
We stayed in a great campground in Auckland right in the heart of the city – Avondale Motor Park. We loved that this provided us with an opportunity to camp in the heart of a big city.
Auckland has plenty of great accommodation options, so if you don't want to camp, it's really not necessary here.
The campsite also had perfectly large and clean bathrooms to use which we appreciated.
The campsite has availability for camping, RV & cabin rentals.
Got more time? Why not Visit the Bay of Islands?
Head north to the stunning Bay of Islands. Here is our list of the best best luxury accommodation in the Bay of Islands.
We recommend an island dolphin watching cruise as a great way to explore the region. This trip was for sure one of the best things we did in the Bay of Islands.
How to get around New Zealand?
We traveled around New Zealand in a Mad Camper. We really feel that a campervan is a great way to see New Zealand. If you don't want to camp, you can also hire a car and explore NZ this way – we have done that too.
A campervan allows you to have the freedom to stay in the most picturesque and remote parts of New Zealand without being fearful of not having a hotel booking arranged.
The Mad Camper staff were amazing and could not do enough to help us.
The campervan itself also had everything you need for a comfortable stay – a large double bed, a sink and fridge, cooking facilities with lots of appliances and storage unit on the top of the van.
Oh, and we forgot to mention that it comes with a camp toilet for those desperate times!
There are some additional extras that you can have in addition that proved very handy for us including camp chairs and tables.
If you are interested in some rural camping adventures in New Zealand, there is even the possibility of hiring a camp shower which is heated by solar power from the sun.
Save this 2 Week in NZ Itinerary to Pinterest (so you can find it again later)
Disclaimer – We were guests of some of the companies mentioned above. However, this does not impact our opinions. As always, all opinions are our own.