Baby Croc Do do do do di do (*imagine a bad singing voice*) was running through my head the entire time I spent swimming in the Cenote Carwash in Tulum.
To be completely truthful this little croc is an alligator and don't worry he's a friendly and a totally harmless additional to a very cool and unique place in Tulum.
Cenote Carwash is probably one of the most underrated cenotes in Tulum (along with the big blue Belize hole, Laguna Kaan Luum)
This does not mean it is not one of the most spectacular, fun, cheap and unique cenotes in Riviera Maya. You also won't need to share this cenote with a bunch of tourists – the big tourists buses head to Grand Cenote and Dos Ojos.
A beautiful cenote that has crystal clear water, no tourists and a baby alligator- what's not to love?
Keep reading to find out everything you need to know about Cenote Carwash in Tulum.
What to do at Cenote Carwash Mexico
There are heaps of fun activities to do at Cenote Carwash.
But first, you are probably wondering why its called cenote carwash.
Well, it's not it's official name. The official name of the Cenote Carwash is Cenote Aktun Ha. The name comes from taxi drivers who used the cenote to wash their cars a long time ago.
Go Swimming
The crystal clear turquoise waters make Cenote Carwash the perfect conditions to cool off in the hot Tulum weather.
The cenote is mostly shaded which makes it the perfect conditions for swimming about in the refreshing water.
One thing to note about this cenote for weak swimmers is that it is very deep (3 metres deep in most sections and 15 metres deep at its deepest) and as far as I'm aware there is nowhere within the cenote that you can touch the bottom.
There is rope provided that provides a much needed reprieve after a while swimming around.
Alternatively, you might like to bring a floatie or fins to assist you swim. There are life jackets available to rent at the cenote for a small fee.
Scuba Diving at Cenote Carwash
As the cenote is very deep, it is the perfect conditions for diving. We saw many people diving at the cenote while we were there.
One highlight for divers is the underground cave network. The name Aktun Ha translates to mean "water cave". Within the cave network divers can see amazing speleotherms (stalactites, stalagmites and columns) and some ancient pottery ruins.
Divers also have the best chance to see the marine life in the cenote. While we did not catch a glimpse of the alligator, most divers told us that they did see him.
Go snorkeling
I personally don't scuba dive as I cannot equalise my ears but I went snorkeling at the cenote and it was a very cool experience.
We would highly recommend buying a snorkel and using it at all the cenotes in Tulum. If you don't have your own there is some for rent at the cenote, although they are usually bad quality.
We saw lots of little fish as well as some bigger fish if you dare to venture closer to the vegetation at the side of the cenote.
Despite trying, we did not see the baby alligator the whole time were were swimming in the cenote. He is friendly BUT he is also shy. The workers told us that when it is quiet you often see him swimming around the water hole.
The divers we saw did spot the alligator during their dive.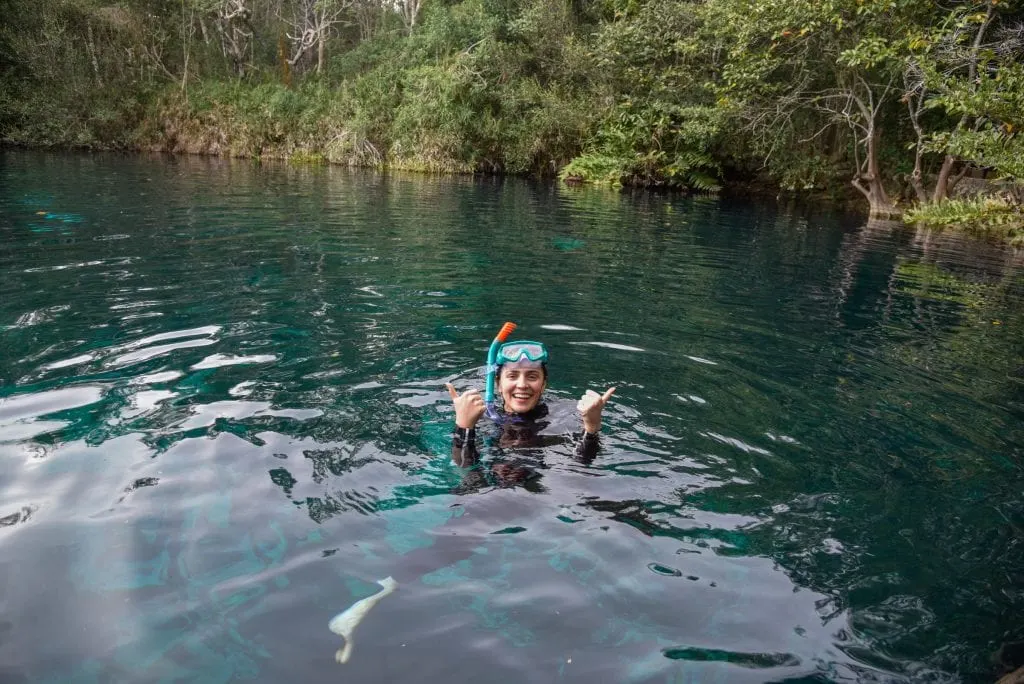 Jump off the diving board
There is a small platform at the cenote which you can have fun jumping and diving into the cenote.
As the cenote is deep and fairly quiet it is a great place to have fun jumping into the water.
Even if you are not interested in a small jump (it looks higher once you are up there) we would recommend going up for a quick look as there is a beautiful view of Aktun Ha from the sky.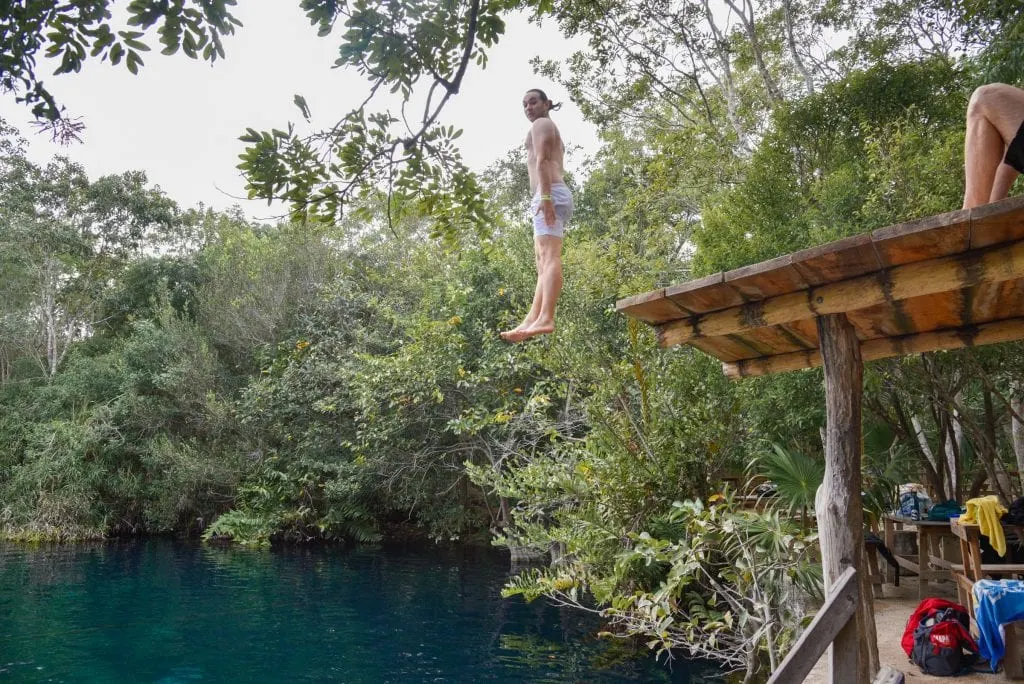 Have a picnic at Cenote Carwash
There are great tables and chairs at the cenote where you can bring your lunch and enjoy a picnic.
If you would like to eat and drink at the cenote, we would recommend bringing your lunch with you. There is a small store at the cenote however, they do not sell anything substantial.
Note: Like all cenotes in Tulum, alcohol is not allowed.
Hunt for the little alligator
It's no joke, there honestly is a little alligator that lives in the cenote.
As mentioned before, he is really harmless and more scared of you than you are of him.
Knowing there is an alligator in the cenote it is fun to swim around the entire waterhole to try to see him.
Despite looking, we had no luck. Let us know if your crocodile hunt is more fruitful than ours.
Even though he is claimed to be "friendly" he is a wild animal so look from afar and definitely don't touch him.
Boating?
Some people have asked if you can use boats including things like stand up paddle boards on the cenote. Motorized boats would never be permitted to protect the cenote and it is a bit too small in any event.
Facilities at Cenote Carwash
Being a small, non commercialised cenote, we were not expecting much in terms of the facilities at the cenote.
However, honestly, I was blown away with how much they had!
Showers
There are clean outdoor showers for guests use.
As you enter the cenote, to protect the wildlife and the plants you are required to wash off in their showers.
They insist you wash with the pump soap provided. Sunscreen and insect repellant is not allowed so you are required to wash it off before entering the water.
The showers are also good for washing off after getting out of the cenote.
Toilets
There is a building with toilets available. This might seem obvious but there are cenotes in Tulum which do not provide toilet facilities (I'm looking at you Cenote Calaverra)
We wore our swimwear to the cenote so we did not have to change there.
Tables
There are plenty of tables and chairs to sit at. You could make a day at this cenote due to the great tables and chairs they provide around the cenote.
Lockers
There are lockers available to rent at 30 pesos per locker.
Most people did not seem to rent lockers but for piece of mind we rented a locker so we could swim around together rather than take turns with our bag and camera.
Parking
We drove our car and there are ample parking available outside the cenote.
Practical Information on Cenote Carwash
Here is some important information you will need to know before you visit.
2022 Pricing
Previously cenote carwash only cost 50 pesos per person. We were shocked when we arrived to find a sign stating that the price was 100 pesos per person.
Upon querying it with them, they ended up letting us in at the 50 pesos pricing but told us that 100 pesos was the new price for 2020.
I believe they have put their price up in line with the other cenotes in Tulum. At 50 pesos pp was probably the cheapest cenote in Tulum.
There is a sign at the entrance that if you have a camera, it costs 150 pesos more. Although, they did not seem to enforce this rule.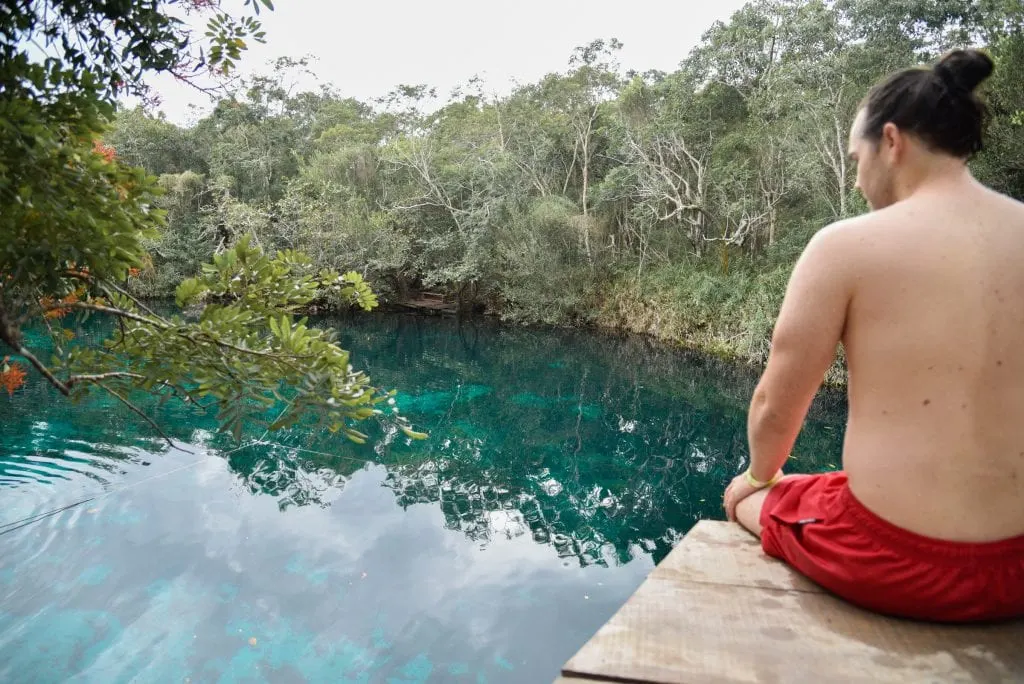 Location
You will find Cenote Carwash at Calle Carretera Federal 109, Tulum, 77710, Mexico.
If you just write "Cenote Carwash" it will bring you to the right location.
There is a large sign out front so you can't miss it as you drive along.
Opening Hours
9am – 6pm in the evening officially. In our opinion, it doesn't matter what time of day you visit as it is rarely crowded.
How to get to Cenote Carwash?
We will detail how to reach Cenote Carwash by car and by public transport from Tulum, Playa del Carmen and Cancun.
FROM TULUM BY CAR
The easiest and simplest way to reach Cenote Carwash is by car. We highly recommend hiring a car in Tulum as it is just so convenient. We used our car to complete a super awesome 2 week Yucatan Peninsula Mexico Road Trip!
It is a 12 minute or 9 km drive from downtown Tulum.
From Tulum head north-west along Coba Highway (Route 109) towards Coba Ruins / Valladolid in the opposite direction to Tulum Beach.
Cenote Carwash will be on your left hand side as you travel from Tulum.
FROM TULUM BY BIKE
Many people choose to rent bikes in Tulum. It would be a long and hot bike ride (30 minuets) but it is possible.
There are many bike rentals in Tulum – Kelly Bike (corner of the main intersection in town), iBike (Ave. Coba) and Iguana Bike Shop (near the ADO bus station).
Bikes cost up to 10 USD for 24 hour bike hire.
FROM TULUM BY TAXI
Taxi is another possible option as it is not far from downtown Tulum. We aren't big taxi fans as they tend to try to rip you off.
I would pay no more than 130 pesos for the journey.
FROM TULUM BY COLLECTIVO
Collectivos can be taken from downtown Tulum to the carwash cenote.
Look for collectivos headed towards Coba and ask the driver to drop you at Cenote Carwash.
A collectivo will set you back 40 pesos per person.
FROM PLAYA DEL CARMEN
ADO Buses run an easy route directly from Playa Del Carmen to Tulum. You can get a ticket for as little as 67 pesos if you are flexible with times.
You will need to take the bus to downtown Tulum and follow the directions to the cenote above from there.
There is also the option to take the local collectivo (mini van) It will cost you a little less than the ADO bus (around 60 pesos). You can get the collectivo at Calle 2 Norte between Av. 15 and 20.
Once you are in downtown Tulum, follow the directions above to reach the cenote.
FROM CANCUN
To travel from Cancun to Tulum by bus it takes 2.5 hours.
You might want to break it up and stay in Playa Del Carmen first for a few nights. We found a nice, clean & comfortable hotel in Playa Del Carmen. See our hotel here.
Again, if you are traveling from Cancun to Tulum you can use the ADO website. It will cost around 200 pesos one way.
Once you are in downtown Tulum, follow the directions above to reach the cenote.
Where to stay in Tulum
Tulum is definitely one of our favourite places we visited in Mexico. Honestly, we prefer it to Cancun or Playa del Carmen.
If you have the time, we would recommend staying a week in Tulum, hopping around the different cenotes, beaches and ruins. If you don't have that long, we would recommend at least 4 nights.
There are lots of different accommodation in Tulum to meet a variety of budgets.
We stayed at a new hotel in Tulum (not in the above list) this hotel.
We would possibly stay there again if we visited Tulum for its price to quality ratio but it had pros and cons.
The downside is, as it is brand new, in one room we had problems with wifi and another room we had problems with aircon.
On the plus side, for what we paid it was very cheap, in a perfect location and brand new with all modern appliances which was great. I DO like modern and luxury. Who doesn't?!
Also, maybe our no aircon/wifi experience was an anomaly as it has a 9 review score on booking.com.
Other Things to do in Tulum Mexico
Here are some other things we would recommend doing in Tulum if you have some time:
Tulum Ruins: Although crowded, the Tulum ruins are really a must see in Mexico. Where else can you find Mayan ruins sitting on the cliff above a picturesque Caribbean beach?
Laguna Kaan Luum: We really enjoyed Laguna Kaan Luum as like the carwash cenote it was not crowded and not heavily frequently by tour buses.
Save Cenote Carwash to Pinterest so you can find it again later