Visiting the Tulum Ruins?
When you are thinking of Tulum, high on your things to do list, will undoubtedly be the well preserved Mayan Ruins sitting high on the cliffs of Tulum, overlooking the crystal clear, blue Caribbean water.
It is one of the most visited attractions in Mexico and for good reason – it is pretty darn spectacular. For this reason, it is one of the most photographed Mayan Ruins in Mexico. I mean Chichén Itzá is nice and all but it doesn't have the ocean crashing on it's walls now does it? 😉
We visited Tulum for the first time 3 or 4 years ago with a Mexican friend and I must say the city has changed a lot in this time.
Gone are the days of a Mexican hippy village with just local restaurants and barely a tourist in site. Nowadays, Tulum is a tourist HOT SPOT drawing in many many many (you get the point) tourists from around the globe.
Unfortunately, this means that attractions like the Tulum Ruins are now extremely busy. Think shuffling behind a large Russian tour group kind of busy. Not nice.
I would still say that the site is worth visiting though, let's face it, you can't exactly visit the Yucatan Peninsula without visiting the site.
BUT I would highly recommend carefully planning your trip SMART to avoid the mass tourism chaos. This way you can experience the magic of the 'ruins in the clouds' as it once was…
Tip: If you want to go somewhere less touristic in Tulum we would recommend Laguna Kaam Lumm.
Visiting Tulum Ruins: How to get to there?
First things first, you will need to know how to get to the archaeological site.
The Tulum Ruins are located directly in Tulum (3km from town centre), 62 km (50 minutes) from Playa del Carmen & about 128 km (1 hour 45 minutes from Cancun).
The other close Maya Ruin to Tulum, Coba, is located around a 45 minute drive outside of the centre. If you would like to also visit Coba we would recommend hiring a car.
The nice thing about this attraction is that a car is not necessary to reach the ruins (although we had a car in Tulum and would highly recommend it so maybe it is after all). You can decide after reading the alternatives below.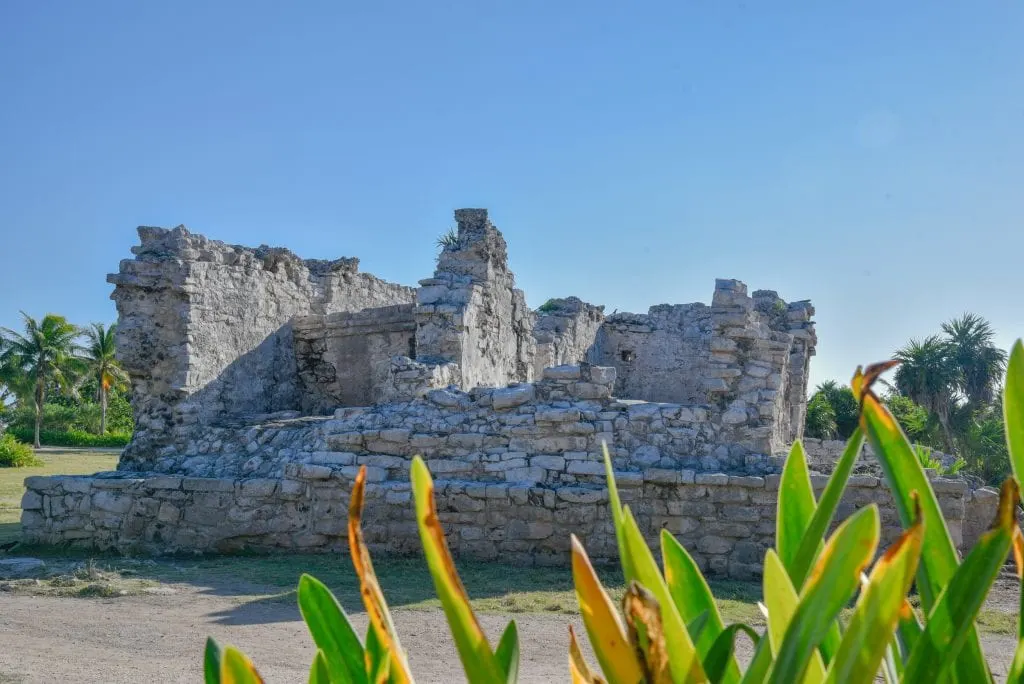 From Cancun & Playa Del Carmen by Bus/Collectivo
First, I will briefly detail the options of how to get to the tulum ruins if you are coming from Cancun or Playa Del Carmen without a car.
Playa Del Carmen to Tulum by Bus or Collectivo
ADO Buses run an easy route directly from Playa Del Carmen to Tulum. We have taken ADO buses in the past and they are clean and air conditioned – a pleasant journey.
The nice thing about ADO buses is that you can get a bus directly from Playa Del Carmen to the ruins. Prices vary depending on the time of day you wish to travel. You can get a ticket for as little as 67 pesos if you are flexible with times. Here is a link to the ADO website to check your dates.
The other option is to take a collectivo (mini van) with lots of locals. It will cost you a little less than the ADO bus (around 60 pesos) and its a fun way to experience life with the locals. You can get the collectivo at Calle 2 Norte between Av. 15 and 20.
Cancun to Tulum by Bus
It is a little further from Cancun to Tulum (2.5 hours by bus) so you might want to break it up and stay in Playa Del Carmen first for a few nights.
We found a nice hotel in Playa Del Carmen that is clean, comfortable and won't break the bank. See our hotel here. Oh, and I would totally go the superior room here for just a few dollars more. I popped my head into the standard room when we were leaving and it was nowhere near as nice.
Again, if you are traveling from Cancun to Tulum can use the ADO website. It will cost around 200 pesos one way.
By Car from Cancun
It's entirely possible to visit the Tulum Ruins on the day you arrive in Mexico provided you land before midday.
The ruins are within minutes of Tulum town which you can reach from Cancun in less than 2 hours by car.
The only risk you face is getting distracted by all the interesting things to do and delicious food to eat on the way from Cancun to Tulum!
By Car from Tulum
The ruins are located within the archaeological zone of Tulum.
As there is a big gate as you drive in, we were a little worried we had to pay as we entered the archaeological zone. This turned out not to be the case and we drove in care free.
Still not sure what the gated entry is all about, if anyone knows, let me know in the comments below.
PARKING TIP – FREE PARKING NEAR RUINS
If you go to the official parking of the Tulum Ruins it will cost you 160 pesos which in our opinion is ridiculously expensive and a little ridiculous considering entry is only 75 pesos per person.
That means parking will cost you more than 2 entry tickets to the ruins – highway robbery if you ask me.
If you are happy to pay the 160 pesos (I'm sure my parents would) the address to put into your GPS is: Carretera Federal, Cancun – Chetumal Km 230, 307, 77780 Tulum, Q.R.
Keep in mind that the paid parking is not all that convenient. As the parking is far from the ruins, they have implemented a tractor to transport you from the car to the ruins for 25 pesos per person.
If you would like FREE parking with a similar walk from the car park and the ability to see cute little ant eaters along the way – keep reading.
Note: We got told recently that they are not in fact ant eaters but Coatimundis, or Mexican raccoons (which they were very disappointed about). In any event, we enjoyed them and you can see a picture below to decide if they are worth seeing or not LOL.
There is free parking all along the free public beach in Tulum, Playa Santa Fe, one of the very few free public beaches in Tulum. Carretera Tulum Boca Paila is the name of the street.
You can park anywhere along this street and walk to the ruins for free. It is around a 5-10 minute walk depending on how close you park your car.
Park your car as far down the road as possible for the shortest walk time to the ruins.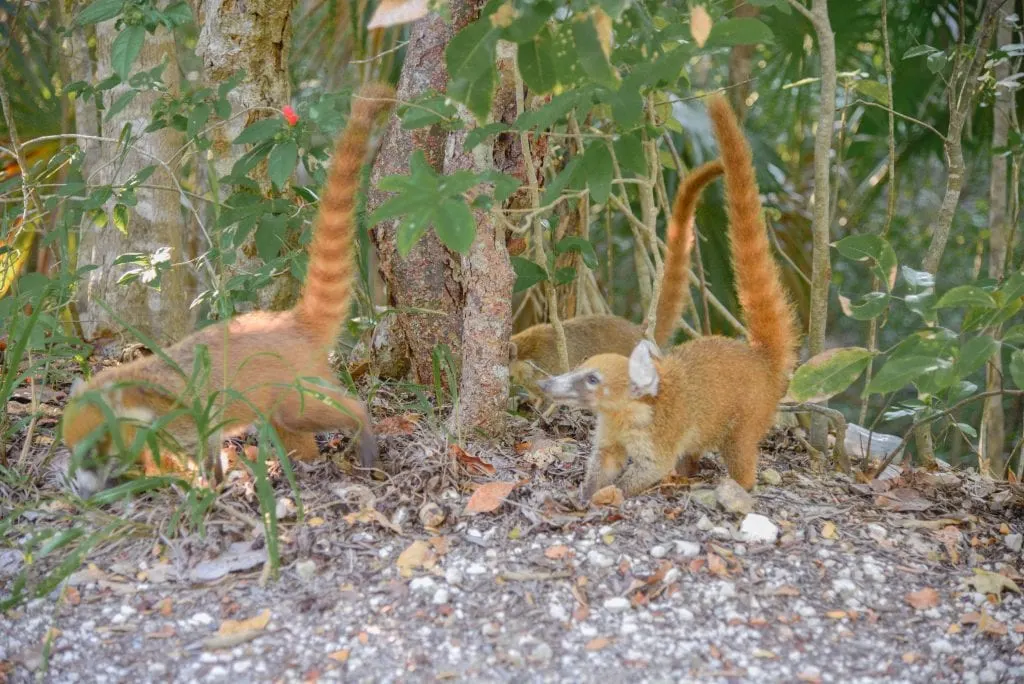 By Hitch hiking from Tulum
It appears that the hippy culture of Tulum is not completely dead as many people were hitch hiking to and from the ruins.
We toyed with the idea of picking up a hitch hiker but we chickened – stranger danger! Be nicer than us and do a good deed if you have a car.
Hitch hiking is a relatively safe way to reach the ruins (fingers crossed you don't get a weirdo) as there is only one way to ruins from Tulum city so everyone is headed back to the same place.
By Bike from Tulum
If hitch hiking is not for you (can't blame you there) a cheap option to get around is to hire a bike in Tulum.
There are many bike rentals in Tulum – Kelly Bike (corner of the main intersection in town), iBike (Ave. Coba) and Iguana Bike Shop (near the ADO bus station).
Bikes cost up to 10 USD a day for hire. If you are a good negotiator you may be able to score yourself a better deal.
It is around a 5km cycle, mostly flat, to reach the ruins from Tulum. Personally, I am team car as it seemed very hot looking at all the cyclists as we drove by, aircon blasting.
By Taxi/Collectivo from Tulum
Without a car, taxi is the easiest way to reach the Tulum Ruins. We aren't big fans of using taxis as we find that they usually want to rip you off (the cynic in us says that anyway).
It is a very short journey. I would only accept 100 pesos (5 USD) or less for the journey.
If you are feeling more adventurous, you can catch a collectivo (shared taxi/van) to the ruins. They run regularly from Tulum. You can stand anywhere along the South Side of the road going towards the ruins and flag one down.
Our personal experience with collectivos is they run irregularly (no set schedule) and with very little Spanish it can be hard. However, we are no collectivo newbies and this would probably be our choice if we didn't hire a car.
Collectivos are very affordable. It will only cost you around 20-30 pesos one way for this journey.
By Group Tour
If you would like to be one of "these people" go right ahead…
I'm only kidding. I was actually thinking to myself if I went again I might do a tour as it is nice to receive some expert history and information as you walk around the site.
Sure, you can probably find everything you need to know online but it is SO NICE to have someone walk you around and explain the history of the structures.
Otherwise, it can get a little boring looking at ruin (brick pile) after ruin (brick pile) and wondering what it is all about.
There are little signs with give you some information about the ruins but not that much.
If you want to book a tour, this one looks great because transport + guide is included so you don't have to worry about the getting to the ruins part, otherwise stayed tuned to hear briefly about the history I researched online!
Tulum Ruins History
The ruins location by the sea is no coincidence. Between 11th-16th century Tulum was a major trading and religious centre. It was used as a port to facilitate trade from Central and South America into the peninsula.
Back in the Mayan day, Tulum was a walled city – 12 feet high. In fact the name Tulum actually translates to "wall". Unsurprisingly, they built these walls as a form of protection from pirates and other people visiting Tulum from the sea.
The city was occupied by around 1,600 people before the Spanish invasion. After this time, most of the inhabitants were sadly wiped out by foreign disease brought in.
At the site you will see various remains of the Mayan buildings some of which include impressive temples to worship their gods.
Archaeological site
Unlike Coba, where you can climb all over the archaeological site, the Tulum ruins are roped off so you cannot climb on them.
It used to be the case that you could walk into and on the ruins however this is no longer the situation due to the large influx of tourists now visiting the site. Probably a good idea to protect the ruins.
We were not too disappointed about this – you can get a nice view of the ruins from outside the roped off area.
As mentioned above, if you would like to get more up close and personal with the Mayan ruins, Coba is the only place on the Yucatan Peninsula where you can still climb on the ruins. Climbing is also not allowed in Chichén Itzá.
Pyramid El Castillo
Pyramid El Castillo known as 'The Lighthouse' is the tallest building you will see in the Tulum ruins. For this reason, it is the most famous.
It is called 'the lighthouse' as it was in fact an ancient lighthouse which was used to guide fisherman home safely.
The Mayans used fire which could be seen through the windows to guide fisherman safely back into the harbour. Interestingly, it was still used as 'recently' as 1518 by a Spanish expedition.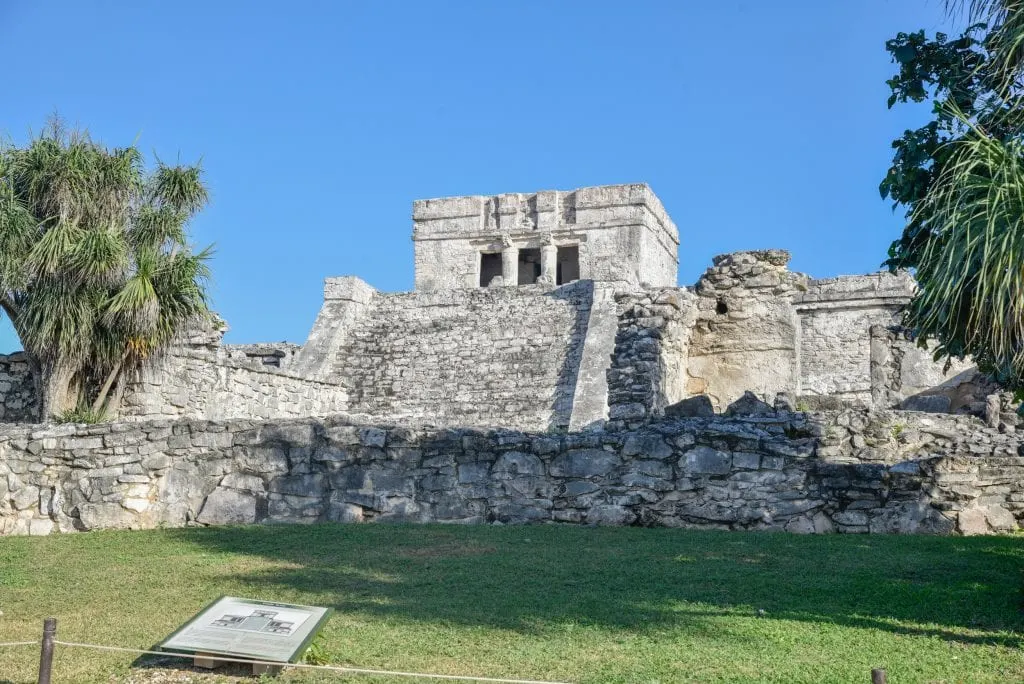 Temple of the Descending God
This structure is interesting because carved into the building is the descending god. A god that looks rather like buddha with 2 legs coming out of his head.
Historians cannot be sure what he is the god of but there are a few theories. One theory suggests he is the god of rain to bless agriculture and the seasons. Another theory suggests that he is the god that represents Venus.
The Mayan name of the ruins is Zamá which translates to mean "Place of the Dawning Sun" as it is one of the first places to receive sun each day. As Venus is spotted at sunrise this may be a sign that this theory is the right one.
Temple of the Frescoes
In front of El Castillo, you will find in my opinion the best and most impressive building in the site. It is seriously amazing how well preserved this ruin is.
One of the biggest downfalls of not being able to walk up to the ruins is that you no longer get to look inside the temples.
Inside this temple you can see amazing murals.
As the original paint wore off, the paintings were reconstructed in the exact likeness: paintings of fish, rain and maize as they once were. The paintings are in green and blue with black outlines and depict the Mayan gods.
House of the Cenote
It was very important for Mayans to build their houses or temples near water sources.
Don't miss the house that was built on top of a cenote in the ruins. Bones were also found here so it is believed to potentially also be a crypt.
Tulum Ruins Secret Beach
What is particularly cool about visiting these ruins and IMO make these ruins unique and special is the presence of the Tulum Ruins Beach .
Here you can go for a dip before or after visiting the site via a wooden staircase that scales the cliff face to the beach below.
You will have to share the beach with a bunch of Iguanas but that's all part of the fun!
It is lovely to see the ruins from the sea. To get an even better look at the ruins from the water it is advisable to go out by boat on a snorkeling tour. It is likely that you will see beautiful sea turtles on the tour as they are highly populated here.
Another place to swim with sea turtles is Akumal Beach – it is amazing here!
If you are interested in a snorkeling tour of the Tulum Ruins, here are the ones we would recommend: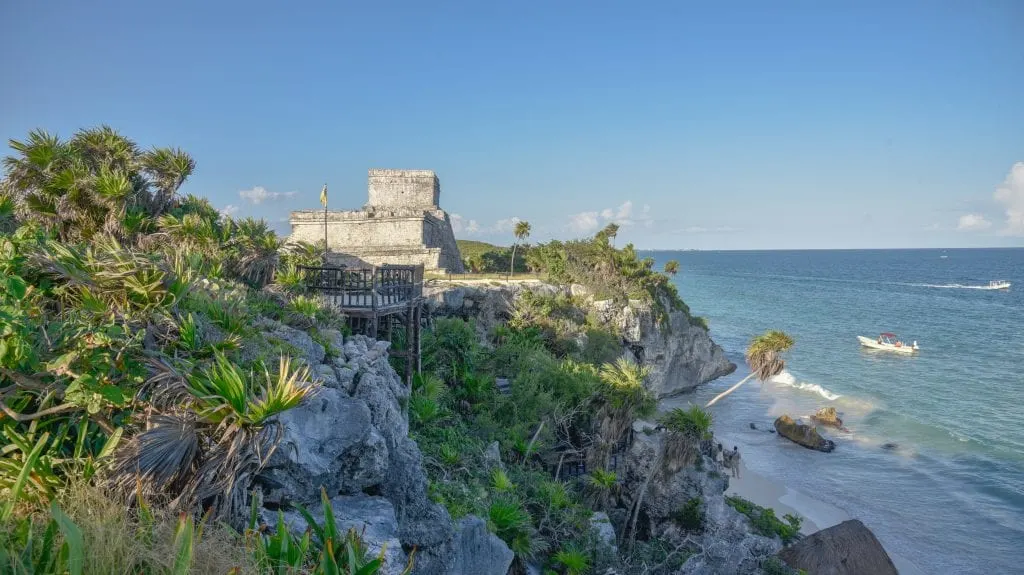 Tulum Ruins Tips
Here are our best tips for visiting:
Arrive Early
Arrive as early as possible if you want to explore the ruins with very few people around.
There is an element of magic visiting the main attractions in Tulum including the cenotes and tourists with few tourists.
If you can get yourself out of vacation bed, or out of the all you can eat buffet, we would recommend getting to the ruins as soon as possible to avoid the crowds that come after around 10.30am.
And, yes, they come every day of the week.
Sunday is particularly bad for crowding as it is free for Mexicans to enter the ruins on a Sunday.
Hide Your Cameras but NOT your drone
Now, I'm not one to break rules but charging 2-300 pesos extra for 'professional' cameras is just crazy.
We put our camera in our bag, bought our ticket and walked in – no worries. We saw many other people with 'professional' cameras around doing the same.
What is a professional camera anyway? Does that mean you are a photographer by trade, are you a regular tourist with a DSLR, are you a blogger?
I have NO idea what counts but if you ask rest assure if you ask you will be paying the fee to use it. Regardless if you are a professional or not.
The exception to rule is if you have a drone. There are signs all over the Tulum ruins advising that drones without permits are not permitted.
If you have a drone we would HIGHLY recommend reporting your drone and paying extra to use it as there are specific drone laws and you don't want to end up in Mexican jail!
If you have to argue your way out of Mexican jail (god forbid but I did read a tripadvisor review where they had to fight with the guard) these simple spanish phrases might help.
Don't forget your Swimmers
As it is not just a ruin but also a fabulous beach, don't forget to pack or wear your swimwear.
It can get extremely hot walking around the ruins (they are in direct sun – another reason you should visit in the morning) so it is nice to cool off with a refreshing dip after your visit.
Note: There are no change rooms at the ruins so you may like to wear your swimmers underneath your clothes for easy access. Alternatively, there is a restroom at the entrance where you can change.
Pack Sun Smart Attire + LOTS of water
It is extremely hot in the ruins and the beach. There is very little shade.
We would advise you bring with you:
A long sleeve, breathe-able shirt or rashie (Sun smart people – you can take it off for the gram)
LOTS of water;
An umbrella – this was a lifesaver for me while walking around the hot ruins. It could also double as a bit of shade on the beach.
Eco-friendly sunscreen. To protect the reef, you will need to wear eco friendly sunscreen.
Here is a full packing list for Mexico & Central America if you have not left your destination yet and need some advice.
Make a day of it by visiting a Tulum Cenote
The Riviera Maya is renowned for it's incredible cenotes. Some of the most unique cenotes are located within a short drive of the Tulum Ruins:
Let us know if you find the baby alligator! We didn't see him but we met another couple who swam with him!
Tulum Ruins Information Summarized (2021)
Cost: 75 pesos (2020 pricing). If you are a Mexican it is free to enter the ruins on a Sunday. There is an extra fee (about 200-300 pesos)

if you want to use a professional camera or tripod. Oh, yeah, it also costs extra if you would like to shoot video.

Opening Hours: 8 – 5pm daily. They are strict with closing time and usher you out on the dot of 5.
This attraction won't take you all day. You can do the ruins in either a morning or afternoon followed by a cenote or beach in Tulum. We would recommend 2-3 hours for a visit allowing for photography and a beach visit.
Where to stay in Tulum
We LOVED Tulum, we actually prefered Tulum to Cancun or Playa del Carmen.
Ideally, it would be nice to spend around a week in Tulum, hopping around the different cenotes, beaches and ruins. If you don't have that long, we would recommend at least 4 nights to get a good feel for the area.
There are lots of different accommodation in Tulum to meet a variety of budgets.
We stayed at a new hotel in Tulum (not in the above list) it had pros and cons.
Let's start with the cons, as it was new, in one room we had problems with wifi and another room we had problems with aircon. They did move us to a room with 0 problems in the end.
On the plus side, for what we paid it was dirt cheap, in a perfect location and brand new with all modern appliances which was great. I do like modern and luxury.
Also, maybe our experience was an anomaly as it has a 9 review score on booking.com. If you would like to check it out and decide for yourself, it is this hotel.
That's all folks, we hope you enjoyed our Tulum ruins guide and found something in the article that helped you!
If you have any questions or comments, we love to hear from you. Write to us in the comments below.
***
See more Mexico posts:
Save Tulum Ruins to Pinterest so you can find it again later