We have been to Cancun a few times. The most recent time we visited we hired a car to explore the Yucatan peninsula.
Car rental in Cancun is so cheap (as little as a few dollars a day) we simply had to give it a try.
We were a little apprehensive about our decision – but we were the guinea pigs for you and we can report that renting a car in Cancun Mexico is completely safe and quite frankly the best decision we ever made.
No longer did we have to wait in the hot sun, only to be crammed into a collectivo (local mini van), no longer were we subjected to expensive and overpriced tours and no longer were we ripped off by taxi drivers – long story short – we would never travel to Cancun Mexico without a car again. You can drive all over the peninsula with a car, even to Cozumel, so it's pretty sweet. Here's some info on Car Rental in Cozumel if you are interested in that.
That's not to say there isn't scams out there – we were almost scammed as we arrived into the airport and we got scammed by a very common petrol station scam while we had our car.
If you are thinking to rent a car, here is everything you need to know about renting a car in Cancun Mexico to avoid scams and have an awesome stress Mexico Road Trip!
Renting a car in Cancun Mexico – All you need to know
My parents were horrified we decided to rent a car in Mexico. Of course, you hear horror stories sometimes on the news about Mexico.
Cancun however is NEVER one of these horror story destinations. Yes, there are some areas of Mexico you probably should avoid but the Yucatan peninsula is not one of them.
SPOILER ALERT: Renting a car in Cancun Mexico is entirely safe.
There are some precautions you should take to avoid losing a bit of money to common tourist 'scams' – entirely avoidable if you do the correct research.
Is it safe to drive a car in Cancun Mexico?
This is the first question on everyones mind when considering whether to rent and drive a car in Cancun. We should know it was on ours.
The long and short of the answer is that it is completely safe to drive a rental car in Cancun Mexico.
We had our little rental car for 3 weeks in Yucatan peninsula and experienced 0 driving troubles (we did get scammed at a petrol station – I'll come to that later…)
We run into no suspicious people and we parked on the street with no fear of someone breaking in. Of course, we locked our doors but that should just be a given.
It was not that we just got lucky. We honestly felt as safe driving in Cancun, Playa del Carmen, Tulum and Valladolid as we do in the US, UK or any other developed country. Actually, sometimes even more safe.
That is not to say you shouldn't take usual precautions you would when driving such as generally driving safe and not being a total idiot.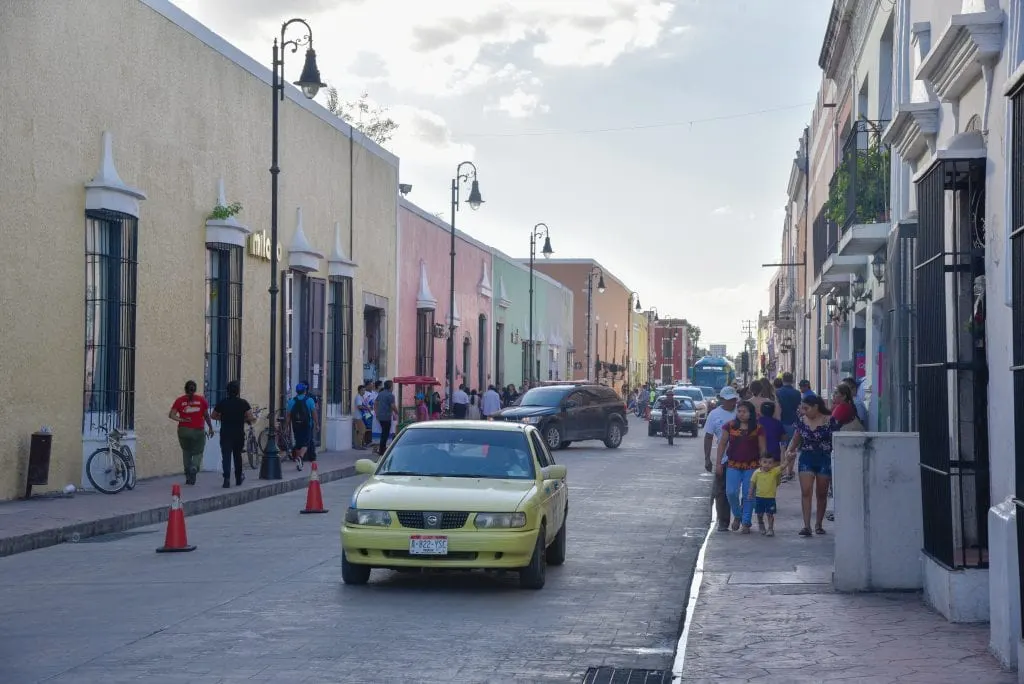 How easy is driving in Cancun?
Driving in Cancun, Playa del Carmen and Tulum was very easy. We found it much easier than driving in Orlando and Atlanta, to name a few.
The signs in the area are all in Spanish but if you know the area you are going e.g. "Playa del Carmen" you will have no trouble getting there. See here for how to get from Cancun Airport to Tulum.
If you are planning to travel between Cancun – Playa del Carmen – Tulum it is very easy as it is one straight road with signs all the way there. Similarly, there is one straight road from Tulum to Coba and Valladolid if you would like to drive to this area of Mexico to see the Coba Ruins and some very cool cenotes.
In saying that, it is advisable to have use GPS. We used a GPS on our phones with no problems.
FREE GPS TIP: Download your route in advance for a free GPS system like we do. You can download google maps free of charge while you have internet (e.g. before you leave at your hotel room etc) and still use and access these maps while you are offline.
What about police corruption?
We did not experience any police corruption while driving in Cancun and the Yucatan peninsula. We passed several policeman while driving in the area and gritted our teeth as they approached only for them to wave us by.
We would be lying to tell you there is no police corruption in the Yucatan peninsula but you would be unlucky to encounter a corrupt policeman.
Recently, someone we know experienced police corruption while driving in this area. They were pulled over by police who demanded money as they did something wrong (which they didn't).
Police are not corrupt in the sense that they want to kill you, they just want to make an extra buck. Stay calm and refuse to pay the fine.
What side of the road is driving?
Like America, driving is on the right side of the road. It will be super simple driving for those coming from the USA.
It is the opposite to the UK and Australia, where driving is on the left.
If you are from somewhere where you drive on the left side of the road, it is easy to adjust.
As a rule of thumb, you should be closer to the centre lane than your passenger. To clarify, if your passenger is closer to the centre line, you are probably driving on the wrong side of the road.
What about driving at night?
The area in and around Cancun is very safe and driving at night technically is no problem.
In other parts of Mexico, driving at night is not advised.
For this reason, we would advise not to drive anywhere at Mexico really late at night unless you are very familiar with the area you are driving.
Is it safe to rent a car in Cancun Mexico?
Despite the outcry of scams in Mexico, it is perfectly safe to rent a car in Mexico.
Of course, there are a few things you should be mindful of to ensure you don't get ripped off.
It is safe in the sense that you would die or suffer a major credit card scam, but they *may* try to make a few extra bucks off you.
Here are our top tips to ensure you don't get ripped off, or get played like a fool while renting a car in Mexico.
The most important tip is to know your contract and stand your ground at the rental car counter.
1. Avoid the credit card hold 'scam'
The credit card 'scam' may or may not happen to you but it is important to be aware of it when renting a car in Cancun.
It did happen to us and it went something like this.
Our rental agreement had a credit card hold of $200 USD. The lady at the counter asked for $700 USD.
Trusting her, we handed over the card and paid $700 USD. Thinking it was a little on the high side, we re-looked at our contract on our phone.
Us: "Excuse me, our contract says $200, why were we charged $700?"
Attendant: "Ohhh, your contract is through a third party, our credit card charge is $700."
Us: "But this contract is between us and you?"
Attendant: "Sorry, the charge is $700"
Us: "We would like to speak to the manager"
Attendant: "You just saw him before"
Us: "Could you bring him over again please"
Girl reluctantly goes and gets manager
Us: "Hi. Our contract states $200 but we were charged a $700 deposit, why?"
Manager and attendant talk and he tells her to "just do it"
Manager: Okay, we will refund you the $700 and charge you $200″
We look at attendant like WTF?!
Attendant: "Well you did agree to $700." she says smugly to us.
Us: "We trusted you. If we walked into a bakery and the shop assistant said $4 for a cupcake, we would pay it, trusting they quotes us the right and honest price. If we then saw a sign in front of a cupcakes saying $2 we would say, why did you charge me $4 for a cupcake when they are priced $2"
The attendant just looked at us blankly. There was no apologies. Nothing.
At this point, you are probably thinking IM OUT – no car rental for us. But the car was SO GOOD. In years past, we waited in the hot Cancun sun for hours for collectivos (local transport) or overpaid for group tours.
This time, we zipped around and visited 10 x the attractions we would see without a car. For example, the Laguna Kaan Luum is very difficult to access without a car and we probably would have skipped it.
We were also able to arrive at popular places before the crowds, enjoy the cenote or beach in peace and get the photographs we wanted. We wouldn't be able to do this without a car.
The key is to know your contract and your rights and you will be A-okay!
2. Avoid the insurance 'scam'
We selected a high coverage of insurance with our car rental in Cancun Mexico.
When we arrived at the counter, the attendant informed us we had very little coverage at all.
She pulled out a piece of paper and tried to confuse us that we needed additional coverage.
This was simply untrue. We had coverage that we purchased online with our rental car but it was all a little confusing.
Know your rights in your rental car agreement prior to approaching the rental car counter. They will possibly try to confuse you or tell you the coverage you have is virtually pointless.
Again, if you know what insurance you have purchased, it will be fine.
3. The car upgrade proposal aka highway robbery
If you rent a little bubble car, like we did, you will likely be given a very hard sell to upgrade your vehicle at crazy costs.
We didn't agree to the upgrade but we didn't particularly like our car either. It was new but it had no central locking. The first car I have actually seen without central locking since the ice age. We had to manually use the key to lock each door – #painintheass.
If we had our time again, we would upgrade to a slightly bigger car online. It was only a few bucks more to get a nicer car but we figured we didn't need it with just 2 people. Boy were we wrong. The car was a piece of cr*p.
If we had our time again, we would upgrade our car online but not at the rental car counter. The prices to upgrade your bubble at the counter are highway robbery.
How much does it cost to rent a Car in Mexico?
It is extremely cheap to rent a car in Cancun, Mexico. It can be as little as a few dollars a day.
We visited in peak time, just before Christmas and it cost us $10 USD a day, which we were very happy about.
What are my other transport options and how much will they cost?
There are plenty of alternative transport options in Cancun and the Yucatan peninsula.
Here is a summary of the alternative options:
Bike: Around 10 USD a day, less if your negotiation skills are on point. Bike is a very popular option in Tulum. It is a healthy and eco-friendly way to get around but note 1. it is very hot in Mexico year round and 2. it is impossible to bike to some far away attractions like Laguna Kaan Luum for example.
Tours: Tours cost around 100 USD per tour. Prices vary depending on what tour it is and what you see and do on the tour. For this price you would expect to see about 3 attractions. The downside to a tour, aside from the expense is that tour buses turn up to attractions around midday when it is very crowded.
Collectivo: You can travel within Cancun, Playa del Carmen or Tulum using the collectivo service. It is very cheap around .50 USD a ride. It is a very fun, local experience but not for the faint of heart. You will find yourselves squashed like sardines into a tiny van. They also can be irregular and unreliable.
Buses: You can get between Cancun – Playa Del Carmen – Tulum using ADO Buses It costs around 200 pesos ($10 USD) to travel between Cancun to Tulum. The journey is in a nice, air-conditioned bus. We have traveled between Cancun and Playa del Carmen before using the ADO Bus service. It was nice but you have to consider what your local transport will be once you reach your destination.
Taxis: We personally don't like taxis, we find they always want to rip you off. Expect to pay quite high fares until you have good negotiation skills. There is no uber (which we love). The other issue is that if you want to go to an attraction, such as a cenote in Tulum, you need to pay for them to wait for you as you swim.
What company to rent a car with in Cancun Mexico?
If you rent through rentalcars.com you shouldn't have any issues.
We personally love them as we can search for the cheapest rate possible across all providers.
If you have a preferred one or two providers at home you can also search by that provider. There is also a section for reviews of certain providers if you want to check out if other travelers had any problems before you rent with them.
Another great thing about rentalcars.com is that there is a free cancellation option on most cars a few days before your rental. We LOVE this as our plans are always changing and it gives us freedom and flexibility.
You can also see clearly what is included in the rental so there is no miscommunication. Unlimited milage is a big one and you can see this clearly stated.
Here are the prices of additional add ons at rentalcars.com.
Additional Driver:
If you would like an additional driver, it is only $3.99 USD per day.
Renting a GPS
To avoid overpaying in Mexico, if you need a GPS, we would suggest renting one in advance.
The cost is $21.99 USD per day for a GPS. Alternatively, you can bring your own from home or if you are traveling with others, download maps for free on your phone.
Renting a Baby Seat
It is best to book essentials like a baby seat in advance as you don't want the provider to say they have run out or quote you a crazy price at the counter.
It is $5.99 per day for a baby seat, booster seat or child seat. You can select which one you require easily online.
Car Insurance in Mexico
You can purchase full insurance with rentalcars.com which you can cancel at anytime before pick up.
The full insurance includes the cars excess, windows mirrors and tyres, administration and break down charges. For peace of mind, we would advise getting full insurance.
If you are a safe driver, and like to have a little gamble, you could go for reduced insurance. The car rental company may tell you they cannot rent the car without full insurance but this is simply untrue.
Credit Card Insurance
Generally, credit card companies do not cover you for car insurance in Mexico. You can check with your individual provider to see if you have any coverage.
If you have some coverage with your credit card provider, to make sure you are protected:
Pay for your car on this credit card;
Make sure the credit card owner is the driver of the vehicle.
It is also advisable to see the printed terms of your coverage. You don't want to take someones word over the phone only to later find out you are not in fact covered in Mexico.
Who knows they might of misheard you and thought you said New Mexico.
Bring a copy of the credit card insurance with you to Mexico. You *may* be required to show it at the rental car counter, just to prove you are covered in some way.
Car Parking in Yucatan Peninsula
We had 0 problems with parking our car our entire 3 weeks of travel. Don't park over yellow lines and you won't have any issues.
For accommodation it is best to stay somewhere that advertises that they have a car park or street parking is available.
Here are some good options in each place that we personally stayed and parking our car:
Cancun: Hotel Gaby (a really clean, comfortable and affordable hotel we have stayed at)
Playa Del Carmen: Wabi Hotel(This place is great and really affortable, we would recomemnd splurging a few bucks on the Superior Room – waaay better)
Tulum: La Palmita or Hotel Blanco(both clean and comfortable options)
Car Parking in Cancun
If you stay in downtown Cancun, you won't have trouble finding a street parking spot.
If you wish to visit the hotel area of Cancun it can be more difficult to park. There is however, a few good free parking spots including Playa Ballenas which is free to park in the hotel zone.
Car Parking in Tulum
Parking in and around downtown Tulum is super easy. There are plenty of street parking available with no metres. We found street parking to be very safe.
We found it a little more difficult to park in the fancy hotel zone of Tulum however, we managed to score a free park so it is indeed possible.
All cenotes had free parking in Tulum. We also found a way to avoid the ridiculous parking fee for the Tulum Ruins.
Car Parking in Playa del Carmen
Outside the direct tourist strip of Playa del Carmen parking is free and readily available.
If you want to park right near the beach, you will need to use to use metered parking.
It is however really quite affordable. It costs only 10 pesos (0.50 USD) an hour to park right near the beach in Playa.
General Driving laws in Mexico?
Generally, all the usual road laws in your home country will apply in Mexico. The last place you want to end up is stuck in Mexican jail, so make sure you respect the road rules like you would at home, even if the local drivers are more reckless than you.
There is a common practice of bribing police in Mexico. For example, if you are speeding, drink driving or talking on your phone and are caught by the cops, you can bribe them out of a fine or going to jail.
Our Mexican friends do this. One has been caught drink driving and paid the cops off.
However, we would not recommend bribing the police in Mexico. Despite police corruption many police in Mexico are very honest and bribing the police can just get you in even more trouble. Especially if you are a foreigner.
If you follow the rules, you won't have to be in this dilemma in the first place. The basic road rules include:
No drink/drug driving;
No driving over the speed limit (clearly stated signs everywhere)
No speaking on your phone while driving
No dangerous driving or driving through stop lights
Pretty simple and easy.
What happens if you have a police encounter?
We passed police a few times but we never had any problems or were asked for a bribe. We weren't doing anything wrong either.
Bribes can be prevalent at Christmas time, where officers are trying to get a little extra cash for Christmas.
Here is what we would suggest if you have a police encounter:
If you are doing something wrong, it is better to pay the fine then to suggest a bribe.
If you are not doing anything wrong, stand your ground as the police officer will likely back down and wave you along.
Police Tips from Our Local Friends:
Our friend Lalo says "Hola Comandante" to get police in a good mood. This means like a high ranking police officer.
Our friend Fabio advises not get out of the car. Wind down your window and show your papers e.g. drivers license. There is no obligation or law to get out of the car.
Fabio also suggests kindly asking the officer to let the fine go as it is your first time doing X wrong. Often, police officers will wave you along.
You may be interested to know the blood alcohol content is 0.8 in Mexico. Same as most places in the US, except Utah.
You may want to consider how many cold coronas you can have and still remain under the limit.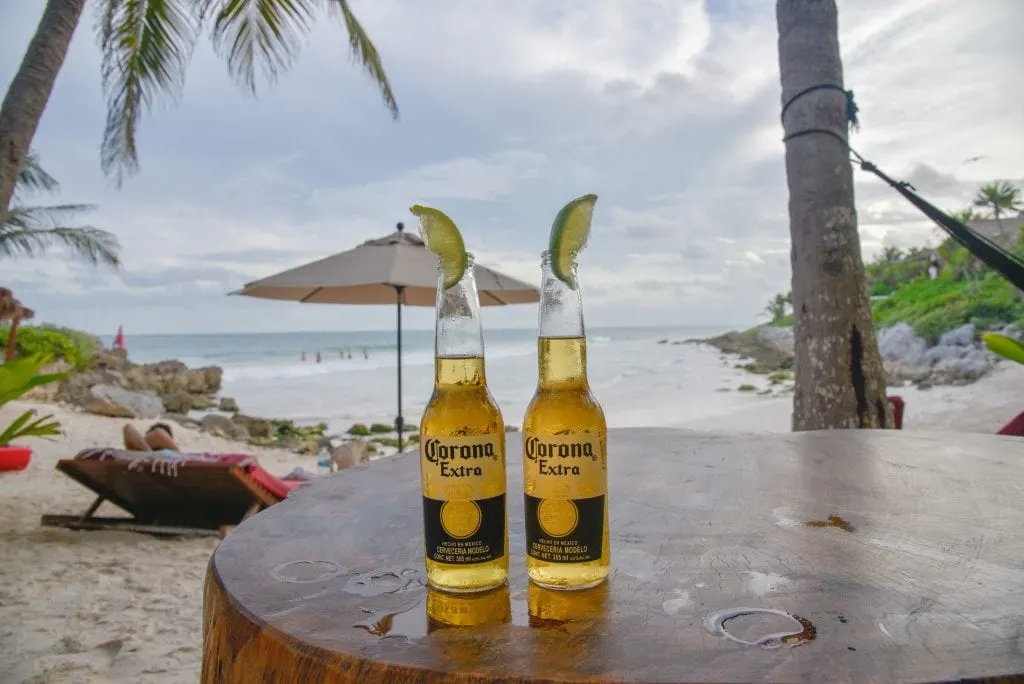 Emergency contact in Mexico
God forbid, if you have an accident and/or you need an ambulance, it is very easy.
Mexico also uses the 911 emergency number.
Other car scams to avoid in Mexico
Sadly, we fell victim to the petrol scam, a very typical scam in Mexico, while filling up petrol on our final day in Cancun before we headed to the airport.
We filled up with petrol and our total bill came to 730 pesos. We handed over a 500, 200 and 30 pesos plus a tip.
The attendant came back and said we paid a 50 rather than a 500. Stupidly, we believed him swapped him the money.
Later, realising we didn't have the right money in our wallet anymore and reading about scams online, we realised we fell victim to the petrol money swap scam.
Despite the fact that we stupidly fell victim to this scam, it could have happened anywhere, at a restaurant or a hotel reception.
This would not stop us from renting a car in the future. However, you have to remain vigilant at all times. Don't be silly like us.
Car Rental Cancun Mexico: Summary
Despite the fact that we personally were affected by a few common car scams in Mexico, we would definitely rent a car in Cancun Mexico again to explore the Yucatan peninsula.
Car hire was so affordable and we got to explore so many places we would never have gone to.
Here are a few suggestions we would make to make your rental stress free:
Don't believe everyone. We trusted too much – first the car hire lady and secondly, the petrol man. Ultimately it resulted in a 500 peso loss for us;
Drive Safely. You don't want to be in a situation where you are wondering whether to bribe a police officer.
****
We hope you have an amazing time in Cancun. It is an amazing place to visit. Just remember to drive safely!
Wondering where to go next? Why not go to Cuba, only a hop, skip and a jump away from Cancun. If this sounds like a great idea, check out our Cancun to Cuba guide for the best way to get there.
See more: Adults only all inclusive resorts in Cancun.
Save Renting a Car in Cancun Mexico to Pinterest so you can find it again later