Considering a Cozumel Honeymoon?
Cozumel, a picturesque island off the coast of Playa del Carmen in Mexico, is seriously one of the very best places for a romantic getaway, anniversary trip, honeymoon or baby-moon.
If you are looking for romantic things to do in Cozumel for couples or romantic places to stay while on a honeymoon in Cozumel – we have you covered!
The good news about a Cozumel honeymoon is that it is a pretty cheap honeymoon destination as Mexico is a cheap place to travel so a honeymoon here won't break your bank!
Plan your Cozumel Honeymoon 💖😘:

🏩 Book your Cozumel hotel with the best rates

Book all your Cozumel Tours

Book your car in Cozumel to get around.
Cozumel Honeymoon: What to do on your Romantic Getaway
We have visited this destination twice: once staying on land and most recently by cruise ship. We enjoyed it very much on both occasions and would highly recommend a trip to this island paradise, especially for a honeymoon.
Cozumel is for sure one of the best places we have ever traveled which is why we recommend it to our family and friends so highly for a honeymoon destination.
Here is a few of our favourite things to do in Cozumel that you should definitely include in your honeymoon plans.
Tip: Having a car is pretty good in Cozumel. We would highly recommend it. Here is a link for the cheapest car rentals that we use to search for cars. Renting a car is totally safe in Mexico. You can read more about that here – Car Rental in Cancun.
Go Snorkeling or Diving
One of the main reasons people visit Cozumel is to go snorkeling or diving. It is definitely something that you will want to include in your honeymoon trip.
The reefs surrounding Cozumel are absolutely amazing so if you wish to see stunning coral and amazing marine life going for a snorkeling or diving trip from Cozumel is a must do.
There are a few snorkeling and diving options in Cozumel:
Take a Snorkeling Boat Tour From Cozumel
The best option is to go on a reasonably priced boat tour from Cozumel.
Going on a boat tour means you get to see the best reefs available as these are located off the mainland which is only accessible by boat. The tours allow you to experience the amazing reefs around Cozumel (often on a glass bottom boat) with the opportunity to snorkel for those who wish to do so.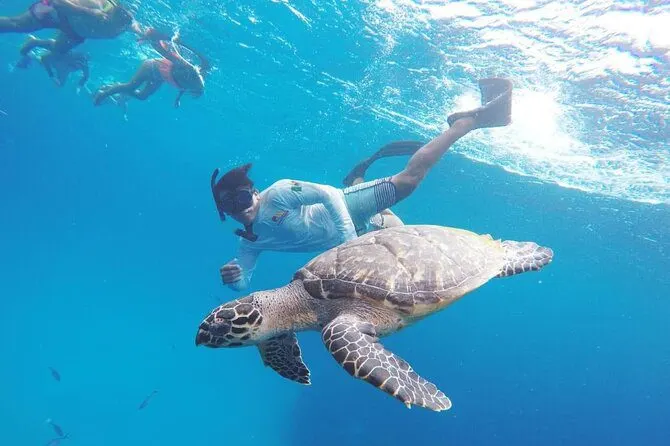 Visit the Money Bar
The Money Bar in Cozumel is a great option to spend a day in Cozumel.
It has a really nice bar area overlooking the water and is a great place to snorkel – so remember to bring your snorkel if you plan on visiting the Money Bar! It is free entry but they do expect you to buy a drink or some food. If you staying on land in Cozumel make sure you make the most of their happy hour between 5-7pm for 2 for 1 drinks!
There are two options to get to this bar: get a taxi or rent a scooter. It is possible to rent scooters for $20 USD for the day but you have to be willing to barter with the scooter operator – just don't ask anyone right next to the cruise terminal! If you are getting a taxi, for the best price have some pesos handy, don't use USD – it shouldn't be anymore than 100 pesos one way.
Visit the Best Beaches of Cozumel
Being an exotic Island, naturally there are some pretty incredible beaches in Cozumel. The beaches of Cozumel are probably what is drawing you to consider Cozumel for your honeymoon!
As a general rule, the west side of Cozumel, facing Mexico as calmer waters and more alive coral than the east size of the island which has much stronger currents.
Playa Corona is one of the closer beaches to downtown Cozumel but it is not the prettiest beach ever. For a prettier beach head to Playa Chen Rio, Playa Palancar or Sunset Beach.
Fratelli Bar with swimming hole
Fratelli Bar is a great place to visit for couples just a short walk from the centre of Cozumel.
If you choose to walk to Fratelli, you will pass Dolphinaris on the way. Be sure to peer through the gates and take a look at the dolphins on your way there.
Many people believe swimming with dolphins in captivity is an unethical thing to do. We have personally done so (in Cancun) and did not feel the dolphins were mistreated in any way.
Anyway, back to one of our favourite bars in Cozumel, Fratelli. You used to be able to buy a fountain of beer for 100 pesos at Fratelli but they didn't appear to offer that deal the most recent time we were in Cozumel.
They sold a large range of beer for 40 pesos or $2 USD. You don't need to purchase anything to access the beach nearby but it is nice to have a secure place to put your stuff while you snorkel!
Visit an Adventure Park
In true Yucatan peninsula form, there are a number of beach clubs and adventure parks on Cozumel.
One of the more popular ones being the Chankanaab Adventure Beach Park. For 400 pesos or 23 USD you can enjoy swimming pools, pre-Hispanic Replicas, tropical gardens, a picturesque beach with hammocks and lounge chairs.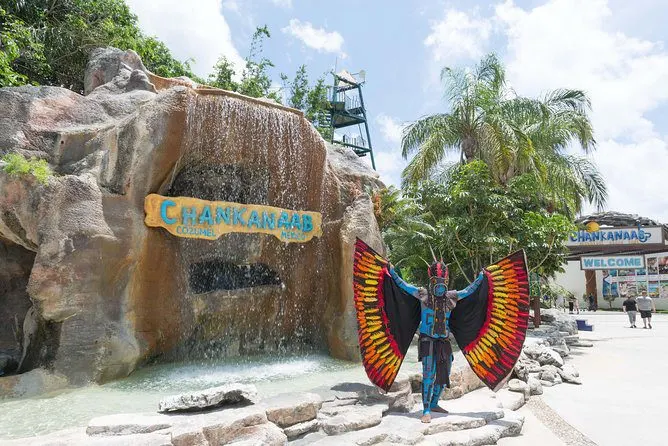 Visit a Picturesque Private Beach –
Punta Sur Ecological Park
Some of the best and most beautiful beaches on the island are private beaches meaning they cost to get in.
Another 'adventure park' of Cozumel, Punta Sur Ecological Park is one of the most beautiful private beaches on the island with crystal clear blue water, white sand and its very own lighthouse.
It costs $16 entry and the ticket includes restrooms, hammocks, parasols, lounge chairs and showers.
Like Chankanaab Adventure Beach Park, the entry includes a variety of attractions in the park including the Celarain Lighthouse, Mayan temple "El Caracol", Birds and crocodiles observation tower, Navigation Museum, a bird watching trail and a catamaran "El Tatich" tour along Colombia lagoon.
You can book a ticket to the park on the National Parks of Cozumel website. Alternatively, many people choose come to Punta Sur Ecological Park by tour.
Here is a fun electric bike tour which includes the beautiful Punta Sur Ecological Park.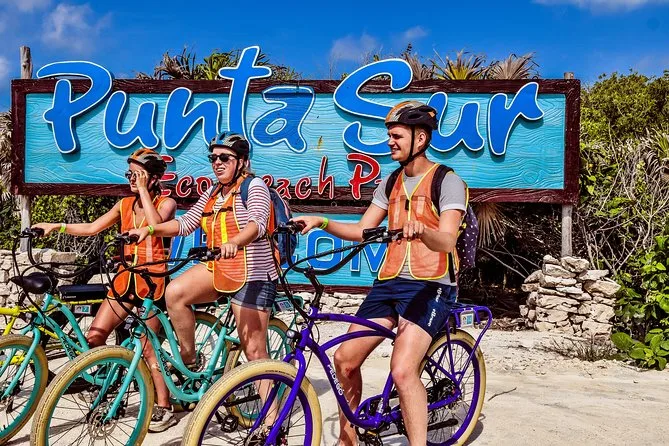 Playa Mia Grand Beach Park
What did I tell you, Cozumel is full of adventure water parks. Playa Mia Grand Beach Park is another great option for an adventure water park to visit in Cozumel, Mexico.
Go Helmet Diving in Cozumel
As Cozumel has some of the most beautiful coral reefs in Mexico, a popular activity is to go helmet diving in Cozumel. Now that is certainly a great fun and unique experience to have together on your honeymoon in Cozumel.
Ruins of San Gervasio
For those who love history, there are some small Mayan Ruins in Cozumel known as the Ruins of San Gervasio worth checking out on Cozumel Island. Mayans lived in the Yucatun peninsula until Spanish settlers arrived, and due to disease and other factors, resulted in the ultimate demise of their population.
What is left behind by the Mayans is amazing ruins for us to discover including San Gervasio on Cozumel, the Tulum Ruins, Coba and Chichen Itza to name a few.
The Ruins of San Gervasio are far from the most popular ruins in the area but they are worth checking out if you are in Cozumel. To fully appreciate the history behind the ruins, it is always advisable to get a guide. We would recommend this beach and ruins of San Gervasio tour if you would like to visit.
If you decide to visit the ruins, bring some bug spray with you as the mosquitoes are rife! Whenever we travel to Central or South America we always bring mosquito bracelets with us.
Go Deep Sea Fishing
For fishing fanatics, there is great deep sea fishing off the coast of Cozumel. Of course, a tour is required to go deep sea fishing. We would recommend this one if deep sea fishing tickles your fancy.
Take a Day Trip to Playa del Carmen
It's just a hop, skip and a jump to Playa del Carmen from Cozumel. You could base yourself in Cozumel and make a trip to Playa del Carmen.
Take a Day Trip to Cancun
It's just a hop, skip and a jump to Cancun from Cozumel. You could base yourself in Cozumel and make a trip to Cancun.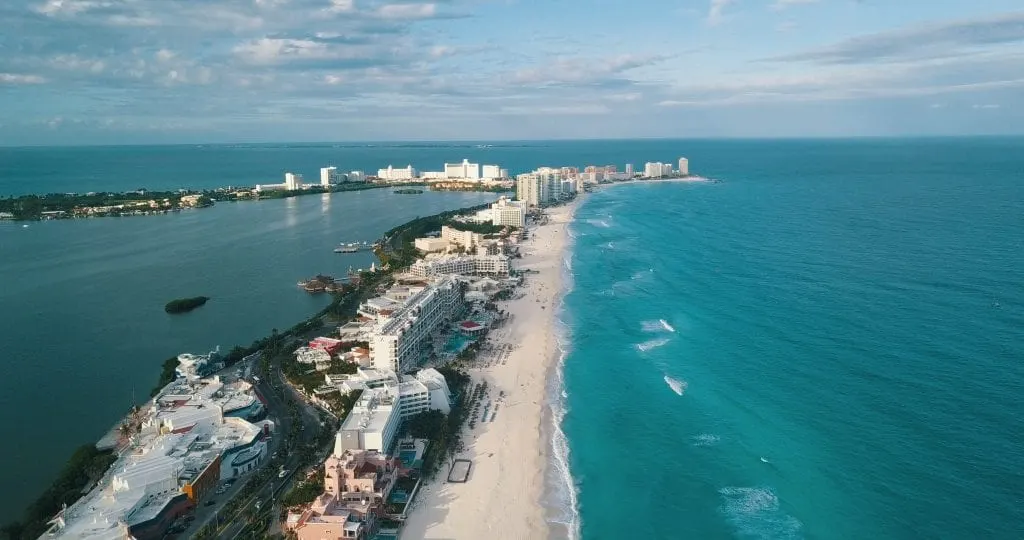 Cinepolis movies for your cinema fix in Mexico!
If you don't feel like partying your nights away why not try out the local cinema in Cozumel which offers some films in English at bargain basement prices!
You can check on their website for movie times in English. Tickets cost 71 pesos but they are half price on Wednesdays and often, they give you buy one get one free offers on your movie docket for next time!
Where to Stay on your Honeymoon in Cozumel: Honeymoon Packages
Most of the accommodation in Cozumel is located close to the main town of San Miguel. We would highly recommend staying there, especially if you do not have a car.
It is far more economical to use this blog as a guide than book an official honeymoon package in Cozumel through a travel agent.
If you are looking for an affordable honeymoon, the great thing about Cozumel is it is not a stupidly expensive island. Sure, it has luxury accommodation options but there are also some great places to stay for the budget conscious honeymooner in Cozumel.
Here are our top picks for where to stay in Cozumel, depending on your budget:
Luxury Traveler: President InterContinental Cozumel Resort & Spa
This hotel is the perfect for a stunning luxury stay in Cozumel as it has a private beach , 2 outdoor pools, 2 tennis courts and is close to attractions such as Chankanaab National Park. It is always nice to splurge on your honeymoon.
If you can afford to – stay here.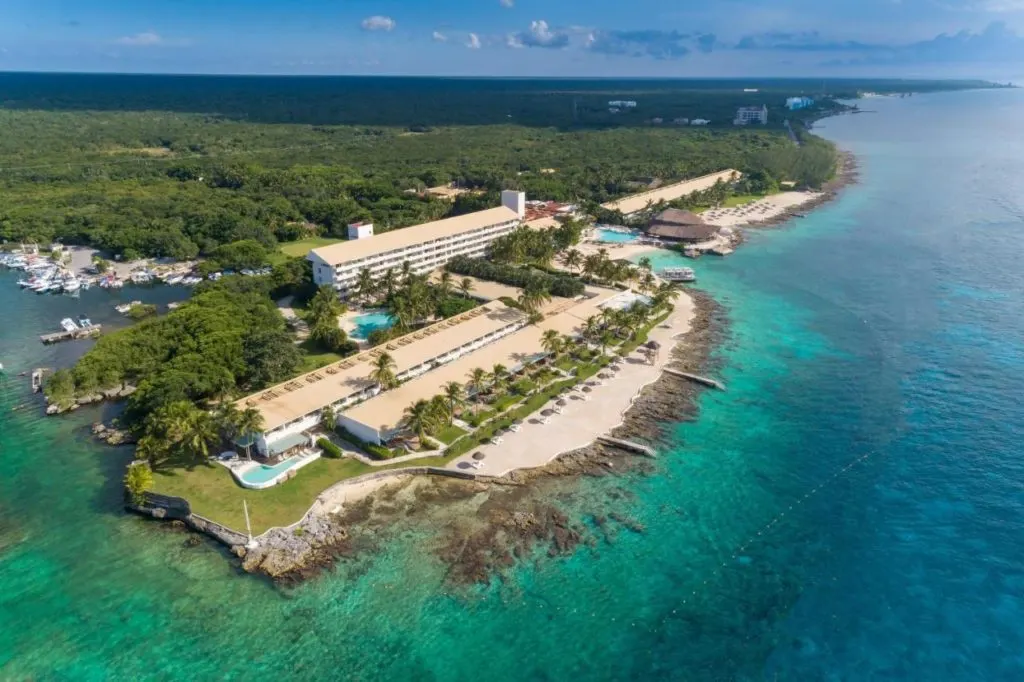 Mid Range Comfort Traveler: Hotel B Cozumel-Boutique by the Sea
Hotel B Cozumel is our pick for a stunning 4* hotel in Cozumel as it has an amazing infinity pool overlooking the sea. The rooms are clean, comfortable, have air-conditioning, wifi and a private terrace which is always nice.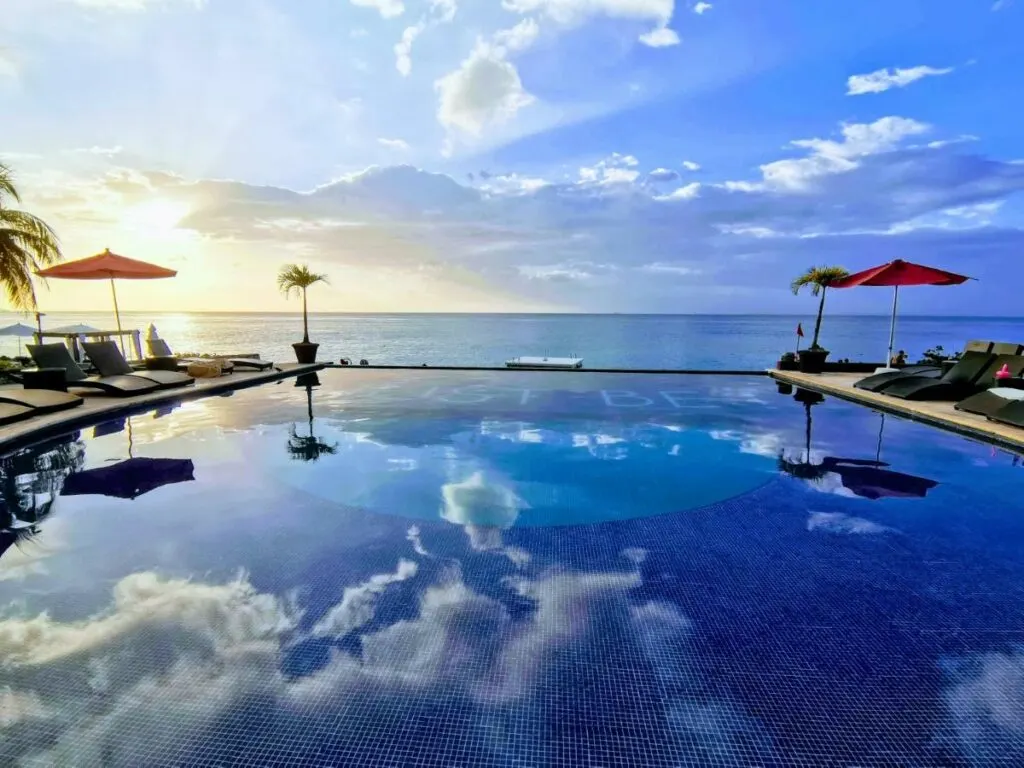 Budget Conscious Traveler: Casa del Mar Cozumel Hotel & Dive Resort
The Casa del Mar is a reasonably priced resort on Cozumel for the budget minded traveler.
The hotel is our pick for a budget hotel in Cozumel as it has an outdoor pool and also offers free access to the Nachi-Cocom Beach Club.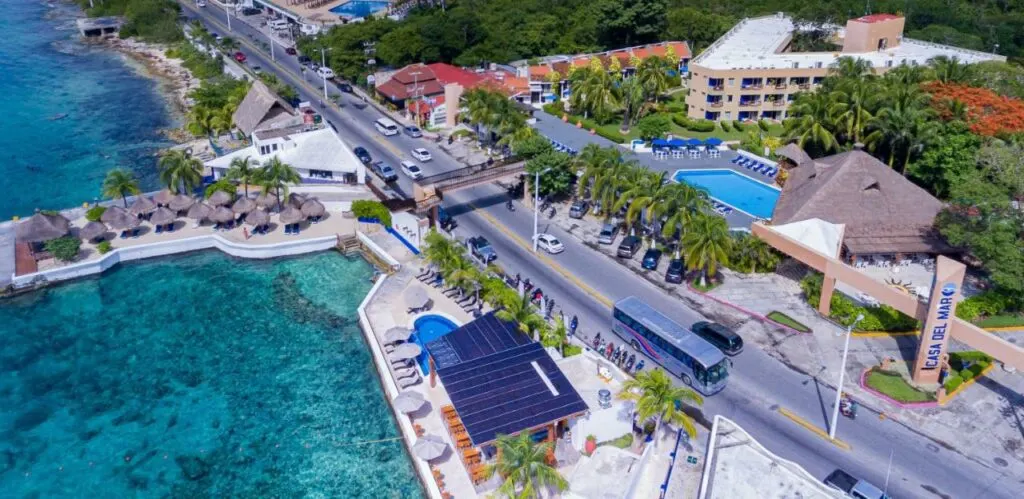 Where to eat locally on Cozumel?
We love to eat locally while traveling and what's great is that you can get some really cheap, authentic food in Cozumel outside the main touristic zones. These were our favourite local eateries that we discovered in Cozumel:
Chilangos Taqueria – For some cheap local cuisine try Chilangos Taqueria. We ordered pollo huaraches for 28 pesos each ($1.50 USD) and they were absolutely delicious.
Los Seras – In the same vicinity as Chilangos Taqueria you will find Los Seras, the best (and cheapest) Taco restaurant in Cozumel. Los Seras specialty is pastor (pork) tacos complete with minced onions, cilantro and fresh pineapple. Each taco only costs 10 pesos each (0.50 USD). We also ordered pizza from Los Seras on another occasion and I cant say I'd recommend that – stick what what Mexicans do best – Tacos!
Other than restaurants, if you wish to cook at home or buy some absolutely delicious guacamole, visit the Mega Supermarket in Town. The Mega Supermarket also serves yummy easy pre-made Mexican meals.
On a global scale, Mexico doesn't have the best safety record ever. Some parts of Mexico are a little unsafe to visit. Cozumel however, is not one of them.
Like the rest of the Yucatun peninsula, Cozumel is driven by tourism and is therefore very safe to visit. Of course anywhere you travel, it is important to remain conscious and vigilant.
How to Get There?
By Cruise Ship – See our review of the Norwegian Getaway here.
By Mainland Mexico – There are a few competing companies that make the journey from Playa del Carmen to Cozumel: Barcos Caribe, Ultramar & Mexico Waterjets. All of the companies are of a similar cost & standard – just take the boat that is leaving at the next time when you arrive.
You buy your ticket from the particular company kiosk near the ferry pier in Playa del Carmen. The ferries vary in price a little depending on which company you chose to go with but expect to pay about 150 Pesos one way.
The ferries take about 30 minutes to reach Cozumel. The rides can be a little bumpy so if you are susceptible to sea sickness make sure you take some tablets with you!
Best Time to Visit Cozumel for a honeymoon?
Cozumel is nice and hot all year round so there is no best time to visit so to speak.
Most people say, if you are spoilt for choice book between December to April as the rainy season funs from May through October and the hurricane season runs from June to October.
***
See more of Mexico: