If you would like to visit something unique and less touristic in Tulum that is mostly frequently by locals, schedule a visit to Laguna Kaan Luum in your Tulum itinerary.
As most tourists flock to the other cenotes and attractions in Tulum, Laguna Kaan Luum gets somewhat left behind and forgotten.
Not that Im complaining, I LOVE that there are areas where that are true local areas, like many of the cenotes in Tulum would have been in years past.
If you love places that are off the beaten track like us, if you are fed up with all the tourists after visiting the Tulum Ruins then keep reading as this is the spot for you!
We visited Laguna Kaan Luum on one of our final days in Tulum, honestly, the pictures we saw online didn't interest us all that much but we thought what the heck – let's go and see for ourselves.
Turns out that Laguna Kaan Luum was just the local hidden gem we were looking for on our Tulum vacation – an oasis in the jungle with a natural mud face masks – what's not to love!
The cool thing is the lagoon is not just a lagoon – the centre is a deep cenote which looks very similar to the blue hole in Belize.
Here we detail everything you know about Laguna Kaan Luum so you can decide for yourself if you would like to visit.
And, if you think our pictures are rubbish, maybe you should still give it a chance as I honestly believe it is a place that is better in person than in picture.
What to do at Laguna Kaan Luum
There are heaps of fun activities to do at Laguna Kaan Luum.
We would recommend dedicating half a day to soak up the beauty of the lagoon and really enjoy this natural wonder with the locals.
Swimming
The beautiful turquoise water of the lagoon makes it an ideal place to swim in Tulum.
You can swim anywhere in the lagoon EXCEPT for the deep blue cenote in the middle.
It is roped off for conservation purposes or so you don't get sucked in, either or, you can't swim there.
That was okay with us, we were happy to frolic in the waist deep, sandy water outside the cenote.
It is a place for wallowing rather than hardcore swimming as most places in the lagoon are not that deep and you can touch the bottom.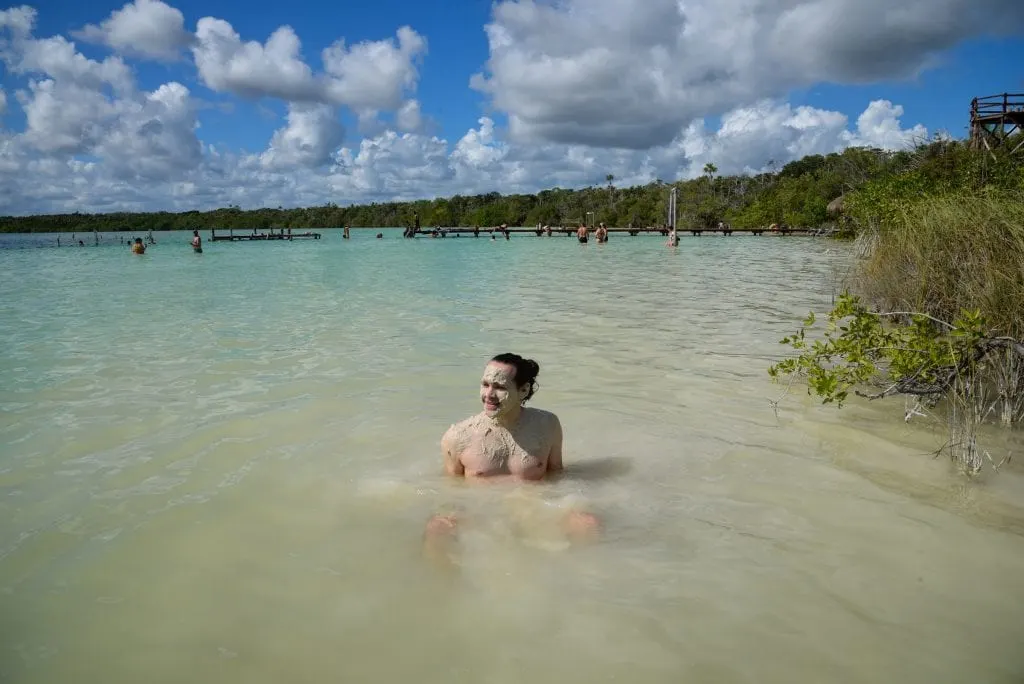 Scuba Diving
The exception to no swimming in the cenote is if you plan to scuba dive the cenote.
The cenote is 82 meters deep and attracts scuba divers from all over the world to experience its untouched beauty.
If you wish to dive the cenote you should be an experienced diver as a Malaga tourist died practicing diving in the cenote. His body was not found for days after he was reported missing despite in depth searching of the cenote.
Mud Bath at Laguna Kaan Luum
One of the most fun activities at Laguna Kaan Luum was having a natural mud bath in the lagoon.
The mud is said to have healing and beauty benefits so you bet we are slathering that stuff all over us – LOL.
I should mention, the mud stinks like rotten eggs but so does the natural mud you pat all over your face in the blue lagoon in iceland so this is really nothing to worry about.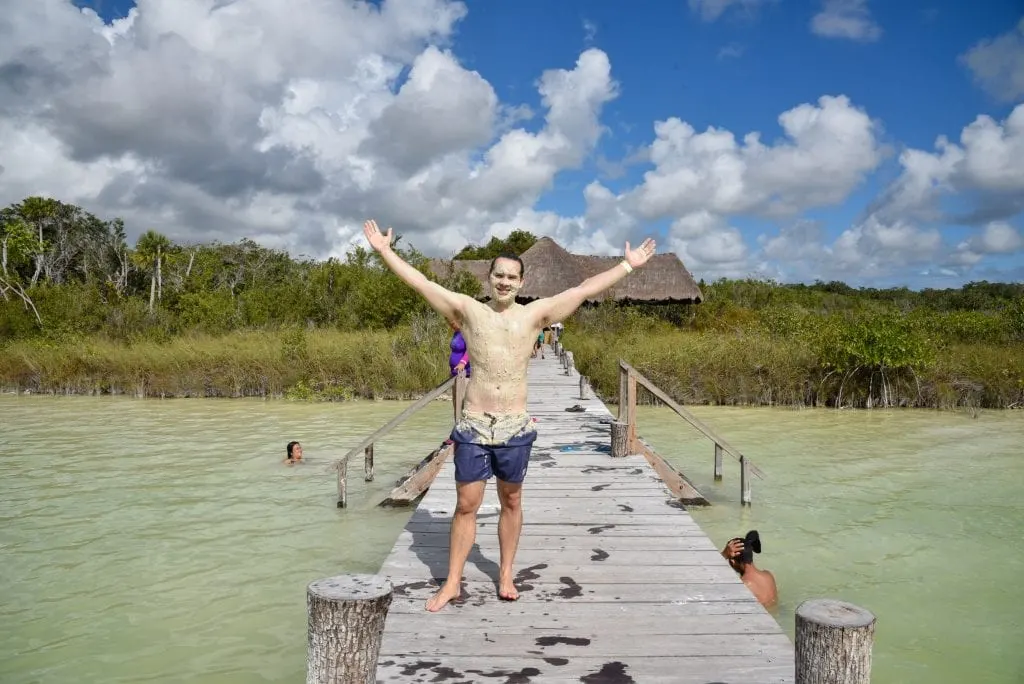 Snorkeling
We brought a snorkel with us. There are some little fish in the lagoon but the visibility of the lagoon is not that great as it is a sand bottom.
If you have your own snorkel, bring it with you. If not, it really doesn't matter.
The little fish will happily give you a free dead skin exfoliation (yes, they are those type of fish that you see in Asian massage novelty stores)
Get a massage at Laguna Kaan Luum
There is little massage parlour set up at the lagoon where you can get a massage for 10 USD.
The masseuse offered us a free massage demonstration complimentary so if you would like to try before you buy, they are happy to be of service.
Get a view at the look out
The lagoon has constructed a tower on top of the lagoon where you can get a better look at the lagoon and the deep, blue hole in the middle.
It is an extra 10 pesos on top of your ticket price to go up there for an awesome view.
If you are not planning to bring and fly a drone (150 pesos more if you have one to fly it), we would highly recommend going up to the look out for an awesome view of Laguna Kaan Luum from the sky.
Have a picnic
It is possible to bring some lunch and drinks with you (note: no alcohol is allowed) and enjoy a picnic lunch as the locals do under the large thatched hut.
There are also some mini thatched huts close to the lagoon. However, there is only a few of these. To snag a great position close to the lagoon, we would recommend going early in the morning when the lagoon first opens.
Aside from the huts, there is really no place to leave your clothes while you go for a swim (there are no lockers at the lagoon). We placed our belongings in viewing distance on the jetty while we swum.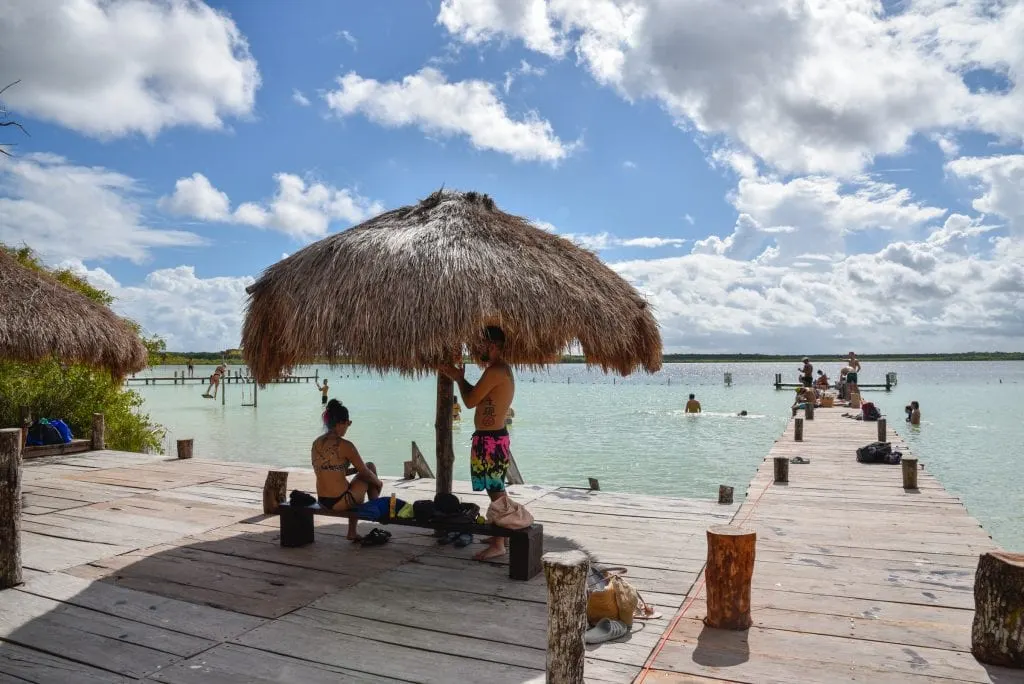 Relax on the swings or hammocks
The lagoon, with its natural healing properties, is a very relaxing place to go.
What makes it even better is that they have constructed swings and hammocks in the middle of the lagoon for you to relax on.
Bring a book and get engrossed reading it on a hammock in a beautiful surrounding.
If you would like a great shot for Instagram, the swing set has a sign stating "Laguna Kaan Luum" on top which is really cute.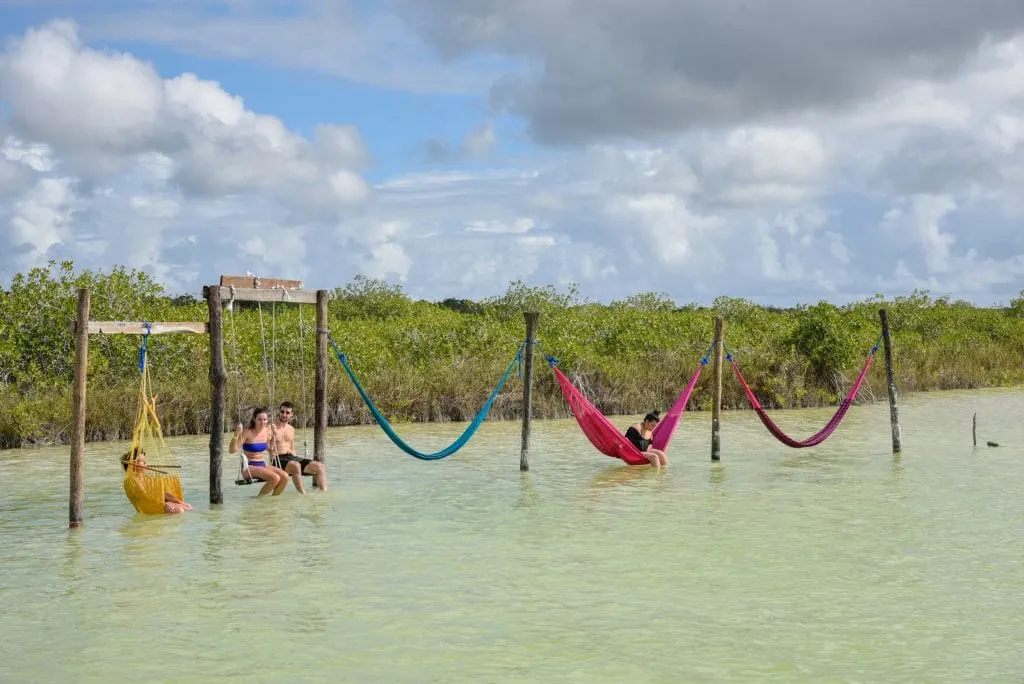 Facilities & Entry Price at Laguna Kaan Luum
Laguna Kaan Luum has basic facilities. However, the area is constantly being developed.
Due to recent reconstruction of the lagoon and the facilities, the entry price has increased from 50 to 100 pesos entry.
There is no fee to park but if you would like to go to the toilet, there is a 5 peso fee per visit. The toilets are basic so it is best to wear your swim suit to the lagoon than to change in the toilets.
Other than that, there is a fee of 150 pesos if you would like to fly a drone and 10 pesos if you would like to visit the look out.
If you would like a picnic, it is best to bring your own food and drink.
There is a little food stand at the lagoon and also a man who sells fresh coconuts but nothing substantial food-wise is sold there.
How to get to Laguna Kaan Luum
We will detail how to reach the lagoon by car and by public transport from Tulum, Playa del Carmen and Cancun.
As it is quite far from downtown Tulum, I would not recommend the Tulum favourite, cycling. It is hot even in winter in Tulum so this is not a great option IMO.
FROM TULUM BY CAR
The easiest and simplest way to reach Laguna Kaan Luum is by car. We highly recommend hiring a car in Tulum as it is just so convenient.
We did a 2 week Mexico Road Trip of the Yucatan Peninsula and it was glorious!
The mud bath is located 22 minutes drive or 16 kilometres outside of Tulum downtown. To reach the lagoon go south west off the 307 Highway.
The google maps directions were not entirely accurate so once you get close look out for the Lagoon sign on the left hand side of the road. We were going quite fast and had to make a sharp turn so watch out for the sign!
From there, you head down a dirt road a few hundred metres to reach the parking lot of the mud bath. It is a very short walk from there to the lagoon, past the entry point where you purchase your ticket (100 pesos).
FROM TULUM BY PUBLIC TRANSPORT
If you don't have your own transport, you can catch local transportation, a collectivo (mini van) to be precise to the lagoon.
From downtown Tulum you need to catch a collectivo in the direction of Felipe Carrillo.
Unfortunately, the collectivos are not that frequent but they will come so just wait patiently (easier said than done, I know)
Watch google maps to see where you are so you don't get off too late. The collectivo does not stop at the lagoon, they stop just past the entrance so you need to walk around 500 metres from where the collectivo drops you.
Because this option is a little difficult, there are far, far less tourists around than usual. If you are up for an adventure, we would highly recommend it.
BY TULUM BY TOUR
If you don't have a car, a less difficult option which will give you more certainty that the transport will actually show up is to go by tour.
This tour provides transport to and from the lagoon and for what it is, it is a pretty good deal for a little extra comfort and certainty.
FROM PLAYA DEL CARMEN
ADO Buses run an easy route directly from Playa Del Carmen to Tulum. You can get a ticket for as little as 67 pesos if you are flexible with times.
You will need to take the bus to downtown Tulum and follow the directions to the lagoon above from there.
There is also the option to take the local collectivo (mini van) It will cost you a little less than the ADO bus (around 60 pesos). You can get the collectivo at Calle 2 Norte between Av. 15 and 20.
FROM CANCUN
To travel from Cancun to Tulum by bus it takes 2.5 hours.
You might want to break it up and stay in Playa Del Carmen first for a few nights. We found a nice, clean & comfortable hotel in Playa Del Carmen. See our hotel here.
Again, if you are traveling from Cancun to Tulum you can use the ADO website. It will cost around 200 pesos one way.
Once you are in downtown Tulum, follow the directions above to reach the lagoon.
Where to stay in Tulum
Tulum is definitely one of our favourite places we visited in Mexico. Honestly, we prefer it to Cancun or Playa del Carmen.
If you have the time, we would recommend staying a week in Tulum, hopping around the different cenotes, beaches and ruins. If you don't have that long, we would recommend at least 4 nights.
There are lots of different accommodation in Tulum to meet a variety of budgets.
We stayed at a new hotel in Tulum (not in the above list) this hotel.
We would possibly stay there again if we visited Tulum for its price to quality ratio but it had pros and cons.
The downside is, as it is brand new, in one room we had problems with wifi and another room we had problems with aircon.
On the plus side, for what we paid it was very cheap, in a perfect location and brand new with all modern appliances which was great. I DO like modern and luxury. Who doesn't?!
Also, maybe our no aircon/wifi experience was an anomaly as it has a 9 review score on booking.com.
Other Things to do in Tulum Mexico
Here are some other things we would recommend doing in Tulum if you have some time:
Tulum Ruins: Although crowded, the tulum ruins are really a must see in Mexico. Where else can you find Mayan ruins sitting on the cliff above a picturesque carribean beach?
Cenote Carwash: If you prefer less touristic attractions, Cenote Carwash is a great choice. It has beautiful turquoise water and a baby alligator!
Save Laguna Kaan Luum to Pinterst so you can find it again later