Looking for Date ideas in Philadelphia?
Are you sick of the same-old dinner and movie date night? Are you itching to get out of your house and into the city? If so, read on to discover over fifty places to check out for your next date in Philly. The most romantic things to do in Philly for couples here.
Date ideas Philadelphia: 50+ Fun Dates in Philly This Weekend
The Best Views: Unique Date Night Ideas in Philly
Assembly Rooftop Lounge – Located on top of Philadelphia's Logan Hotel is the perfect place to grab a drink and get amazing views of the city. Assembly has a 4 p.m. to 6 p.m. Happy Hour from Tuesday through Thursday – the perfect time to watch the sunset with your significant other. Pop open a bottle and take in the view from nine stories high.
One of the best date spots in Philly.
Stratus Rooftop Lounge – Stratus Rooftop Lounge is the perfect rooftop bar to visit for double date and a late-night bite. With a long fireplace surrounding the lounge area, you and your date won't have to worry about the nighttime chill. The restaurant has both open-air and covered areas, so it's perfect in any weather. And who doesn't love to cozy up by the fire?
Attico – If you're searching for a rooftop bar that makes you forget you're in the middle of the city, Attico is the place for you. With elaborate greenery decorating the walls of the indoor and outdoor seating areas, you'll get your nature fix – and some pretty amazing drinks. Attico is perfect for a group of two, or the outdoor area can be rented for private events.
Continental Mid-town – Drink a martini on the roof deck with your partner at Continental Mid-town. The trendy atmosphere and small plates to share are great for an intimate night out. This location is three-stories and offers several different seating areas to choose from.
The Deck – So, this isn't exactly a rooftop…but it might as well be! The Deck on the Moshulu offers an outdoor dining experience on a ship stationed on the River. Eat on the water and overlook the city with your partner for a romantic night out. Play out your Titanic dreams and watch the sun go down over the Delaware River.
Stay in one of Philly's best jacuzzi suites.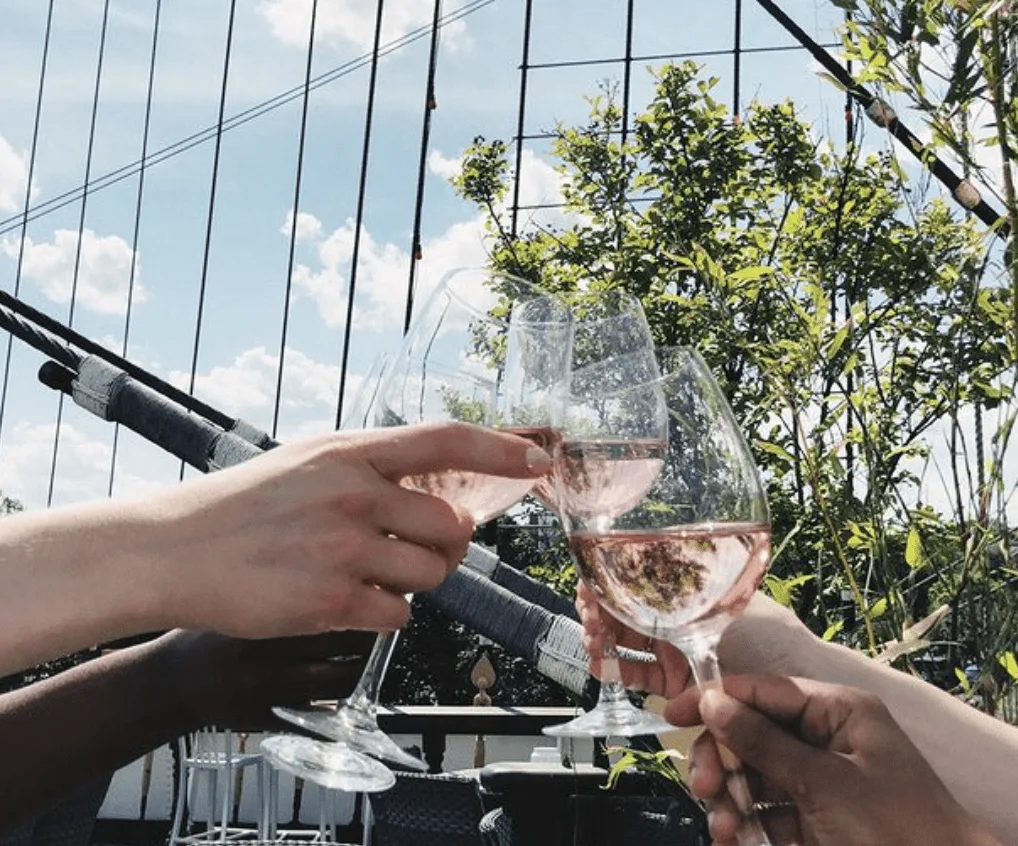 ¡Margaritas Por Favor! Cute Date Ideas in Philly
El Vez – Margaritas and tacos make for a perfect date night dinner. El Vez gives you classic Mexican with a twist. Grab a pitcher of your favorite cocktail at this STARR Restaurant. The colorful décor and flashy ambience are enough to guarantee a good night. (And their guacamole is unmatched – guaranteeing a second date.)
Juno – Juno is perfect for a warm summer night date, or even a late afternoon brunch. It's on a wooden deck and surrounded with just the night sky and string lights above – a way to feel inside when you're actually outside. This open-air restaurant is relatively new and is perfect for the warm summer months.
Añejo – Relish in bottomless, award-winning drinks for brunch at Añejo. While this restaurant first started in New York City, it's new location in Philadelphia is bound to become a favorite. As a sequel to Hell's Kitchen's tequila bar and restaurant, Añejo makes for an impressive date.
Romantic Restaurants in Philadelphia
Friday Saturday Sunday – Enjoy a classy evening of exquisite food and music at the bar or have a romantic evening in the upstairs dining room. Friday Saturday Sunday is great as a date-night classic with a fantastic chef. Make sure to check when the chef has private tasting dinners for an unforgettable meal!
Del Frisco's Double Eagle Steakhouse – Impress your date at this upscale, traditional steakhouse that sits in what was First Pennsylvania Bank. The unique architecture and elite service is the perfect place to celebrate a special occasion. You can even enjoy your meal downstairs at a private dining room in the vault. For a more modern, yet classy and upscale experience, check out Del Frisco's Grille, their more casual counterpart.
Fogo De Chao – Fill up on amazing cuts of meat at Fogo De Chao. This all-you-can-eat Brazilian Steakhouse is sure to leave you and you partner full and satisfied. If meat isn't your thing, be sure to check out their amazing salad bar.
Leda & the Swan – Enjoy happy hour drinks and live music in a culturally enriching environment. With your partner, a show, and an extensive drink menu, you're sure to have a fun night. This restaurant lives up to the myth of its namesake and provides a unique dining experience.
For Beer and Wine Lovers:
Yards Brewery – Taste the 20+ different ales Yards Brewery has to offer. You can even go on a tour to see how the exact beers you're drinking are created and bottled! Beer isn't all that Yards Brewery has to offer; their food is pretty delicious, too!
City Winery – Wine lovers will love City Winery. You and your partner can find your new favorite bottle of red or white while enjoying live music and great food. City Winery even offers food and wine classes, which makes for an educational date for you and your partner.
Let's Take a Trip! Romantic Places in Philadelphia
Parc
A quick trip to Paris makes for the most romantic evening – just kidding, but you can get a taste of the city of love at Parc! For breakfast, lunch, or dinner, head to Rittenhouse Square for a lovely plate of authentic French cuisine with a Philadelphian twist.
Mei Mei
Indulge in Taiwanese cuisine under a cloud of cherry blossoms at Mei Mei. The food is exceptional, and the intricate cocktails are a gem that will keep you coming back for more. Share a romantic dinner in the fluorescent pink dining area or reserve a private dining area located on the lower level.
Bistro Romano
Enjoy a fine Italian meal over a romantic evening at Bistro Romano. With a wine cellar and piano bar for live music, it will be sure to impress on a first date. And who doesn't love Italian food?
Suraya
Suraya is a Lebanese restaurant that is ideal for a lunch date. Swing by the market and the outdoor garden for a fun-filled afternoon! Located in Fishtown, Suraya is a must-visit. Make a day out of it with your partner on a sunny day.
Sampam
Explore the tasting menu of this modern Asian restaurant located in Center City. Its quaint atmosphere and delicious meals make for a great date night. Trust me, it beats calling for take-out.
The Dandelion
Get a taste of what's across the pond at this British pub inspired restaurant. Try ordering "Lyle's A Snitch" and "Holy Cow Punch," with your partner and see who can stifle a smirk. Or, for the more refined, enjoy an afternoon tea! The Dandelion's fish and chips are the talk of the town.
DanDan Rittenhouse:
For authentic Sichuan and Taiwanese cuisine, enjoy dinner at DanDan Rittenhouse. Their large menu offers several options that are bound to satisfy – especially their famous DanDan Noodles. They have delicious, unique cocktails and regularly feature specialty drinks!
Get Outside and Explore:
Morgan's Pier
Explore the beer garden at Morgan's Pier while overlooking the Delaware River. Grab a bite to eat and take in amazing views of the dynamic setting. Different events take place at Morgan's Pier year-round, so be sure to stay in the loop to plan your next night out!
Picnic at Fairmount Park
Enjoy this patch of nature in the heart of the city with a picnic at Fairmount Park! With a blanket and a basket of your favorite treats, you can bond with your significant other and take in the scenery. Perfect for people-watching, dog-watching, cloud-watching, you name it! Grab a book or some cards and relax on the grass.
Wissahickon Valley Park
Hike through the trails and get lost in nature with your partner. Get active and escape the hustle and bustle of the city with a breath of fresh air at Wissahickon Valley Park. Hiking is great for groups, but it's also a great way to bond with your partner!
Schuylkill River Trail:
Walk or bike along the Schuylkill River Trail on a bright, sunny day to get the most amazing views of the city. Check out Boathouse Row and Fairmount Park for a lovely day spent in nature.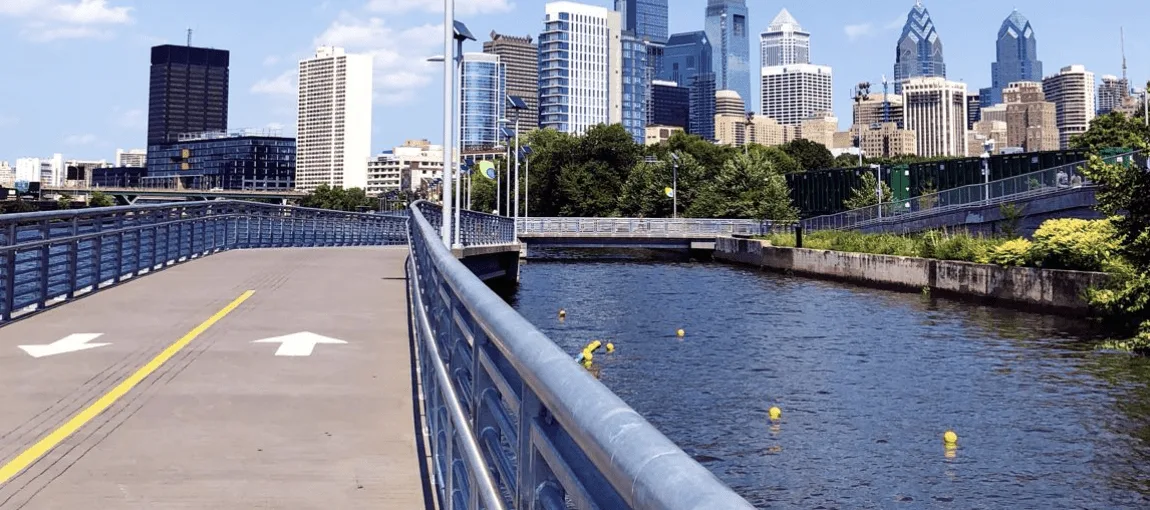 Visit Amish Country
Amish Country is only a short 1.5 hour drive away from Philadelphia so it is a great place to go on a day trip! You can check out the best things to do in Amish Country in our blog here. We also have a guide on the best time to visit Amish Country.
If you are coming for only 1 day, we would suggest booking an Amish Tour as it gives you a really great insight into the Amish and their way of life, they also take you directly to some of the best Amish businesses in the area which seriously have the BEST food.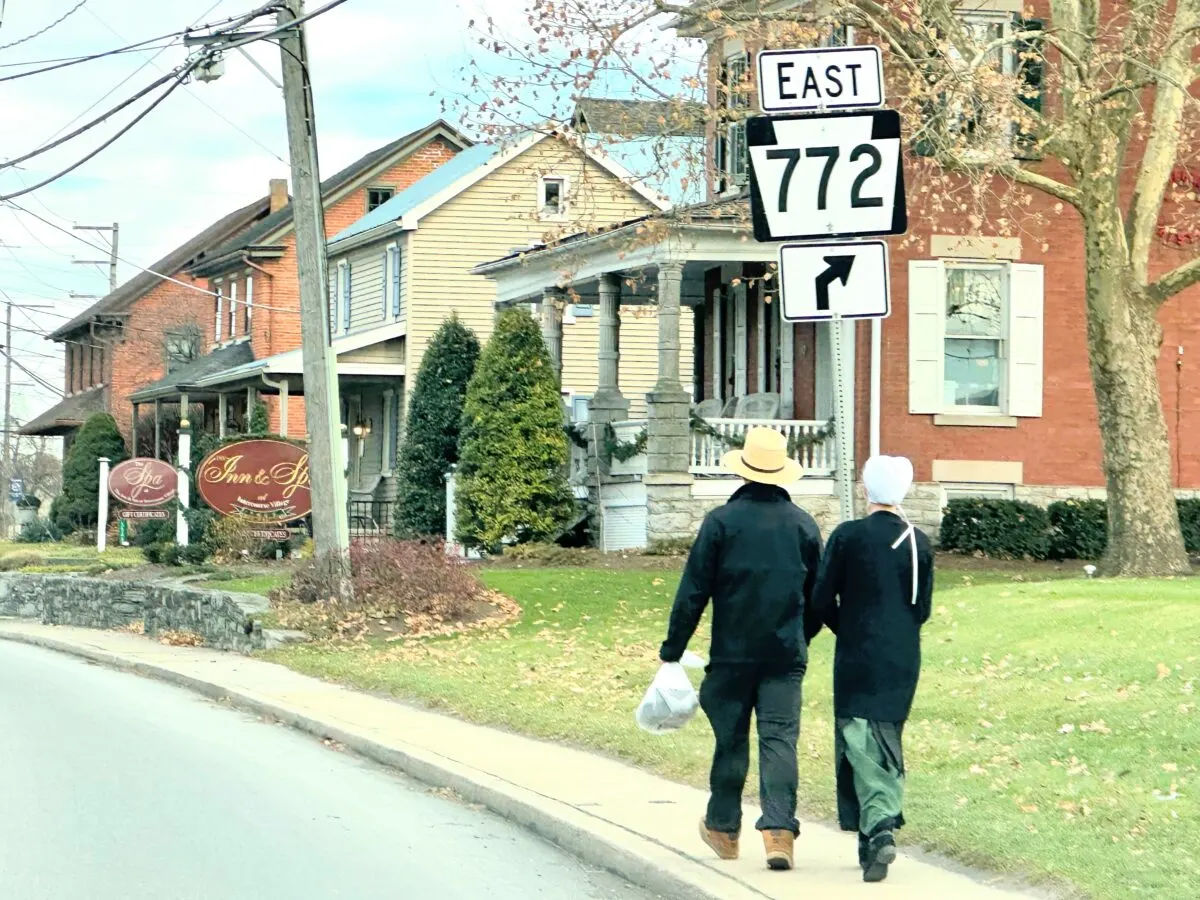 For the Artists and History Buffs:
Magic Gardens
Explore the winding paths of recycled materials carefully crafted into a beautiful mosaic on South Street. Created by Isaiah Zagar, Magic Gardens is an attraction that is sure to make for an interesting day.
Eastern State Penitentiary
Walk the haunted halls of what used to be a real jail and find out how your partner would really react to ghosts. Explore the cells that once held some of America's most notorious criminals. (Only if you're brave enough!)
Philadelphia Museum of Art
The Philadelphia Museum of Art brings visitors from across the globe to observe the vast collections. A day at the museum is an affordable yet enriching experience to share with your loved one.
Barnes Foundation
If the interesting architecture of the Barnes Foundation isn't enough to pique your interest, the unique collection of intricate paintings will draw you in. With works by Monet, Picasso, and van Gogh decorating the walls, a trip to the Barnes Foundation makes for a day well-spent.
Dream Garden
Standing at 15 by 49 feet the Curtis Center Lobby, Dream Garden is a site to see in Philadelphia. The glass mosaic delineates a garden in immense detail, and its sure to take your breath away.
Wonderspaces
Immerse yourself in the 3-dimensional artwork and interactive experiences at Wonderspaces. The attractions change frequently, so you'll never get tired of visiting! Perfect for a date night that's outside of the box. There's nothing like it!
LOVE Park
This list would not be complete without the famous LOVE Park. Take a romantic stroll along the trails, take in the scenery, and snap a photo in front of the iconic LOVE Statue. In the John F. Kennedy Plaza, LOVE park is and essential stop for any lovebirds in Philadelphia.
Love Letter Train Tour
Explore the city on a 90-minute train tour around West Phiadelphia equipped with a guide to view 50 rooftop murals. "A Love Letter for You" by Steve Powers extends from 45th and 63rd Street in Philadelphia and stands as a love letter to the city. Embrace the romance – and your partner – as you ride through the city and take in the art.
Painting with a Twist
Show off your artistic side and sip on your favorite wine at Painting with a Twist. Make memories that last over an intimate evening with your partner at one of the many locations in Philadelphia. An instructor helps even the least experienced painter create a beautiful work of art!
'gram-worthy Gardens:
Blume
Walk through the butterfly-painted doors at Blume, (after snapping a photo for Instagram of course) and enjoy a cute and cozy dinner. There are several beautiful cocktails, and the bright, floral décor is sure to provide an exquisite evening out. Plants decorate the walls and ceiling, creating a lovely place to share a meal with your partner.
Germantown Garden
Located in Northern Liberties, Germantown Garden makes for a chic and relaxing date. Enjoy the outdoor garden area with a pitcher of your choice. It feels like you're at a backyard dinner party! Or, on a rainy day, hang by the bar and watch the game in their modern dining area. Germantown Garden is relatively new to the city, but it has already proven to be a favorite of all the locals. It's great for a casual evening with beautiful scenery.
Harper's Garden
Switch it up with at Harper's Garden with the ever-changing seasonal menus crafted from local ingredients. You and your partner can dine indoors, or in a private greenhouse on the veranda. Even on a rainy day, you can enjoy views of the city at Harper's Garden.
Talula's Garden
Grab a casual bite to eat on the patio at Talula's Garden. The seasonal menu and varied beverage menu make it feel fresh each visit. With a large selection of wines, there will always be something new for you to try with your partner.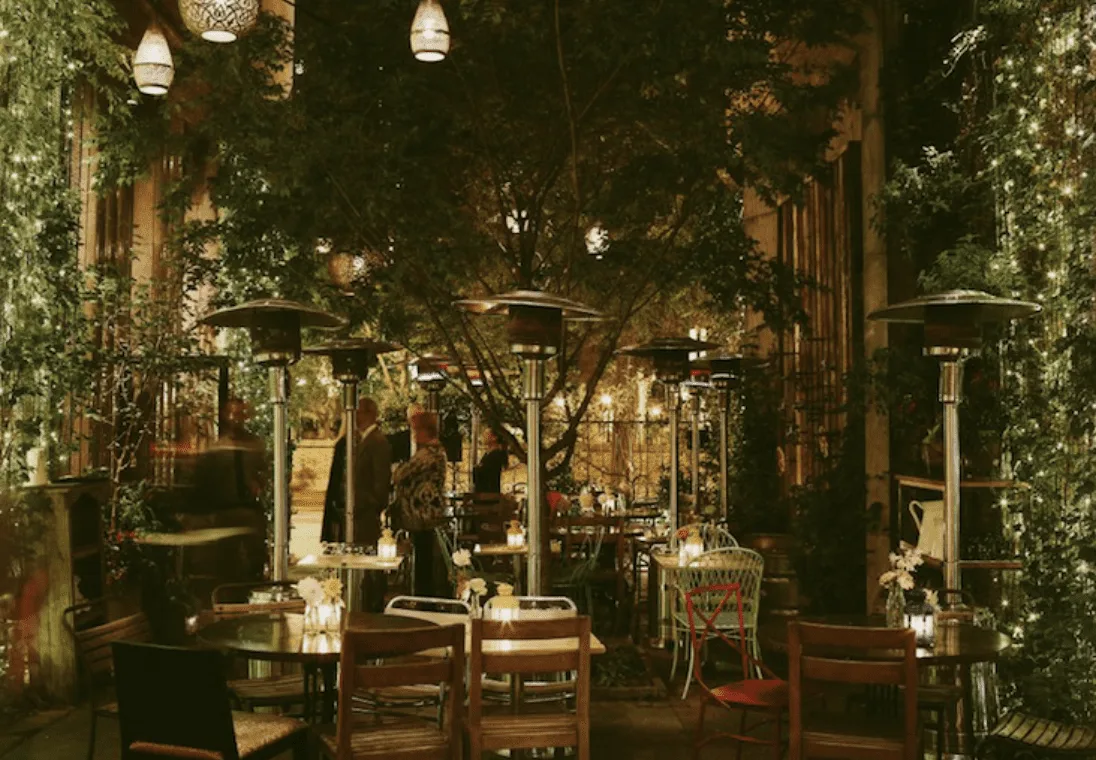 For a laid-back date:
Frankford Hall
Sit back around a firepit in an open courtyard under string lights at this German beer garden. The indoor dining area surrounds the outdoor courtyard and provided an alternative place to hang out. Go through the extensive beer menu and dine on traditional German snacks after a long day. There are several bars with tons of drink options if beer isn't your thing.
Independence Beer Garden
Hang out at Independence Beer Garden for an afternoon of fun and games with your significant other. The energetic outdoor setting is perfect for watching the game and taking a load off on a sunny afternoon.
Vernick Food & Drink
Looking for a more formal or casual date night? Get the best of both worlds at Vernick. Equipped with an upstairs dining room for an upscale evening and fine dining, as well as a casual bar below to grab a quick cocktail and small plate.
Graffiti bar
Through a narrow alley next to Sampam, finish off dinner with a drink at Graffiti Bar. Kick back on the patio for a happy hour date that's sure to become your new favorite spot.
Helium Comedy Club
Helium Comedy Club is a small theater for stand-up comics on Sansom Street in Philadelphia. Take your partner to a show for a night of laughs! American-style food and beverages are available to enjoy while you watch.
Sweet Treats
The Franklin Fountain
Satisfy your sweet tooth at The Franklin Fountain! Great service with an old timey feel. Ice cream is the perfect after dinner treat. Their extensive menu and selection of toppings will keep you coming back for more!
Insomnia Cookies
Insomnia Cookies might have the best cookies in the world – O.K., well at least in Philadelphia! Nothing is better than a warm cookie, and you can find them at multiple locations all over the city. They also offer ice cream and milk to accompany your cookies. What's a better midnight snack than a chocolate chip cookie?
Max Brenner
If you like chocolate, this place is for you. Enjoy chocolate martinis and fondue for a romance filled night of sweets and delicious desserts. If you're feeling adventurous, try out their chocolate pizza, or their chocolate spaghetti! (Don't worry, they have entrees that don't involve chocolate.)
Game Night!
Sixers
Enjoy a lively night at the Wells Fargo Center for a Sixers Game! Be sure to grab a bucket of crab fries from Chickie's and Pete's, and an ice, cold beer. Sit in the stands and cheer on your favorite team! (If it's not the Sixer's, be prepared for the wrath of their fans!)
Phillies
Even if you aren't a huge baseball fan, sitting by the diamond chanting "take me out to the ball game" makes for a fun evening – as long as you're a Philly sports fan! Nine innings of entertainment and good company. Be sure to bring a glove so you're prepared for any balls that make it to the stands for a great souvenir!
Rec and Royal
Bring the excitement back to date night at Rec and Royal. With thrilling games, karaoke, and live music, Rec and Royal is perfect for a wild night out. Show off your singing skills and belt your favorite songs in the private karaoke rooms. Enjoy some friendly competition in the game room – perfect for a group date, or for some bonding time with your person.
Harp & Crown
Harp & Crown boasts a unique dining room atop a secret downstairs bar and bowling alley. Have an espresso martini or two and finish off the night with a friendly game with your significant other. The downstairs area can be rented for private events.
Kick Axe Throwing
Let off some steam and show off your skills at this trendy axe throwing lodge in Old City Philadelphia. Receive a lesson from their friendly instructors and end the night with a cocktail in the lounge. Pick up a new hobby and impress your date; it's the perfect place for a special occasion!
Dave and Busters
Play all your favorite arcade games for a night of excitement with your partner. Dave & Buster's provides the perfect environment to indulge in hours of game play, drinks, and sports on the giant televisions around the dining area. It's a great place to enjoy sporting events, or even for a party.
Golf and Social
Get your put on at Golf and Social. With over 80 simulated courses, you and your date can enjoy bottomless drinks for brunch over a game or two!
Live! Casino & Hotel
Spend your night at the slots in Live! Casino for a thrilling night of gambling and drinks. You can even stay in the stellar Hotel for a night out!
Franklin Square
Go to Franklin Square each season of the year for a unique experience each time. Play miniature golf, ride the carousel, and listen to live music as you walk through the park with your partner. Enjoy the ever-evolving attractions and snacks that Franklin Square has to offer. Don't fret – there are still ample activities at Franklin Square in the winter months.
South Bowl
Grab a slice of pizza and bowl a game at South Bowl, located in South Philadelphia. Bowling is an affordable date night that breaks you out of your average dinner date, and you can enjoy a cocktail or two at one of the many bars in this converted warehouse.
Barcade
Enjoy a night of nostalgia with your significant other at Barcade. Located in Fishtown, Barcade has all of the best vintage games you could ask for – as well as beer, treats, and a cozy outdoor seating area. Play some Pac-Man or any of the other 70 classic games they offer for a blast from the past.
***
Philadelphia is a beautiful city with so much to offer. Grab your loved ones and explore this jam-packed location, full of good meals, drinks, games, art, and love. It's called the City of Brotherly love, but it sure has some perfect spots for you to enjoy with your significant other.