On a romantic getaway and looking for hotels with a hot tub, whirlpool or JACUZZI® in room in PA?
There's lots of romance to be found on a couple's getaway in Pennsylvania. Whether you're skiing and Montage Mountain or exploring the history-filled streets of Gettysburg and Philadelphia, you and your significant other can reconnect in the Keystone State.
And what better way to end a romantic day than with an intimate soak in your own private hot tub? Whirlpool and JACUZZI® suites are becoming standard offerings in hotels around the country, and Pennsylvania is no exception. From east to west across this beautiful state, there are hot tub suites just waiting to be booked by you.
But we know finding a hotel can be tiresome. How will you know which one will have all the features you want for your romantic getaway? Like a hot tub in room! Now we're talking!
We've compiled a list of 15 hotel hot tub suites in Pennsylvania to help you with just that. Whether your ideal getaway is full of sports and activity or history and art, you can find a hotel that has the perfect amenities, dining options, and location for you.
Disclaimer: JACUZZI® is a registered trademark owned by Jacuzzi Inc. The use of the word JACUZZI® in this article is only for your information as to whether your room contains a JACUZZI® hot tub. This may change. Please check with the hotel for updated information.
PENNSYLVANIA SUITES WITH A JACUZZI® TUB IN ROOM
If you want a legit JACUZZI®, here are our top picks for JACUZZI® suites in PA.
A great hotel with JACUZZI® in room PA.
Aside from the JACUZZI® tub, the Inn at Westwynd Farm in Hershey has a variety of activities for guests to enjoy, including hiking, biking, canoeing, antiquing, or visiting nearby Amish Country and Civil War sites.
There's a complimentary gourmet breakfast served every morning at the inn. For offsite dining, check out Lisa's Café, Fenicci's of Hershey, Babes Grill House, or Piazza Sorrento, all located less than 5 miles from the hotel. Couples of all ages will find ways to connect with their inner children at Hershey.
Amuse yourself at Hershey Park, create your own chocolate bar at Chocolate World, or catch a game at Hershey Stadium.
Just check out the picture below and you'll be rest assured it is one of the most romantic JACUZZI® suites.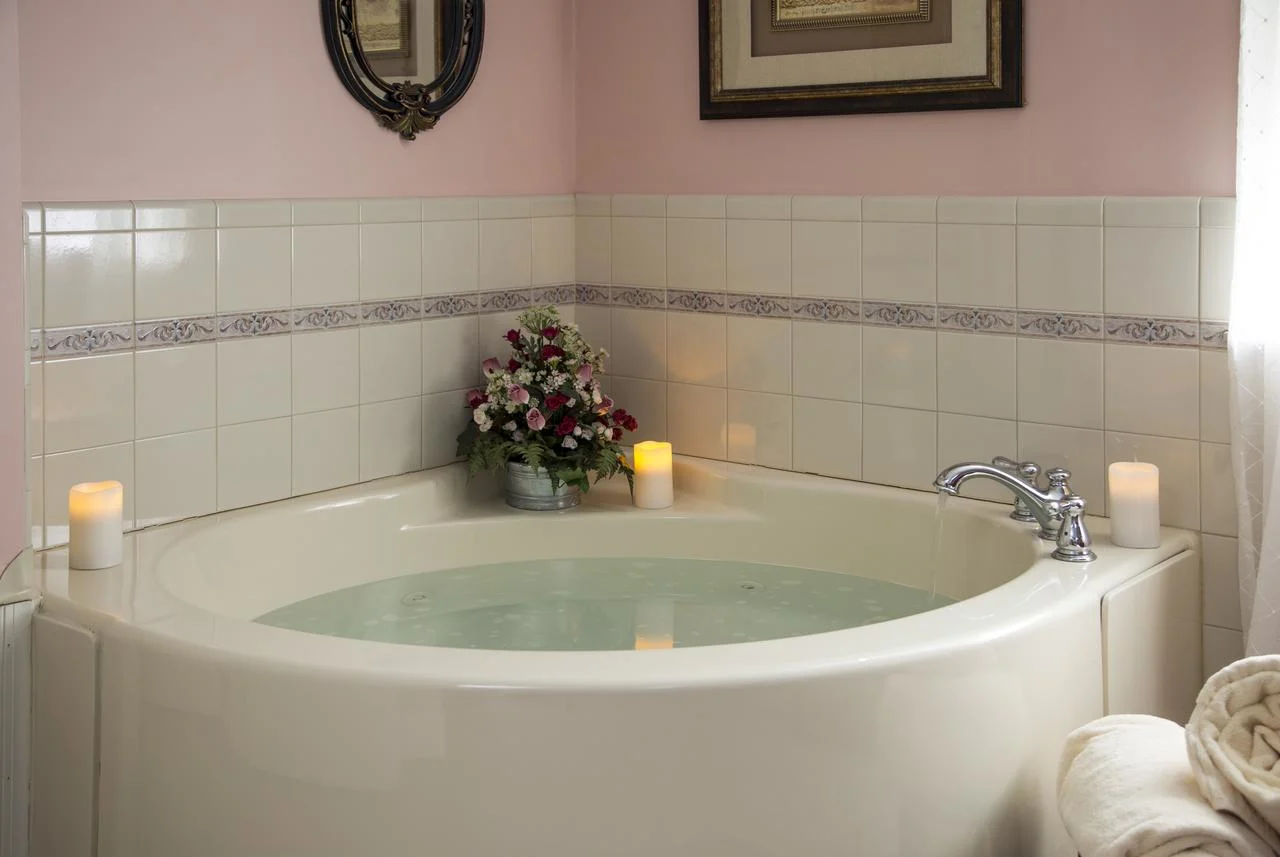 The property includes 28 beautiful acres for you and your sweetheart to explore and enjoy as well as a fabulous JACUZZI® tub in room.
You can hike, play tennis, swim in the outdoor pool, or take in the beauty and fresh air of the gardens.
The dining room and bar & lounge at the Crescent Lodge are open from 5-9 PM Wednesday through Sunday. If you're looking to explore the local cuisine, you can try The Frogtown Chophouse, Barley Creek Brewing Company, Hickory Valley Farm Restaurant, or Mi Casa Restaurant, all just a short drive from the lodge.
There's a little something for everyone in the area surrounding the Crescent Lodge. You can check out Sunset Hill Shooting Range, Camelback Mountain Adventures Amusement Park, and Great Wolf Lodge Waterpark.
One of the best choices with a JACUZZI® tub in room.
Aside from this, the onsite salon & spa will keep you pampered and relaxed, and you can let off steam in the exercise room as well.
Refreshments are served in the lobby each day, and there are snacks, beer, and wine available for purchase at the Front Desk.
The nearby FresCafe serves an a la carte breakfast every morning except on Thursdays. Check out local renditions of your favorite American dishes at Cock 'n Bull and Buttonwood Grill. Craft beer lovers will adore the extensive menu at Earl's New American.
Scenic Peddler's Village is perfect for a romantic stroll hand-in-hand. Free Will Brewing Taproom is a 3-minute walk from the hotel, and the Cuboid Nature Aquarium is just 2 minutes away by foot. You can also browse for souvenirs at Casa Casale, a 2-minute walk away.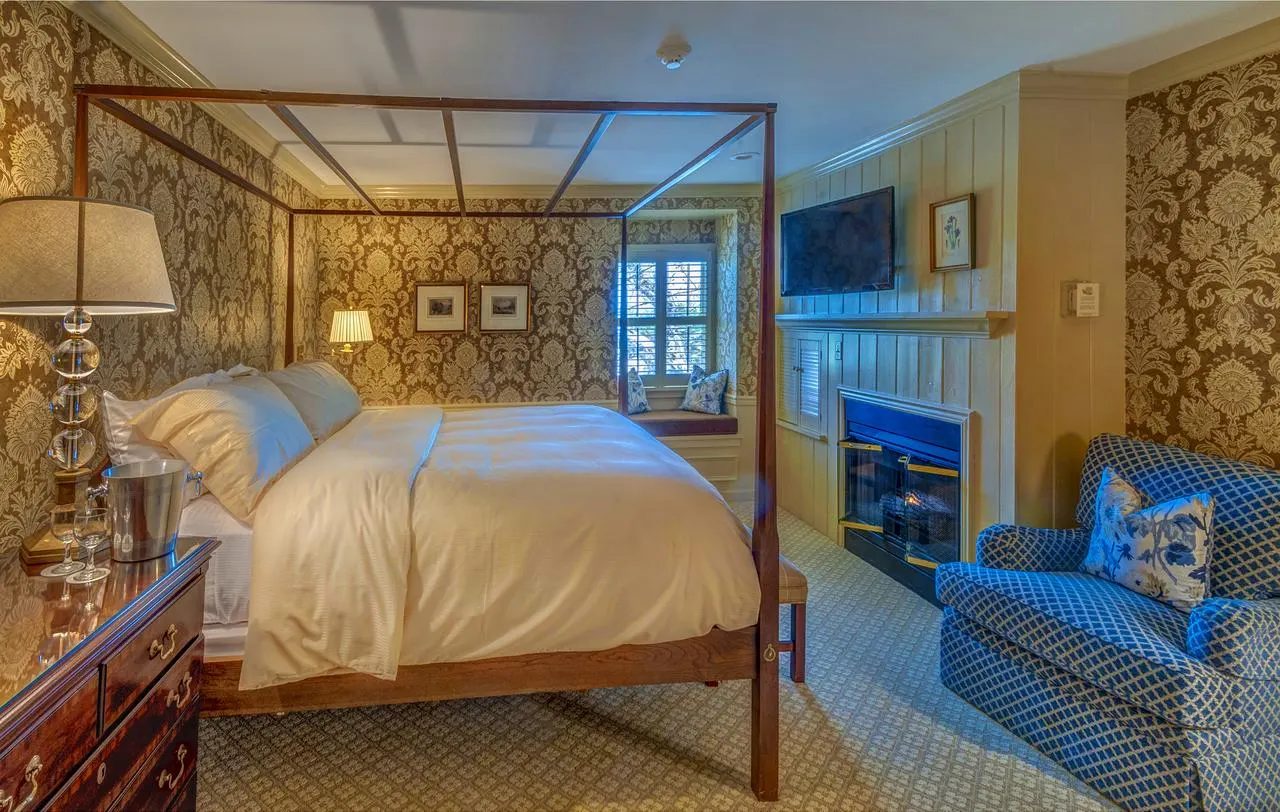 Looking for a hotel suite with whirlpool in room?
Relax with your SO at Midnight Society, the full-service onsite spa and salon, take a dip in the indoor pool, or relax in your in room hot tub – the choice is yours!
There is a free breakfast served at the resort every morning, and you have your choice between 2 onsite restaurants for all your dining needs.
The resort also has 3 bars, so you'll never be short on cocktail options with your honey. The Woodlands Resort's onsite nightclub, Evolution, is a great and close-by entertainment option for couples to dance and have fun. You can also enjoy a free shuttle ride from the hotel to Mohegan Sun at Pocono Downs Casino.
A really romantic option with whirlpool tubs in room.
Take a swim in the indoor pool and enjoy the Fitness Center 24 hours a day. There's also a patio with a BBQ grill on property, where you can enjoy the outdoors.
Free breakfast is served at the inn every morning with hot items such as omelets, waffles, and more. The hotel is situated in the same complex as TGI Fridays, where guests receive a 10% discount.
Get some shopping done at Wyoming Valley Mall, located less than half a mile from the hotel. You can also catch a game at Arena Hub Plaza or Wyoming Valley Sports Dome, both just about a mile away.
NEW HOPE, PA WHIRLPOOL SUITES
Aside from your hot tub in room, you can enjoy a romantic couple's massage in the comfort of your room, delight in homemade soup every afternoon, splash in the outdoor pool, and even rent bikes to use to explore the area.
There are lots of dining options nearby, most notably the well-known Bowman's Tavern, located just 11 minutes away from the inn by foot.
New Hope is situated on the beautiful and historic Delaware Canal, perfect for a romantic walk along the river. The Washington Crossing Historic Park is also nearby, and you can walk to Bowman's Hill Wildflower Preserve in just 12 minutes.
Definitely one of the most romantic honeymoon suites in pa.
PHILADELPHIA, PA ROMANTIC GETAWAYS FOR COUPLES
You can enjoy a city view from your room, work out in the 24-hour fitness center, and rent a hotel bike to explore Philly with. There's an evening wine hour hosted in the hotel living room and 24-hour in-room dining available from Square 1682, adjacent to the hotel.
Square 1682 is right next to the hotel, and you can either order in-room dining or visit the restaurant for a romantic dinner date. The menu offers a variety of options, so any eater is sure to find something to enjoy.
The Art Institute of Philadelphia is right by the hotel, and you can see public art all around the city in the form of vibrant murals. Plan your trip around an art or food festival, or simply enjoy the city and its many museums.
Guests at The Rittenhouse have access to the health club, indoor pool, steam room, and sauna. Have your shoes shined overnight and enjoy complimentary tea and coffee in the lobby each morning.
There are four dining venues at this hotel, each offering a slightly different experience. Be sure to check out Lacroix at The Rittenhouse, the Mary Cassatt Tearoom and Garden, the Library Bar, and Scarpetta Rittenhouse before you check out.
This hotel is located close to the Art Institute of Philadelphia, Rittenhouse Square, and Fairmount Park. There's never a shortage of museums to visit in Philly, and you can always explore the city by foot with your sweetheart.
The 24-hour front desk is available for anything you need, any time. You can work out at the onsite fitness center and enjoy a relaxing evening soaking in your Hot tub.
Complimentary breakfast is served at the hotel every morning. For lunch and dinner, try Franklin Fountain, Sonny's Famous Steaks, Cuba Libre Restaurant & Rum Bar, or The Continental Restaurant and Martini Bar, all just a 6-minute walk away or less.
Take the Founding Footsteps sightseeing tour, which starts just a 6-minute walk from the hotel. You can also walk 5 minutes to see a performance by Arden Theatre Company, or check out Elfreth's Alley, located 3 minutes away on foot.
You'll love your romantic JACUZZI® suite with a private balcony and fireplace. The onsite restaurant, Panorama, serves authentic Italian dining each night, and you can also enjoy a romantic dinner in the hotel Wine Cellar.
Continental breakfast is served every morning, and there are lots of dining options within 5 minutes of the hotel. These include City Tavern, Franklin Fountain, Buddakan, and Sonny's Famous Steaks.
Olde City Escape Games is just a 4-minute walk from the hotel. The Founding Footsteps sightseeing tour can also be found just minutes away. If you're in the mood for a performance, Arden Theatre Company is just 2 minutes away on foot.
WESTERN PA WHIRLPOOL SUITES – Romantic Hotels Pittsburgh with JACUZZI® Hot Tub or Whirlpool
The Courtyard Pittsburgh gives you access to an indoor pool and fitness center during your stay. You can also enjoy the outdoor patio and get some fresh air.
The Courtyard brand's signature Bistro serves breakfast and dinner every day. Offsite, you can enjoy Turkish Grille, Prantl's Bakery, Noodlehead, or Pamela's, all close enough to be walked to in 15 minutes or less.
The Shadyside neighborhood is perfect for couples to explore. Check out the art gallery at the Pittsburgh Glass Center or see a performance at Steel City Improv Theater, both about a 15-minute walk from the hotel.
When you book a room with a whirlpool tub at the Hampton Inn on McKnight Road, you gain access to all this property has to offer. This includes an indoor pool and hot tub, fitness center, and free breakfast every day.
For romantic meals or bites to eat, there are plenty of options in Pittsburgh. Check out Prantl's Bakery, Turkish Grille, Jean-Marc Chatellier's French Bakery, or Altius, all a short drive from the hotel.
If you love escape rooms, take your SO to Liberty Magic. Bicycle Heaven is a specialty museum you two won't want to miss. And in the evening, have some adult fun at Butterjoint, where you can have cocktails, beer, wine, and bar bites.
MONACA, PA
In addition to your hot tub suite, you'll also have access to a golf course and fitness center at the Comfort Suites Monaca. Free WiFi and air conditioning are standard but necessary comforts when staying here.
The hotel serves free breakfast every morning, and you're never far from a great dining option. For a national classic, go to the Texas Roadhouse located just 13 minutes away by foot. Walk to Vesuvio Pizzeria in 11 minutes, Rainaldi's Restaurant in 7 minutes, or Bowsers in 3 minutes.
A movie date is just around the corner at Cinemark Center Township Marketplace, and you can test your puzzle-solving skills at Conquer the Clock Escape Rooms, all just minutes from the hotel.
HOTEL WHIRLPOOL SUITES IN EASTERN & SOUTHEAST PA
GETTYSBURG, PA
The front desk is open 24 hours a day and the staff can help you with anything you need. There's a fitness center and lounge on the property so you can relax whichever way is right for you. Guests get free parking and access to a dry-cleaning service.
In just 5 minutes, you can walk to several delicious dining spots. These include Food 101, Garryowen Irish Pub, Montezuma, and Ernie's Texas Lunch, where you're sure to have a great meal.
Pick up a souvenir at A&A Village Treasures or buy a bottle of wine to celebrate your romantic getaway at Adams County Winery, both located just a 6-minute walk from the hotel. There are also several museums for you to visit within a half-mile of the inn.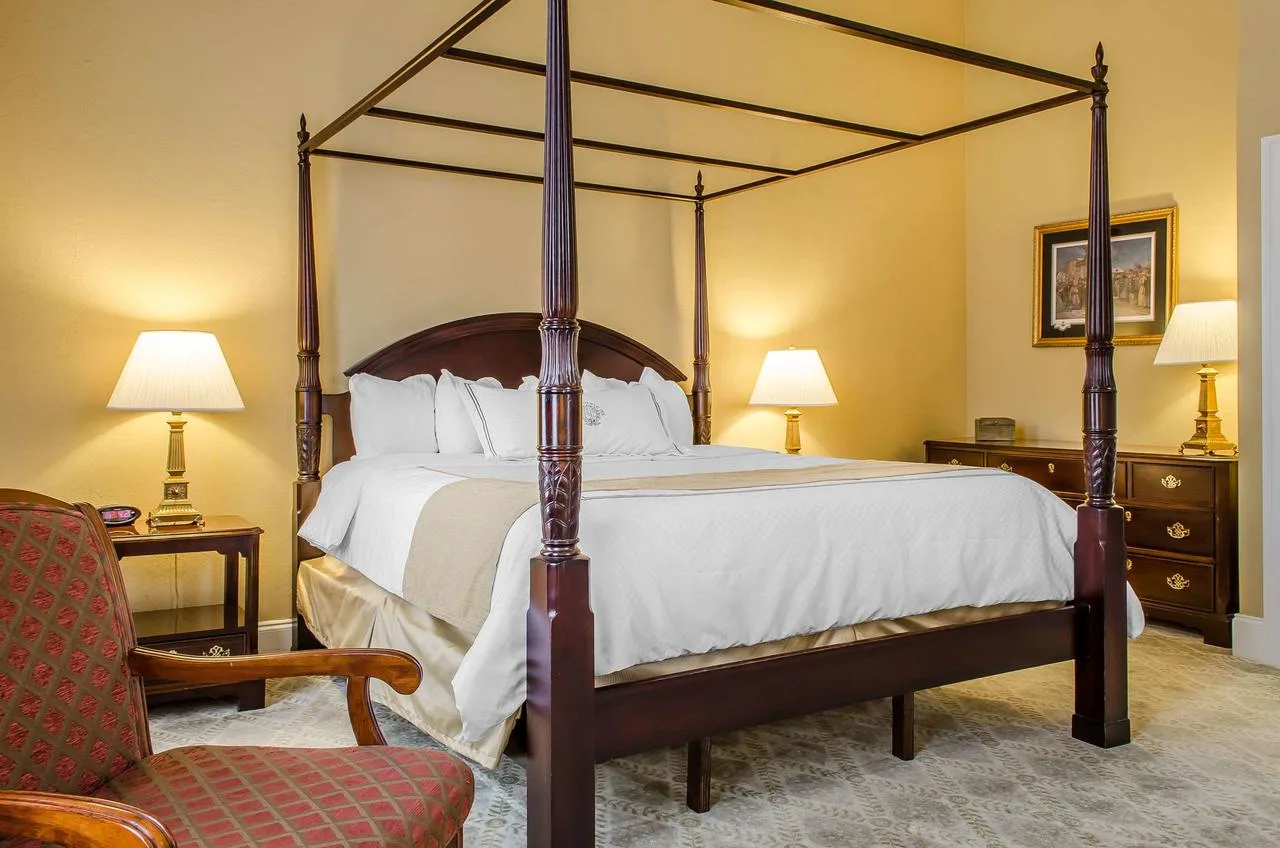 READING, PA
When you book a hot tub suite at the Holiday Inn Express Reading, you also can enjoy the indoor pool and fitness center. Not to mention valet laundry services during the week and complimentary tea and coffee available 24 hours a day.
There's a restaurant and bar within walking distance, or you can take a quick drive to one of the many dining options Reading has to offer. These include Austin's Restaurant & Bar, Judy's On Cherry, Stokesay Castle, and Chatty Monks Brewing Company.
Walk through the galleries at GaggleWorks Center for the Arts, visit Reading Public Museum, or buy fresh, local produce at Fairgrounds Farmers Market. You can also catch a game at Reading Fightin Phils, FirstEnergy Stadium.
York, PA
Relax and enjoy your whirlpool suite in York, Pennsylvania. There's an indoor pool and a fitness center at the hotel, where you can relax and stay fit throughout your getaway. Free parking, free breakfast, and 24-hour access to the front desk will also make your stay as perfect as possible.
Nearby restaurants with Asian cuisine you won't want to miss include JJ Panda, Ocean San Sushi, and Pho Bistro. There's also a Cracker Barrel, Primanti Bros. Restaurant and Bar York, and Stone Grille & Taphouse all within walking distance.
York has lots of parks to visit and relax in, such as Rocky Ridge County Park, Nixon Park Nature Center, and Heritage Rail Trail County Park.
Harrisburg, PA
Your whirlpool suite at Best Western Harrisburg will be the perfect way to unwind after a day in the Keystone State capitol. There's an outdoor pool and a fitness center for guests to enjoy, as well as game rooms and a picnic area.
In Harrisburg, there are lots of beautiful natural areas to enjoy, such as Wildwood Park. There's also the National Civil War Museum, Fort Hunter Mansion and Park, and Indian Echo Caverns. Harrisburg is also close to Hershey, PA, where you can spend hours of fun at Hershey's Chocolate World and Hershey Park. Other nearby attractions include Zoo America and Hollywood Casino PA, both just a drive away.
QUAKERTOWN, PA
Hot tub suites built for two and in-room fireplaces aren't the only things to get excited about at the Quality Inn Quakertown. You can also enjoy horseback riding and offsite bowling as a guest of this hotel.
Breakfast is served free and hot every morning, and there are lots of nearby dining options. Check out Yum Yum Bake Shop, Jamison Publick House, Brick Tavern Inn, or Spinnerstown Hotel, all located just a short drive from the hotel.
Nearby attractions include The Grand Theatre, where you can enjoy a date night with a show. Pick up some fresh, local produce at Quakertown Farmers Market. And Dorney Park & Wildwater Kingdome amusement and water park is a perfect place to get in touch with your inner kids.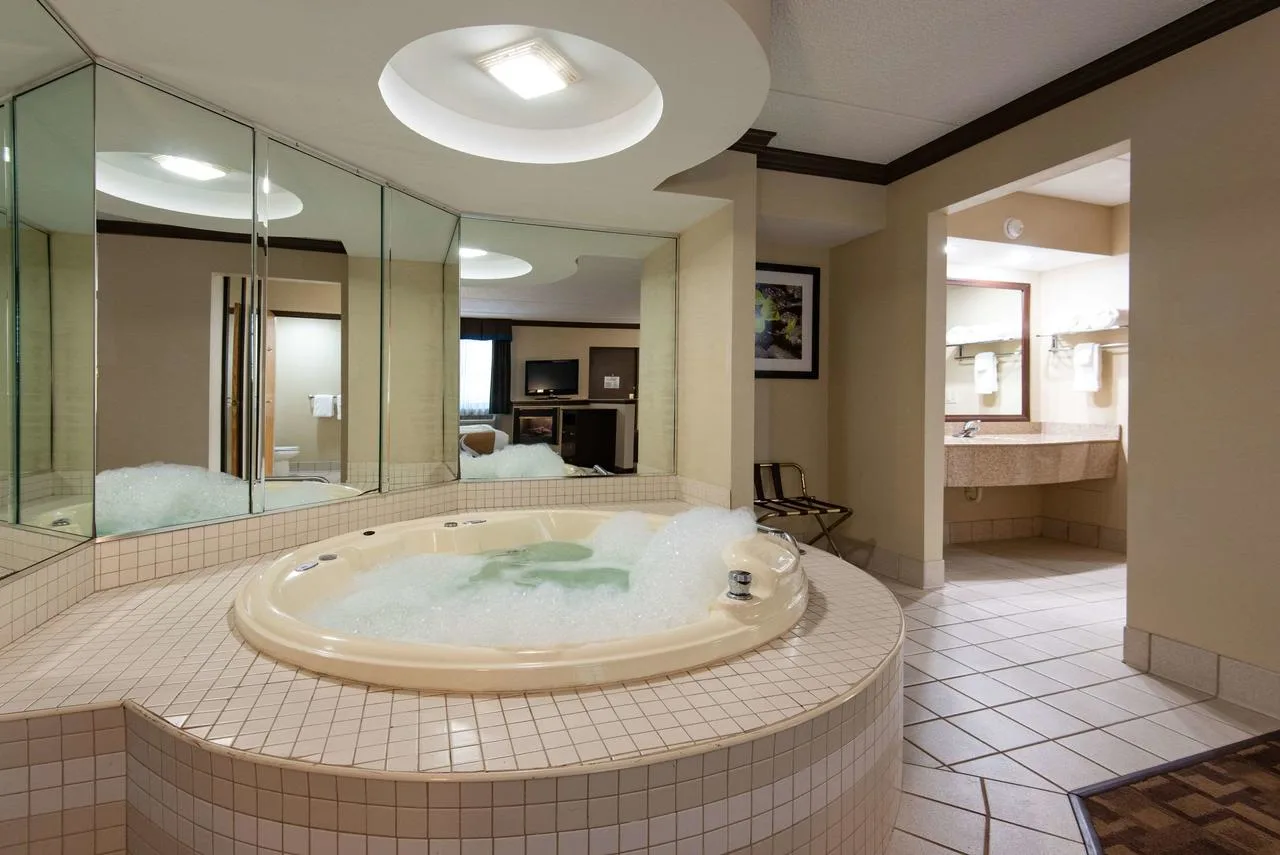 PENNSYLVANIA AMISH COUNTRY HOT TUB SUITES
Intercourse, PA JACUZZI® SUITES
Nothing says romance like a heart-shaped JACUZZI® tub for two in the privacy of your own room, and that's what you can find at this inn. There's also a fireplace, onsite spa (as the name suggests), and board games and puzzles for you and your honey to enjoy. If you want to enjoy a kid-free getaway, the adults-only policy at this hotel will make that possible.
You can enjoy breakfast in bed each morning during your stay. For nearby eateries you can walk to in 1 to 4 minutes, check out Immergut Hand-Rolled Soft Pretzels, Stoltzfus Meats, Kling House, or Harvest Café.
Pick up an Amish Country souvenir at The Old Country Store or Kitchen Kettle Village, both just a few minutes' walk from the inn. You might also like to check out Jam & Relish Kitchen or The Old Candle Barn, located 2 minutes away on foot.
One of the best bed and breakfast in PA with JACUZZI®.
NORTHERN PENNSYLVANIA SPA SUITES
Erie, PA
This Hilton Garden Inn location features whirlpool suites, an indoor pool, fitness center, onsite restaurant and lounge, and lobby fireplace to make your getaway relaxed and romantic.
You'll find lots of national favorites in short walking distance, such as Cracker Barrel, Texas Roadhouse, Chick-fil-A, and Torero's Mexican Restaurant.
In less than 10 minutes, you can walk to several fun-filled attractions, such as Splash Lagoon Indoor Water Park and Lazer Tag. Pick up a souvenir at Shoe Fly, or check out the Erie Zoo, Presque Isle State Park, or Presque Isle Downs & Casino.
Your whirlpool suite at this B&B also comes with complimentary coffee for all Spencer House guests. Breakfast is home-cooked each morning and served hot and free during your stay.
There are lots of restaurants to choose from in the area, many of which can be walked to in 15 minutes or less. These include U Pick 6 Tap House, Virgil's Plate, Dave's Diner, and Molly Brannigans.
You'll love the proximity to Presque Isle State Park, with a hiking trail that spans over 13 miles and beaches where you can soak up the sun. Lake Erie Wine Country has more than 20 wineries for you to visit, and there are museums, theaters, and more entertainment venues within walking distance from the B&B.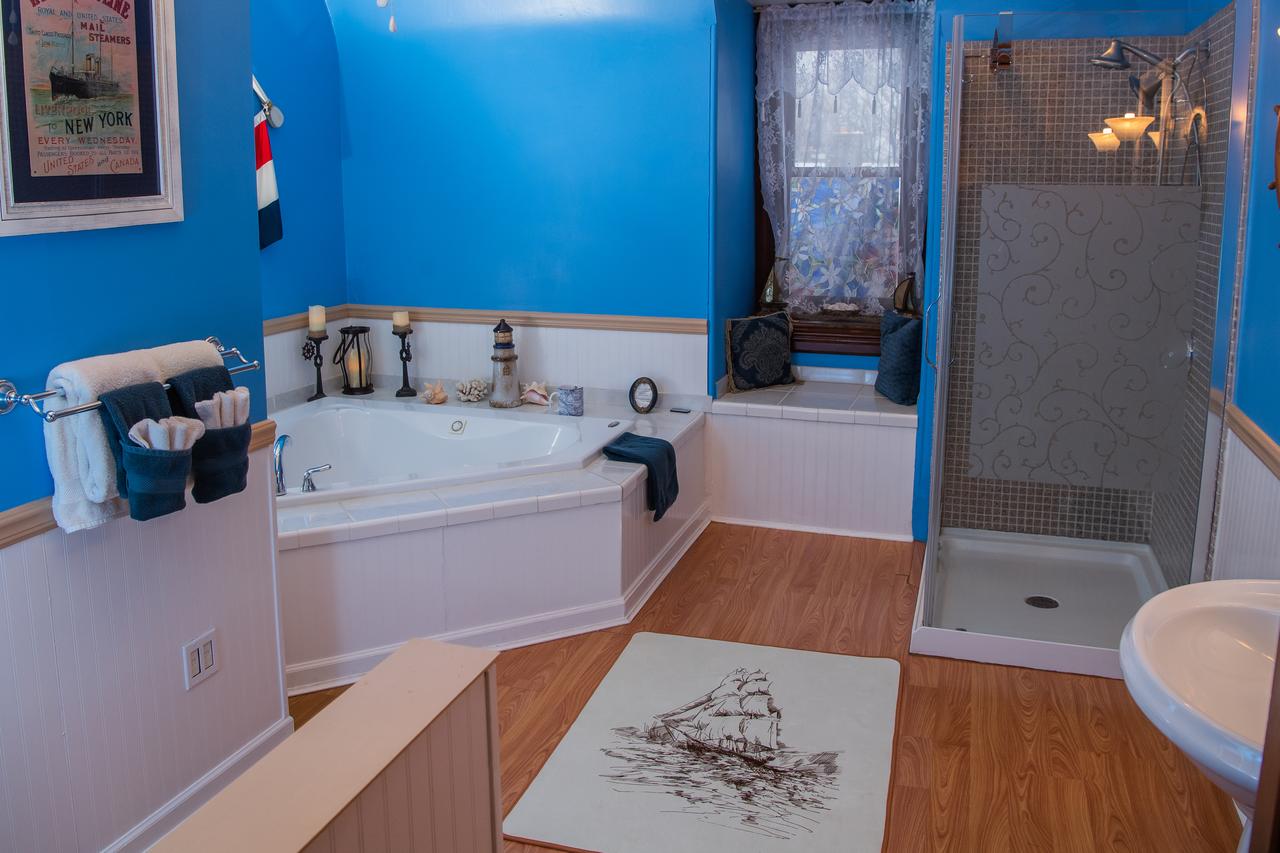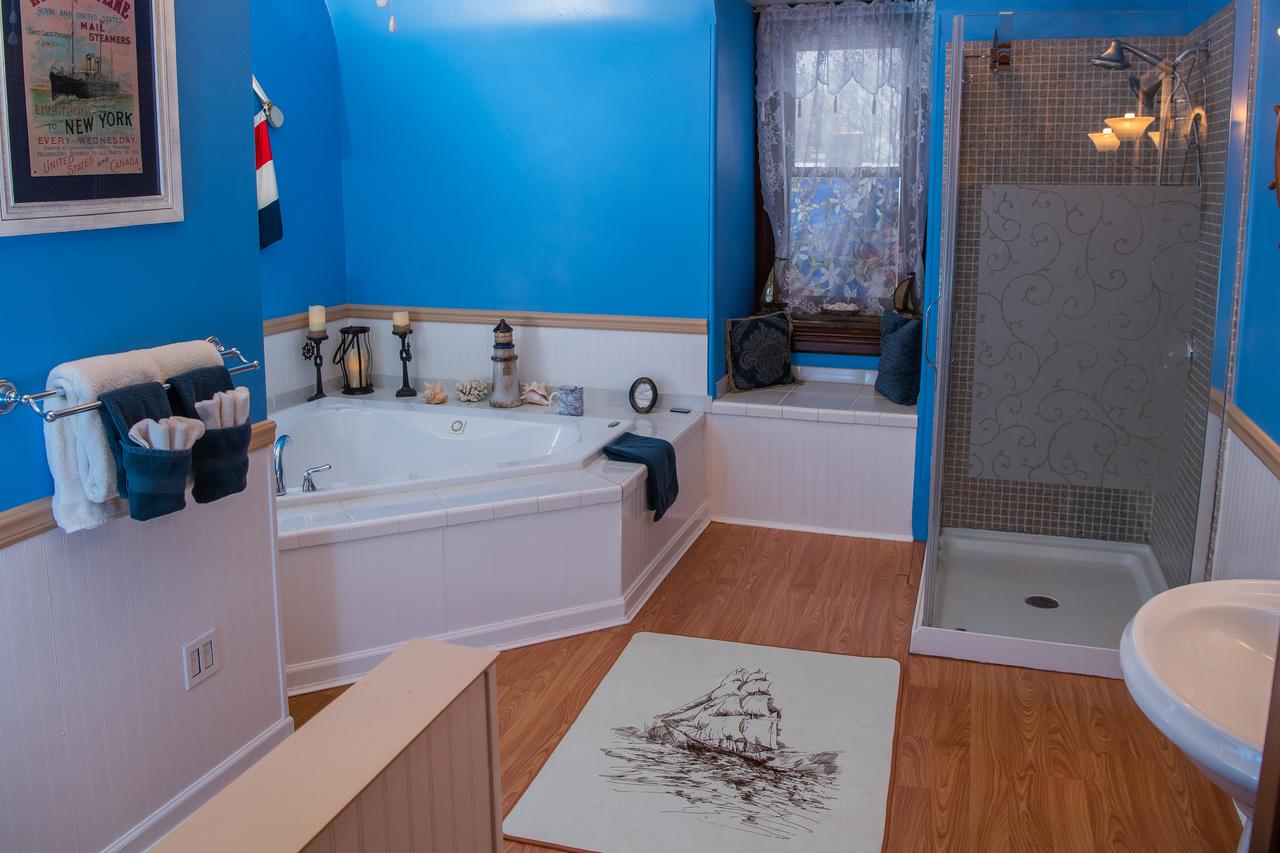 Scranton, PA
Your room with a hot tub also comes with free WiFi and a coffee maker. You can take a dip in the indoor pool or workout at the fitness center. A fireplace in the lobby makes you feel cozy and at home from the moment you walk through the doors.
Free, hot breakfast is served every morning, and there's a LongHorn Steakhouse located 13 minutes away on foot. You can also walk to Harvest Seasonal Grill & Wine Bar – Montage, Akita Asian Cuisine, and Marzoni's Brick Oven & Brewing Co.
In the winter, enjoy skiing at Montage Mountain, and enjoy local bowling year-round. Montage Mall has shops for you to browse, and movie dates are made possible by the proximity of Cinemark 20 and XD, just a 15-minute walk from the hotel.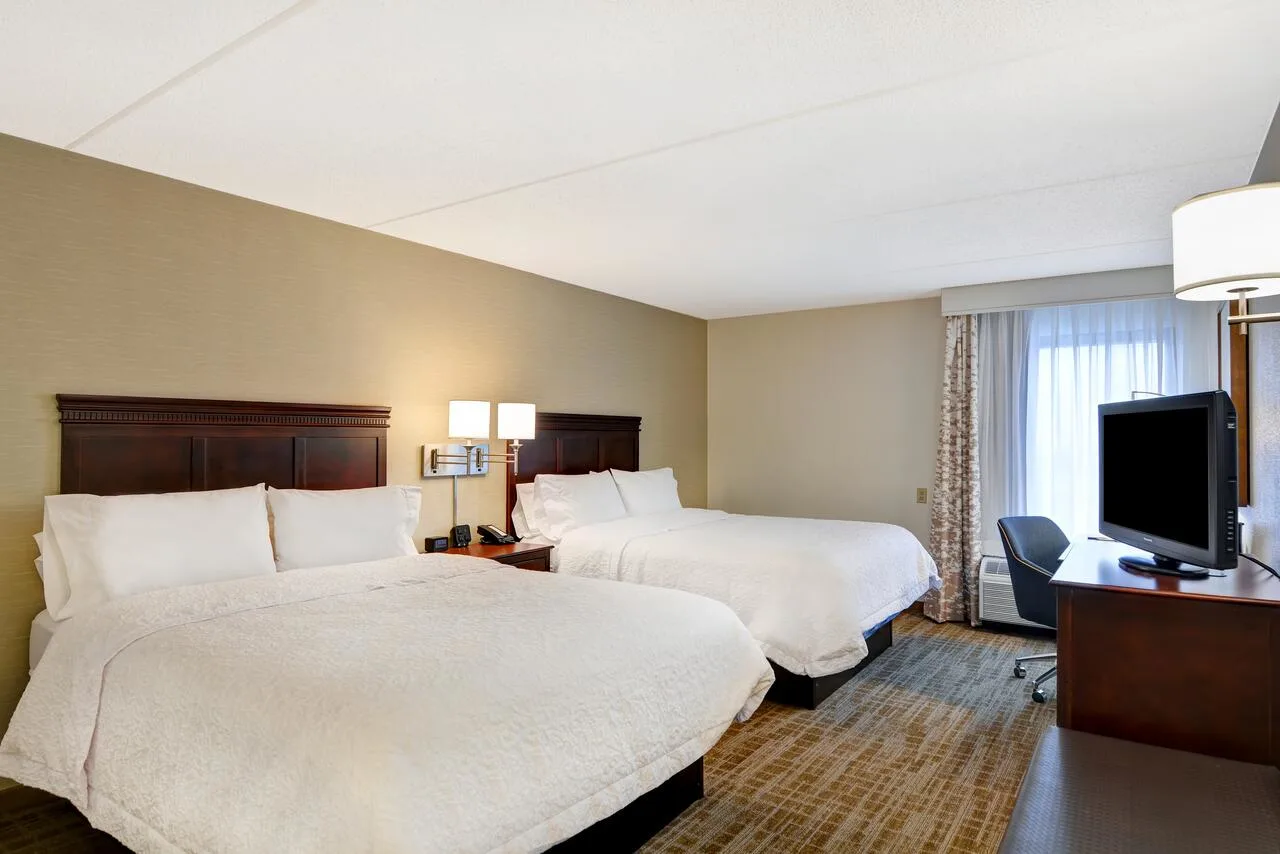 BUTLER, PA
The Fairfield Butler has Jacuzzi suites for you and your significant other to relax and enjoy. There's also an indoor pool, fitness center, and tennis court on-site so you can stay active during your stay.
Butler has many great dining options nearby the hotel. These include Rachel's Roadhouse, The Chop Shop, and Red Lobster.
See art exhibits at The Maridon Museum, check out Cummings Coffee & Candy, or visit Pullman Park, all just a short drive from the hotel. You and your sweetheart may also be interested in seeing a performance from the Butler County Symphony Orchestra.
End off your awesome stay with some fabulous Philadelphia Quotes.
****
MORE HOT TUB SUITES?
Already planning your next romantic getaway. Here is some inspo for you: