Looking for the best place to enjoy a really romantic getaway in Georgia?
It is no secret, Georgia is a really romantic place so there are no shortage of great places to enjoy a romantic weekend, anniversary or a Georgia honeymoon with that special someone. It is for sure one of the most romantic getaways in the USA!
Here are 25 of our favorite romantic places in Georgia for couples. We hope this list is helpful in finding something unique to impress your special someone.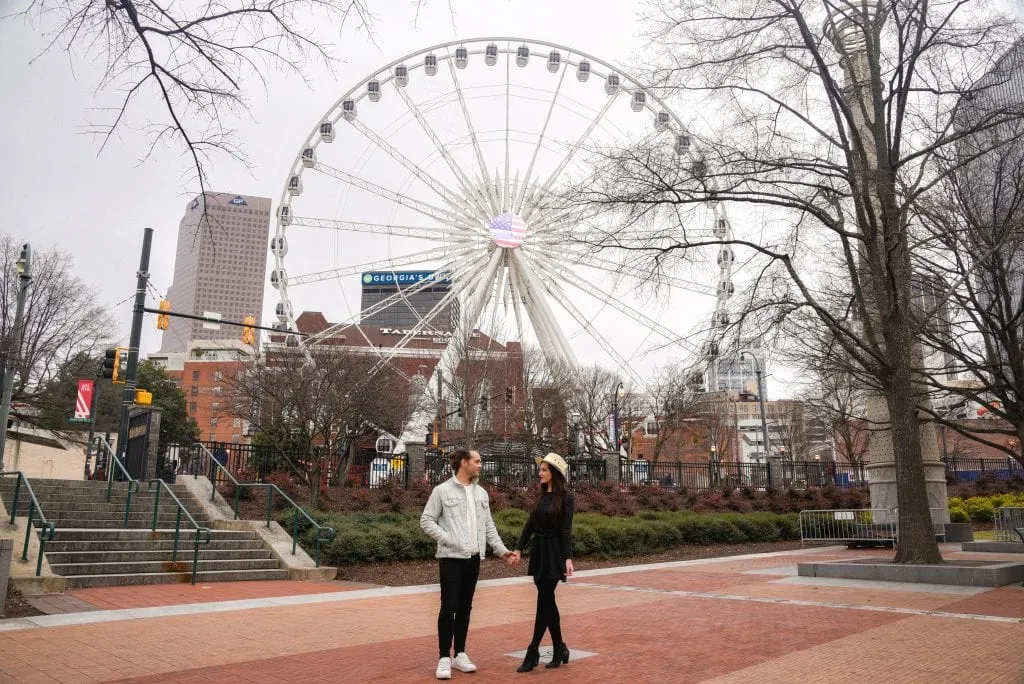 25+ Romantic Getaways in Georgia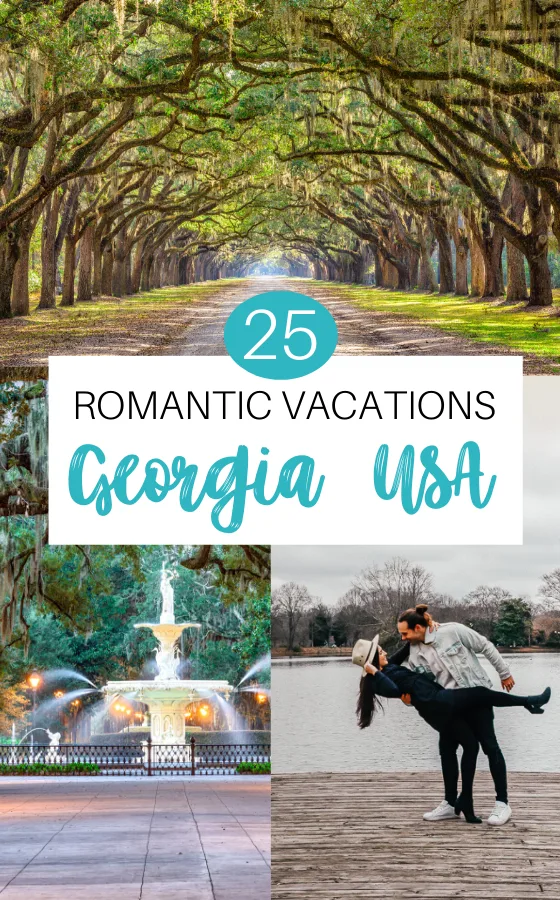 If you are looking for a place to enjoy wine with your partner, The Chateau Elan Winery is the ideal place to visit. This resort is one of the most popular luxury weekend getaways in Georgia.
This is also a lovely place for couples to get married and have your honeymoon in Georgia, this place would be perfect as they are well capable of catering to a couple. This hotel offers some fabulous honeymoon packages!
Fully equipped with amenities; such as a restaurant, indoor & outdoor pool, spa, golf course, tennis court, and a place to shop for wine; I am quite sure a couple would find it difficult getting bored here.
Book your stay here.
One of many hotels that are named in the list that resides in the heart of the city of Atlanta; Ellis Hotel is a great place for couples. Many couples choose to have their wedding here.
The hotel is equipped with a fitness room for partners to work out together and a variety of good locations for romantic dining.
The hotel provides the enjoyment of local attractions such as the Fox Theatre, Bliss Spa, Georgia Aquarium, Six Flags, Candler Golf Course, and many more exciting places lovers can visit.
Book your stay here.
If you enjoy tuning in to nature, the Forest Hills Resort is the perfect getaway. The resort offers cabins lodges if you the type of person that enjoys the great outdoors!
The location has onsite dining, horseback riding, a nature trail, fire pits, and a couples massage room. For off-site activities, couples can hike The Appalachian Trail, visit waterfalls, go Canoeing, go zip lining, and even tour an underground gold mine.
One of the best hot tub suites near Atlanta!
Book your stay here.
If you are a couple who is a sucker for storybook romance, this is an excellent place for you. The Barnsley Resort is consistently rated one of the most romantic places in Georgia for a couples getaway.
The resort's history is rumored that Godfrey Barnsley gave this estate to his bride in the 19th century. If this is not the perfect symbolism for couples to host their wedding here, then I don't know what is.
The resort comes fully equipped with a golf course, a pond for fishing, and a spa. Moreover, if you are a couple who loves some target practice, it is equipped with a Beretta Shooting Grounds.
Book your stay here.
The Burke Mansion provides a 19th-century burlesque atmosphere with Queen Anne Victorian Architecture. One of the best romantic getaways in GA!
Located in Macon, GA, it offers a lovely private and secluded getaway. Couples can book suites separate from the primary location if they wish to not be disturbed.
The site provides a freshly cooked southern breakfast, evening reception, and hor's d' oeuvres late-night desserts, all at the choice of having it at the parlor or in your room.
Book your stay here.
The Dublin Farm is fabulous place for couples who love the country. It is the perfect spot to elope!
Here couples can enjoy golf, hiking, tennis, fishing, and hunting. Also, guests can enjoy exotic fine dining at Ristorante Da Maria. Experience the joys of a hot cappuccino while looking into your lover's eyes.
Book your stay here.
Fruits of Vienna b&b is another countryside getaway. The experience of open fields, bike riding, or a hike along the river walk in the historic district.
A cool romantic getaway might include planning your stay around the Annual Watermelon Days Festival in Cordele, Georgia.
This would make an excellent spot for a honeymoon as guests can enjoy a beautiful sunset on a boat ride on the lake.
Book your stay here.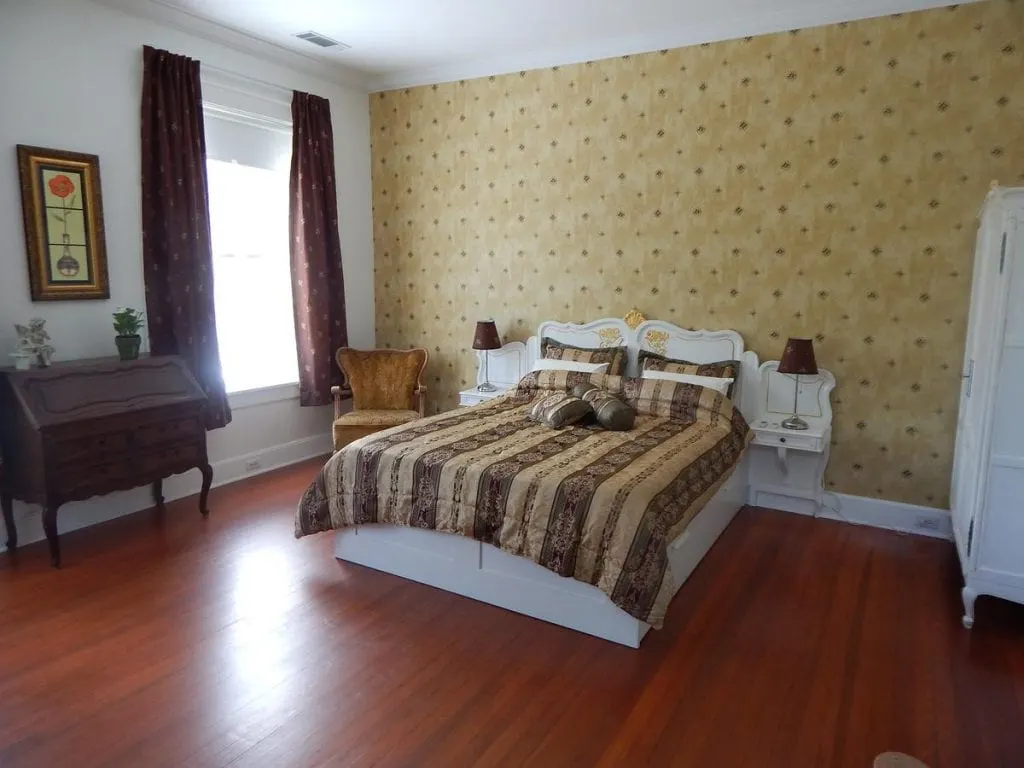 Stonehurst Place is an eco-friendly resort that is one of the most popular romantic hotels in Georgia for couples. If you are looking for a relatively cheap romantic getaway in Georgia – this could be the place for you!
Located in Midtown Atlanta, the great thing about Stonehurst is that not only can couples have a private getaway but they can also spend time exploring the awesome city of Atlanta.
Atlanta has a lot of great things to do for couples including tonnes of great theaters, restaurants or maybe an interesting museum to enjoy.
Book your stay here.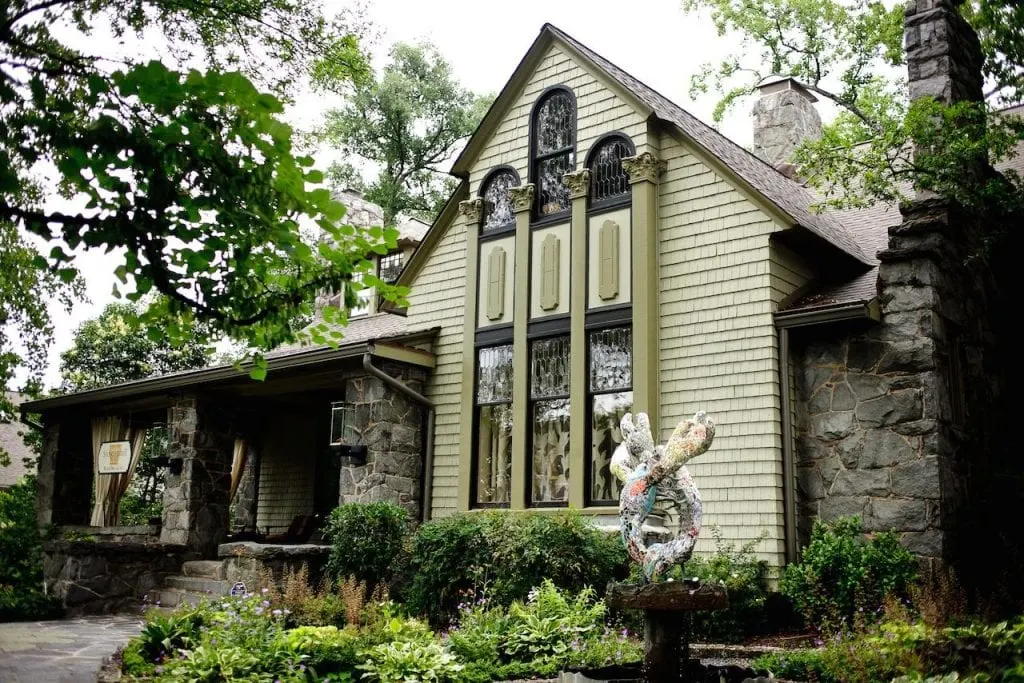 If you and your partner happen to find yourself traveling to Savannah, GA, make sure you book your time at the Gastonian as it is one of the most romantic places for a getaway in Savannah.
Here couples can plan their wedding or just elope on a whim of brisk romance. Last minute weekend trips would be great here.
The hotel offers unique menu items for two to enjoy. Also, couples can visit the Savannah Historic District or can have a scenic walk in Forsyth Park.
Click here to book your stay.
Just a few blocks away from The Gastonian, you could alternatively stay at the Justine Inn Savannah.
The hotel offers a warm, homey feeling for couples to become well acquainted or keep the fires kindled in their romance.
The location will give couples a historic enchanted feeling just like in the movies. Lovers can enjoy gourmet food, evening sweets, a violinist. Oh and the hotel is dog friendly.
Book your stay here.
Just a few minutes away from Justine Inn Savannah, Azalea Inn, and Villas interior and exterior offer a Victorian atmosphere for a couple who has an appreciation for historical architecture.
You can enjoy a bottle of champaign on the backyard patio overlooking the pool.
For breakfast, enjoy a delicious plate of shrimp grits, one of many southern recipes you can try here.
Despite its 5 class service, compared to other fancy resorts in the State, it is one of the most inexpensive luxury trips in Georgia.
Click here to book your stay.
If you are an early bird couple, who enjoys a nice run to get the heart pumping before getting your romantic day started, well, Savannah's Bed & Breakfast is the place for you.
Not too far from Forsyth Park, it is a nice spot to enjoy a lovely afternoon stroll with nature.
The perfect place to enjoy a 19th-century atmosphere; while having morning breakfast or afternoon refreshments.
Click here to book your stay.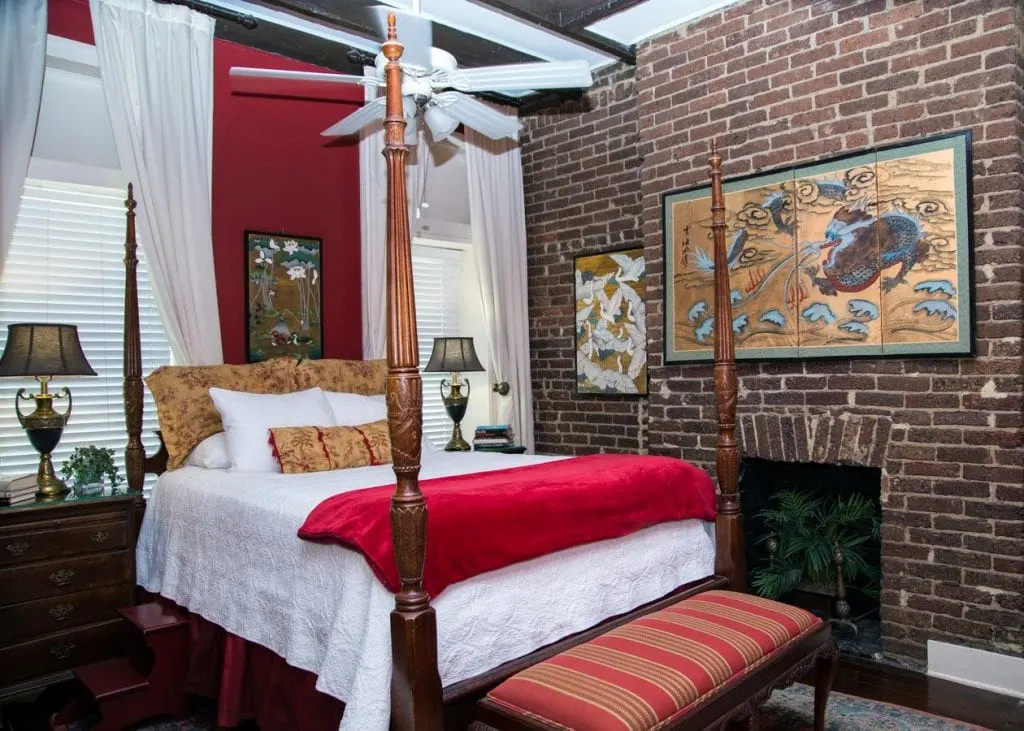 One of the most beautiful places to stay in Savannah is The DeSoto Savannah Hotel which offers a fusion of modern and historical architecture.
Coffee lovers will be happy to discover that one of the best coffee shops is located right by the hotel, Buffalo Bayou Coffee, an unmissable cafe for coffee enthusiasts in Savannah.
Click here to book your stay.
Consisting of Federal-style mansions dating from 1855, the Presidents Quarter is a mix between nature and suburban life. The historical symbolism of true love is why couples should vacation here.
During your stay, you will enjoy the beautiful oak trees and a garden courtyard.
Presidents Quarter offers, complimentary parking, homemade breakfast, and afternoon wine & hor's d 'oeuvres.
Couples can enjoy nearby attractions such as Wright Square, The Cathedral of St. John the Baptist, and the City Market for dining, shopping, and entertainment.
Note: The inn is pet friendly which is excellent if you want to bring your furry friend with you on vacation.
Click here to book your stay.
If your partner loves fairytales, The Hamilton Inn is the perfect spot to spend some quality time together.
Taking your partner to a place where he or she can feel like a king and queen can add a sense of excitement to your experience.
The architecture of the Inn which help accomplish this as the early 20th-century setting with spacious accommodations and beautiful interior decor will make any duo feel like royalty.
Click here to book your stay.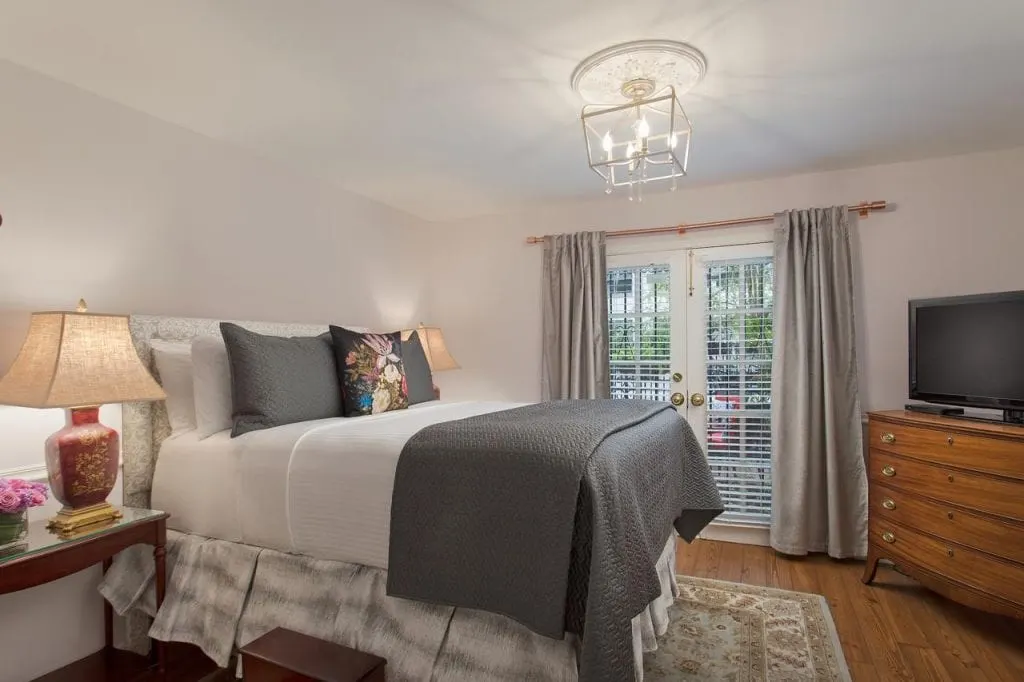 If you prefer a romantic getaway near the beach, King and Prince Beach & Golf Resort is an excellent choice: it's one of the most popular trips on the GA Coast!
Here you can enjoy a nice swim in a pool or take a dip in the Atlantic Ocean.
On St. Simons Island, there are tonnes of things to do including fun water sport activities and eco-adventures, restaurants, boutique shopping, art galleries, oceanfront dining and golf.
Click here to book your stay.
If you are looking for a getaway in the city of Douglasville, well, the Foxhall Resort is an excellent place to spend quality time with your partner.
For activities, people can go fishing trips, ATV rides, seasonal hunts, archery, or just soak up some sun by the poolside.
For a romantic dinner, visit The Paddock, an onsite cottage-style restaurant, great for a great meal over dim lighting.
This beautiful hotel is known to be one of the best romantic getaways in Georgia!
Click here to book your stay.
Atlanta is always a good choice for a romantic getaway in Atlanta as there are lots of beautiful romantic hotels in Atlanta to choose from – The Hyatt Regency in Atlanta being one of those!
One of the best parts of the Regency is that it is located right in the heart of Atlanta.The hotel offers great amenities for couples including spacious suite rooms and good restaurants to enjoy.
Click here to book your stay.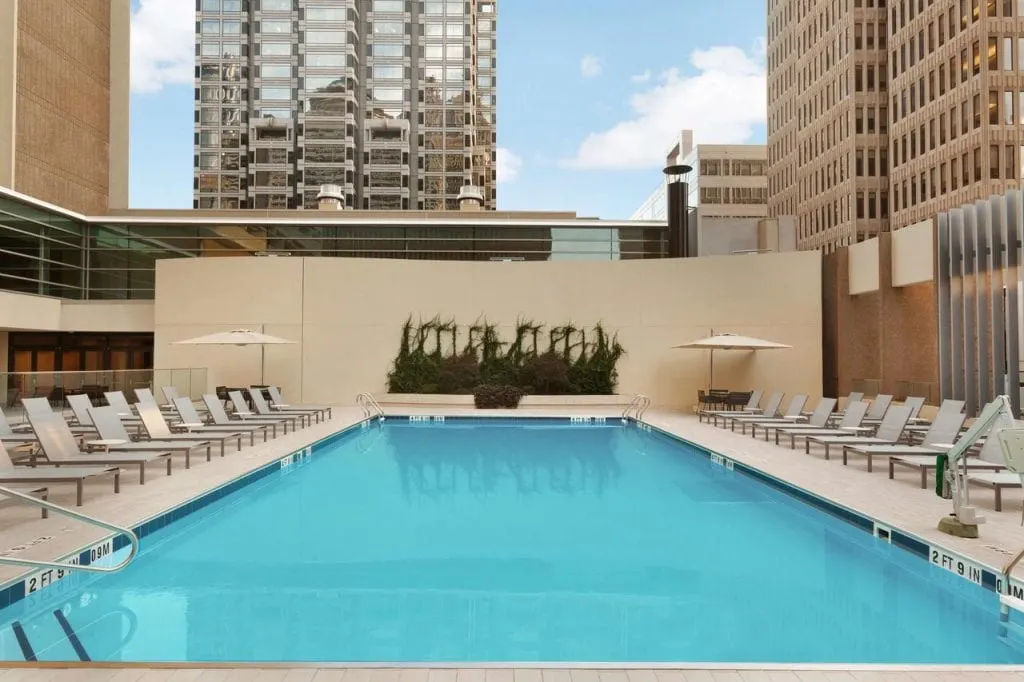 Located in Augustus, GA, the Partridge Inn is a Hilton owned resort. The hotel contains lofty suites, rooms with balconies, and a penthouse, that provides couples a view of the city.
The hotel features a courtyard, a pool, a fitness center, a lobby store, a rooftop bar, a Verandah, and, last but not least, a bar & grill that provides breakfast, lunch, and dinner. This is an excellent vacation spot for an eventful twosome retreat.
Click here to book your stay.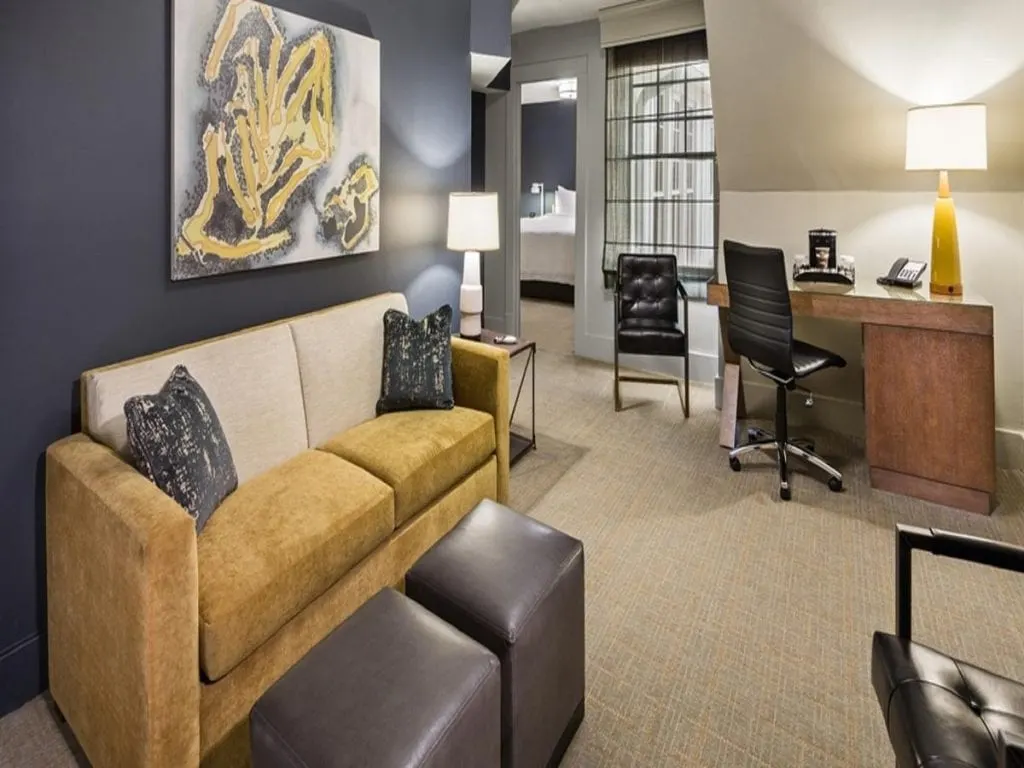 Sea Island is a five-star beach oasis located just a few miles off the east coast of Georgia, known for being one of the most romantic beach getaways in the state.
The island provides various accommodations, such as; The Cloister, The Lodge, Cottages, The Inn, and the Broadfield.
The island offers a slightly surreal experience of palm trees, ocean side atmosphere, and sunrise over the Atlantic Ocean.
Sea Island provides a list of activities couples can enjoy such as biking, boating, bowling, falconry, shopping, tennis, water sports, yoga & Pilates, golfing.
Click here to book your stay.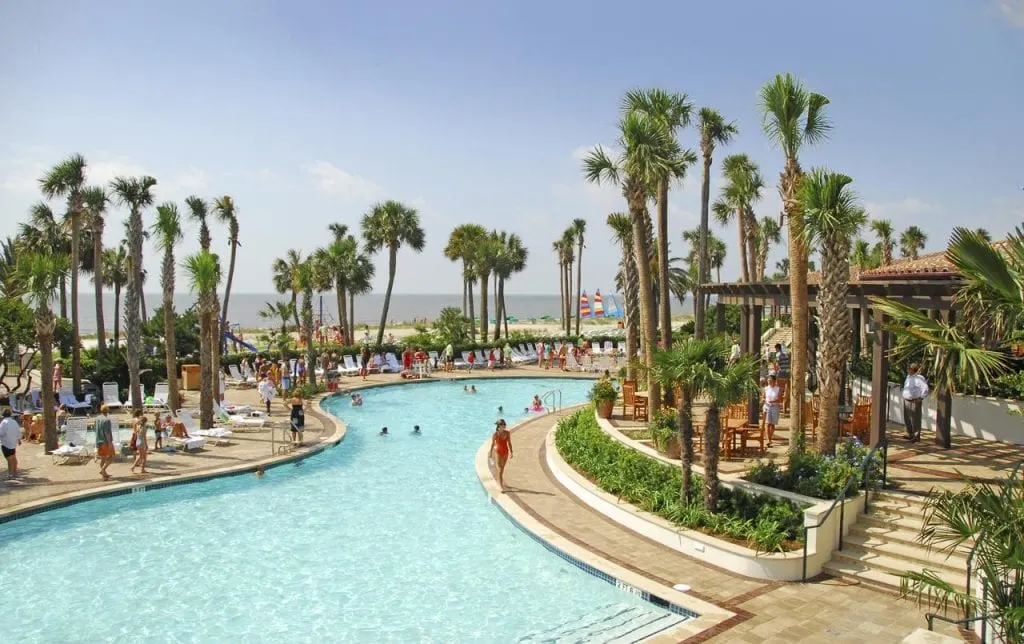 The Bohemian Hotel is located in Savannah, GA, located just off the shore of the Savannah River.
This hotel offers the perfect scene to rekindle the spark between you and your partner with beautiful interior tapestries and wooden stained furniture.
For a great dining experience, you can have a meal or a drink on the rooftop bar.
The hotel is also pet friendly if you wish to bring your furry friend!
Click here to book your stay.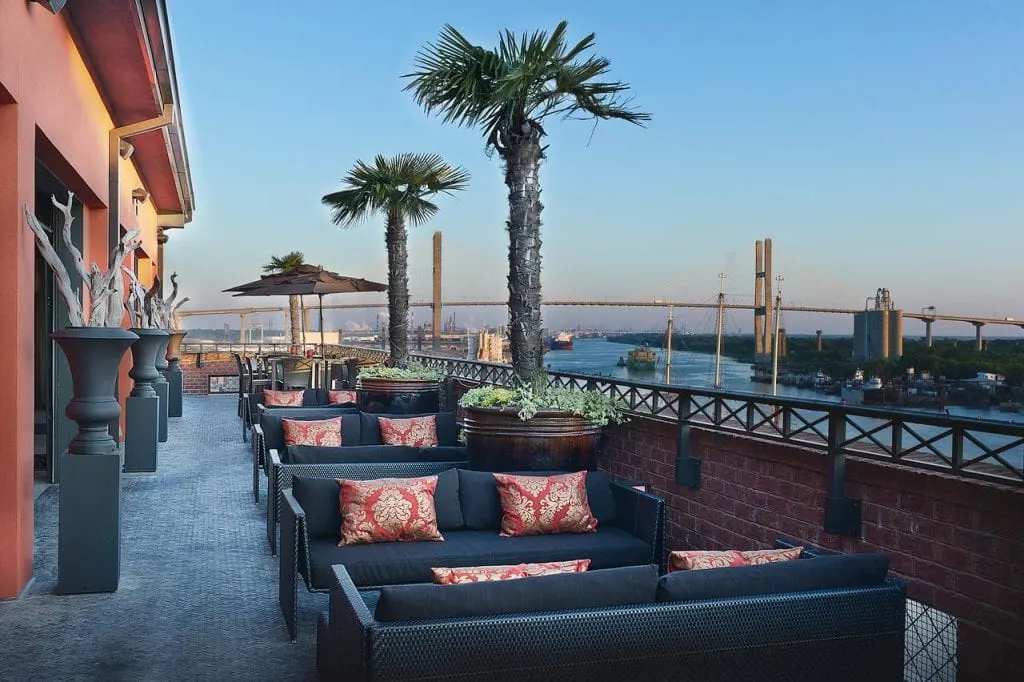 This place excellent for couples who want to get a breath of fresh air from the city doing some horseback riding.
Here lovers will have a frontier experience with additional activities such as a tennis court, hiking trails, and a spa. For off-site activities, people can visit The Fall Art Gallery Exhibit and the Rollins Planetary & Observation.
If you are looking for one of the best romantic spa getaways in Georgia then this is the place for you!
Click here to see the luxury rooms and suites available .
Actually located in Tennessee, just over the Georgia border in Chattanooga (Hamilton county), the Chanticleer Inn is consistently rated as one of the most romantic getaways in north Georgia!
This place is for the country loving couples who enjoy the beauty of the mountains. The inn is located on Lookout Mountain, from here you can get an excellent view of Chattanooga Valley. The perfect spot for a nice glass of wine at night on the patio, surrounded by trees.
A great trail to do nearby is the Bluff Trails to Sunset Rock mountain.
Click here to book your stay.
The Callaway Resort & Garden is located on the southern foothills of the Appalachian Mountains. If you are looking for a romantic getaway in the Georgia mountains then this is a good spot!
The resort offers different accommodation in various locations, where a few offer a view of a lake (all depend on where you book your stay).
Here, guests can enjoy outdoor activities like hiking, golfing, tennis, nature watching, photography, zip lines, beach & water sports. While you are there, we would highly recommend having a picnic at the FD Roosevelt State Park.
For indoor fun, couples can release tension together at the resort spa. For great food, eat at the the Piedmont Dining Room, trust me, you won't regret it.
If you find yourself there during the Labor Day Weekend, don't miss the Hot Air Balloon Festival, one of the best Hot Air Balloon Festivals in the US!
Click here to book your stay.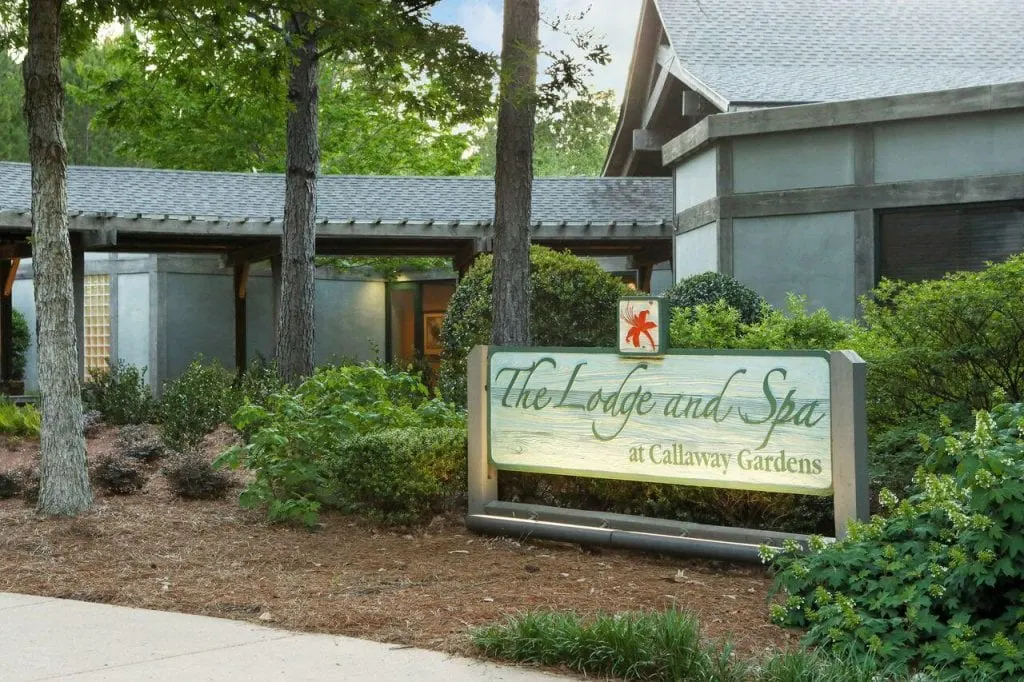 It is really no surprise that the Atlanta Evergreen Marriott is consistently rated one of the best luxury getaways in GA as it is located near the stunning Stone Mountain Lake and Venable Lake.
The resort offers an awe-experience view for couples. The surrounding area also provides exciting activities to enjoy such as hiking sites such as the Indian Trail. Kayaking and Segway rentals are available at adjacent boathouses.
Amenities include balcony rooms with a poolside view. Onsite dining is available or if you are looking for fresh air in Stone Mountain.
Click here to book your stay.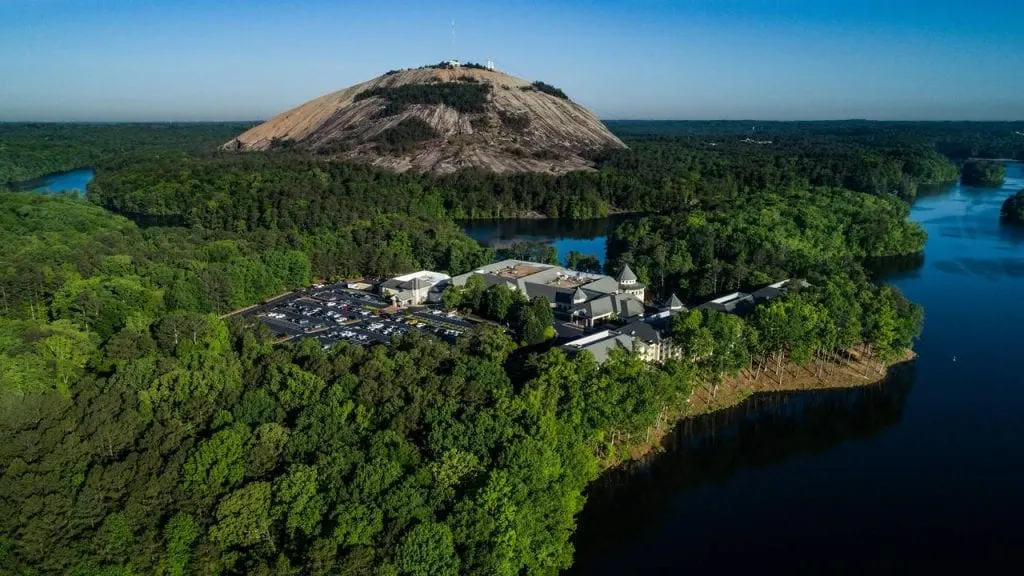 Guide to Georgia's Best Weekend Destinations
If you have a good idea of where you might like to go, here are some of our city guides in Georgia:
Save to Pinterest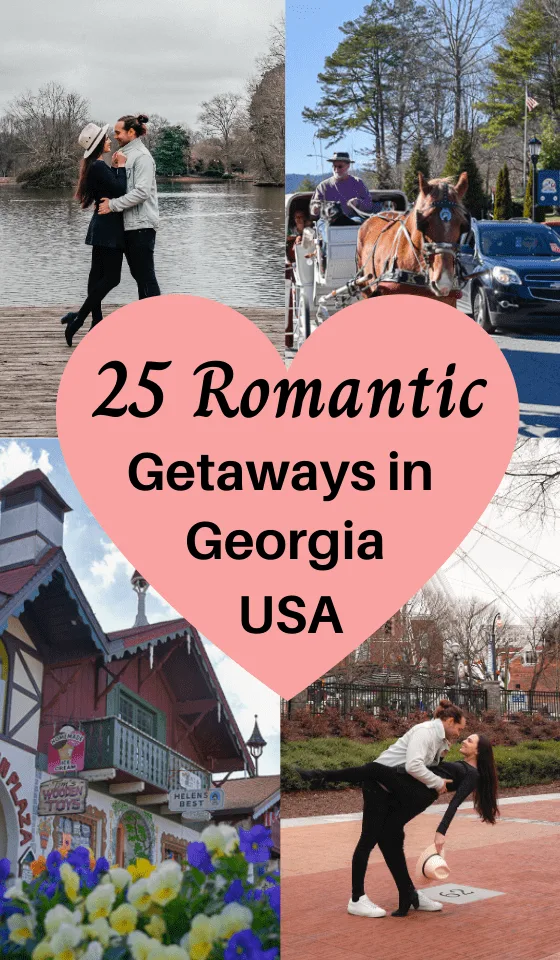 Disclaimer: This post contains affiliate links. That means, if you book something through one of our links, we may receive a commission at no extra cost to you. If you find something helpful, we would appreciate you booking through our links to help our site running.