Looking for an honest Kiridara Hotel Review? Great we got you covered
During our time in Luang Prabang, we stayed at the Kiridara Hotel, a 5 star hotel located just outside of the city.
The hotel really is an oasis located minutes from the hustle and bustle of Luang Prabang city centre. Well integrated with the nature, the hotel is surrounded by beautiful plants and vegetation.
Get the best rates on Kiridara Hotel here and read all reviews here.
Kiridara Hotel Luang Prabang Review
Kiridara Hotel is an ideal place to stay in Luang Prabang as it is not only extremely luxurious and comfortable but the hotel offers 5 star service & dining.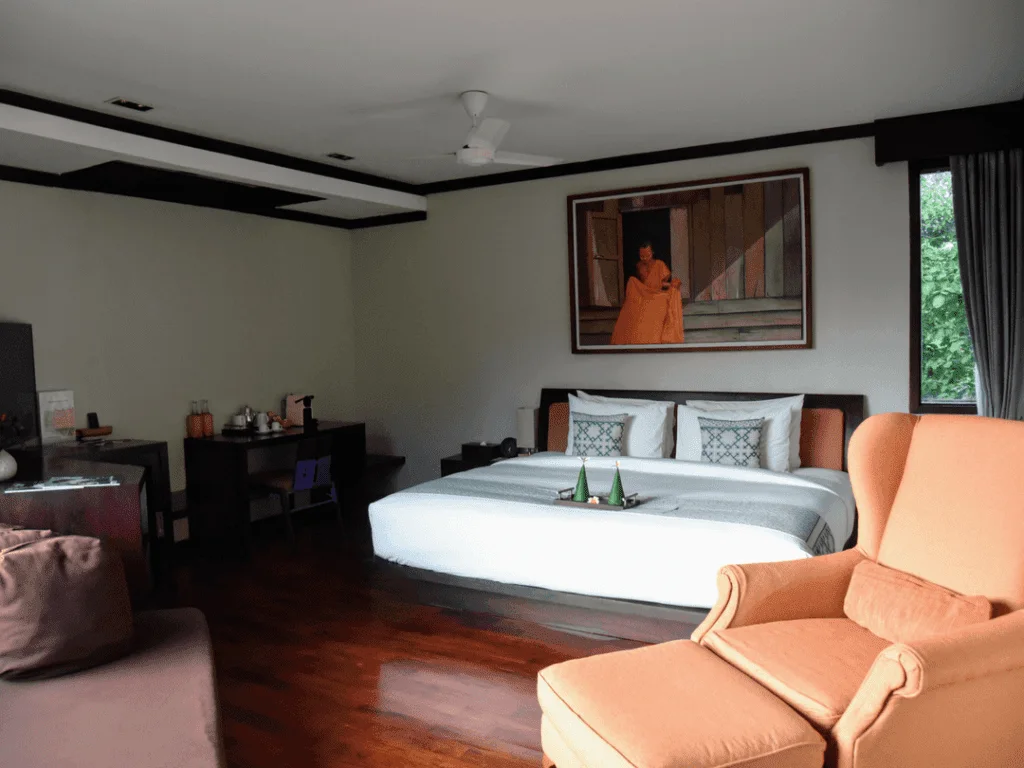 The Suite Room
We stayed in a suite room at Kiridara and would highly recommend it to couples or anyone looking for a little extra luxury during their Luang Prabang holiday.
The suite room was very luxurious and included a large (and extremely comfortable) double bed, a very spacious bathroom (including a couples' dual vanity) and a decadent bathtub.
The suite room also included a separate shower room with rainforest showerhead and a separate toilet.
One of the features we liked most about the room was the traditional Laotian touches including the large picture of the traditional Alms service – a traditional ceremony that draws a lot of guests from around the world to the Luang Prabang area.
When we arrived in the room we were treated to little extras such as a large fruit basket with lychees, mango, apples & bananas – always a nice touch when you are famished upon arrival.
Our readers will know we love coffee and tea – so the Nespresso machine and Twinings tea were a welcome sight.
Pools & Recreation Area
The most striking feature of Kiridara hotel is the amazing infinity pool which gives an impressive birds eye view of the Luang Prabang area and surrounding mountain ranges.
Stunning white, comfortable day beds with shade flank the pool so you can sit by the pool all day without fear of getting burnt.
The pool also has a bar which offers an impressive range of cocktails including our favourite Luang Prabang cocktail & Pina Coladas made with plenty of crushed ice.
At night, the hotel offers romantic poolside dining as the pool is illuminated by gorgeous lights.
Dining by the pool at night would be the perfect for a romantic dinner for a couple in Luang Prabang.
The Dining at Kiridara
Despite our busy schedule while in Luang Prabang, we were lucky enough to have the chance to dine at the hotel's amazing restaurant.
The chef prepared 5 meals for us to try and each were as delicious as the one before and plated to perfection!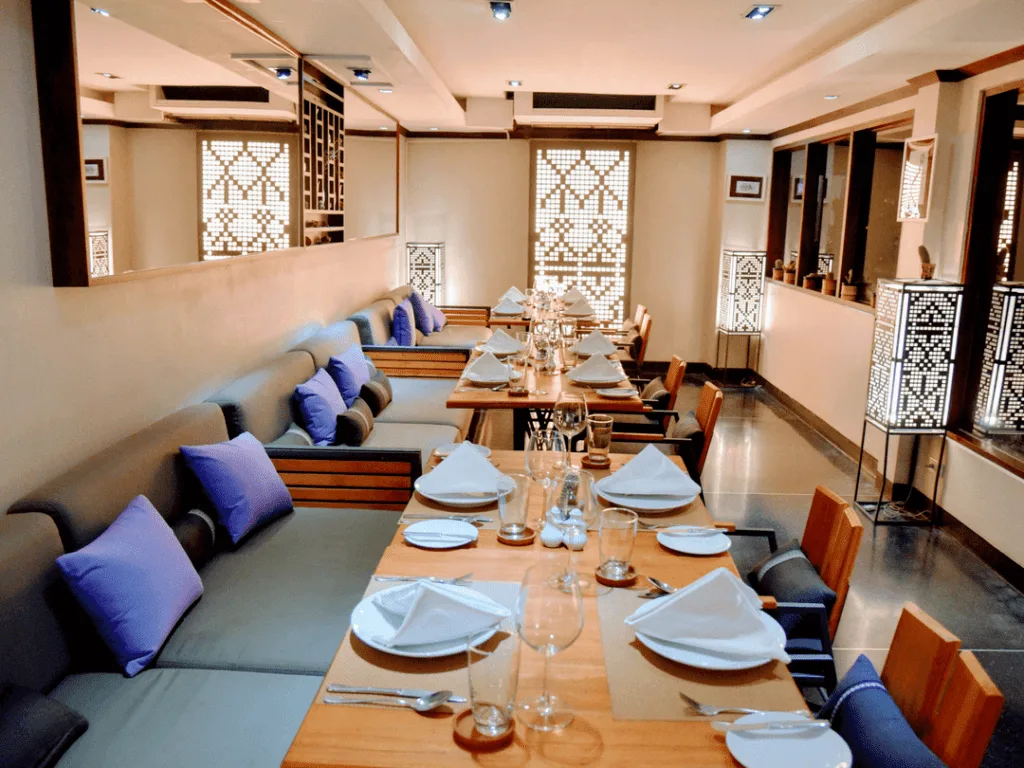 We washed this down with a nice red wine from New Zealand (recommended by the food & beverage Manager) which he decanted for us & two cocktails.
The Luang Prabang cocktail was the perfect mix of herb and spice – including a hint of chili – a perfect man's cocktail and one to try if you are in the area.
We asked them to blend the old faithful Pina Colada up with lots of ice in the blender (how we prefer a Pina Colada to served). It was absolutely delicious with the right ratio of rum, ice and pineapple juice.
Starter 1 – Luang Prabang Salad
The first meal we tried was the traditional salad of Luang Prabang. The salad was fresh and crunchy with hand made potato crisps and peanut to add a crunch.
The salad was absolutely delicious and probably the best meal we tried.
Starter 2 – Beef & spicy fish soup
The beef & spicy fish soup is a traditional meal in Laos which can alternatively be served with buffalo meat.
The soup was quite tasty especially if you are a fan of fish & spice. It has quite a distinct flavour and is definitely one to try for adventurous foodies while in Luang Prabang.
We also enjoyed the theatrics and presentation of this soup as it was prepared and poured right in front of us.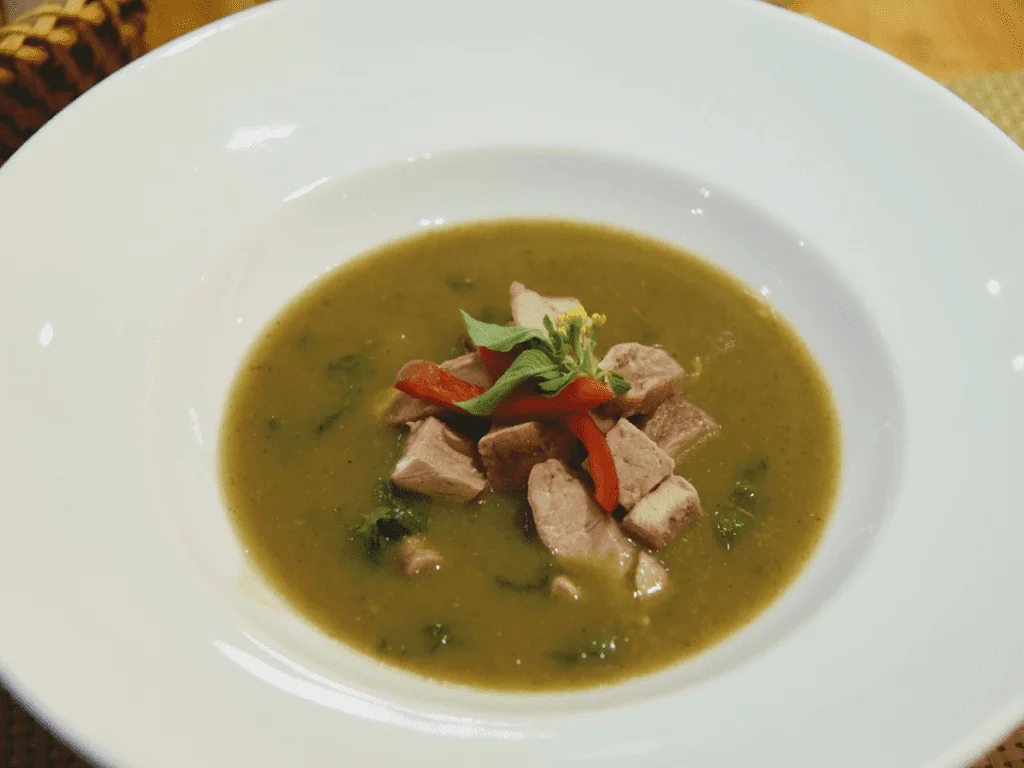 Starter 3 – Fish & vermicelli noodle soup
Noticing the above meal was a little spicy for our Western palate, the observant & attentive wait staff suggested we try the fish & vermicelli noodle soup.
We enjoyed this soup better than the previous as it was more mild and had the fresh elements we love of Asian cuisine including vermicelli noodle etc etc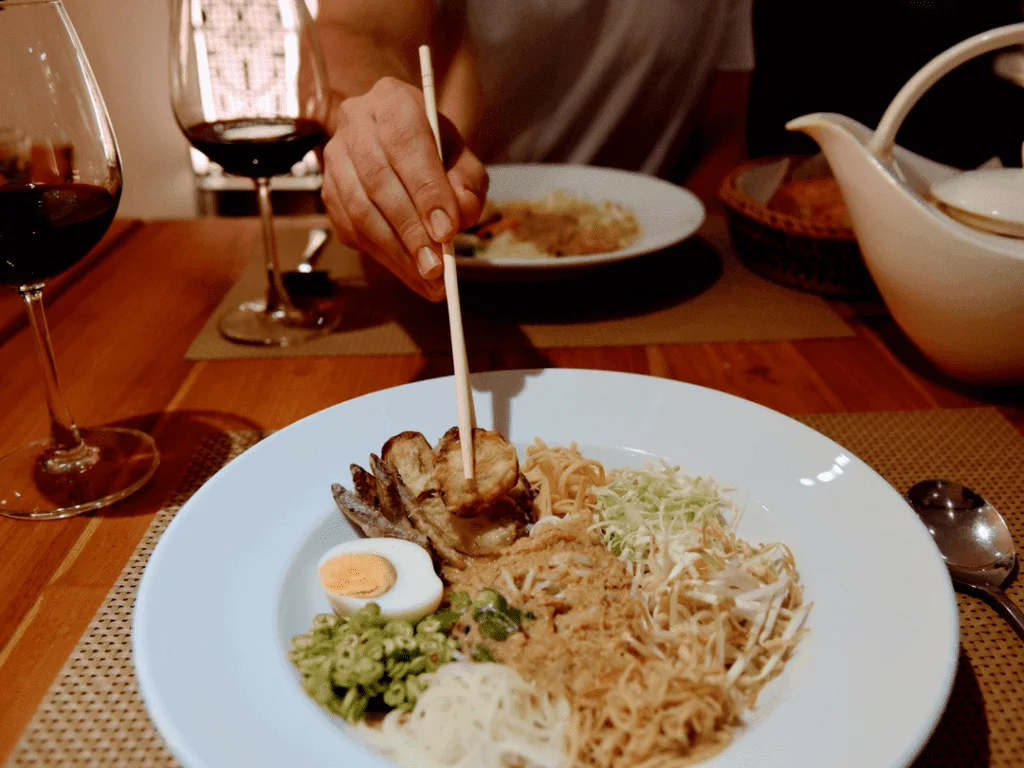 Main – Pork fillet wrapped in bacon served with creamy mash potato
For main we enjoyed pork fillet wrapped in bacon served with creamy mash potato.
The pork was cooked to perfection and melted in your mouth. It married up beautifully with the creamy mash potato & decanted red wine.
Desert – Custard and Mong bean cake with home made ice cream
Finally, we had homemade icecream and custard and mong bean cake for desert.
The home made ice cream was a coconut flavour and absolutely delicious. It paired perfectly with the custard and mong bean cake.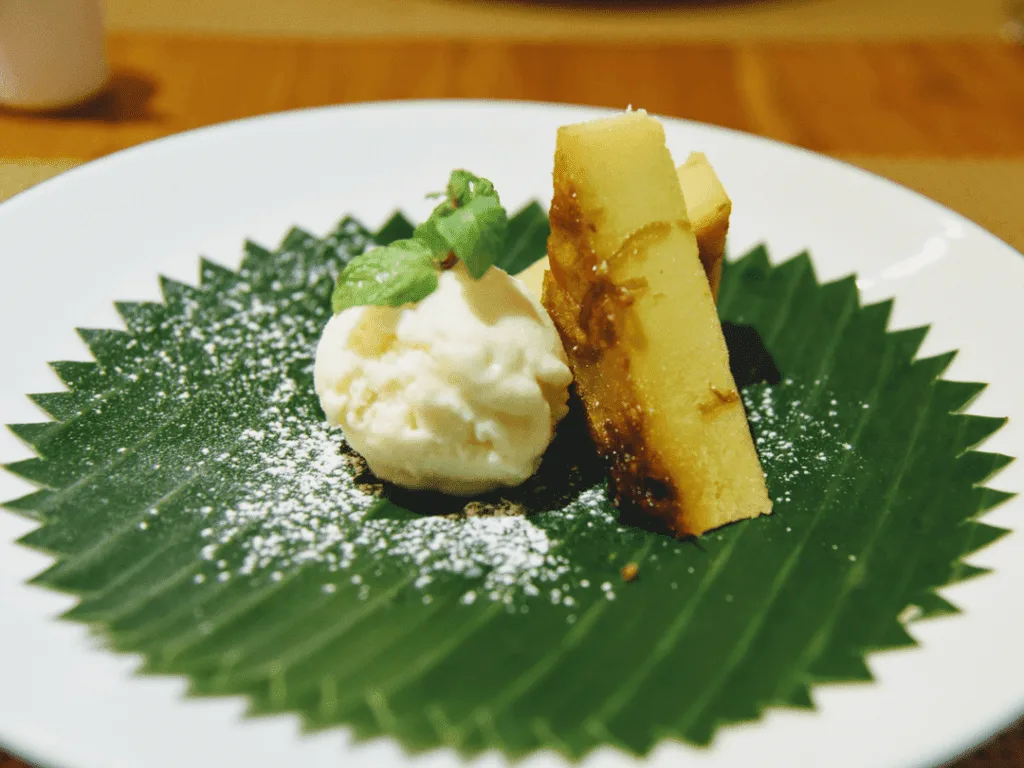 Kiridara Breakfast
Breakfast at Kiridara was the perfect combination of à la carte and buffet.
There was a great selection of buffet options including:
A fruit and yogurt station;
A bread station (featuring spreads & crossoints including our personal favourite breakfast item Nutella);
A salad station; and
A juice & cereal bar.
In addition to the breakfast station, there was also an à la carte breakfast menu on offer including noodles, poached eggs & banana pancakes to name a few.
Each plate at Kiridara is presented delightfully.
Best Massage Luang Prabang
On our final day after a walk up Mount Phousi, leaving our muscles very sore and tired, we had the opportunity to try the spa at Kiridara.
Upon arrival we found the staff hand discovered a scented flower bath for us to relax in prior to our massage – such a lovely touch to get you ready to unwind.
We opted for a Bali style massage – a very relaxing hour long medium strength massage with a little bit of oil.
It was one of the best massages we have ever experienced – the perfect amount of pressure & relaxation.
We highly recommend trying out the spa if you are staying at Kiridarra Hotel as it is a full body relaxing experience – perfect for a holiday.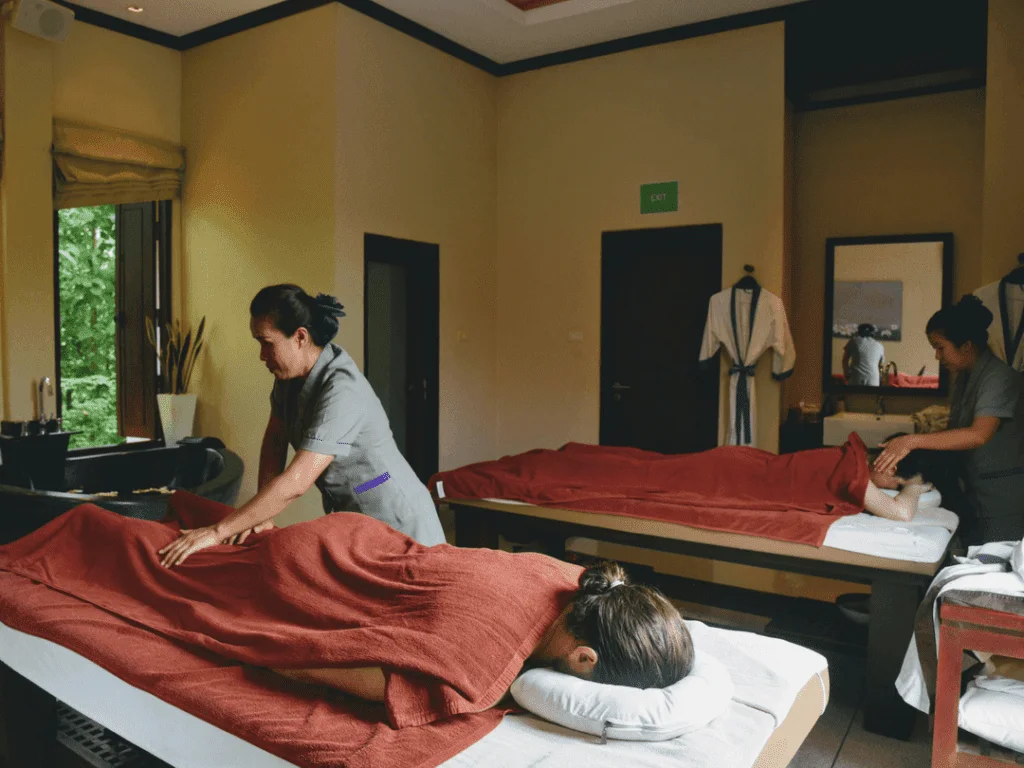 The Service at Kiridara
Despite all these amazing features, probably the best part of the hotel was the incredible service provided at Kiridara.
It started right from the top – the manager of Kiridara is one of the nicest people we have ever met. Without knowing that we were bloggers (upon expressing a few difficulties with accessing wifi on our older laptop) he lent Mike his pocket wifi for the duration of our stay. A service we were extremely impressed with.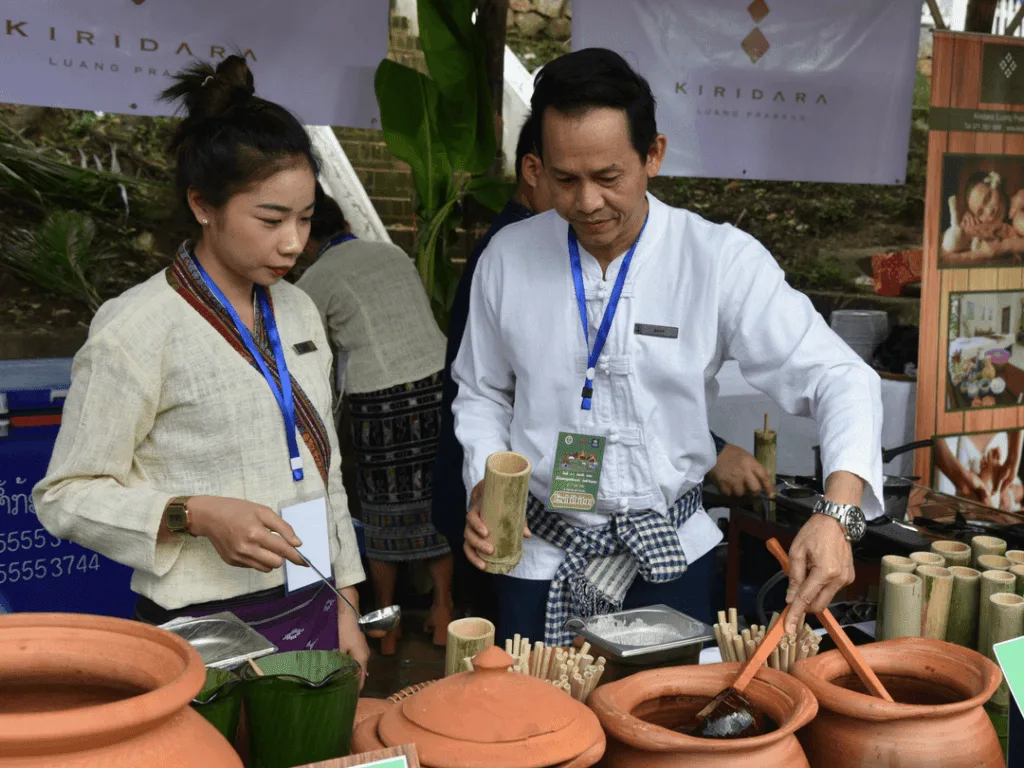 Getting to Town from Kiridara
Kiridara offers a regular free shuttle service into the town of Luang Prabang. The shuttle was extremely regular and hassle free.
Upon our return at night, the shuttle always turned up on time to the meeting point next to the night market to take us back to the hotel.
If you are looking for a luxury Luang Prabang hotel – we highly recommend a stay at Kiridara hotel.
What to do in Luang Prabang
Kuang Si Falls – the iconic blue waters of Kuang Si are one of the waterfalls in Luang Prabang you can't miss
Mount Phousi – hiking this small mountain (a hill, really) in town is 100% worth it
Wat Xieng Thong Temple – in our opinion this is the most beautiful temple in Luang Prabang. Check out our photos and tell us if you disagree
These are 3 of our favourite activites in town. For seven more check out our list of 10 unmissable things to do in Luang Prabang.
If you have any questions about staying at this hotel or visiting Luang Prabang in general, we would be happy to help. Leave us a comment below!
Book Kiridara Now
Get the best rates on Kiridara Hotel here and read all reviews here.
If our review helped you, please come back and let us know in the comments below.
Save this to Pinterest!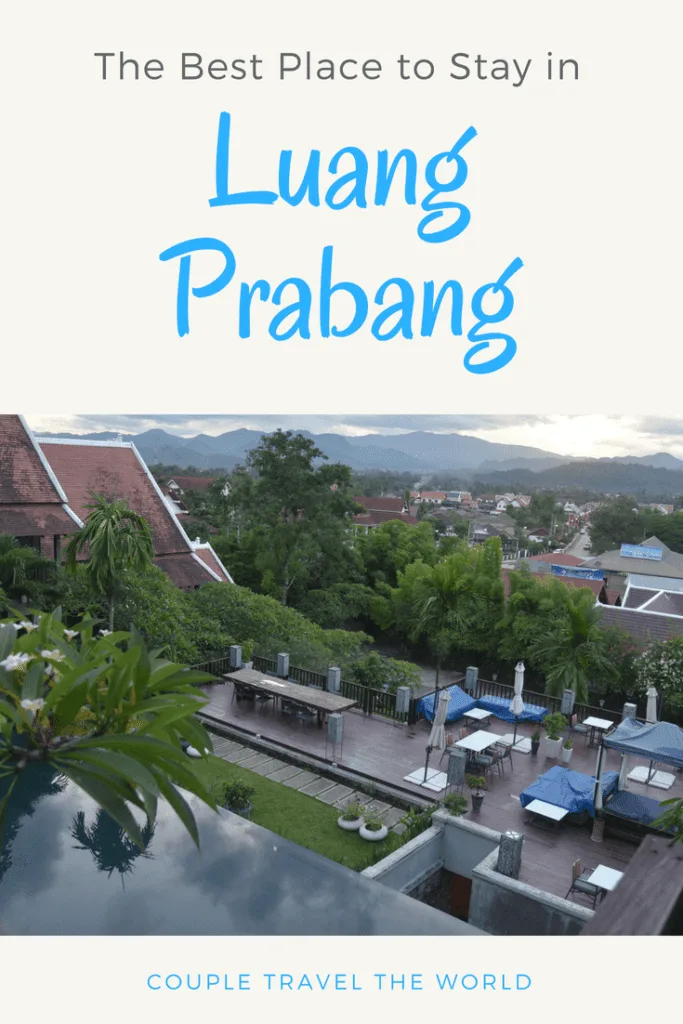 Disclaimer – We were guests at this hotel & Mekong Moments. However, it does not in any way influence our views or opinions of the experience. Our review is 100% honest and a true reflection of our experience.