We travelled by high-speed train from Krakow to Gdansk (Express InterCity Premium) and loved it.
We covered the distance of nearly 600 kilometres (some 370 miles) in 5 hours 32 minutes and the train arrived exactly on time.
Although we didn't see the same Hang Glider we passed on the train from Warsaw to Krakow, there was plenty of interesting scenery to keep us occupied.
Krakow to Gdansk Train
There are 9 high-speed trains from Krakow to Gdansk daily taking 5 hours 30 minutes on average.
The first train departs Krakow at 5:52am and the last direct high-speed train leaves at 16:40pm.
If you want to take the journey at a slower pace, there are national trains which don't run express which can take up to 10 hours (there is no sleeper train from Krakow to Gdansk).
We recommend taking the Express InterCity Premium train which is the fastest service and takes as little as 5 hours 22 minutes.
On the train from Krakow to Gdansk we passed rivers filled with yellow canoes, vast rows of corn on sprawling farms, and lakes where Poles were cooling off from the summer sun.
The direct train schedule from Krakow to Gdansk as of August 2019 is as follows:-
05:52 – 11:23 (EIP)
07:53 – 13:26 (EIP)
08:52 – 14:30 (EIP)
09:51 – 15:24 (EIP)
10:51 – 16:24 (EIP)
12:00 – 17:02 (EIP)
13:49 – 19:23 (EIP)
15:51 – 21:23 (EIP)
16:40 – 22:34 (EIP)
We travelled from Krakow to Gdansk using a Eurail Global Pass.
To check the most up to date timetables, download a handy app and book a pass on the Eurail website here.
Krakow Station Tip: The Express InterCity Premium trains usually leave from Platform 5. If you're arriving at Krakow station by Uber, you will be dropped on the rooftop (Level 1).
If you don't know which platform your EIP train departs from, we recommend trying the elevator down to Platform 5 first.
Using a Eurail Pass in Poland
We travelled from Warsaw to Krakow using a Eurail Global Pass. Find out more information about Eurail and book a pass on their website https://www.interrail.eu/en/interrail-passes/global-pass.
All domestic trains in Poland require a seat reservation which can be done for free in person at any train station in the country.
On the EIP train there is an additional €10 reservation fee, which presumably covers the cost of the meal and drinks on the train.
If you aren't in Poland and wish to reserve a seat in advance you can use Eurail's reservation service on their website. This must be done at least 8 business days in advance.
If you are travelling within 8 business days, you can still reserve a seat in advance outside of Poland using one of the following services:
E-Tickets do not seem to exist in Poland yet, so you will still need to budget time to receive your tickets by post.
You might want to consider posting your tickets to one of your hotels.
Making a seat reservation in Krakow
Krakow Central Station is located just outside the ringed old town. In the station follow the signs with a picture of a ticket on them to the large ticket office on level -1.
The office seems to be well manned, and we spent about 5 – 10 minutes on average waiting in line.
Even in you don't speak a word of Polish, reserving a ticket in Poland is easy.
We recommend bringing your Eurail Pass, phone with the Eurail App open on the train journey and date you want to reserve, and Google Translate in case you need any special requests.
Most of the ticket officers spoke English, however, handing over the above details helped us reserve a seat in less than 2 minutes. The reservation fee is about €10 and can be paid with credit card or Polish currency (43 Z).
Aboard the Express InterCity Premium Train (EIP) First Class
If you've read our other reviews about getting around Poland by train, you'll know we've taken a liking to the EIP train.
This is the most premium train in Poland and only commenced operation in 2014.
We travelled in First Class which contains seats in a 2 x 1 configuration (single seats on one side of the aisle).
The EIP train is the closest thing to the EuroStar we've travelled on the continent.
The train has large, comfortable, private seats with tables and plugs for using a laptop.
Meals are served including roasted duck (our favourite) or chicken and chick pea salads. Read our review of the Warsaw to Krakow train for more details about the food on the EIP train.
The only thing missing from the service which you get on the EuroStar is an alcohol beverage. If this is a serious problem you can buy it from the dining car instead.
EIP – First Class vs Second Class
We can't speak directly for the experience of travelling 2nd class on the EIP but we've scoped it out and it looks really pleasant.
The major difference is the carriage will be slightly more crowded with the seats being arranged in a 2 x 2 configuration.
The extra person per row does mean slightly less room, but the seats are still wider than any budget airline carrier.
However, one thing is certain. We recommend the EIP train – even in second class – over the regular InterCity trains in Poland.
As explained in detail in our guide to travelling from Wroclaw to Warsaw – the InterCity trains in First Class aren't horrible, but they are far more crowded than EIP trains.
What to do & Where to Stay in Gdansk
There are several iconic things to see and do in Gdansk. The impressive Basilica of St. Mary of the Assumption of the Blessed Virgin Mary which dates back to 1343, the Town Hall – a fine example of Gothic-Renaissance architecture featuring the most complex system of bells you're ever likely to hear, and the Motława river which is the hub of activity in Gdansk.
The town is small and it's possible to see all of these sights within a short 10 minute walk.
However, if you want a truly iconic stay in Gdansk, why not stay in a hotel where you can see these attractions directly from your balcony?
The Hampton by Hilton Gdansk City Centre arguably has the best view of St Mary's and the Town Hall in town. From our Queen room with balcony we had unobstructed views of these two magnificent sights.
For more photos of the stunning views from this hotel, check out our Hampton by Hilton Gdansk Old Town review.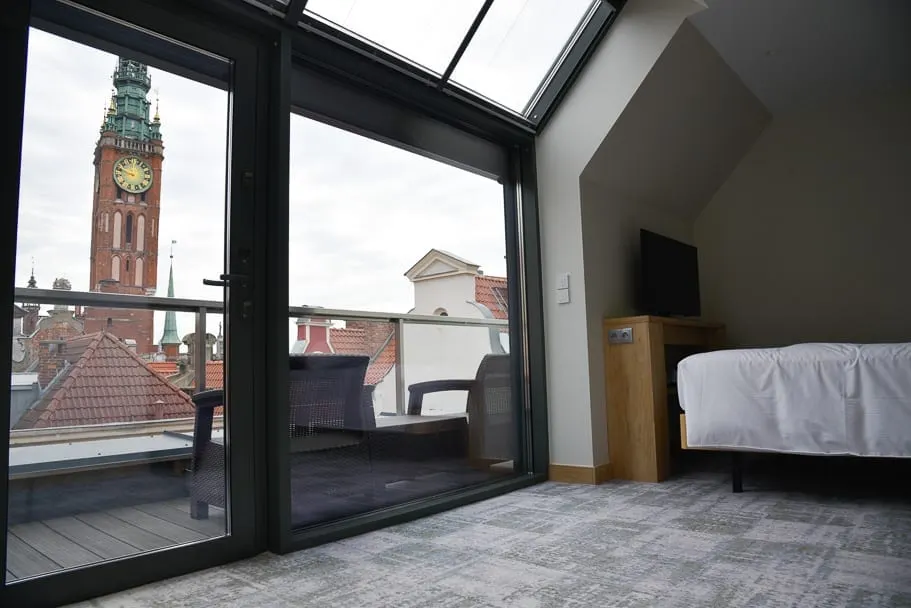 The biggest dilemma you'll face when reserving accommodation with a view in Gdansk is whether to chose the Hampton or to chose the Hilton Gdansk which is an equally enviable position on the banks of the Motława river.
From our suite we had sensational views of the Gdansk sign and the popular Ferris wheel. It's a stunning location to people watch – you'll see unique sights like literal water taxis (which are boats molded in the shape of a taxi) and pirate ships.
The Hilton Gdansk is packed full of treats including fine dining at Mercato Restaurant and luxurious pampering packages at Urban Spa.
For a detailed review of Hilton Gdansk hotel, restaurant and spa click through to read more about our stay.
What to do & Where to Stay in Krakow
Krakow is still one of our favourite cities in Eastern Europe. Even though it's not a small city, you can still walk to almost every worthwhile attraction in town.
Some of the important things to see in Krakow include Wawel castle, Kazimierz (the Jewish Quarter) now a thriving scene for young people, and the Old Town Square.
We stayed at the Garden Inn Krakow which is located a 15 minute walk from all these attractions via the Vistula river.
The hotel also served some of the finest Pierogies we've tried in Poland – read more about it in our honest hotel review.
When you are looking for accommodation in Krakow, Gdansk, or indeed any major city in Poland, Hungary, Slovakia or the Czech Republic, we recommend looking at these Hilton hotels first. Start planning your Eastern European vacation with Hilton Europe.
Disclaimer: We were invited as guests to Hilton hotels & on Eurail. However, this does not affect our views and opinions. As always, all opinions are our own.