One thing we've learnt travelling through Eastern Europe with Eurail is that no two journeys are alike.
For better or worse, every country has its own idiosyncratic ways to arrange the travel.
In Poland, for example, train reservations are necessary if travelling with a Eurail pass.
On our journey from Wroclaw to Warsaw by train we discovered why.
Train travel is by far the best and most popular way to travel between Warsaw and Wroclaw.
Some nous is needed to ensure a seamless train journey from Wroclaw to Warsaw – we'll share all our best tips with you.
Wroclaw to Warsaw Train
Trains from Wroclaw to Warsaw run every hour from 5am – 6:30pm at night. There are also trains at 12:30am and 3am in the morning.
The fastest train takes 3 hours 44 minutes direct, while the slowest takes 6 hours 40 minutes as it involves 2 stops.
There are approximately 10 non-stop trains direct between Warsaw and Wroclaw daily. We recommend taking these direct trains as they are the quickest and most comfortable.
Timetable
Here is the direct train schedule from Wroclaw to Warsaw as of August 2019:-
00:30 – 05:30 (IC)
03:33 – 08:55 (IC)
05:15 – 09:21 (IC)
06:17 – 10:05 (EIP)
07:35 – 12:37 (IC)
08:34 – 13:03 (IC)
11:11 – 15:49 (IC)
11:42 – 18:04 (IC)
14:20 – 18:43 (IC)
16:27 – 20:11 (EIP)
18:30 – 22:46 (IC)
18:32 – 23:42 (IC)
IC = InterCity train
EIP = Express InterCity Premium train
How to Book the InterCity train
After travelling through Eastern Europe with our Eurail Global Pass, reserving seats for our journeys has been an afterthought as the trains between Budapest – Bratislava, Bratislava – Prague and Prague – Wroclaw do not require reservations.
For those journeys we arrived at the station a few minutes before our train, took our seats and off we went.
Domestic trains in Poland, however, require you to make a seat reservation if travelling with a Eurail pass.
It is really essential to make a seat reservation as the trains are packed full. Even in 1st class there were people sitting in the hallways (on the InterCity train).
Fortunately, we did not have to sit in the hallway as we had reserved a seat at Wroclaw station 4 hours before departure time. Judging by the full capacity on board, we were probably quite lucky to get a seat.
Reservations for the InterCity Train are completely free if you book them locally within Poland at a train station. We'll explain that process more below – it's very simple.
Alternatively, there are a few other ways you can make a seat reservation in Poland:
you can make a seat reservation with Eurail, provided you do this at least 8 business days prior to travelling;
contact Polrail.com; or
call Deutsche Bahn (German Railways) on +49 1806 996 633.
Update: Deutsche Bahn also requires you to book before the day of travel as you need the physical tickets which they will post to you
We travelled from Wroclaw to Warsaw using a Eurail Global Pass. Find out more information about Eurail and book a pass on their website https://www.interrail.eu/en/interrail-passes/global-pass.
How to Make a Seat Reservation in Poland
We'll use Wroclaw as the example, but it's the same process all over Poland.
Visit Wroclaw Glowny and follow the signs to the ticket counters marked "Kasy Biletowe". Here you will find different lines for the various types of national and international trains in Poland.
Look out for the line with the InterCity logo marked on the windows and posters. In our case this line was longer than the others and took approximately 20 minutes to be served.
Once we reached the ticket booth, the ticket officer spoke enough English to reserve our seats and print the ticket within a minute.
Having our Eurail App handy with the train we wanted helped. If you have a First Class Eurail pass then make sure to mention you wish to reserve a 1st class seat and have your Eurail Pass with you.
We were not asked to show our passports, but it's probably a smart move to bring them with you to verify your identity if needed.
What to bring to reserve a seat in Poland with Eurail:
Eurail Pass;
Passports or identification documents (just in case).
As an aside, bring your camera because Wroclaw Glowny is one of the most unique train stations in Europe. The turreted yellow building looks like an impressively sculpted sandcastle.
Onboard the InterCity Train
Update: There is another type of high speed train in Poland which is incredible. Keep an eye out for the Express InterCity Premium train (click to see our review of it from Warsaw to Krakow) – it's Poland's answer to the EuroStar with spacious seats and a meal + beverages included.
We travelled in the 1st class carriage of the InterCity train service which was located at the rear end of train.
The seats were contained in a cabin with a sliding door in a 3 x 3 configuration.
In the corridor there were overflow seats which pulled down for the passengers who presumably booked first class but were not in time to make a seat reservation.
Seat features:-
personal 230V power plug;
USB charging port for phones;
a fairly comfortable large seats;
overhead storage space and additional space beneath the seats to fit a small duffel bag, backpack or briefcase.
The cabins are air-conditioned and can be controlled with the gauge above the door.
The InterCity train stops several times along the way, meaning you have a better opportunity to mingle with locals and get a feel for everyday life in regional Poland along the way.
Travelling in the European summer, the land was dry with orange and yellow tones. On the journey we saw small deer grazing and lots of rolled bales of hay.
There are two toilets in every carriage but no dining car.
Tips: If travelling in the evening try to secure a seat closer to the aisle to avoid the hot afternoon sun.
What to do & Where to Stay in Wroclaw
Wroclaw Old Town is surrounded by a moat and the central train station – Wroclaw Glowny – is located 10 minutes walk away.
The Old Town Square is literally the centre of all the entertainment in Wroclaw.
In summer the square is a hub of excitement and entertainment. There is no shortage of restaurants for al fresco dining while the kids are entertained by the impressive water fountain and chance to blow bubbles set up by entrepreneurial teens.
DoubleTree by Hilton Wroclaw is conveniently located just 5 minutes from the station away by taxi / Uber and just a few minutes walk from the edge of the city centre.
Also nearby is the Market Hall, Most Tumski bridge (the most famous bridge in a city of bridges) and Cathedral of St John the Baptist. One of the more unique things to do in Wroclaw is located nearby – the Panorama of the Battle of Racławice – an impressive 360 degree painting of the battle.
If you're planning a trip to Wroclaw check out DoubleTree by Hilton Wroclaw. We were impressed with the the award-winning design of the hotel which was inspired by a drop of water – very appropriated for the city.
For more information check out our detailed review of DoubleTree by Hilton Wroclaw.
What to do & Where to stay in Warsaw
Warsaw, the Capital of Poland was decimated in World War II. It is estimated between 85 – 90% of the city was flattened.
One of the criticisms we heard about Warsaw before visiting was that the buildings lacked character because they were reconstructions.
When we visited the Old Town we were pleased to find colourful buildings, cobble stoned streets and plenty of old town charm.
Whereas other popular Polish destinations to visit like Krakow or Wroclaw rely solely on their historic charm, Warsaw has more modern style too.
For example, the Palace of Culture and Science is an impressive soviet era building which stands proudly at the heart of Warsaw and is a must see.
Inside the Palace you will find the congress, a cinema and many different museums.
Warsaw Central Station is located on the doorstep of the Palace of Culture and Science. Just 5 minutes walk away is the Hampton by Hilton Warsaw City Centre where we had the pleasure of staying.
From our room on the 16th floor we had fantastic views of Warsaw City Centre. The hotel is well connected to the old town by public transport including the trams which crisscross the city.
Read more about the hotel in our Hampton by Hilton Warsaw City Centre review.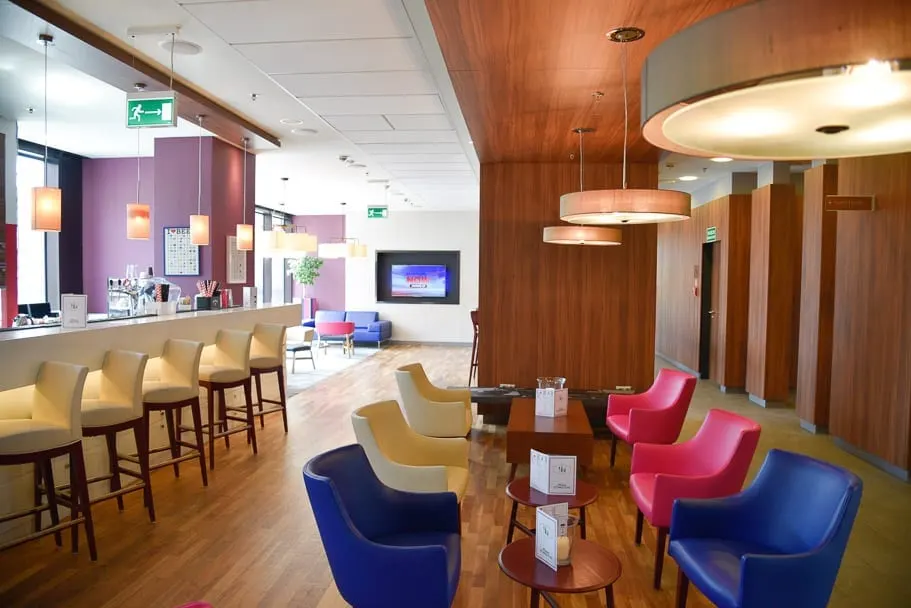 If you plan to start or finish your Eurail journey in Warsaw, then the Hampton by Hilton hotel Mokotow is a convenient location.
The hotel is brand new with a bright, airy breakfast and dining area with lots of green plants inside.
Mokotow is the business hub of Poland and you can also find large shopping centres there to pass the time.
If you're looking for an airport hotel check out our Hampton by Hilton Mokotow review.
We've been staying at Hilton hotels all across Eastern Europe. The peace of mind knowing the hotel will be of a good standard is fantastic. Start planning your Eastern European vacation with Hilton Europe.
Disclaimer: We were invited as guests to Hilton hotels & on Eurail. However, this does not affect our views and opinions. As always, all opinions are our own.