There is no denying that London is a cool place and very instagrammable! Here are 70+ quotes to (hopefully) inspire you to visit London or if you have already been use as awesome Instagram captions!
And if you are using London photos on Instagram make sure you use the right London hashtags to obtain the best reach!
Side note: If you love Instagram we developed some kick ass Instagram presets (filters) so you can edit your photos in 1 click!
70+ London Quotes for inspiring instagram captions
Here are 70+ London Quotes for Instagram captions. Go through the list and pick out some of your favorite quotes to use.
Let's kick things off with three of our favourites:
In London everyone is different, and that means anyone can fit in. – Paddington Bear
A bad day in London is still better than a good day anywhere else. – Unknown
Yes, London. You know, fish, chips, cup o tea, bad food, worse weather, Mary-fucking-Poppins. London! -Dennis Farina, Snatch
Dennis Farina playing the grumpy American in London to perfection with that last London quote.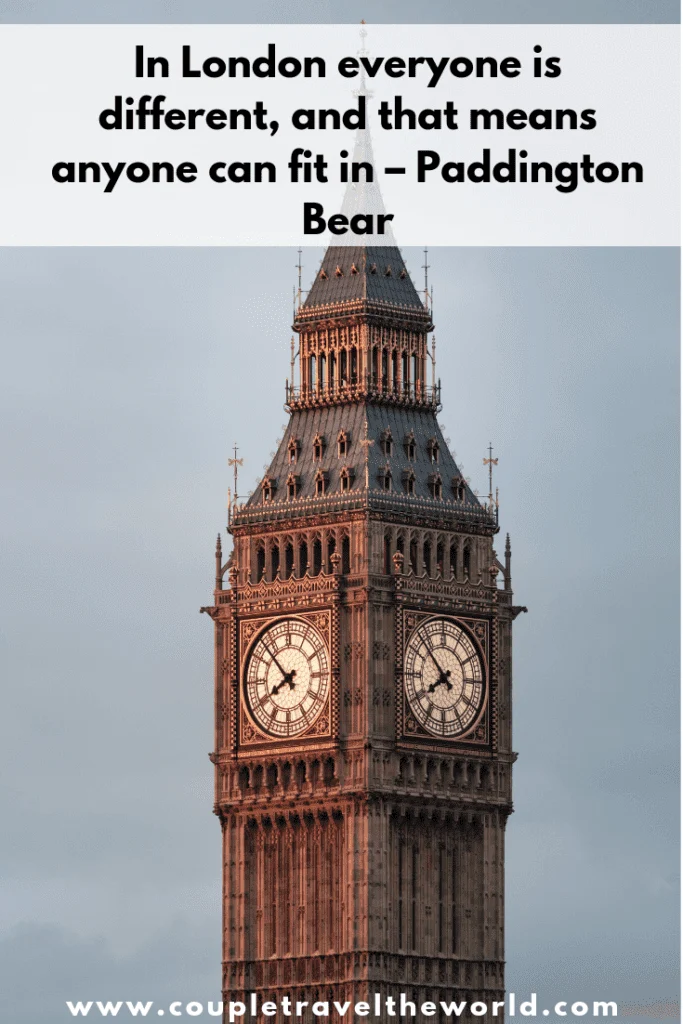 London Quotes from Writers
The man who can dominate a London dinner-table can dominate the world. -Oscar Wilde
You read and write and sing and experience, thinking that one day these things will build the character you admire to live as. You love and lose and bleed best you can, to the extreme, hoping that one day the world will read you like the poem you want to be. –
By seeing London, I have seen as much of life as the world can show – Samuel Johnson
You find no man, at all intellectual, who is willing to leave London. No, Sir, when a man is tired of London, he is tired of life; for there is in London all that life can afford – Samuel Johnson
I thought of Paris as a beauty spot on the face of the earth, and of London as a big freckle – James Weldon Johnson
Nobody is healthy in London, nobody can be. – Jane Austen.
I've been walking about London for the last 30 years, and I find something fresh in it everyday. – Walter Besant
Oh, I love London Society! It is entirely composed now of beautiful idiots and brilliant lunatics. Just what Society should be. – Oscar Wilde
London is too full of fogs and serious people. Whether the fogs produce the serious people, or whether the serious people produce the fogs, I don't know – Oscar Wilde
There are two places in the world where men can most effectively disappear – the city of London and the South Seas. – Herman Melville.
The streets of London have their map, but our passions are uncharted. What are you going to meet if you turn this corner? – Virginia Woolf
One of the the things I most liked about the city – apart from all its obvious attractions, the theatre, the galleries, the exhilarating walks by the river – was that so few people ever asked you personal questions. – Julia Gregson
London opens to you like a novel itself… It is divided into chapters, the chapters into scenes, the scenes into sentences; it opens to you like a series of rooms, doors and passages. Mayfair to Piccadilly to Soho to the Strand. – Anna Quindlen
Fragmentarily the City is nothing, but collectively it is gigantic…-Charlotte Riddell
London Zoo is amazing. I want to take my child there so that she can feel the awe and wonder I felt (and feel) myself – Victoria Coren Mitchell
I do hate the City of London! It is the only thing which ever comes between us. – Arthur Conan Doyle
London, that great cesspool into which all the loungers and idlers of the Empire are irresistibly drained. – Arthur Conan Doyle.
Old School London Quotes from Novelists & Essayists
I've been walking about London for the last thirty years, and I find something fresh in it every day. – Walter Besant
London is the epitome of our times, and the Rome of today. – Ralph Waldo Emerson
Italy and London are the only places where I don't feel to exist on sufferance. –
In London, the weather would affect me negatively. I react strongly to light. If it is cloudy and raining, there are clouds and rain in my soul – Jerzy Kosinski
Quotes from Musicians, Singers & Rappers about London
London, from the architecture to the culture to the fashion to the accents, feels like it's a special place – G-Eazy
Walking around town and driving around London – it's like a fashion show on every corner – Ashley Roberts
Aesthetically, London is just beautiful; it's a gorgeous city. The architecture, monuments, the parks, the small streets – it's an incredible place to be. – Sara Bareilles
I really see myself as a homegirl. Wales is my first home. London is my second home – I've been there 14 years now – Katherine Jenkins
London Quotes from Royalty & Politicians
It is not the walls that make the city, but the people who live within them. The walls of London may be battered, but the spirit of the Londoner stands resolute and undismayed. – King George VI
It is not the walls that make the city, but the people who live within them. The walls of London may be battered, but the spirit of the Londoner stands resolute and undismayed. -George VI
I want London to be a competitive, dynamic place to come to work – Boris Johnson (Prime Minister | Former London Mayor)
Most people would accept that people come to London from across the world, from all kinds of backgrounds, and are accepted here irrespective of their origins – Boris Johnson
London's greatest strength is our diversity, and it's wonderful to see Londoners celebrating our capital's different traditions, determined to stand up to division – Sadiq Khan (Mayor of London)
London is a roost for every bird. – Benjamin Disraeli (former PM)
London is a splendid place to live in for those who can get out of it. – George John Gordon Bruch
Even in this globalised world, London is still the standard for our times. The city has embraced the world's diversity and represents the finest in human achievements – Narendra Modi (Indian Prime Minister)
Playwrights Telling us how it is in London
If London is a watercolor, New York is an oil painting. –
I don't know what London's coming to. The higher the buildings the lower the morals. – Noel Coward.
In London, love and scandal are considered the best sweeteners of tea. – John Osborne
Artists sharing things they love about London
If you're curious, London's an amazing place. – David Bailey
I went to London because, for me, it was the home of literature. I went there because of Dickens and Shakespeare. – Ben Okri
I'm leaving because the weather is too good. I hate London when it's not raining.- Groucho Marx
Personalities
I feel good when I stir something with a spurtle, but I don't make porridge very much in London – Fergus Henderson
The interesting thing about London is that there are always stylish surprises around every corner. – Natalie Massenet
There's nowhere else like London. Nothing at all, anywhere. – Vivienne Westwood
Here in London, you can go for picnics and have a barbecue; you can go to a park and wear bare feet, much like New Zealand. But there's just so much buzz going on; you can be inspired by anything and everything. There's always something to do. Always – Emilia Wickstead
I am actually extremely casual in certain environments. But one of the reasons I like living in London, I like the formality of it, as compared to the formality of America – or informality. I like putting on a suit. I like putting on a tie – Tom Ford
When exploring London, you will come across lots of excitement by chance, so try to take everything in rather than just rushing around to all of the major tourist haunts. – Richard Branson
People from all over the world come to London wanting to make their own mark on it, and they add to the energy and vitality of the capital. It's got a bit busier since the '60s, but the more the merrier! – Richard Branson
London is very fashion-forward. Everyone's very stylish, and the designers are great. It's very my style, grungy and feminine – a bit of everything – Jessica Hart
I travel continuously, and I see many cities, but there is nowhere like London.- Norman Foster
In some of the great cities of Europe – Paris, Vienna, Prague, and Brussels – tourists bored with life above ground can descend below. All these cities have sewer museums and tours, and all expose their underbelly willingly to the curious. But not London, arguably the home of the most splendid sewer network in Europe. – Rose George
The objective is to do things well in London – Dayron Robles
I just want to give my best in London, I want to cross that line and see a personal best on the clock then I will see what position I am in – Asafa Powell
Actors / Broadcasters
The climate suits me, and London has the greatest serious music that you can hear any day of the week in the world – you think it's going to be Vienna or Paris or somewhere, but if you go to Vienna or Paris and say, 'Let's hear some good music', there isn't any – David Attenborough
When I first moved to London, I felt very homesick and yearned after the countryside a lot. Because London's hard. It's a big place, and it's lonely. It takes a while to get into it. But once I got into the flow of it and started to grow up, I realised that my home is wherever I am – Toby Kebbell
The vibe of London as a city is captivating. It's both fast-paced and extremely rushed but still has the calmness that would attract any big-city person. – Ali Fazal
London is sexy because it's full of eccentrics. – Rachel Weisz
London has always been my favourite city. I visit it almost every other year – Karan Patel
I came to London. It had become the center of my world and I had worked hard to come to it. And I was lost. – V.S. Naipul
When it's three o'clock in New York, it's still 1938 in London. –
I think England has served me very well. I like living in London for the reasons I gave. I have absolutely no intentions of cutting those ties. There is absolutely no reason to do so. Certainly not, so that I can have a swimming pool and a palm tree – Colin Firth
A bicycle has transformed my experience of London – Iain Glen
On the whole, when I travel to different countries, I like to find the hidden places, so I tend to avoid the cities – but in terms of the ease of getting about, finding what you need, the excitement, that undercurrent of whatever you want it to be, it's got to be London – Will Tudor
England is my home. London is my home. New York feels like, if I have to spend a year living in an unfamiliar city, this is a pretty lovely one to spend a year in, but I will be going home at the end of it, certainly – Daniel Radcliffe
London has fine museums, the British Library is one of the greatest library institutions in the world… It's got everything you want, really – David Attenborough
Funny London Quotes
If you are looking for funny london quotes for instagram captions, here are our 5 favourites to use:
Nothing in London is certain but expense. – William Shenstone
A person who is tired of London is not necessarily tired of life; it might be that he just can't find a parking place. – Paul Theroux
My cousin's gay, he went to London only to find out that Big Ben was a clock. – Rodney Dangerfield
The Sun in London ran a front page declaring my bum a national treasure. I really did laugh at that. Its not like it can actually do anything, except wiggle – Kylie Minogue
London is a bad habit one hates to lose. – Anon
See more: best hot tub hotels in uk
Tower of London
The tower of London is one of the most recognisable icons of the city. Here are our 3 favourites Tower of London quotes to use for Instagram captions:
Three hundred years ago a prisoner condemned to the Tower of London carved on the wall of his cell this sentiment to keep up his spirits during his long imprisonment: 'It is not adversity that kills, but the impatience with which we bear adversity – James Keller
For a fair maid of England hath told me that the crows are departed the Tower. So I'll seek for my bailiwick elsewhere, Sniffing out some new dungheap of power. –
Always there have been six ravens at the Tower. If the ravens fly away, the kingdom will fall –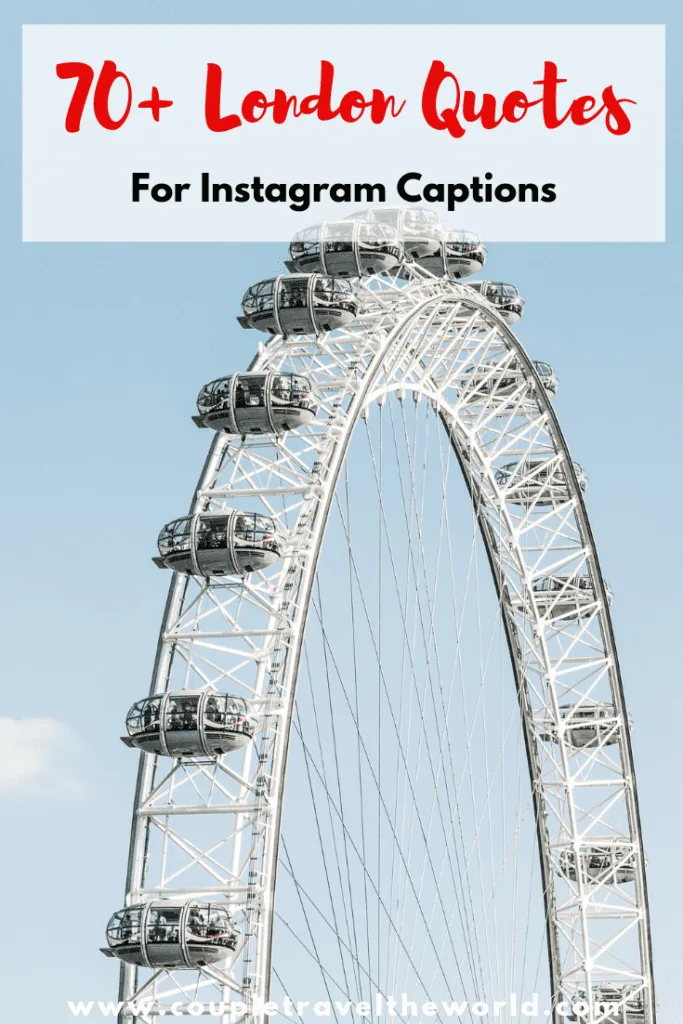 Big Ben Quotes
Some would argue that big ben is the most notorious monument in London. If you are looking for a Big Ben quote, this is our favourite:
Big Ben was beginning to strike, first the warning, musical; then the hour, irrevocable. –

Mrs. Dalloway
London Instagram Captions + Puns (Not Quotes)
If you prefer a non quote London inspired Instagram caption you could use some of the following:
Mind the gap!
Living the London Life
50 Shades of Earl Grey
London will always be on my mind
Feeling like a Queen in London
Where have you Ben all my life
There will always be London
London is calling!
There's no place like London
London is always a good idea
London is my cup of tea
So which is your favorite London quote? If you're planning a trip over to the continent, check out our posts for fun and witty captions around Europe:
Save London Quotes for Inspiring Instagram Captions to Pinterest so you can find it again later