Looking for Maryland Jacuzzi Suites?
Maryland is a great place to visit for couples whether you are on a regular trip, honeymoon or anniversary and what is better when on a romantic getaway than coming home after a long day sightseeing to soak in a jacuzzi suite with your SO!?
If you agree with us on this point, you are going to need a Maryland hotel with a private jacuzzi in room. But what to pick with no many options? Never fear, we have done the hard work for you and narrowed it down to the best hotels with hot tub, whirlpool or jacuzzi spa in room in Indianapolis!
MARYLAND JACUZZI SUITES & HOTELS
BALTIMORE MD HOTEL HOT TUB SUITES
Sleep Inn & Suites Downtown Inner Harbor
The Sleep Inn and Suites Downtown Harbor is centralized in bustling downtown Baltimore. The location is near many attractions including, the Maritime Park, Baltimore Zoo, National Aquarium, and American Visionary Art Museum.
Booking a stay will grant you a suite with a 32-inch flat-screen cable tv, coffee services, fitness center access, free wifi, and continental buffet.
Some suites include jacuzzi tubs that are perfect for relaxing. After a long day of exploring the attractions in downtown Baltimore, you could look forward to returning to the Sleep Inn and Suites, making a cup of coffee, putting on your favorite movie, and soaking in your jacuzzi.
In downtown Baltimore's heart, the Kimpton Hotel Manaco Inner Harbor has an old-world charm that pleases all guests. The lavish décor of the on-site restaurant and bar creates the perfect atmosphere for entertaining friends and colleagues. B&O restaurant is award-winning and is open for breakfast, lunch, and dinner. The cozy modern suites include flat-screen tv, a fully stocked mini-bar, and an I Home docking station.
At the Kimpton, coffee and tea are served every morning, and a wine hour is hosted every evening. You will also be granted access to a great fitness center. If you choose to book a jacuzzi room, you can treat yourself to a spa day after visiting some of the nearby attractions in downtown Baltimore such as the Port Discovery Children's Museum, Maritime Park, and Baltimore Zoo.
One of the best hotels with jacuzzi in Maryland.
At Inn at 2920, a Baltimore bread and breakfast, enjoy the cozy, contemporary suites that include a fireplace, whirlpool bathtub, and flat screen tv. Located in an authentic Baltimore neighborhood, the hotel is within walking distance to the Canton Waterfront Park and Promenade.
The convenient location allows you to choose whether you will experience the 42 Canton's boutiques, restaurants, and pubs within half a mile of your hotel or travel the short distance into Baltimore to explore the city life.
BlancNoir Bed and Breakfast, located in the center of Little Italy, is within walking distance of 95 restaurants and attractions, some of which include Isabella's Brick Oven, Vaccaro's Italian Pastry Shop, and Casa Di Pasta. Of the variety of experiences downtown Baltimore has to offer, some of the most popular events involve setting sail on Baltimore's inner harbor for either day, sunset, or party cruises.
After spending a day on the water, you will check into BlancNoir and be greeted by accommodating staff and a room that includes high-speed internet, a fireplace, and a jacuzzi bathtub. There is free breakfast, books, movies, and board games, and bicycles. You can choose to have an eventful day out exploring the city or a peaceful day relaxing in your suite. Either way, you are guaranteed to enjoy your stay.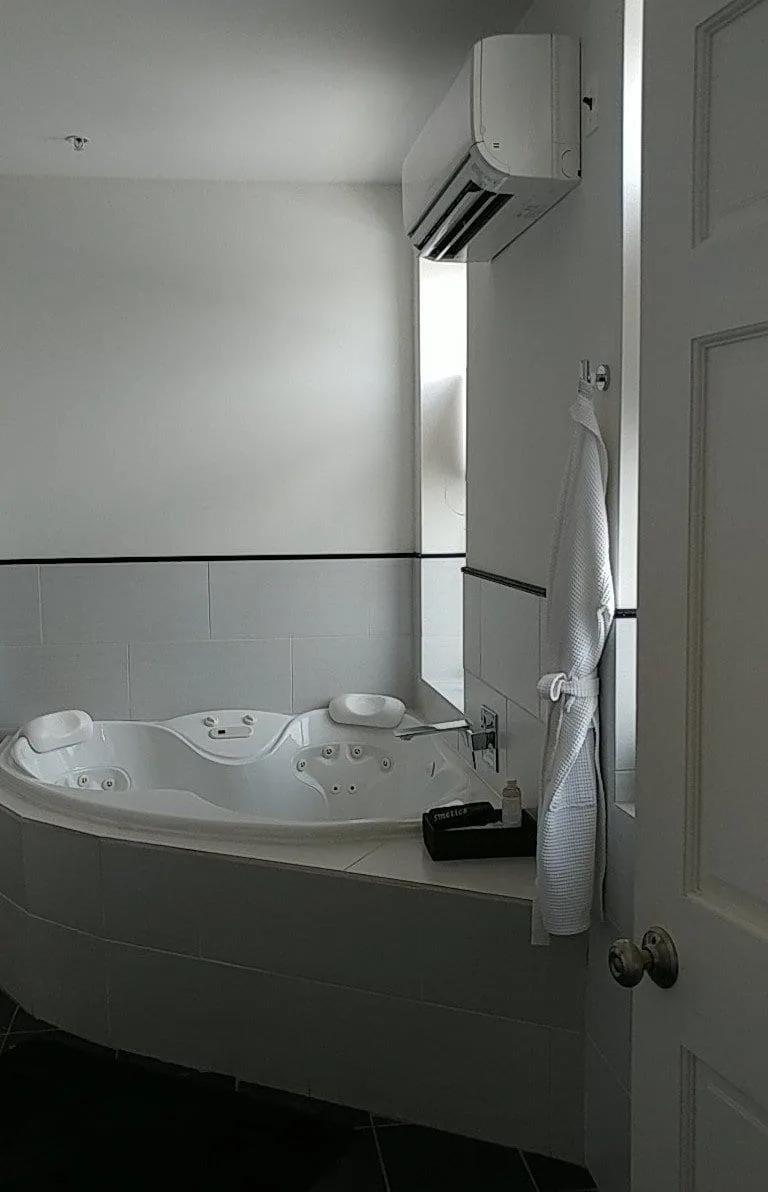 Fairfield Inn & Suites White Marsh
Enjoy the peaceful atmosphere of the Fairfield Inn and Suites White March outside of the busy Baltimore. Less than a mile from the hotel, you can go shopping at the White Marsh Mall and Nottingham Square Shopping center. Both locations offer a variety of dining options that are sure to please.
The contemporary room décor, along with the spacious seating areas and the suite jacuzzi tub is sure to please create a relaxing environment for your stay. If the jacuzzi tub large whirlpool bath does not satisfy you, then there is an outdoor heated pool for you to use at your leisure.
Country Inn & Suites by Radisson, Baltimore North, MD
The Country Inn and Suites by Radisson is perfect for travelers who are on the go. Located near a cluster of corporate offices, this is an excellent place for businessmen and women to relax after a long day's work.
For a quick meal, the hotel offers a grab-and-go breakfast bag and houses a 24-hour convivence store. After grabbing a snack, you can either lounge in the comfort of your suite that is outfitted with a microwave, refrigerator, coffeemaker, flat-screen TV, or enjoy the indoor pool, hot tub, and workout facility.
Best Western Plus Hotel & Conference Center
Baltimore Hotel and Conference Center has amenities for guests of all types, whether you be a business person, weary traveler, or someplace in between. Everyone can enjoy the indoor swimming pool, patio, and onsite restaurant and bar.
For guests visiting the conference center, you can enjoy a hot breakfast before meetings every morning. For those who intend to explore Baltimore, you can have breakfast before visiting attractions such as the National Aquarium, University of Maryland, and M&T Bank Stadium.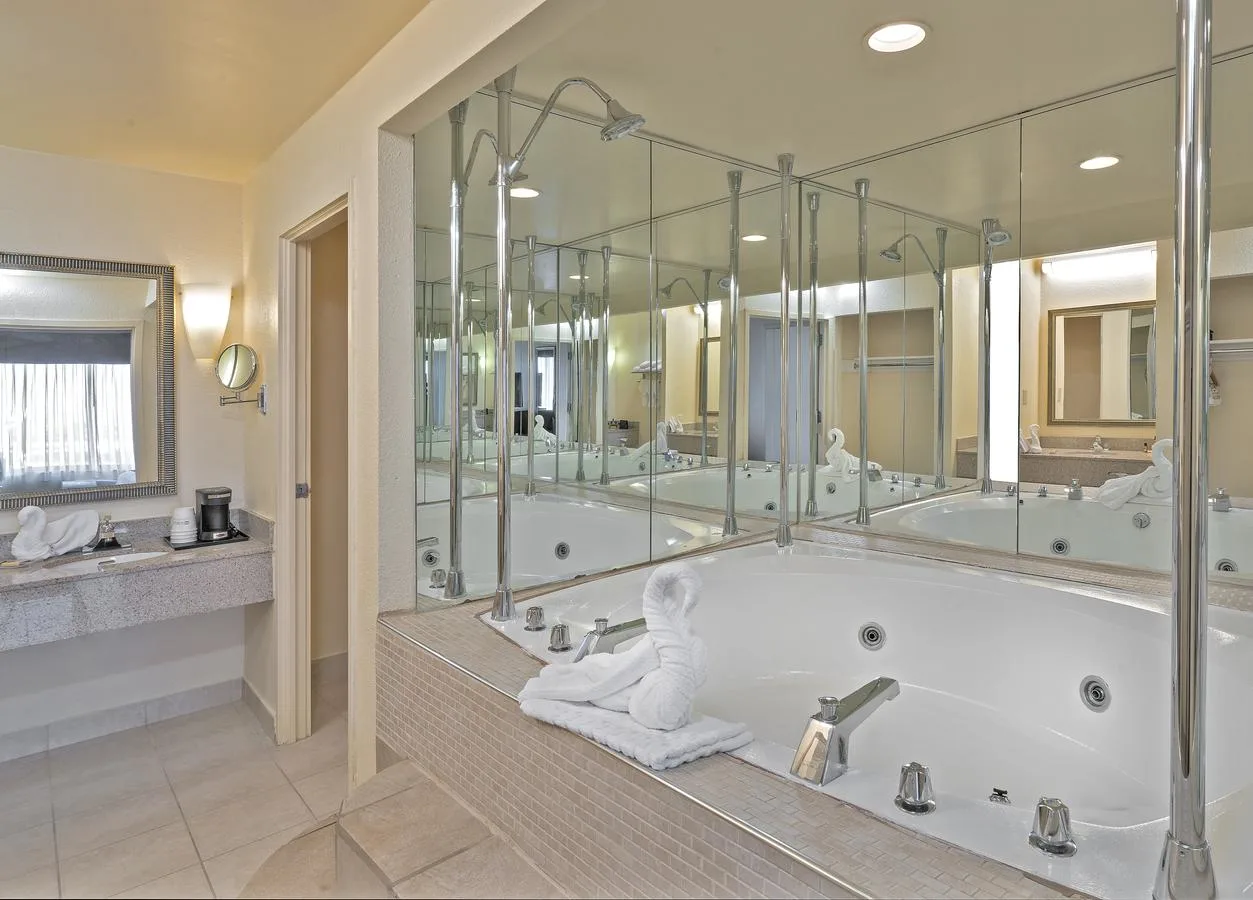 WHIRLPOOL TUB SUITES HOTEL NEAR BALTIMORE AIRPORT
Springhill Suites Arundel Mills BWI Airport
For on-the-go travelers, SpringHill Hotel is located four miles away from BWI Airport. After a long flight, you can enjoy the comfort of your suite that includes a pantry, mini-fridge, microwave, and coffee machine. To unwind, you can lounge in the indoor pool and whirlpool.
If you prefer to stay active, you can exercise in the fitness center. After working up an appetite, you can dine at one of the many nearby restaurants that surround the airport.
ANNAPOLIS MD HOTELS WITH JACUZZI TUBS & WHIRLPOOL BATHS
Enjoy a stay at Springhill Suites Annapolis. Just a short drive from Historic Annapolis, guests can explore all the attractions the city has to offer. You can visit Six Flags, Washington D.C., and Maryland's Eastern Shore. After a day of sightseeing, you can dine at any of the restaurants that are less than a mile away from Springhill at the Town Centre.
Throughout your stay, you can relax in the hotel's indoor swimming pool and hot tub or use the 24-hour fitness center. No matter what kind of day you choose to have, whether you are venturing through the city or lounging in your room, you can count on enjoying a night's sleep in a suite that includes a sofa bed, mini-fridge, coffee machine, and granite countertops.
OCEAN CITY MD SPA TUB SUITES
Visit Hilton Suites Ocean City Ocean Front and relax on the sundeck of an outdoor pool area that includes a lazy river and waterslides along with a pool bar, Manana Mode, with swim-up seating. After a long pool day, you can return to your room that is equipped with a full kitchen, living area, dining area, and bathroom with a whirlpool tub.
If you are hungry after a day of swimming, you can dine at the in-hotel Caribbean restaurant, 32 Palm. For guests traveling for business, the Roland E. Powell Convention Center is a short walk away. And for guests seeking adventure, visit the Jolly Rodger Amusement Park that less than half a mile from the Hilton.
Comfort Suites Ocean City is only a three-minute drive from Ocean City beach and boardwalk. Enjoy a day full of ocean views before returning to your suite that is outfitted with cable TV, refrigerator, and seating area.
If you are looking for fun, utilize the on-site game room and an outdoor pool. If that does sound appealing, attractions such as the Jolly Rodger Amusement Park, Trimper's Rides, and Marty's Playland are only a short distance away.
CENTRAL MARYLAND HOT TUB SUITES
Germantown: Fairfield Inn & Suites Germantown Gaithersburg
Enjoy a stay at the Fairfield Inn located in a historic German Town. Grab a free breakfast at the buffet before using the indoor swimming pool or fitness center.
The hotel is a five-minute drive from Germantown Plaza, where you will find many dining options, and a ten-minute drive from North German Town Special Park, where you can take a stroll along a scenic walking trail.
Columbia, MD: The Columbia Inn at Peralynna
Lodge at the Columbia Inn in the cozy, boutique rooms that overlook a beautiful landmark view. If you are looking to have a party, the gracious staff hosts weddings, retreats, baby showers, and more. If you seek a break from everyday life, book a luxury jacuzzi suite and treat yourself to a spa day.
There is a golf course, coffee shop, and game room. If you venture into town, you can dine at the excellent nearby restaurant or visit attractions such as Centennial Park, Lake Kittamaqundi, and Toby's Dinner Theatre.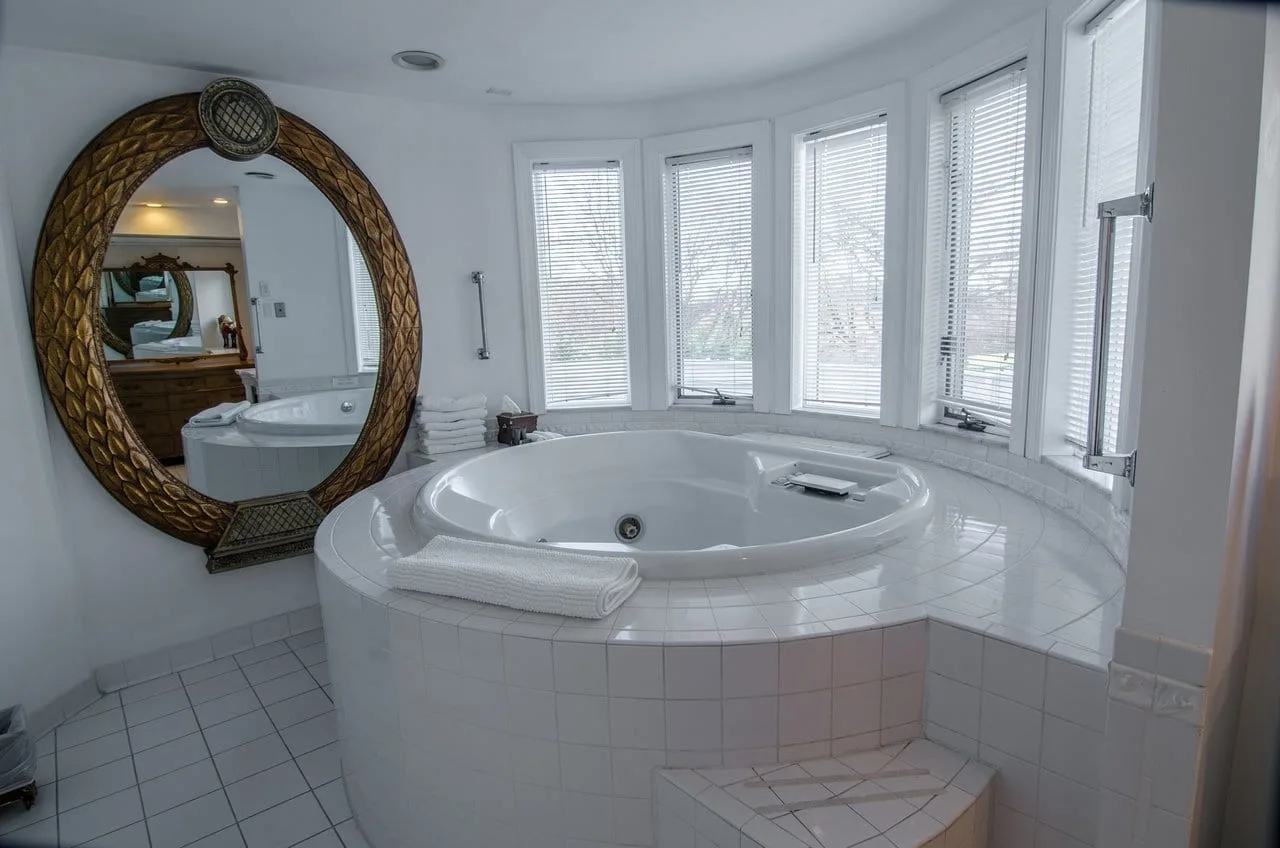 NORTHWEST MARYLAND
Elkton, MD: Elk Forge Maryland B&B Hot Tub Suites
At Elk Forge B&B, enjoy the charm and relaxing setting of the colonial manor house. Each room is uniquely decorated and features a fireplace and whirlpool bathtub. Here, you can enjoy a delightful warm breakfast before taking advantage of the spa.
Treat yourself to a facial, massage, and any of the other services the facility provides. After a day of relaxation, you can travel into town and eat at the nearby, highly rated restaurants or immerse yourself in nature at Glasgow Park, Newark Reservoir, and White Clay Creek State Park.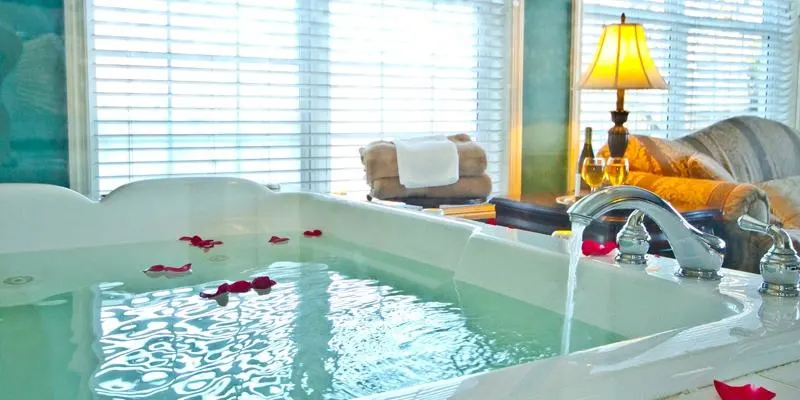 WESTERN MARYLAND HOTEL ROOMS WITH JETTED TUBS
Hagerstown MD: Hampton Inn Hagerstown I-81
Experience a restful stay at the Hagerstown Hampton Inn. Enjoy a night's sleep in the comfort of your bed or curl up on the seating room sofa that pulls out into a full bed.
In the morning, get ready for the day using the complimentary Neutrogena bath products, hairdryer, and iron. Then, feast on a free hot breakfast before using the Inn's facilities, including an outdoor pool, fitness center, and meeting rooms.
Frederick County, MD: Inn at Stone Manor
Inn at Stone Manor offers elegantly lodging in luxury suites that include fireplaces, whirlpool tubs, fine linens, and antique décor.
From your window, take in the breathtaking views of the farm and parkland and the mountain backdrop. On the 100 acre estate, you can occupy yourself with historical tours, walking and biking trails, private sightseeing tours, and more. In downtown Frederick, you can experience the cultural restaurants on cozy Market Street.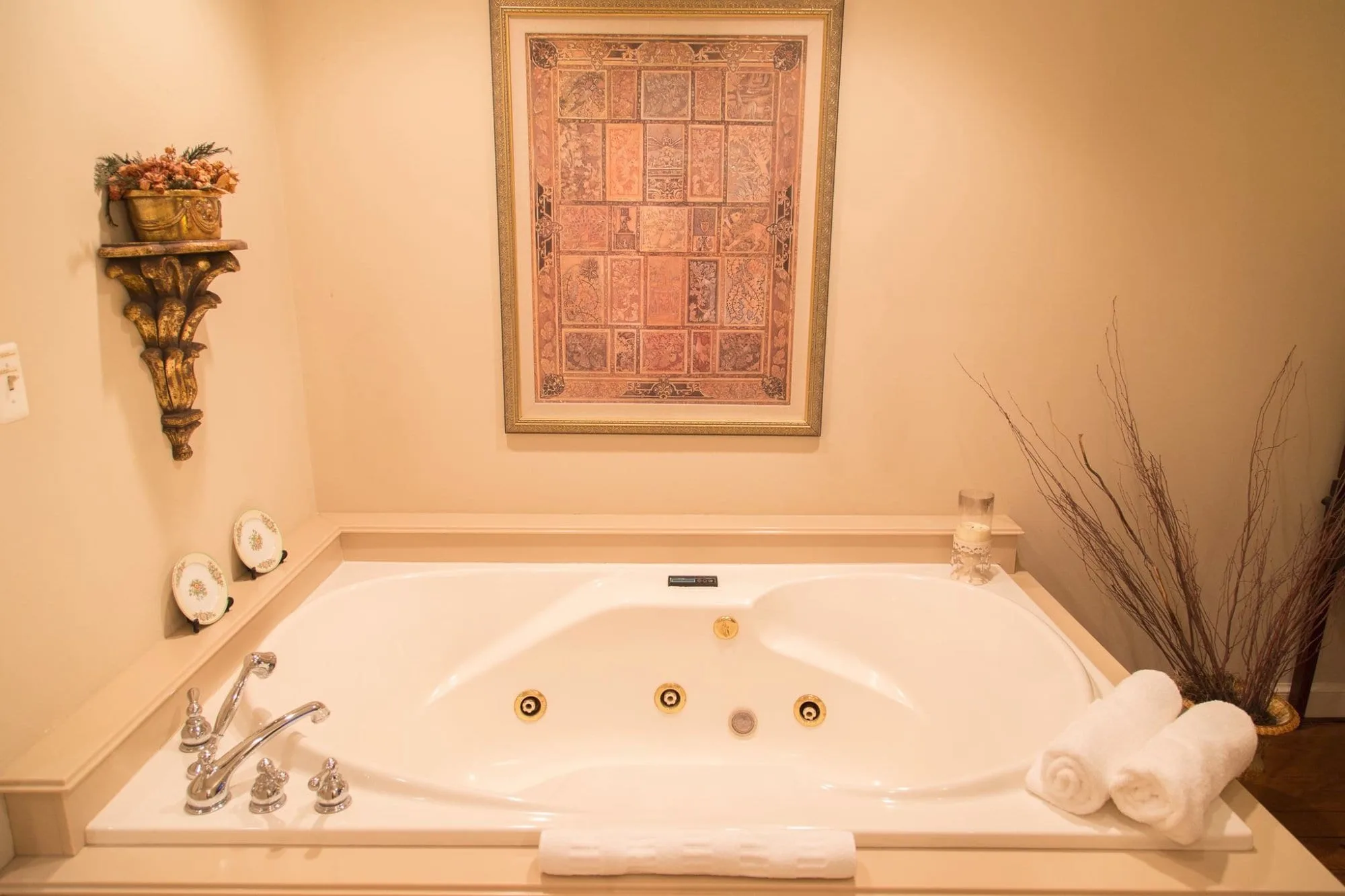 ***
See more Romantic Getaways