Robbie's is located at Mile Marker 77.5, on Islamorada Key between Islamorada and Marathon, Fl.
If you're driving from Miami to Key West, make sure to stop at Robbie's.
Robbie's Tarpon Feeding
One of the most famous Florida Keys attractions is hand-feeding giant fish called Tarpon at a stop just off the Overseas Highway.
It's relatively safe to feed tarpon by hand because unlike many large fish, Tarpon don't have sharp teeth. Rather, their mouths are the consistency of sandpaper.
Their bite hurts a bit – I got a good scrape from one massive "hit" which bled a little – but it didn't stop me going back for more.
How big are these Tarpon? They are easily the biggest fish we've seen in the wild with some reaching up to 8 foot long and apparently weighing in up to 180 pounds.
The only place we've seen similar size Tarpon is at Crystal Springs after swimming with manatees.
Whether you're brave enough to hand feed a tarpon – or just eager to watch others give it a go up close – stopping at Robbie's is a really great idea to spend 15 minutes to an hour.
By now you probably know I can't resist the chance to fish (after catching piranhas in the Amazon in Ecuador) so I volunteered my hand as tribute.
FAQ about Keys Tarpon Feeding
How much does it cost to feed Tarpon at Robbie's?
To access the pier to see the tarpon costs $2.25 per person. To feed the tarpon costs $4.00 for a bucket of fish (5-8 fish per bucket).
What do you feed tarpon?
Tarpon love to eat smaller bait fish like mullet and sardines. They will also happily gobble up shrimps, crabs, and worms. At Robbie's you get a bucket of fish with 5 – 8 pinfish.
Do Tarpon have teeth?
Not really, Tarpon have tiny teeth called villiform. You won't have your arm bitten off feeding tarpon. The villiform feels a bit like sandpaper. As the tarpon can weigh up to 180 pounds, it can still hurt being struck by one if hand-feeding.
I sported some sand-paper like scrapes which bled a little after my encounter with a massive tarpon!
Is Tarpon a good fish to eat?
No, unfortunately Tarpon are renowned for being a really poor tasting fish. It's known as a sport fish because it is super fun to catch (and also to hand feed)!
Apparently their scales are practically like aluminium. I can certainly vouch for how tough these fish are!
Is there a chance there won't be any tarpon to feed?
We were a little worried we would get unlucky and there would be no tarpon to feed on the day we visited.
We need not have worried. It's clear these monsters of the ocean are there every single day 365 days a year.
Under the pier at Robbie's you'll find tens or maybe even hundreds of hungry, hungry tarpon.
Tips for Feeding the Tarpon
These monster fish need a bit of space to really fly out of the water. So if you want to see the Tarpon jump, don't position yourself in the corner of a jetty.
We noticed this after half a bucket. Then we moved into the middle of the jetty where the tarpon had more room to move.
This is when one of the biggest tarpon leaped from the water and grabbed the fish (and my hand with it)!
Keep an eye out for the pelicans and other bird life who will happily steal the fish from the tarpon. They are bold!
Also keep an eye out for the smaller fish – I think they are Jack Crevallas. Even though they are dwarfed by the Tarpon, if they get a clear run at your fish they have sharp teeth which can cut you up. Don't mess the tarpon around too much and they will muscle out the smaller fish.
Check out some of the other jetties before you leave. After leaving the dedicated Tarpon feeding jetty we walked over to the shallows where we could spy the ocean bubbling with activity.
To our surprise we saw 2 – 3 nurse sharks, schools of Jack Crevallas and several younger tarpon hunting down some smaller bait fish. If feeding the tarpon is "fake", this was a very real example of nature at its most ruthless.
Fishing for Tarpon
While you absolutely cannot fish for Tarpon at Robbie's, they do organize fishing expeditions nearby.
We also met some keen anglers who had docked their boat at Robbie's to feed some tarpon while they waited for the tide to turn.
When the tide turned they planned to head out to the bridges nearby to wet a line for some giant tarpon.
They were at pains to stress they wouldn't be dropping a line at the bridge next to Robbie's out of fear of the wrath of the locals'.
Florida Keys Blog Posts
Robbie's is a must stop destination along the Overseas Highway. You can easily spend a few hours there feeding tarpon, then kicking back at the bar and restaurant to enjoy (a delicious tangy Key Lime Pie) and to watch others feed the tarpon.
Tarpon feeding is known to go wrong – there are "fails" videos all over the internet where people get dragged in by overzealous tarpon. Check out our video for an example of tarpon feeding gone wrong!
After Robbie's, check out these other destinations along the Florida Keys:
Like this post? Share it on Pinterest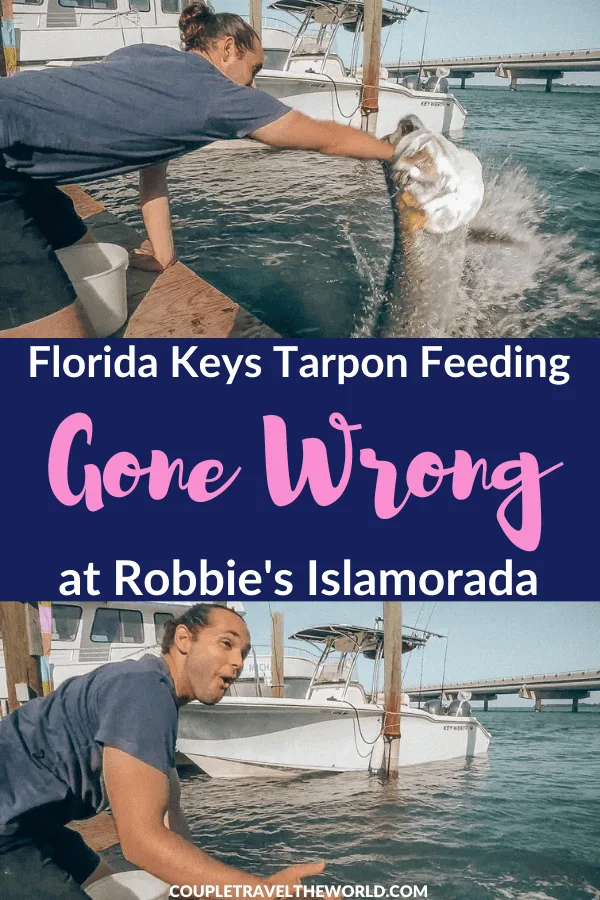 If I could chose only one activity on the Florida Keys to do again, it would be Tarpon feeding at Robbie's.