Booking your trip around the Greek Islands and wondering if Seajets Platinum Class is worth it?
As part of our hunt for the best Greek Islands for couples we spent many hours getting ferried all over the Mediterranean.
So we're incredibly well-versed with all things ferry-related in 2023.
We took a Seajets ferry from Mykonos to Naxos in coach and it was pretty ordinary so we decided to try the Platinum Seajets class to see if it was any better.
Long story short – I would say it was worth the extra money. We paid only 10 Euros extra a ticket for a 2 hour journey.
Here's a breakdown of what you can expect in Seajets Business Class vs Standard so you can decide if it is worth it or not for you.
Plan Your Greek Island Getaway!

🛌 Find the perfect hotel on Booking.com

🎫 Get exploring by booking tours and excursions on Viator
Seajets Platinum Class – Is Business Class Worth the Upgrade?
The Seating
Okay, let's start with the seating….
One thing I was a bit disappointed in was that the seating was hardly any different from economy or standard. In fact, I think it was exactly the same seats as economy. I expected a slightly bigger seat in platinum with more legroom which didn't seem to be the case.
Also, based on other reviews and photos online, I was expecting each seat to have it's own individual table. This also wasn't the case. I think every boat is different so just be aware you may or may not have these things so check out all the photos online before deciding if it is worth it to you.
So, as of now it doesn't sound all that great in Seajets Platinum Class but here is what I did like about it…
We were traveling as a couple with quite a bit of carry on luggage. In standard (at least on our boat), the seats are configured 3-4-3 which means as a couple you are always (on a full ship) sitting next to someone else. I don't love sitting in super close proximity to others especially since COVID-19 if I can help it. I don't know about you but I don't want to be sick on vacation.
In Seajets Business Class, the seats are configured as 2-4-2 so it is possible for a couple to get a seat alone together. We would suggest making sure you book the 2 seats together.
If you are just after a bigger seat or extra leg room you might be disappointed.
Seajets Platinum Class Location on the Boat
Business Class is located upstairs on the Seatjet boats. I don't know whether this is a positive or negative. I suppose it felt a tiny bit more exclusive?
Do you get less sea sick up top? I have no idea.
The Service
I read online before booking that you get "table service" in Seajets Platinum Class, where the waiter will come and take your order for food and drinks. Again, this was not the case.
It did not bother us as we were not planning to order food or drink anyway and I personally wouldn't mind walking to the bar but I thought I should mention that there was no extra service (at least not on our leg – Paros – Milos).
The Amenities
You get additional toilets and another bar upstairs in the Platinum Class. As less people tend to book business class, my theory is that the restrooms are cleaner and more accessible.
The bar for food and drink also does not have much of a line up. As I noted above, despite other reviews online, we did not get "table service".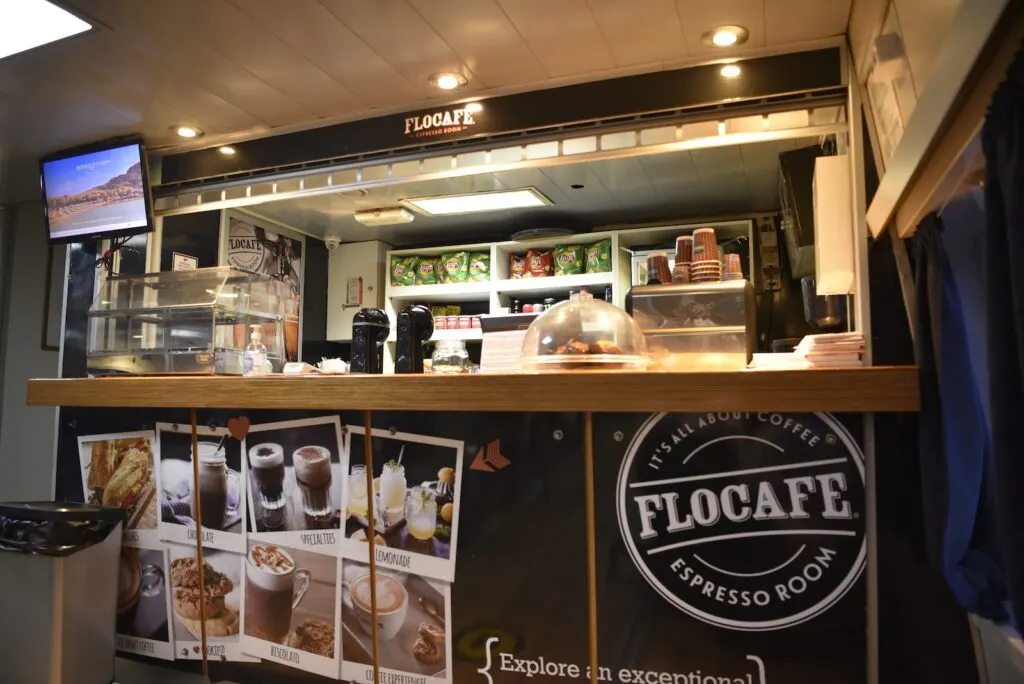 The Cost Difference
It cost us only 10 Euros extra a ticket for business class. I thought this was very affordable when considering for a 2 hour flight, there is not a chance you would get business class for only 10 Euros more.
Overall thoughts on Seajets Platinum Class
Overall, I would say that spending the money on business class was worth it, especially if you are traveling in peak times when there are a lot of other people around.
Our boat was half empty so, as it turns out we could have got a whole row in economy to ourselves anyway! But, this would not be the case in peak times and traveling in business class would be well worth the extra bucks!
****
See more: