Looking for romantic getaways in New Jersey for the weekend?
There's no place like New Jersey when it comes to finding the perfect romantic town or hotel. From the Jersey Shore to the foothills of the Appalachian Mountains, there are plenty of places to fall in love all over again, whether you are on an anniversary trip or just regular romantic vacation.
Whether you're looking for a quiet town with beautiful views or a vibrant city full of excitement, New Jersey has something for everyone. So pack your bags and get ready for a romantic adventure!
The 30 best romantic getaways in NJ here:
30 Best Romantic Getaways in New Jersey (PERFECT Weekend Getaways)
Romantic Places to Visit in NJ
Cape May
Cape May is a quaint little city at the very tip of New Jersey's peninsula that has been preserving its Victorian roots for years. The Emlen Physick Estate, now open as both museum and historic site with an interior from the era it so proudly represents, provides visitors some insight into what life would have been like back then on this side of America's settled history.
The shops and eateries along Washington Street provide great shopping opportunities to enjoy during your stay, and there are plenty more places just waiting outside!
If you want views over water or land alike – look no further than wandering around these three blocks downtown where everything imaginable can be seen at eye level! Winter is a great time to visit Cape May if you're looking for a quiet getaway.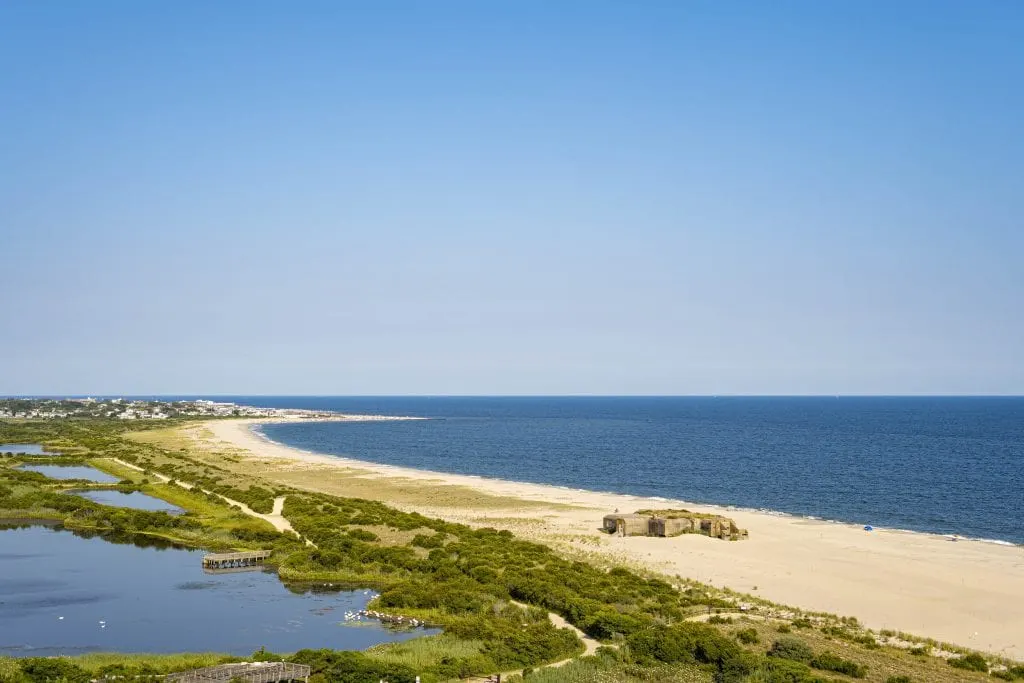 Atlantic City
Less than an hour's drive from Cape May is non-other than world-famous Atlantic City—A resort city on New Jersey's Atlantic coast, renowned for its casinos, beaches, and iconic Boardwalk. Originally built in the 1800s as a health resort, it is now dotted with high-rise hotels.
In this aptly named city, there is no shortage of activities and attractions. The Atlantic Ocean is lined with white sand beaches, world-class restaurants, vibrant nightlife, exciting casinos, and water sports galore.
It doesn't matter if you've come for a relaxing weekend or a night out on the town; Atlantic City is full of exciting activities, from boardwalk psychics to a ride on the ferris wheel on Steel Pier. One of the best NJ weekend getaways.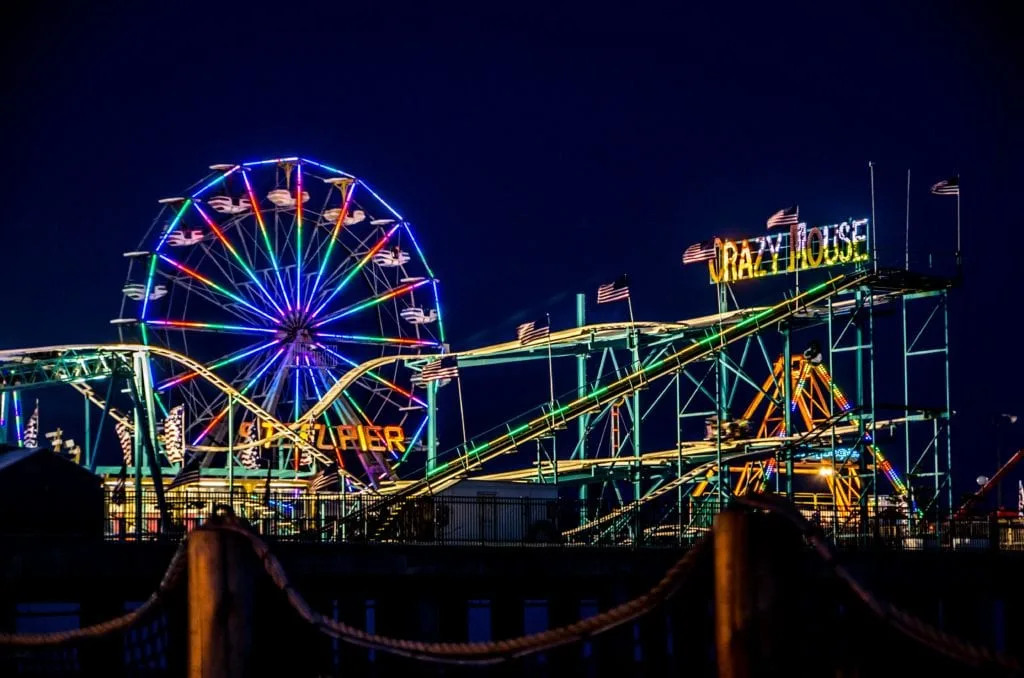 Hoboken
The city of Hoboken is located on the Hudson River in New Jersey, only a quick PATH train ride from Manhattan. In its former industrial port, there are now parks like Pier A Park where at night you can see the best views of New York City. Several green areas can be reached by walking along the Hudson River Waterfront Walkway.
Local eateries, bistros, and popular bars cluster on Washington Street and Frank Sinatra Drive, named after the local singer. Exhibits at the Hoboken Historical Museum represent the history and culture of the city.
Hoboken has also been deemed the most walkable city in New Jersey, so leave the car at home! The waterfront has a walkability rating of 95 out of 100.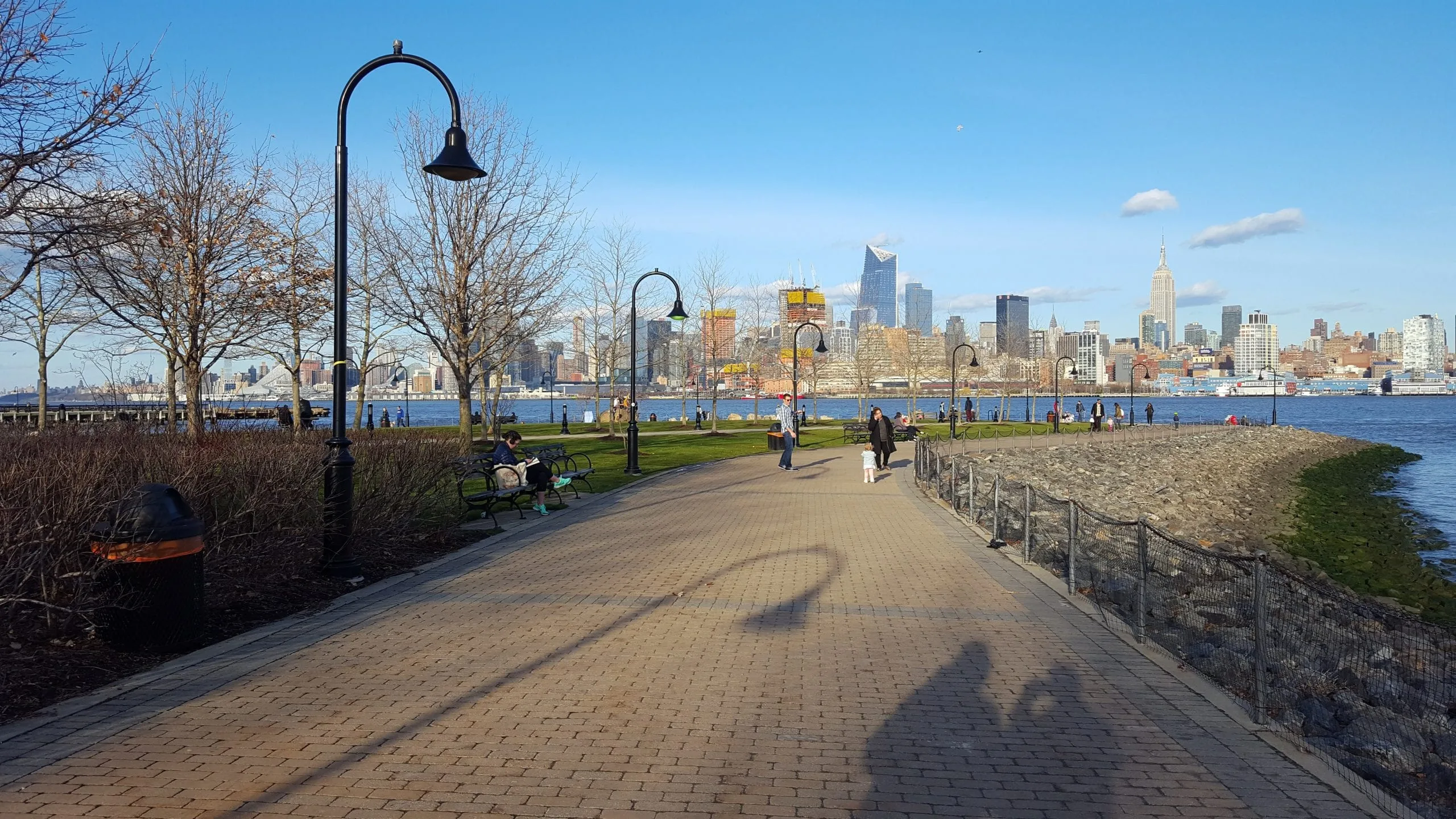 Wildwoods
The resort city on the coast of New Jersey will bring the joy of childhood to your heart. The city is located on a barrier island known for wide, sandy beaches. Wildwood's iconic Sightseer tramcar runs along its long Boardwalk, which is full of eateries, shops, waterparks, and thrill rides.
There is a museum devoted to the Doo Wop Experience in Fox Park, which features neon signs from the 1950s and 1960s–the town is even home to the only and only Doo Wop WAWA gas station convenience store. Visiting Wildwood's Boardwalk is an overload of sights, sounds, and smells, including world-class roller coasters, carnival rides, games, flashing arcades, and a myriad of retail shops and eateries.
Additionally to its beautiful beaches and one-of-a-kind boardwalk, the Wildwoods also hosts many free events and festivals throughout the year.
Princeton
This is a town in New Jersey that is home to Princeton University, an Ivy League institution. In addition to the Collegiate Gothic-style University Chapel, the Princeton University Art Museum houses a large collection of artworks. This 18th-century mansion features period furnishings.
In Princeton Battlefield State Park, a Revolutionary War site, the colonial Clarke House Museum exhibits historical weapons. It is possible to do an endless array of wonderful activities in the area, such as going on an outdoor adventure, seeing an interesting performance, touring a museum, and so much more. Sip wine while you take in the awesome scenery surrounding you.
Enjoy a night out as you enjoy shows like concerts, jazz showcases, theatrical productions, musicals, and fascinating monologues.
Ocean City
When most people think of OCNJ, a children's paradise likely comes to mind. There are endless romantic possibilities. Soak up the sun on the pristine clean beaches or go for a hike alongside the stunning views of Corson's Inlet State Park, or take a boat ride on one of these colorful boats as they slide through their endless loops around Gillian's Wonder.
You can find all sorts here, from outdoor activities like hiking near Cuttyhunk Island, which offers secluded coves for those who want privacy (or simply just want to spend time with nature), to theatrical productions at The Greater Ocean City Theatre Company.
There is no shortage of entertainment options when you visit this beautiful seaside destination! What's not to love about this town?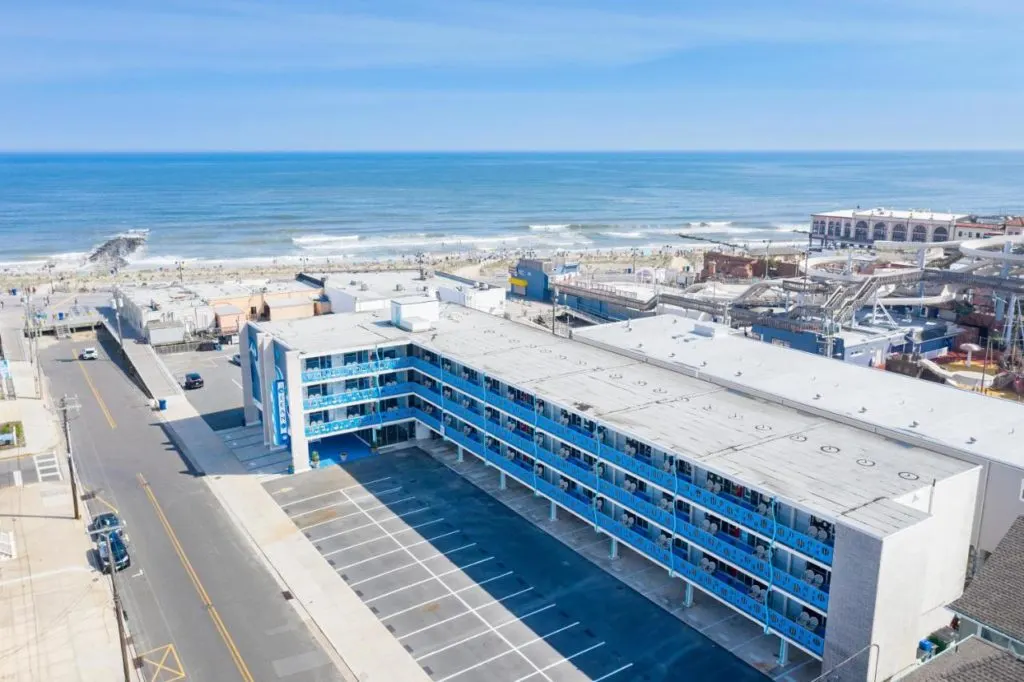 Asbury Park
There are few places in America that still feel like home, but Asbury Park is one of them. The smell of boardwalk planks mixed with suntan lotion and salty sea air fills your senses as you approach this historic town from any direction—it's easy to see why its residents call it "the shore" so proudly!
This is where the stories of music legends are told. From iconic venues like The Stone Pony, this area has a rich history in concerts by some huge names such as Bruce Springsteen and Bon Jovi.
There's plenty more than just rock- n' roll here too—if you're looking for a downtown adventure, take 15 minutes to stroll along the flat sidewalks to reach its charming city center along Cookman Avenue, where all sorts of recreation can be found from coffee shops to bars, and of course, the late-night eats that you will crave after.
Romantic Hotels in NJ
Is there anything more romantic than spending time away from home in a cozy hotel room with your significant other? If you're looking for a romantic getaway in New Jersey, you're in luck. There are plenty of romantic hotels in New Jersey that offer charming and intimate accommodations.
Whether you're looking for a rustic bed and breakfast or a luxurious resort, these hotels will provide you with all the romance you need. So pack your bags and prepare to fall in love all over again!
A 5-minute walk takes you to Shakespeare Garden and Fairleigh Dickinson University from the gracious 1936 hotel. Relax in cozy rooms with flatscreen TVs, free WiFi, and iPod docks. Suites have mini-fridges and microwaves, as well as separate living rooms. Parking, full breakfast, and a local shuttle service are all provided for free.
A health facility with a heated indoor pool, as well as a ballroom, a conservatory, a 24-hour business center with 12 conference rooms, and the use of Kindle tablets in the lobby are among the other attractions. Guests have the option of dining in a relaxed pub or a refined steak and seafood grill.
One of the best romantic getaways in New Jersey!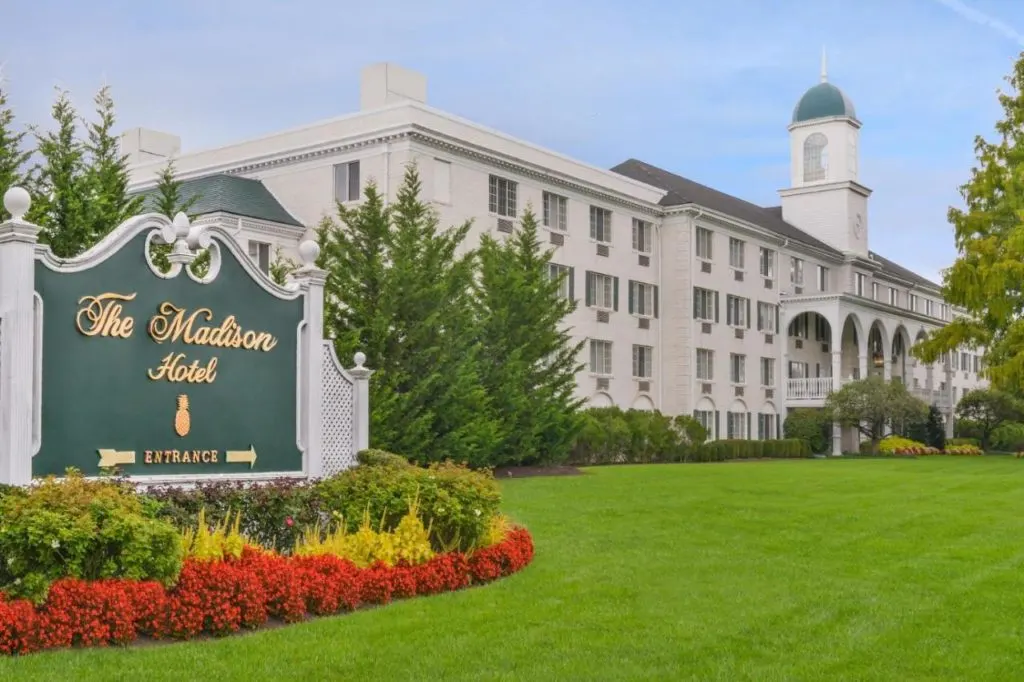 Grand Cascades Lodge at Crystal Springs Resort
Less than two hours from NYC–this premium resort lodge faces the Kittatinny Mountains. Only 4.5 miles from attractions like the Franklin Mineral Museum and 7 miles from Maple Grange Park for all of your hiking and outdoor desires. Flatscreen TVs, free WiFi, desks, and coffeemakers are available in the relaxing rooms. Pull-out sofas, full kitchens, dining rooms, washer/dryers, balconies, and gas fireplaces are included in suites, with separate living areas and jacuzzi tubs available in some. One of the best hot tub hotels in NJ.
There are several golf courses and heated pools, as well as a gym, spa, and fishing reservoir. A farm-to-table restaurant, an outdoor bar, and an Italian restaurant are among the eating options. Newspapers, parking, and shuttle service to neighboring attractions are all provided free of charge.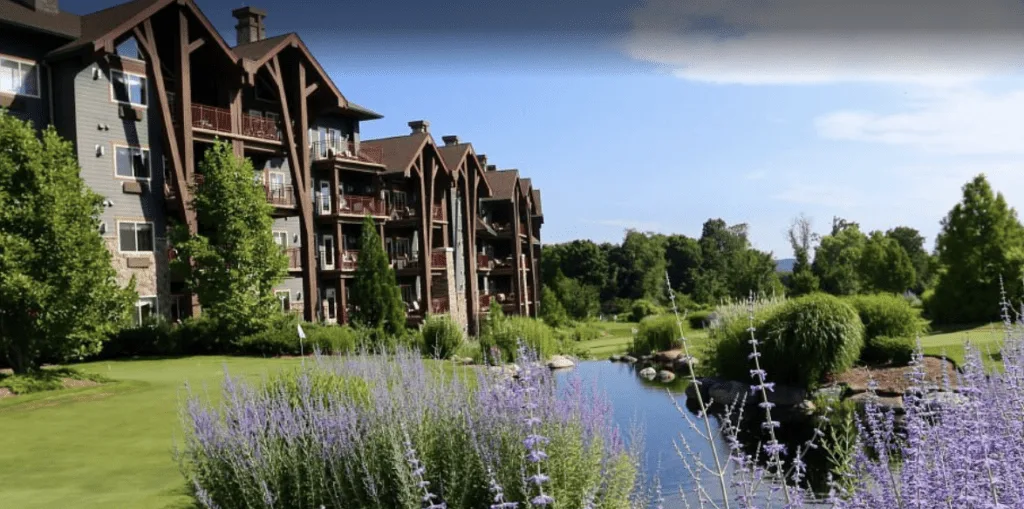 This elegant hotel, built-in 1905, is about 3 minutes from Gillians Wonderland Pier and 11 minutes from Ocean City Hall. Plush textiles, hardwood flooring, and period-style furnishings are featured in the eloquent rooms.
Flatscreen TVs, free WiFi, and DVD players are standard in all rooms. Marble fireplaces, sleigh beds, paintings, and whirlpool tubs are among the unique amenities of the suites, which also include access to a rooftop terrace.
The 1- and 2-bedroom flats include kitchens and patios, while the suites have separate living areas. There are numerous lounges as well as a fine eating space. Breakfast, beach tokens, and DVD rental are all included in the resort cost.
One of the best couples getaways in NJ.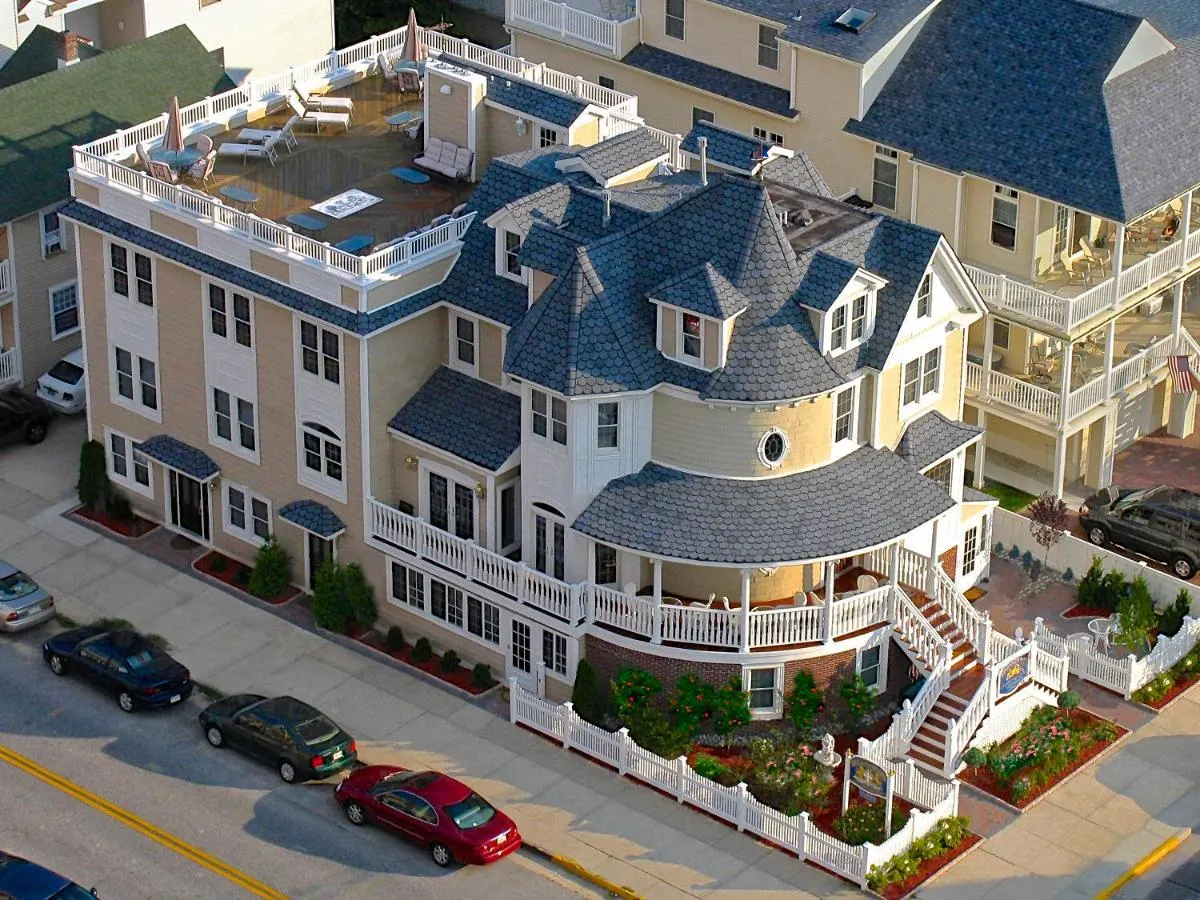 Spring Lake Inn, located less than a 20-minute walk from Spring Lake NJT Station, is an ideal site for tourists visiting Spring Lake. This wonderful 1888 B&B is about 3 minutes from the Spring Lake beach, 14 minutes from the Spring Lake Historical Society, and 5.4 miles from Jenkinson's Boardwalk cafes and amusements.
A hearty cooked breakfast is offered each morning, and tea and lemonade with a snack are served each afternoon. Beach access and on-site parking are provided. There is an 80-foot-long porch—you'll never want to leave. Rooms and suites are individually decorated and have free WiFi; some feature fireplaces, Jacuzzi baths, flatscreen TVs, mini-fridges, and 4-poster mattresses, as well as views of the ocean.
This art-filled, trendy, modern hotel is a 3-minute walk from the beach and Pier Village stores. The stylish, premium rooms with floor-to-ceiling windows have flatscreen TVs, iPod docks, fireplaces, and kitchenettes. Suites have separate living areas, soaking tubs, wet bars, and sleeping alcoves, with some offering ocean views.
WiFi is complimentary throughout the hotel. Among the features are a nearby gym, a private beach club with an outdoor pool (for a fee), and a beach bar and nightclub to enjoy some much-deserved cocktails.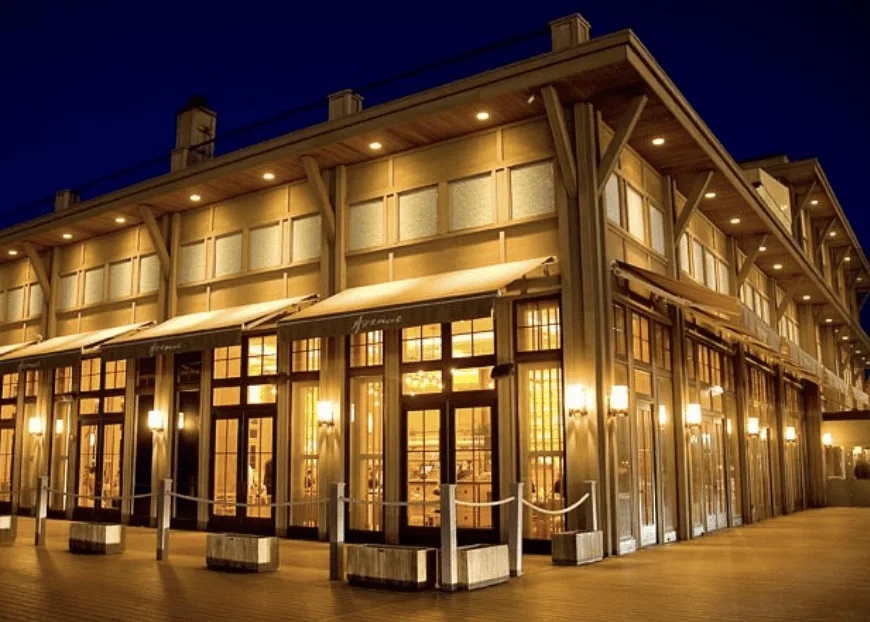 At the Woolverton Inn, take a step back in time. This magnificent B&B in a 1792 manor house is set on a 10-acre country estate surrounded by farmland and woodland and is a 4-minute walk from the Delaware River and 11 miles from Fonthill Castle. The spacious rooms include private toilets, CD players, and free WiFi; some offer 4-poster beds, fireplaces, sitting spaces, and/or jacuzzi spas.
Window seats, outdoor seating, and/or porches are available in the plush suites and cottages. Breakfast is served in the room or in a sophisticated dining area. Soft beverages and midday refreshments are given free of cost. There may be minimum stay requirements.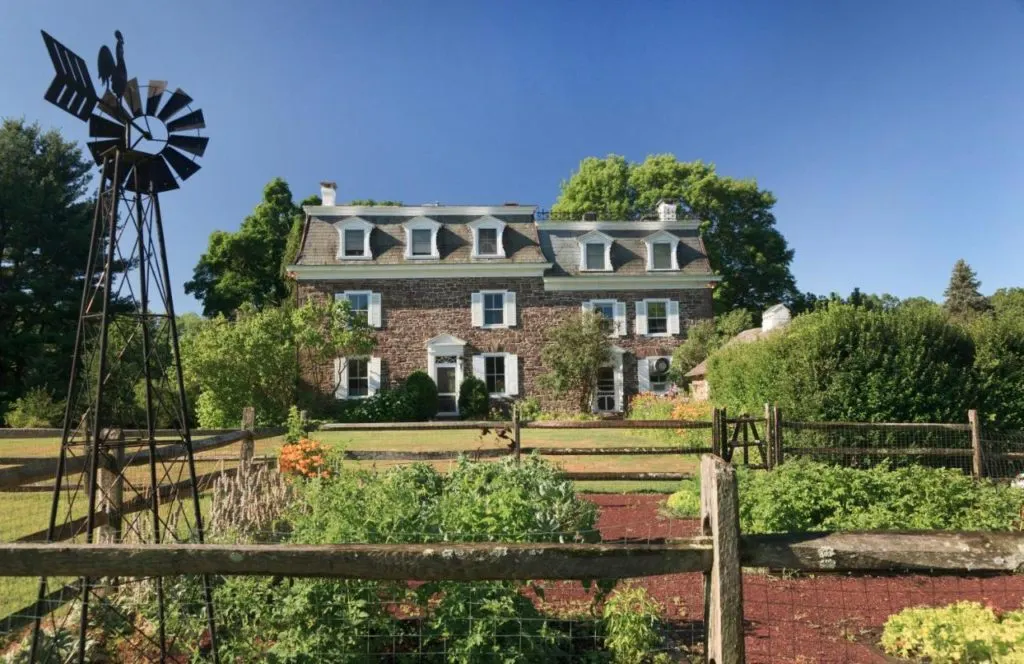 The majestic 100-year-old Bernard's Inn is situated in a tranquil hamlet in the breathtaking Somerset Hills, directly across from an NJ Transit train station—only an hour's train ride from Manhattan. The elegantly polished rooms have complimentary WiFi, workstations, and iPod docks, with suites adding a sitting area to reflect the region's historical past. The Inn's restaurant serves meals grown on the property and hosts wine tastings and other wine-related events.
The Inn also offers free parking, a business center, and meeting space. The Bernards Inn is a AAA Four-Diamond hotel and restaurant that has been recommended by Forbes Travel Guide.
This charming, seasonal B&B overlooks Barnegat Bay and is a 12-minute walk from Barnegat Lighthouse and a 20-minute car journey from Long Beach Island attractions. Breakfast is provided in a formal dining room or on a sun porch. There's also a roof terrace, a hot tub, and an outdoor pool. Beach equipment and loaner bikes are available.
The six custom-styled rooms have trendy coastal decor, flatscreen TVs, free WiFi, mini-fridges, microwaves, and views of the bay. The majority of the rooms feature individual entrances, fireplaces, and/or jacuzzis. Kitchenettes are available in suites, and one features a living room, a loft bedroom, and a balcony.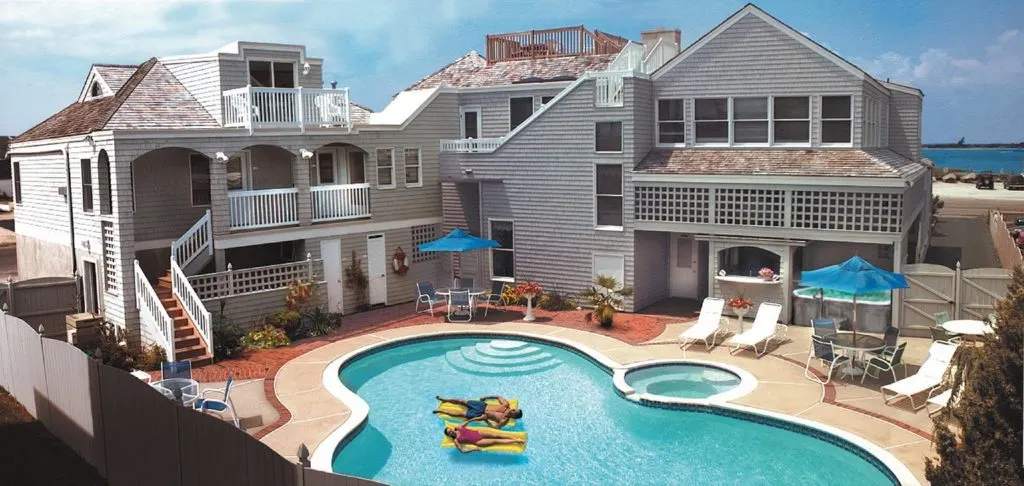 If you're looking for an inn & suites near the attractions of Asbury Park, NJ, you've come to the perfect spot. The Ocean Plaza Hotel is an excellent choice for lodging. This lovely century-old Ocean Grove, NJ hotel combines the Victorian era's beauty and elegance with today's modern conveniences and is only one block from the beach. This laid-back Victorian B&B with a wraparound porch is just a 12-minute walk from historic Asbury Park and a 2-minute stroll from the Beach Avenue Boardwalk and the beach.
On the property, there are 16 guest rooms, three suites, and a greeting parlor. The Caribbean-themed rooms include free WiFi and cable channels. Pull-out sofas, flatscreen TVs, and full kitchens with microwaves and mini-fridges are available in the living areas. The perfect place for a weekend anniversary retreat in NJ.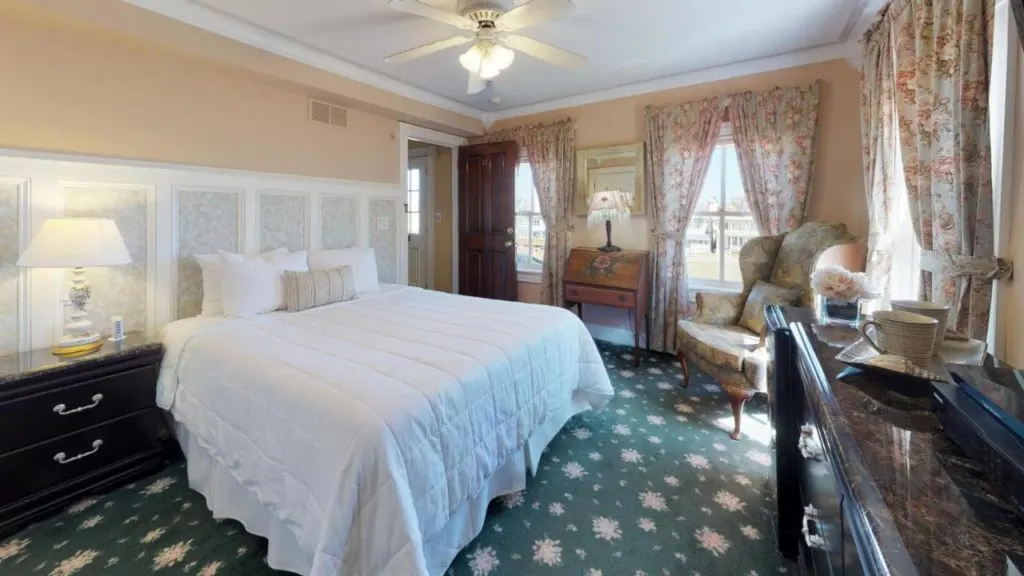 This Victorian B&B, which dates from 1900, is located on a residential street in Beach Haven. This seaside bed and breakfast is located in a historical neighborhood, within a 5-minute walk of Surflight Theatre and Long Beach. Bay Street stores and restaurants are about a 2-minute walk away. Victorian, European, Old World, and Island styles are among the rooms available.
Private baths, mini-fridges, 4-poster beds, private balconies, and/or private patios are available in some of the rooms, which also provide free WiFi and cable TV. A screened porch, a kitchenette, a fireplace, and a jacuzzi tub are all included in a cottage. A fresh handmade breakfast, a huge common flatscreen TV, a shared fridge, and complimentary beach passes are among the amenities. There is a garden area with umbrellas and illumination in the evening.
Another LBI treasure, The Gables, is ideal for eloping on the sandy beaches of Beach Haven or touring some of New Jersey's most stunning antique buildings. This enchanting B&B, housed in an 1892 clapboard property, is a 4-minute walk from the beach, an 11-minute walk from Bay Village's shops and restaurants, and a 2-minute walk from the Surflight Theatre.
Free WiFi, flatscreen TVs, DVD players, and marble baths are available in the exquisite rooms, which are uniquely designed with antique furniture. All rooms have whirlpool baths and fireplaces or free-standing iron stoves (some claw-foot).In an elegant restaurant with a chandelier-lit dining room and an open-air terrace facing a verdant garden, a complimentary hot breakfast is offered.
This colossal Atlantic City hotel, with over 175,000 square feet of gaming area, is just 7 minutes from the Boardwalk. This bustling casino resort is 2 miles from the Boardwalk and overlooks a bay in the Marina District. There's a heated indoor pool with a glass dome that transforms into a nightclub after dark, as well as cabanas with TVs and iPod docks.
A casino with live entertainment, a spa, and a fitness facility are among the other features, as are a retail mall and 11 restaurants, including a café, a sushi restaurant, and an expensive steakhouse. There is plenty of parking. The rooms are simple and contemporary, with flatscreen TVs, WiFi, and views of the city or the ocean. Granite spa showers are available in upgraded rooms. Living/dining spaces, rainfall showers, and floor-to-ceiling windows are all included in suites.
The newly restored Buttonwood Boutique Hotel, located in West Cape May, is an iconic venue destined to make your Cape May vacation pleasantly unforgettable.
This quaint, historic property, located just a few minutes walk from Cape May's beaches, restaurants, and shopping, features seven separate apartments as well as pleasant public spaces such as a living room, sunroom, porch, and kitchen. Buttonwood Boutique Hotel in West Cape May is an 8-minute walk from Cape May Public Beach and offers air-conditioned accommodations.
Have you ever fantasized about sleeping in a castle? With its awe-inspiring stone Tudor Revival estate, this gorgeous New Jersey destination meets that goal and much, much more. The home was designed in the mid-1920s by renowned American architect John Russell Pope with the purpose of seeming centuries old. Free WiFi, room service, and flatscreen TVs with cable channels are available in all 21 rooms. Ironing boards and complimentary toiletries are also available to guests.
Cable channels are available on 24-inch flatscreen televisions. Wireless Internet connection is available for a fee at this Ringwood bed and breakfast. Every day, housekeeping is given.
This one-of-a-kind inn, located on the Jersey Shore in the seaside community of Spring Lake, welcomes you to a genuinely unique hotel experience. This remarkable hotel, established in 1888 and adjacent to Potter Park, is a 9-minute walk from Spring Lake Golf Club and an 11-minute walk from the beach. Marble baths, ceiling fans, flatscreen TVs, DVD players, and free WiFi are among the amenities offered in the elegant rooms.
Separate bedrooms, wet bars, tile ceilings, and Jacuzzis are standard in suites, and some even feature balconies and fireplaces. Coffee and tea are served in an antiques-filled lounge, and there is access to a fitness center. Seasonal amenities include beach access, tennis tickets, and continental breakfast.
One of the best romantic weekend getaways in the Jersey shore.
Icona Diamond Beach is a beautiful romantic escape located just south of Wildwood Crest and minutes north of historic Cape May. Its seclusion is ideal for a stress-free retreat from the outside world. Icona Diamond Beach is well situated to give sophisticated visitors the best holiday experience possible, offering its own private beach and outdoor pool.
Free WiFi, flatscreen TVs, and galley kitchens with mini-fridges, microwaves, dishwashers, coffeemakers, and cooktops are included in the stylish modern suites. Private balconies, floor-to-ceiling windows, and/or ocean views are also options. Traditional and innovative seafood dishes are served in an ocean-view restaurant.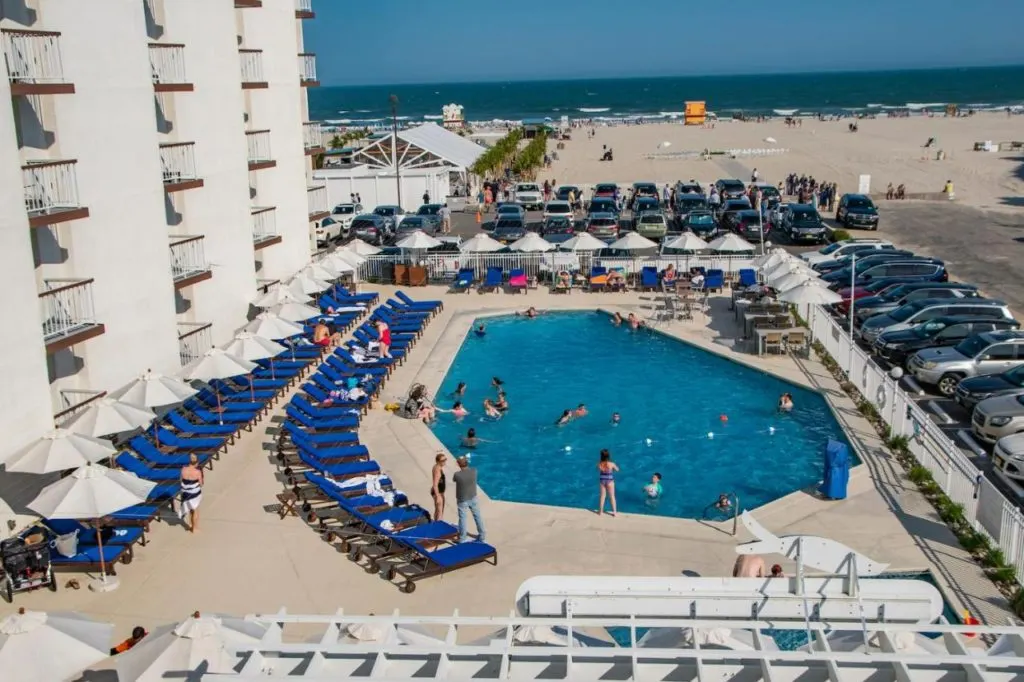 This contemporary waterfront hotel is just six miles from the Empire State Building and offers a delightful ambiance mixed with convenient access to New York City attractions, eating, and entertainment.
The views of Manhattan will take your breath away. Free WiFi and workplaces are provided in the well-appointed rooms. Wet bars, mini-fridges, and separate living and sleeping areas, as well as magnificent city views, are available in upgraded rooms and suites.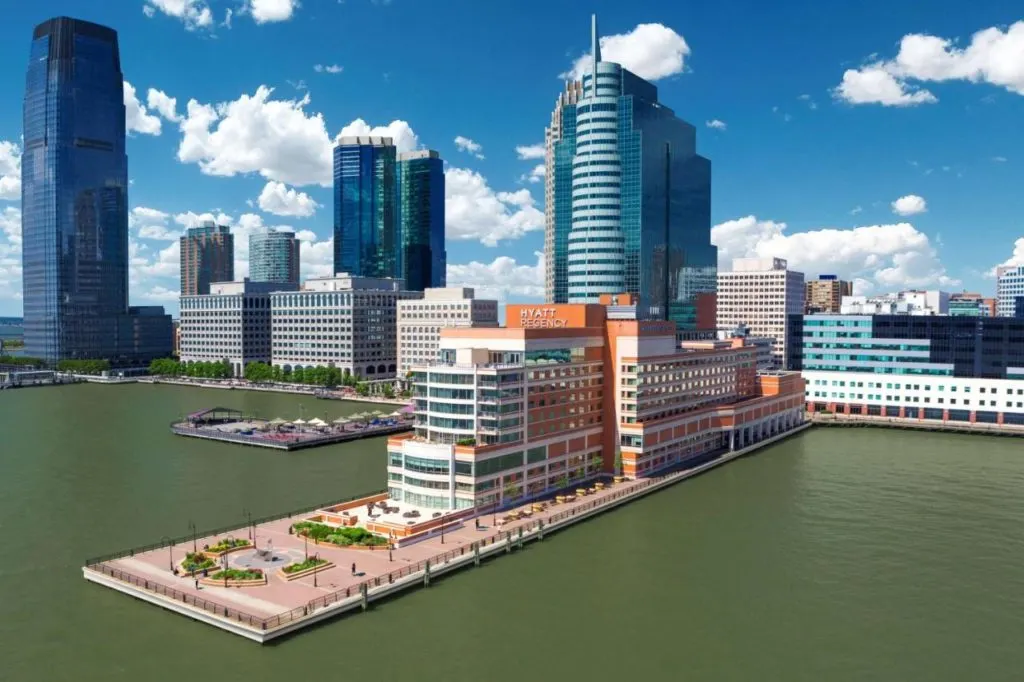 This cozy bed-and-breakfast is located in a renovated 1895 hotel, just a 5-minute drive from Ocean City Beach and the Ocean City Boardwalk. Both the Ocean City Boardwalk and the Asbury Avenue commercial center are within a 5-minute walk.
Free WiFi, flatscreen TVs, and DVD players are available in the charming, uniquely furnished rooms, which also include mini-fridges in some cases. Suites have sitting places as well as unique amenities such as a jacuzzi tub, a daybed, and a coffeemaker. A kitchenette is included with a one-bedroom unit. There may be minimum stay requirements.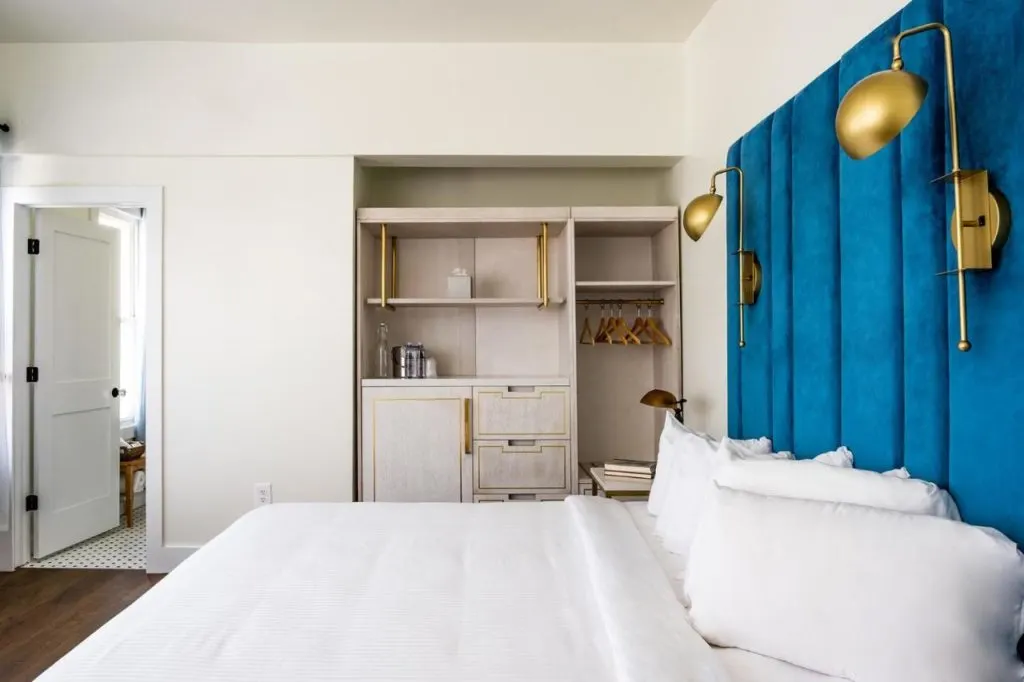 The DeBary Inn is located in the heart of Summit, New Jersey. This wood-frame Victorian Inn is two blocks from Summit's Springfield Avenue shopping district and is located on a quiet street. The Summit railway station, which provides direct access to Manhattan, is an 8-minute walk away.
The modest rooms are individually designed with classic furnishings and include private showers, free WiFi, and flatscreen TVs, with some having fireplaces. A suite with a separate living area, a wet bar, and a pull-out sofa is also available.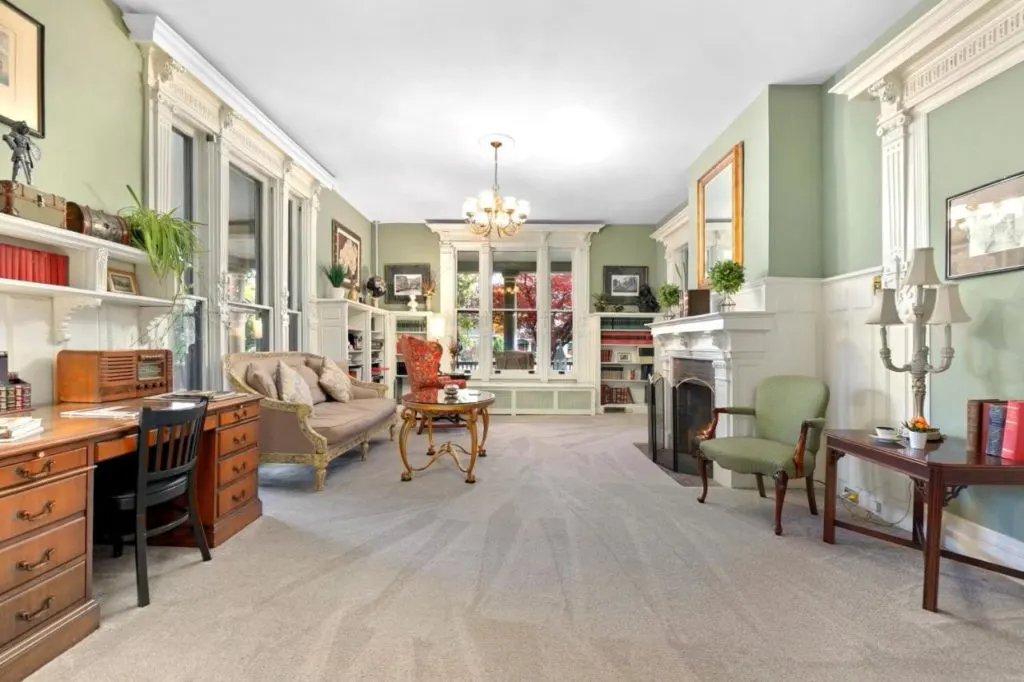 In a painstakingly rebuilt 1736 Georgian house, The Inn at Glencairn offers the modern facilities of a boutique hotel. This sophisticated B&B is 3.4 miles from Morven Museum & Garden and 3.8 miles from Princeton University and is housed in a 1736 Georgian manor on three forested acres. All rooms feature private baths and are individually designed with antiques, feather mattresses, gorgeous fireplaces, free WiFi, and flatscreen TVs.
The sitting room and lounge, which feature beamed ceilings and wide-plank floors, are available to guests. The components for breakfast are entirely organic and farmed locally.
The Carroll Villa Hotel is just a 500-foot walk from the shoreline in Cape May, New Jersey. Another plus, Willow Creek Winery is right nearby. There is a broad range of restaurants and cafés right on the doorstep for those who appreciate visiting local eateries and cafés. The site is close to Hereford Inlet Light, Morey's Piers, and J. Thompson Baker House.
The beautiful rooms provide free WiFi, TVs, and iPod docks. Upgraded rooms come with sitting areas and/or views of the sea, while suites come with separate living rooms. Breakfast and bike storage are both included. There is a bustling restaurant with terrace dining as well as a bar with live music.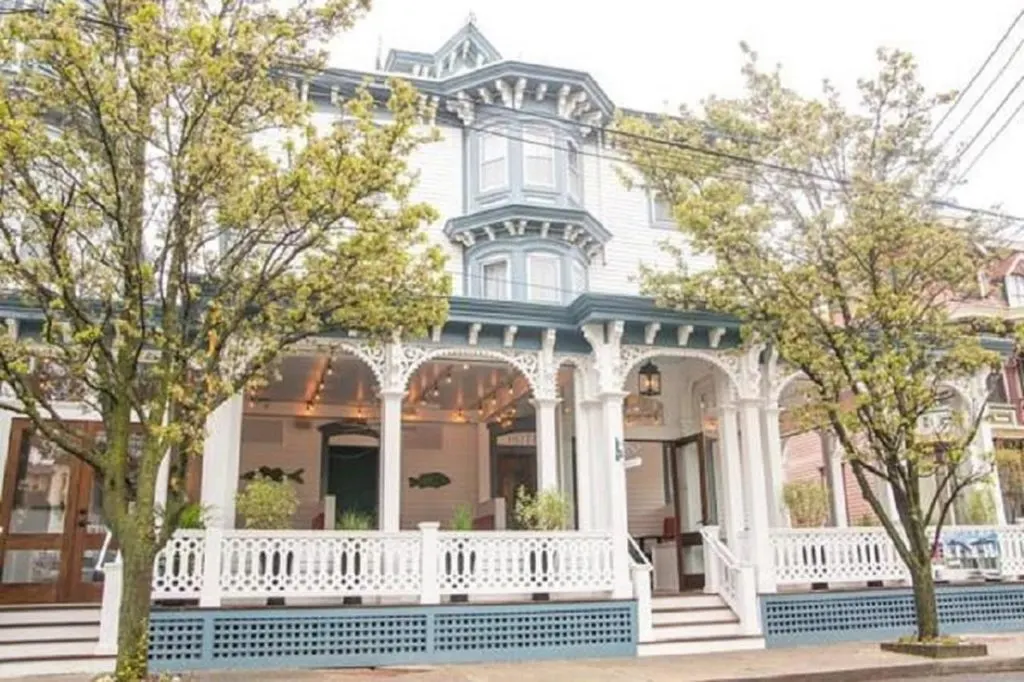 Whether you want a beachside resort on the Atlantic Ocean, a historic inn near Princeton University, or something more off-the-beaten-path like the Pine Barrens of Burlington County—The perfect getaway awaits you in the beautifully diverse state of New Jersey. Where will you celebrate your love this year?
***
See more New Jersey fun: