South of Broad Charleston is by far the prettiest area of Charleston with stunning pastel southern homes.
Along with the French Quarter of Charleston, South of Broad is a place not to be missed in a romantic Charleston getaway. There are seriously tonnes of romantic things to do in Charleston, you'll never fall short of cute things to do with bae!
South of Broad Charleston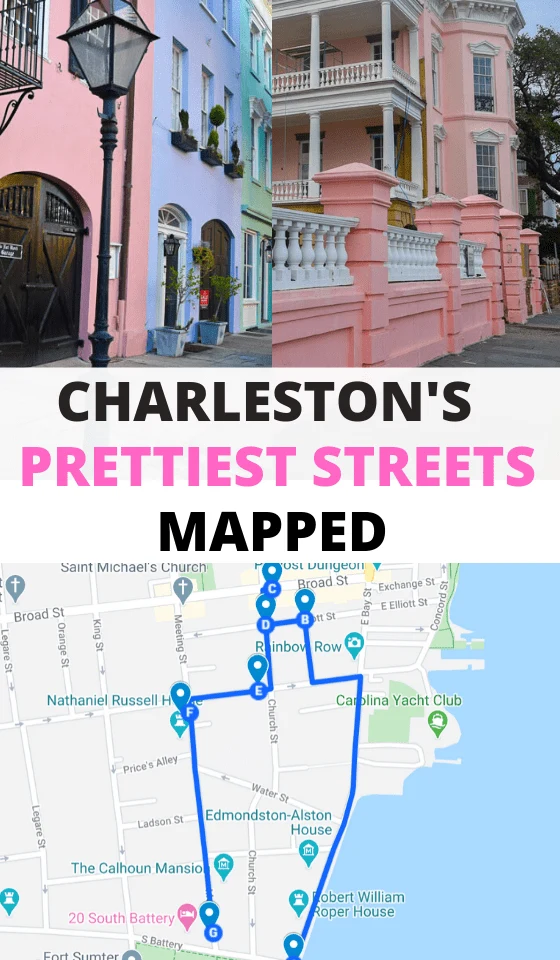 There are various ways to explore South of Broad – you can drive the streets, go on a horse drawn carriage ride or explore by foot.
A horse drawn carriage ride is fun and quintessentially Charleston but to appreciate the little details of the lanes and houses we would suggest exploring South of Broad by foot.
There are many streets to explore in South of Broad. You could literally spend hours getting lost looking at the gorgeous houses located in South of Broad Charleston.
If you are on a tight schedule, we have prepared a walking route to see the best of South of Broad Charleston. This walking route of South of Broad will take 1-2 hours.
If you have more time to spare after we would suggest continuing on with our French Quarter walking route (around 2 hours walking time)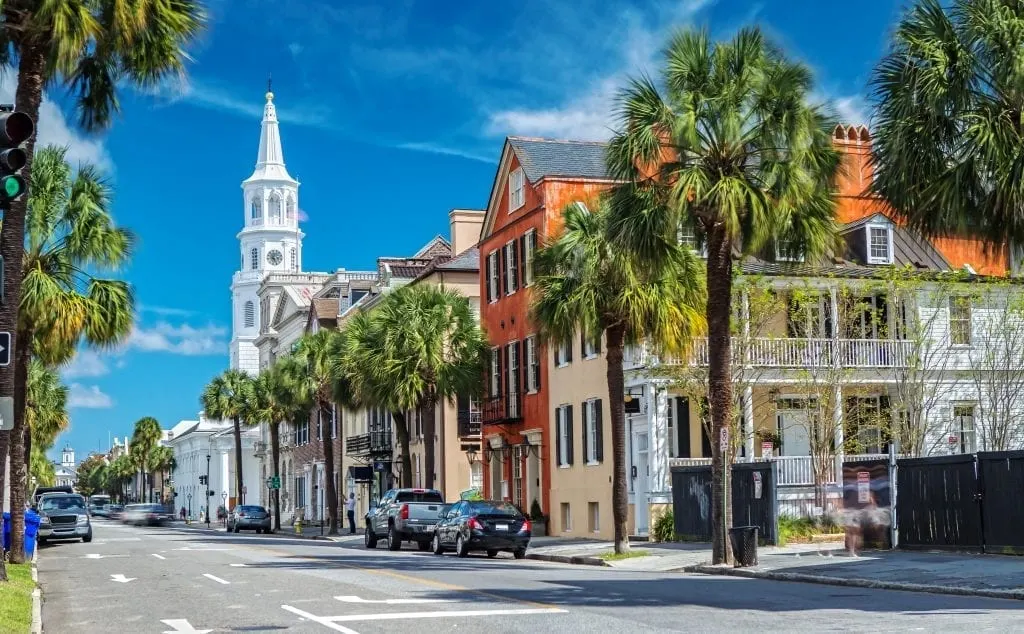 South of Broad District Walking Map
Do your own walking tour of the prettiest Charleston Streets with this map (save it to your phone).
Alternative, click here to view the map.
Where to park your car in Charleston?
If you park your car in the historic centre of Charleston, you will need to feed the metered parking. Personally, I hate metered parking as it gives me anxiety about not getting back in time to my car.
You can park your car for free for 2 hours in Charleston at White Point Garden.
Conveniently, this is the ideal place to start your walk of South of Broad as White Point Garden is located within the South of Broad area of Charleston.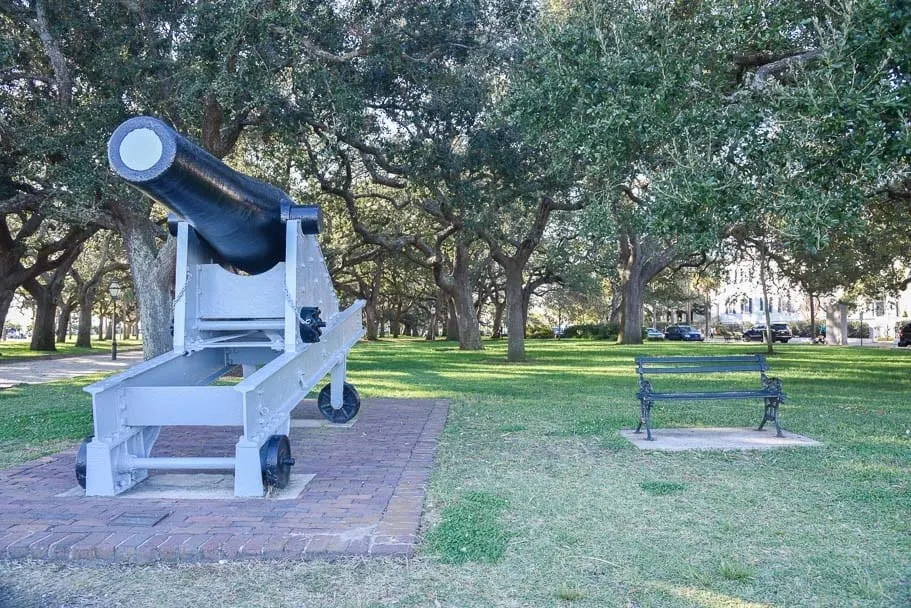 White Point Garden is a beautiful park in itself in Charleston with beautiful oak trees overhanging.
If you are interested in the Civil War there are cannons and statutes to prominent figures in the Civil War in the park. It said that orders were given to start the Civil War from here.
Many people disagree with their place in the park and there are regular protests in the park. You may notice this as you walk by.
East Battery Street
From White Point Garden head down East battery Street down the Battery Promenade.
The Battery Promenade is particularly nice at sunset so you may like to return to see a stunning orange sky at some point during your time in Charleston.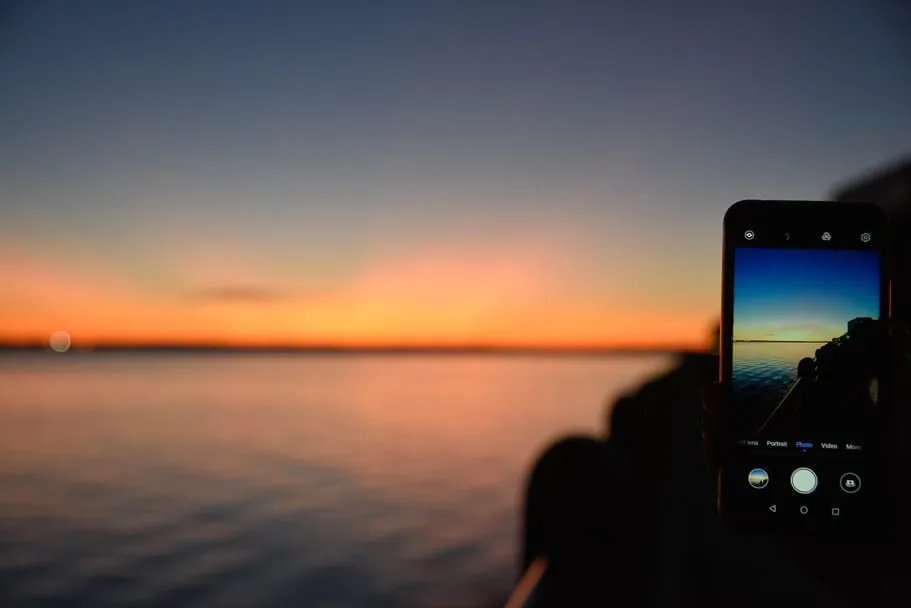 Along the bay there are a lots of lovely mansions including a gorgeous pink house. Keep an eye out for the red brick with white grout mansion with two full Greek style pillars which don't seem to marry up correctly to the balcony.
The Battery Promenade is a really popular popular place to get lots of beautiful photographs of the houses, and the bay.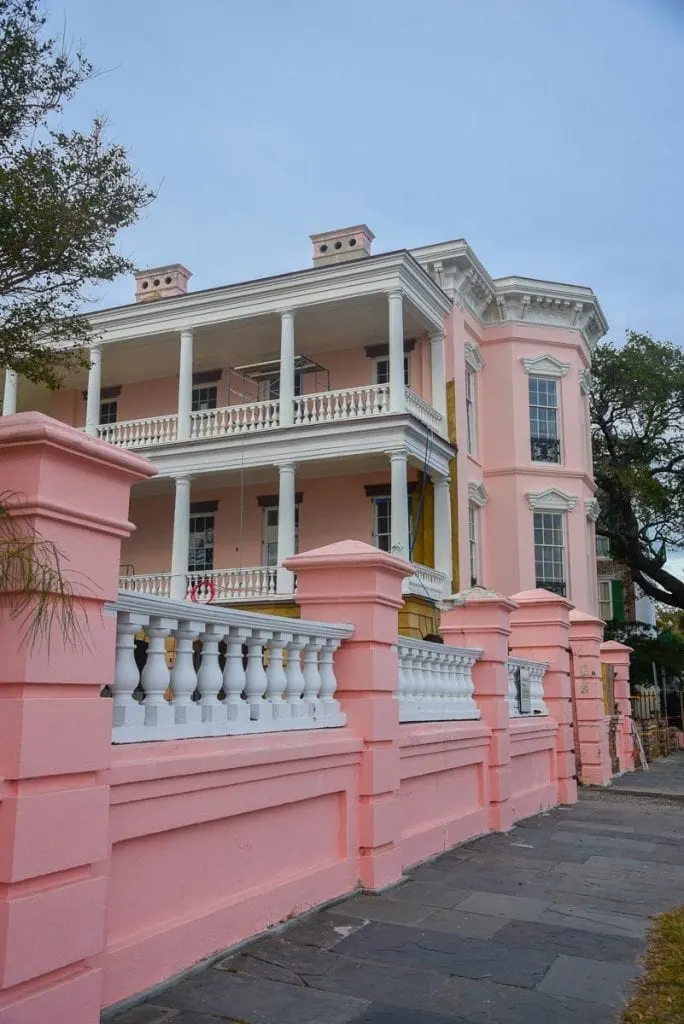 As you cast your gaze onto the bay you can often see a variety of marine life including many Pelicans fishing. We overheard a local guide say she has seen dolphins and even on a rare occasion a manatee in the bay so keep an eye out!
Also keep an eye out for the owl on the corner of Atlantic Street. Is that a real or fake owl? We will let you be the judge of that one.
The cool thing about Charleston is as you are walking around the city you will see little plagues telling stories of the houses and area so it is really easy to do a DIY walking tour and feel like you received adequate information about the area.
Outside the historic Charleston foundation headquarters, a prominent building along the battery promenade you will see a sign dedicated to Robert Smalls. One of my favorite tales from Charleston.
Robert Smalls was born into slavery. He was sent to work in Charleston for his owner. When he was 23 he was a crewman for the confederate army.
In 1862, Smalls with a group of other slaves made a dash for freedom, guiding the ship to the Union ships. He has been credited as a National Hero for aiding the Union War efforts. Following the Civil War, Smalls was elected to the South Carolina legislature. A very happy ending to a once enslaved life.
Further down the street you will find the most photographed area of Charleston – Rainbow Row.
Undoubtedly the most photographed attraction in Charleston is the Row Row. A row of Georgian townhouses which have been painted in pretty pastel colors of the rainbow. Blue, orange, green, pink and purple.
As if the pastel colours of the rainbow weren't enough the houses have pretty flowers hanging from windowsills and cute painted window shutters.
Houses at Rainbow Row also have the Charleston gas lanterns we completely love!
Broad Street
The top the north east corner of Broad Street that meets Rainbow Row is actually part of the French Quarter.
We wrote a seperate guide on the best of the French Quarter.
If you don't have a lot of time to explore the French Quarter in great detail and want to add parts of it to your adventure of South of Broad we would suggest to make sure you see St Michael's Church – the most beautiful white church in Charleston and also the Pineapple Fountain, another popular spot for photography and Instagram in Charleston.
Elliott St, South of Broad Charleston
From East Battery Street take a left down a super cute street called Elliott St in Charleston.
Elliott St in Charleston is not one to be missed.
From E. Bay St. which intersects with Elliott, you can see very quaint houses.On the right is a pastel pink building, on the left is a cute red brick cottage with wife grout and black window shades.
The proud owners decorated the house perfectly for Halloween with the pumpkins and flower baskets to complement which overflow from the window sills.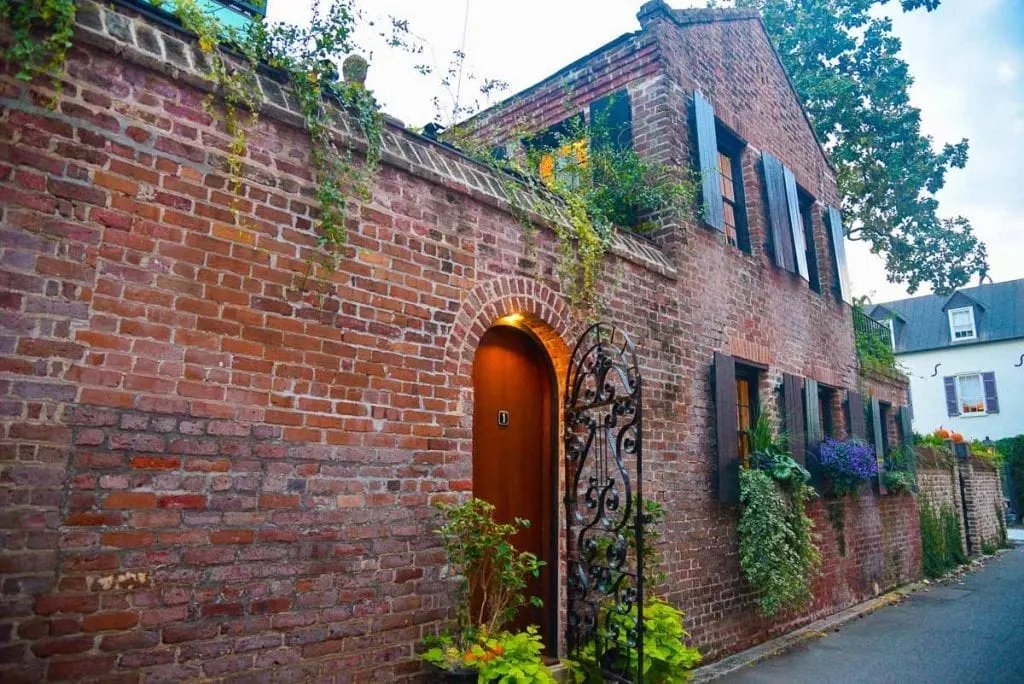 The narrow lanes of Elliott St, overhanging with old oak trees and colorful, cute houses make it one of the prettiest in Charleston.
Church St
Some of our favourite houses in Charleston are found in Church St. One of our favourite houses on the street has pastel blue shudders and pink paint.
Church St is particularly beautiful as large oak trees overhang the street.
Many people take romantic horse drawn carts down church street. We even saw a horse drawn carriage with "Just Married" on the back as we walked along Church St which was particularly cute.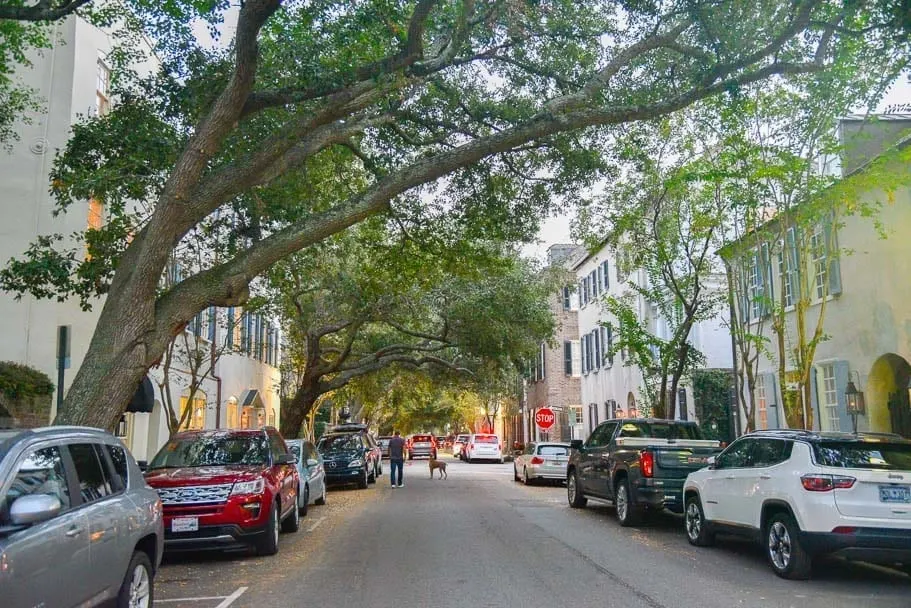 There is an interesting antique maps and prints store located on Church St along with a cute clothing store. Note: clothing store had a closing down sale sign so it may not be available when you take this walk – let us know!
On Church St you will also find the historic Heywood Washington house. Around since 1772, it is now a national historic landmark in Charleston.
If you would like to take a tour of the house it is possible Monday to Saturday 10 AM to 5 PM. Sunday there is reduced hours of operation.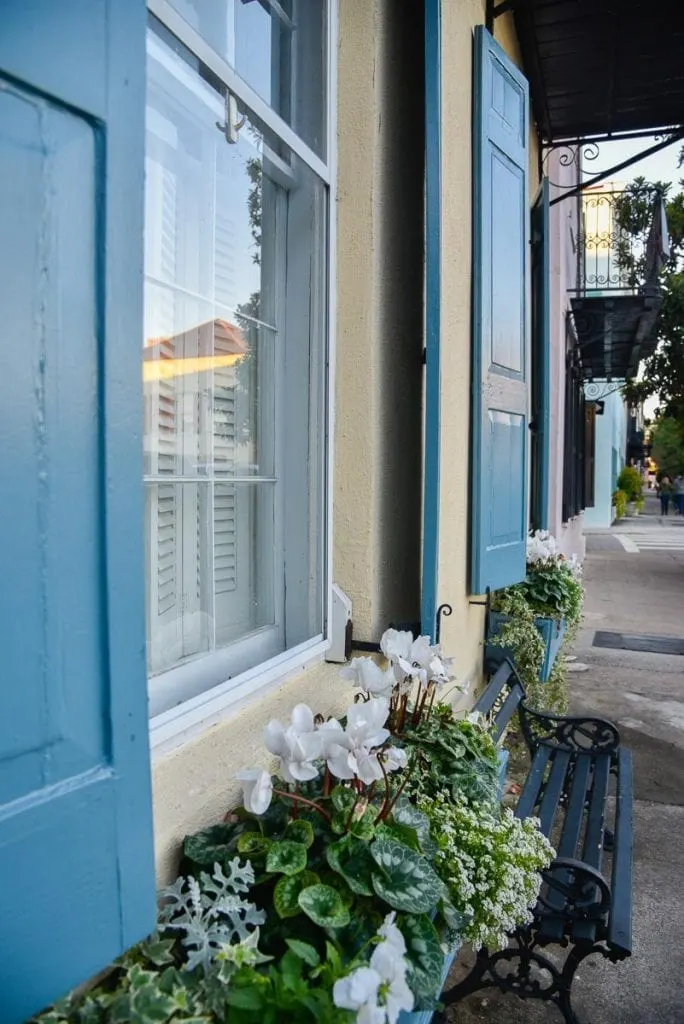 Tradd Street East, South of Broad
From Church St go down Tradd East Street, another totally adorable street in Charleston.
Many of the houses in Charleston are historic and have a story to tell. The great thing about the city of Charleston is little plaques have been erected informing passers by of the history of each historic house.
No. 40 Tradd St is one of the most historic houses in the street – Pollock house.
Other interesting houses on the street to check out are 51, 53, 56 a yellow house constructed in 1739 by George Ducat.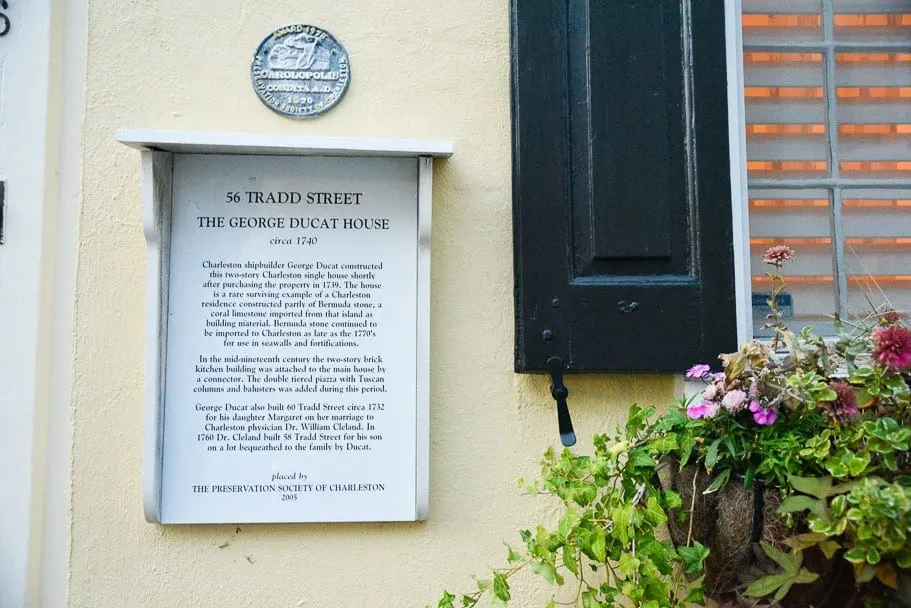 Meeting Street
Meeting St is another of the best streets of Charleston. Meeting Street is part of South of Broad and also the French Quarter of Charleston.
Keep an eye out for the Presbyterian Church in Meeting Street. You really can't miss it – the scale and architecture of the church is pretty amazing.
On meeting street you will find seriously impressive houses with large gates. If you feel like a spooky walk of Charleston, Meeting Street is a great place.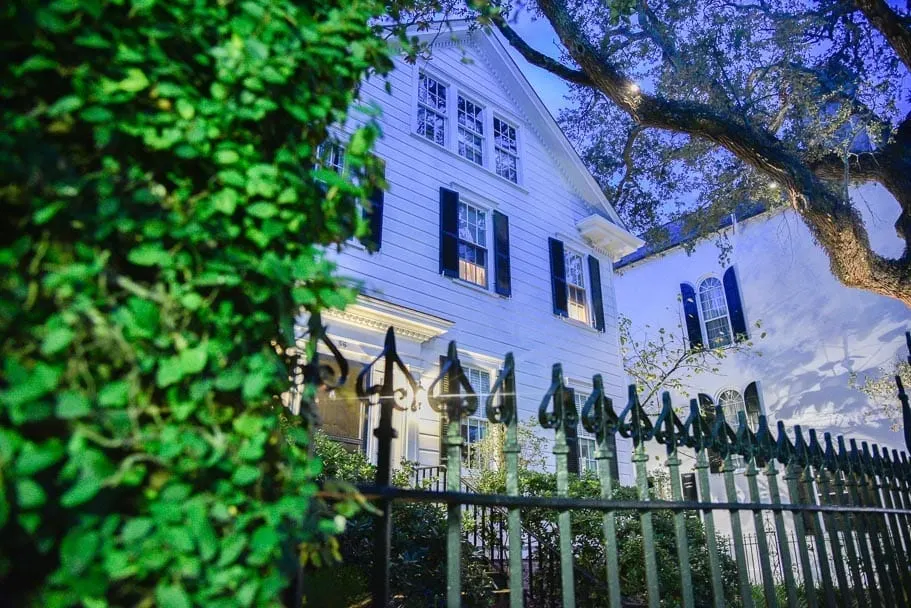 Meeting Street is a pretty good example of a Charleston Street as it features stately homes, mansions, old churches and roads featuring overhanging hundred year old oak trees.
If you walk down Meeting Street early evening as we did you are as likely to see a horse-drawn cart or jogger as you are to see a car pass by which is pretty cool.
Off meeting street there are some cute lane ways to explore including Fort Ct.
One of the most interesting and historic houses on the street is the Nathaniel Russel House. If you are interested, it runs tours from 10 to 4pm daily. It is a historic Charleston foundation property and registered as a historic landmark.
Next to the Russel House is a cute alley called Prices Alley that you might like to explore further.Across the street is the First Baptist Church.
The most spectacular house on the street is undoubtedly however Calhoun Mansion. Listed on the national register of historic places it is Charleston's largest private residence and open daily for tours from 11am to 5pm.
If you are wondering inside is an italianate house museum. A feature which may give way its Italian heritage is the nude water feature in the front garden.
We have walked past the Mansion in both the day and at night. If you don't want a tour, it is particularly beautiful at night as the door glitters.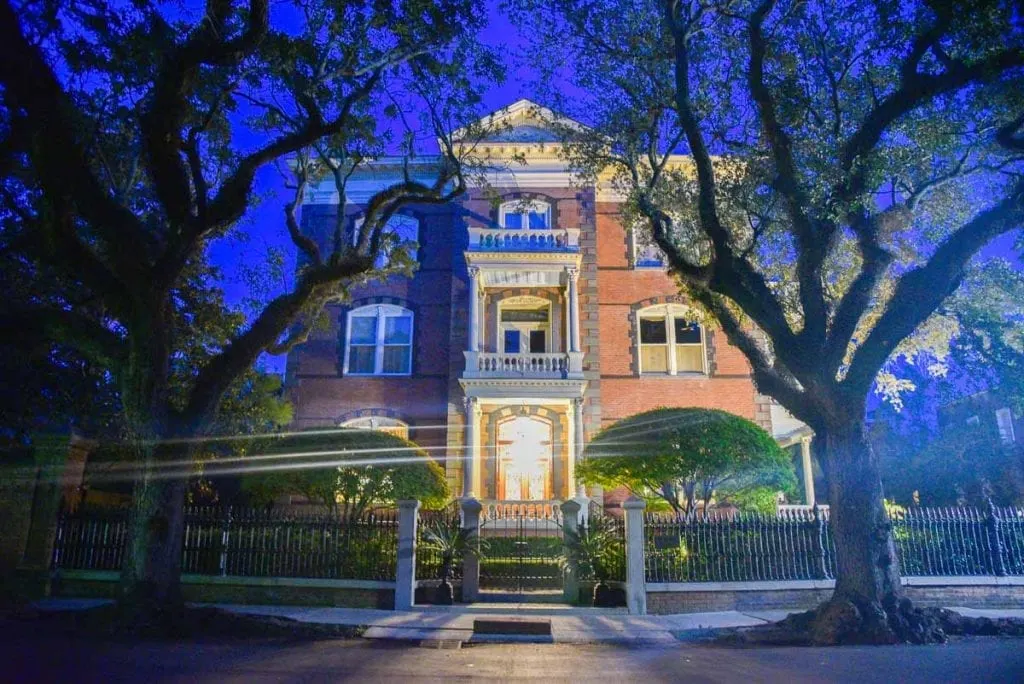 If you would like to stay in this super cute area we would suggest Two Meeting Street Inn with Southern charm and impressive architecture. You will find this darling Inn with seriously impressive architecture and rocking chairs on the porch at the end of Meeting Street.
South Battery St
At the end of Meeting Street you will find yourself back at the White Point Garden on South Battery St.
If you would like to explore the South of Broad area in more detail, South Battery St has some of the most impressive houses in the Charleston area.
If you walk along South Battery St you will find another cute street – King Street.
At the beginning of the street is a totally adorable pink house that I would very much like to move into!
South of Broad Charleston Tour: Summary
This section of South of Broad featuring the best and cutest houses in Charleston will take you 1-2 hours to complete, walking at a steady pace without stopping.
Time your self-guided walking tour right and you will arrive to South Battery around sunset for some of the most impressive tones of orange and yellow.
It's the perfect way to spend an early evening on a weekend getaway.
Where to Stay in Charleston South Carolina?
We would recommend staying in one of the following places for luxury, comfort and a whole lot of southern charm!
Best Budget Hotel: (3*) Clean, Comfortable and provides delicious warm cookies upon arrival. Good location to Boone Hall Plantation. Car required.
Best Mid Range Hotel: (4*) Authentic southern charm architecture, luxurious accommodation, walking distance to historic centre, highly rated with guests. No car required.
Best Luxury Hotel: (5*) The absolute essence of comfort and charm in Charleston. Stunning – see for yourself. No car required.
Looking for where to travel next on a road trip? Greenville SC is always a good option and only 3 hours away!
Save South of Broad to Pinterest so you can find it again later!