Ely is a town 30 minutes drive from Cambridge which, if you are not from the UK, you have probably never heard of.
This town, relatively unknown in international tourism, is one definitely not to be missed on a trip to England.
Here are 18 of the best walkable things to do in the town of Ely.
18 Walkable Things to do in Ely (A Hidden Gem in England)
Ely's best claim to fame is being the home of Oliver Cromwell, the leader of England, during the only time in history when the country did not have a monarch.
Due to its awesome history and the fact it is a totally adorable little town (in fact my Mum preferred it to the more well known nearby town of Bury St Edmunds), we highly recommend a visit.
Here are the 18 best things to do in Ely England.
Visit the Ely Cathedral
As you drive into the town of Ely, the first thing you will see is the amazing Cathedral decorated in Romanesque and Gothic Architecture.
The Ely Cathedral is a stunning 14 century Cathedral with an octagonal lantern tower.
The Cathedral boasts the position as England's 3rd longest cathedral.
It truly is a masterpiece and something not to be missed in the town of Ely.
Make sure you go inside the cathedral as it is also very beautiful on the inside.
Homemade scones with a view
While admiring the Ely Cathedral, make a stop for tea and scones at the Almonry Tea Rooms.
This tea room has a cute tables in the garden with a stunning view of the Cathedral.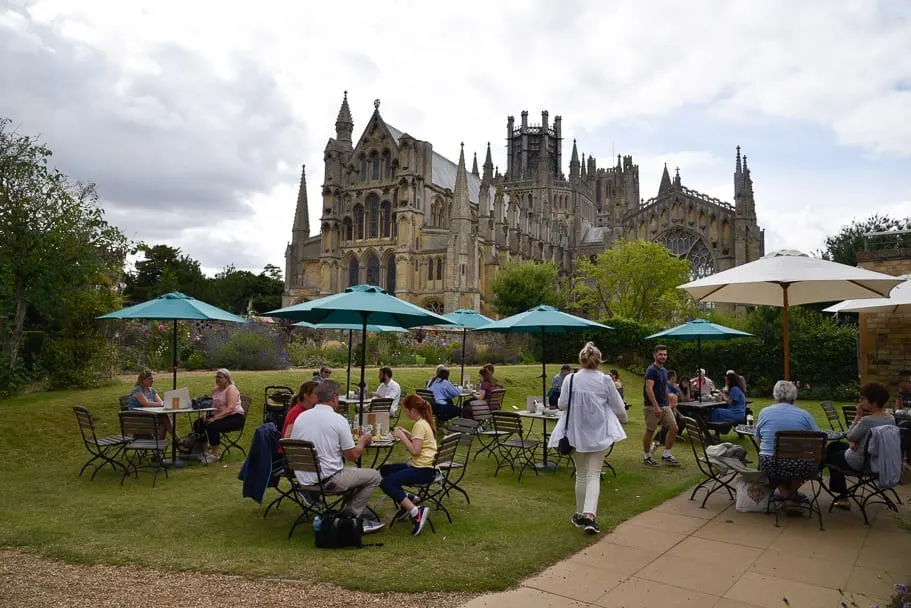 A pot of tea with homemade fruit scones and English tea will set you back around 5 pounds per person.
If you are obsessed with scones like we are, you might also like to check out the best scones in London and the best scones in Cambridge. Has our obsession with English scones gone too far!?
Another great place for scones is Peacocks Tearoom (near the river walk – see below!)
Go for a walk in the Almonry Gardens
The Almonry Tea Rooms have their own gardens called rather unsurprisingly the Almonry Gardens.
The gardens are very pretty and manicured. Well worth 10-15 minutes of your time especially if your visit falls in Spring!
On the weekends, there is often entertainment for the kids in the Almonry Gardens.
On the weekend we visited, Peter Pan was playing for the kids in the garden.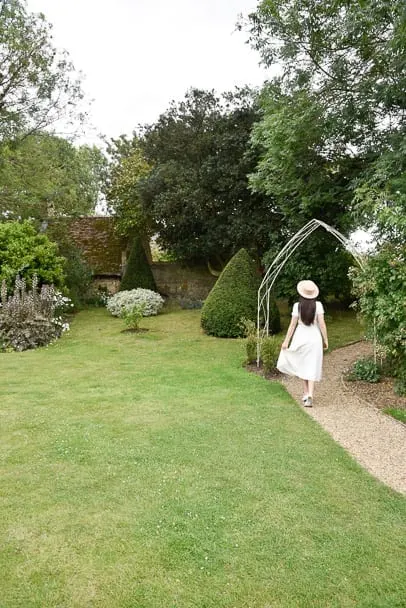 Visit the Ely Markets
As you pass through the town it is hard to miss the Ely Markets.
Everything from handbags to delicious homemade treats are sold at the markets.
For more information and opening times of the markets see here.

Ely Museum
If you like a mix of modern and 'ancient' history be sure to make a visit to the Ely Museum.
One of the highlights of the museum is an amazing Bronze Age gold torque found only recently in 2017 in the Cambridgeshire countryside.
If you want to know more about the town of Ely including its historic activities like eel catching and hunting waterfowl this is also a great place to come!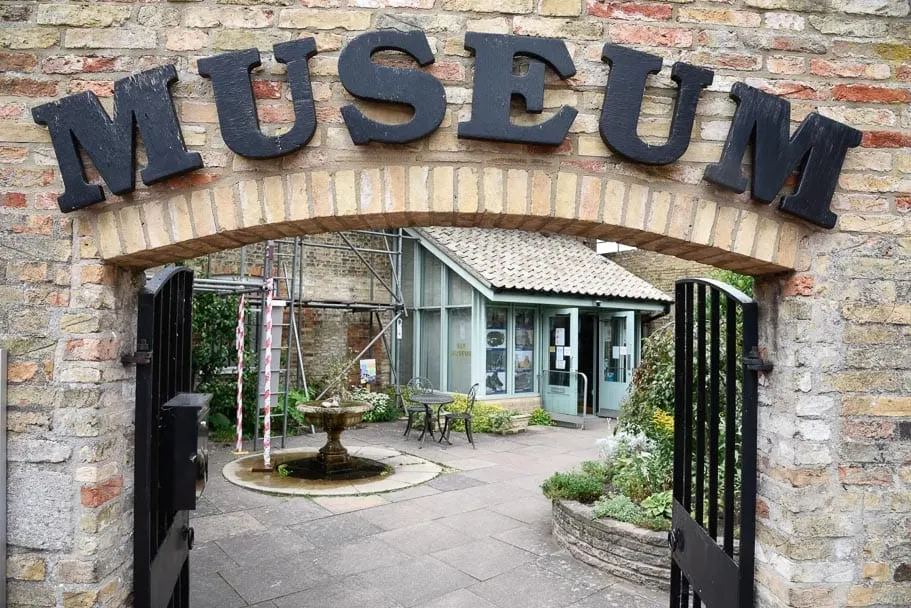 Stained Glass Museum
On the topic of museums in Ely, one of the most popular things to do in the town of Ely is to make a visit to the amazing stained glass museum.
This museum is joined to the Cathedral. You can get a combined guided tour of the Ely Cathedral and Stained Glass Museum from inside the Cathedral.
The museum provides a stunning display of stained glass as well as a 800 year history of stained glass and how techniques have changed over the years.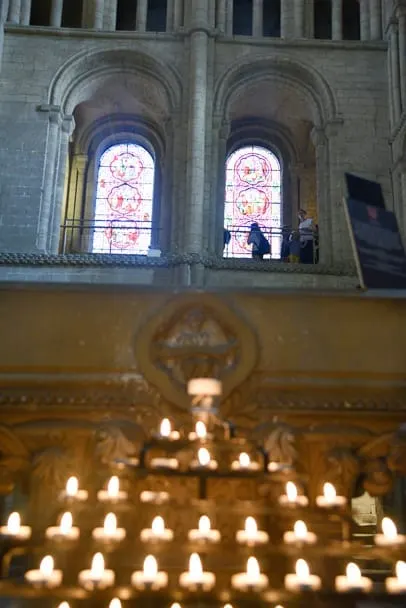 Old Cannon Crimean War
Outside the Ely Cathedral is an old cannon from the crimean war called the Cannon of the Green.
Interestingly, it was a gift to Ely from Queen Victoria in 1860 after it was captured from the Russians in Sebastopol.
It is outside the Cathedral in recognition of the Rifle Volunteers.
Mum fought a little kid off to get a photo on the cannon.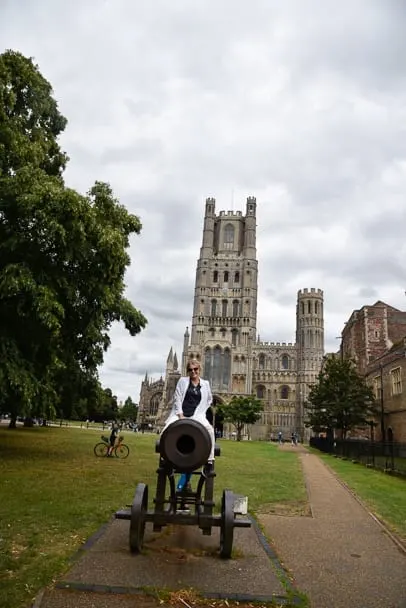 St Marys Church
Ely Cathedral is by far the most grand church in town but it is not the only one.
As we headed towards Oliver Cromwell's house, we spotted a very cute Church called St Marys.
Due to its very quaint architecture, it is worth for a quick look while in Ely.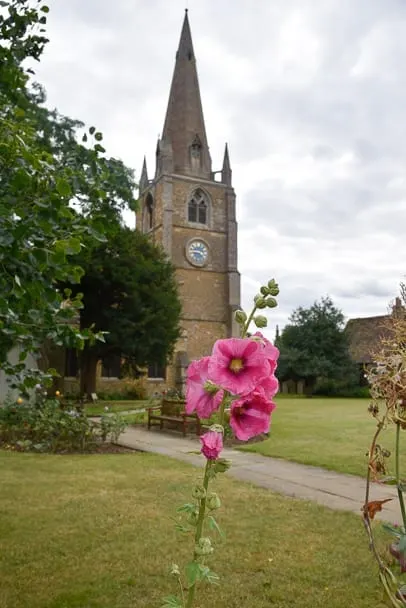 Thomas Parson's Square
Near St Marys is Thomas Parson's Square.
We wouldn't have noticed it or known of any significance to the square if we hadn't seen a tour group stopped outside the square.
The house was once owned by Thomas Parsons who was a wealthy resident of Ely.
Being a very kind and generous man, he set up a charity providing houses for the poor and elderly of Ely.
Oliver Cromwell's House
Probably the best part of Ely is that the city is so walkable! Only a hop, skip and a jump from Thomas Parson's Square is Oliver Cromwell's House.
Oliver Cromwell's house is probably the most famous thing to see in Ely.
The famous Oliver Cromwell, who overthrew the English Monarch, lived in the city from 1638 to 1646 after he inherited a house.
You can take a guided audio tour of the house, taking you back to the days of Oliver Cromwell, and how people lived in that era, for only 5 pounds per person.
If you are interested in horror one of the bedrooms is said to be haunted!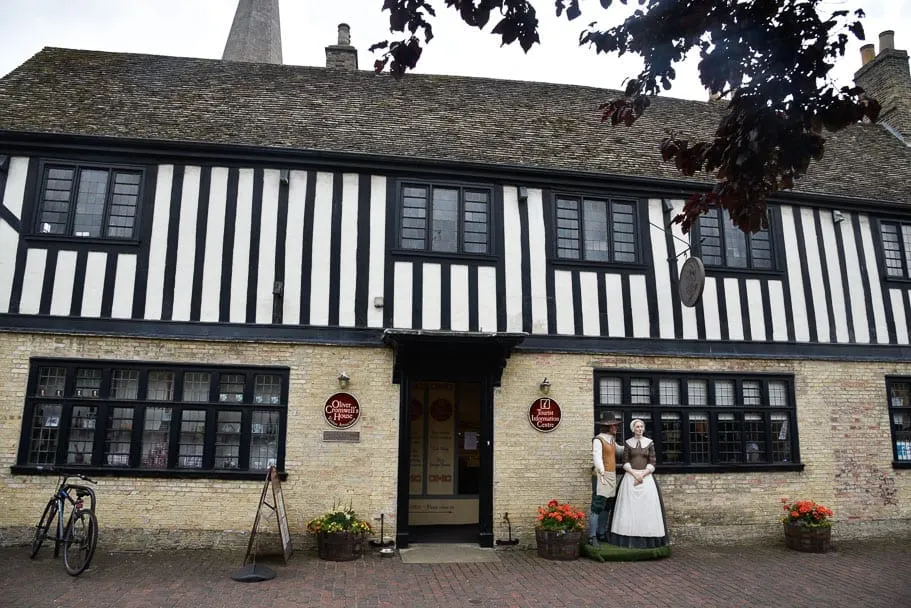 Jubilee Park
If you are interested in the English Monarch, take a stroll in the Jubilee Park in Ely.
The park was opened in 2002 by the Duke of Edinburgh to celebrate the golden jubilee of Queen Elizabeth II
It is a rather pretty park with gorgeous red flowers that bloom in the spring time.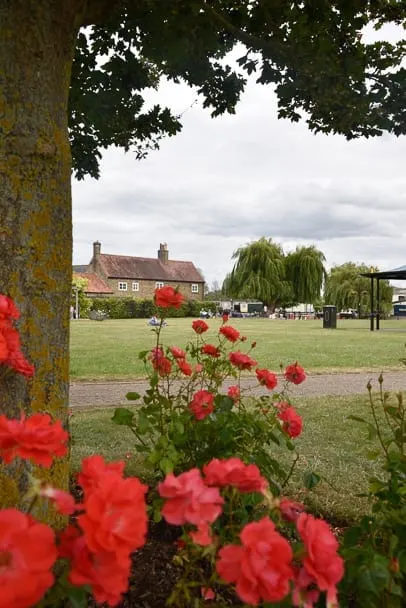 Riverside Walk
Jubilee park backs onto the Riverside Walk in Ely, probably the most picturesque thing to do in Ely.
You can get a real insight into British river life at the riverside walk as you can see canal boats tugging down the river. Canal boats can dock in the city of Ely for 48 hours for free.
It is a stunning walk and highly recommended during your time in Ely.
We read an interesting sign on the riverside walk that people in Ely used to be able to trade in Eel as a currency.
Go for a Riverside Cruise
If you would like to experience a canal boat for yourself, you can go on a 30 minute river cruise from March to the end of September.
Trips depart from The Maltings and includes a guided audio tour of interesting facts of river life.
Have a drink at a riverside bar
There are a few cute bars directly on the river walk in Ely.
We had some drinks by the river at the Riverside bar and Kitchen and which we would recommend for a cold refreshing summer drink with a view.
Tip: If you are wondering what drink to order, England has the best gin we have ever had. In particular, rhubarb gin is delicious.
If you are looking for hearty pub food, there is a pub further down the river called The Cutter Inn.
On a Sunday they serve a highly rated Sunday Roast for around 15-17 pounds per plate (depending what meat you order)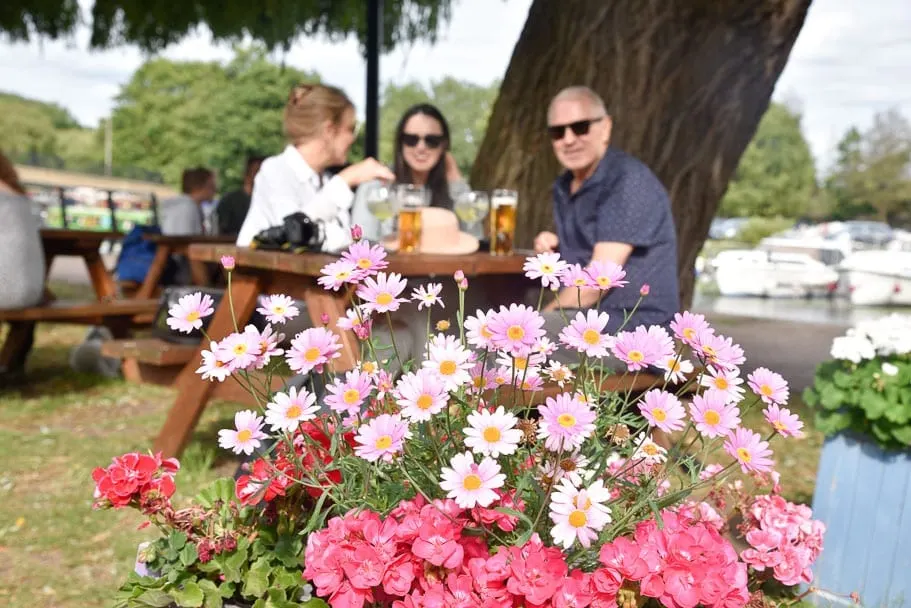 Pop in to explore Waterside Antiques
Antique lovers like my Nanny will have an absolute field day at Waterside Antiques.
It has a wide range of antiques available for purchase with more than 65 antiques dealers. Antiques include porcelain, silverware, grandfather clocks and vintage clothing.
Waterside Antiques is a great opportunity for antique bargain hunters in the UK.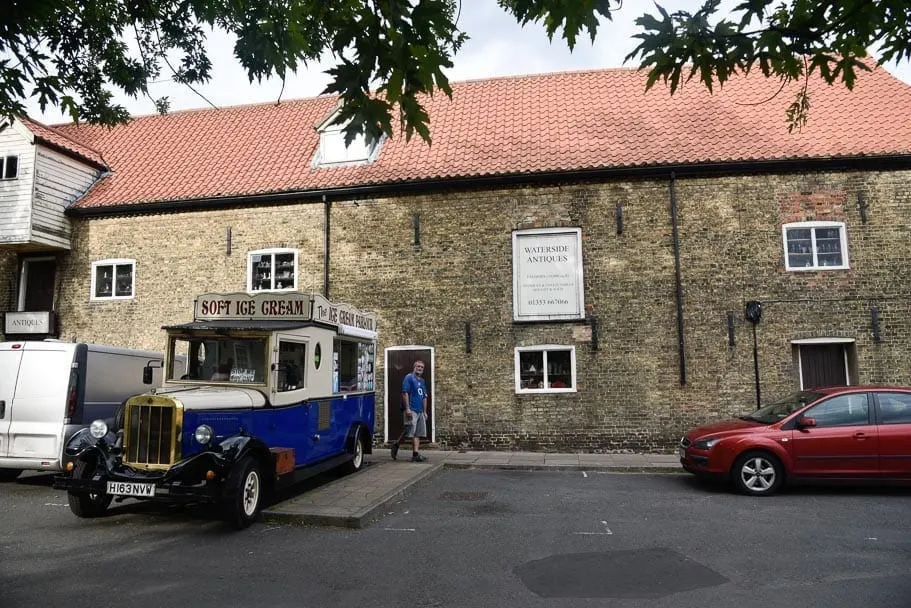 Go for a countryside walk at Cherry Park
Cherry Park is a great spot in Ely for a short country stroll with beautiful views.
Beware as stinging nettle grows in this park so stick to the path. I learnt about its existence the hard way.
Explore the cute streets and look for vintage cars!
The streets of Ely are really cute.
The cute laneways are one of the reasons we fell in love with the town.
In particular, Ely is a place for door lovers and lovers of vintage cars.
We saw many cute coloured doors and vintage cars in Ely. Great for super cute Instagram opportunities!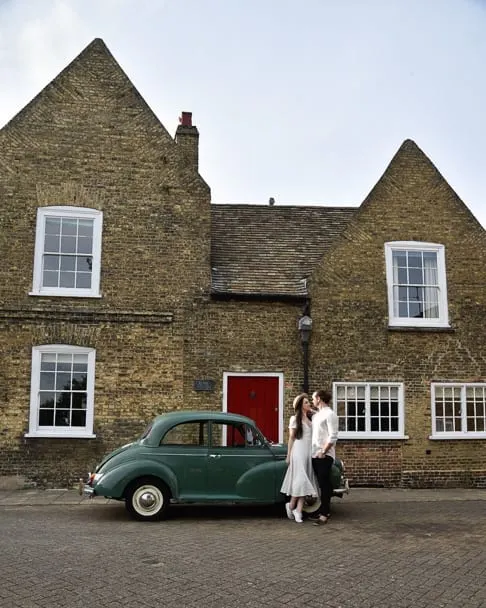 Bonus: Newmarket Races (Not Walkable)
English love horse racing. Newmarket races is a popular activity to do nearby Ely.
It is of course not walkable but if you have a car you might like to check it out if you are in the area.
Where to stay in Ely?
We would recommend staying at least 1 night in Ely to really soak up its small town charm.
Here is where we would recommend staying in Ely:
Other Cambridgeshire Blog Posts
Ely is located a short 30 minute drive from the stunning town of Cambridge where we were based for a few months.
If you are traveling in this area of England, you might also like to check out:
Save this 'Things to do in Ely' blog to Pinterest so you can find it again later!