There are so many Instagrammable places in London that you are really spoilt for choice.
11 Most Instagrammable Places in London
Here are 11 of the must see instagrammable places in London that you can't miss when on a short trip to London.
No fluff here you will only get the MOST instagrammable spots around.
1. The London Eye
The London eye is a great place to get an instagrammable photo.
We love this spot as it is not a location that you need to visit at the crack of dawn to get a good photo.
You can easily photograph the London eye without anyone in it virtually at any time of day.
Here is a photo we took at sunset at the eye.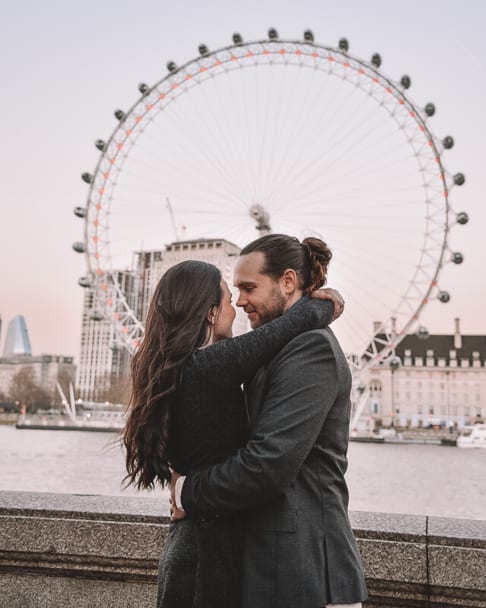 2. Notting Hill
Notting Hill is one of the most instagrammable places in London due to all the gorgeous houses.
We have heard the residents of Notting Hill have become a little irritated that their houses have become the subject of Instagram photo so please be respectful while shooting there and remember that real people live in these houses.
If you are looking in particular for the colourful houses, those are found at Portobello Road, around the corner from the white houses of Notting Hill.
3. With a red phone booth
There is nothing that says London more than a red phone booth.
The cool thing is you can find phone booths literally all over London so you wont have to look hard to find one of these.
There are some nice red phone booths near the London eye if you are looking for one in a good location.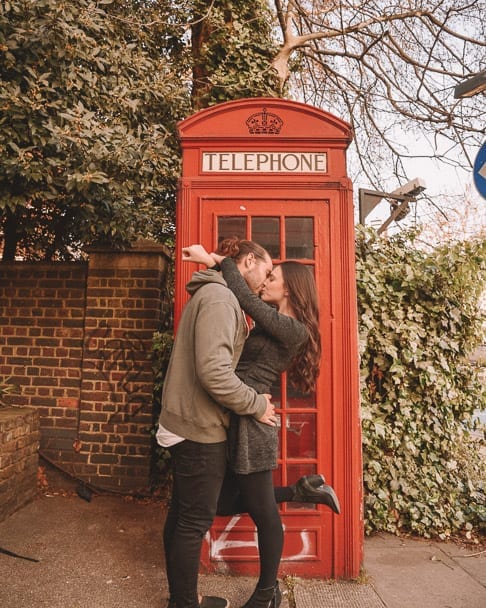 4.
Oxford Street
The best street in London for taking Instagrammable photos is undoubtedly Oxford Street.
Oxford Street is a gorgeous street in London where the iconic double decker buses regularly run though.
As there is a slim walkway in the middle of the road you can take some great photos of the hustle and bustle of London without fear of getting run over.
5. Hillgate Place
If you aren't sick of colourful houses yet, make sure you make a stop at Hillgate Place.
This street is definitely too cute to be true.
See for yourself below!
6. Tower Bridge
This is possibly our favourite place to take photographs in London.
Like the London eye, there is enough space for everyone meaning you don't need to get up early to avoid millions of others in your photo.
Tip: The South side of the bridge is the best angle for great photos.
Note: You will see many Instagrammers sit or stand on the ledge. We were told you are not allowed to do this. You are also not allowed to film in the area, still photos only.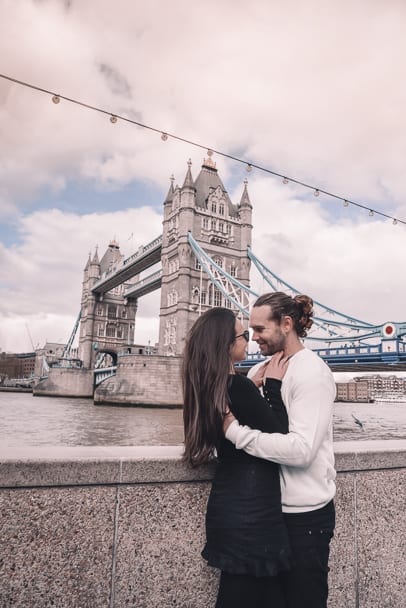 7.
Kynance Mews
In you are in London in autumn, Kynance Mews a great spot for gorgeous fall photos.
If you are looking for where this spot is, you will find the stunning fall foliage at the entrance to South Kensington.
https://www.instagram.com/p/BynUUbbHpBh/
8. Ravens Court Park
If you are in London at the start of Spring, lucky you, it's cherry blossom time!
The best place to see cherry blossoms in London is Ravens Court Park.
The cherry blossoms are particularly beautiful but there is only one small row of cherry blossoms so you are fighting every man and his dog in London to get beautiful photos there.
Our advice? This is one place you should visit early in the morning to avoid crowds.
9.
Leadenhall Market
Leadenhall Market is located on Gracechurch Street in London.
It is a drawcard of tourists from around the world due to its beauty. Leadenhall Market boasts stalls, restaurants,shops with a stunning Victorian roof on top.
What's not to love? It is sure to perform well on the gram.
10.
Sky Garden
A hidden gem in London and definitely one of the most instagrammable places in London is the sky garden.
At the Sky Garden in London you can find stunning gardens, delicious cocktails and wonderful views.
The Sky Garden is free to access. It is best if you book in advance to avoid queues.
11. Peggy Porschen Cafe
After all this sightseeing you must be thirty and hungry right?
Take a much needed break at Peggy Porschen, the most instagrammable cafe in London.
This cafe is pink which make it the absolute perfect background for Instagram photos.
More London Blog Posts
Love London? So do we! If you are traveling to London, you might also like to check out:
Save these Instagrammable Places in London to Pinterest (so you can find it again later!)